Del Sol Photography has job openings in Playa del Carmen Mexico. Our team is growing fast. We'd love your help in finding our next sales superstar !
SALES ASSOCIATE
Job Description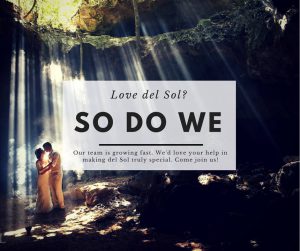 We all know that employee referrals are the top source for quality candidates, so asking you (or/our social ambassadors) to serve as an active participant in our social hiring strategy only makes sense.
This is a job where you can watch a vision of a wedding grow from its conception into reality. And the best part is that you are the one by their side making it happen. From idea to sale to the wedding itself, the relationship you build with each client will be the cornerstone of the event and within the heart of del Sol.
We are looking for hunger, excellence, and awesomeness.  
You are fearless and humble. You will walk through walls, and your hair will still look sexy right afterwards.
You will be responsible for helping make our customers ultra happy and successful…a positive attitude is a must!
Help us by either spreading the word and sharing this message, 
Or by tagging someone who you think might be a good fit.
If we happen to hire someone you've referred to us, you will receive photo session with the one and only Sol Tamargo.
Any suggestions on how can we find our next sales superstar would also be greatly appreciated ! LIKE, COMMENT, SHARE. 
SALES ASSOCIATE
Job Description
*Del Sol Photography offers a competitive salary with a base and commision structure
We are looking for a qualified candidate, fluent speaking English and Spanish, who can help us reach sales goals and connect with brides and grooms planning their wedding.  The ideal candidate will have knowledge about the wedding landscape and insight to all details and logistics wedding related.   They will be approachable and outgoing with an addictive and fun personality.  They will serve as a liaison with the management staff and contribute to the team effort by accomplishing related results as needed.   The sales representative will also maintain and update a working list of contacts and foster personal networks for use within the business.  They will be responsible for resolving customer complaints by investigating problems; developing solutions; preparing reports; making recommendations to management.
Education and Experience
Main Duties
-Answering Web Inquiries
-Follow up with Phone and Email
-Logistic planning and customer service


Skills and Qualifications
-Native speaking English and Spanish
-Business degree or related professional qualification
-Relevant product and industry knowledge such as formerly a wedding coordinator
-Art or Liberal Arts background
-Strong communication skills and attention to details
-Experience with aspects of planning and logistics
-Proven experience in customer service
-Experience in managing others and directing a team  *maybe more a director position
-problem analysis and problem-solving
Ideal candidates have valid working visas for Mexico OR Mexican Nationality.
---
Please send an email to [email protected]  We would love to hear from you and perhaps, a cover letter as to why you are a great fit for del Sol and our clients.
Favor de mandar un correo a hiring ARROBA delsolphotography PUNTO com. Nos encantaría que compartas tus ideas con nosotros en una Carta de Introducción donde nos incluyas porque eres la mejor opción para del Sol y sus parejas.
*in your presentation, we would love you to speak english to us* ;)