Andaz Mayakoba Wedding
Kelsey + Matt
"Our Andaz Mayakoba wedding gave us the opportunity to create a really special community around our love for each other and everyone that was there to celebrate with us."
Del Sol: We believe that our experiences make us the people we are – and many couples who travel for love do so because the experiences they have when they travel are extremely meaningful to them!
"We love to travel, and when we do we really make the most of it! We always have a jam packed itinerary and love experiencing the culture of the place we are as much as possible."
"We often travel with friends and family but one of our first solo trips as a couple was in Mexico, and we had the best time. Ever since we have always felt very connected to Mexico,
"When we first visited the Riviera Maya, we felt instantly connected. Spiritually. And we knew it was where we needed to get married!"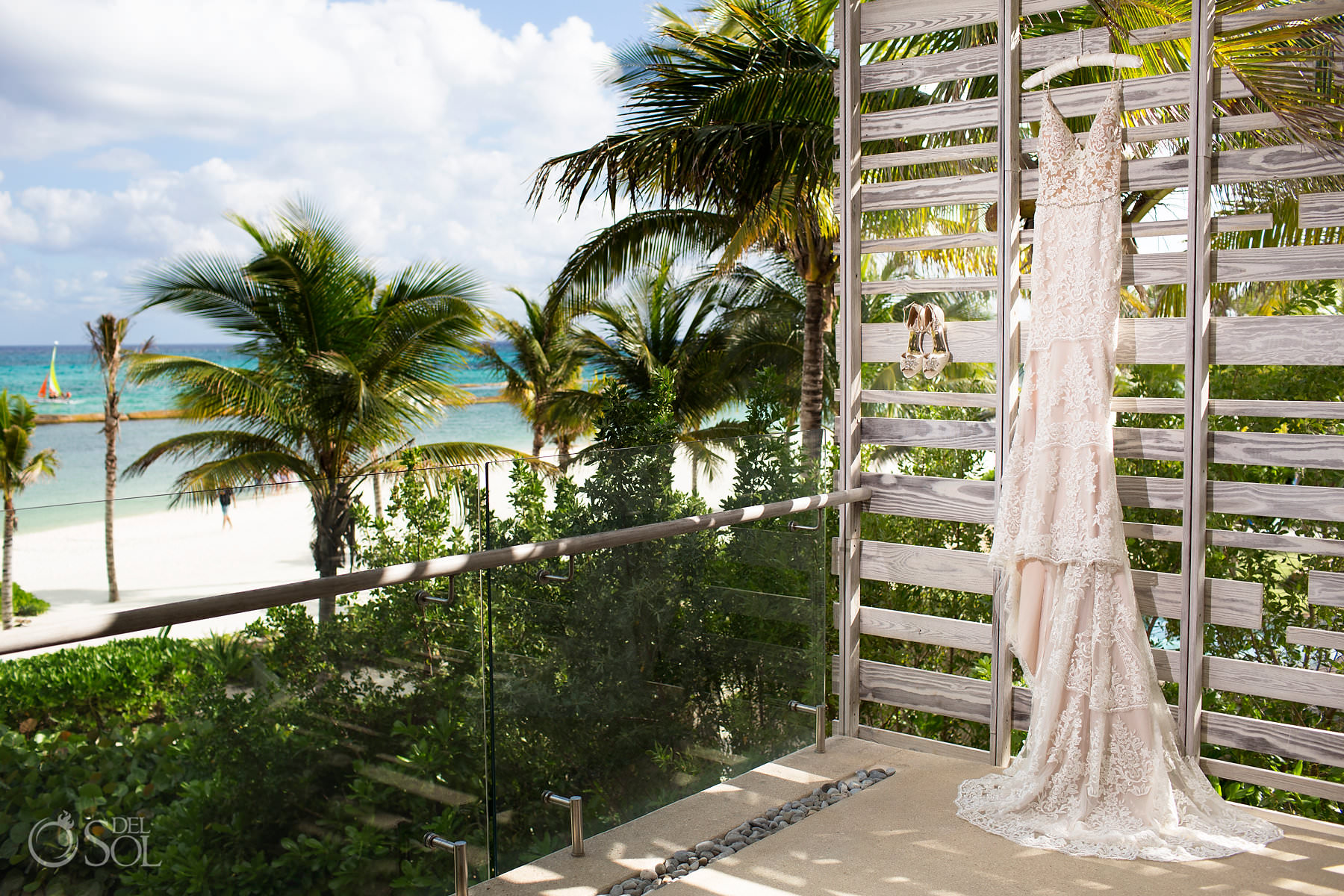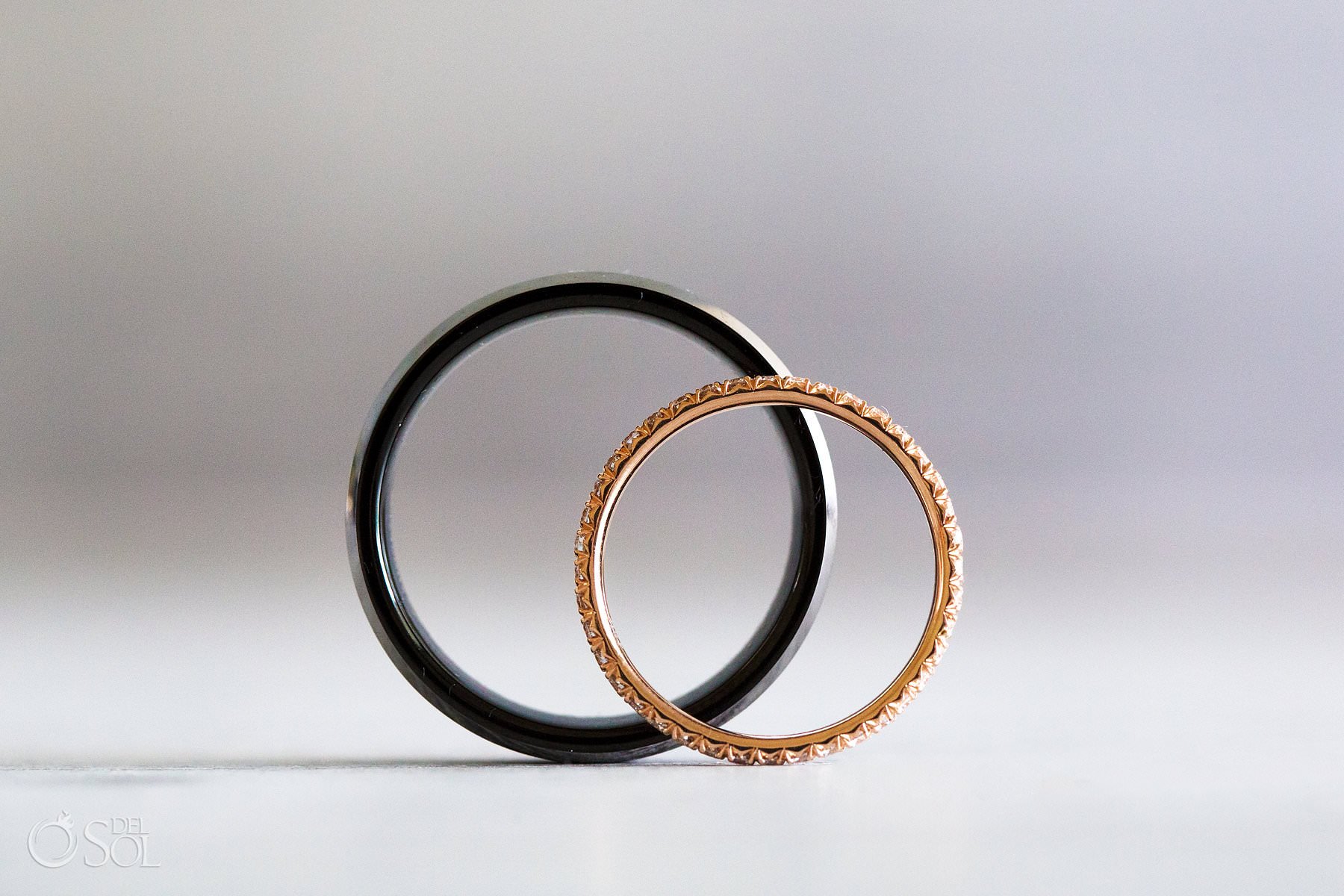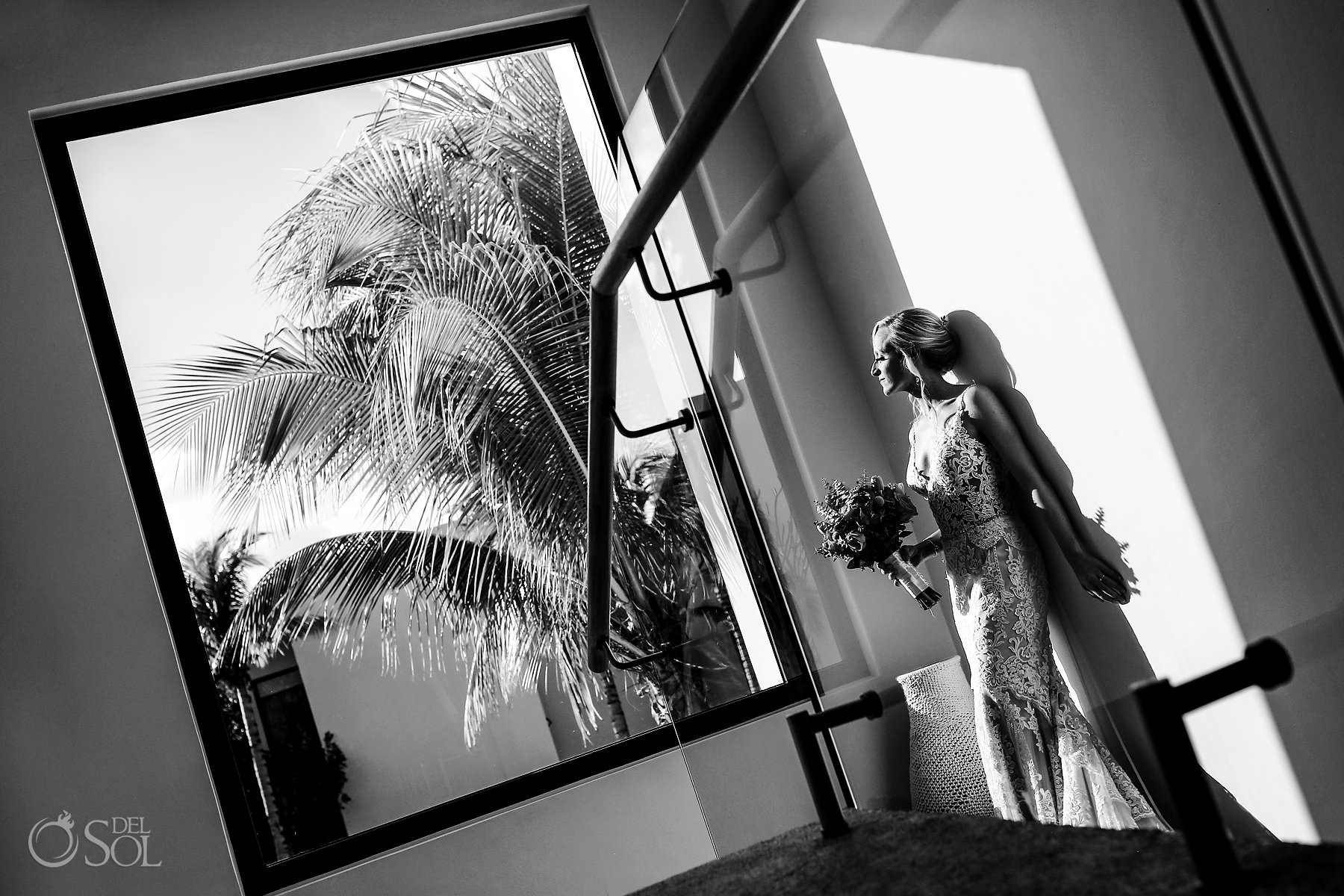 Del Sol: Kelsey – you had an amazing team of ladies with you! In you getting ready their are some really touching moments – and then you had a lovely first look with your dad :)
"Everything about that day was so special. I had just finished writing my vows when all the girls came over, and so I cried for like the first 30 minutes – just being so overwhelmed and happy and feeling loved.
"No one was surprised, I am a crier, but it was amazing how instantly supportive my girls all were, and were throughout the day."
"These were my closest girls from throughout my life. Although they all didn't know each other super well, it felt like they were all life long friends after that day, which was special for me to see."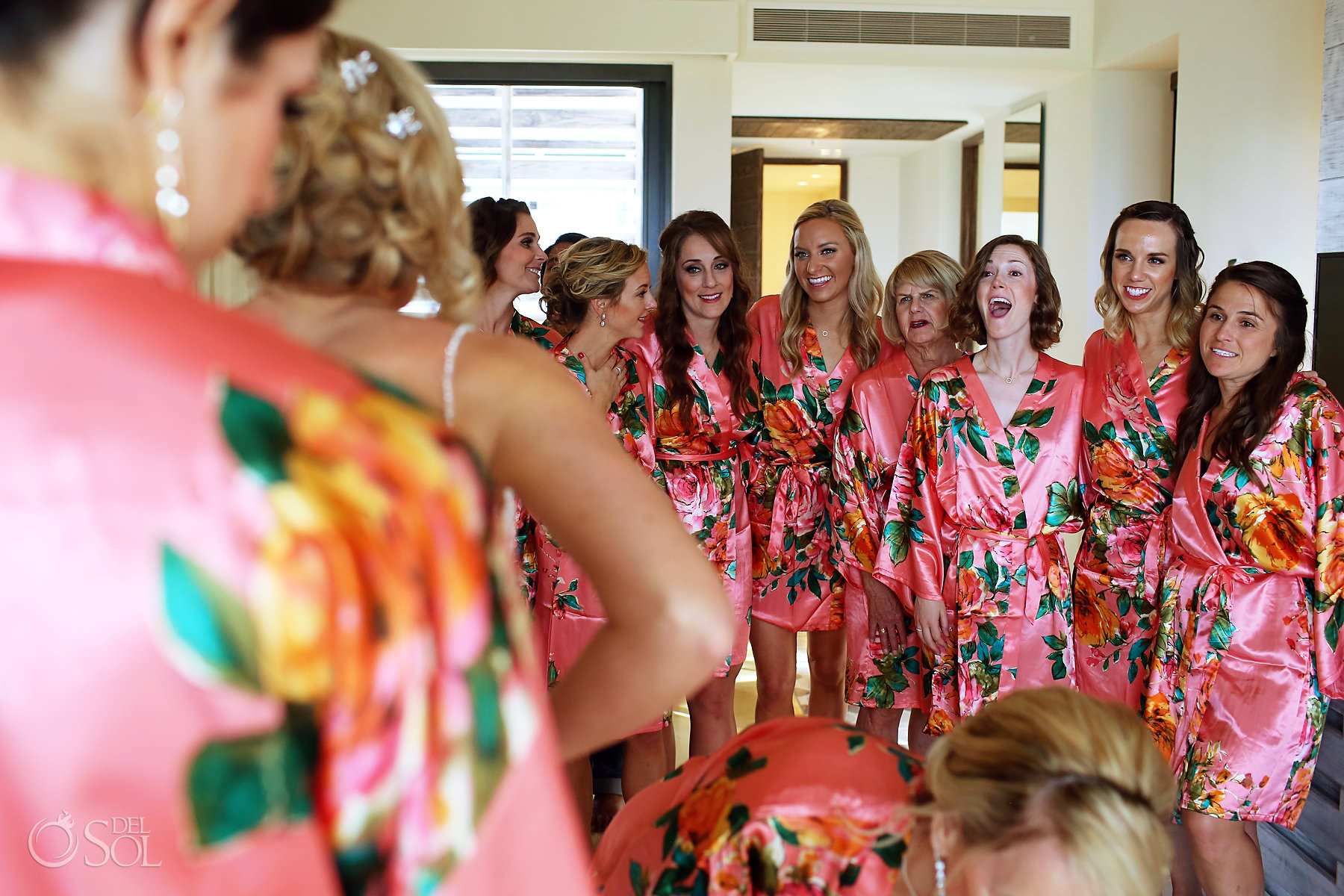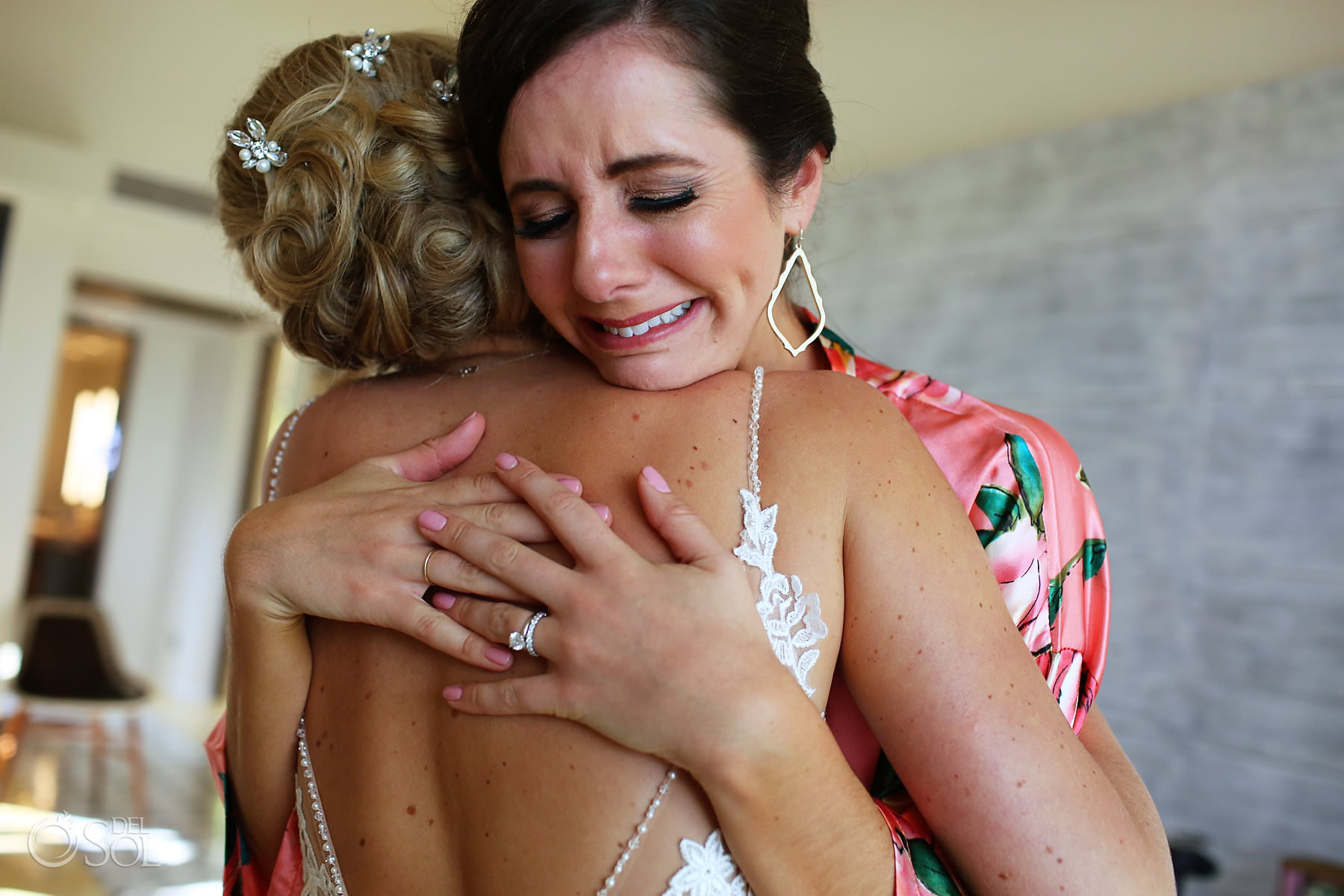 "My first look with my dad was really emotional. He had said he wasn't going to cry but I think we were both overwhelmed by the moment."
"We had talked about this day forever and I think it was in that moment that it really hit both of us. I'm so glad we had that special moment together."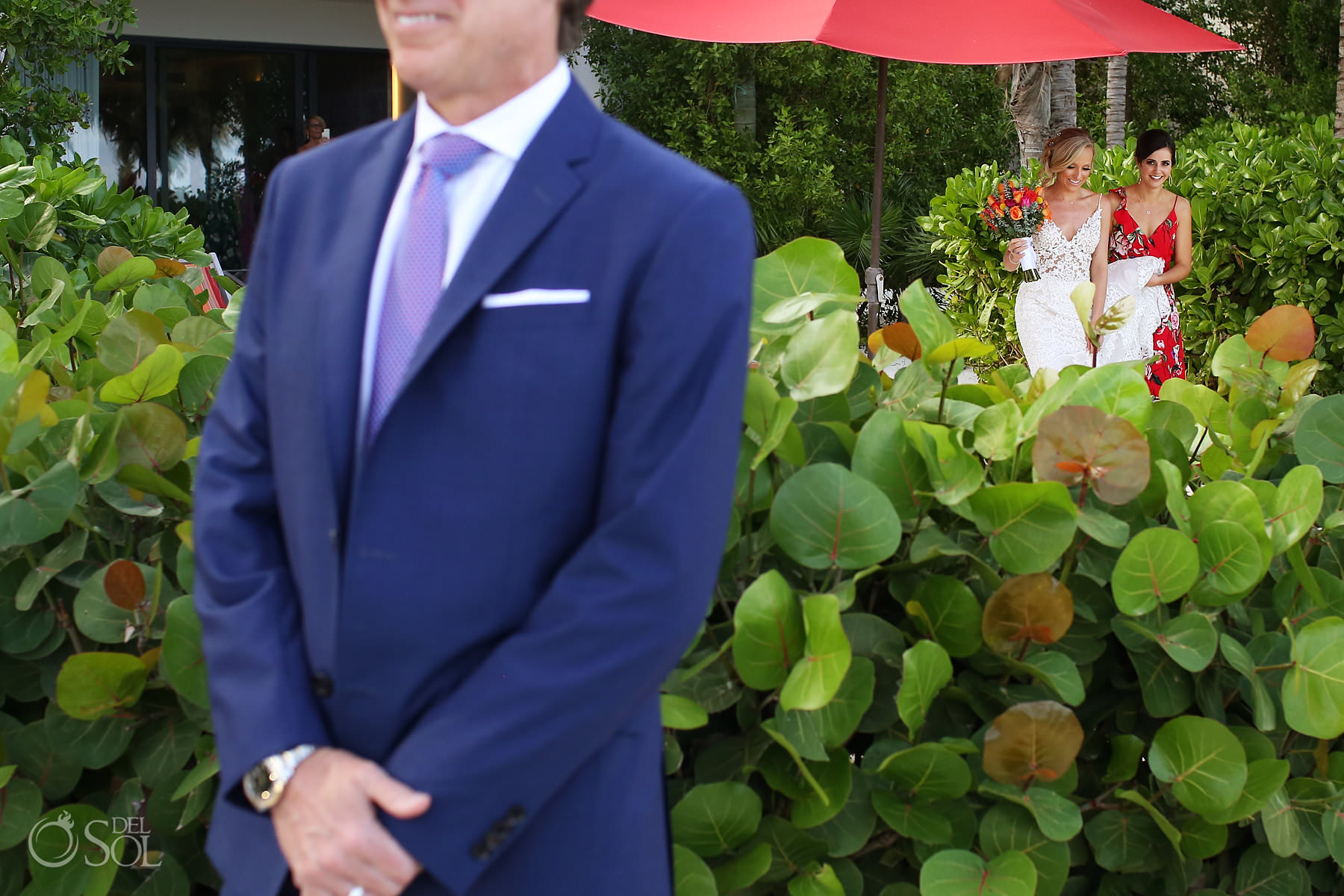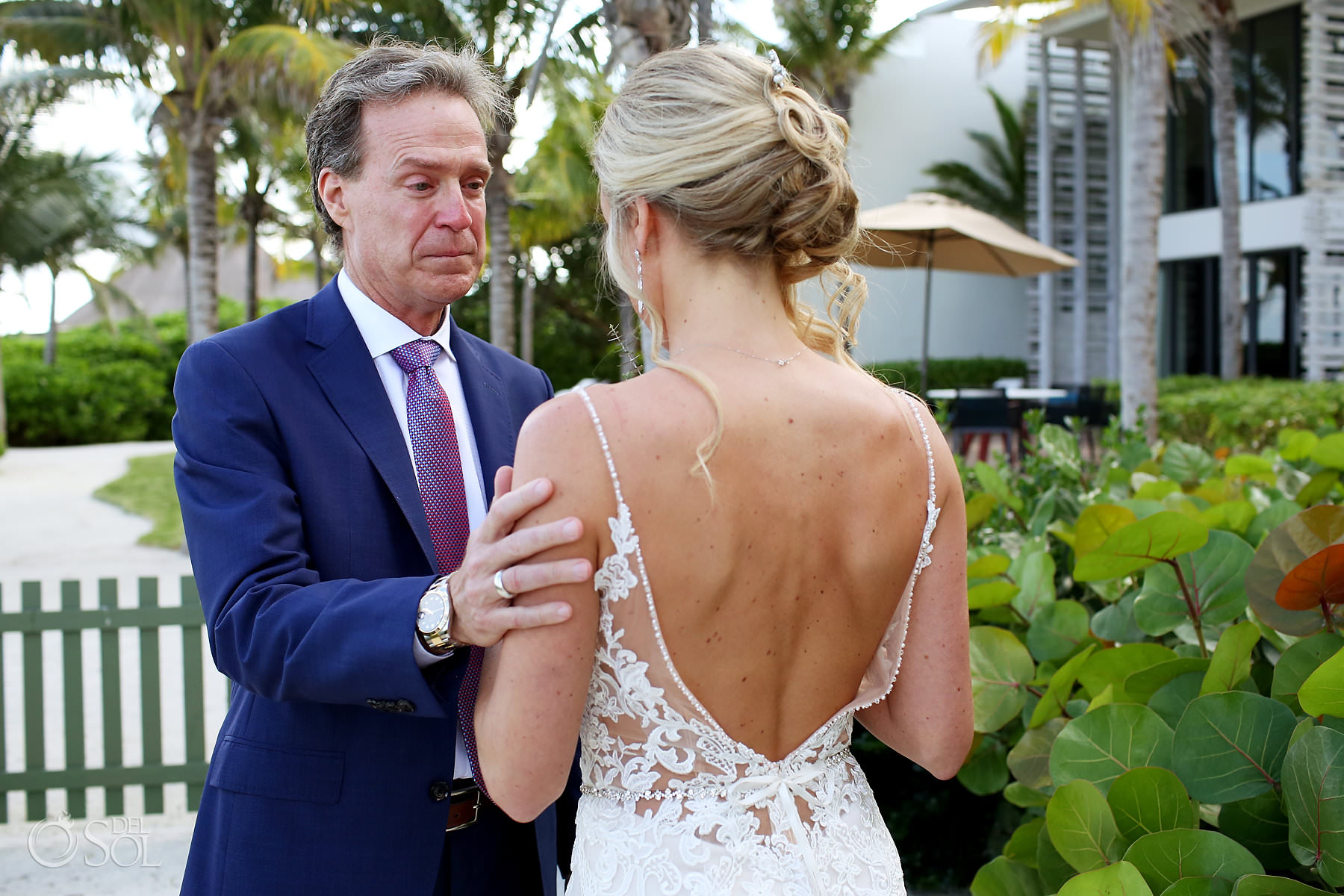 Del Sol: Matt – we had a ton of fun with you guys! You and your boys kept on pulling out fun details like personalized wedding tuxedo speedos and keeping us on our toes by riding of on random directions on the Andaz Mayakoba bikes!
"It's kind of how I roll in general, keeping everyone on their toes!" – Matt
"We had an amazing day and week. I was lucky that most of my groomsmen had known each other for some time and to be with them day of was very special. I led everyone in a two hour workout class that morning at the gym :) Because we knew our shirts were coming off on the dance floor later that night, we had to look good!"
"We then went and had a "Spa" day at then mens' spa including steam room, sauna, jacuzzi and my two favorites, presenting them with Groomsmen Tuxedo Speedos and four bottles of Veuve that we drank in the jacuzzi. Just think about 10 grown men in speedos drinking champagne on ice."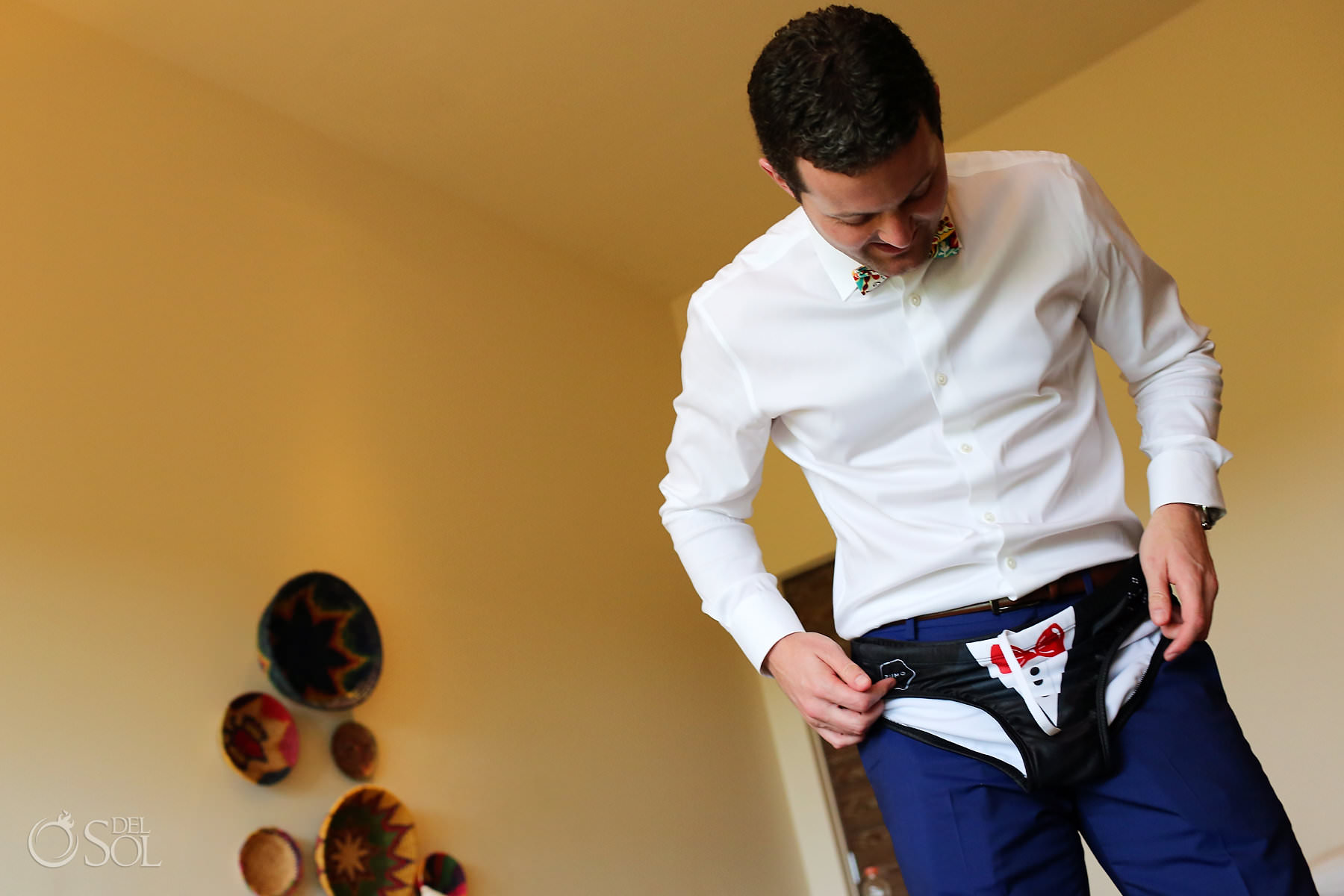 "From there, we rode beach cruisers back to our suite to start getting ready, eat something, practice my vows :) Which I wrote at 4am the night before."
"I also had another surprise which was our Casa Dragones tequila tasting and toasts that we had while we were all together. That was a special moment for me, to have all my closest friends from all aspects of my life and like the calm before the storm. Of course, you know what happened next – the Matt fashion photo shoot – which I was totally ready for!
"Would you expect anything less from me and getting on beach cruisers? Let's just say that wasn't in the plans :)"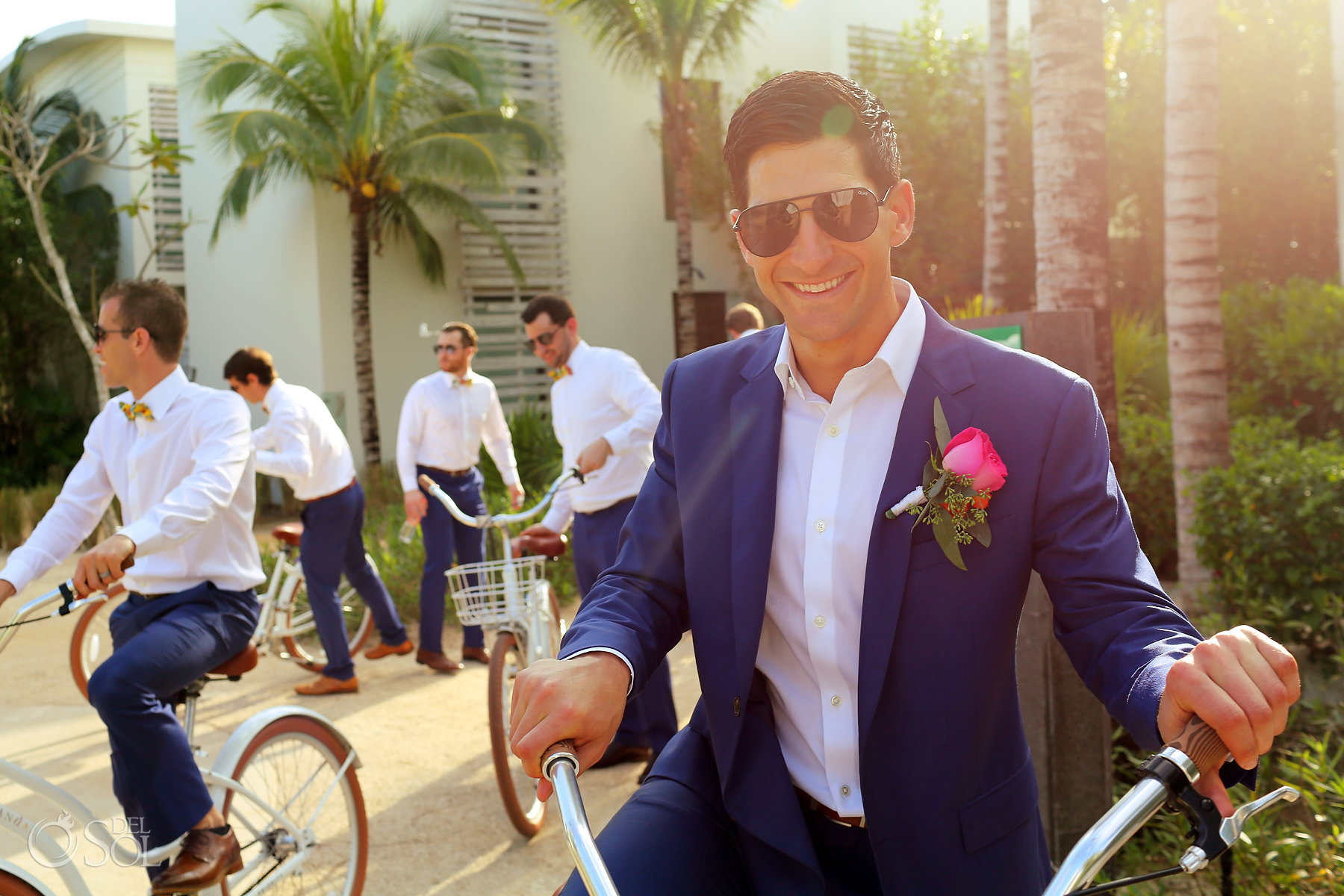 Del Sol: Kelsey – I was really touched reading the letter and the gift that Matt gave you before your wedding explaining the significance of your wedding date according to Mayan culture. The bracelet had Mayan symbols that has the union of the 3 important dates. Kelsey's birthday, matt's birthday, and the birth of this new era of their lives.
"I was so moved by how incredibly thoughtful Matt's gift was. We wanted to incorporate the Mayan Culture into our wedding somehow and this was the perfect way to do it."
"It made everything about that day even more special and it's something I still wear every day since. And yes, he is SO thoughtful."
Excerpt:
"Today is our wedding day…how special of a date it is? According to the Mayan Calendar, today January 19, 2019, we have the blessing of Pacal Hanab.  He was one of the most important emperors in the Mayan culture of Tikal, Guatemala.  Pacal is represented by the Mayan bird named Nuan in the solar calendar.  Maun Kin is the day to off the feathers to see where the others do not see…
Meaning of the day "It is a visionary Ahau (the Mayan God of the sun) will help you to clear the way of the universal light.  Shine like a beacon in the night to guide your destiny, transmitting not their own vision of the truth, but of ancestral wisdom.  True spiritual light."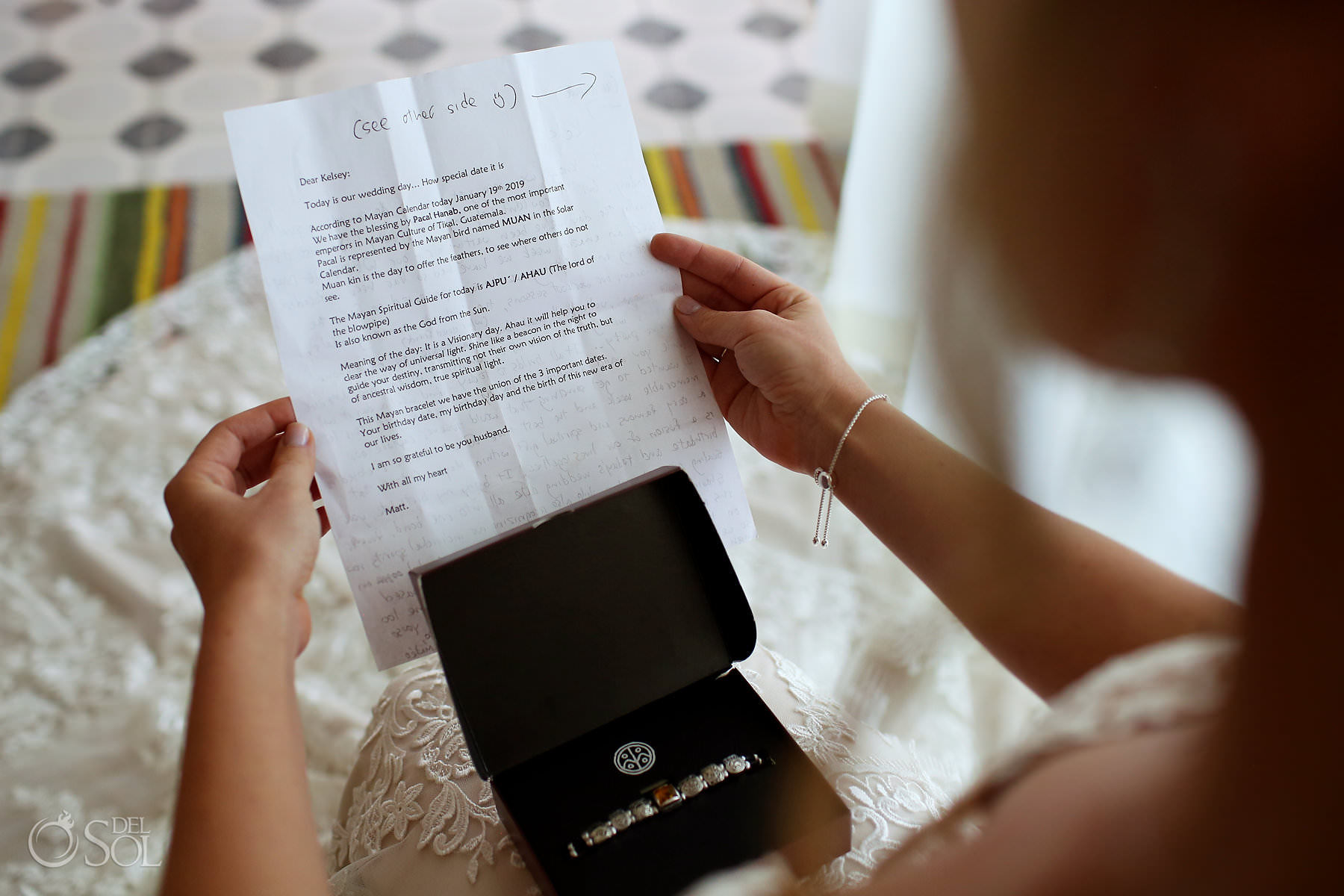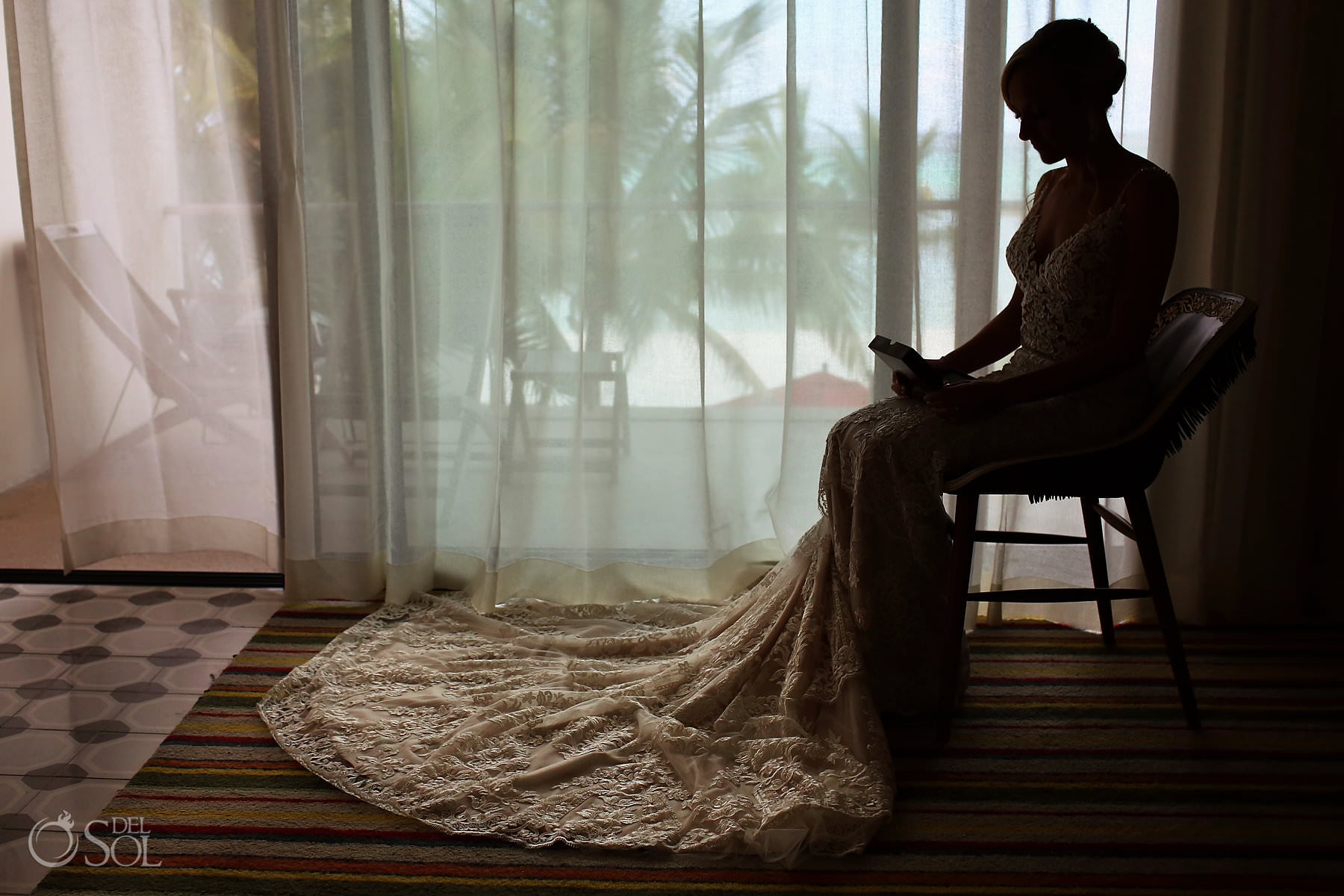 Del Sol: When there's a box of tissues on the altar – we know that we have an emotional couple on our hands!
Kelsey: "We are both sensitive people but I am much more of the crier. I had cried all morning getting ready trying to get it out of my system before the ceremony!"
"When I saw Matt crying as I was walking down the aisle, it was hard not to myself. I was not expecting Matt to be cry at all, and it was amazing that he did. I think it made the whole audience cry as well, and just made everything so special :)"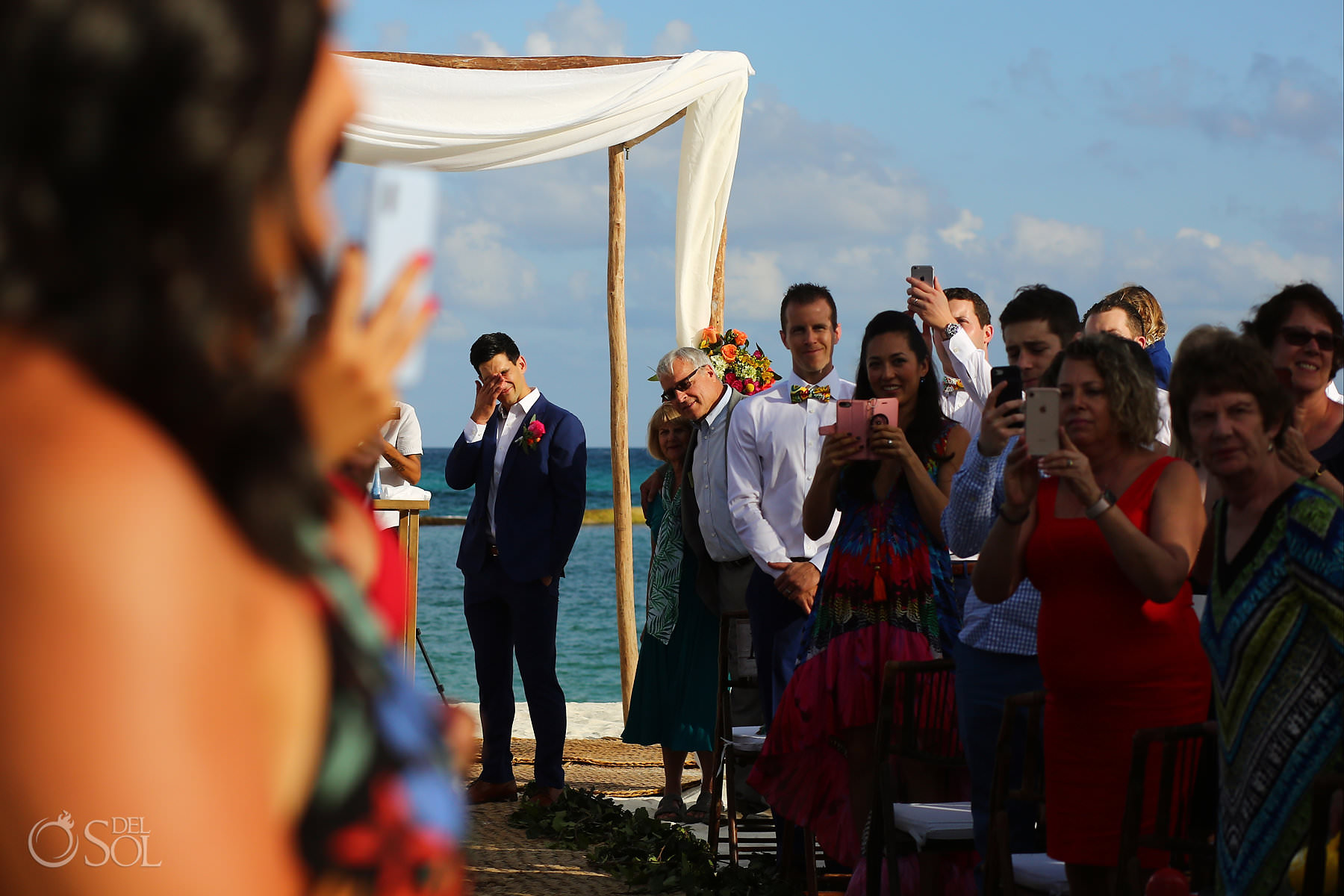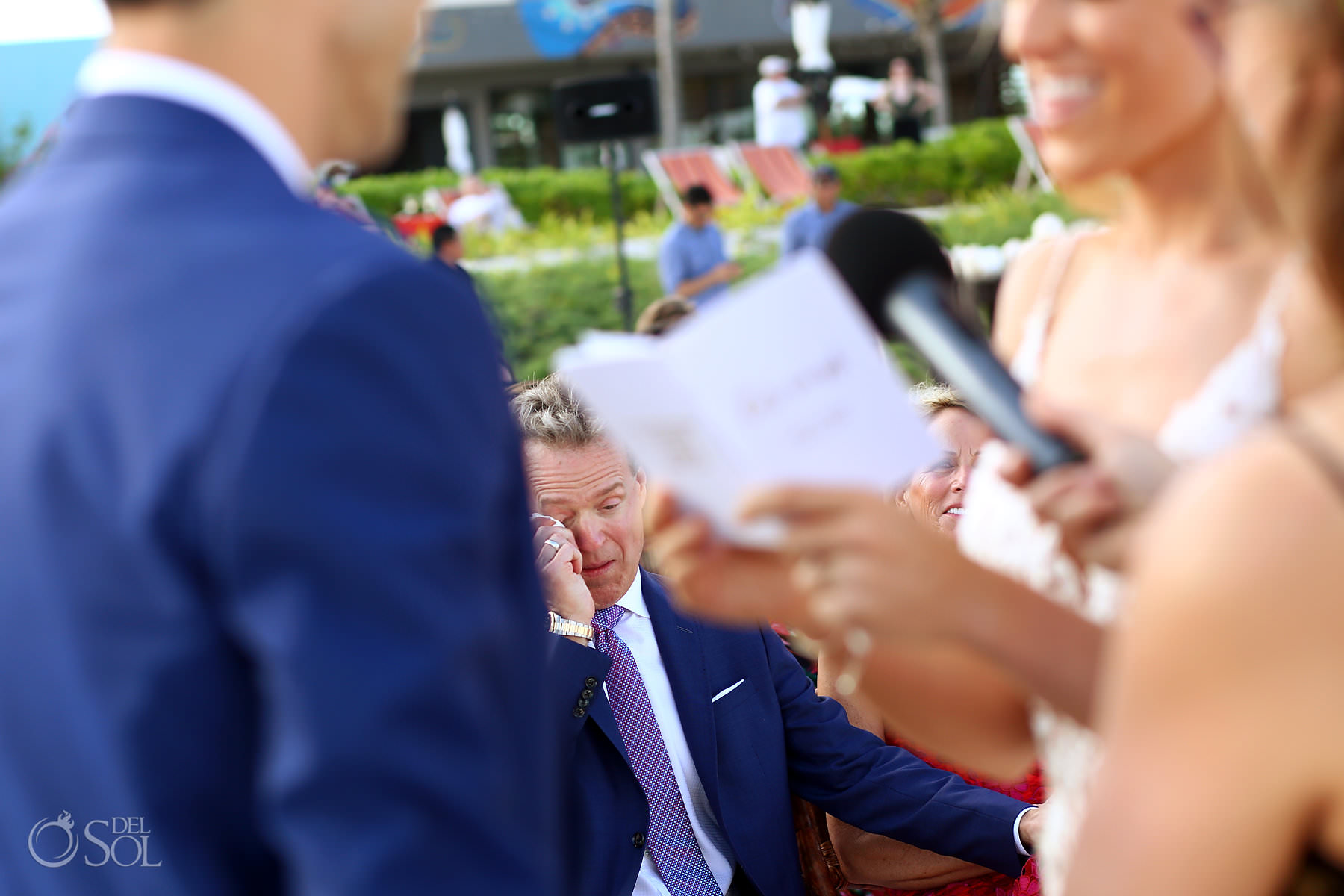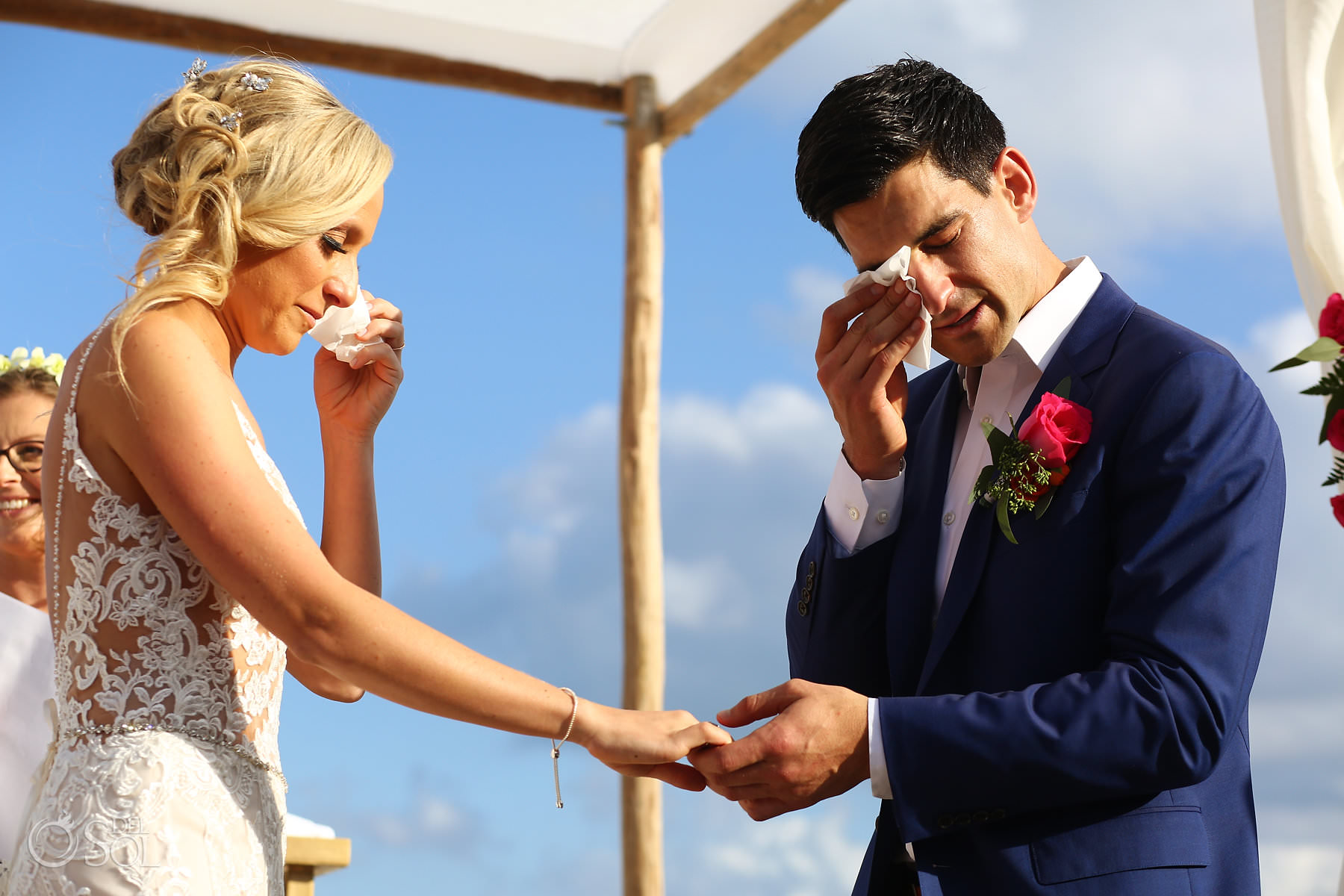 "We have been together a long time (almost 9 years) so I think we underestimated how emotional it would be for not just us, but for everyone there, who had been so involved and invested in our relationship as well over the years."
Del Sol: Talk to us about why you decided to have an Andaz Mayakoba destination wedding?
"We were excited about having a destination wedding because it meant we got several days with all of our loved ones."
"Our Andaz Mayakoba Wedding gave us the opportunity to create a really special community around our love for each other and everyone that was there to celebrate with us."
"We also knew everyone would be excited about coming to Mayakoba, too and we were excited to share with them.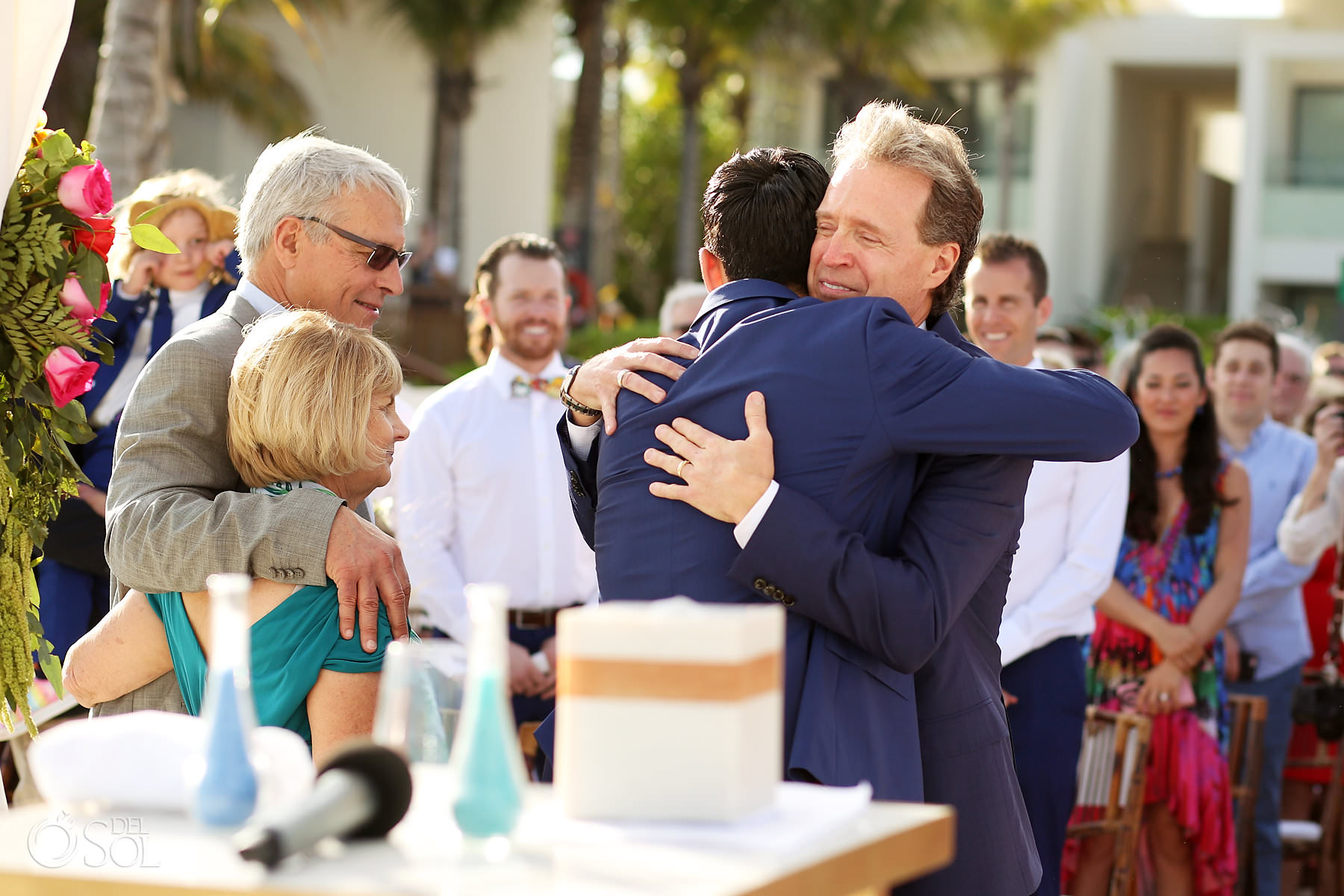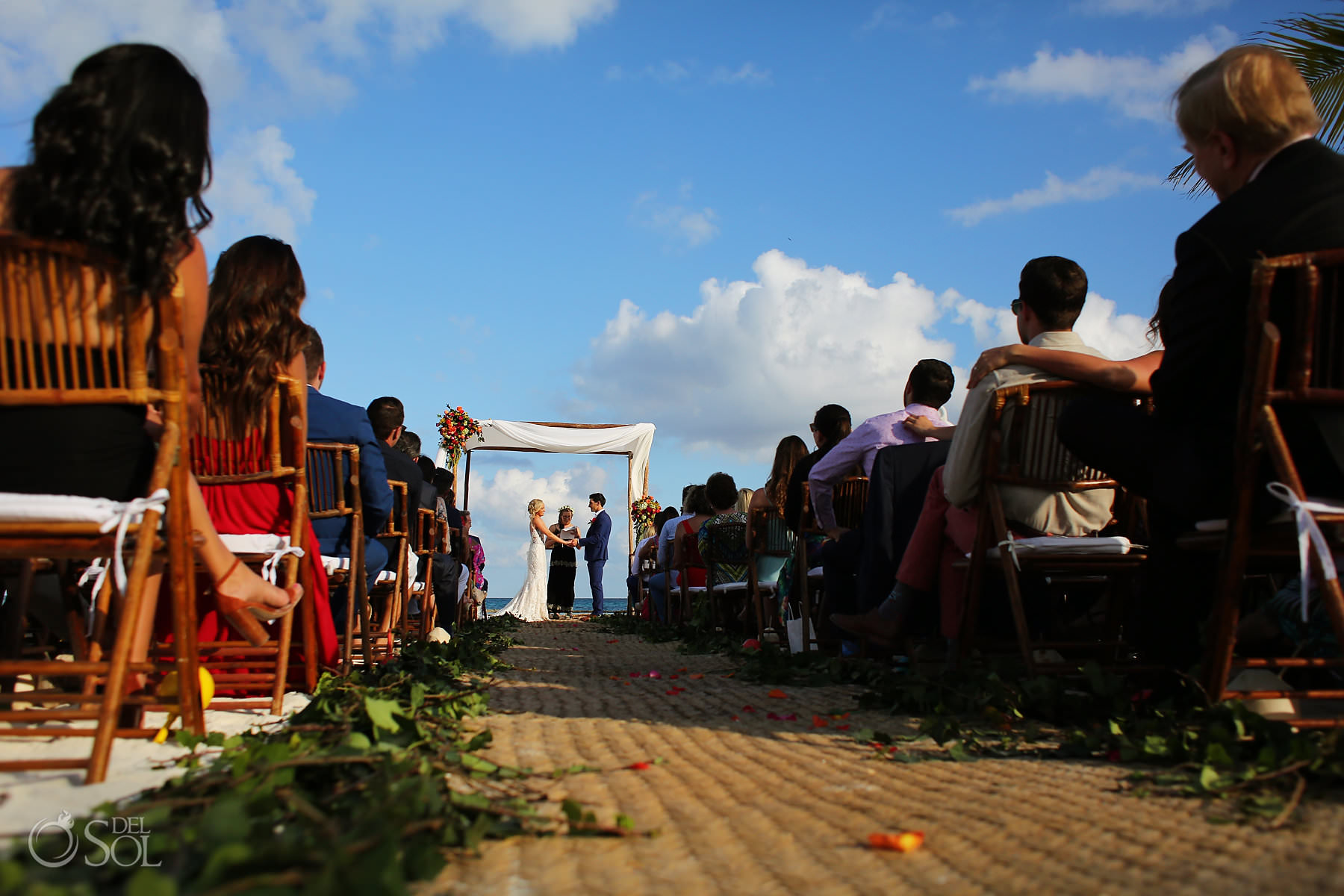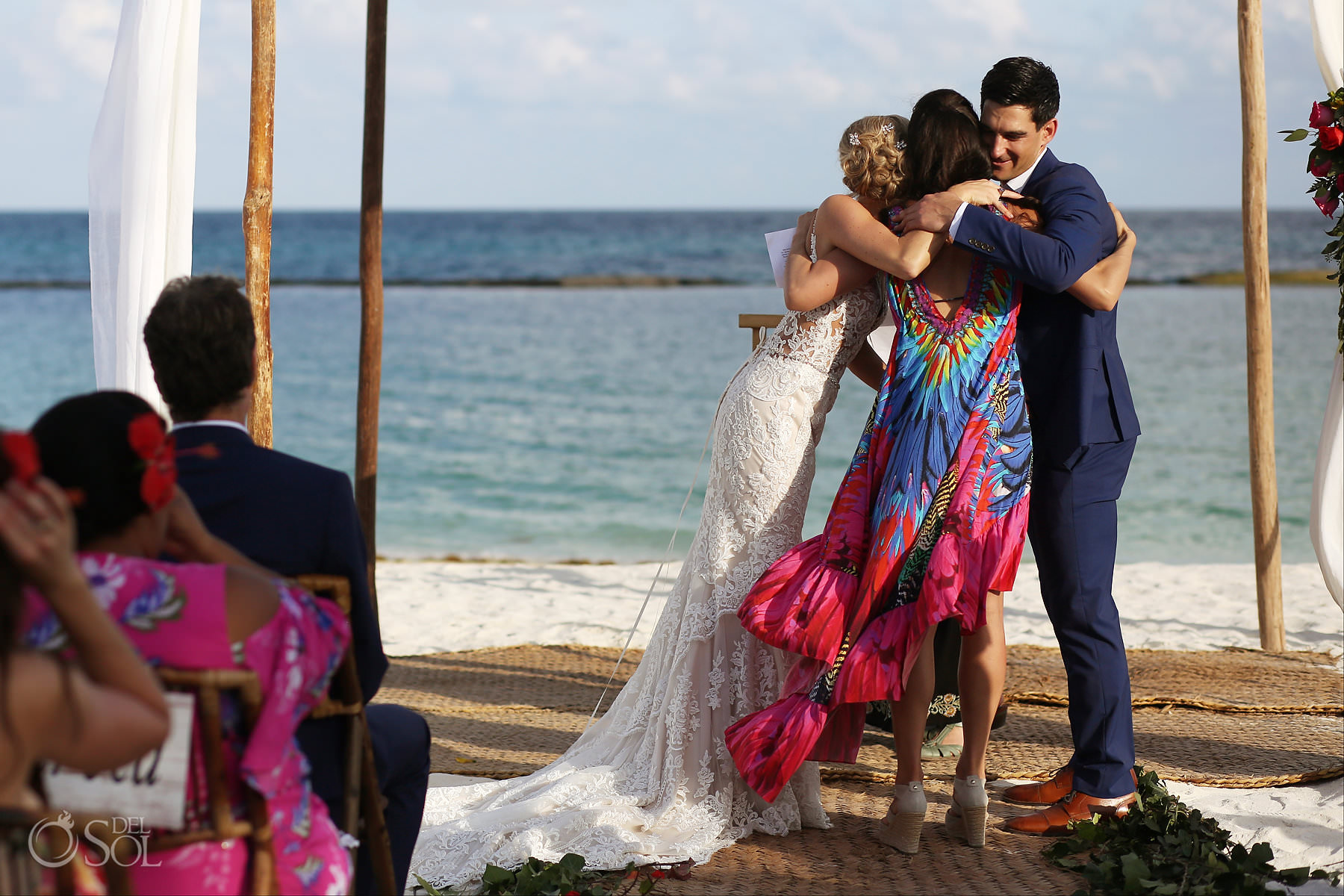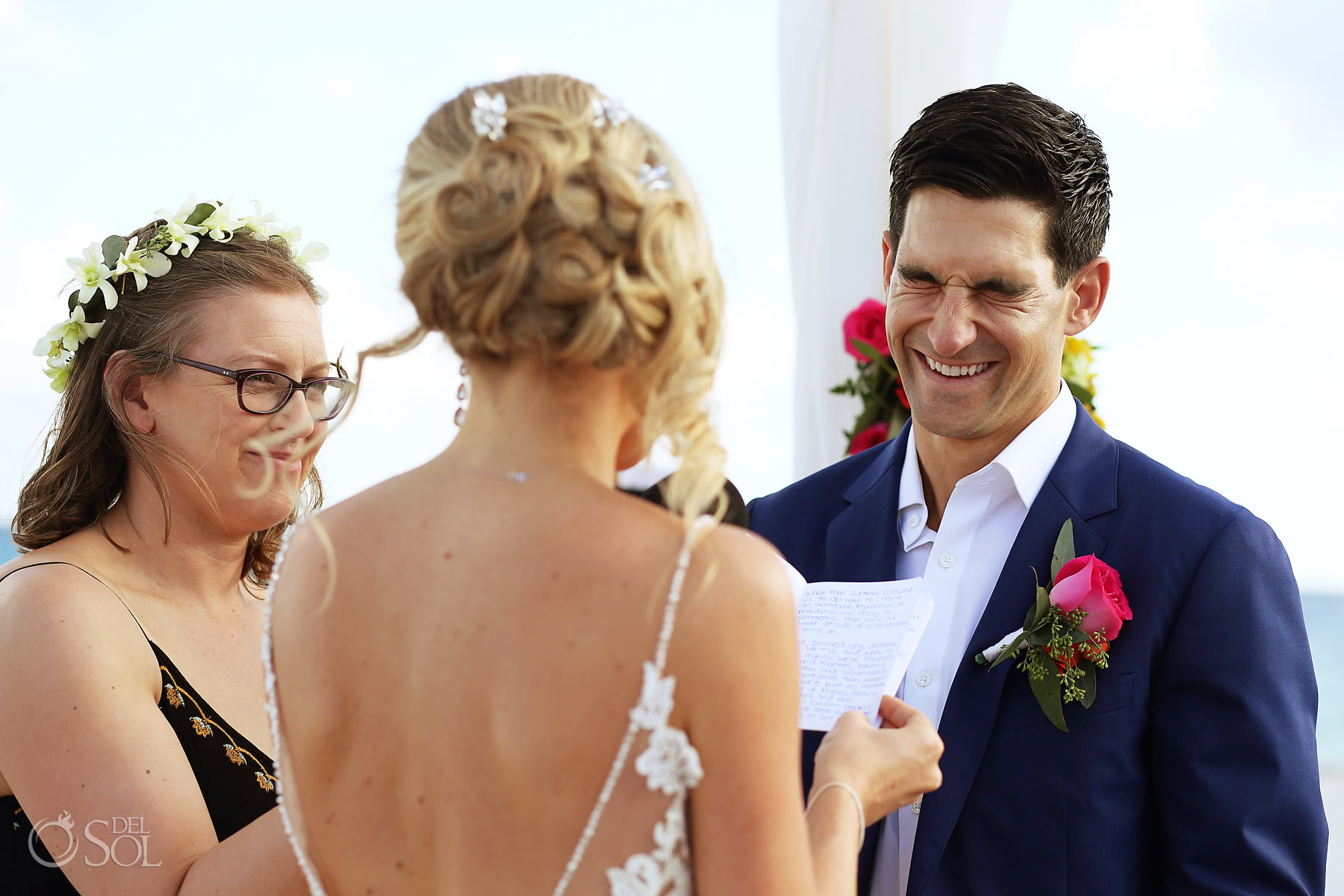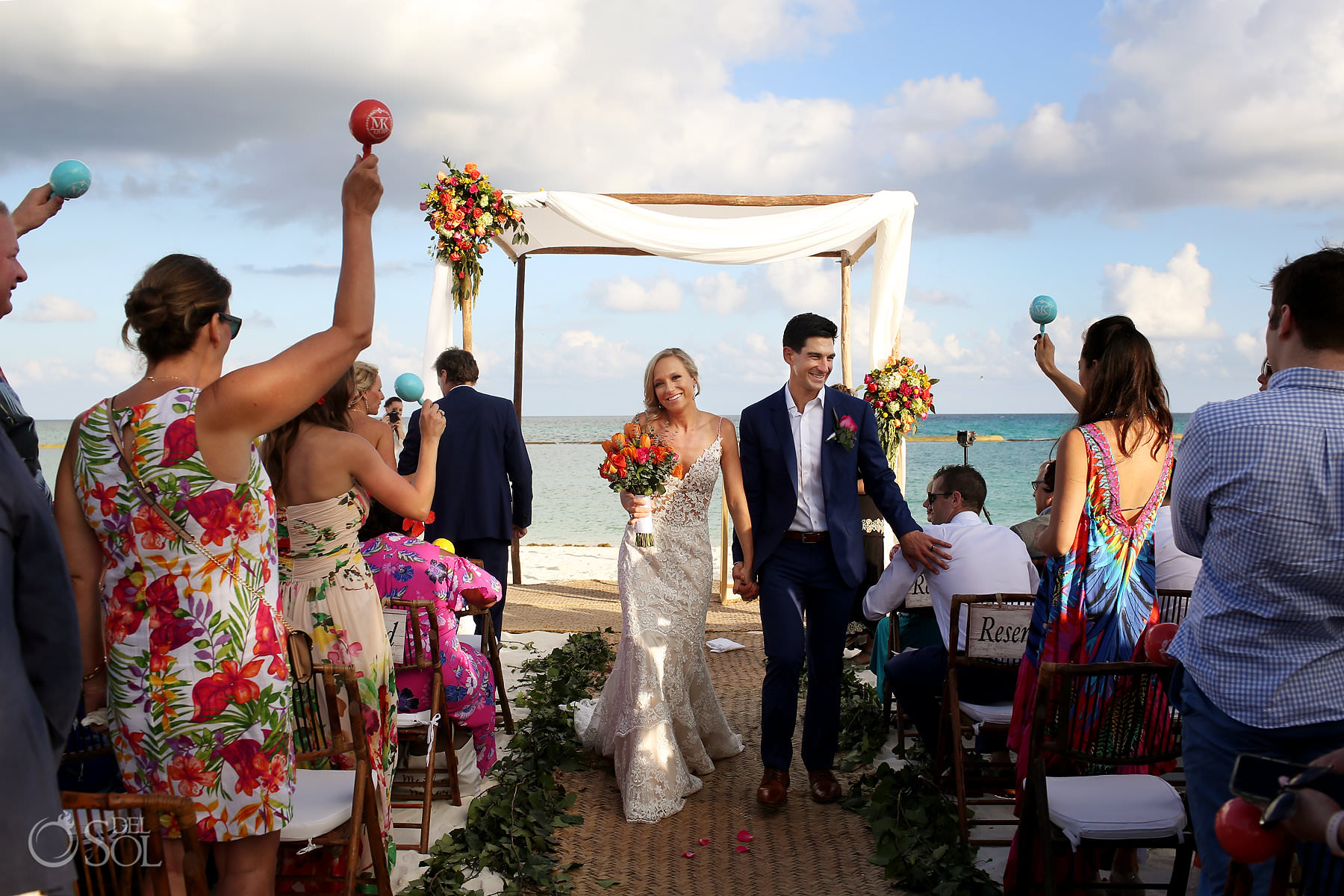 Del Sol: You had great wedding details: from your incredible burning man inspired reception set up, to your monogrammed coconut bar, to quirky humor like your Ring BEAR!! Talk to us about that!!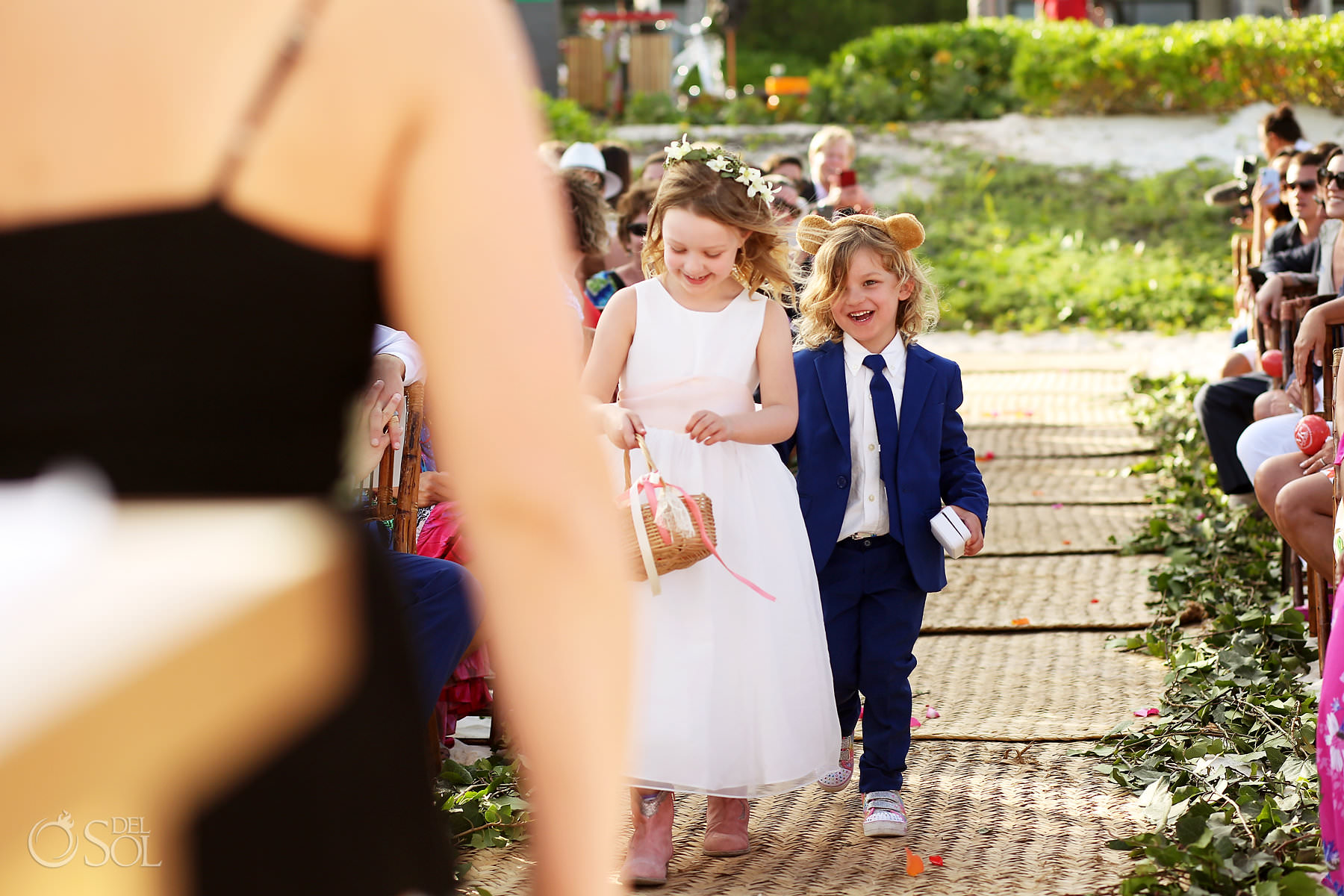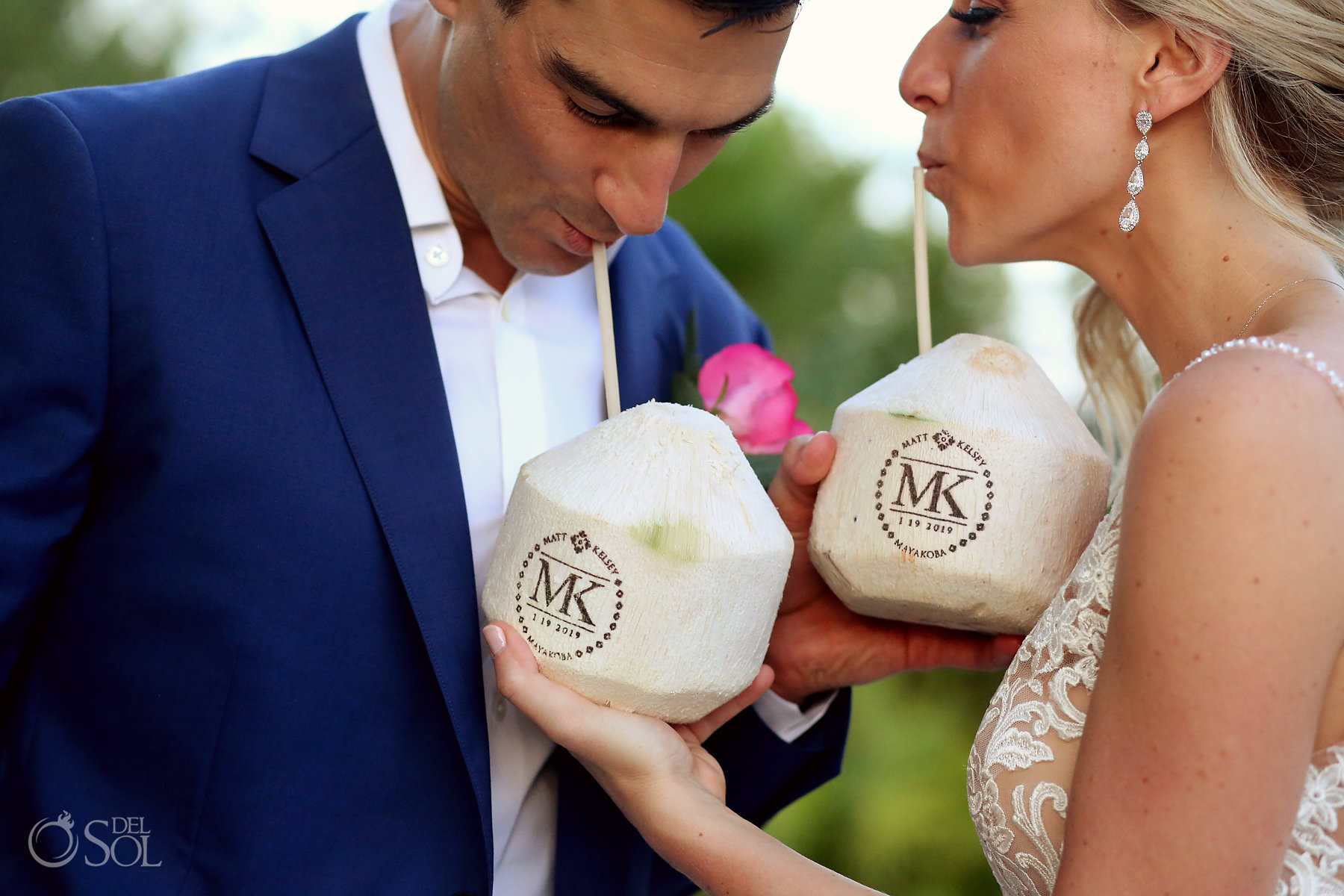 "We tried to make our wedding feel as unique to us as possible. We wanted it to feel both sentimental and high energy. I think we achieved that!
The energy that everyone brought out really amplified the wedding to a magnitude that put it at All Time status."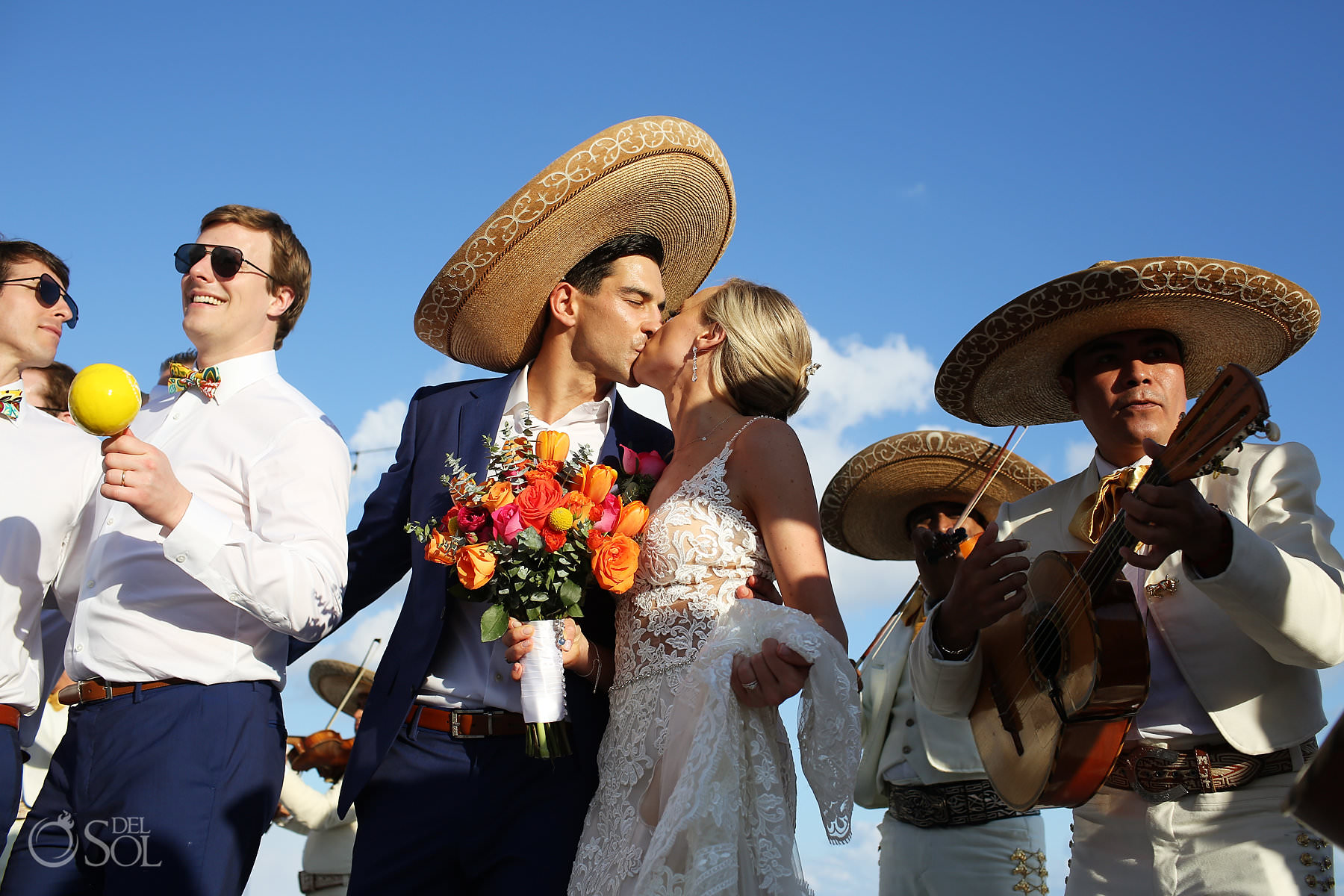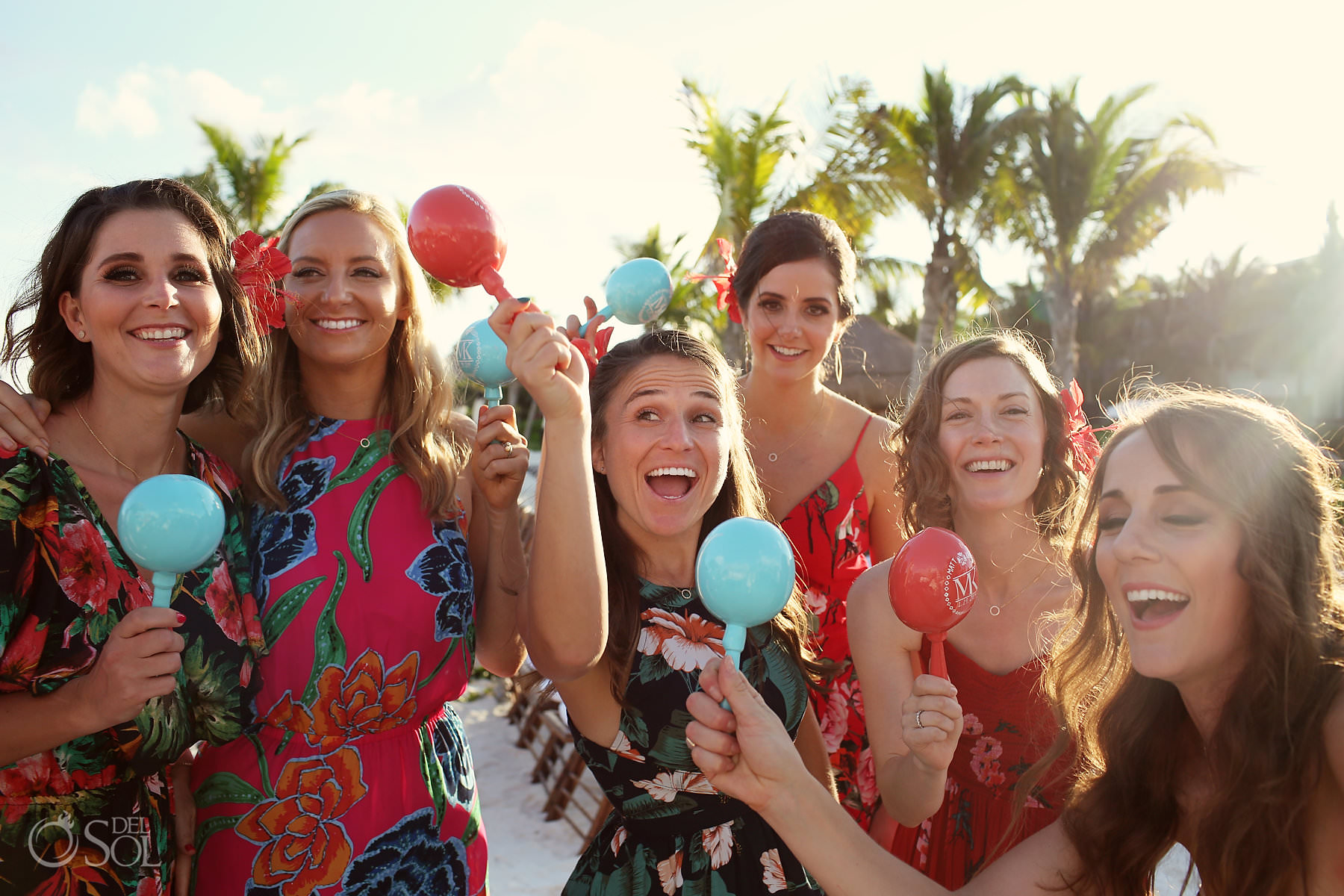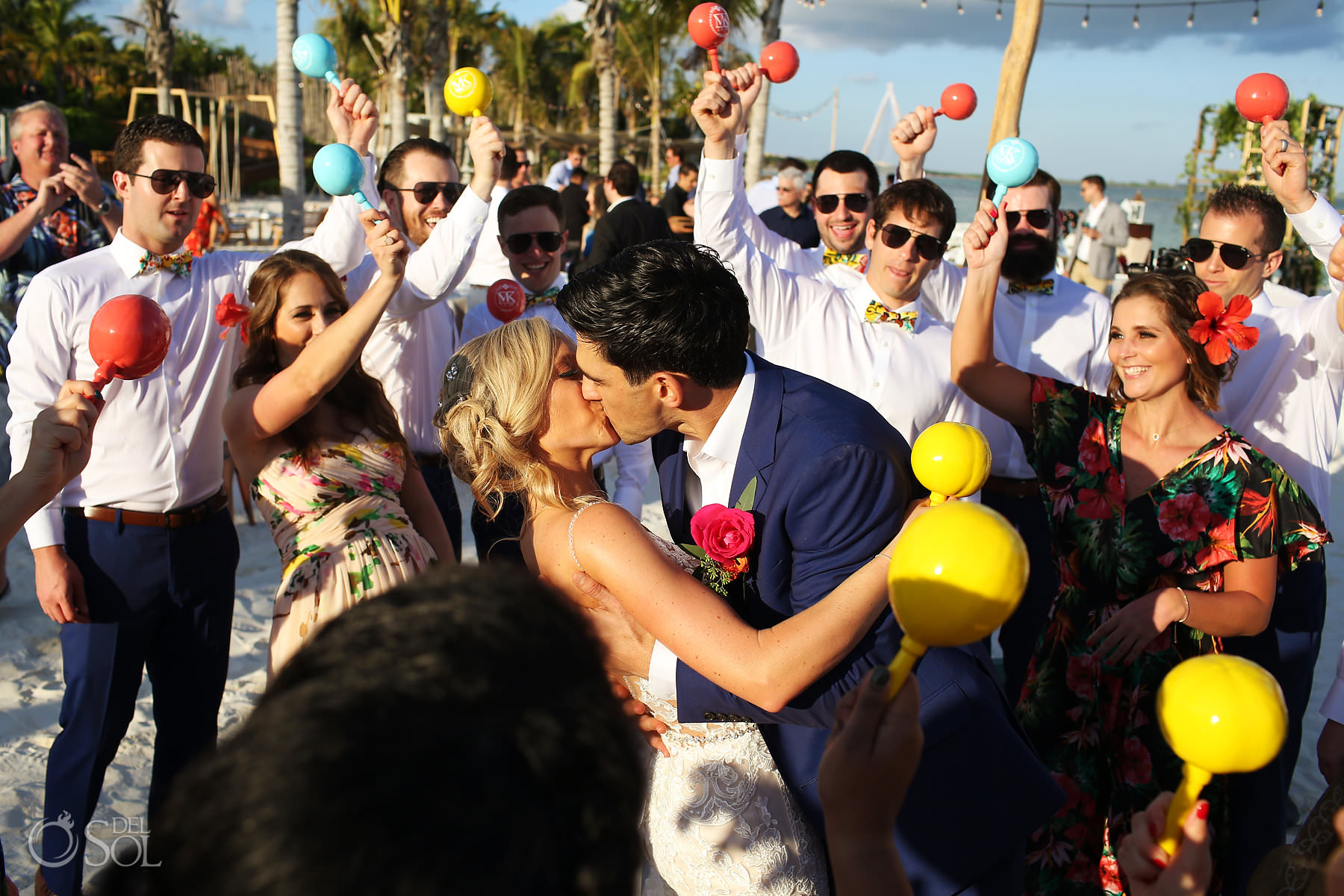 Del Sol: Why did you choose Andaz Mayakoba and your awesome wedding team Better Together Mexico?
"The Andaz staff were also amazing, and were flawless the day of. Everything went so perfectly and all of our guests were really impressed. The food, the flow, everything was perfect and even more than what we expected. We felt so lucky to have such a great team!"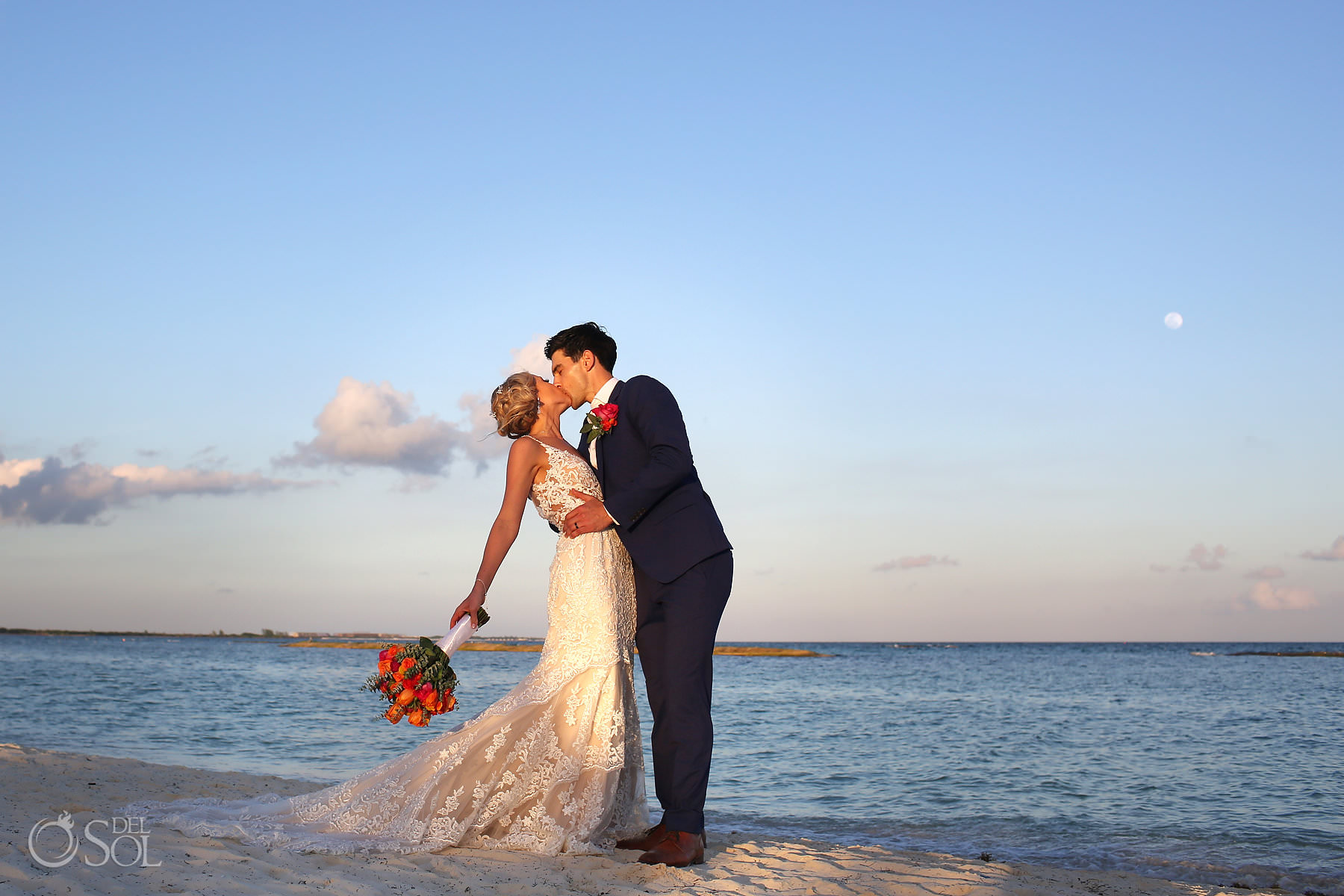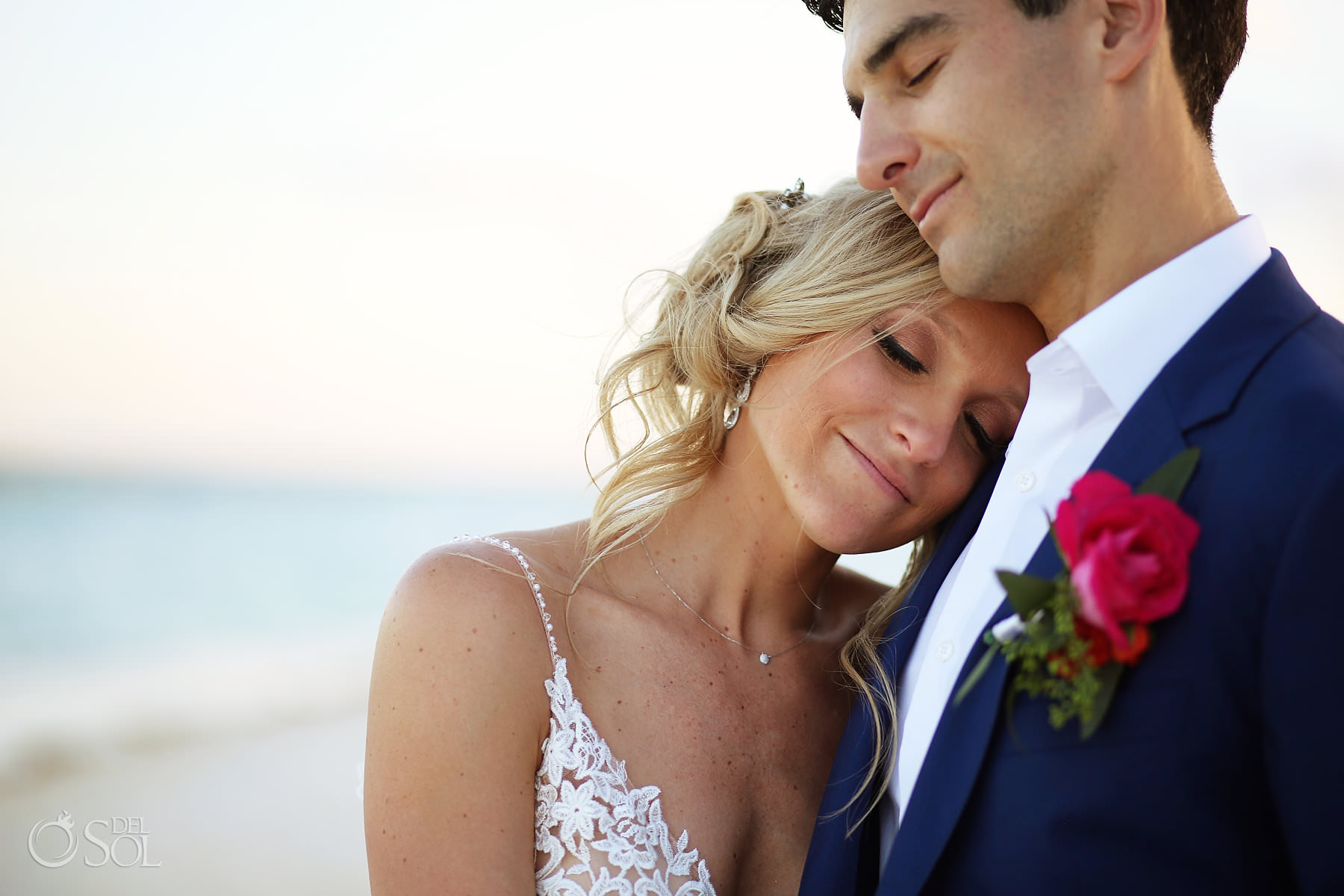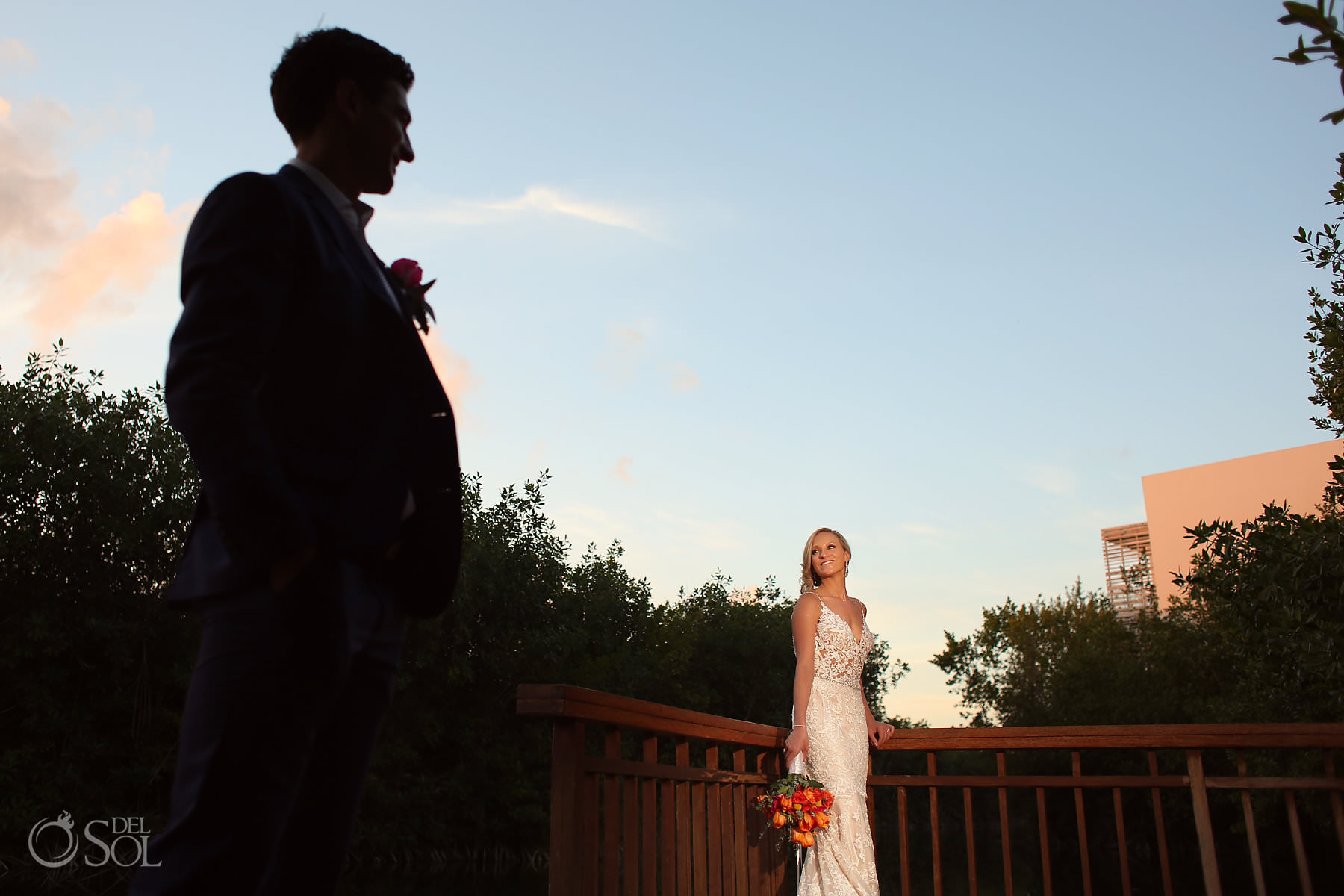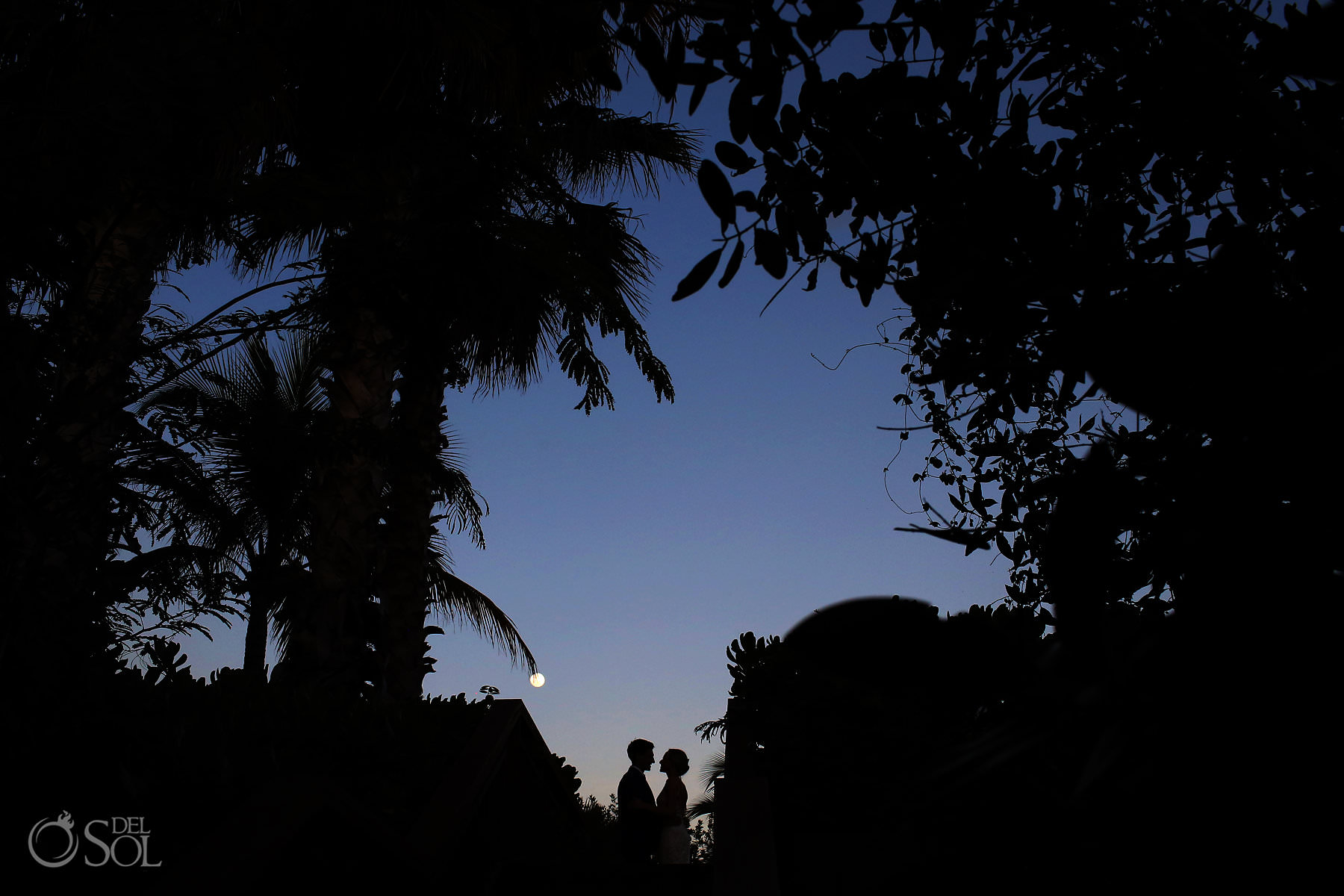 "BETTER TOGETHER were amazing, and have been working on this day with us for over a year. They have been incredibly supportive and really went above and beyond in helping realize our perfect day, and weekend."
"We really could not have done it without them, and feel like they are part of our family now :)"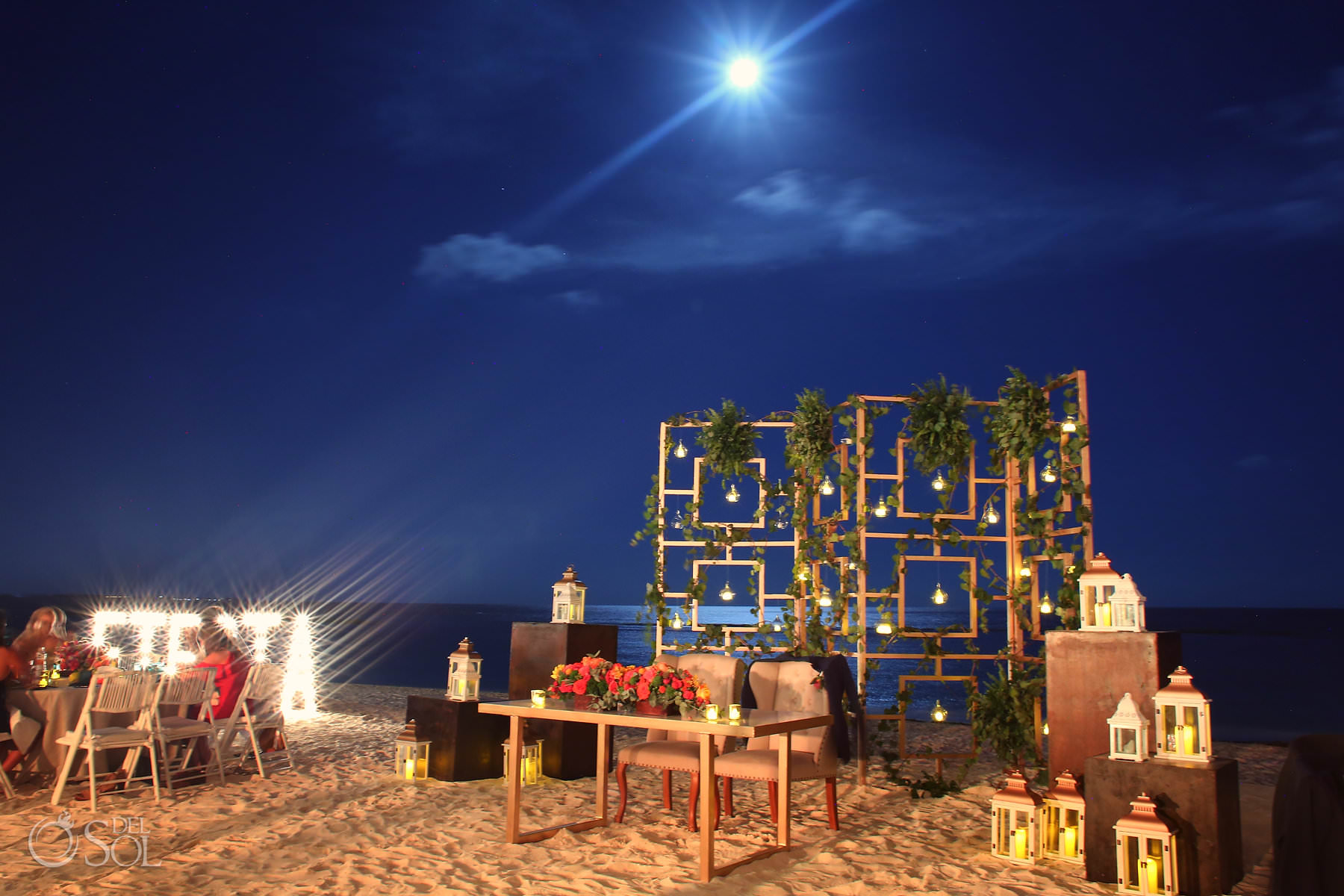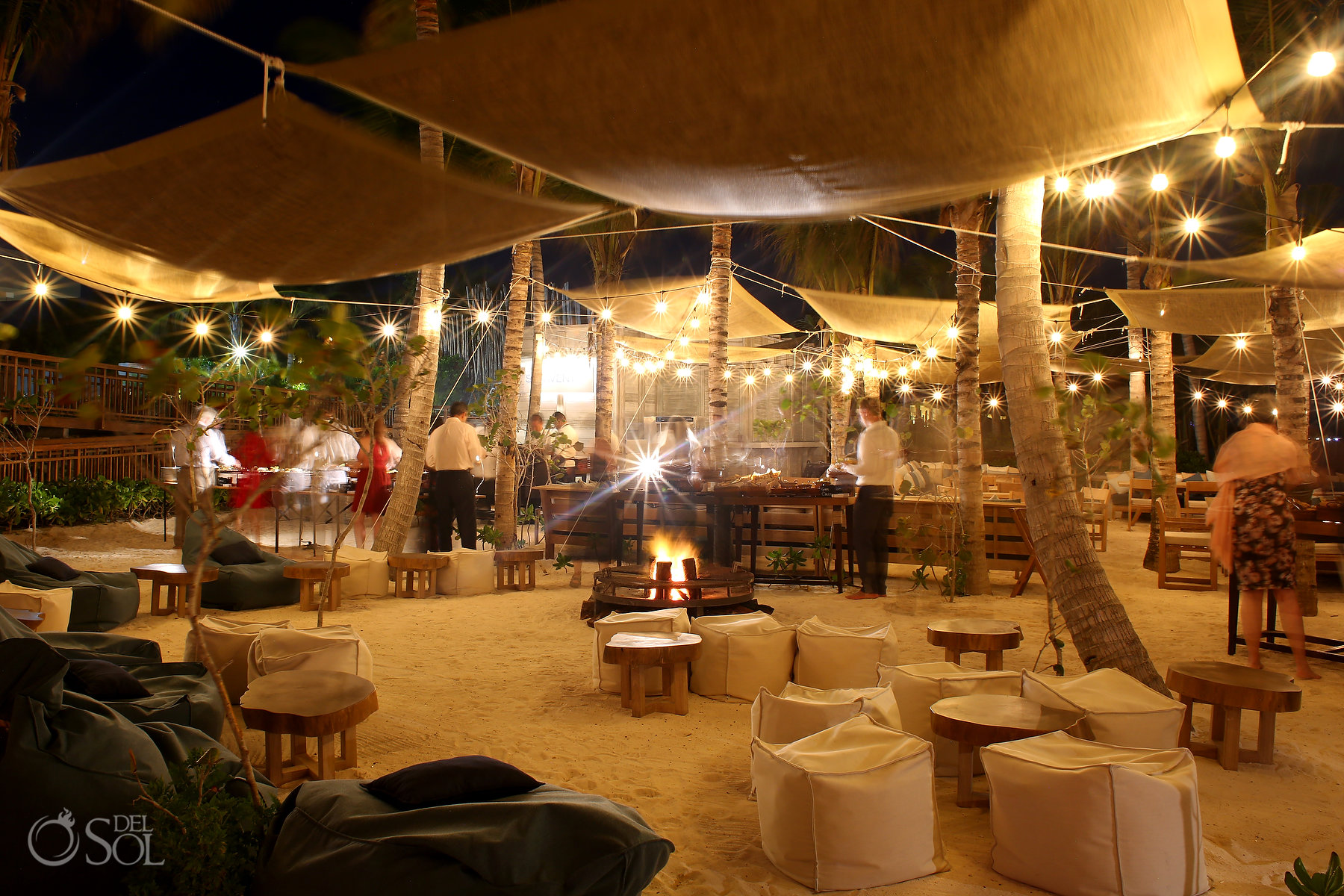 Del Sol: Kelsey – you WENT FOR IT in the cake cutting and properly cake smashed Matt – was that in the plan all along?!!
"It was not planned! I definitely thought he was going to do it to me, and then when he didn't, someone yelled "get him!" so I thought, why not?"
"He was definitely caught off guard, which is why we were laughing so hard! (It was totally messed up)."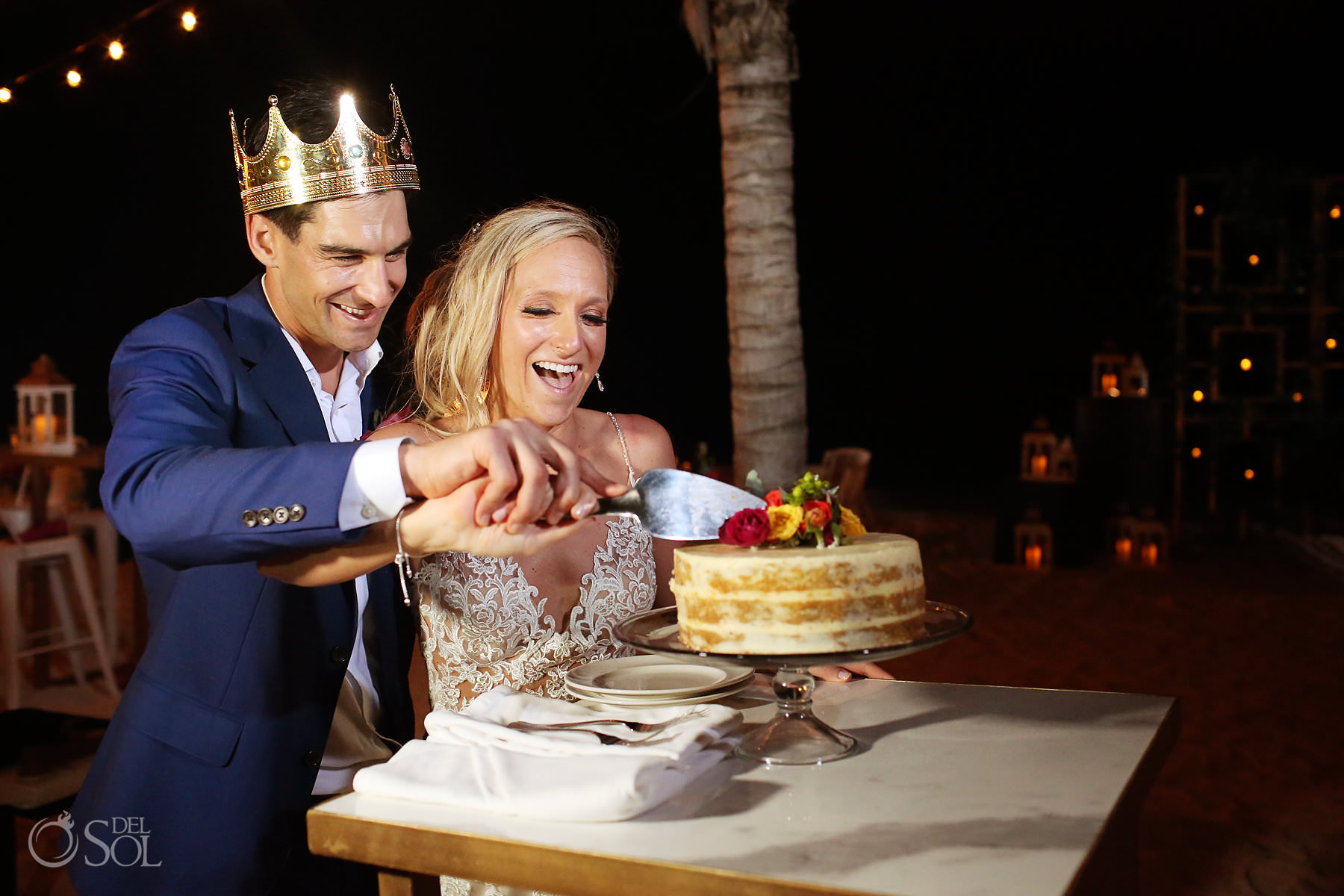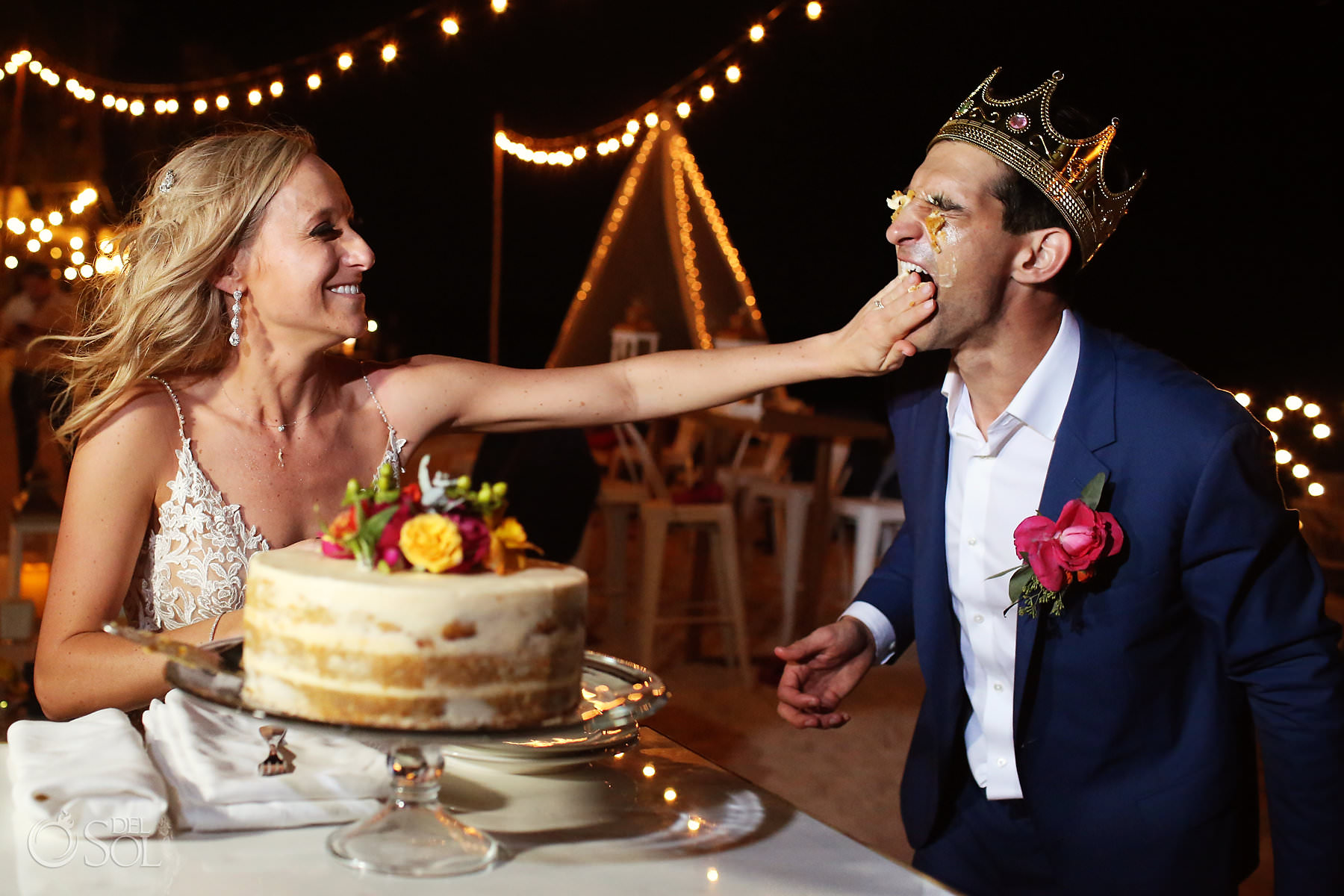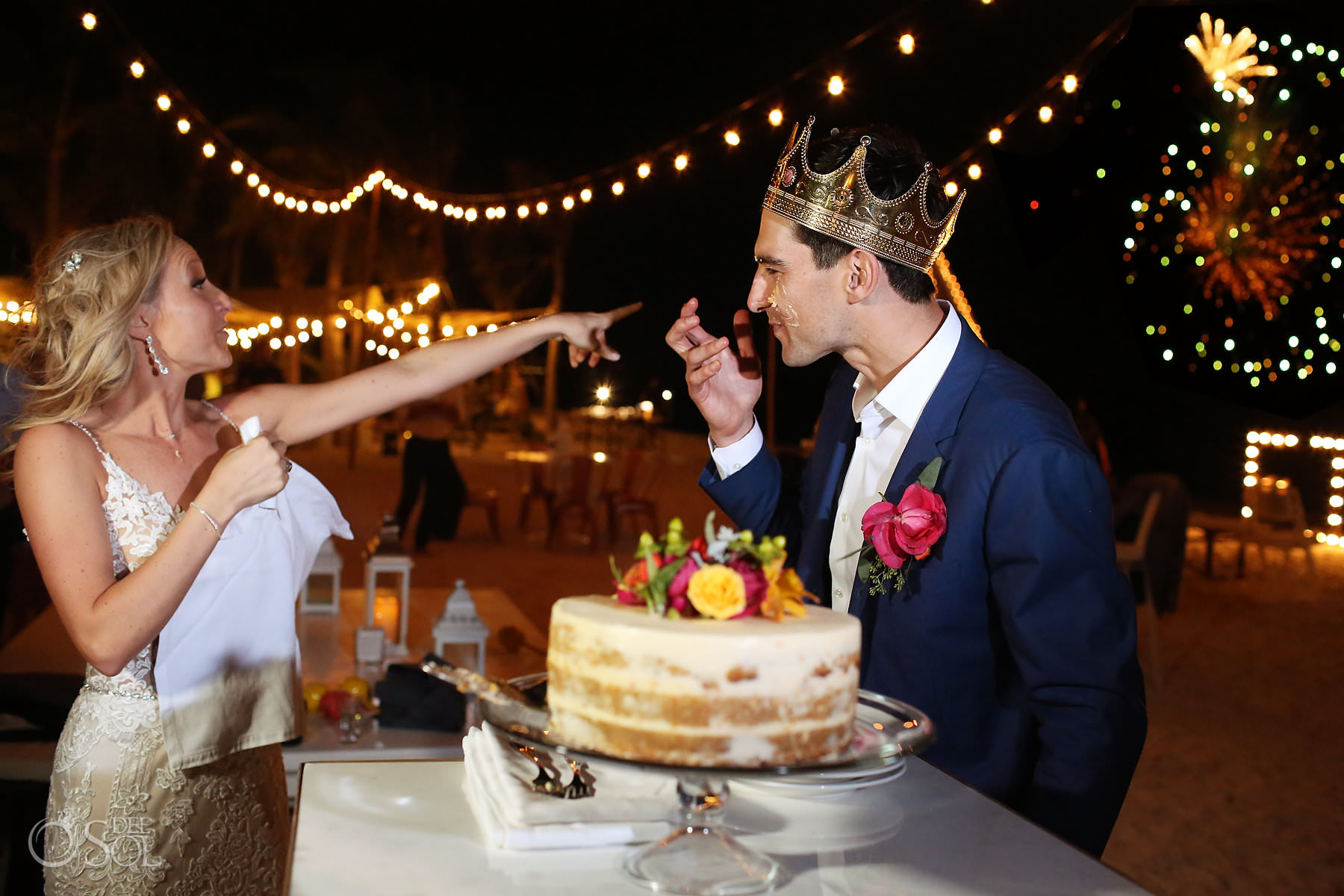 Del Sol: You guys KNOW how to put the party – an epic first dance – epic parent dances – WOW!!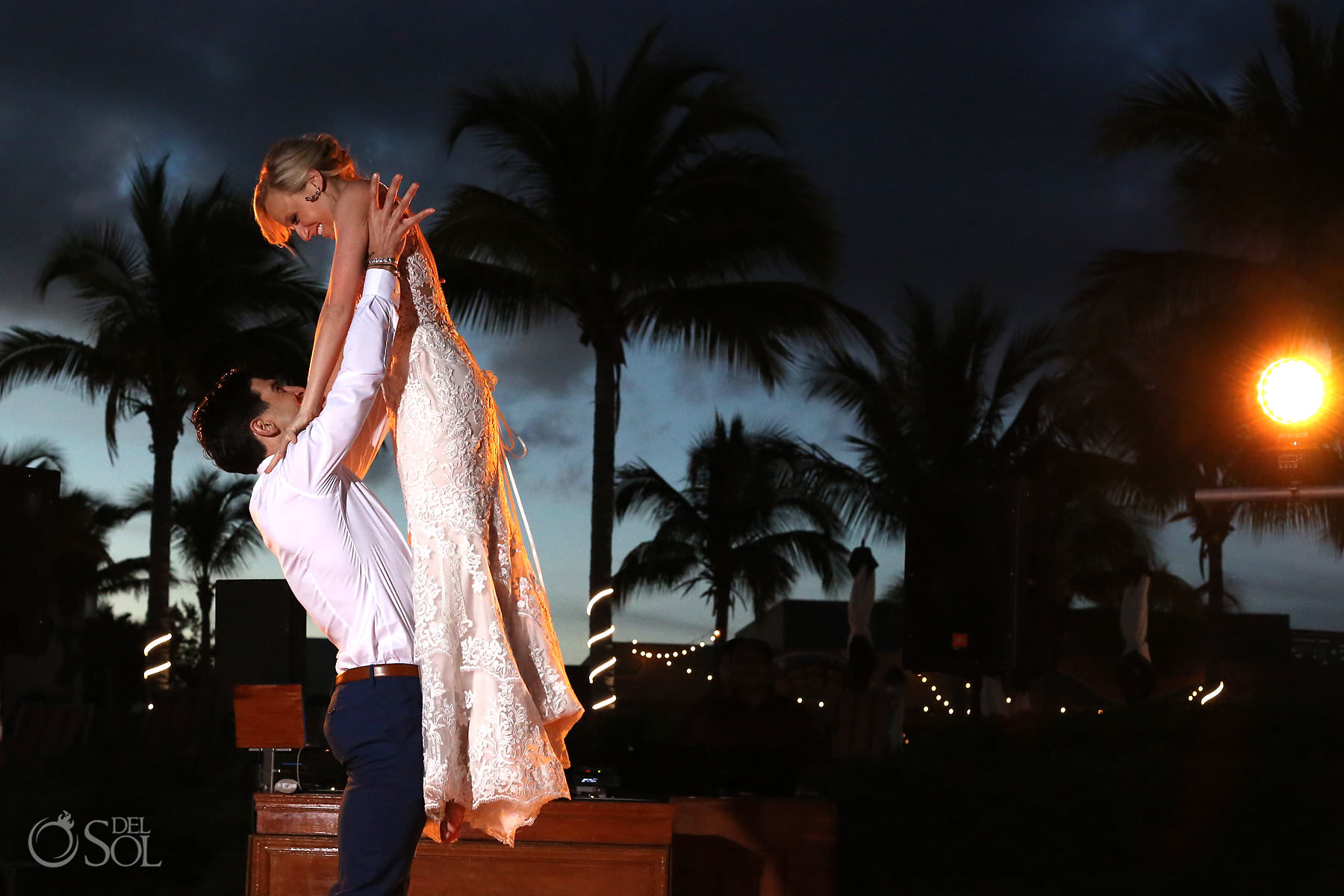 "My brother AJ bought us dance lessons for Christmas, and so we kind of last minute decided to do a choreographed dance for the wedding – and we only had two weeks to learn it!"
"Kelsey was a dancer growing up but this was Matt's first time dancing like this, and he really knocked it out of the park!"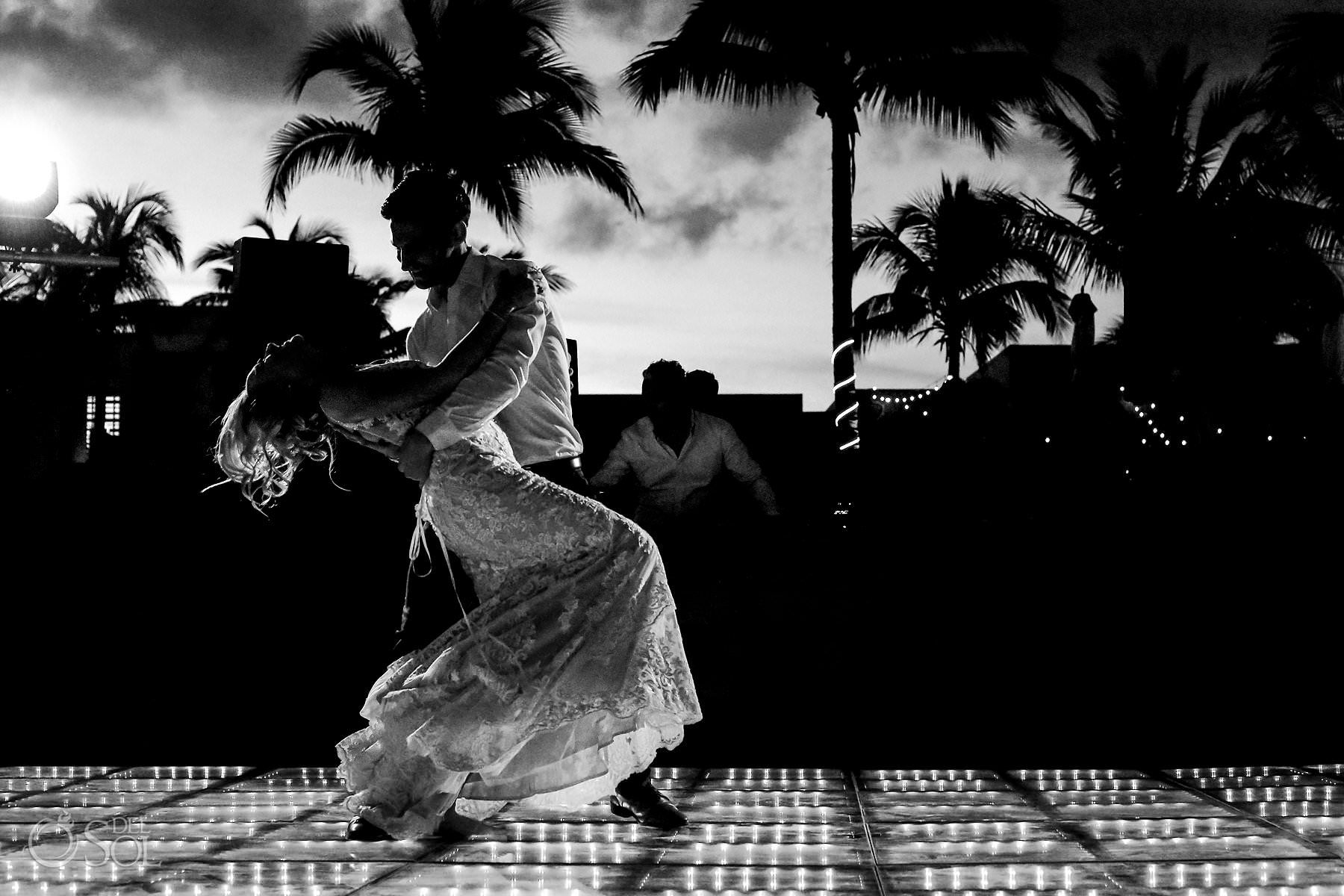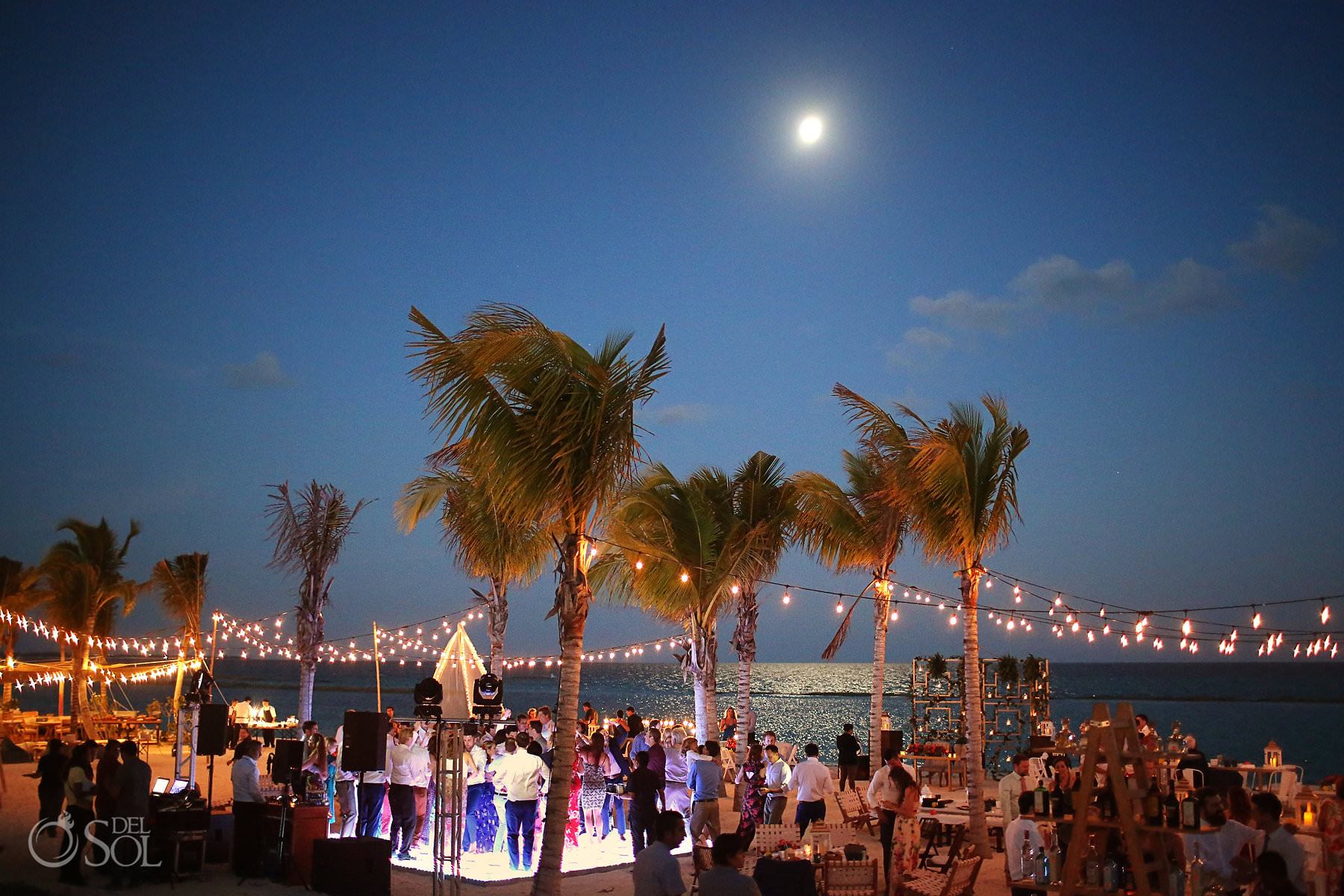 "Kelsey changed up the choreography three different times so we had only practiced the routine 4 times before the real deal. We really wanted to go all out for our wedding and so happy we could pull this off, along with getting out parents to dance too."
"Dancing is one of our favorite things to and it was important the our wedding was centered in that!"

Del Sol: How was your experience with the del Sol team?
"We loved our del Sol team!! It was clear from Day 1 they understood who we were and what we were trying to capture with our wedding, and were so invested the whole time."
"Everyone afterwards commented at how amazing the team was – capturing every moment, even jumping into the middle of the dance floor, and they were such a pleasure to be around. We can't wait to see the results – we know they will be epic! You guys really felt like a part of the big day every step of the way!"