Riu Palace Wedding
Leigh and Dane
" It was like the ending and a beginning all at once. An ending in knowing I don't have to wait any longer to call Leigh my wife and the beginning of spending the rest of my life with someone I love with all my heart and have done since I first set my eyes on her. The whole day was like a dream I didn't want to end." – Dane

Del Sol: You guys were worried about the rain —- it DID actually rain on your wedding day, like crazy, for 10 minutes!! Then you had incredible light and a rainbow :)
"Both of us felt sad when it started to rain especially as it had only been beautiful sunshine a moment before! We felt like our special day was going to be ruined."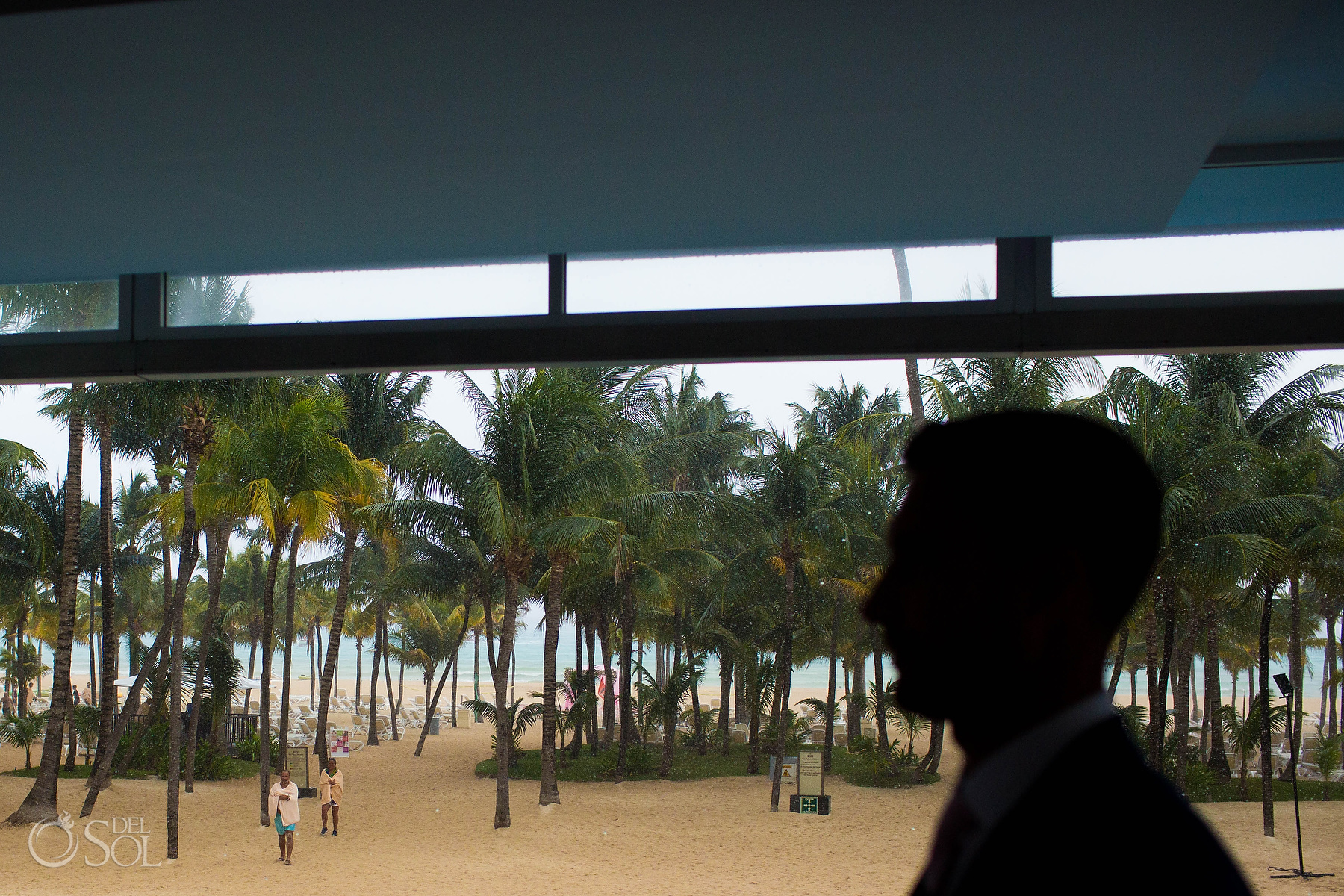 "We both made our separate journeys towards the beach not really knowing what to expect when all of a sudden the clouds parted and the rain completely stopped!"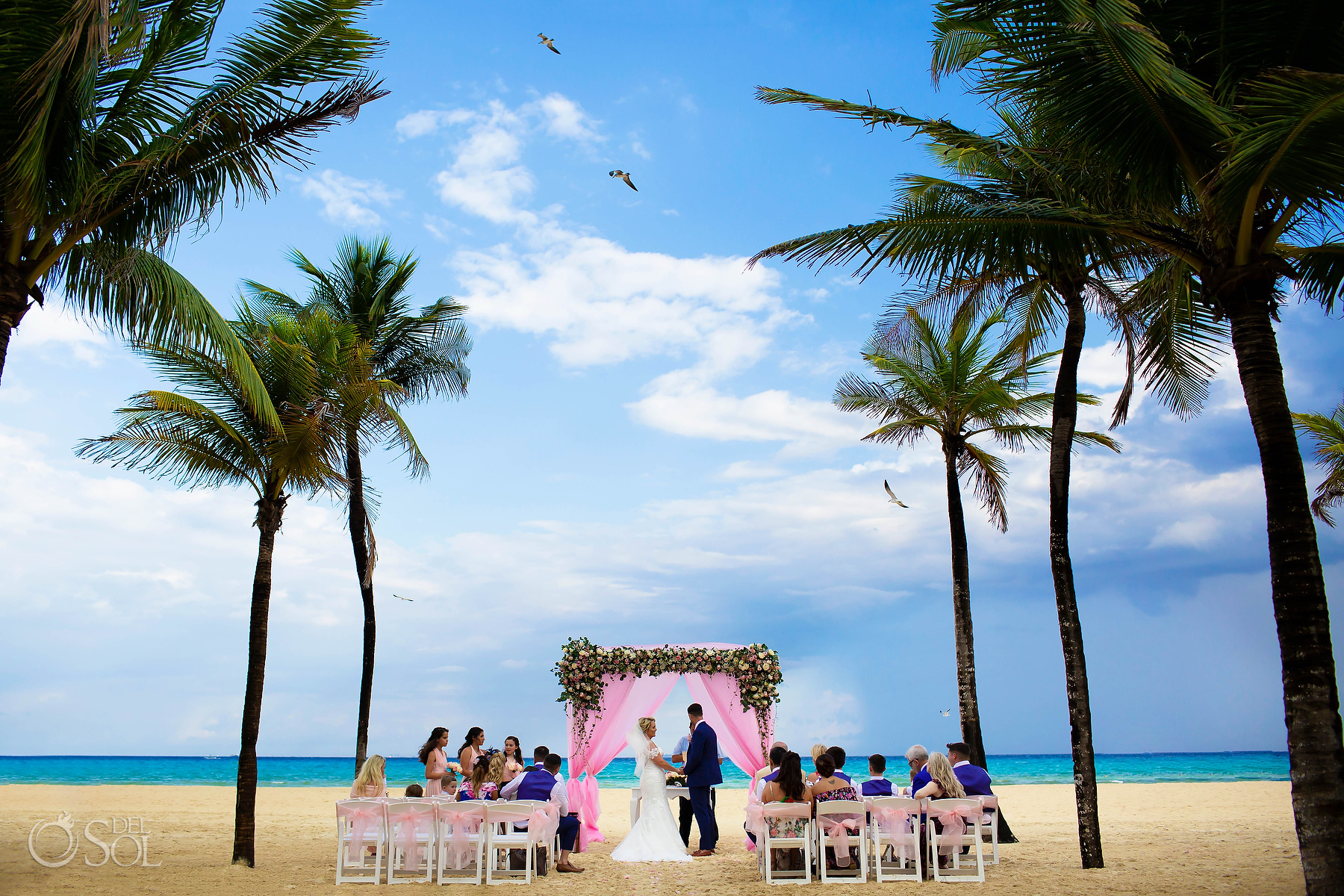 "During the ceremony a beautiful rainbow appeared. We feel someone was watching over us that day and the rainbow was the best wedding gift ever!"

Del Sol: Dane – as soon as you saw Leigh start to walk down the aisle you were really overwhelmed with emotion.
"I was at the alter standing under an arch of the most beautiful flowers when I opened the box Lily, my daughter had given me. It was the most amazing gift from Leigh, a heart charm to wear which held a picture of me and my grandad who is sadly no longer with us with the words "forever in my heart". This made me very emotional and tearful."

"Leigh looked so beautiful, even more than I could ever imagine. It was like the an ending and a beginning all at once, an ending in knowing I don't have to wait any longer to call Leigh my wife and the beginning of spending the rest of my life with someone I love with all my heart and have done since I first set my eyes on her. The whole day was like a dream I didn't want to end."
Del Sol: You guys have been together for 17 YEARS!
"We knew the timing was perfect for us and feel so blessed that our children were able to share our journey with us."
"Being married after all this time is a dream come true!"
"Having our three children be part of our special day and get to watch us say our vows meant everything to us. It was a day we will never forget."
"It was very emotional and we cried many happy tears. The kids loved every moment and had so much fun! "

Del Sol: It's amazing LOVE brought you here! Why did you Travel for Love – all the way from the UK!?
"It has aways been our dream to get married on a beautiful tropical beach with the ocean as our back drop and surrounded by nature and the people we love the most."
"We just fell in LOVE with Mexico and knew it was perfect for us to share our love with the most special people in our lives. It will always hold a special place in our hearts."

Del Sol: Why did you choose the Riu Palace Mexico?
"After lots of searching, we decided the Riu Palace Mexico was the venue for us. It was stunning and classy and gave our wedding and holiday that extra special feel. It is set on a beautiful beach just as we envisioned. It was perfect!"
"Our wedding coordinators Rosario and Jannisse were the best! Their communication with us throughout the planning of the wedding was brilliant. They oozed professionalism when having to move our reception venue due to the rain. They decorated everything so beautifully and the flowers were breathtaking! They worked so hard and nothing was too much trouble. We thank them from the bottom of our hearts for making our day so perfect."

Del Sol: How was your experience with the del Sol team?
"Our Riu Palace Wedding Photographer Polly and Valeria were so AMAZING!! Super friendly, professional and put us at ease from the moment they arrived. Everyone mentioned how fantastic they were. We can't thank the Del Sol team enough, they went to every effort for us and captured not just the big moments but the special intimate moments that are so easily missed.
"The Del Sol team felt a part of our family from the planning stage all the way to our wedding day.. and even beyond. Thank you for everything! We will cherish our beautiful photos forever."