Dreams Tulum Hin-Jew Wedding – Part 2
Eera + Joe
We had an action packed 3 days documenting Eera and Joe's wedding celebration. Their Dreams Tulum Jewish wedding followed their Hindu ceremony and closed up proceedings for that day. Their wedding reception was the following day and of course, their Sangeet and Mehndi Party started the proceedings!
We asked principal photographer Sol Tamargo to share her reflections on the day.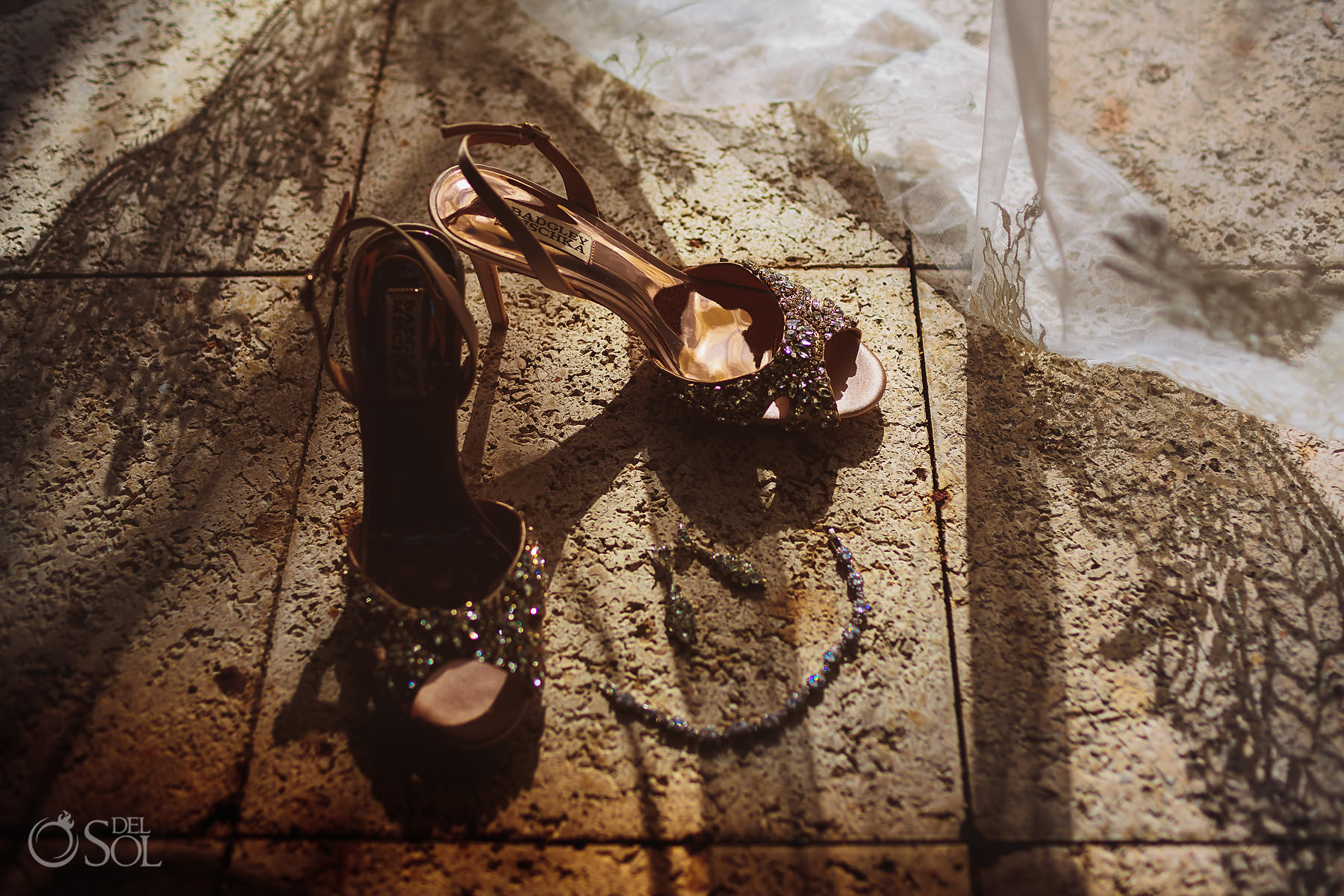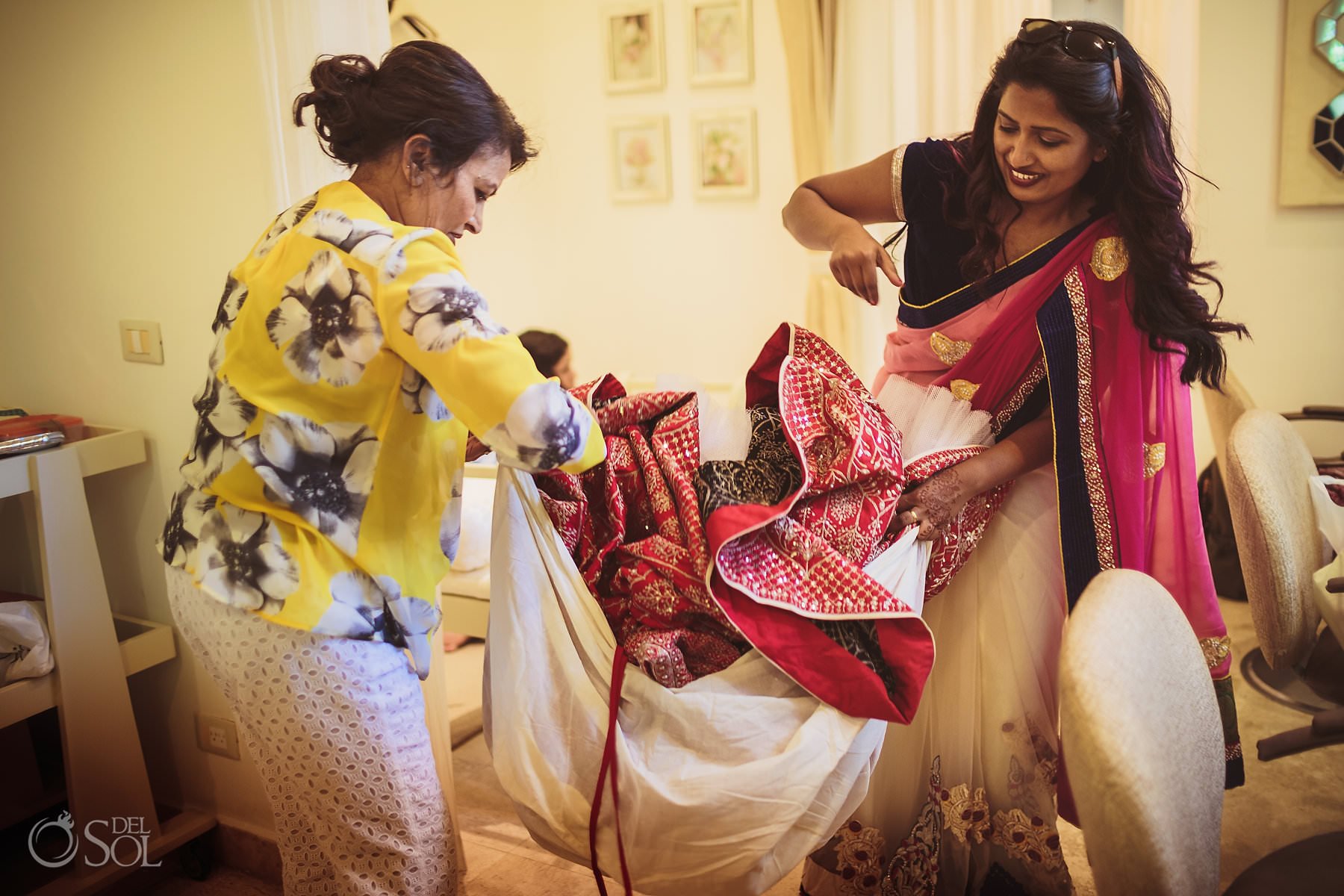 Del Sol: It's not often that we have more than one wedding ceremony in one day! How did it feel to transition straight from a Hindu ceremony into a Tulum Jewish wedding?
"Seeing how these two love birds respected and adopted each of their cultures was FREAKING AMAZING!"- Sol Tamargo
"The Indian wedding ceremony and the Jewish share the fact that they are all about ritual, connection and respect."
"What changes is the details, but the main vision stays: LOVE"
"I LOVED finding those things that connect them. It was a shower of culture, for any artist this is a gift!"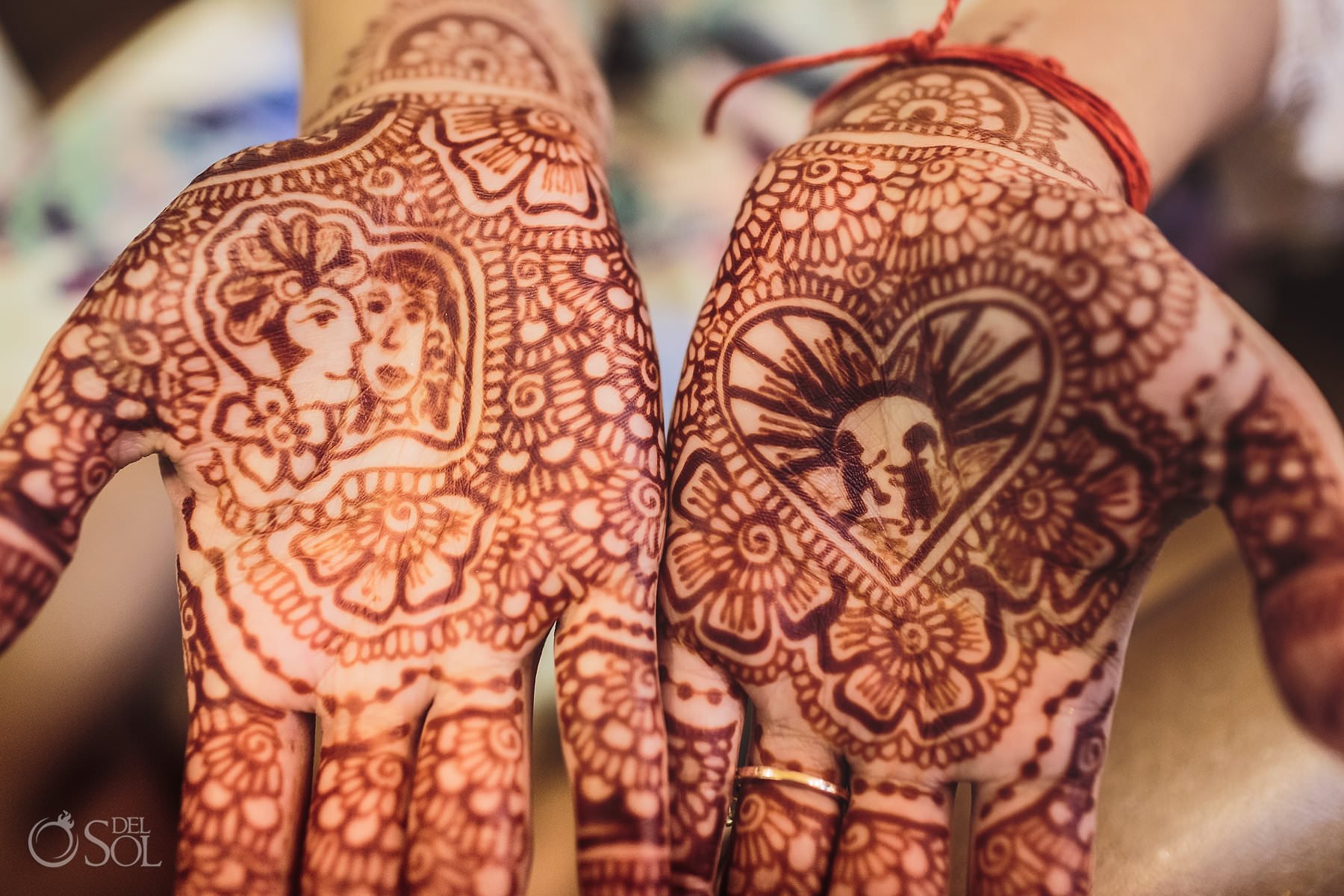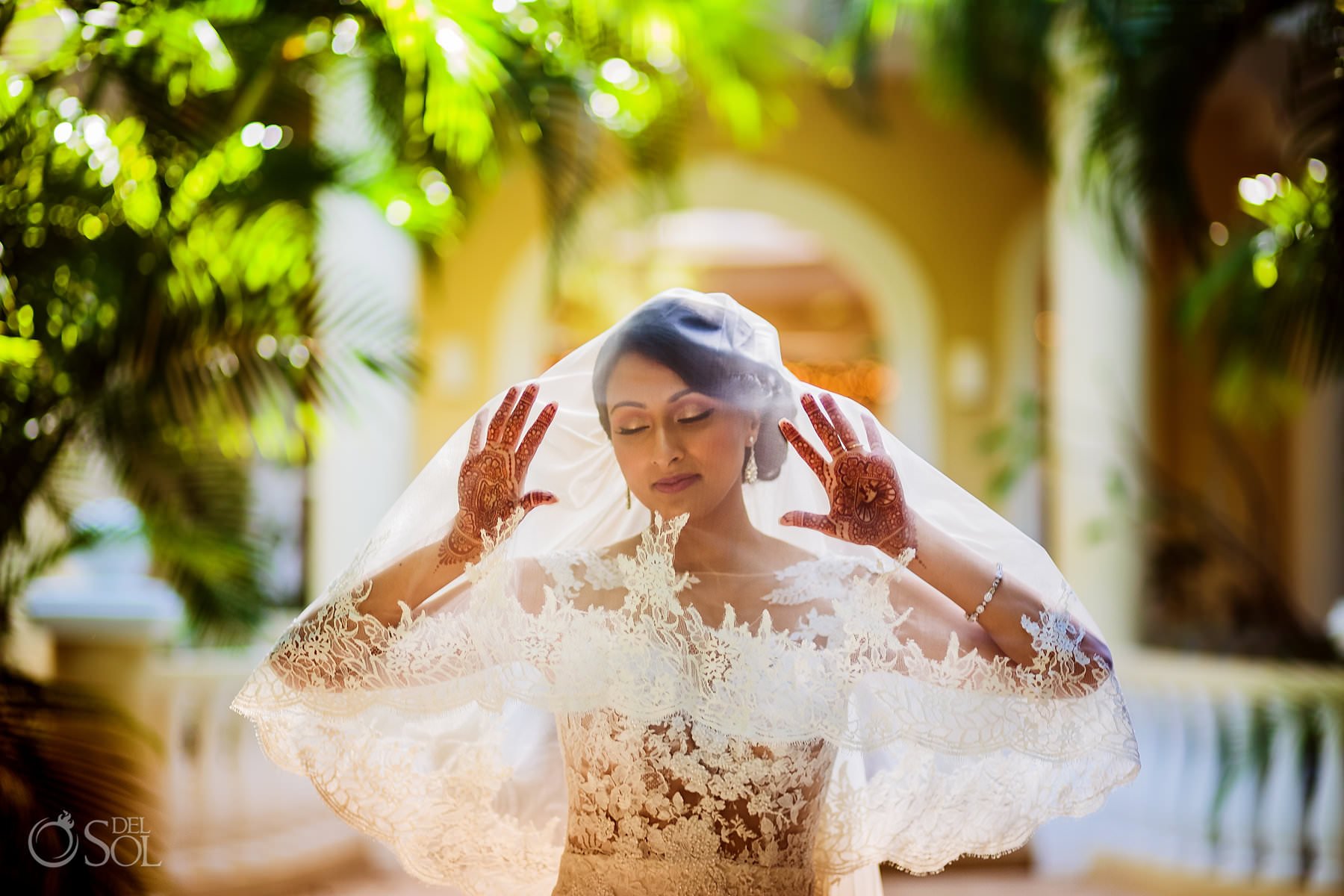 Del Sol: Even though there were 2 separate cultural ceremonies we love that they overlapped in details like the Mehndi on Eera's hands.
"It's all about telling stories, Indian people love to tell tales and legends. The same goes with the Mehndi."
"Eera choose to have a beach sunset, a heart and her and Joe's faces in her mehndi to tell the sry of how Joe proposed! How magical to have that painted on your hands on your wedding day!"
"The art stays and the dress changes. It's a continuation of the same love promise, embracing their differences, respecting their cultures and family history." – Sol Tamargo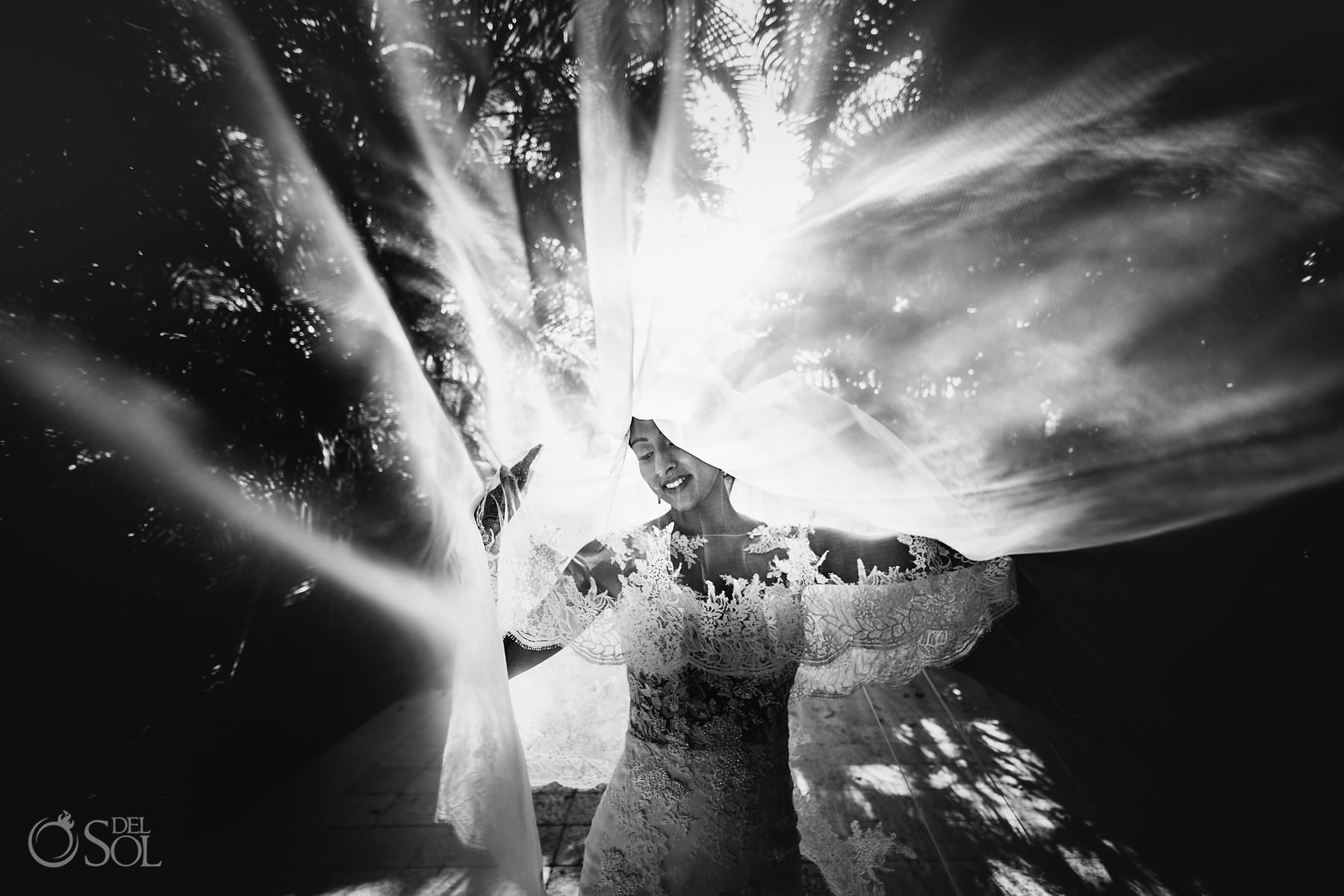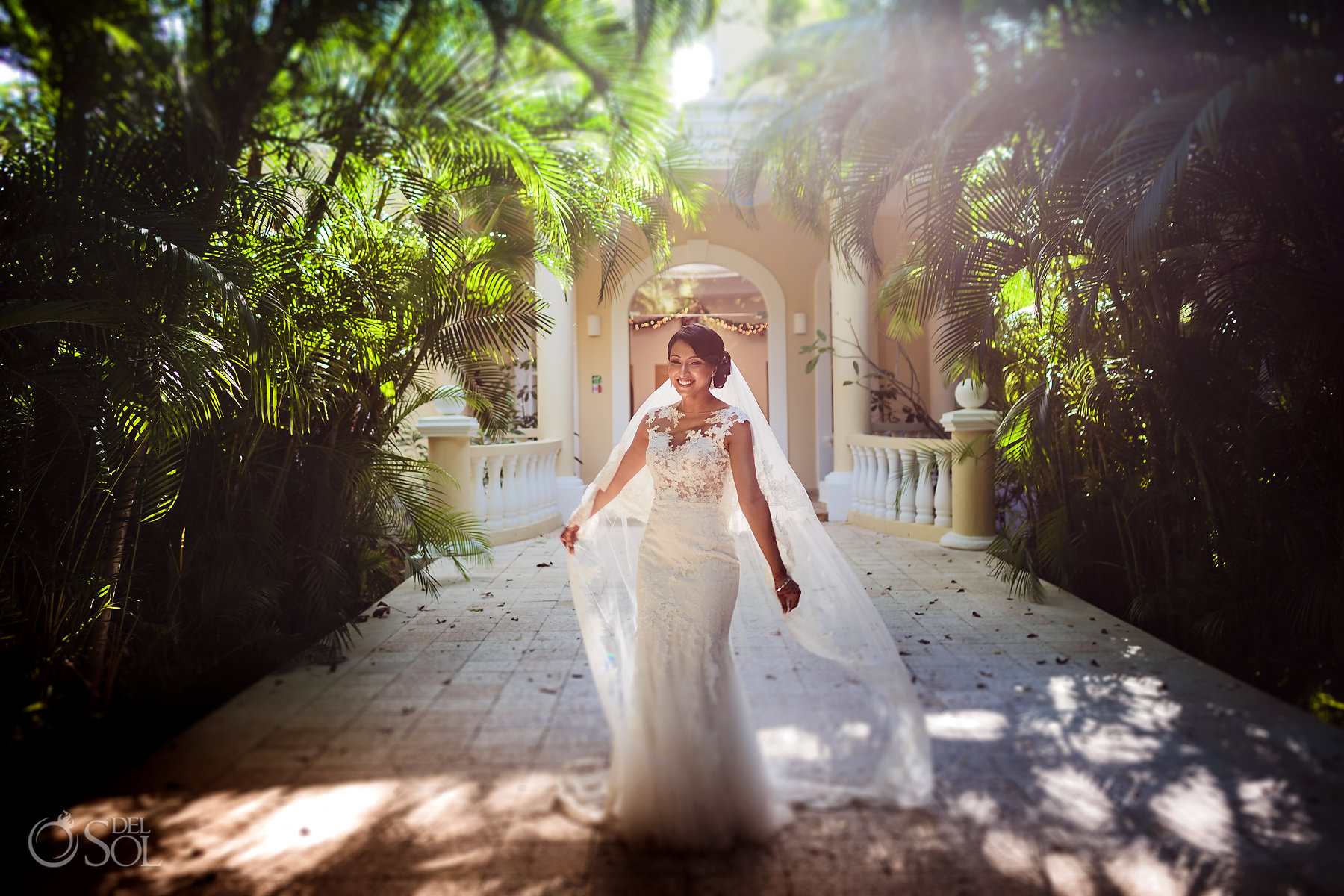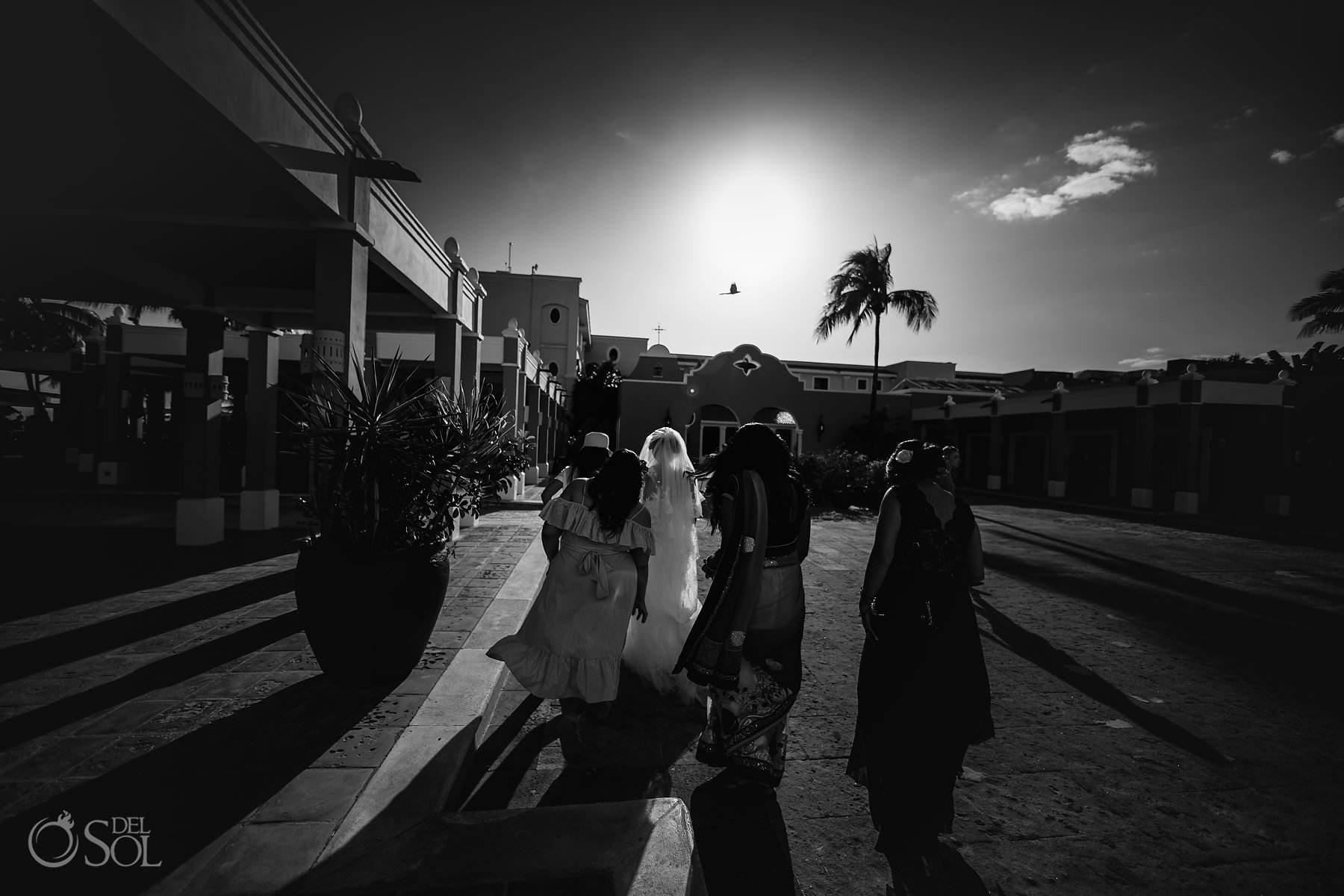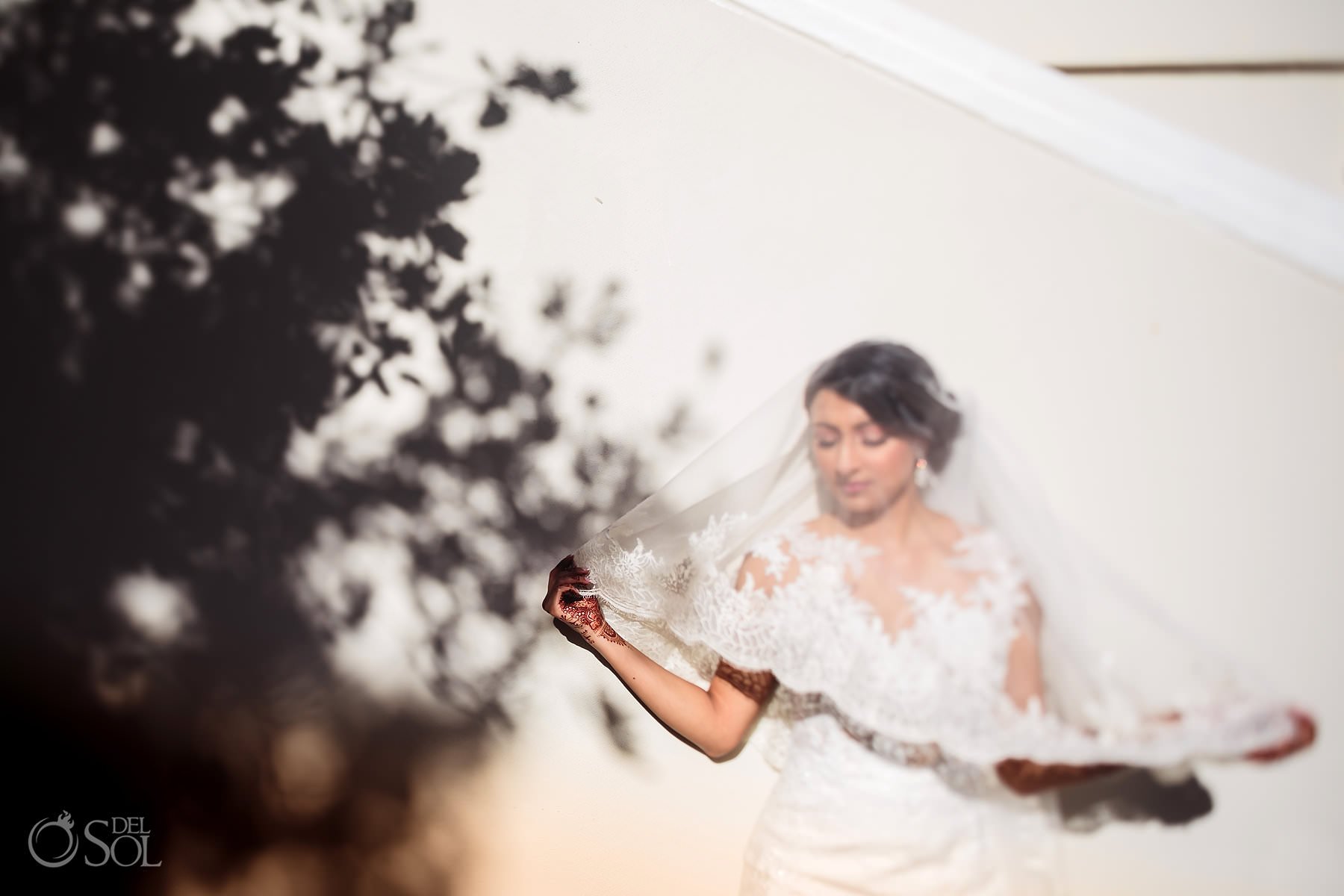 Del Sol: You have really beautiful bridal portraits of Eera in the same location a matter of hours apart – though with a different wedding dress. You really aim to SEE the people when you make their portrait. Did you feel that Eera's energy changed with the change in dress?
"Eera is a Goddess and she looked like that the three days. I LOOOOOVE her for putting so much time into each outfit, and accessories. Her core energy stayed, however she looked different. Her hair and makeup changed and that was so magical to me."
"I had the same bride and so many different opportunities to make portraits of her soul. I LOVE finding that special spark that make her unique. She is radiant elegance with a strong yet sweet personality. She is a badass with a slim, delicate frame. The perfect goddess portrait. I looked for that." – Sol Tamargo
"I really wanted Eera to have lots of visual memories of how she looked at every moment. How she looked, what she was feeling… on her wedding day, one of the most important in a women's life."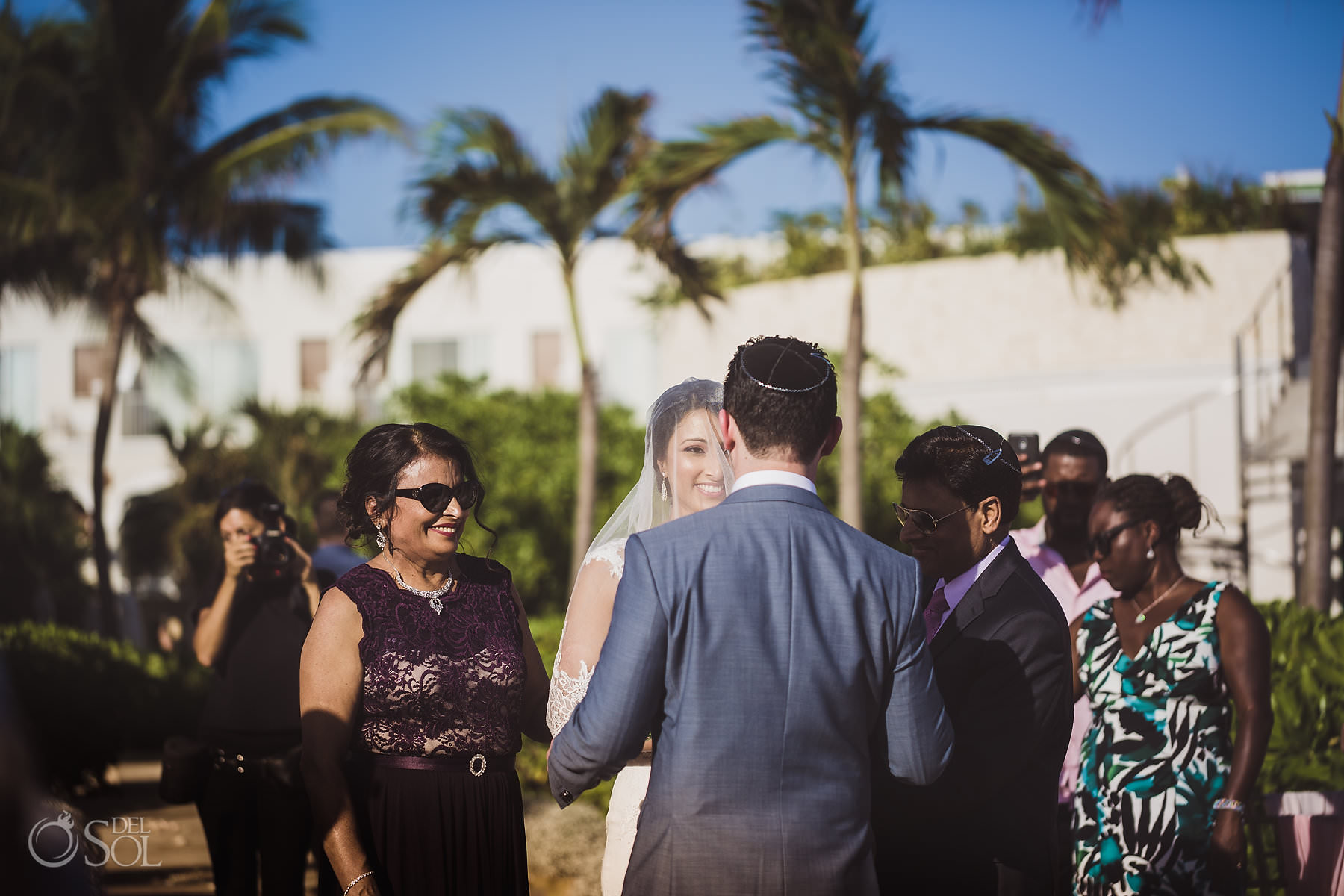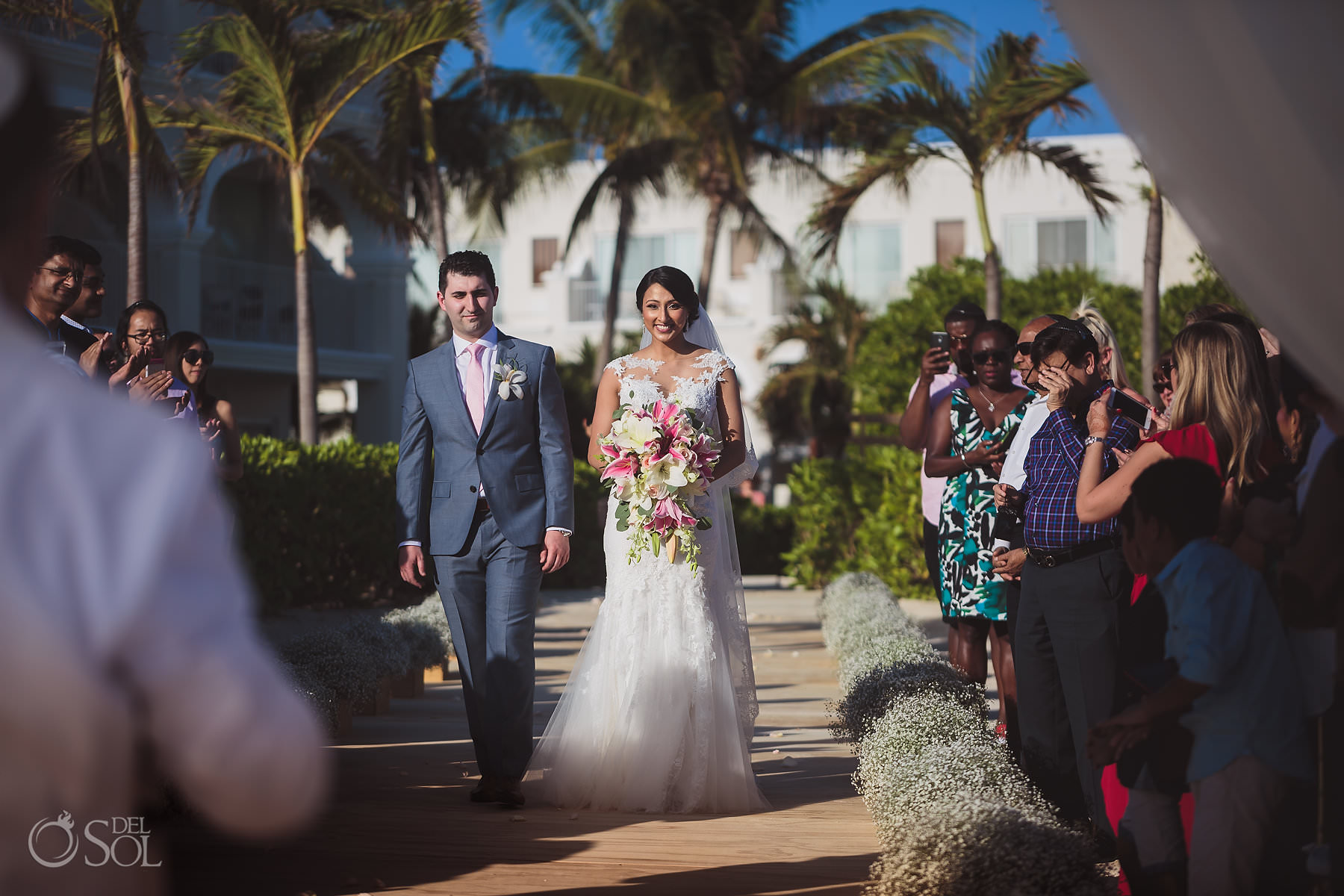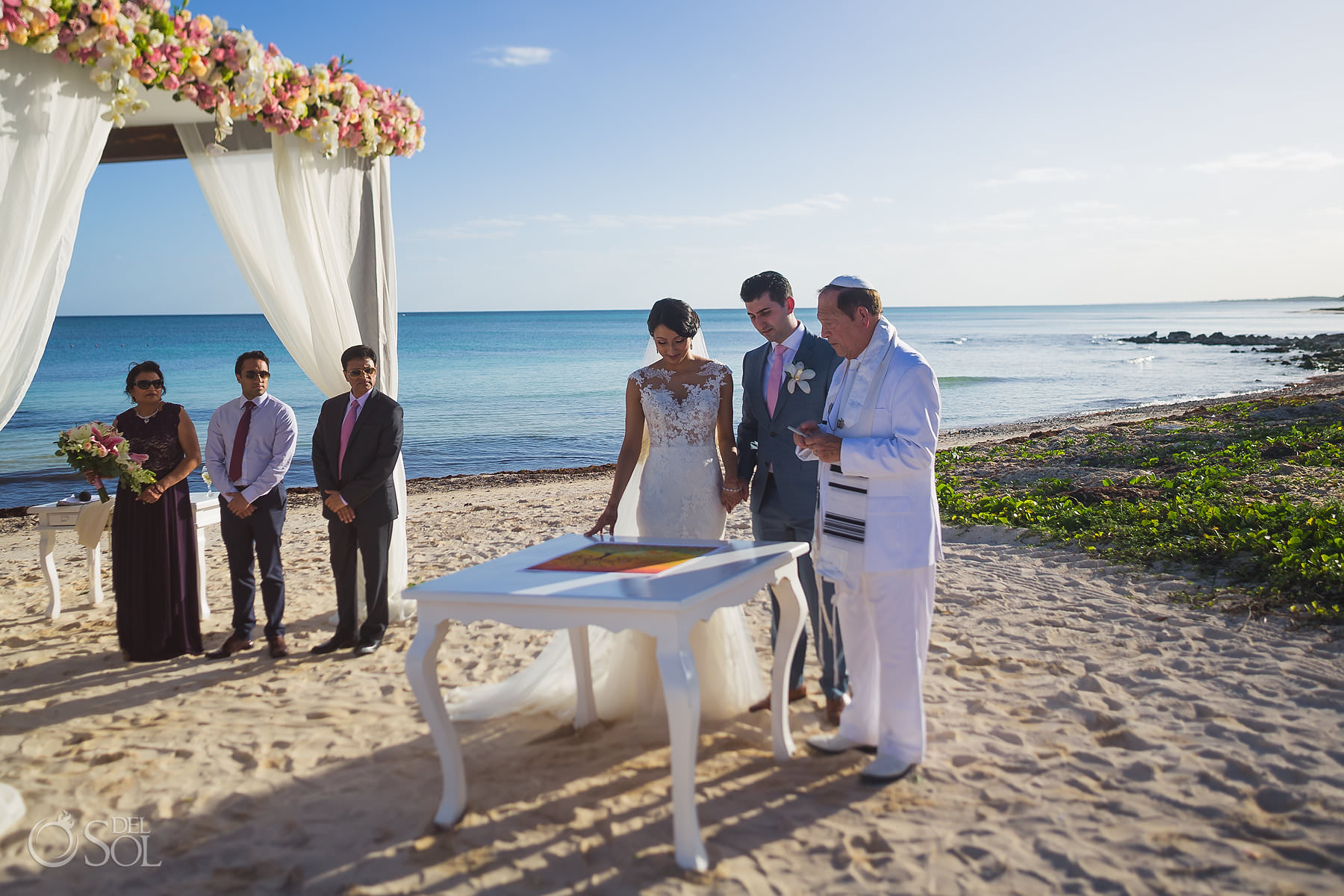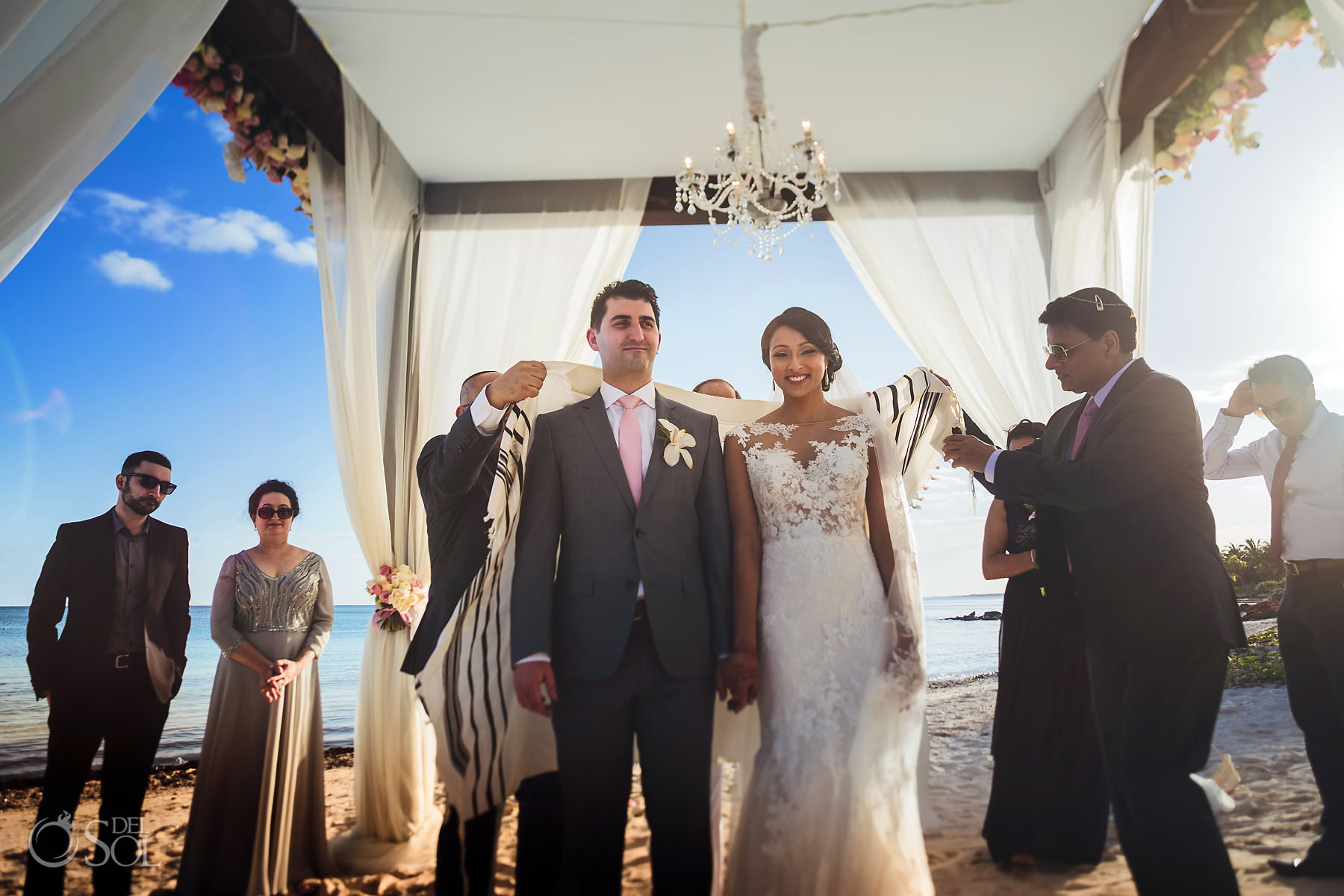 Del Sol: The multiple ceremonies meant that you had the opportunity to shoot in 2 amazing and different wedding ceremony locations. The Dreams Tulum Jewish wedding ceremony was on the South Beach with the Hindu ceremony in the secret garden.
The different locations were so perfect for the two different ceremonies. The garden feels more like India I guess. lots of green all around, the gazebo decorated with red roses, against the green was incredible.""
"The change in background provided a different feel, a different energy." – Sol Tamargo
"The Tulum Jewish wedding ceremony at sunset had a lighter feeling. More whites, pink, pastel hues, the opposite of the Hindu wedding. Magnificent job on choosing the right time and venue for each moment."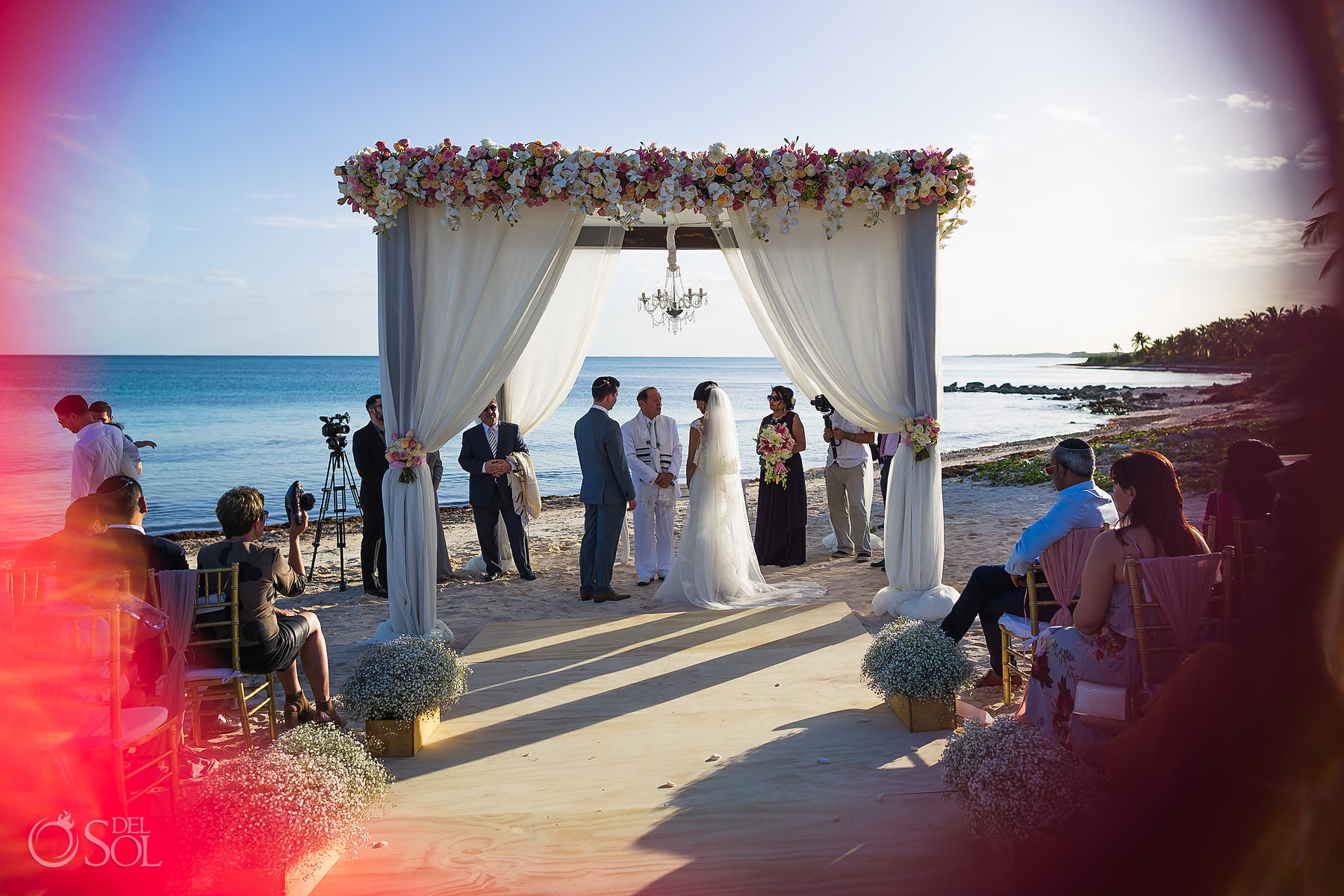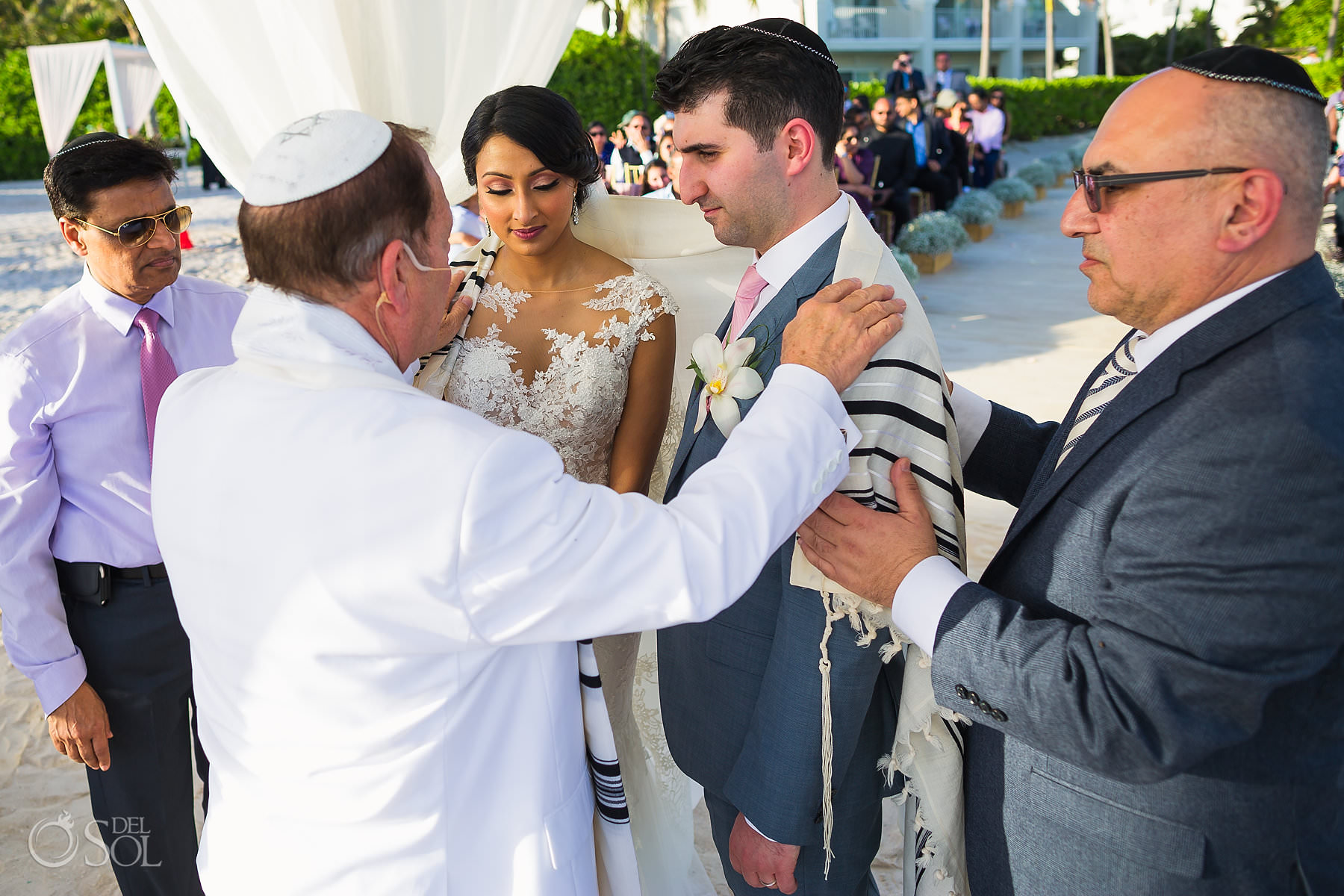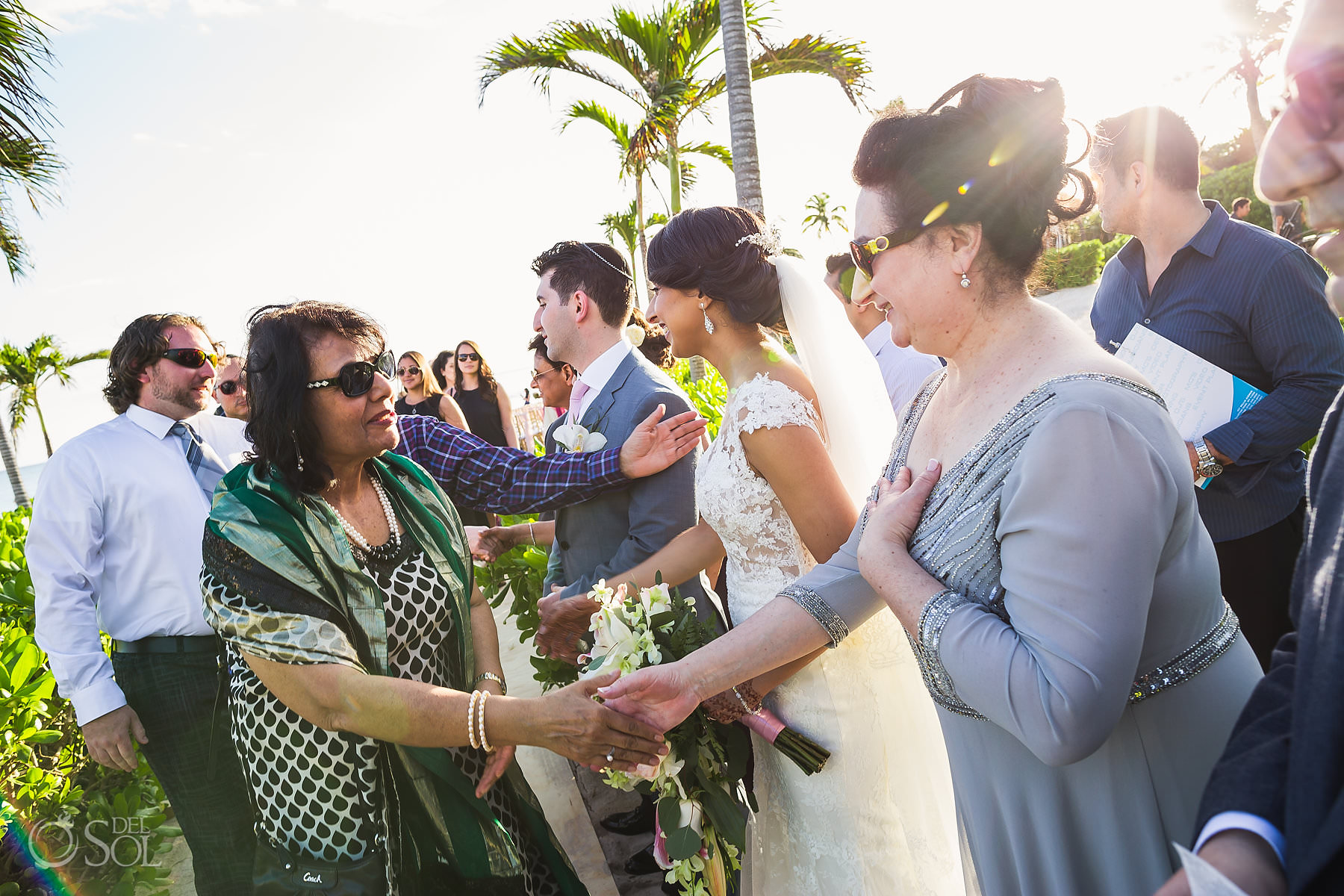 Del Sol: Traditionally the first time a couple sees each other on the wedding day is when the bride walks down the aisle. Many couples now opt for a private "first look"before the ceremony – but Eera and Joe had a private first look, followed by a first look in the Hindu ceremony followed but a first look in the Jewish ceremony – 3 in one day!! Talk to us about that!
"Time for portraits! Is all I have to say… GRACIAS GRACIAS!!!!!"
"Eera and Joe both came with large and loving families. We know that families love to have their picture taken, and I knew after the ceremonies people will be pulling them in every direction for a hug a kiss a photo. I love getting that part of the story too, as well as the perfectly framed formal portraits. It is the way to forever imprint who was there.
"The first look gave me the chance to focus on the two of them, before the big action moments." – Sol Tamargo
"Of course after the formal portraits I asked for more portraits which they kindly granted me. The result: Lots of great portraits of them in different outfits, different light."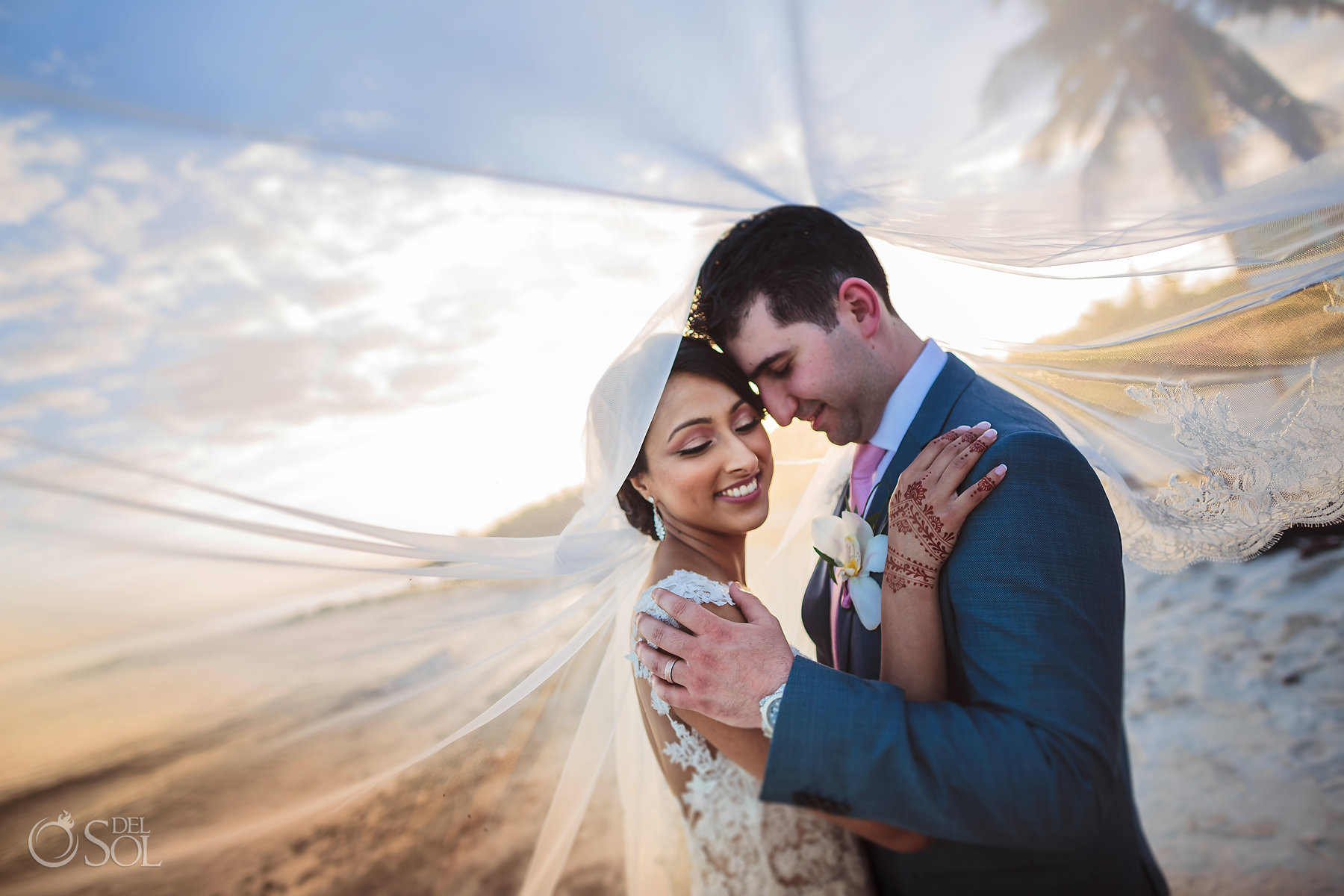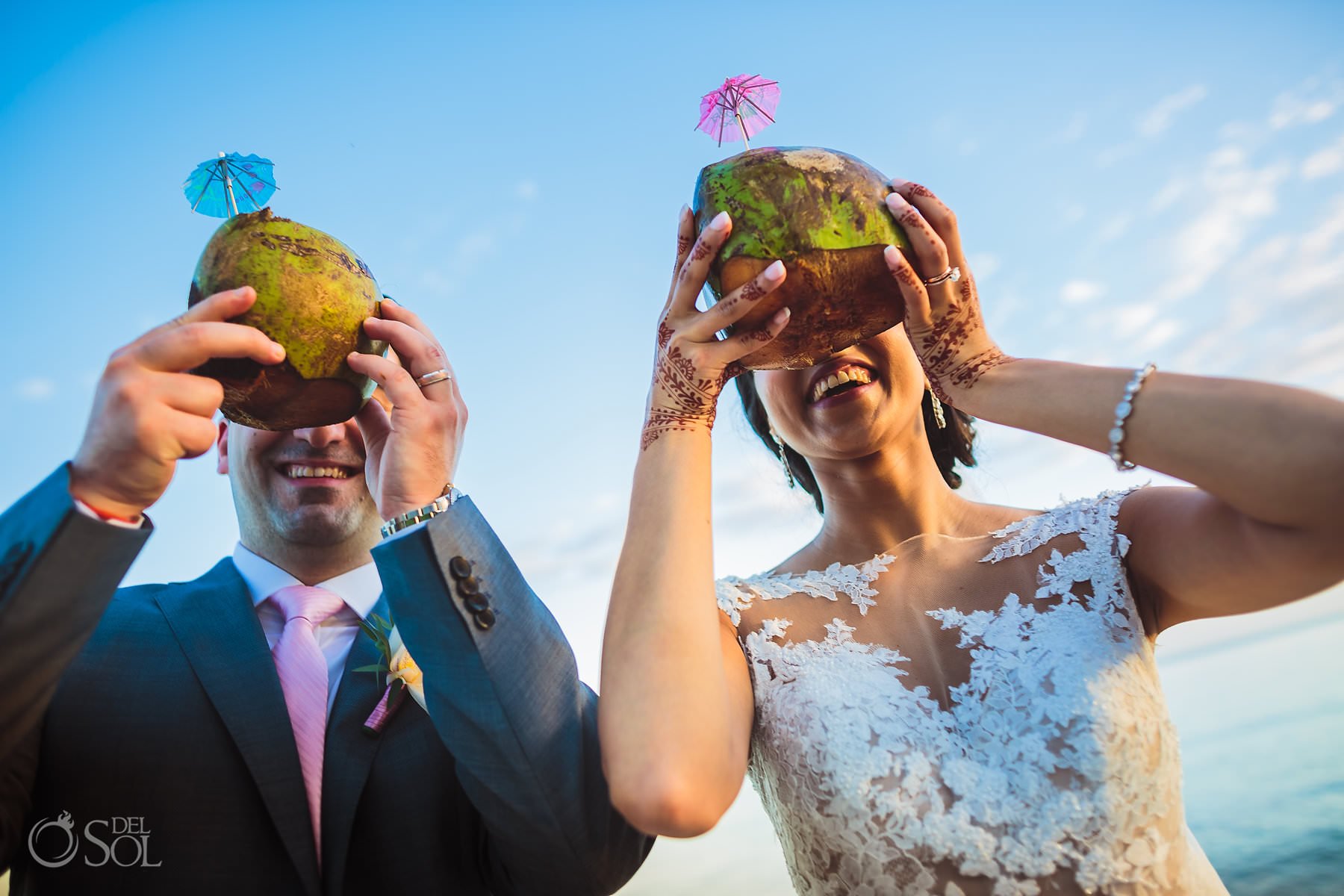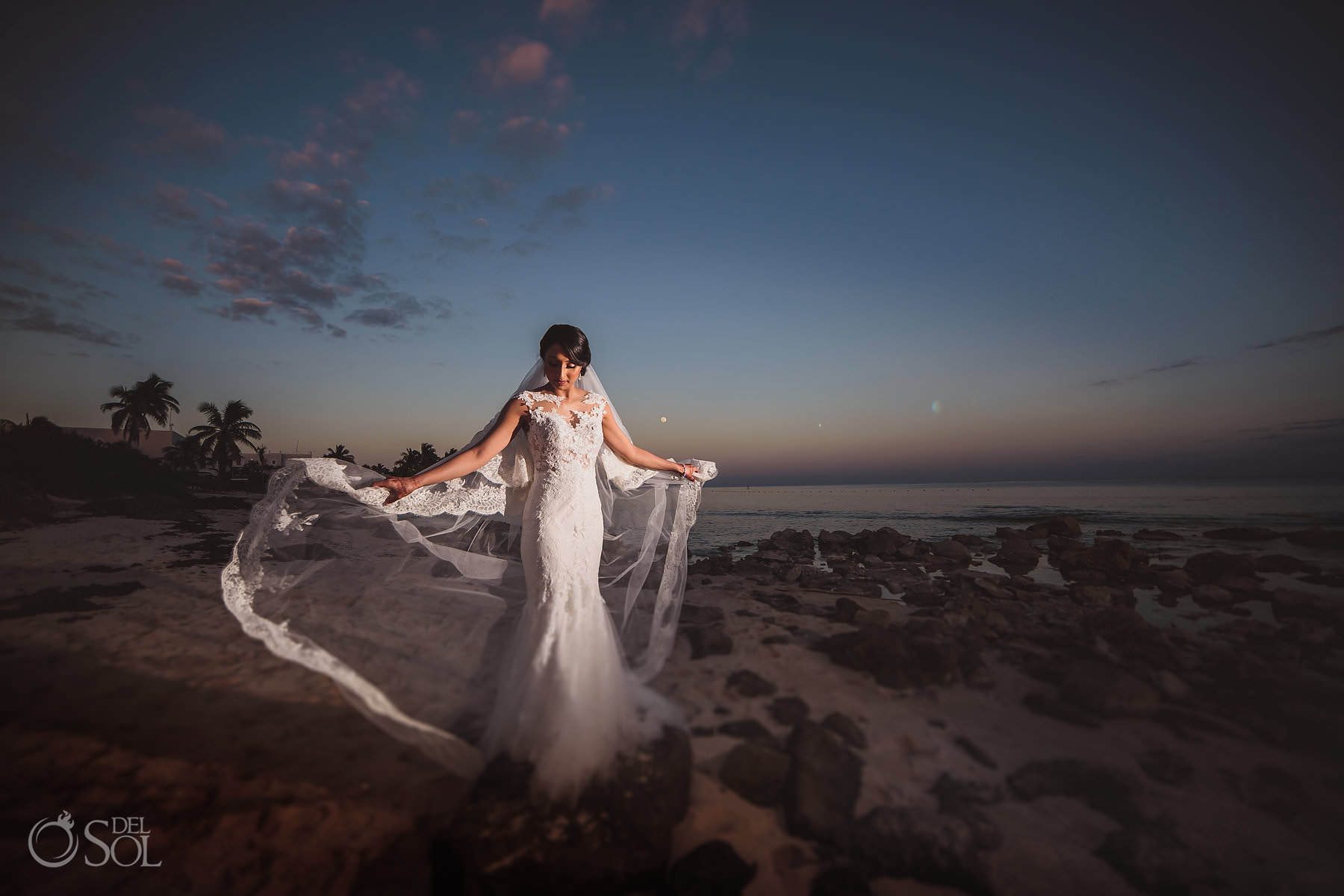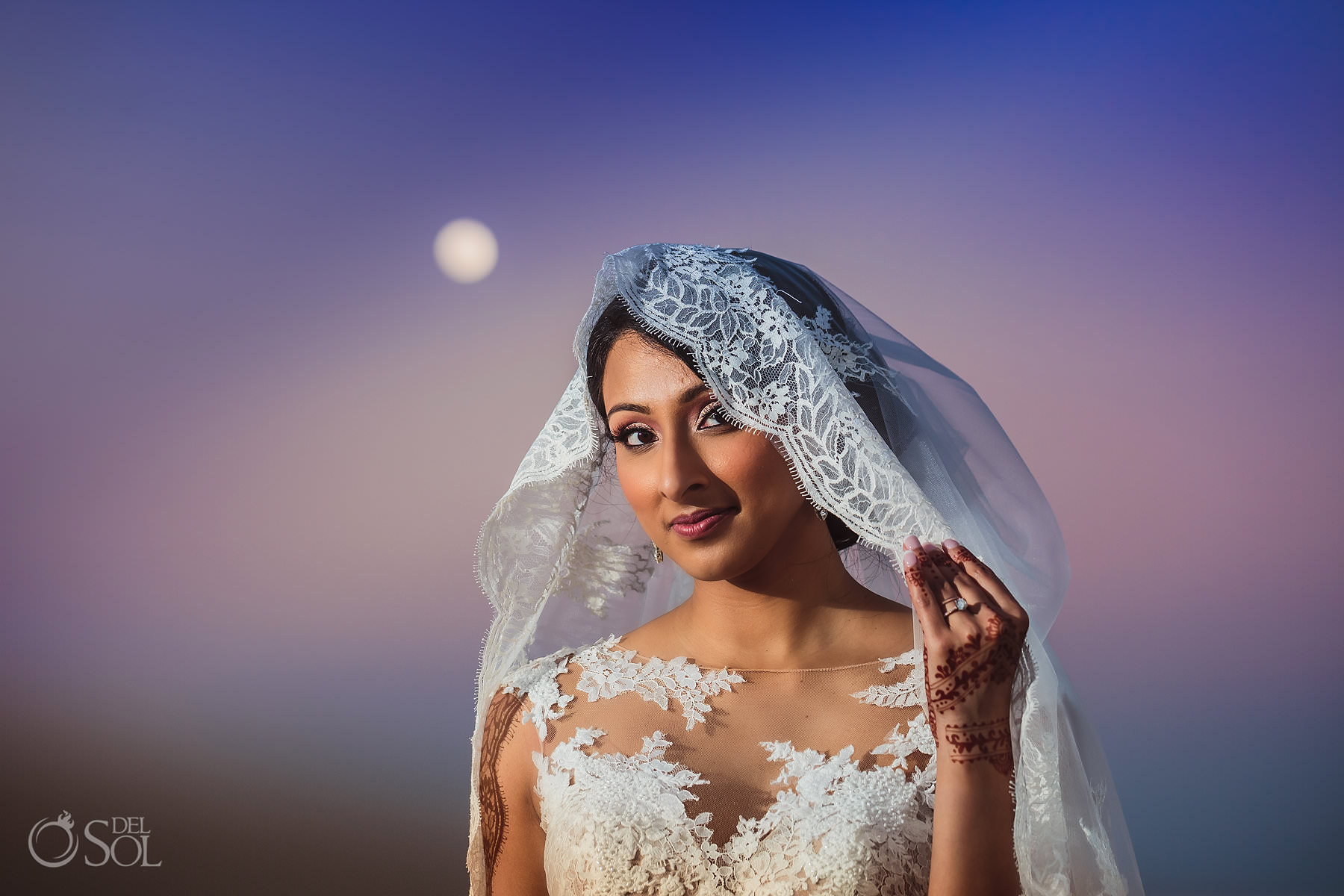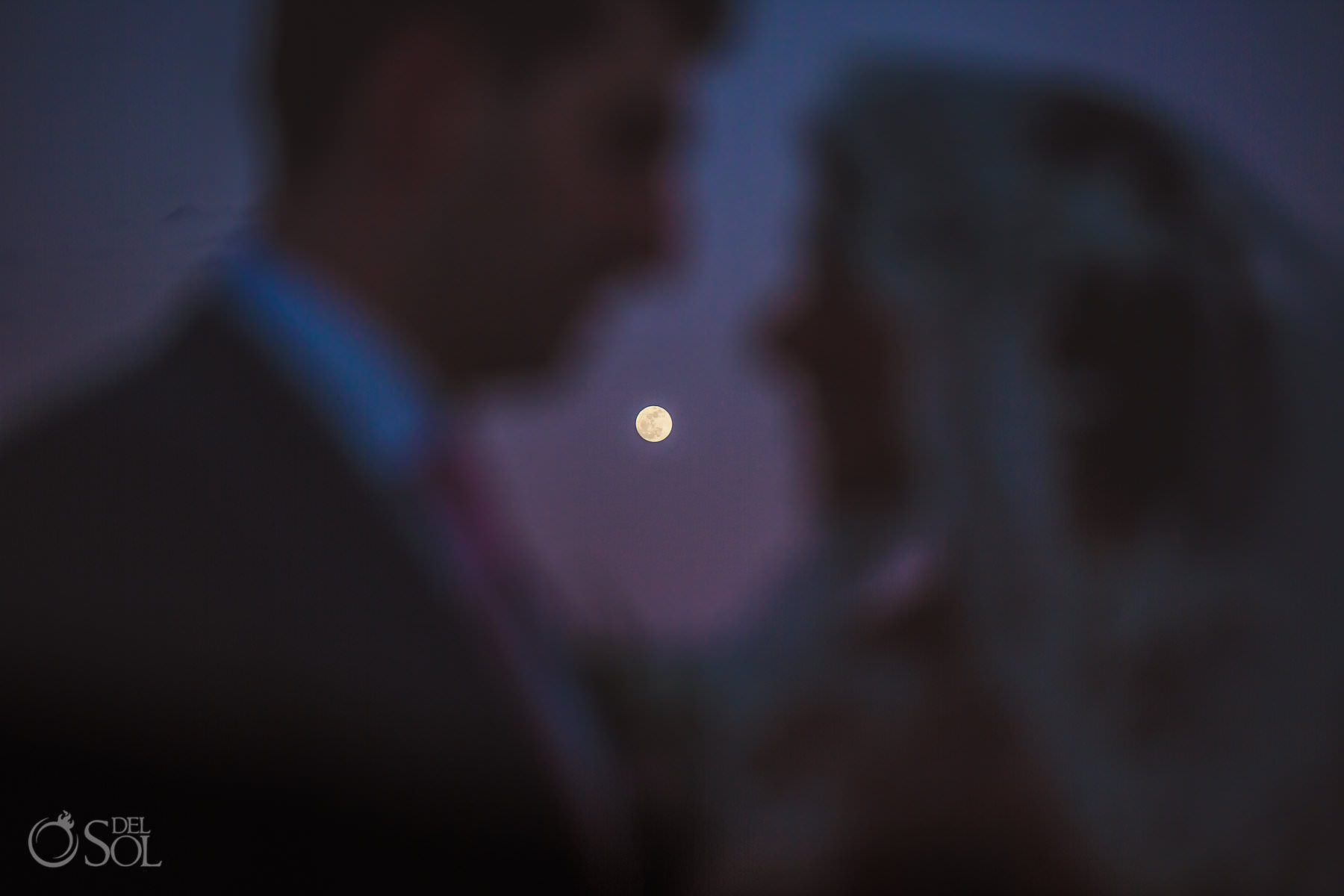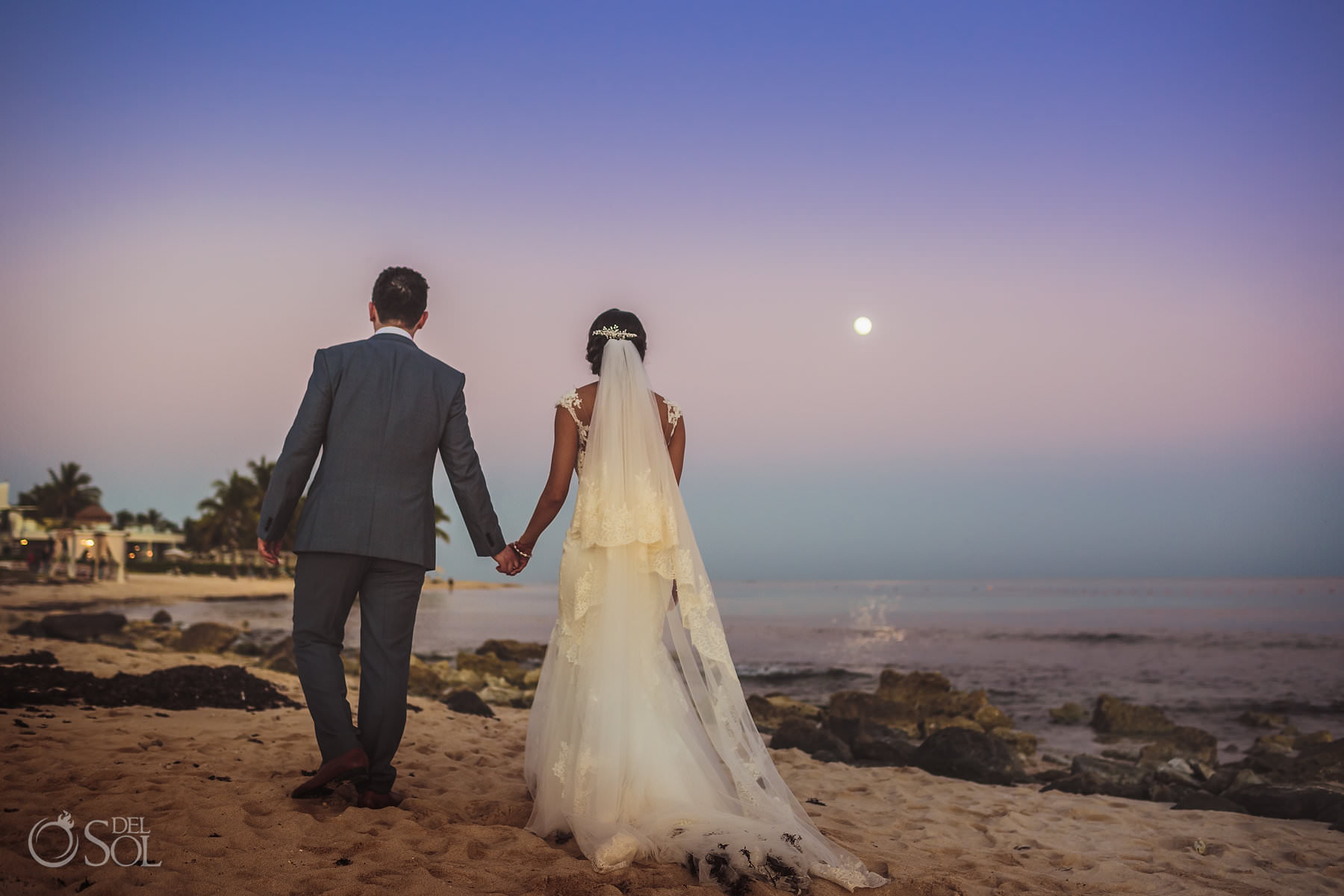 Del Sol: You have AMAZING portraits of Eera and Joe on the beach!
"I've been shooting weddings for +15 years and that means I need to reinvent myself to still feel the excitement to go out and shoot."
"Loving movement so much, I've been trying to shoot a bride using a very slow shutter to achieve something magic. Eera gave me that." – Sol Tamargo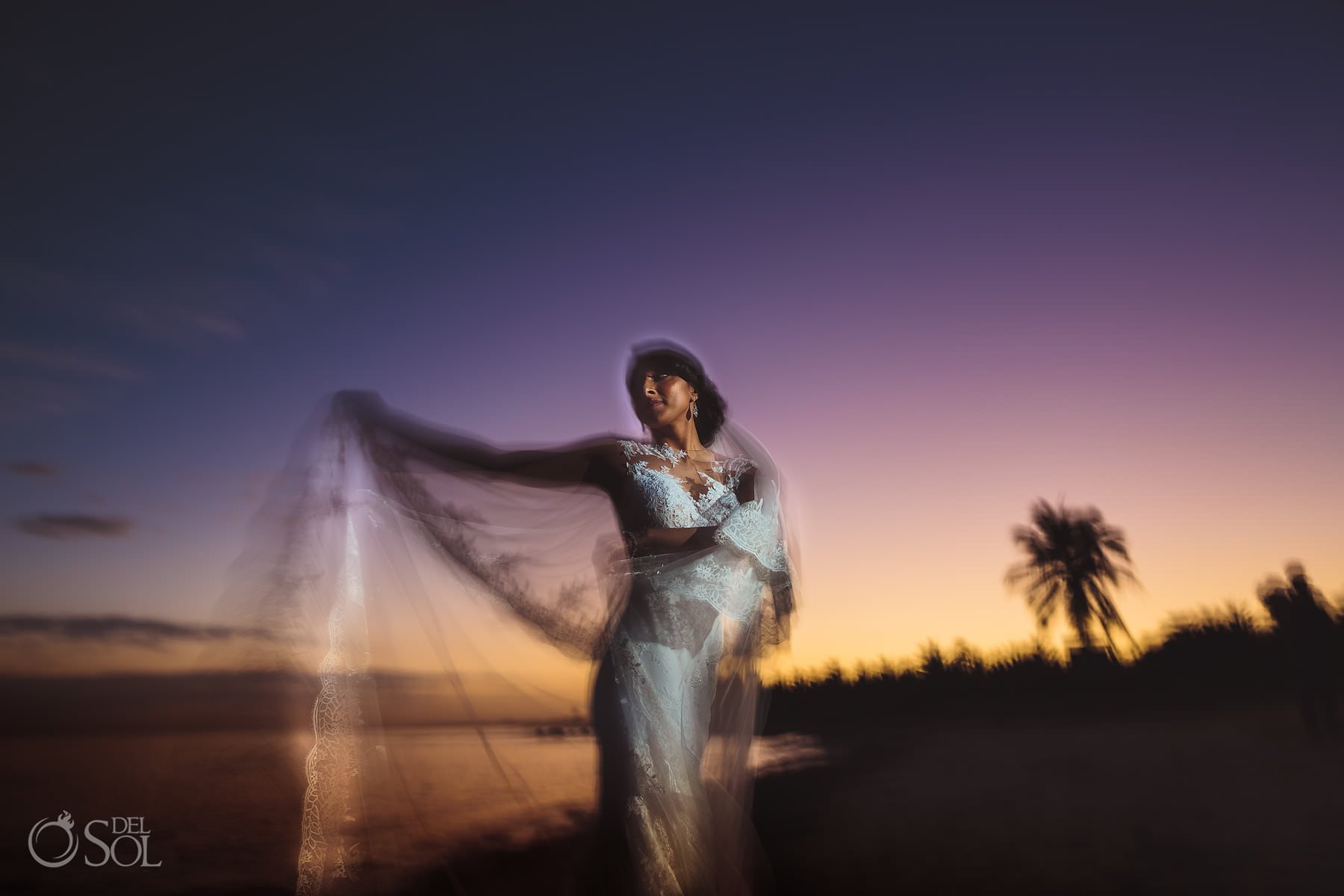 "The sky was the perfect light and tone. I quickly decided I will shoot slow. Grabbing my tripod, which I never usually use for portraits and using my flash gave even more astonishing images that I thought."
"The portrait of a Goddess, so proud and happy with the result!"