Casa Malca Tulum Wedding – Melissa and Jason
"We start and end each day with a kiss. When we are apart, we spend more time on the phone and sending "thinking of you" messages, it's surprising we get anything completed. To this day, we still get butterflies when we see each other after a long day." – Jason – Casa Malca Tulum Wedding
"We chose Casa Malca because it had very unique décor, the furnishings were unlike anything like we had ever seen before." – Jason
Melissa and Jason chose a unique location when they decided on a Casa Malca Tulum wedding. Set on pristine beaches at the extreme south of the Tulum Hotel Zone, Casa Malca is a photo-op frenzy! The house itself is famed as a former residence of Pablo Escobar. The current owner, Lio Malca showcases his personal collection of contemporary art throughout the space.
The surreal ambiance created by the artworks scattered throughout the main house is described as a "alternative reality." The combination of super hip Tulum location, perfect beaches, and über-cool art is hard to beat! Add to that a gorgeous couple with a strong love connection – we were stoked
Melissa and Jason's Casa Malca tulum wedding-EPIC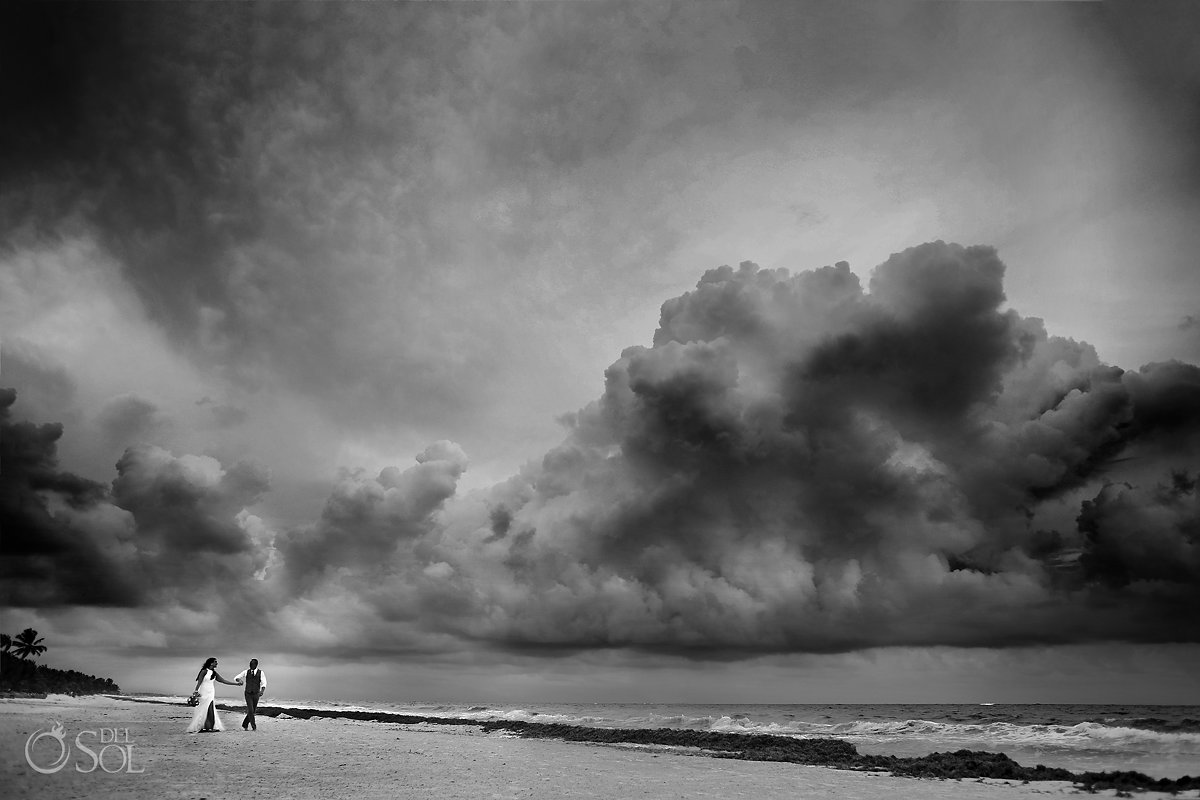 Del Sol: It's amazing LOVE brought you here! Why did you Travel for Love?
"Melissa has never seen the ocean so we thought it would be perfect to get married by the ocean. Looking at possible wedding destinations we immediately fell in love with Tulum."
Del Sol: Was there a part of each others' vows that touched you?
"The vows were beautiful and one of our most cherished parts. Jason is more of a reserved person so when he opened up the way he did it made the day even more memorable and even more perfect."
Del Sol: We loved your special unity ceremony with your "blessing box"
'The blessing box became one of our mementos that we have to always look back on to remember our special day, who was there, and contributed to our dream wedding."
"We were hoping the eclectic furnishings would add to the uniqueness of our photography. The staff was very attentive, welcoming, and made our stay feel like a dream. We fell in love with one of the restaurant staff,  he always welcomed us each day with a genuine smile, and was always so kind, and went above and beyond each day to make every moment feel like the first day."
Del Sol: We loved that you shied away from big resorts and chose a more interesting boutique location and hired an independent wedding planner.
"We chose a more secluded location because we found it more intimate and romantic." – Jason
"We always wanted to do a Casa Malca Wedding !  We loved the idea of being away from a large resort and having more quality time together. Having LM weddings as our wedding planner they gave us a few options of boutique hotels, Casa Malca fit our personality perfectly."
Del Sol: How was your experience with the del Sol team?
"We initially looked at a list of provided photographers and found Del Sol's photos so creative. They immediately jumped off the page more  than the other vendors. Polly and her assistant were so personable and so fun to have on our special day."
"When we received our photos back we found ourselves looking at them everyday over and over just in aw with how beautiful they turned out and how perfectly our special day was captured. We know years down the road we will forever cherish our wedding photos."
Del Sol: How was your experience in Mexico – bearing in mind the current travel advisories against Mexico?
"We had an easy transition to Mexico. Fortunately for us Melissa's parents were currently living in Mexico City where we had visited previously and had fallen in love with the Mexican culture. We found everyone we had become acquainted with to be very kind and giving. We found the Mexican culture to be very service oriented. With the travels advisories against Mexico we didn't have any issues or fears during our stay."
---
We love Melissa and Jason's unity ceremony – a "blessing box" filled with notes from their loved ones. For more ideas check out our alternative unity ceremony ideas post.
---
https://delsolphotography.com/wp-content/uploads/2018/08/Casa-Malca-Tulum-Wedding_MJ_0019.jpg
801
1200
Matt
https://delsolphotography.com/wp-content/uploads/2022/04/delSol-new-logo-340px-copy.png
Matt
2018-05-12 14:42:00
2020-07-10 13:34:10
Casa Malca Tulum Wedding – Melissa and Jason