A unity ceremony is a way to symbolize the joining together of bride and groom. Popular options are the unity candle or sand ceremony – but there really are no rules! Here are 8 of our favorite alternative unity ceremony ideas from destination weddings that we have photographed.
For information about planning your alternative unity ceremony, contact us. WE plan trips, we have pics of the hotels we love and we offer this service to all our clients.
Alternative Unity Ceremony Ideas – Unity Ribbons
Kristen + Ryan and Lorena and Udi
Have all your guests write something beautiful on colorful ribbons.  Tie these ribbons and let the messages of love blow in the wind.  Unity ribbons are a beautiful to photograph outside with a breeze. The ribbons evoke movement, motion are somewhat unpredictable and spectacular to photograph.  They give off everlasting warmth, full of positive energy. You can see a ribbon unity ceremony in Kristen + Ryan's and Lorena and Udi's Riviera Maya Destination weddings.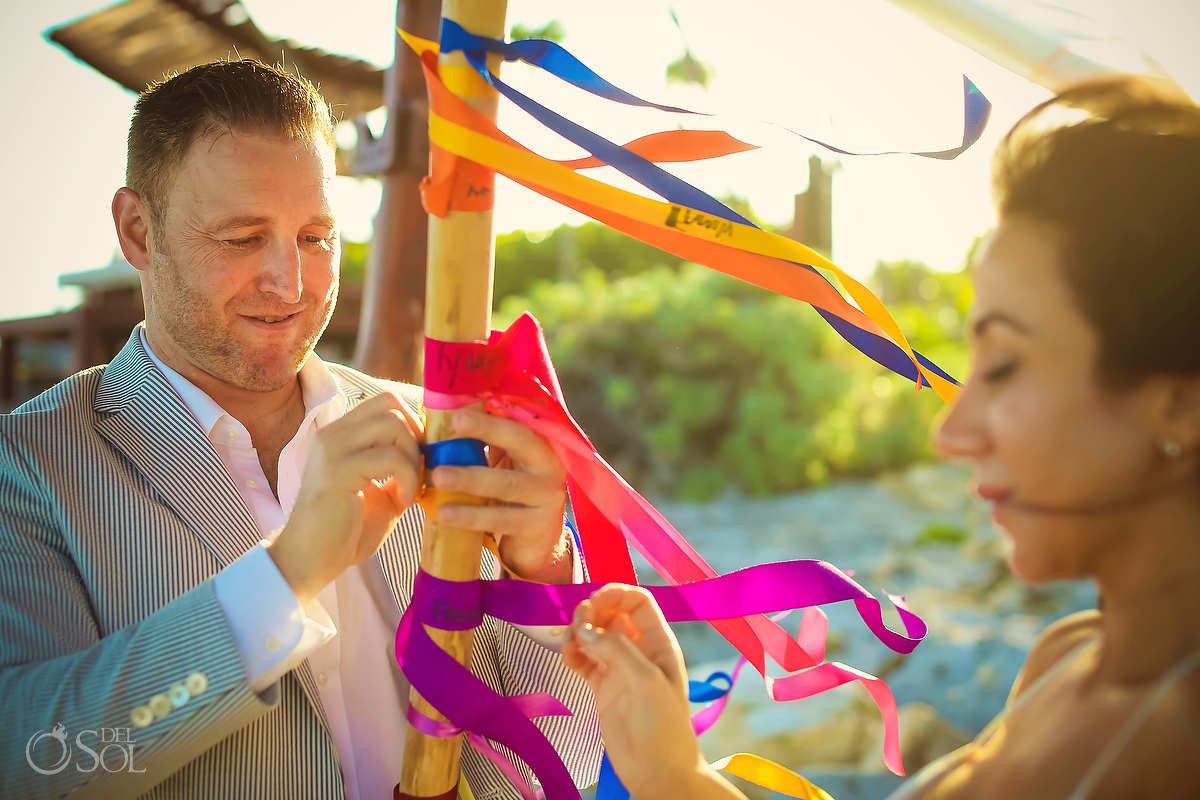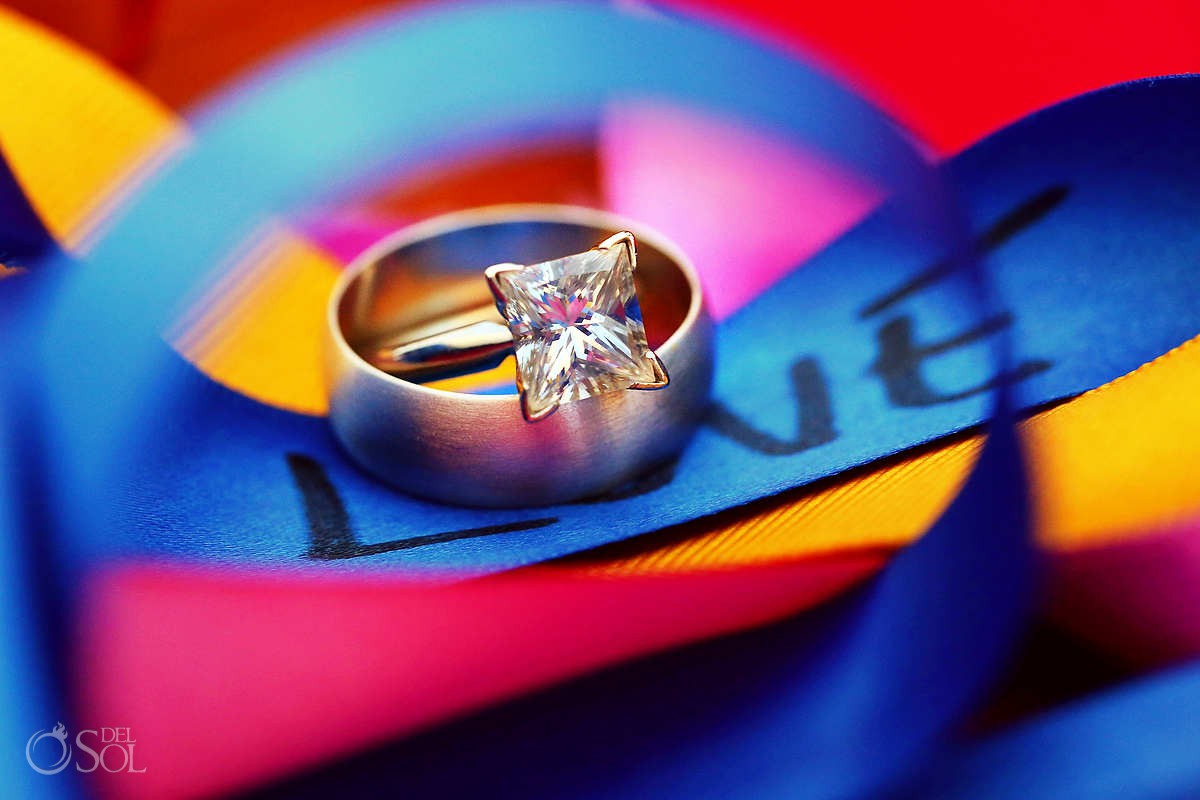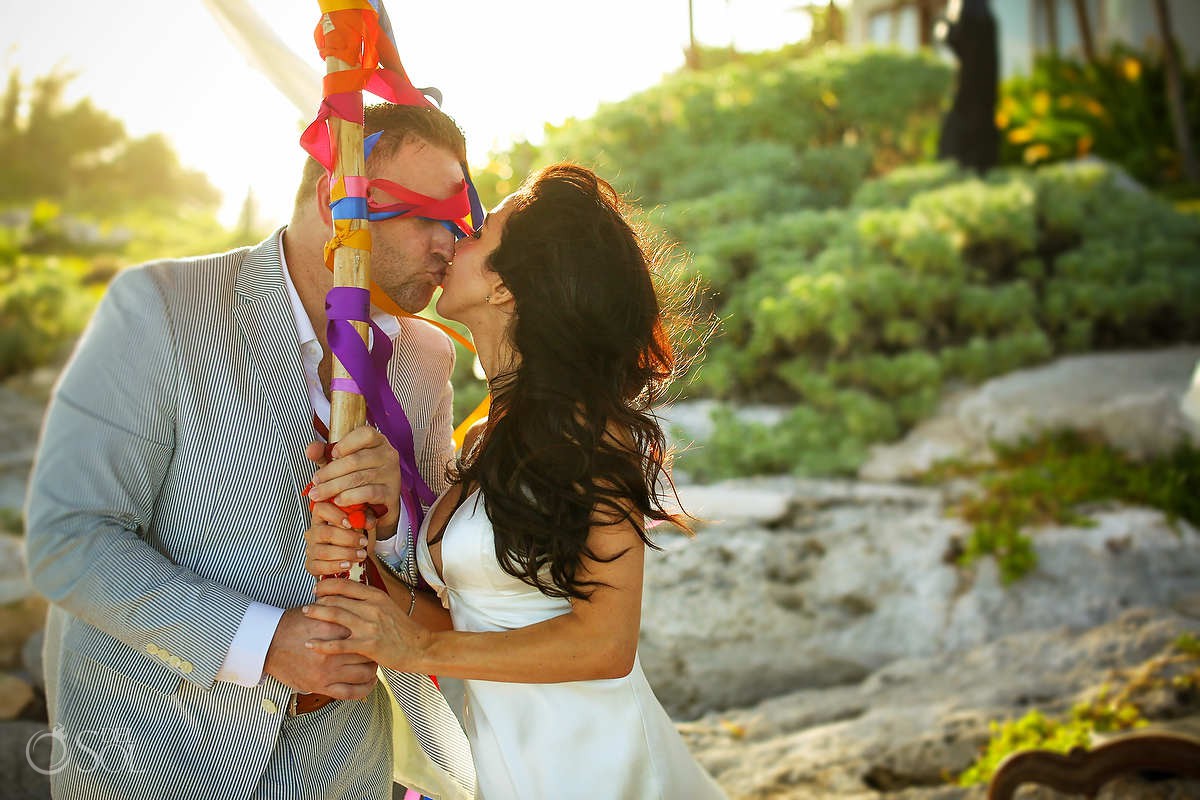 "We requested our guests to select from a colorful array of ribbons and write an individual blessing for us. Ribbons were tied to a bamboo pole that washed ashore in front of our home. We held it up on the air in celebration of love, unity and family spirit.  We confided with the Sea.  With the Universe.  And we shared our love with All." – Lorena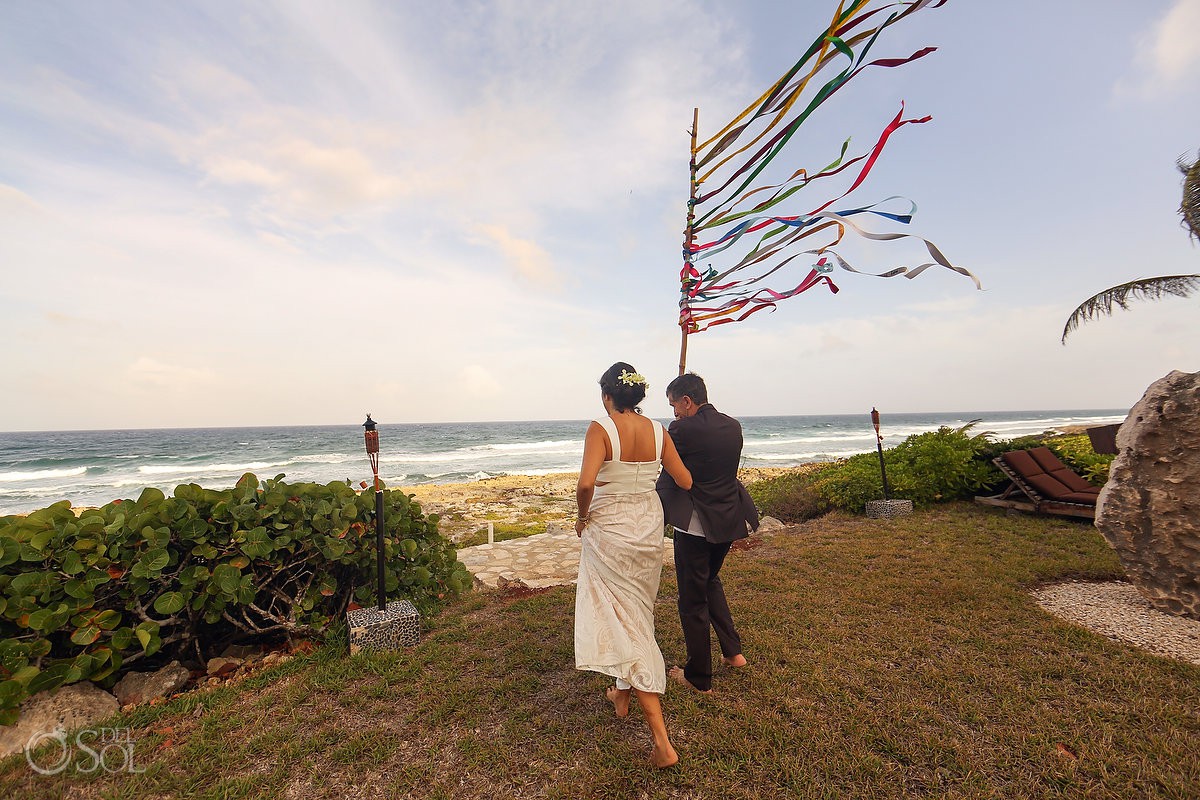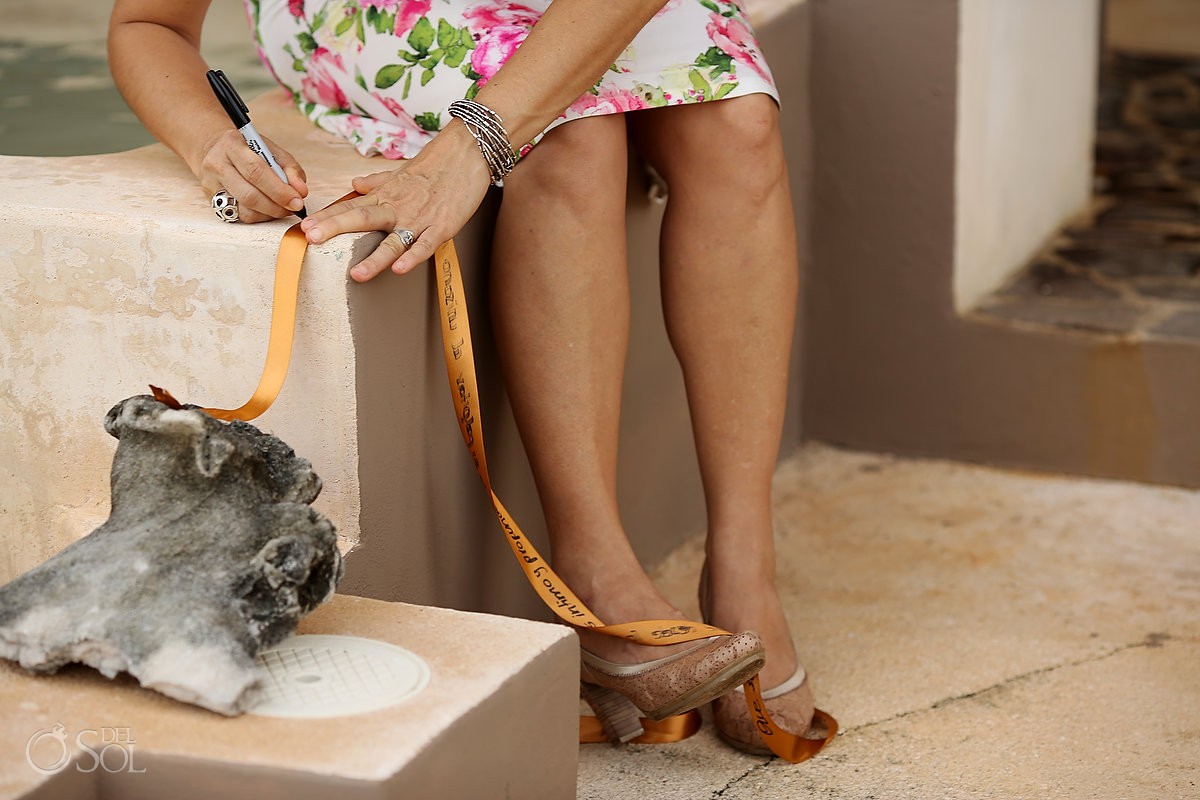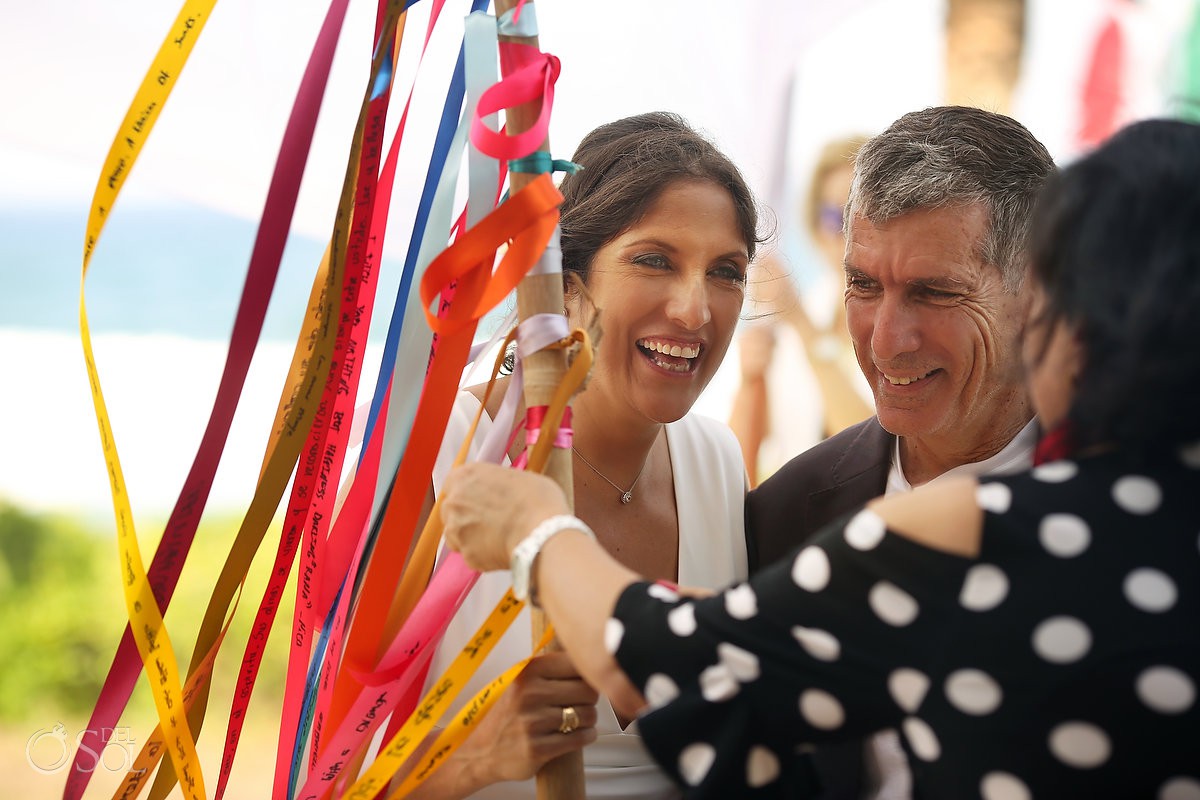 Alternative Unity Ceremony Ideas – Unity Crystals – The Crystal Unity Ceremony
"We wanted to make the ceremony unique and different." – Court
"The crystal came from the fact that we love exploring in the mountains and enjoying nature. We are always looking for crystals! With my love for crystals and her and her mom's belief in the energy from them I thought it would be a great way to showcase both and provide a spiritual cleansing and beginning to the rings." – Court + Alemara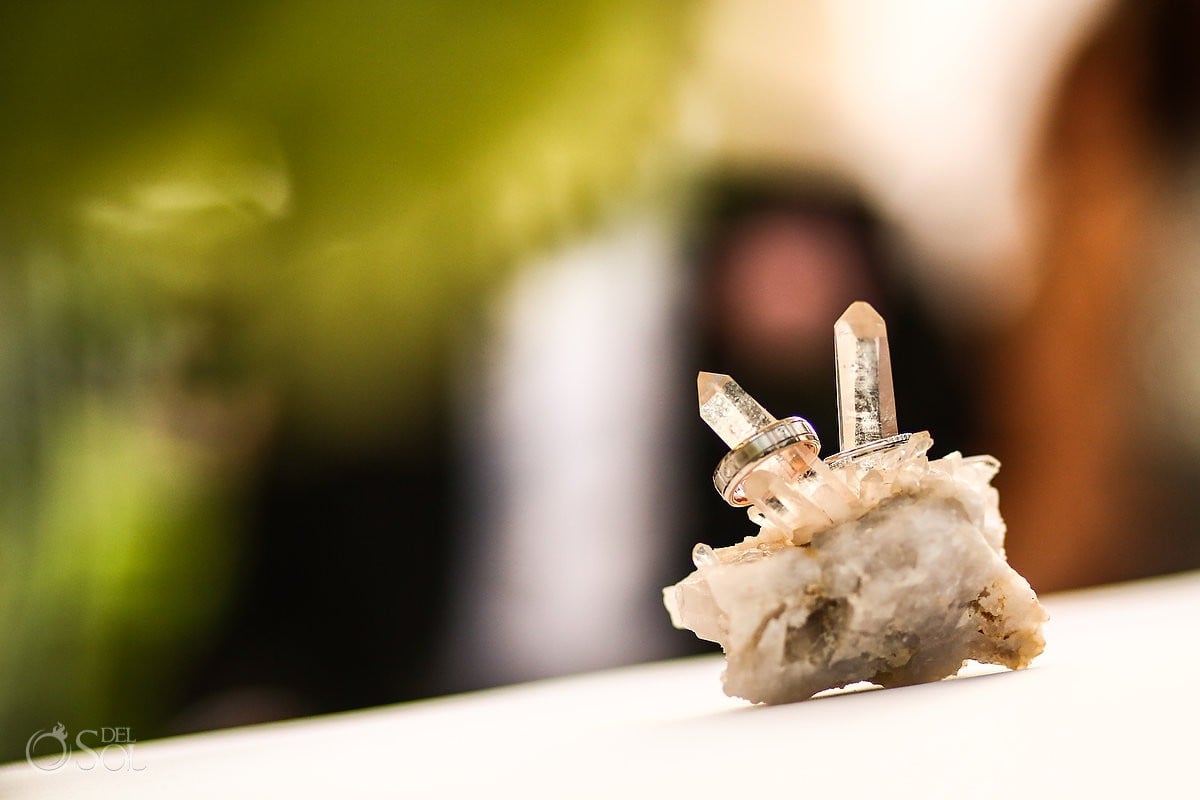 Alternative Unity Ceremony Ideas – Unity Painting
Heather + Kyle  and Mellissa + Negin
"Unity ceremonies come in all shapes and sizes – candles, sand, locks, crosses and braided cords of rope. They are all lovely and symbolize a very powerful union between two people. However, our motto for our wedding was to do things in a way that felt like 'us'. We knew we wanted to do something different. Nothing quite felt right. Nothing we had seen before seemed to represent us as a couple. I am not sure exactly when the idea forged. I wish I could tell you it was a great ah-ha moment but honestly I think we were just watching tv when Kyle turned to me and said, "How about a Unity Painting?"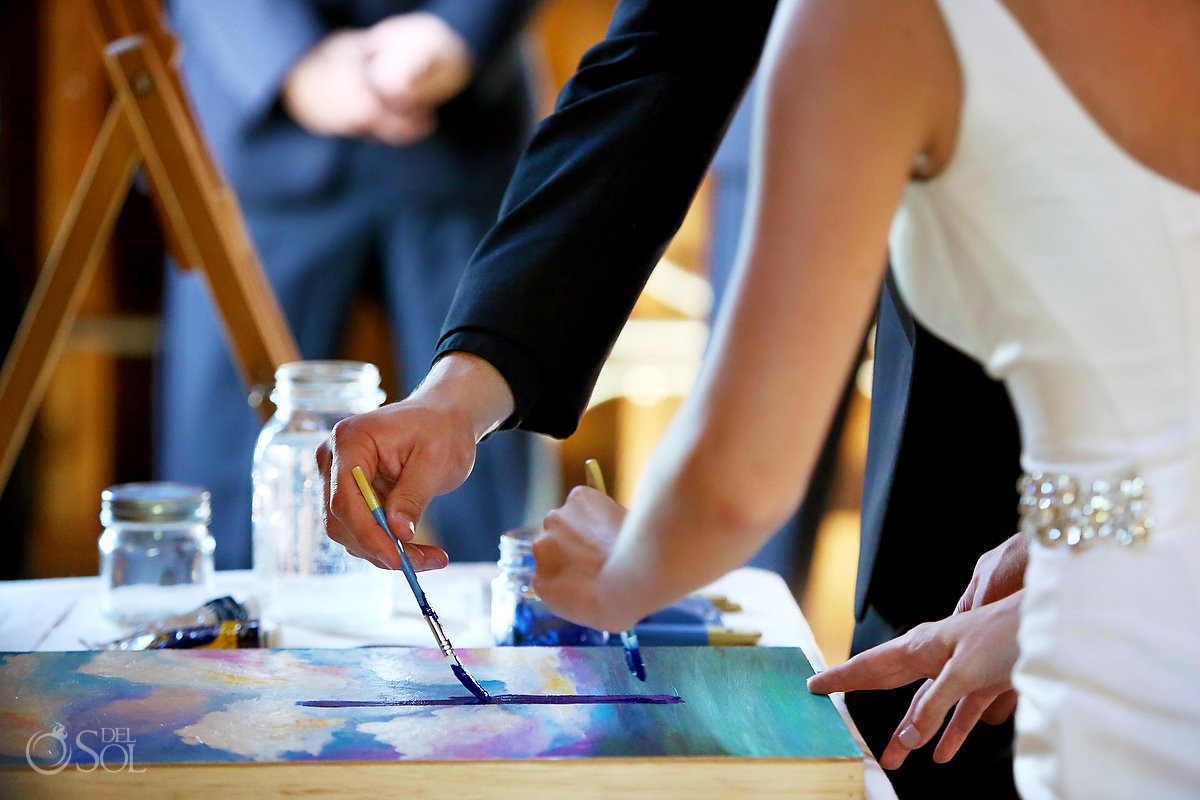 "At first I thought I would have to be crazy to paint in a wedding dress!"
"The more I thought about it I couldn't shake the idea. As an artist painting is something I really enjoy doing and it really is a lovely metaphor for marriage. Two artists coming together to create one painting of a cross that symbolizes our Christ-centered marriage."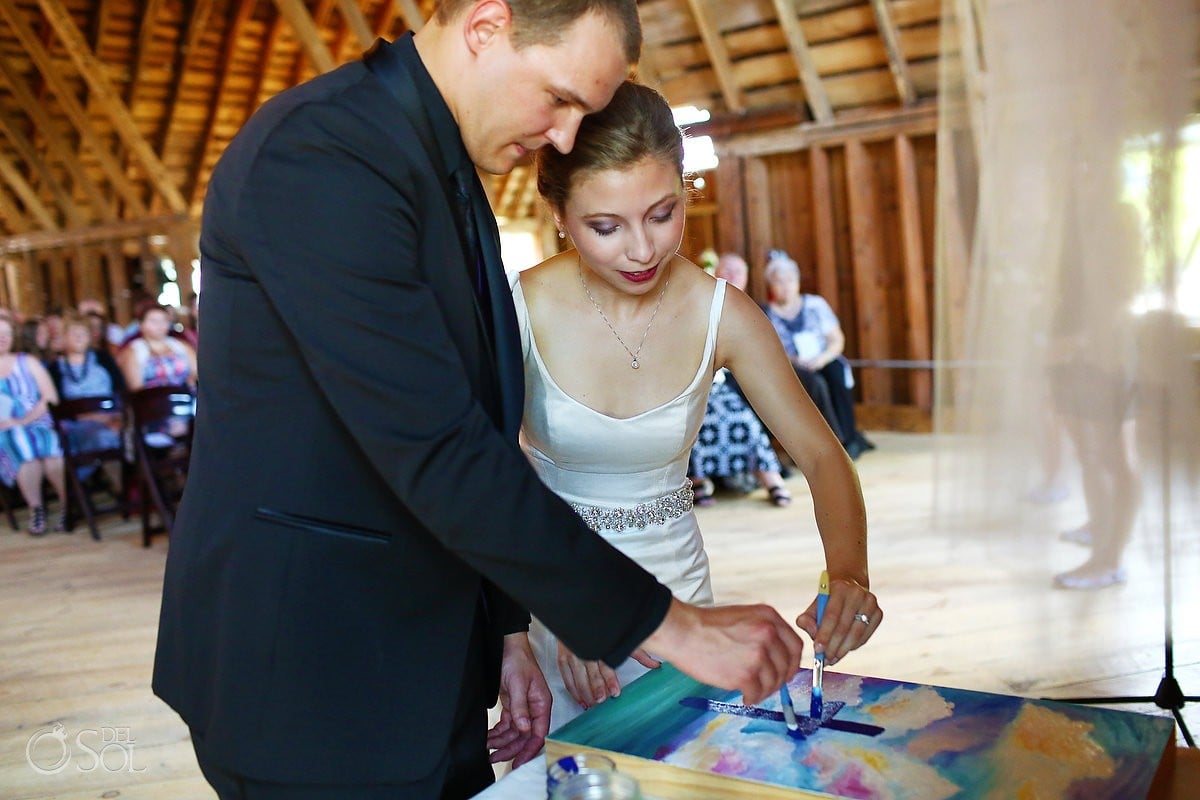 "Now is our painting perfect – no? Will our marriage be perfect? – no. But it is a masterpiece – a work in progress. As it hangs on our wall it is a perfect reminder to us of the covenant we share with one another."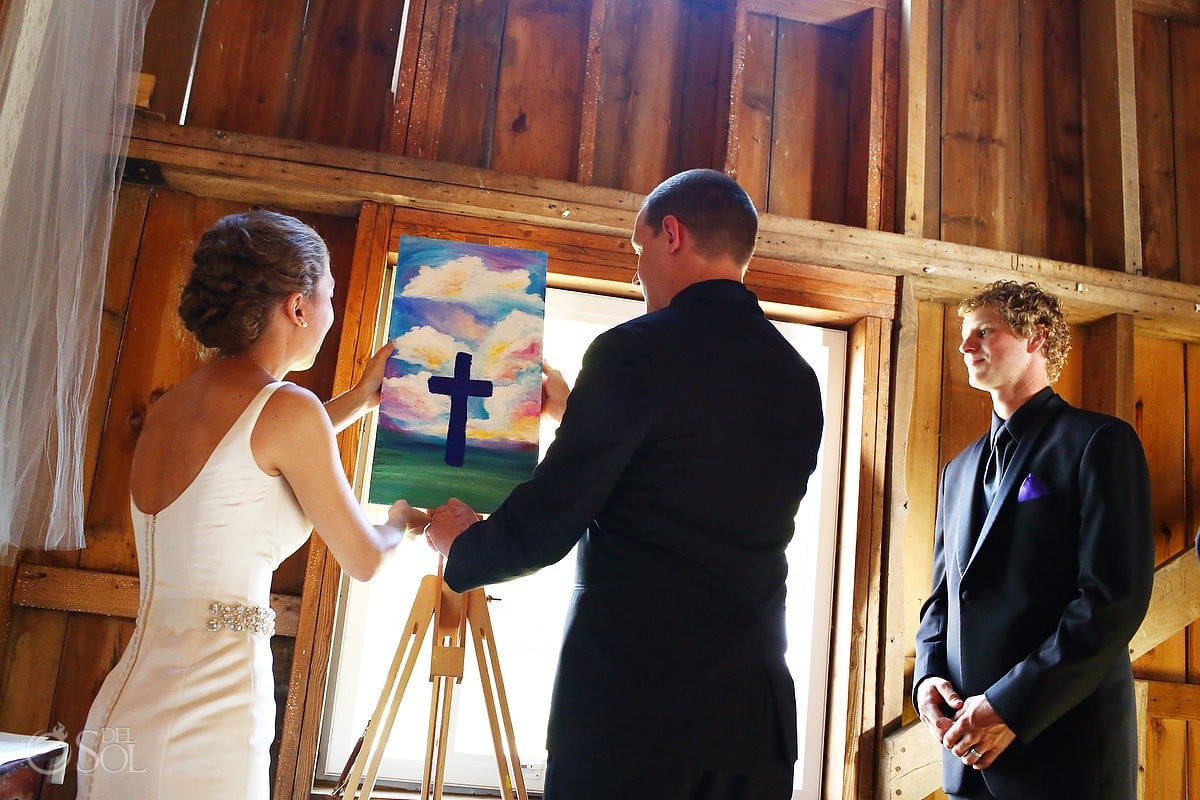 Mellissa and Negin also created their very own unique unity painting:
Mellissa: "We opted for a unity painting because we thought it most represented us, as individuals and as a couple, we wanted something unique, different yet creative. We also loved the meaning behind the unity painting and live by the colors in our lives – representing balance of union and individuality. Stepping out of the norm and creating a 'painting masterpiece' during our ceremony will forever be cherished. And another art piece to add to our home together."
"Mellissa and I are spiritual, artistic individuals. We decided a perfect unity art piece for our new home would be so perfect and would have a lot of meaning behind it. We also wanted something unique and another experience we can share with each other. We both agreed that a unity painting was just the right decision for us." – Negin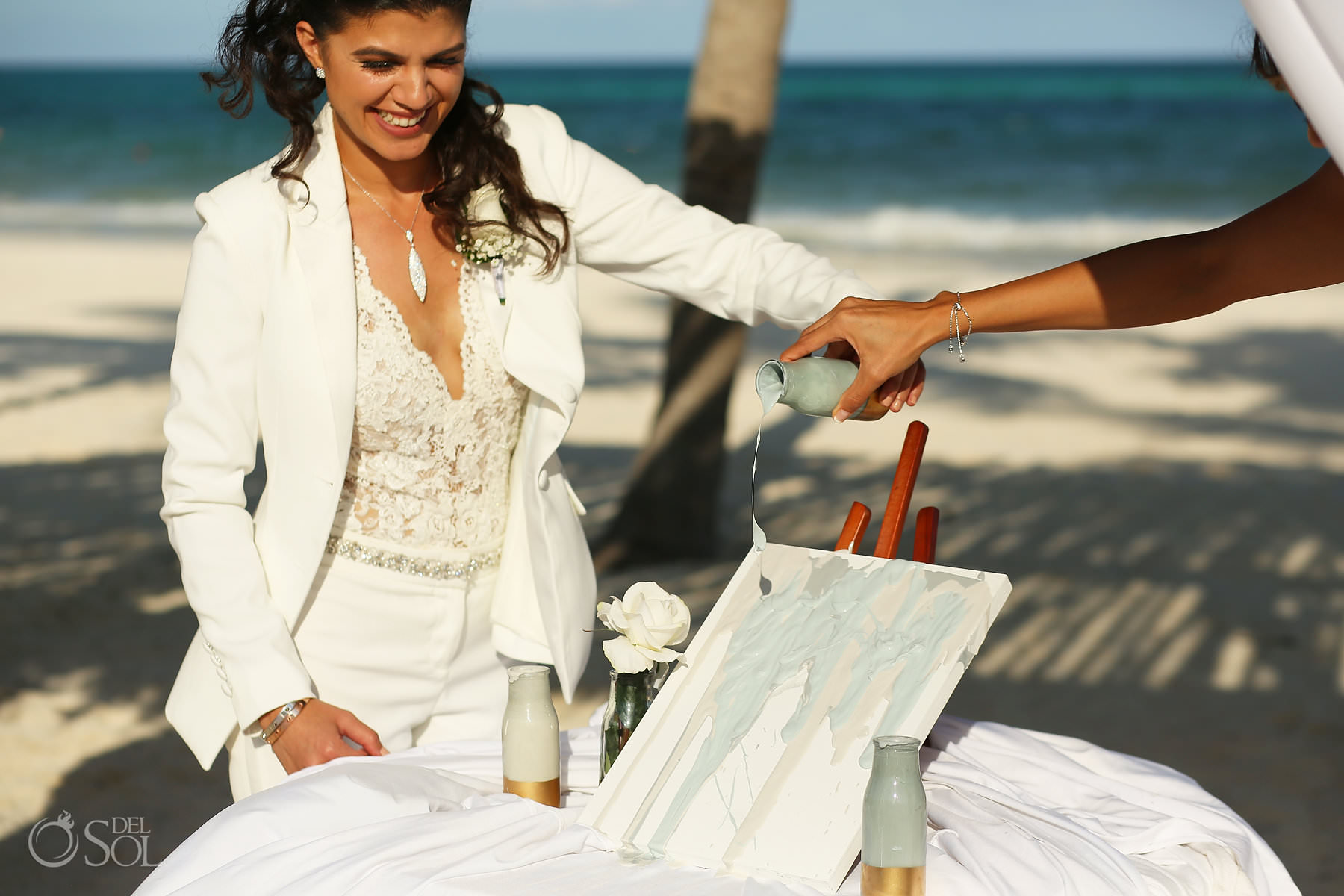 Alternative Unity Ceremony Ideas – Unity Cocktail
Tiffany + Justin and Melanie + Scott
So you're invited to a destination wedding in Cancun and when you arrive you hit the beach and grab a margarita. (BTW, while we are on the subject of wedding day alcohol, read more here)  Then you get dressed up for the ceremony and grab another margarita… Mosey over to the ceremony, sit down as the bride and groom will usually just read their vows while you sip away. Maybe they'll include a candle ceremony or pour tons of sand into jars to symbolize unity.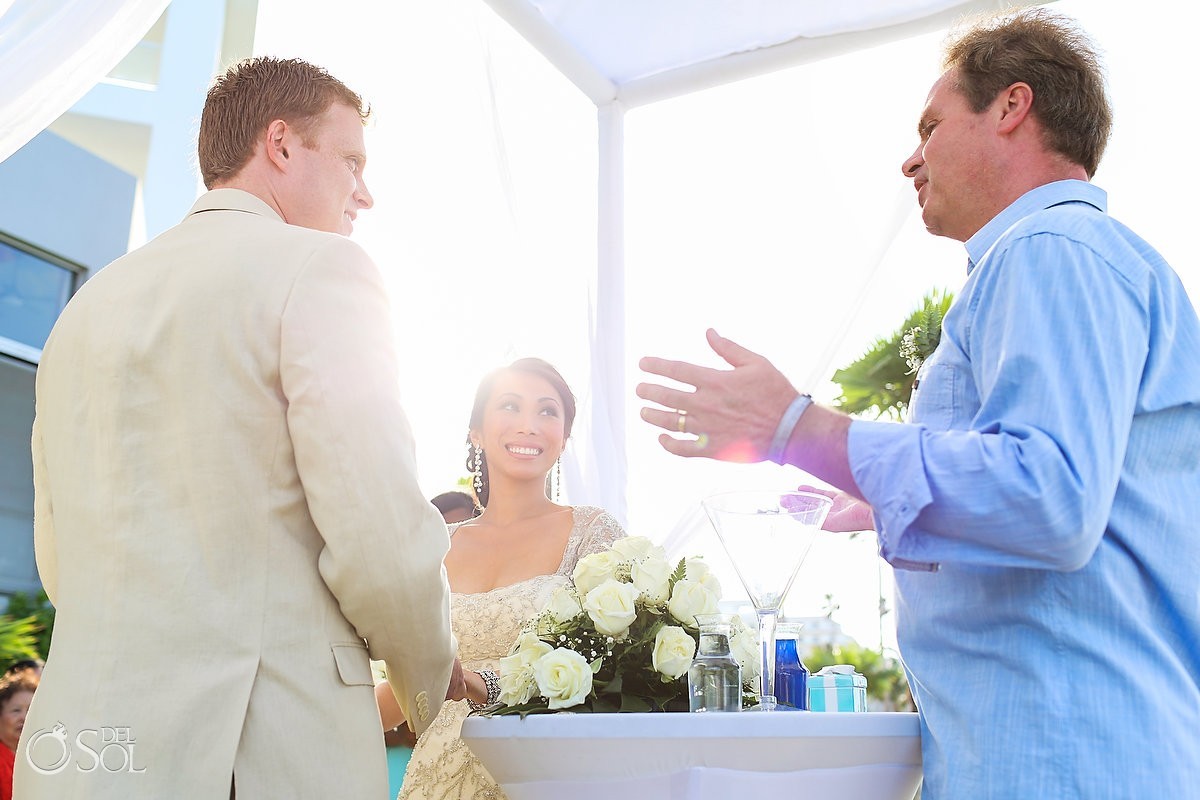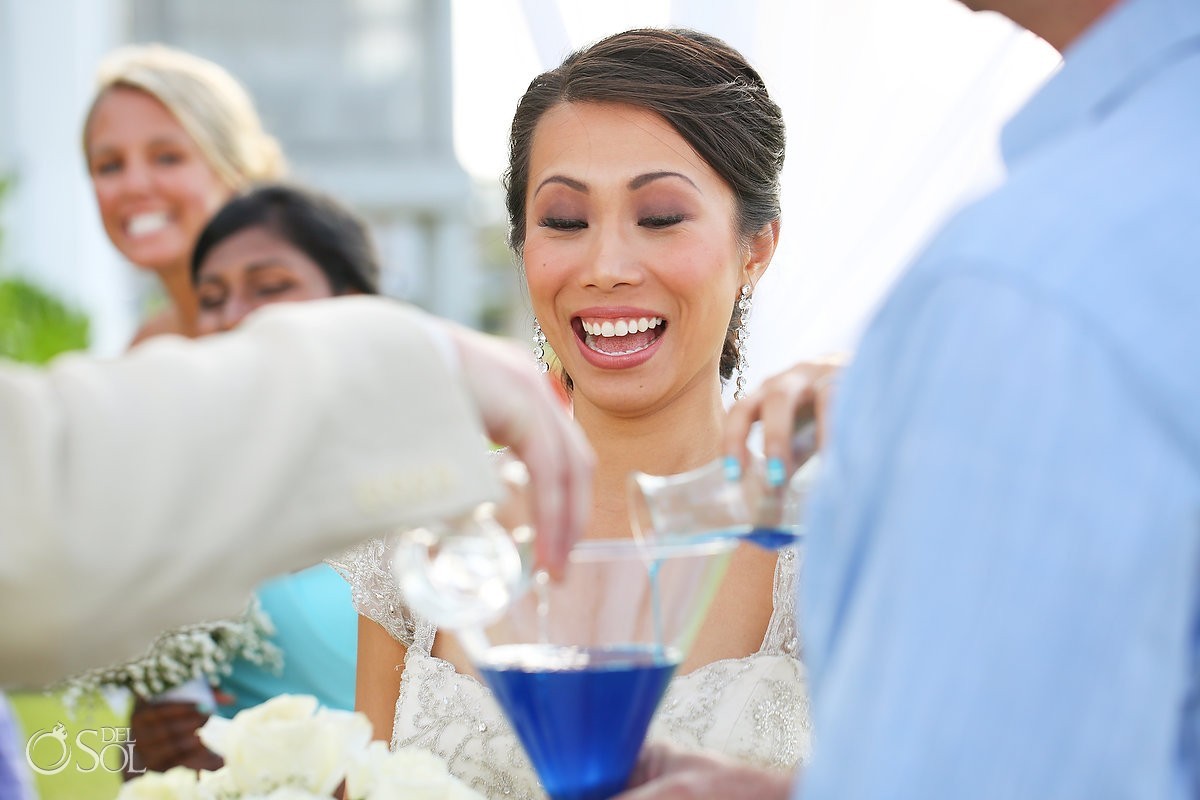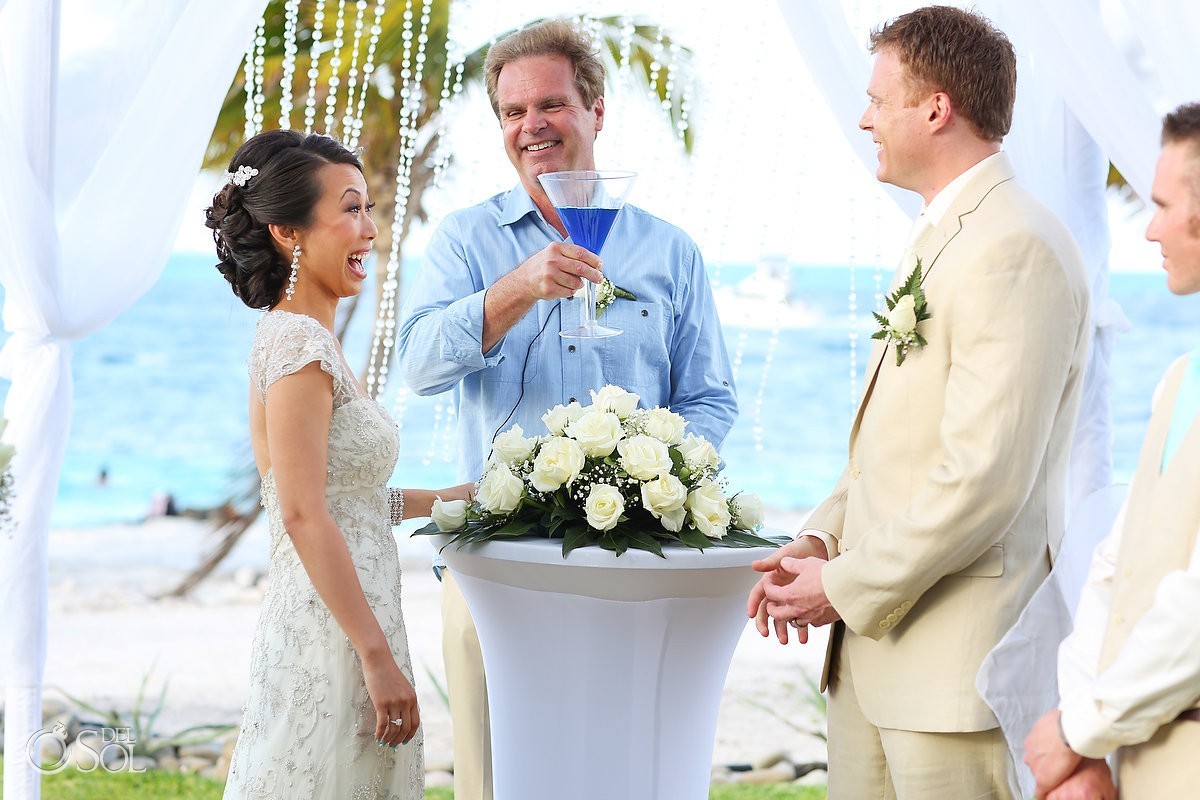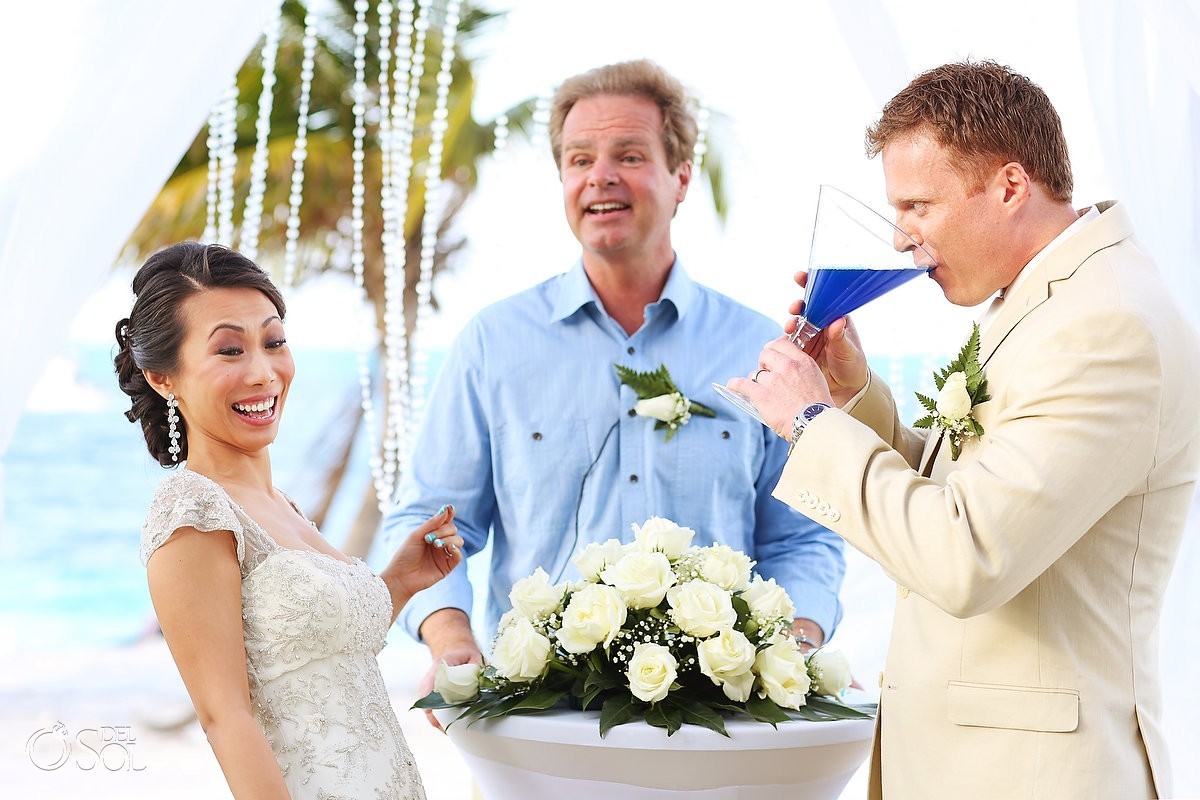 This all changed at Tiffany and Justin's wedding, where they decided to both celebrate their unity while enjoying a drink with a "Unity Cocktail"! We have seen a lot of ways to proclaim love for each other and the joining of two people, but a Unity Cocktail is a unique and fun way to do it!
"We decided to do the unity cocktail for a few reasons. First, Justin and I aren't extremely religious. We're more relaxed and wanted to do something that represented us a little better. We both love a good cocktail and entertaining so a unity cocktail was more up our alley. Secondly, getting married on the beach we thought a unity candle would have been difficult with the breeze and the sand unity ceremony in the luggage could have just been a mess!" – Tiffany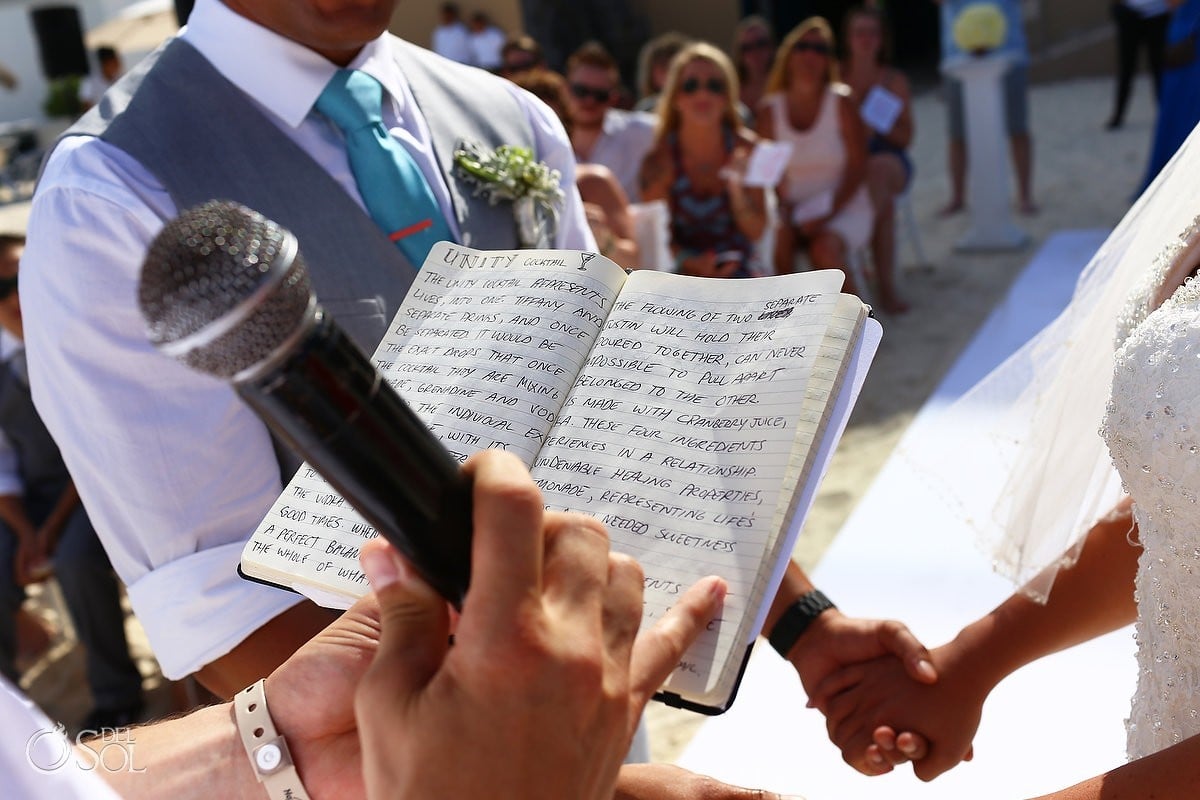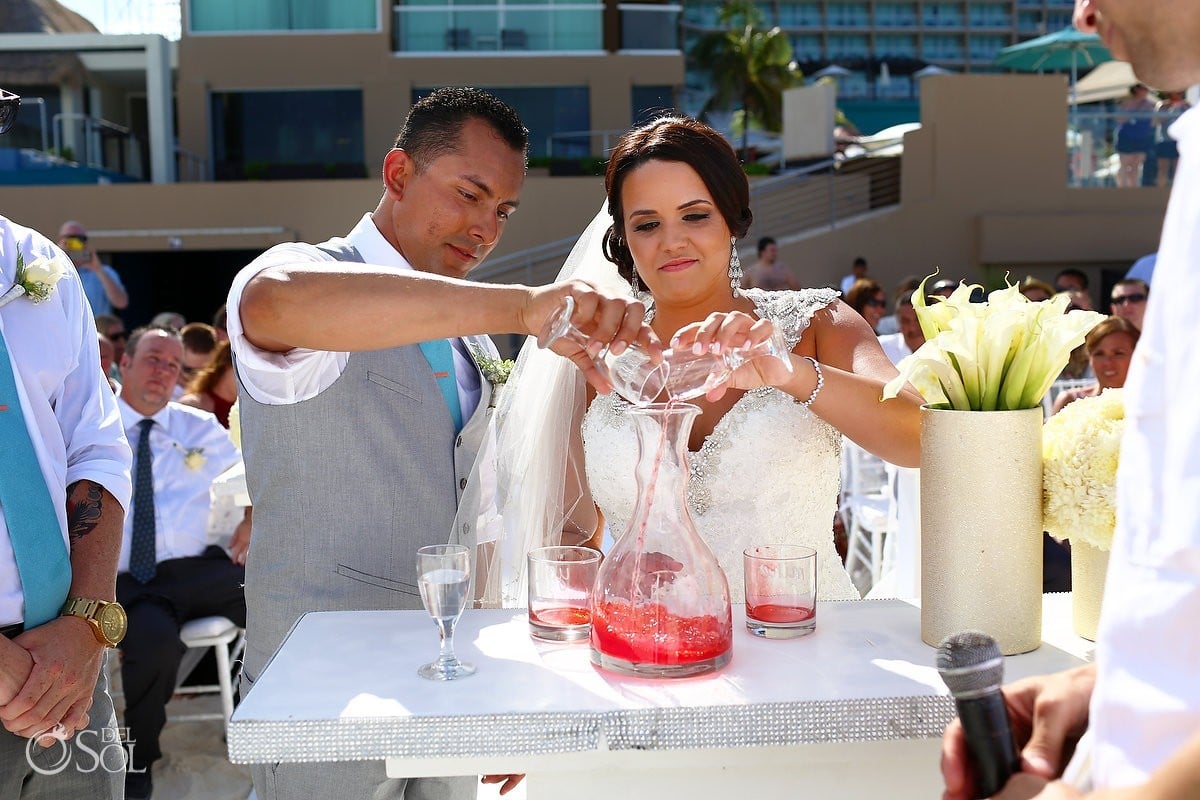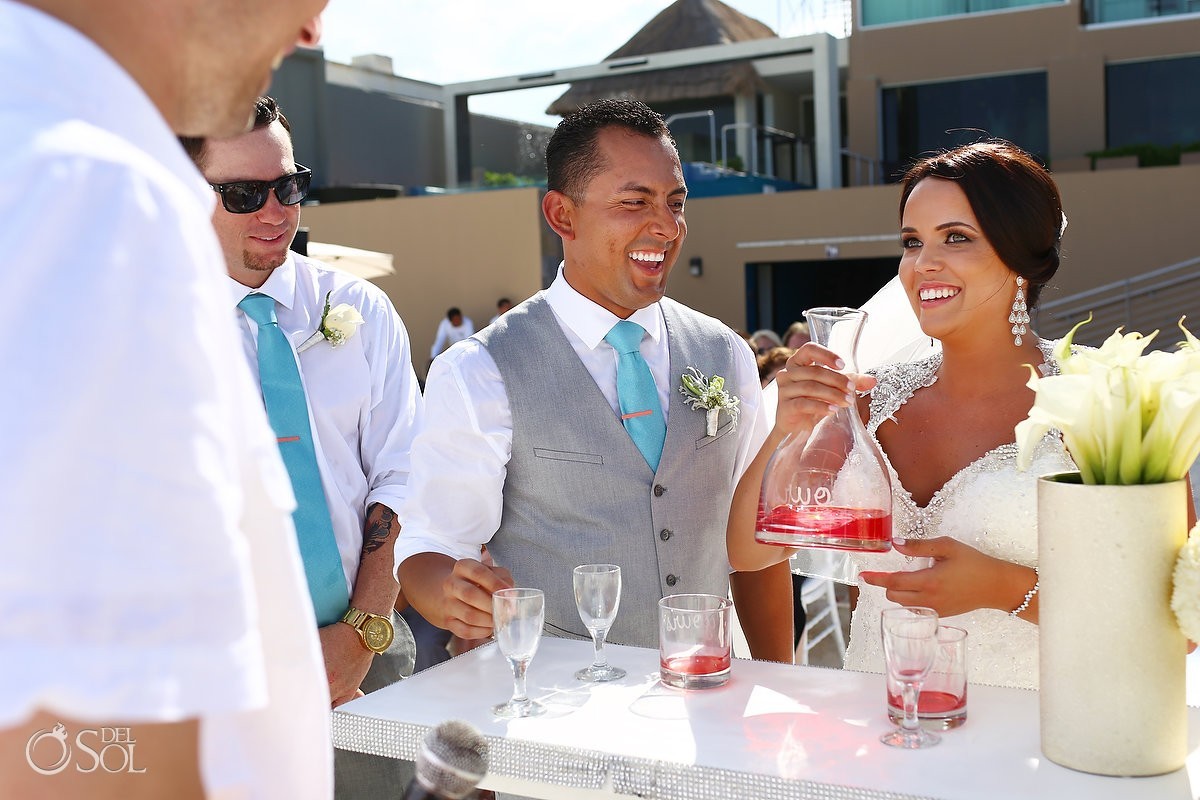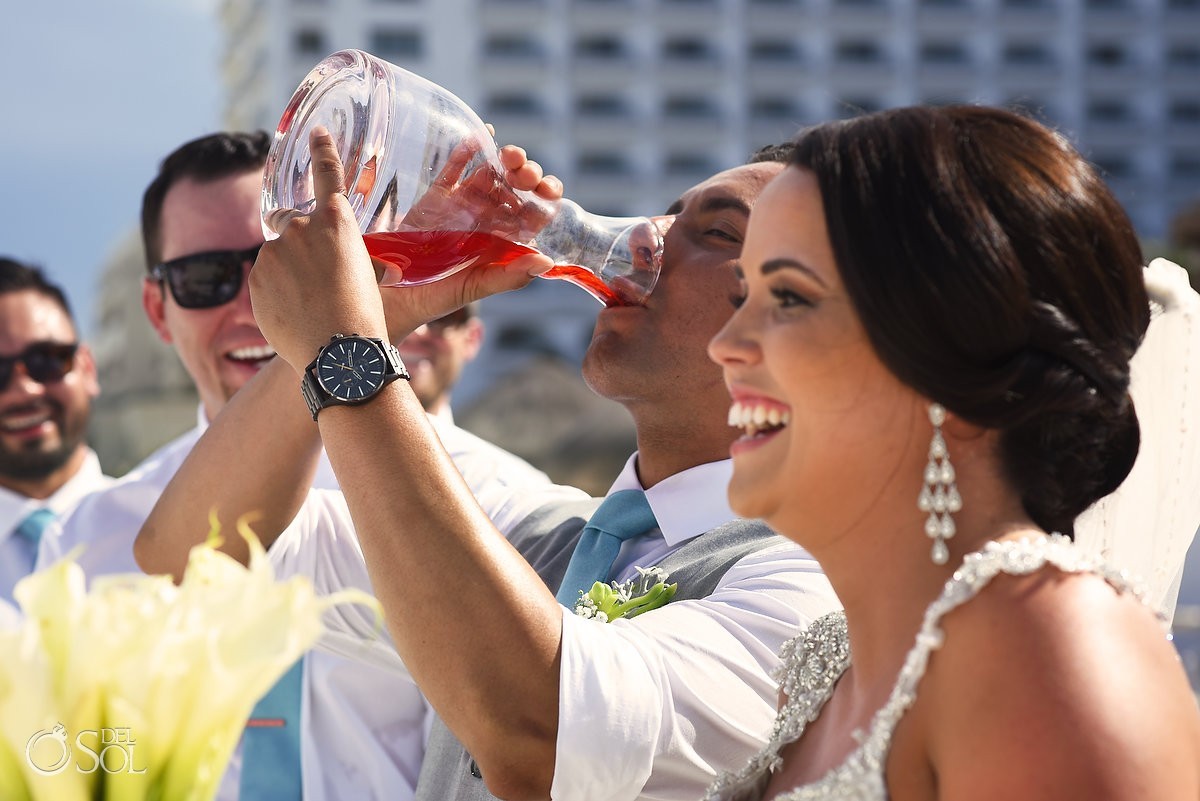 Alternative Unity Ceremony Ideas – Handfasting
"Our families are very important to us both.  The marriage is not only between us, but also represents our respective families coming together and uniting.  We didn't choose the traditional "unity candle" as the ceremony was on the beach and it may of been difficult with the wind.
"We liked the "handfasting" because it represents us "tying the knot" (to go with the rest of our wedding theme on the beach), and having our mother's involved (representing each of our families) in uniting us and our families " – Angie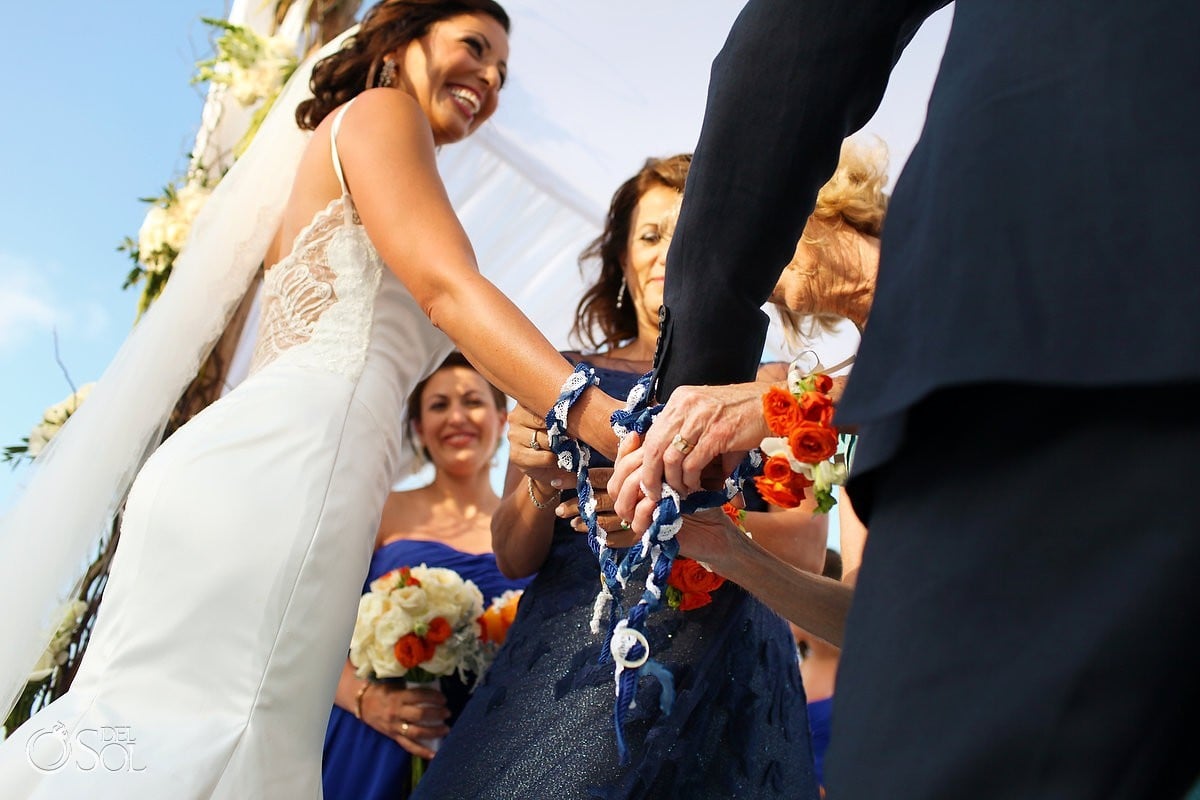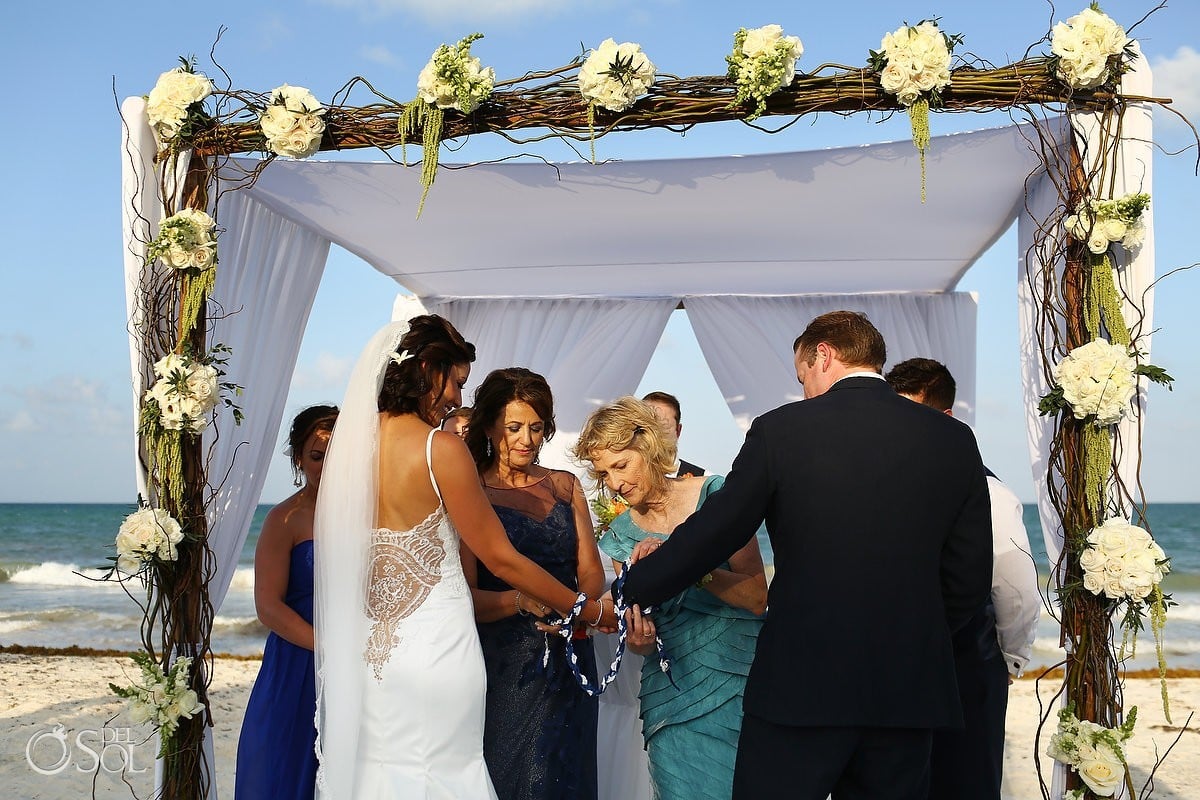 Alternative Unity Ceremony Ideas – Celtic Oathing Stone
"The stone we used at our wedding is a celtic oathing stone. We wanted to add a special aspect to our ceremony that would be unique to us, something we had never personally seen done at any other wedding. The oathing stone is an ancient celtic custom in which the bride and groom hold the stone while saying their vows, as it is believed that an oath given near stone or water is more binding and "sets the vows in stone."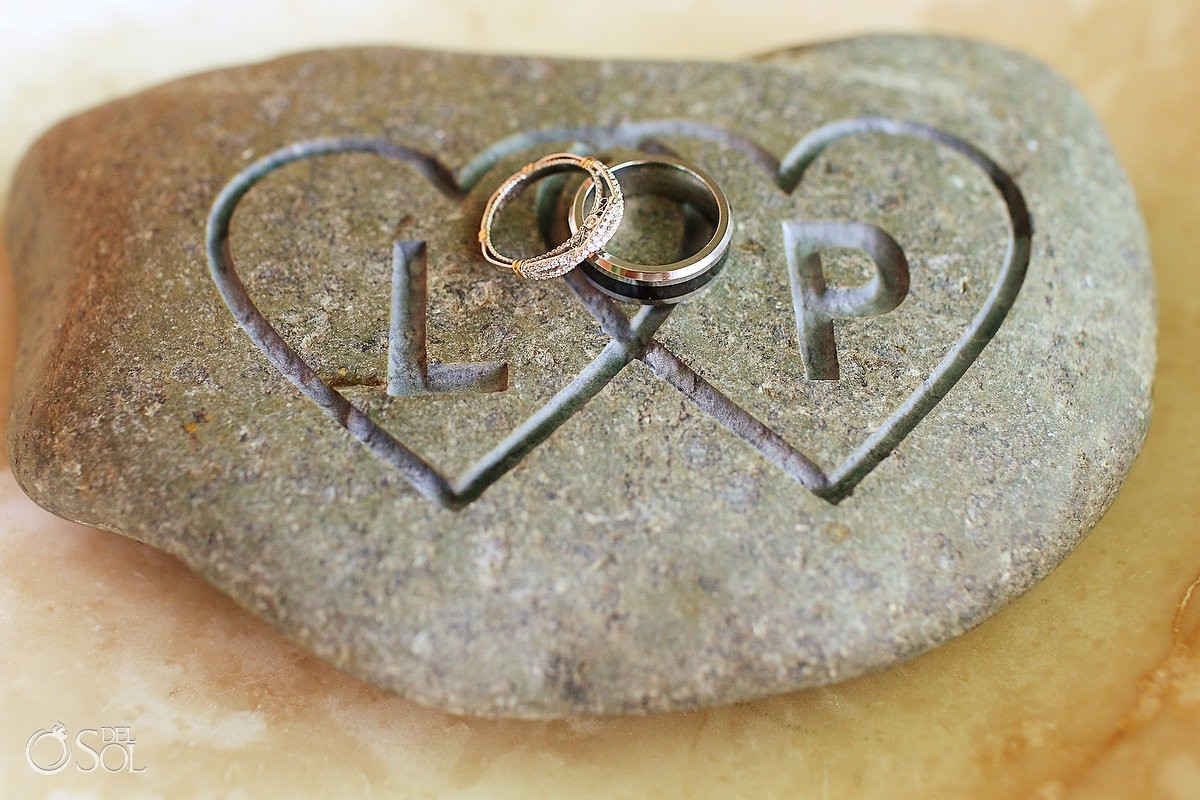 Alternative Unity Ceremony Ideas – Unity Cross
The Unity Cross is a multi-piece Sculpture that Kristen and Cameron assembled during their wedding unity ceremony.
"The Groom places the outer cross in the wood base. The Pastor explains how God created man: bold, strong, the defender of the family. Yet he is empty and incomplete without the woman. The bride then places the more delicate cross inside of the groom's cross. The pastor explains how God created Woman: delicate, multi-faceted, taking care of all of the little things that completes the man. The two become one. The bride and groom then use the 3 golden pegs to lock the cross together in the name of the Father, the Son and the Holy Spirit. The pastor exclaims: What God has brought together let no man take apart." – Penny Reynolds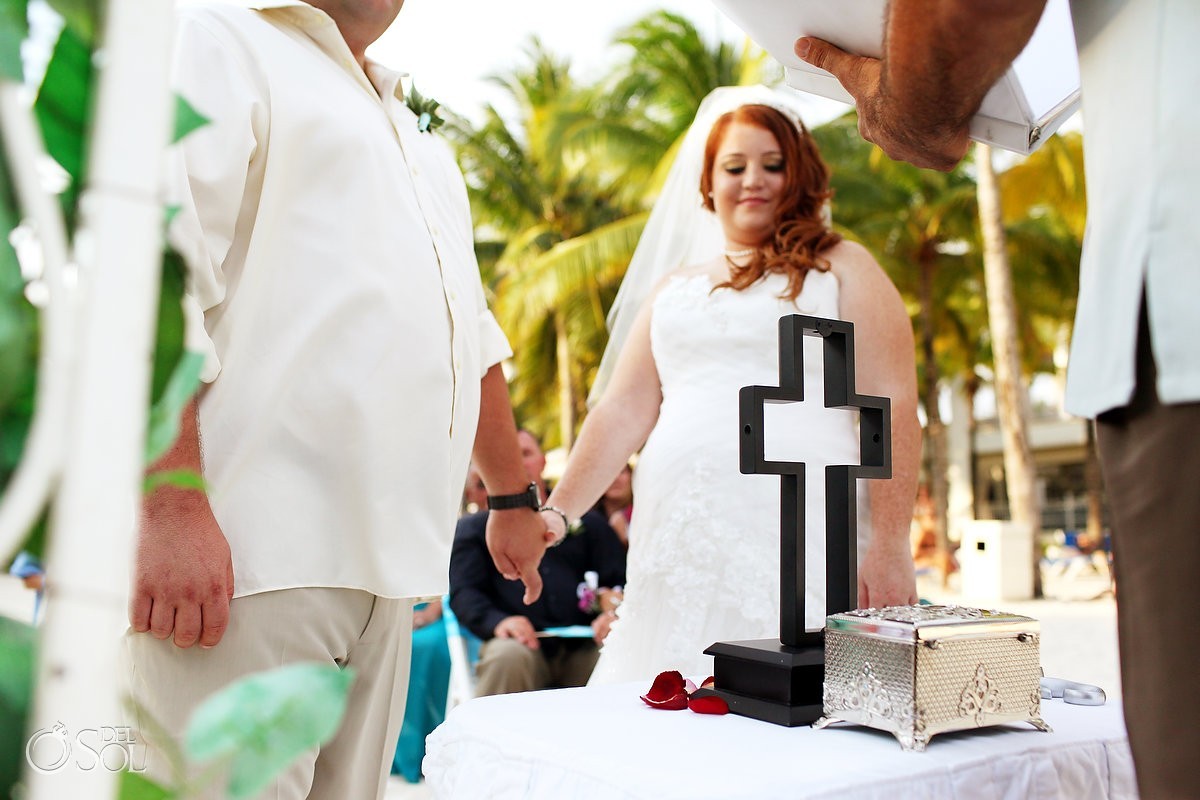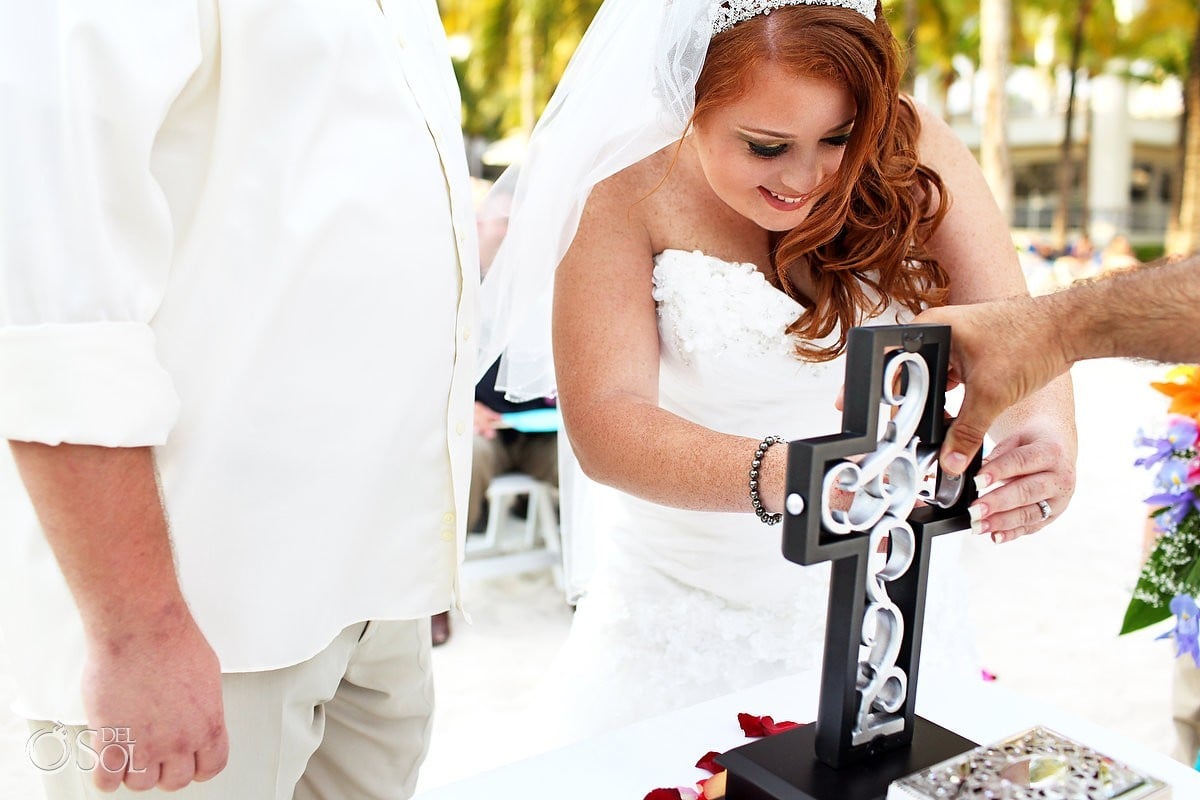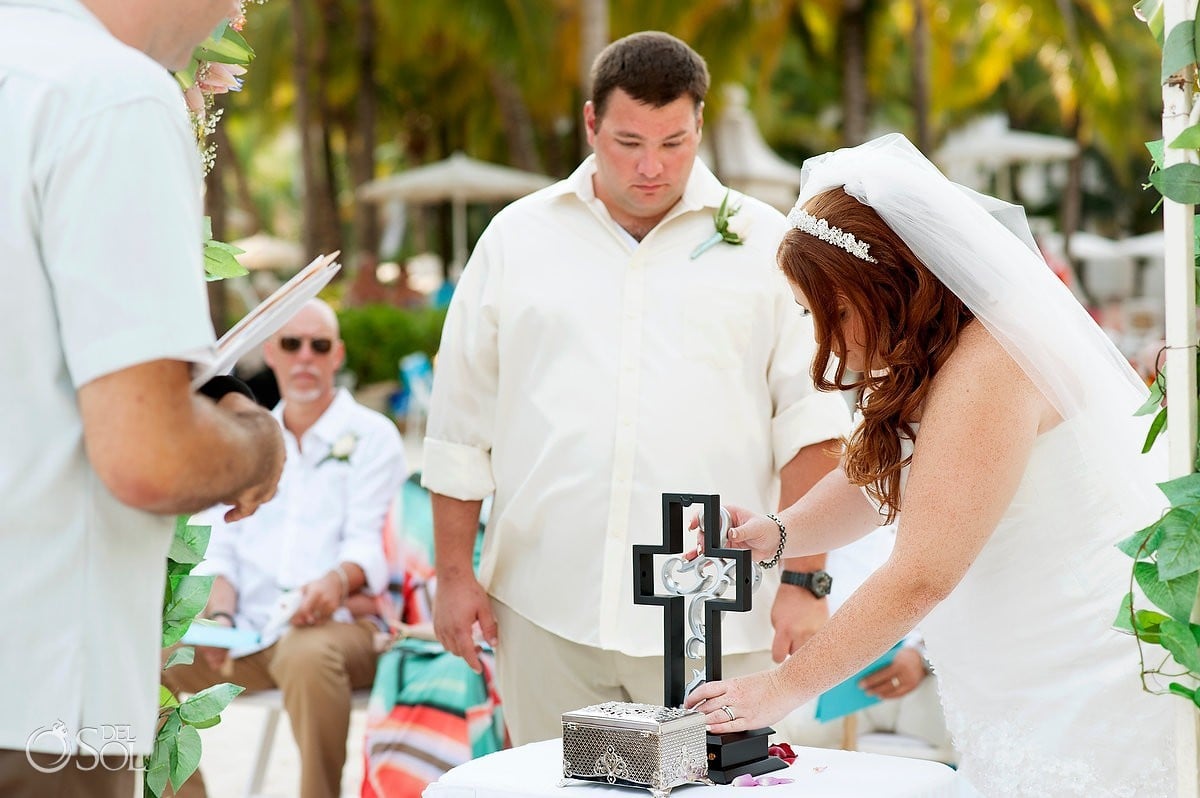 Alternative Unity Ceremony Ideas – A box of wishes
Melissa + Jason
We love any wedding ceremony that finds a way to involve all the guest in the blessing and joining of the couple. Melissa and Jason asked their guests to be a part of their ceremony by placing cards with their wishes for the couple in a box. A beautiful and meaningful way to make each of their loved ones a part of their union.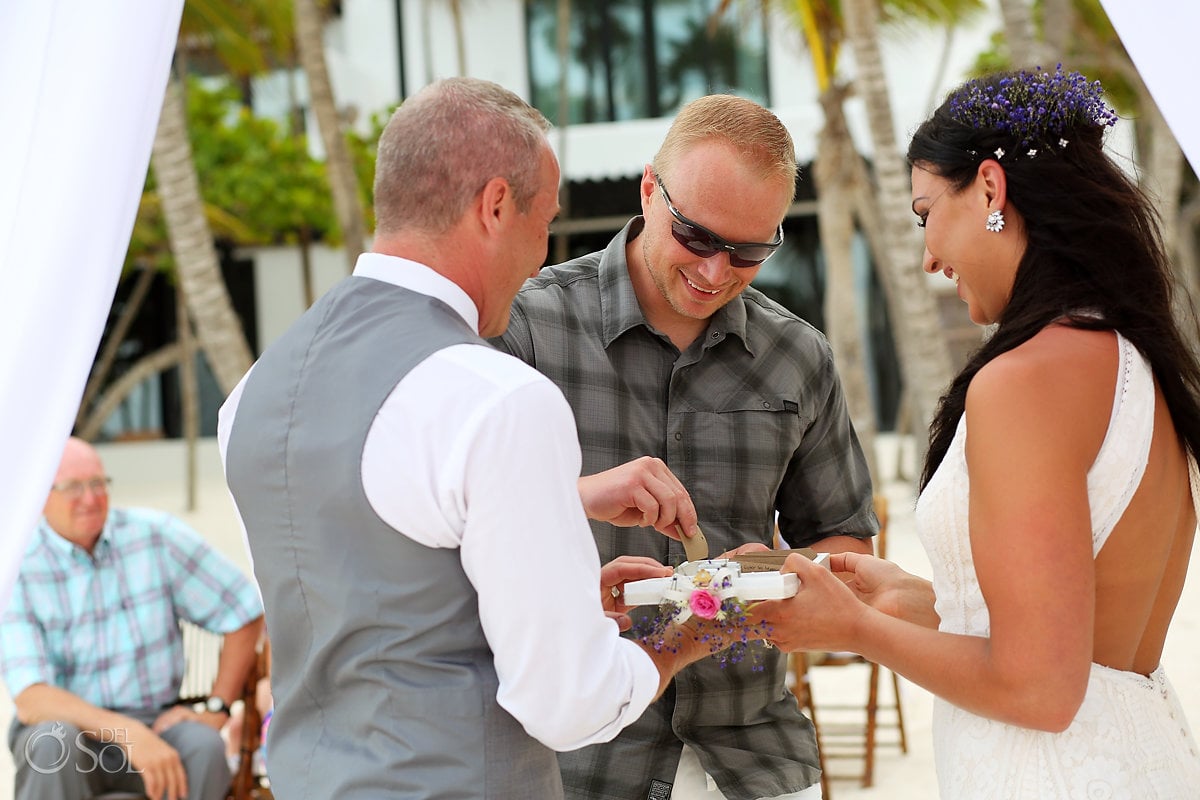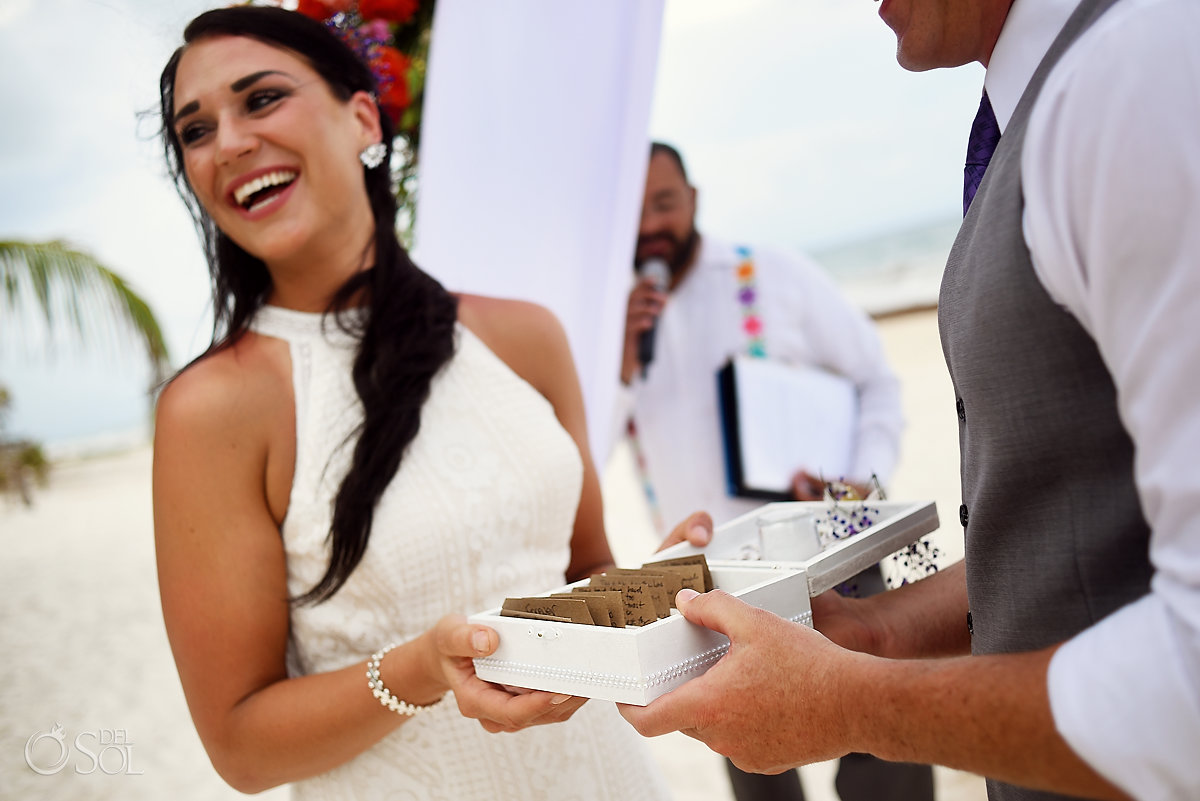 ---
More posts with our favorite collections:
These are our tips on how to plan the perfect destination wedding
Here are 50 reasons why kids should always be invited to your wedding
For those who want to find the best engagement ring , this is a collection of wedding day ring photos.
Some people like to drink on the wedding day, so here is our collection of fun images related to wedding day Alcohol
Don't be fooled that a little rain my crash the wedding fun, here are 20 reasons why rain is awesome on the wedding day.
---