Engagement photography Riviera Maya
Stacy + Anthony
""When we discuss our trip, the coffee shop was a moment we like to re-live over and again." – Stacy"
Del Sol: It's amazing LOVE brought you here!  Why did you Travel for Love?
"We traveled for love to celebrate our recent engagement and to step away from our busy jobs to focus time on each other."
"Every venture was the result of a moment shared at the preceding location. Our travel to Mexico led us to Del Sol Photography who led us to sunrise on the beach, Mayan ruins, back to the beach to use the incoming storm as a backdrop, running for our lives as the rain began and to the coffee shop that we would not have been to had it not rained."

Del Sol: What's your top destination portrait session advice?
"Our top advice for a destination portrait session would be to see if Del Sol Photography is available to shoot it. However, we do believe it is important to pick a company/artist in which you enjoy their style of picture taking. Photographers are artists, and like many they have a particular style to their photography."
"It's generally acceptable to give suggestions to particular photos you want but giving a photographer creative freedom results in significantly better photos." – Stacy

Del Sol: Your portrait session had everything – Mayan ruins, Caribbean sea, magic rain, tasty coffee break, Mexican colors and 5th avenue street vibes!
"It is amazing how sometimes the earth gives you just what you need in the moment that you need it." – Stacy
We had been taking photos for a couple of hours at the beach and the ruins, and I (Stacy) was having trouble feeling at ease in front of a camera. When the thunderstorm abruptly had us running for shelter, we ducked into a restaurant. We ordered some coffee and sat on rope swings chatting with Polly and Nat about our favorite tv shows, cars, relationships and careers. Polly and Nat snuck a few pictures in during this time, and they are my favorite photos of the whole day. We then walked around the restaurant posing in front of art, playing with masks and sombreros and waiting for the rain to pass."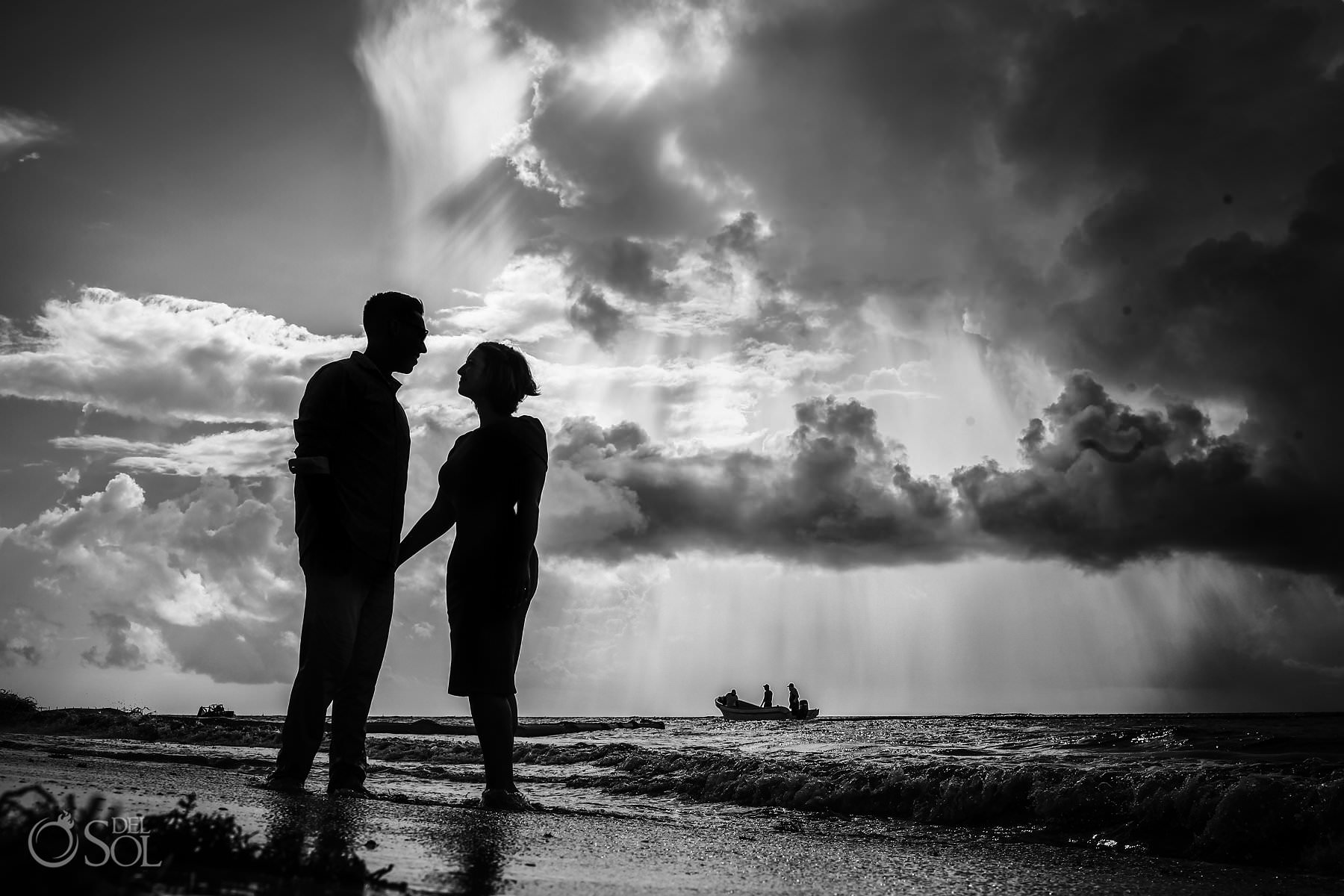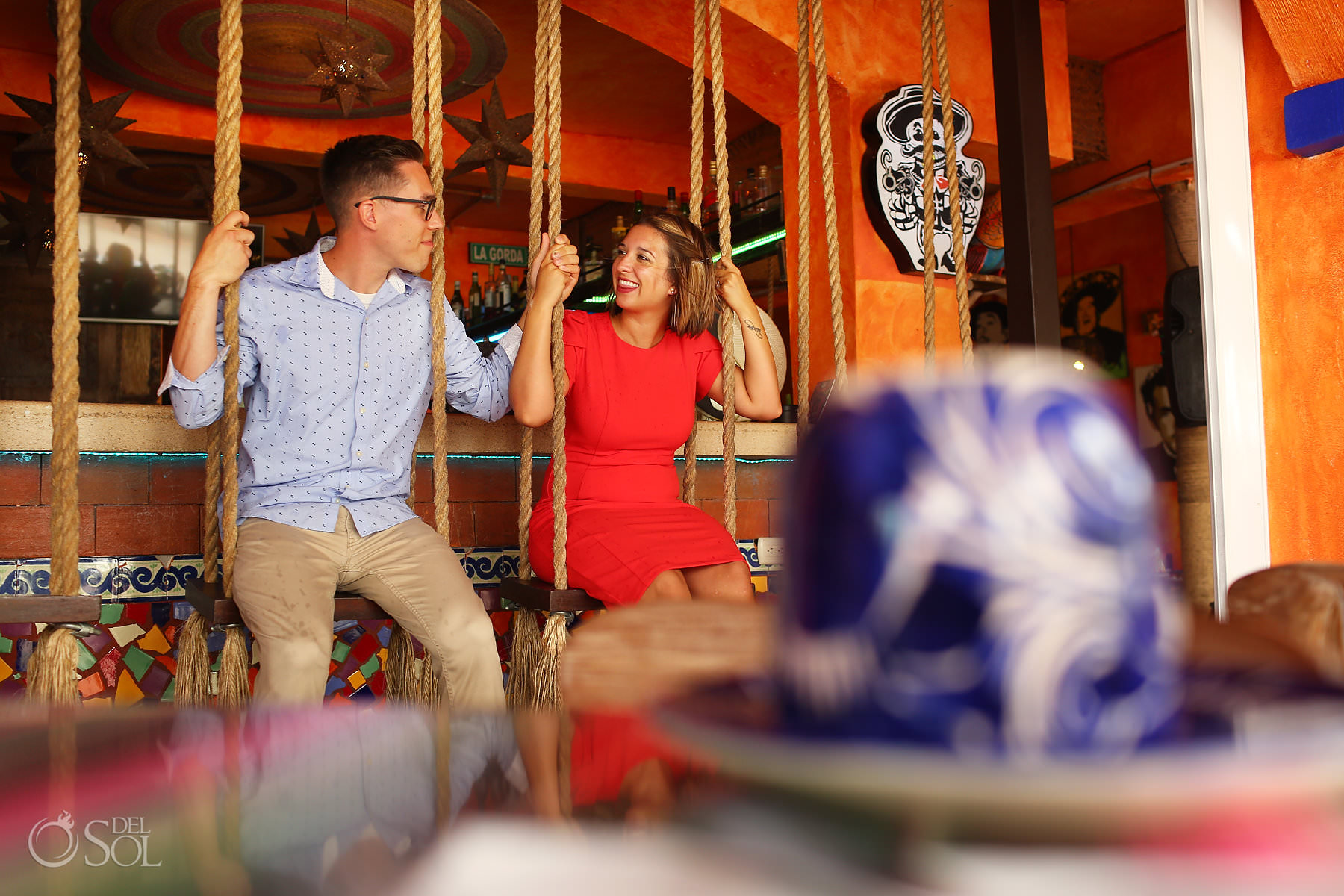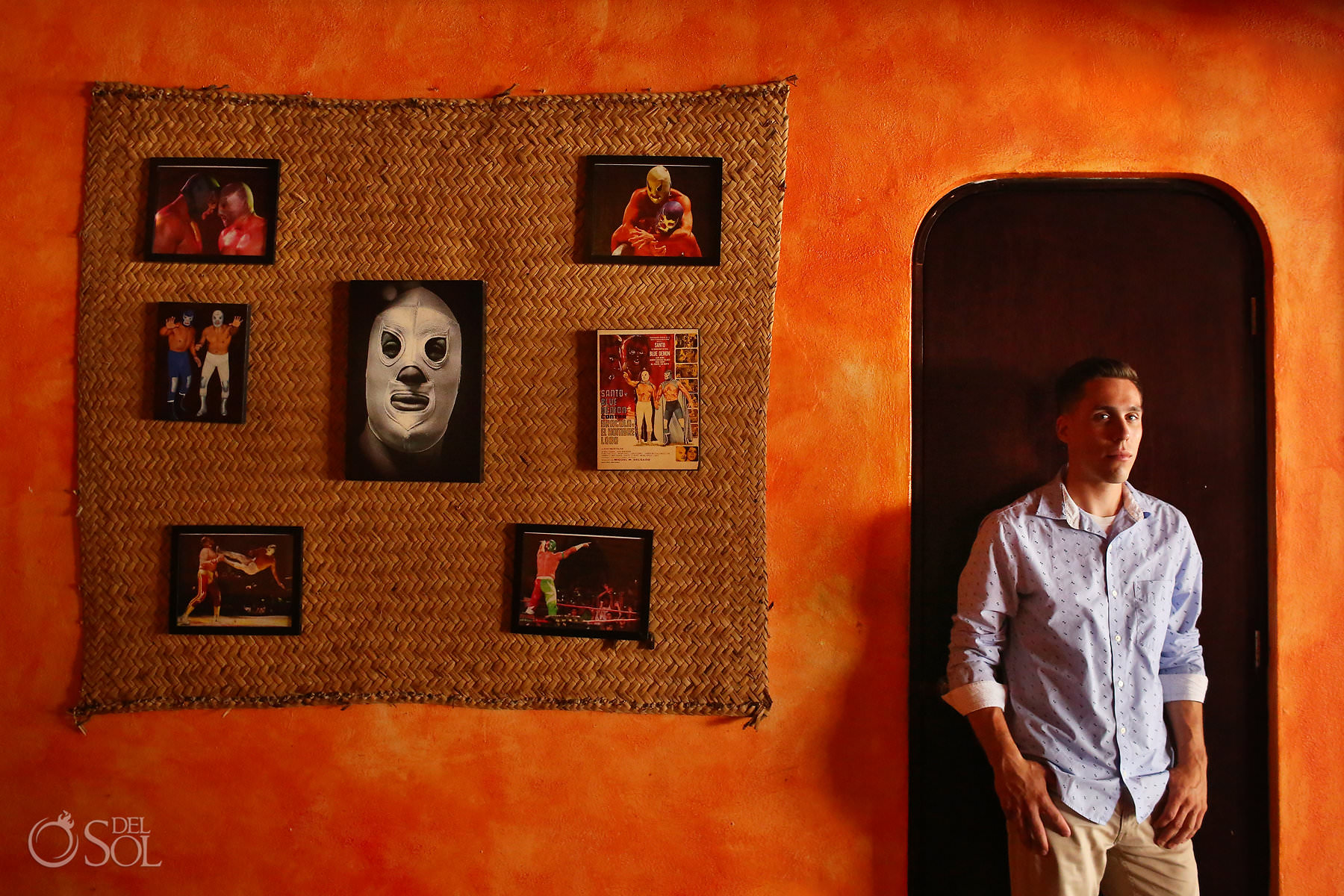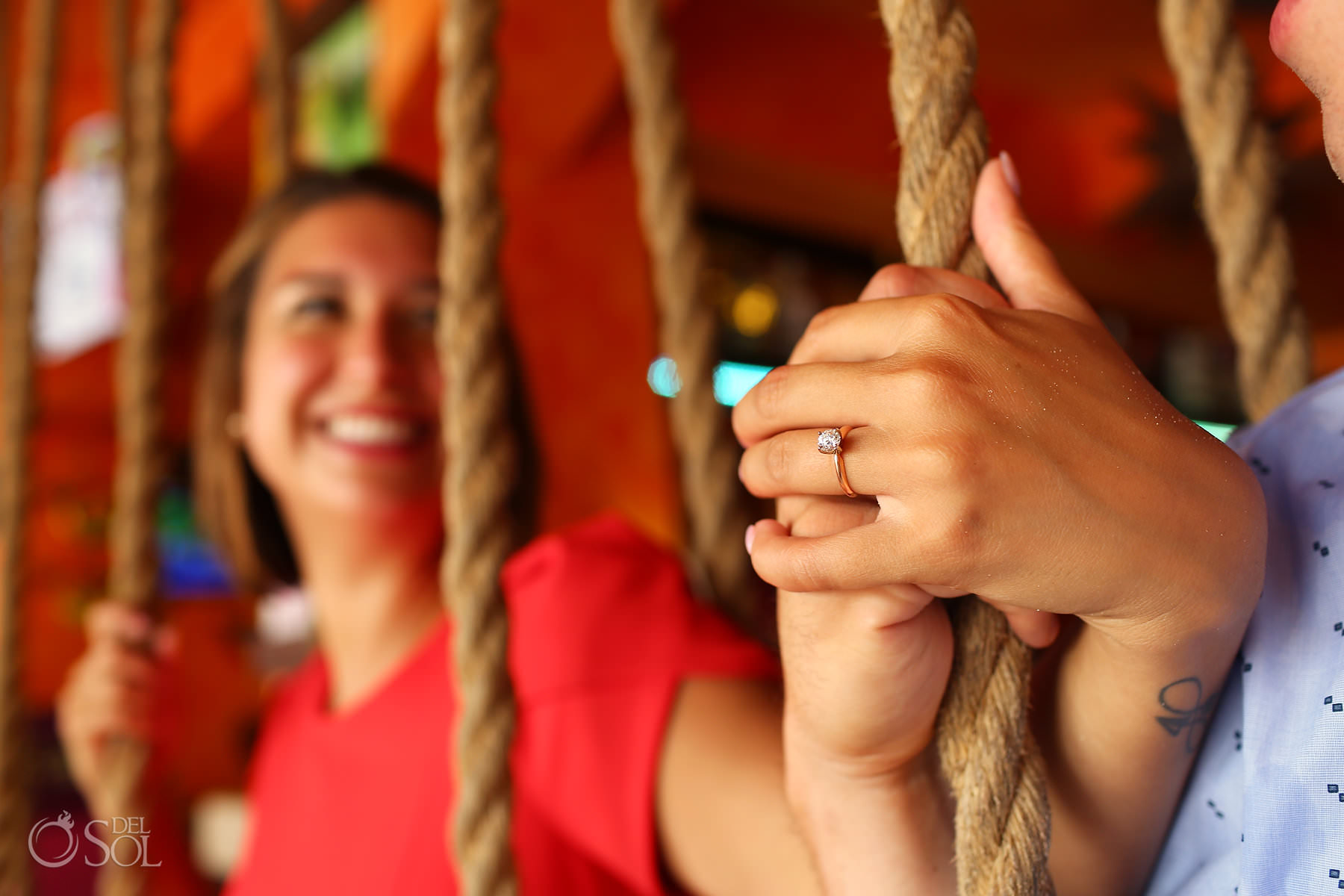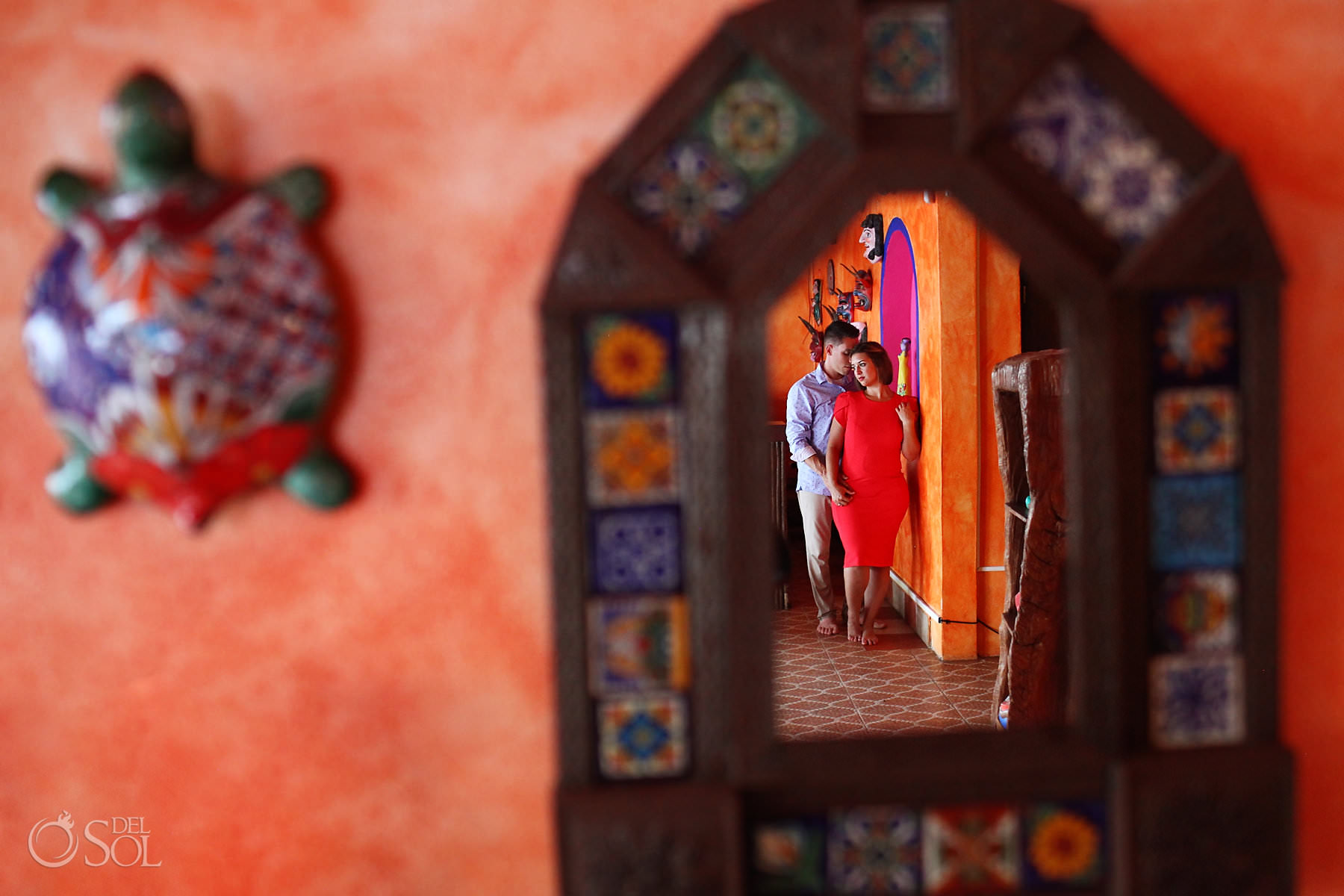 Del Sol: It rained during your portrait session – however you were so relaxed and cool and playful
"As we made our escape from the afternoon rain, we arrived at vibrantly colored coffee shop/restaurant. Our favorite part of this place was in leu of stools at the bar, there were rope swings. Within minutes there was fresh coffee brewing while Polly and Nat took a moment to talk with us and share some stories of their own. Although engaged conversation, they never stopped examining the room for their next idea. Polly and Nat turned an escape from the rain into one of our favorite photo shoot experiences. The props were so much fun and allowed us to get comfortable being in front of the lens. If it weren't for the sound of the camera shutter, we would have forgotten this was supposed to be a photoshoot.
"When we discuss our trip, the coffee shop was a moment we like to re-live over and again." – Stacy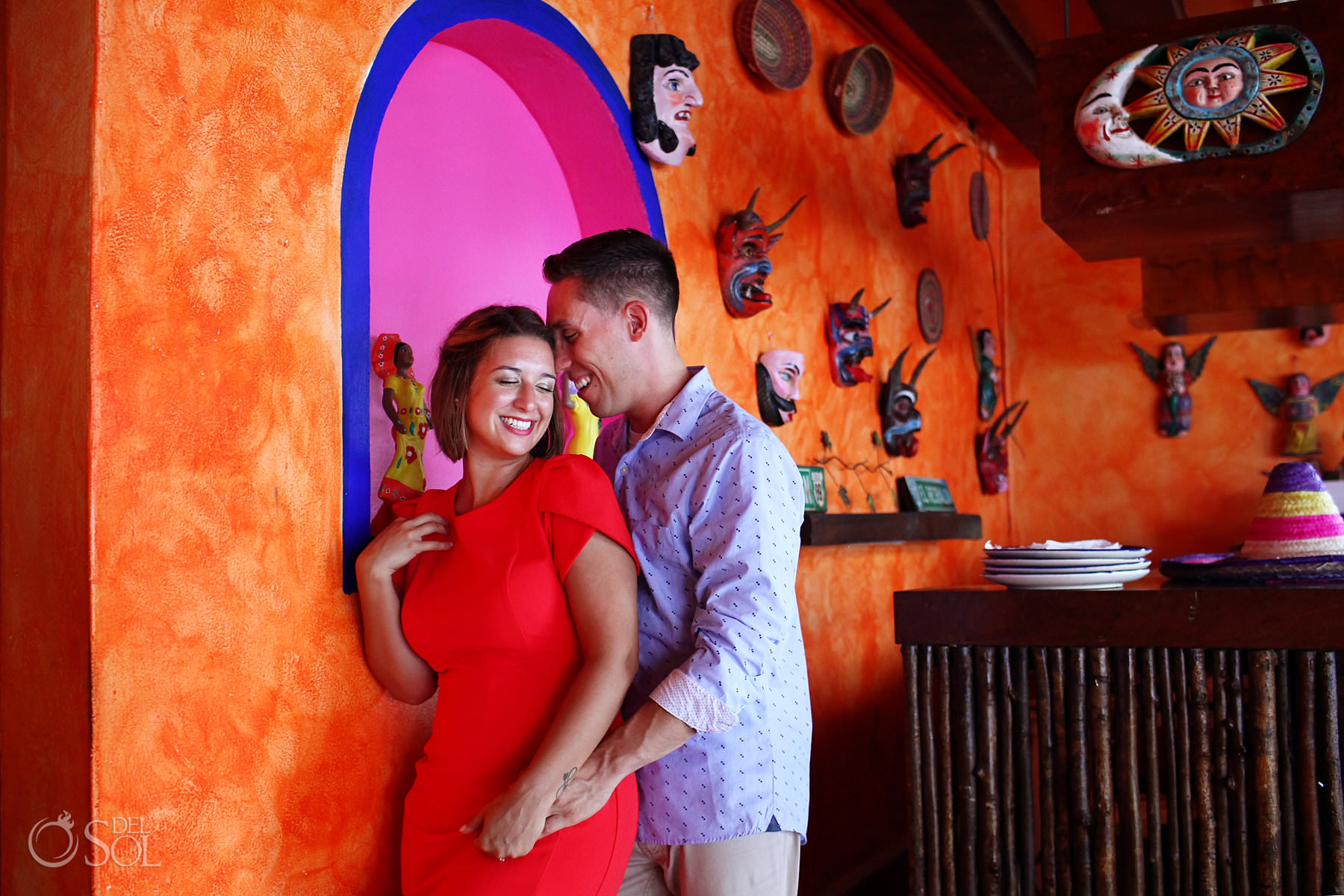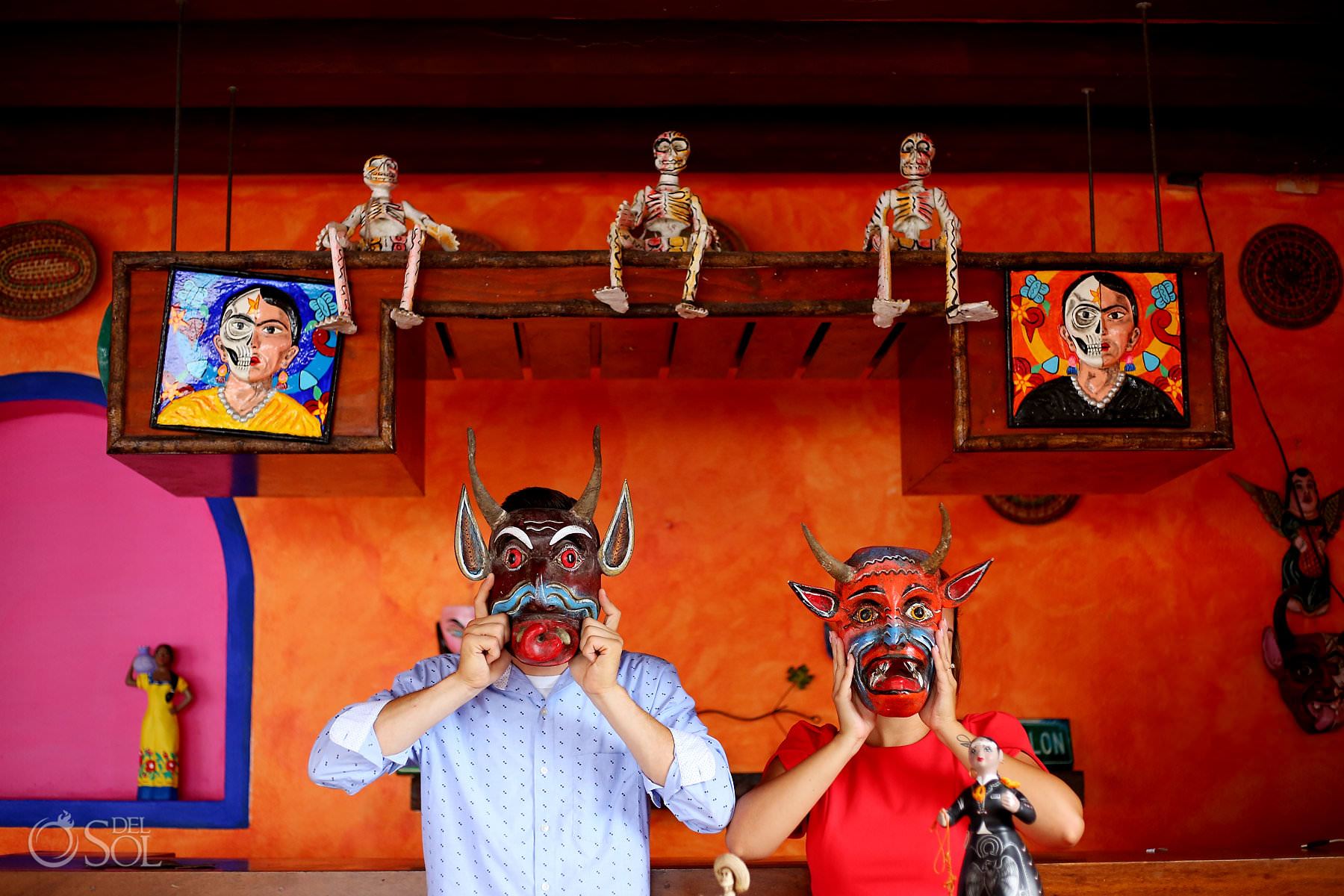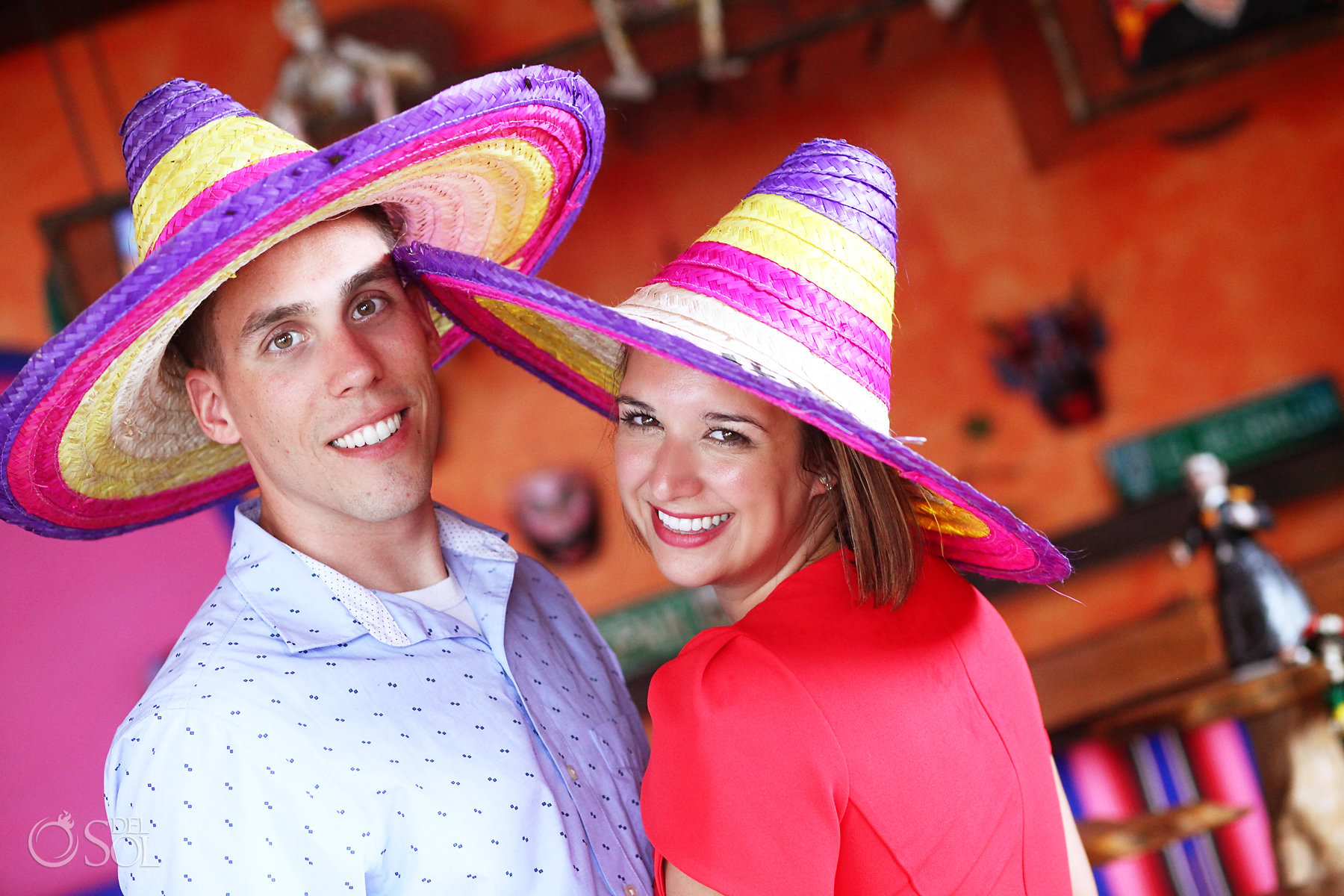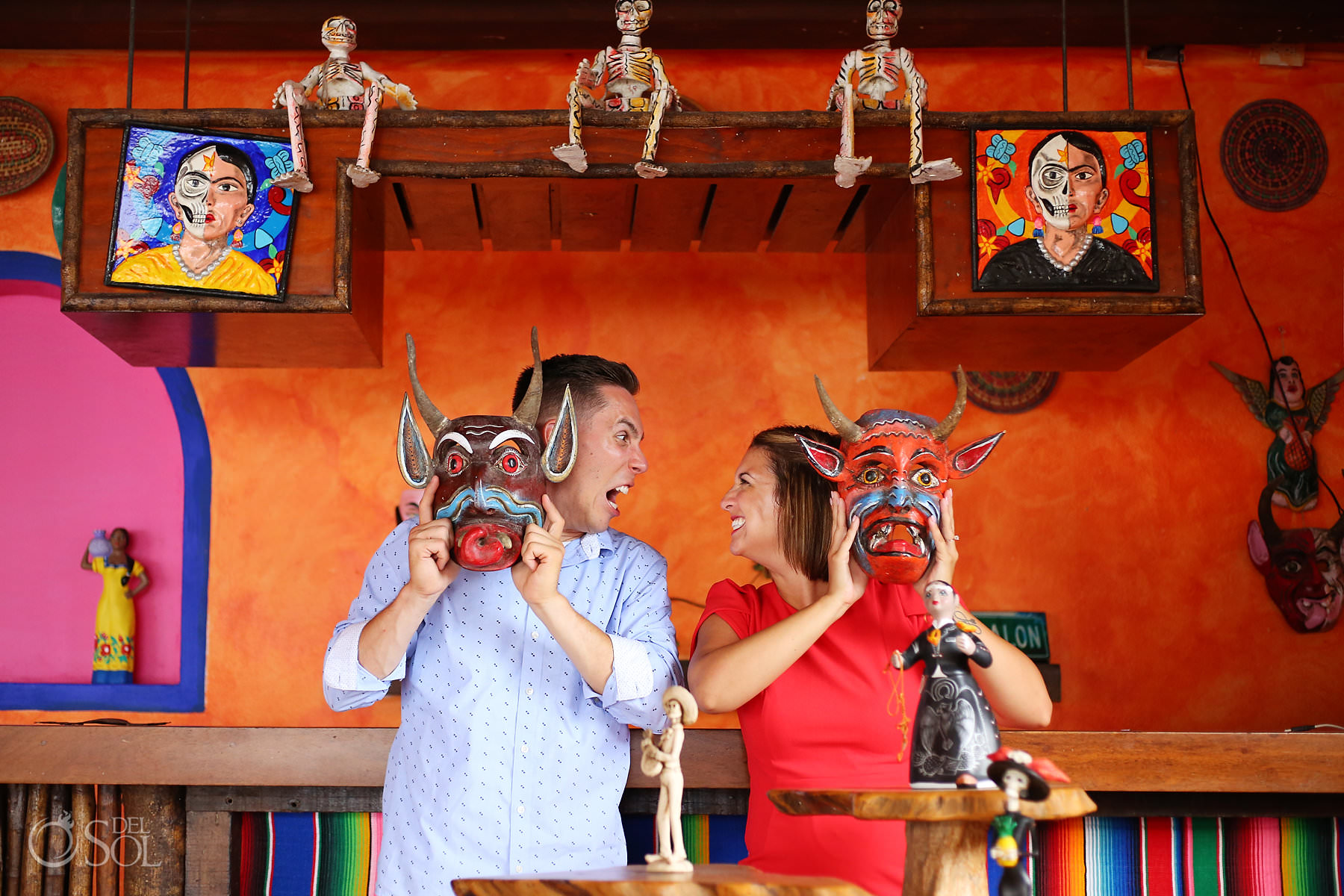 "When it stopped raining, we were so much more at ease after getting to know everyone better and not feeling so serious. We started exploring 5th avenue and these pictures show goofy side…we even posed with a rubber chicken. We head to 5th avenue and then walk back to the car had us posing by random buildings, garbage cans and mud puddles. These last few photos are the most creative photos from the most unlikely places."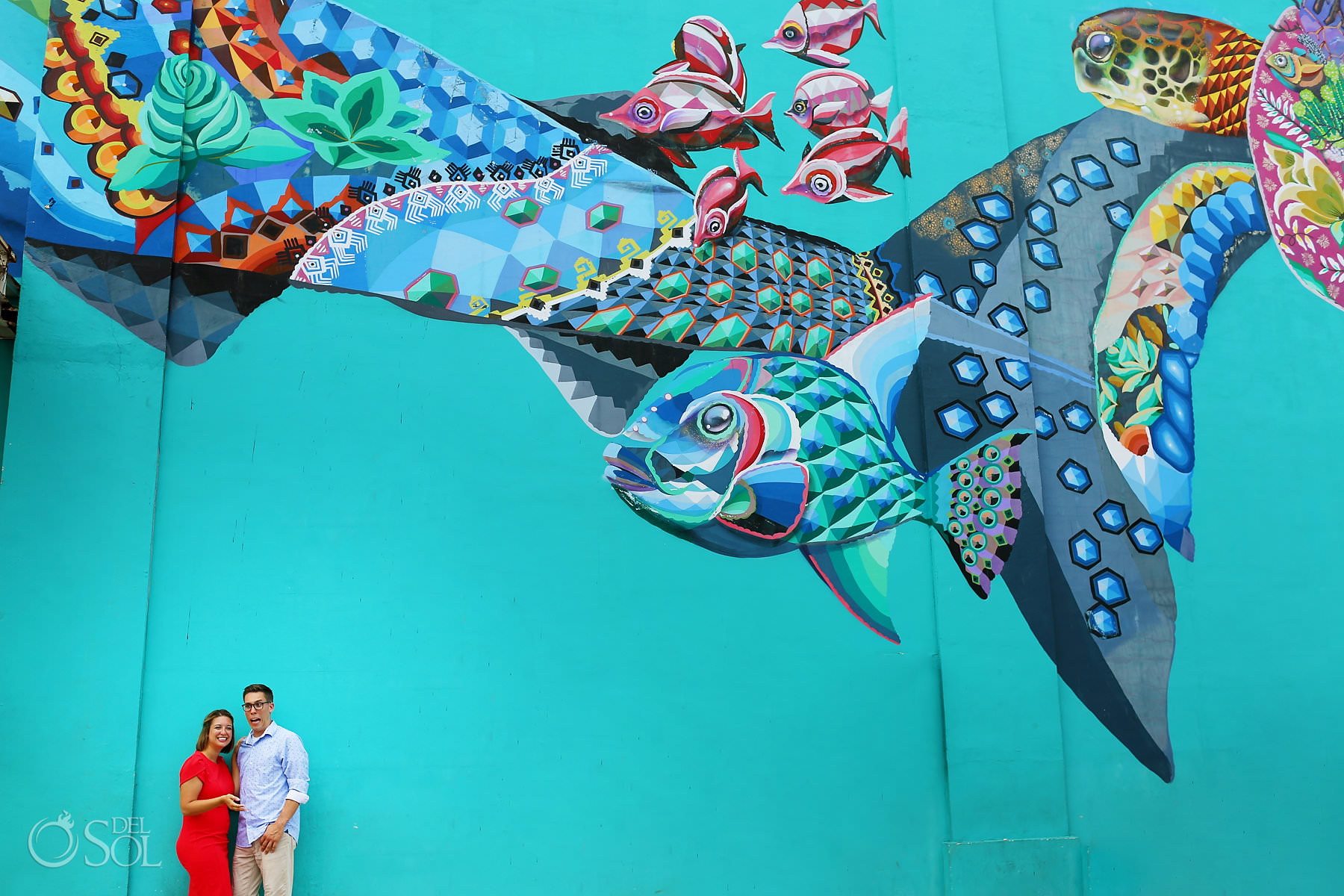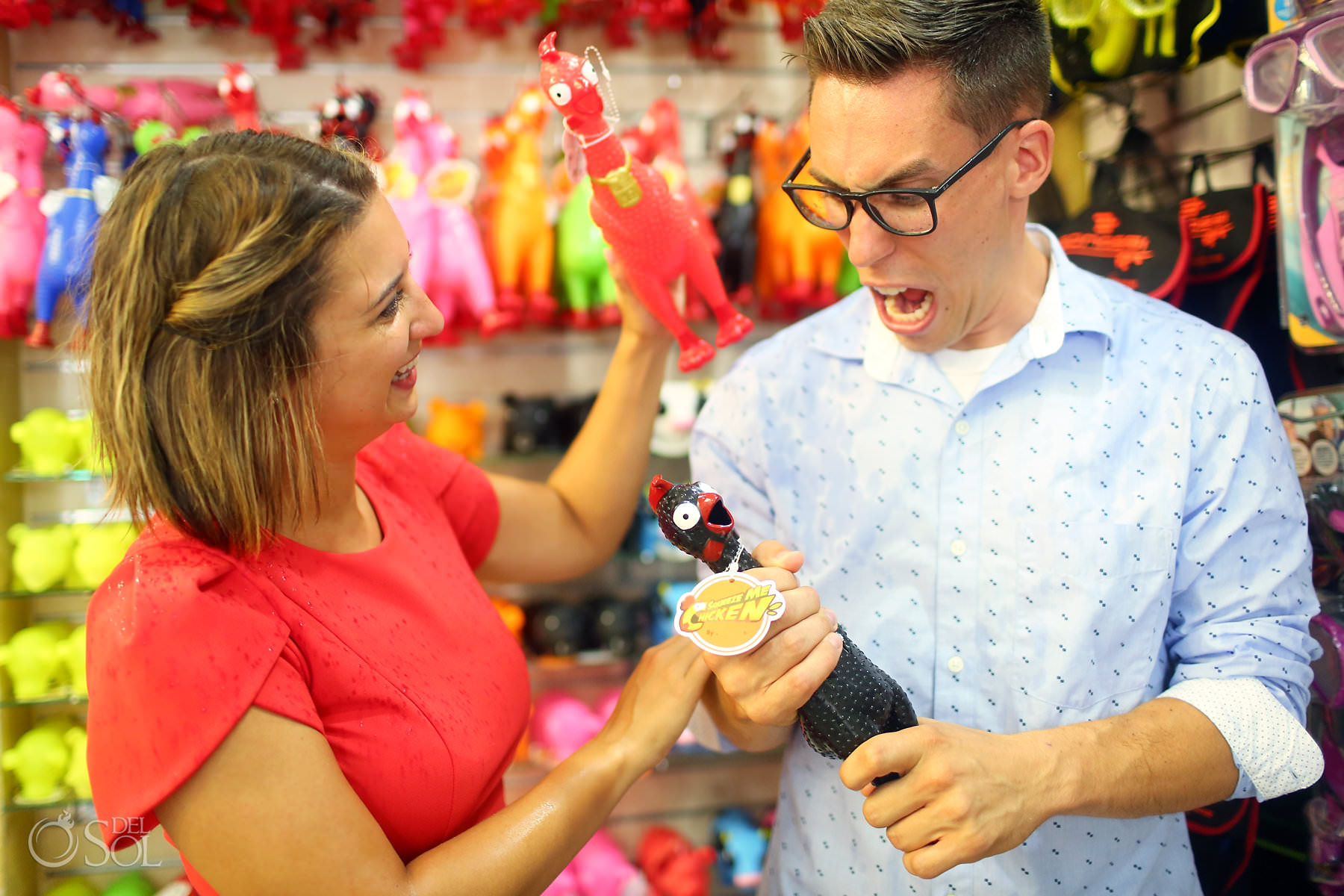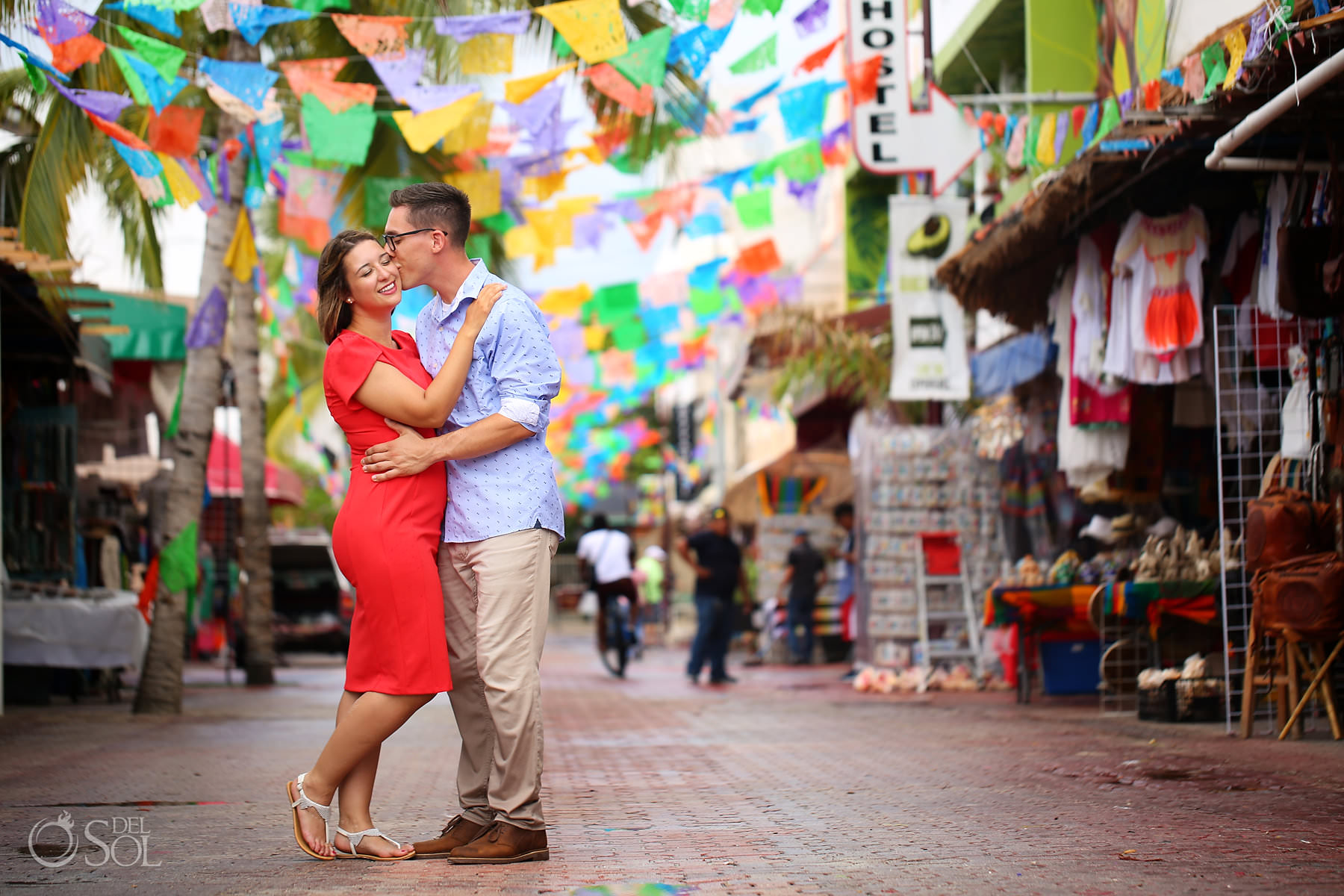 Del Sol: How was your experience with Polly and Nat – the del Sol team?
"There aren't many moments in a lifetime where you can genuinely feel the passion a person has for their craft like you could with Polly and Nat." Stacy
"The whole day was an adventure with them. They had us running through the Caribbean Sea, hiking through the jungle, posing by Mayan ruins, exploring 5th Avenue, and most importantly embracing the love that we have for one another. What more could you want?"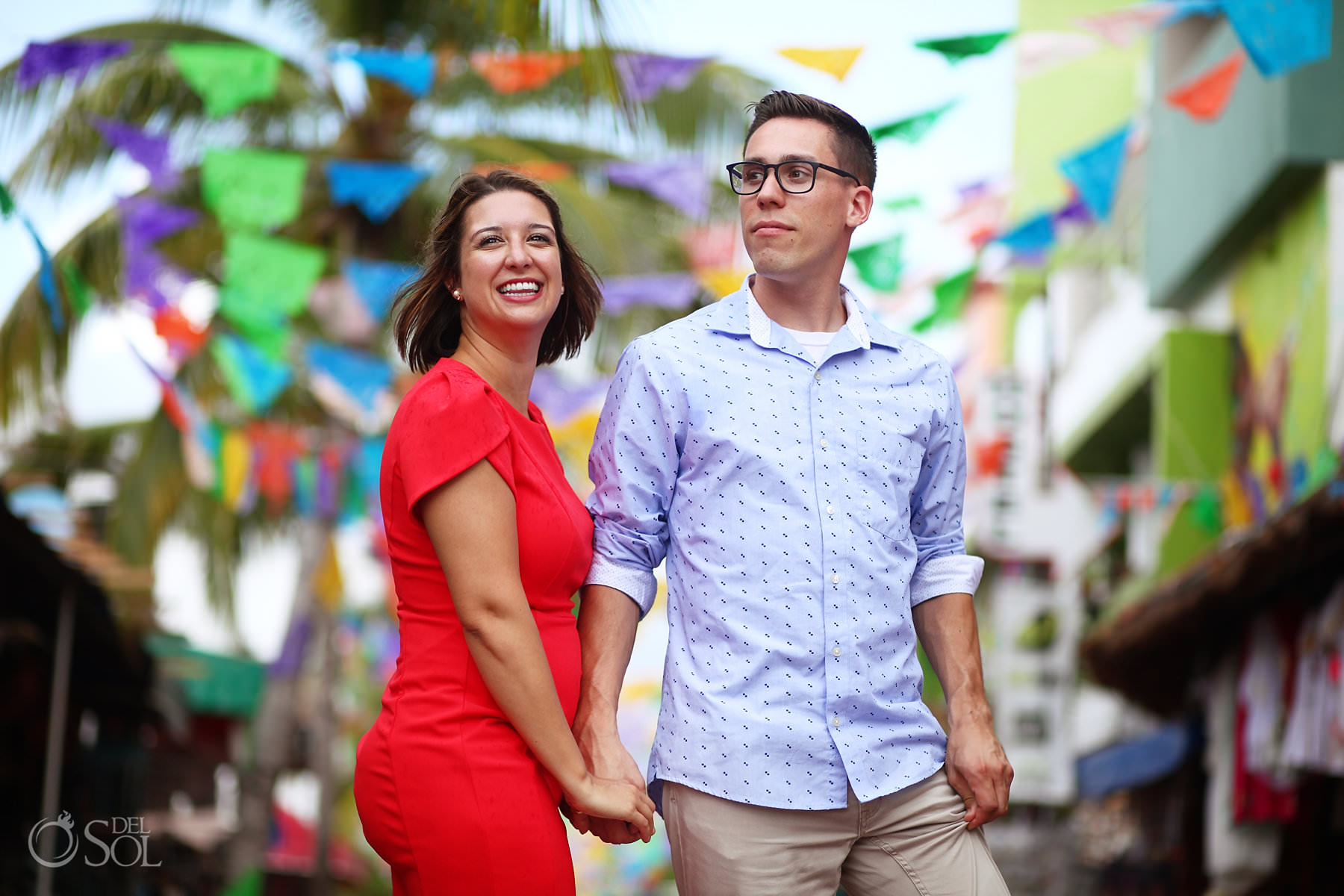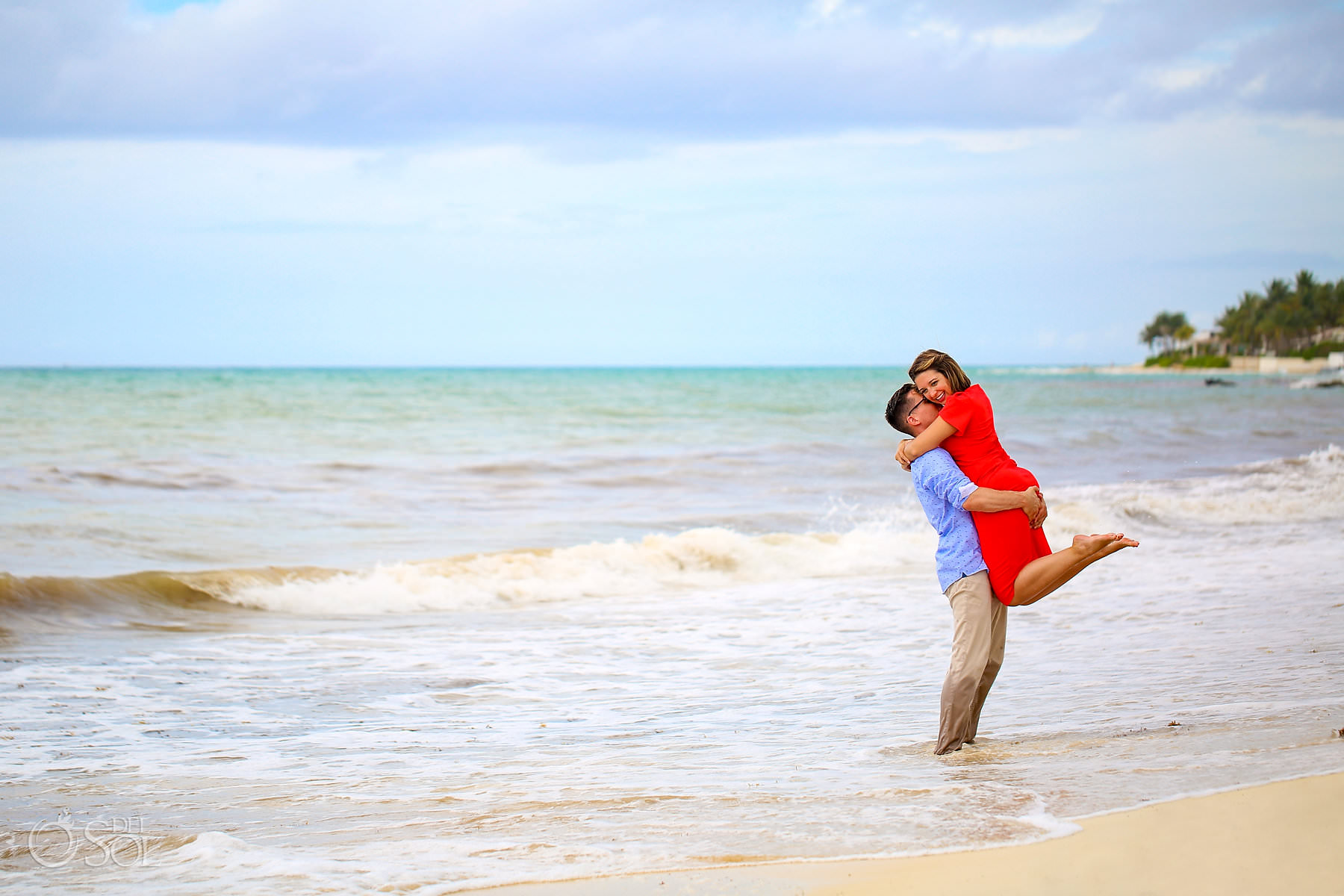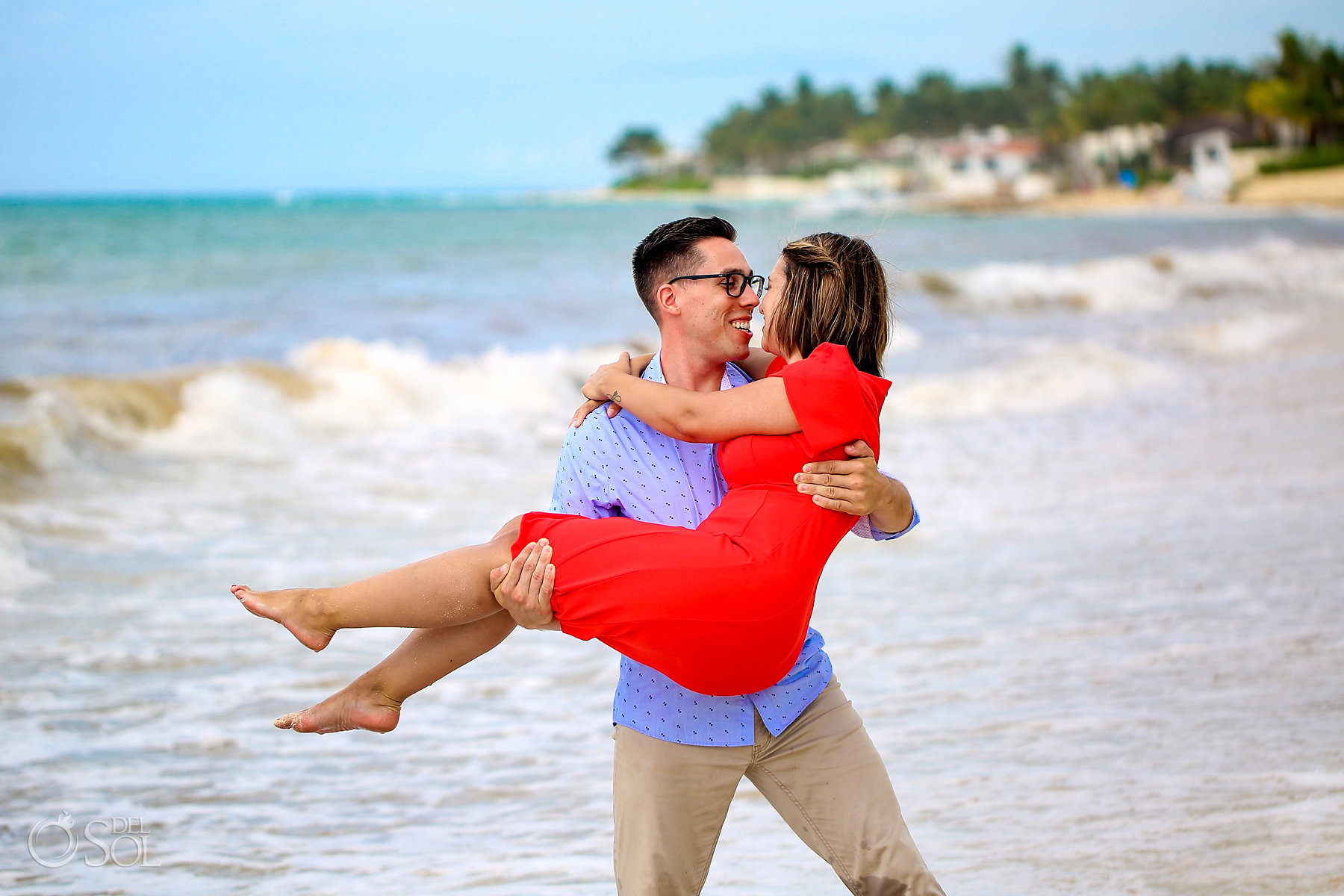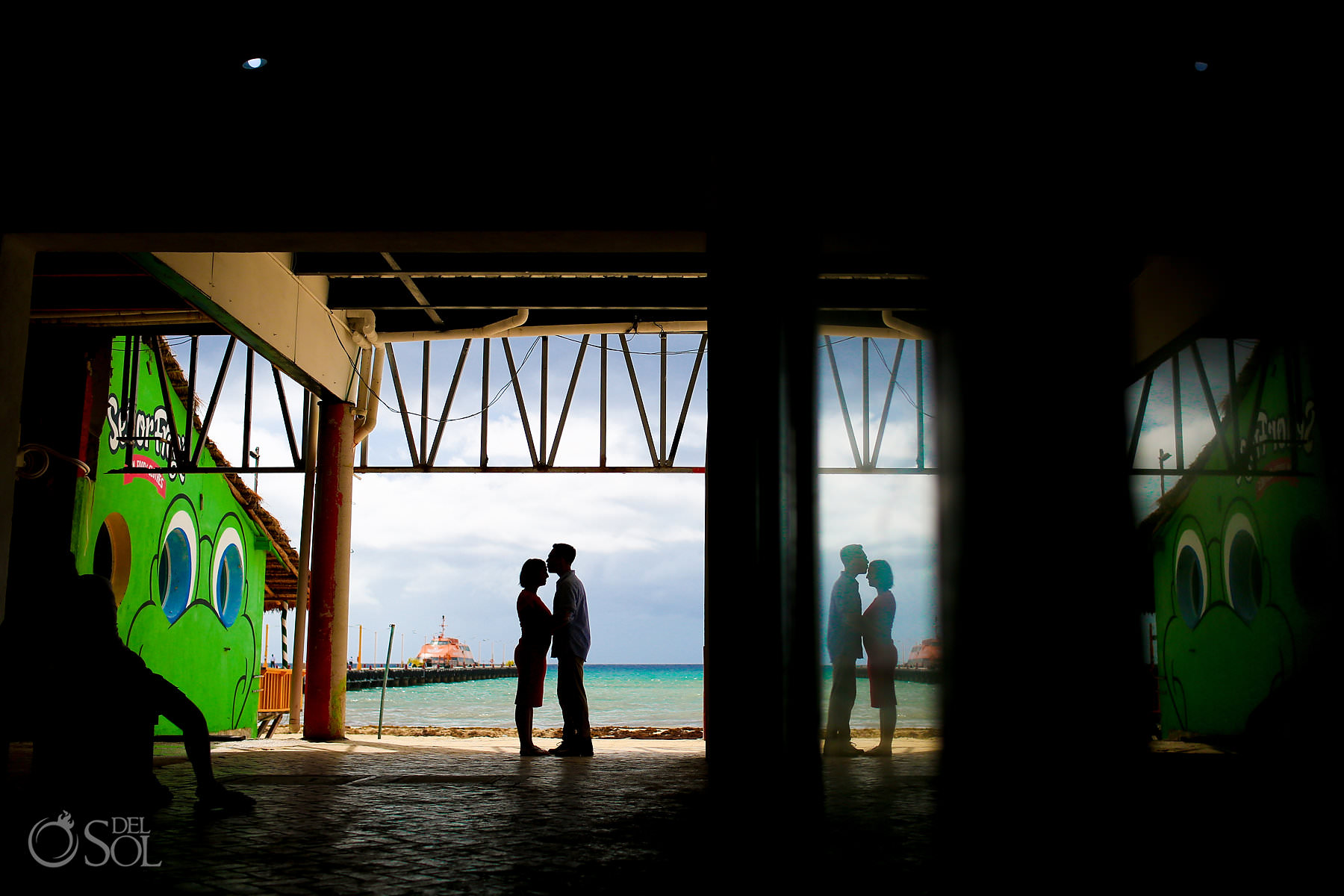 Del Sol: What does travel mean to you and your relationship?
"Experiences while you travel as a couple are priceless. We are able to experience a number of emotions and learn along the way. It builds aspects of trust and compromise that are invaluable to our relationship.
We are able to bring stories and inside jokes back that carry us through the tough days. Traveling also gives us a time to look forward and enjoy each other's company."