Secrets Maroma wedding photos
Stephy + Sean
"Our destination wedding has grown our love for not only travel as a couple but with close family and friends!" – Stephy + Sean
Del Sol: It's amazing LOVE brought you here! Why did you Travel for Love and decide to have a Secrets Maroma Wedding?
"We decided to travel to Mexico for our Secrets Maroma wedding photos because it is our favorite vacation spot and I have always envisioned getting married on a beautiful beach with our closest family and friends. Sean is the opposite of me and doesn't like to be center of attention so he wanted something small and fun!
"Not only did Mexico fulfill both of our dream wedding plans but we also got to vacation with everyone at the same time – making for the best week of our lives!" – Stephy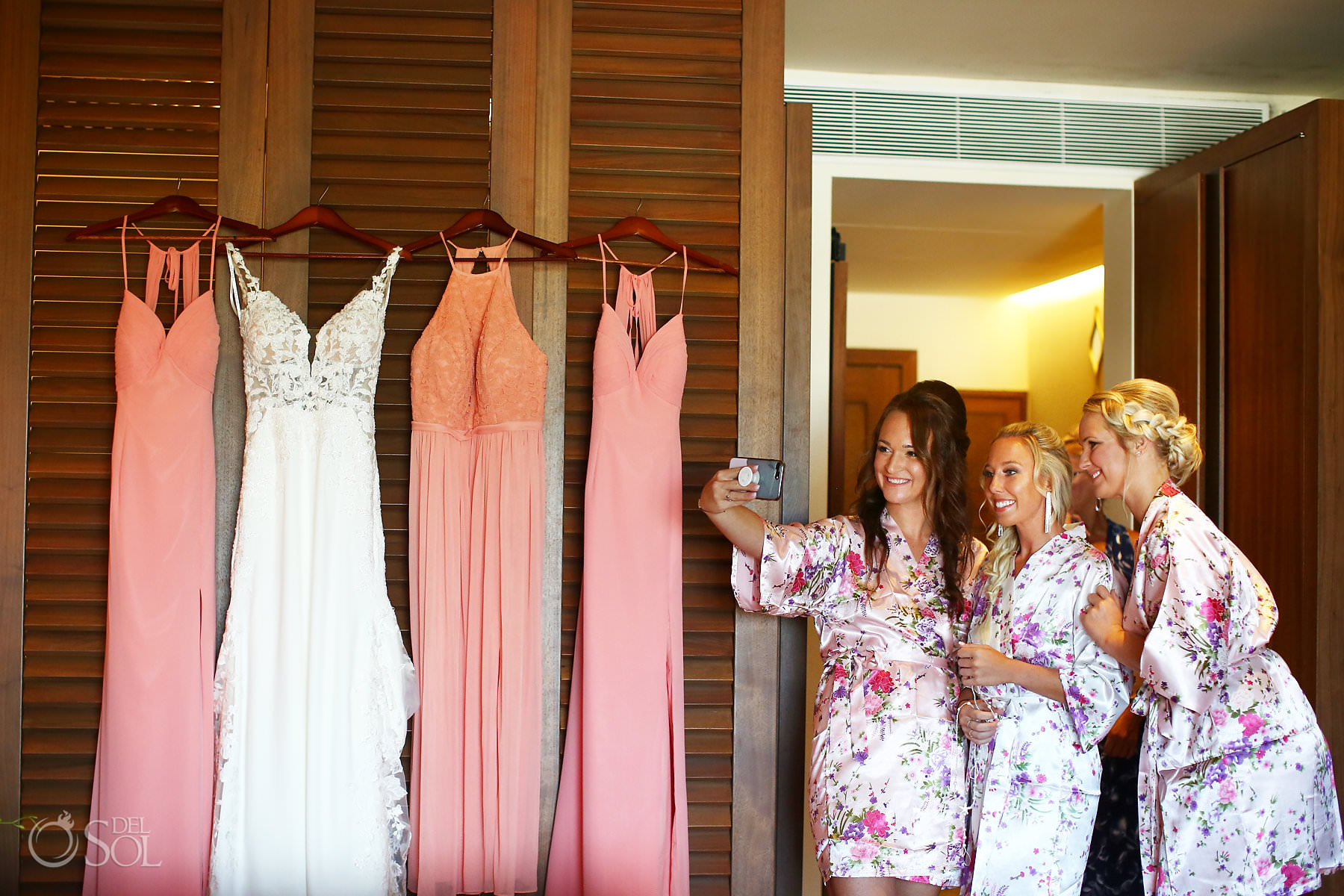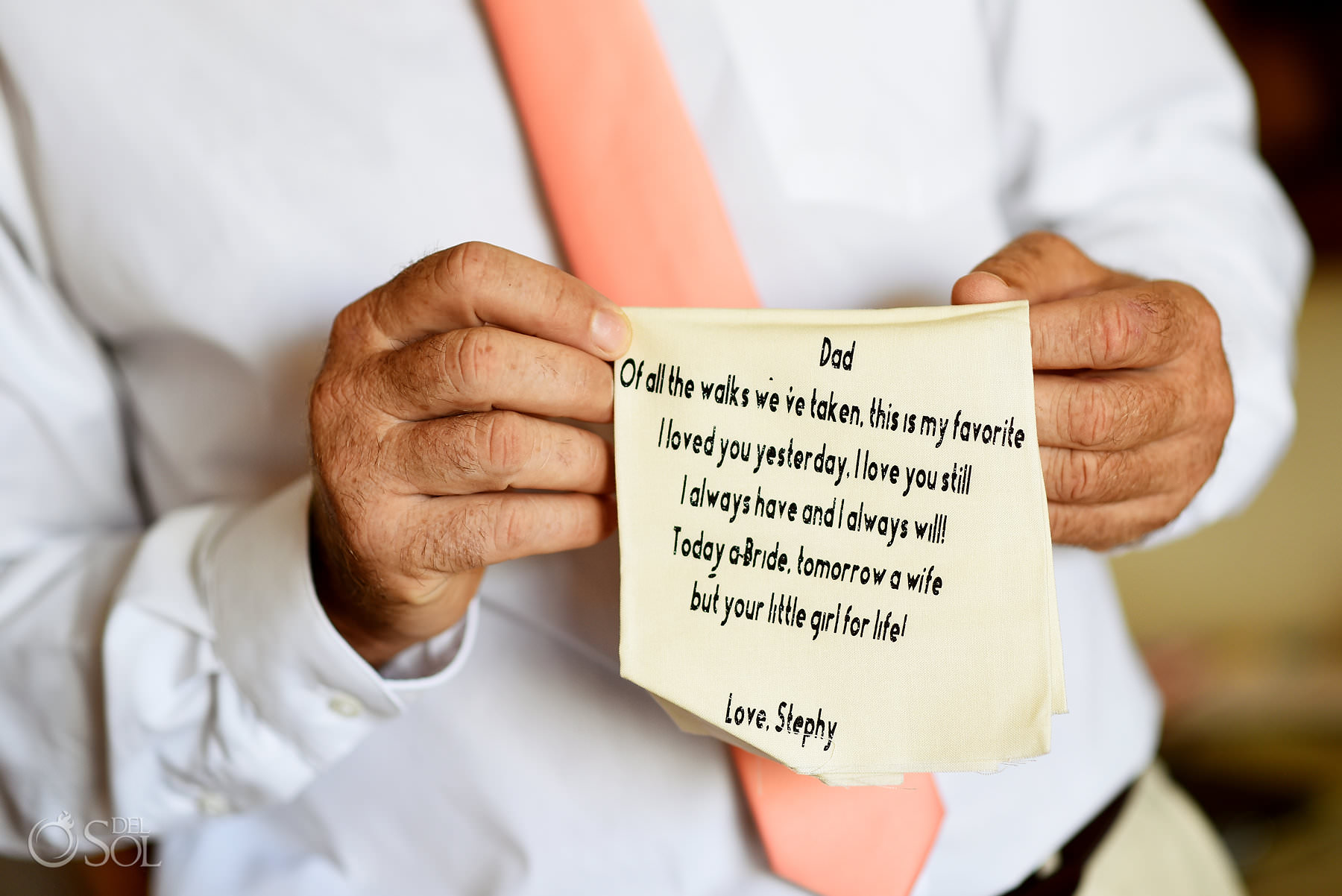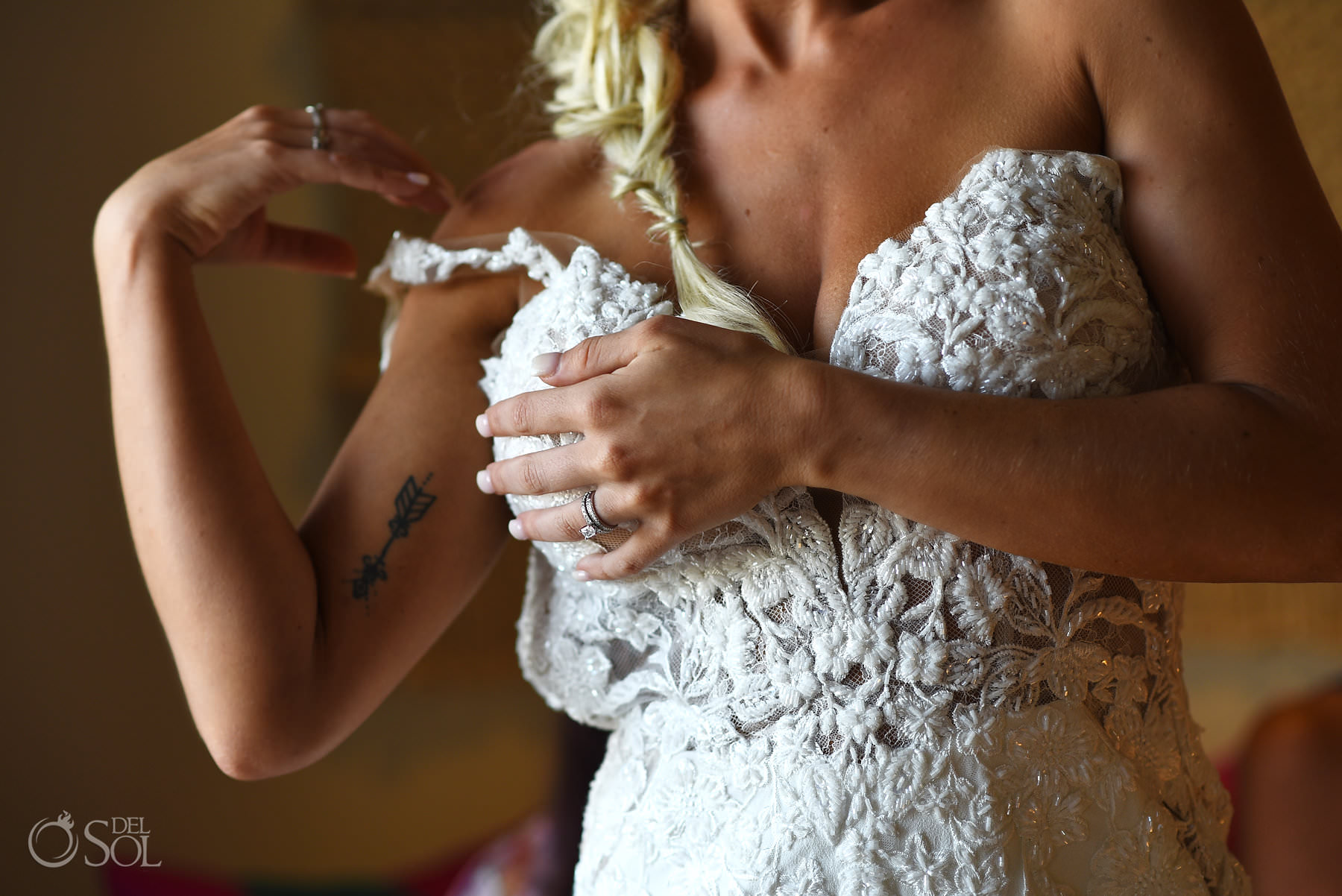 Del Sol: Steph – we loved the custom handkerchiefs you gave as wedding gifts to your parents
"My parents are a huge part of my life – the are my support system and my best friends! I share everything with them and wanted to give them a little something from me the day of the wedding to show my love and gratitude for them and to help dry any happy tears as I married Sean! I wanted to do something extra special for my Mom because she is literally my rock and my biggest supporter. I knew she'd be emotional all day so the hankerchief definitely came in handy for her!
It meant the world to not only me but to Sean as well to have my parents and his Mom there with us."
"We are a very close family and our union has just connected our families even more and grown our support system and love for our parents!" – Stephy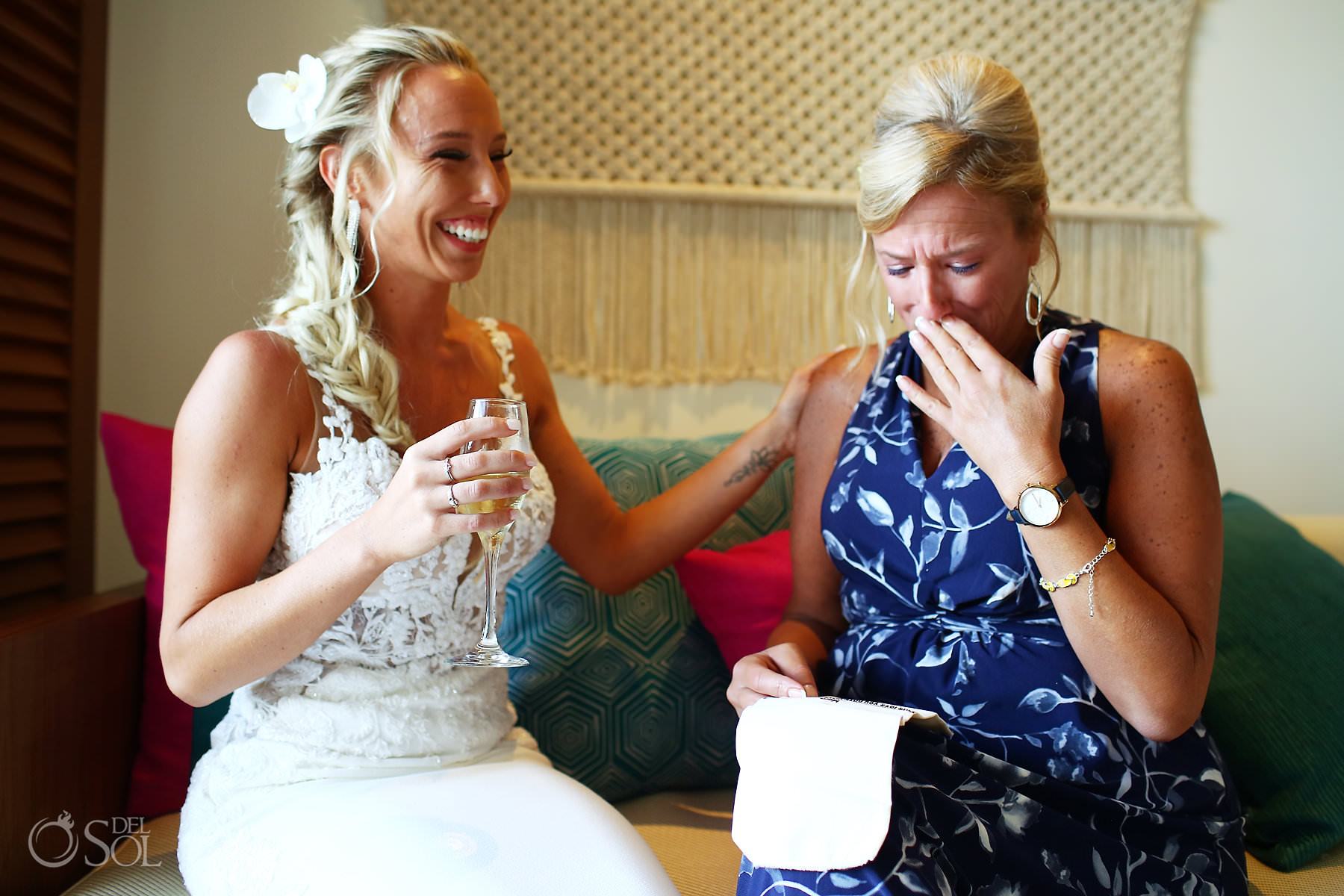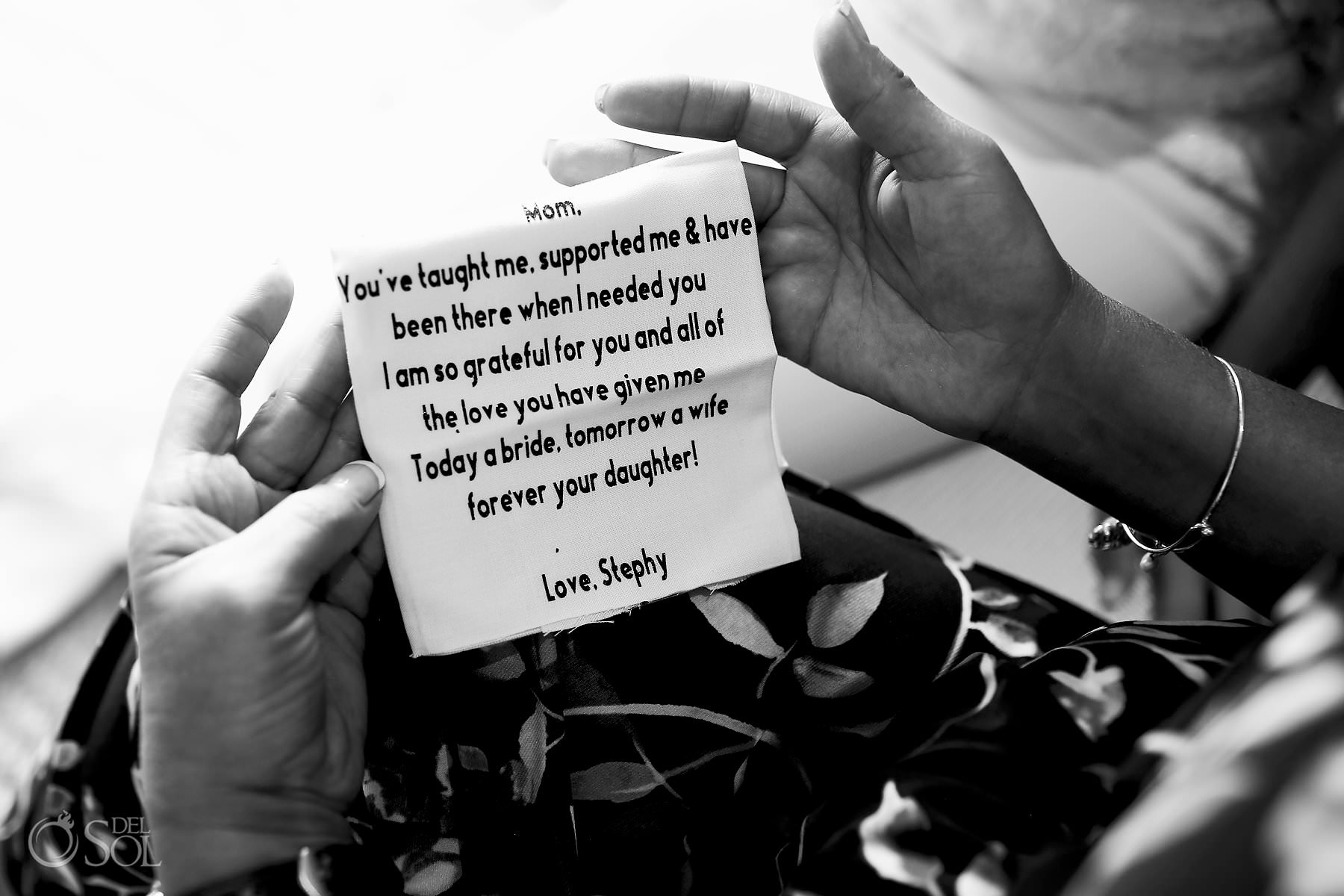 Del Sol: You did not have a first look with Sean before the ceremony with Sean – but you did with your father! Talk to us about that!
"Going into our wedding I decided that I didn't want to do a first look with Sean because I wanted to go the traditional route and have him see me for the first time as I walked down the isle with my Dad! Since I was no longer doing a first look with Sean – I decided to do a simple first look with my Dad. I'm a Daddy's Girl and we are very close so I knew that his reaction would be priceless and I wanted to capture that special moment for us!"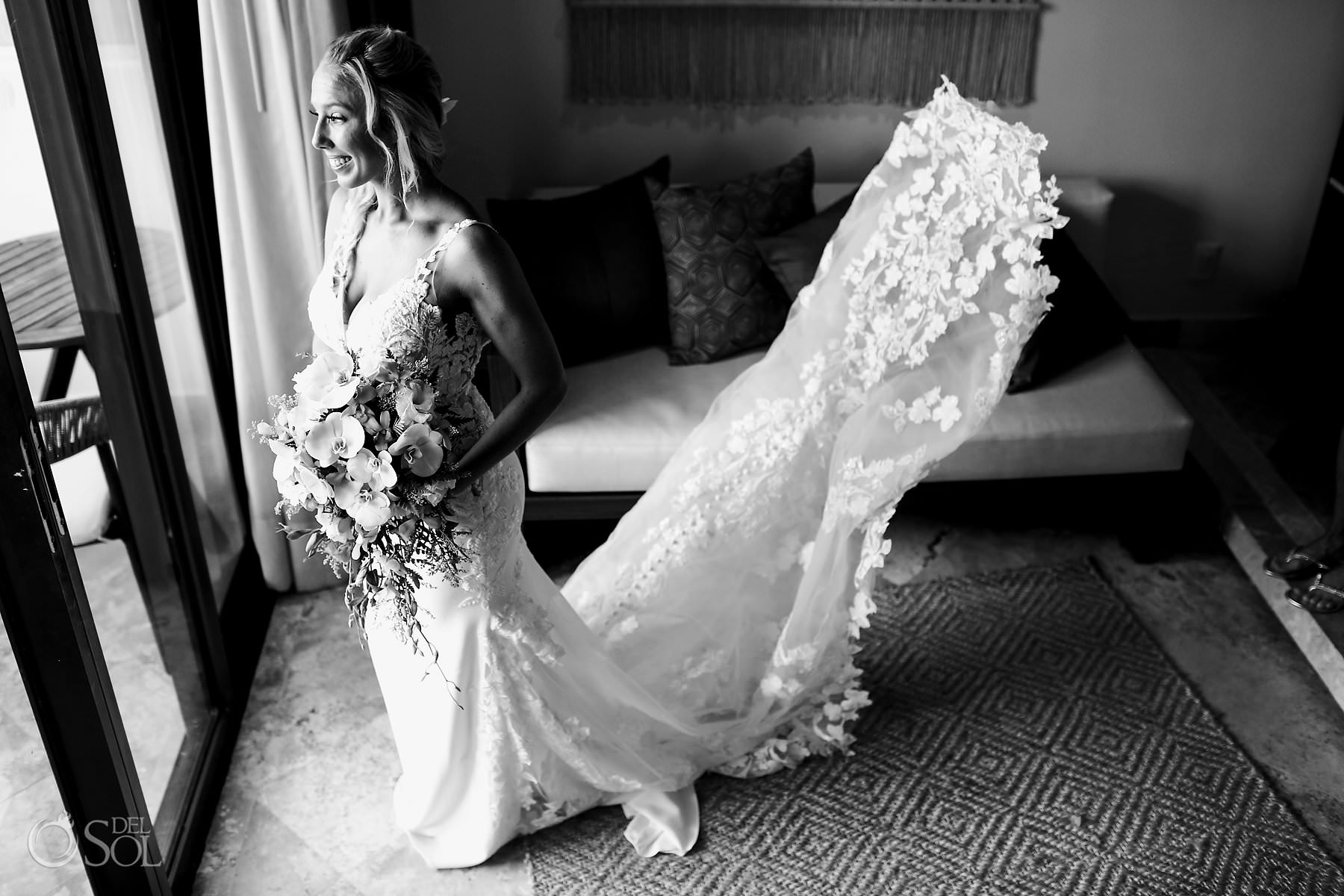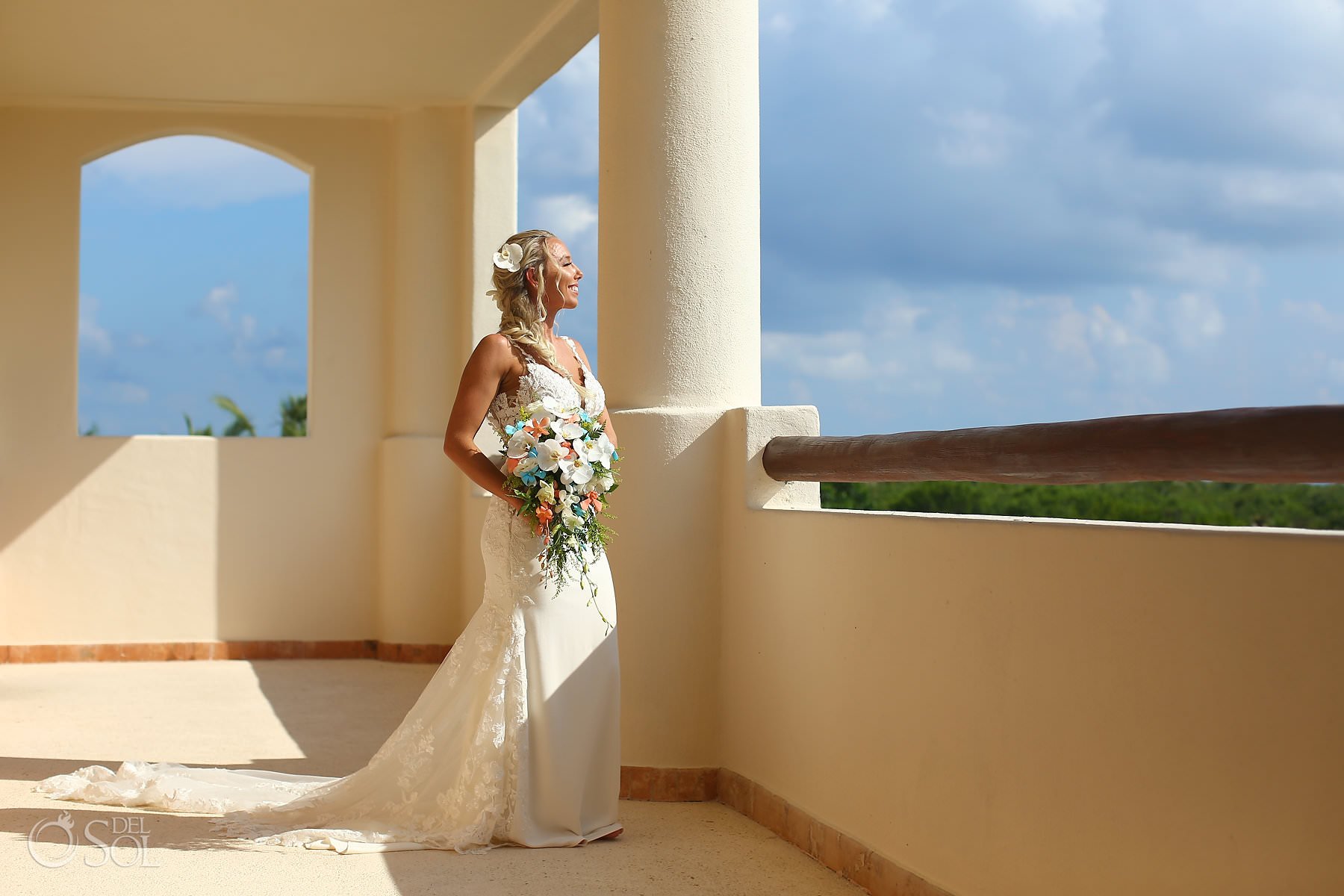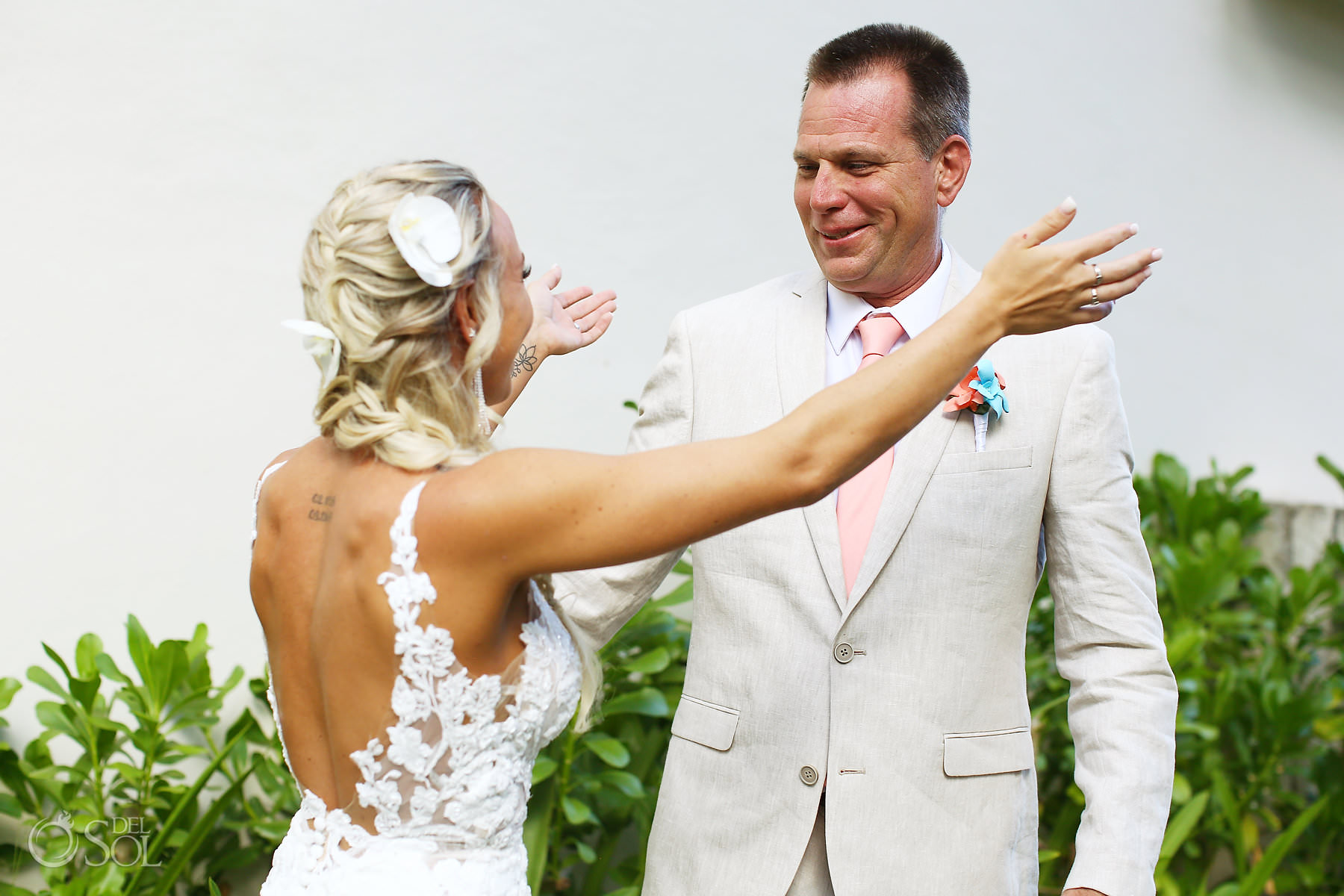 Del Sol: You have an awesome wedding group and there was a lot of tears of joy and laughter and happiness from your friends and family during your wedding.
"Sean and I couldn't be more thankful for all who came to our special day in Mexico! Every person who attended is a huge part of our lives – Parents, brothers, sisters, best friends, aunts and cousins! Sean and I have been dating for over 9 years so our families and friends are already very close but having everyone together for one vacation and for our special day was so much fun! Our day was filled with so many laughs, smiles, happy tears and most of all love and we can't thank our guests enough for traveling with us!"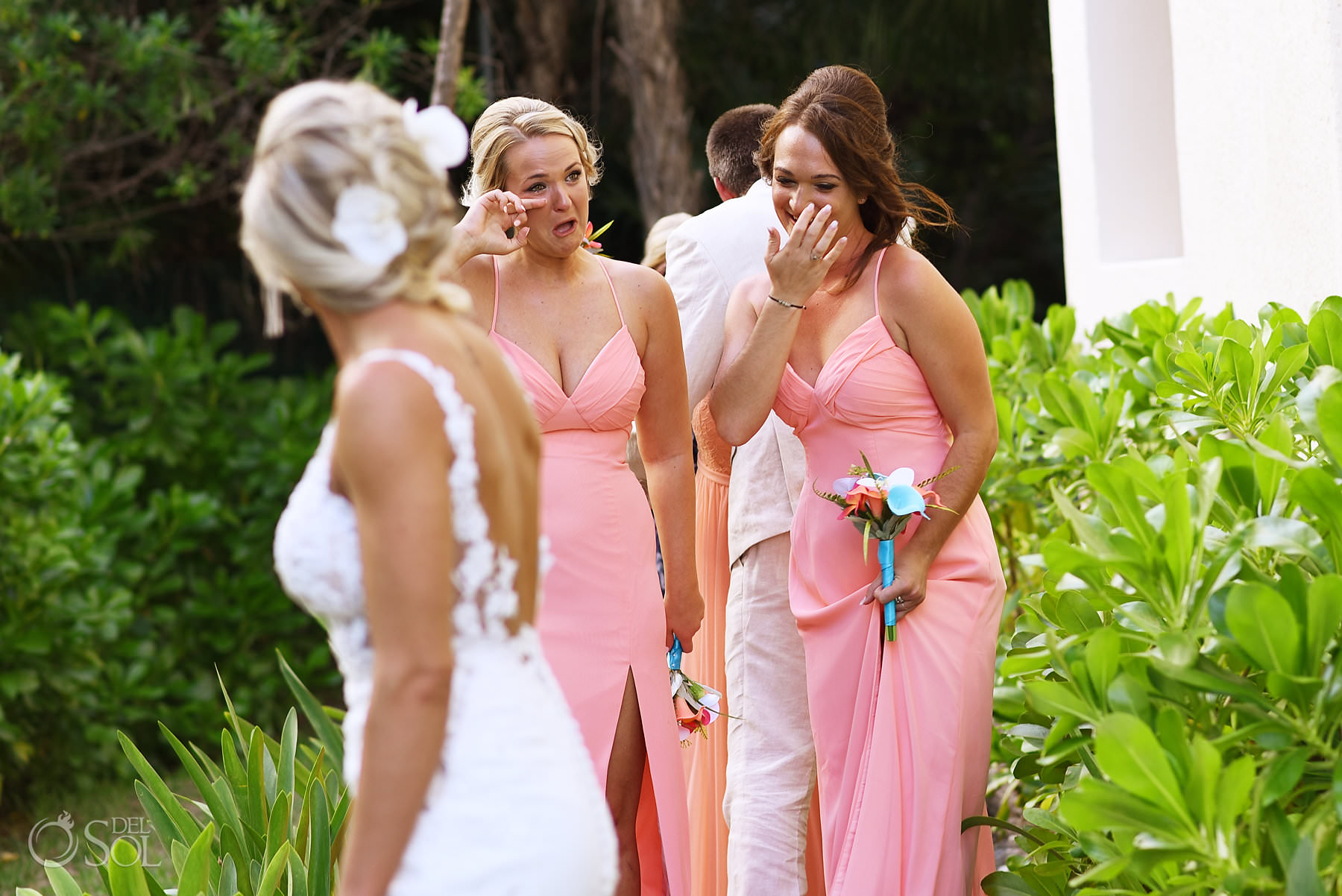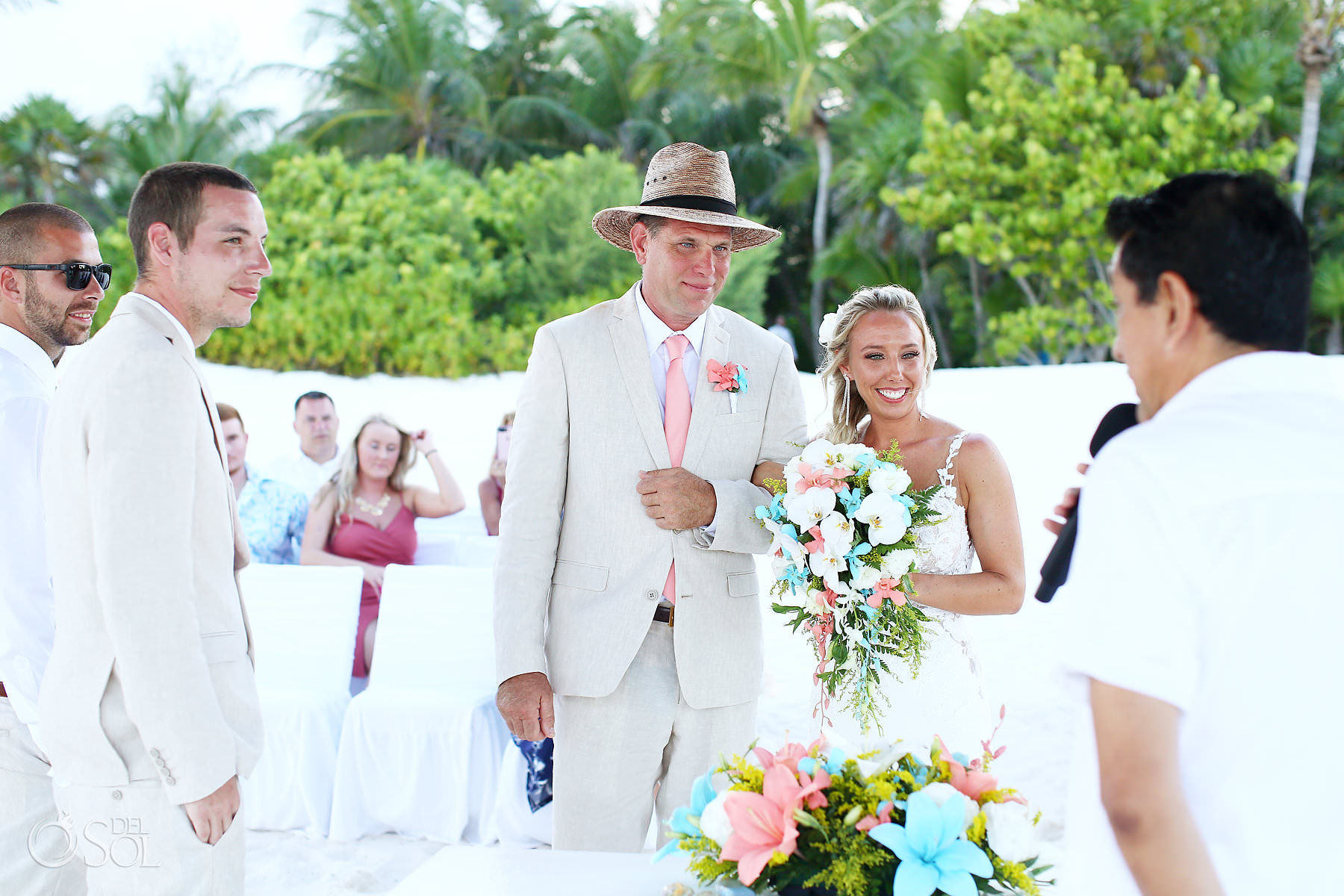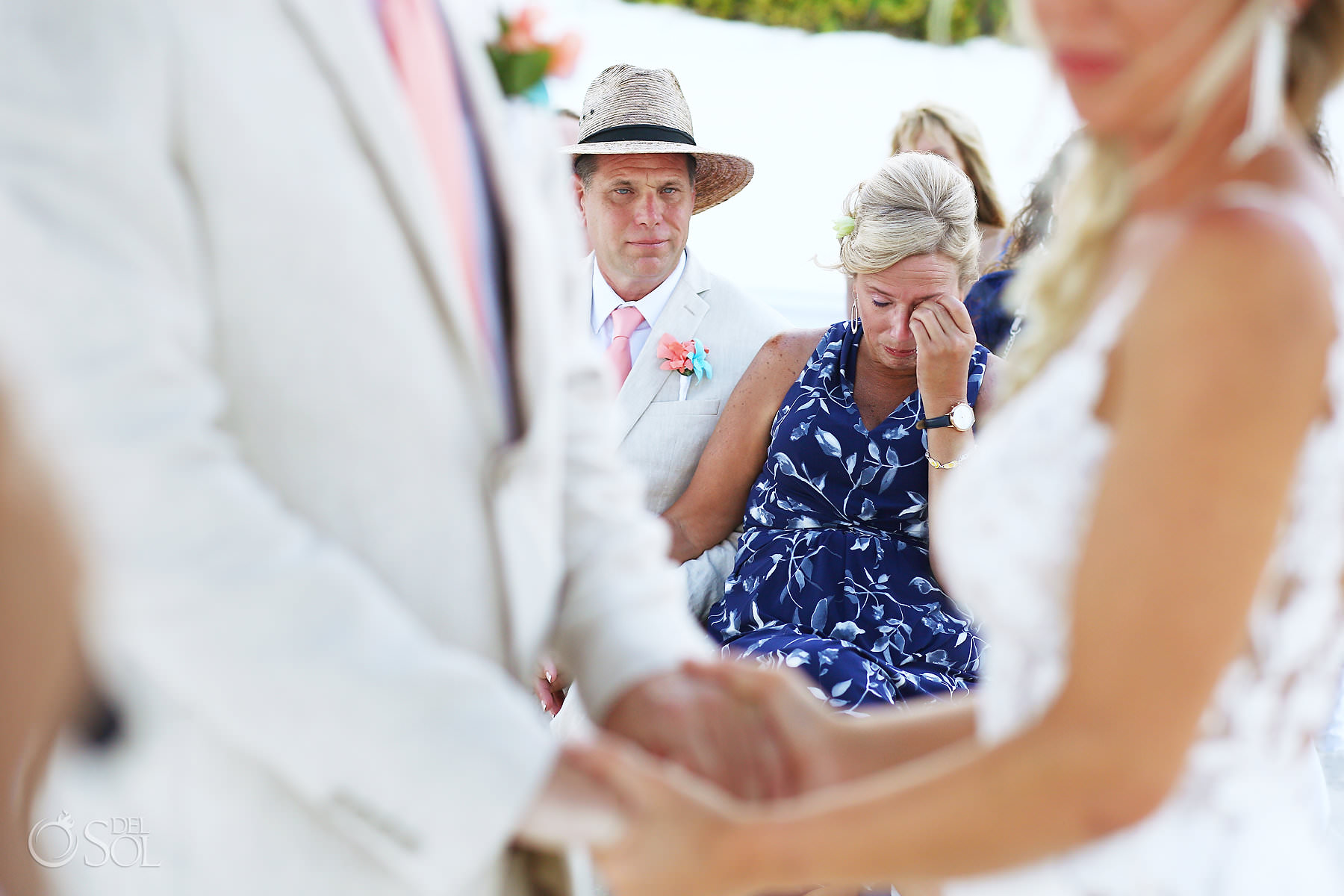 Del Sol: You had a very cool and unique incorporation of colors in your wedding details: flowers, and especially the COOL beach balls right after your ceremony!!!
"When planning our wedding we knew we wanted to go bright with our colors so we chose the coral pinks paired with the teal blue! I didn't want traditional and being on the beach I wanted a "tropical" feel! The men in the tan suites was different (and light weight so they weren't tooo hot! lol) and matched perfectly with the coral dresses! We are a very simple couple and wanted to keep the wedding the same way – we wanted the focus to be on us, our love and our family creating memories together that will last a lifetime in an already beautiful setting!"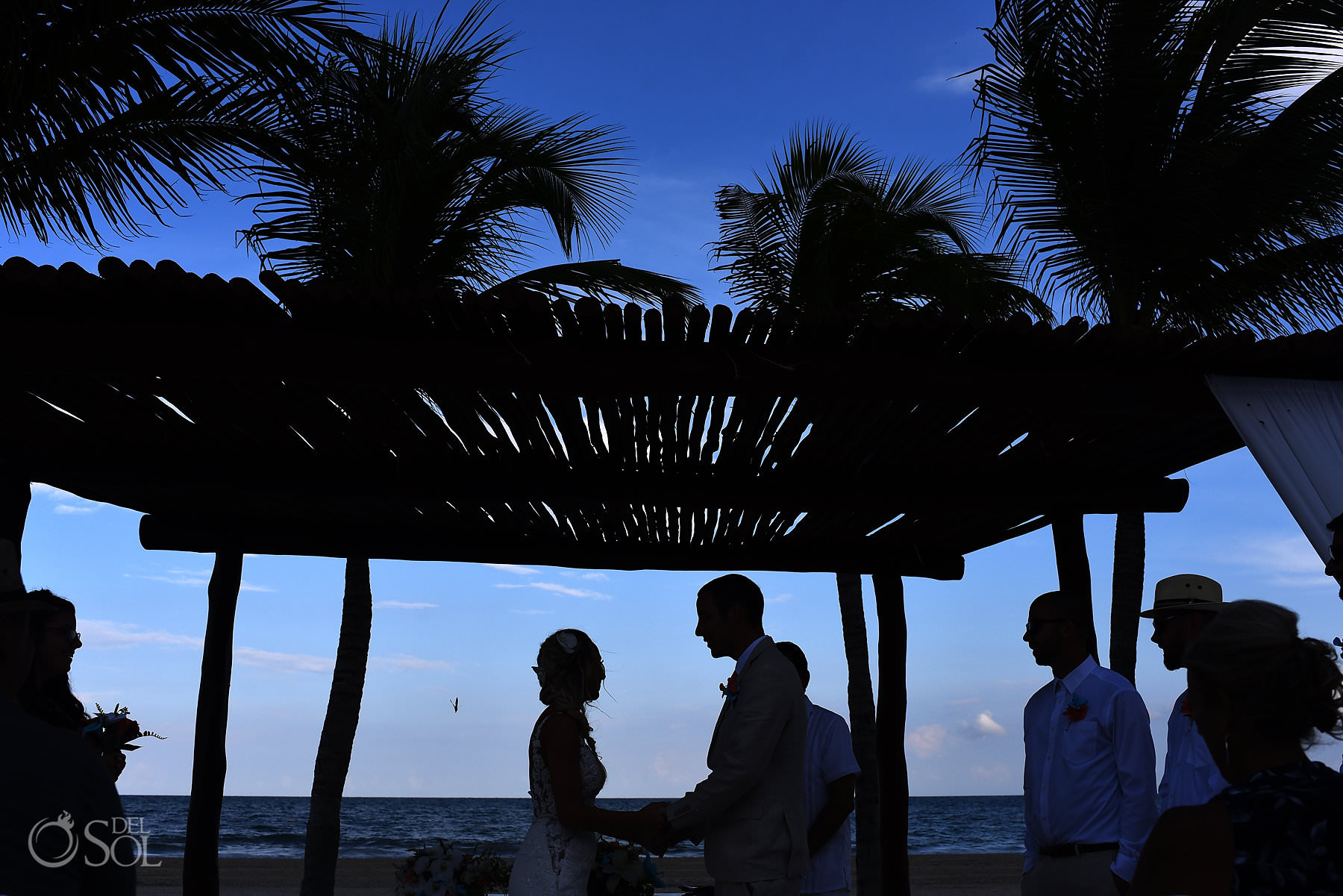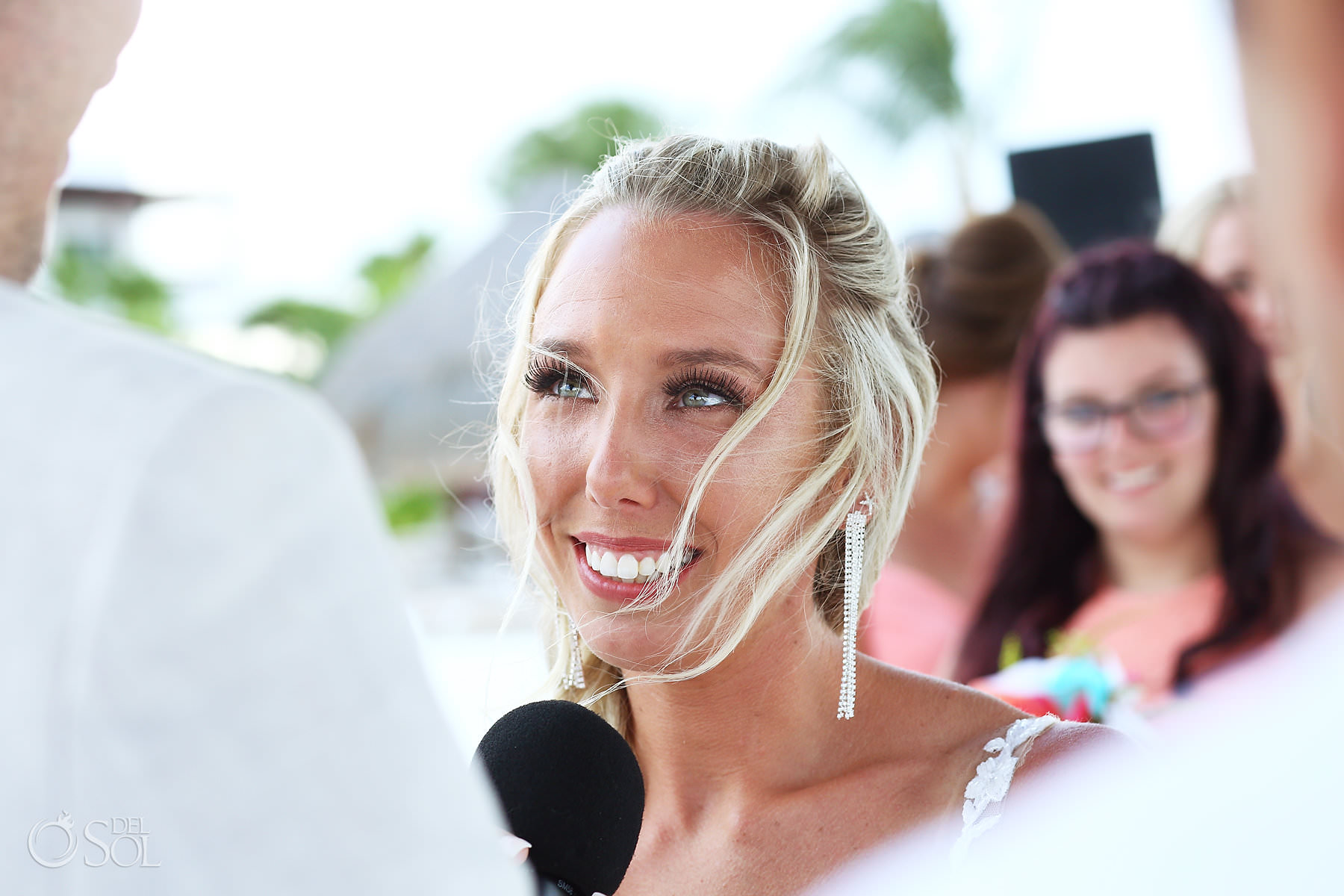 "The beach balls on the beach as we walked out of the ceremony was something I found online – instead of the normal rice or bubbles to send us off we wanted to continue the beachy theme and what better way to spice it up then some fun beach balls! I couldn't be more happy with how these pictures turned out – you can tell we all had fun throwing them beach balls around and it added an extra pop to the ceremony!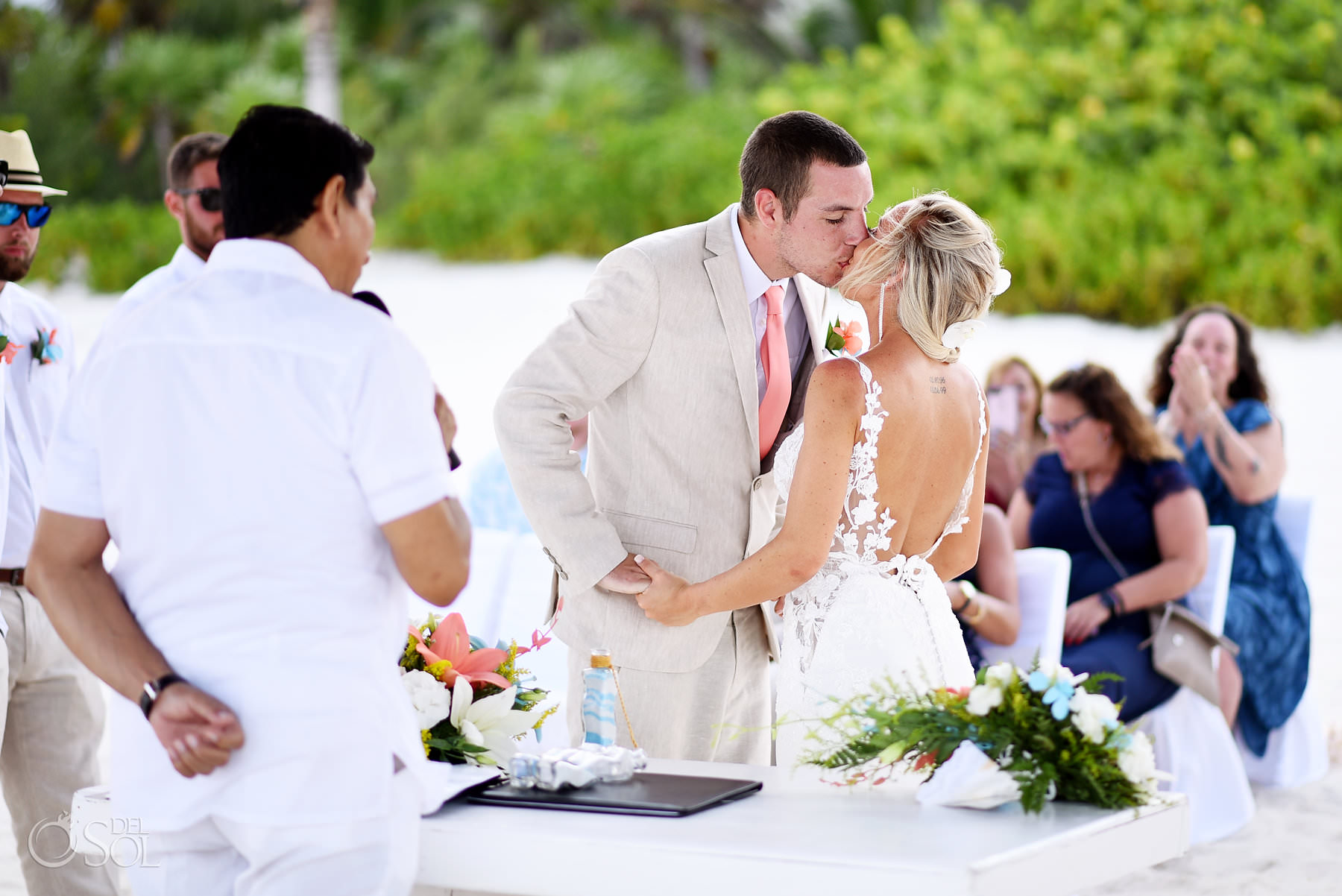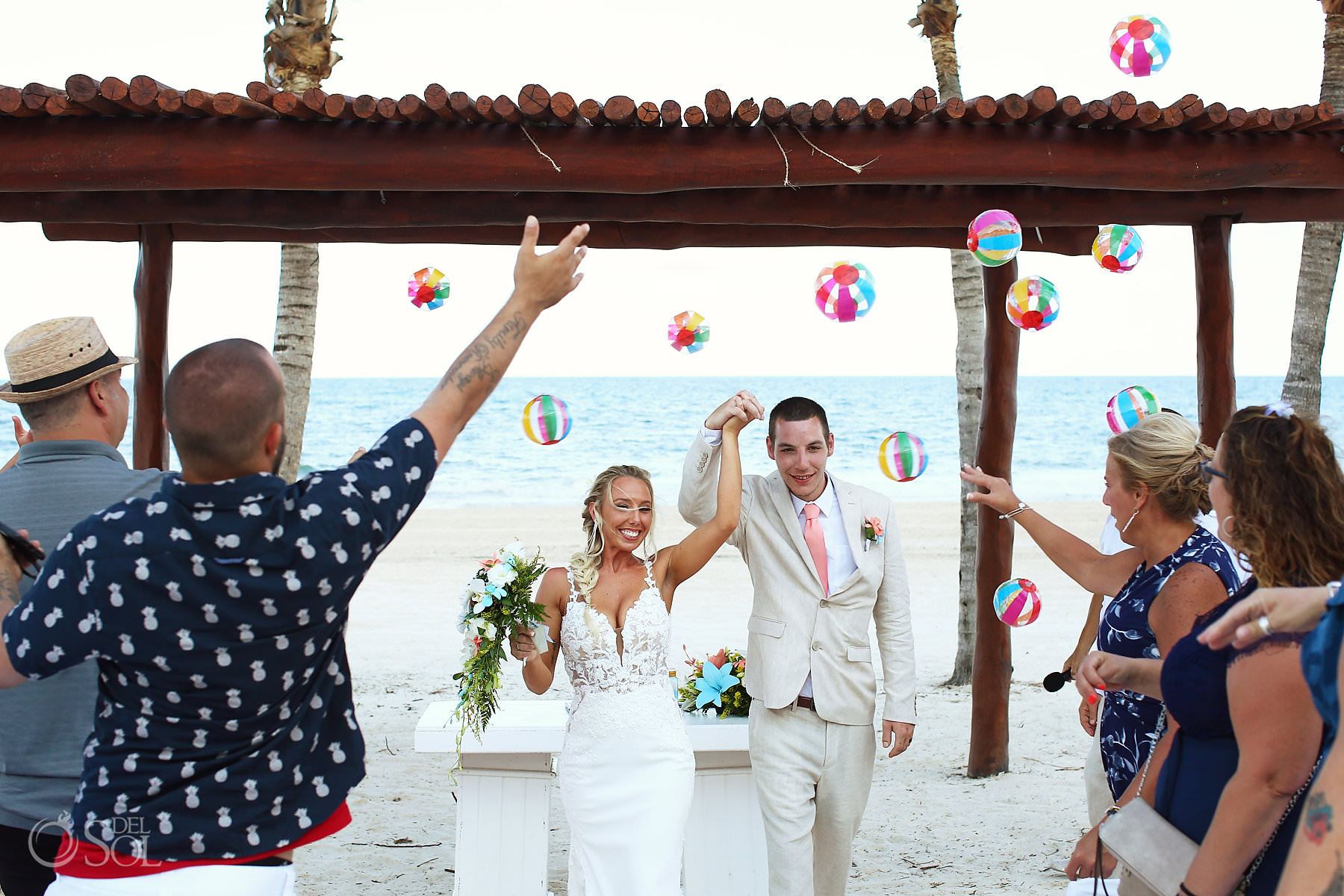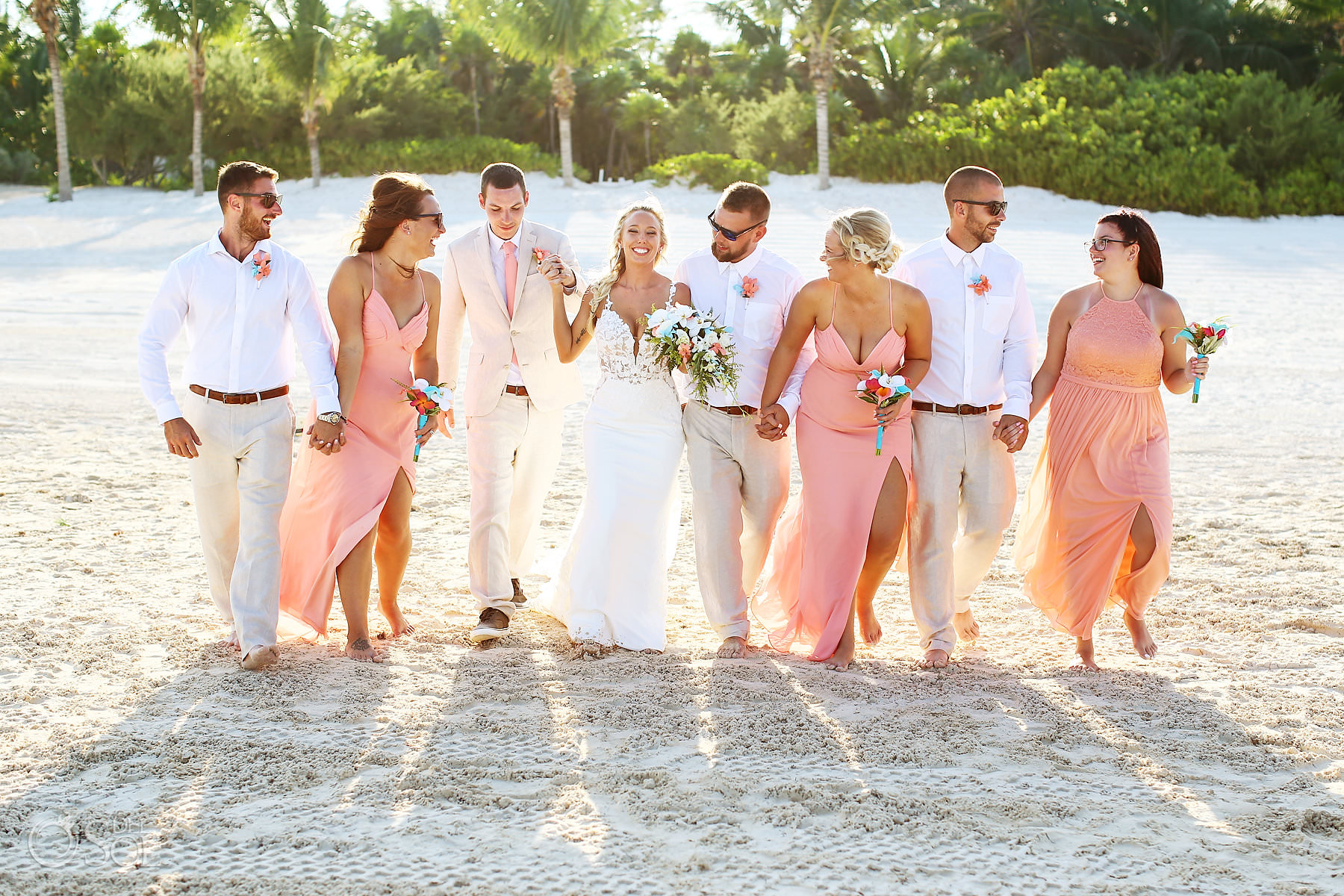 Del Sol: You had an AWESOME bridal party – tell us about them and what it meant to have them be a part of your day.
"Talk about some awesome people? Our bridal party was nothing short of AMAZING! On the brides side I had my sister, Joelle, and my two life long best friends, Kim and Angela – who is marrying Sean's brother and best man Joey. On his side he had not only his brother but mine, Brian, and one of his best friends Kory! They are the life of the party anywhere we go – we are all super close and having them all by our side throughout the whole day was the best feeling. We make every moment fun and full of laughs!"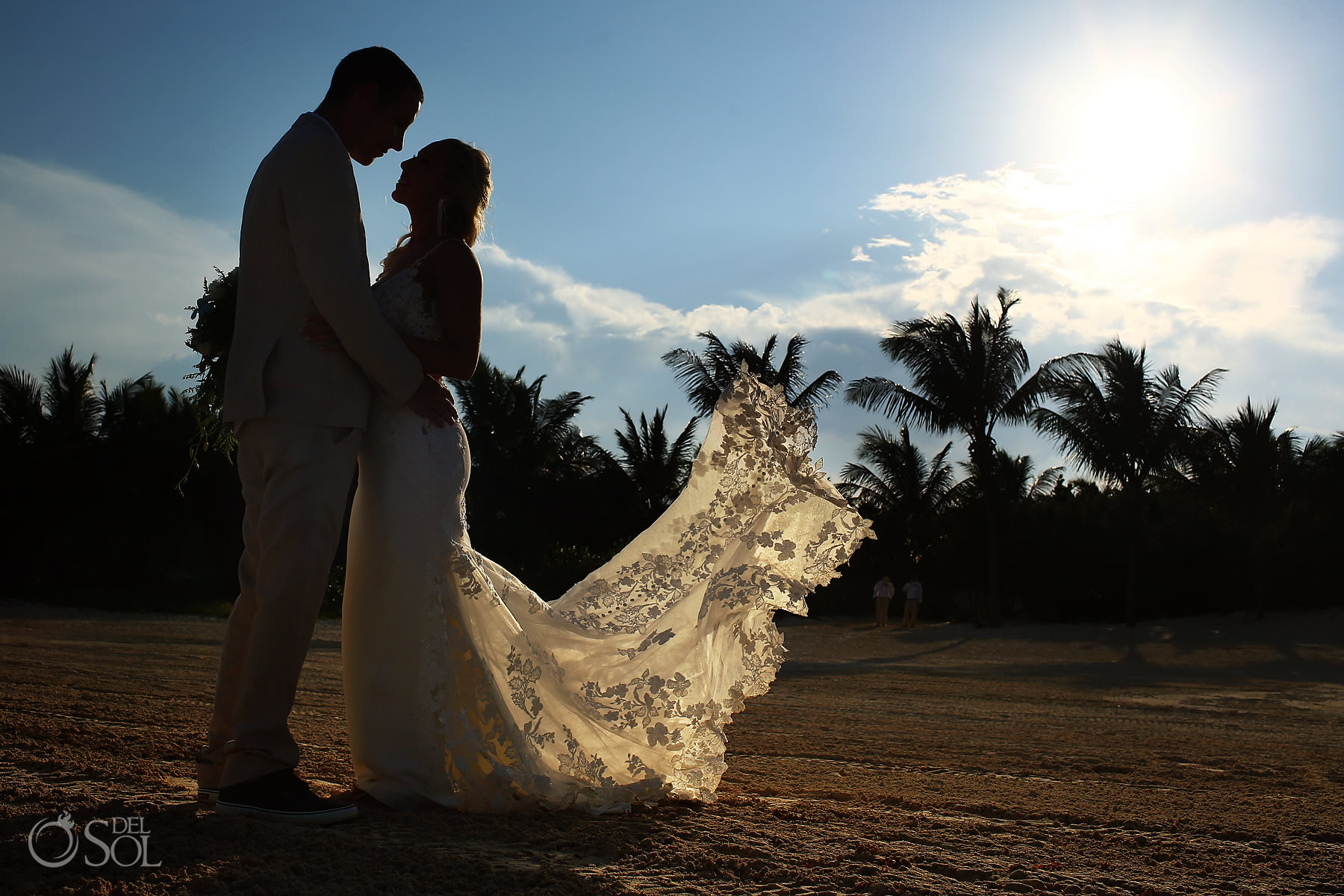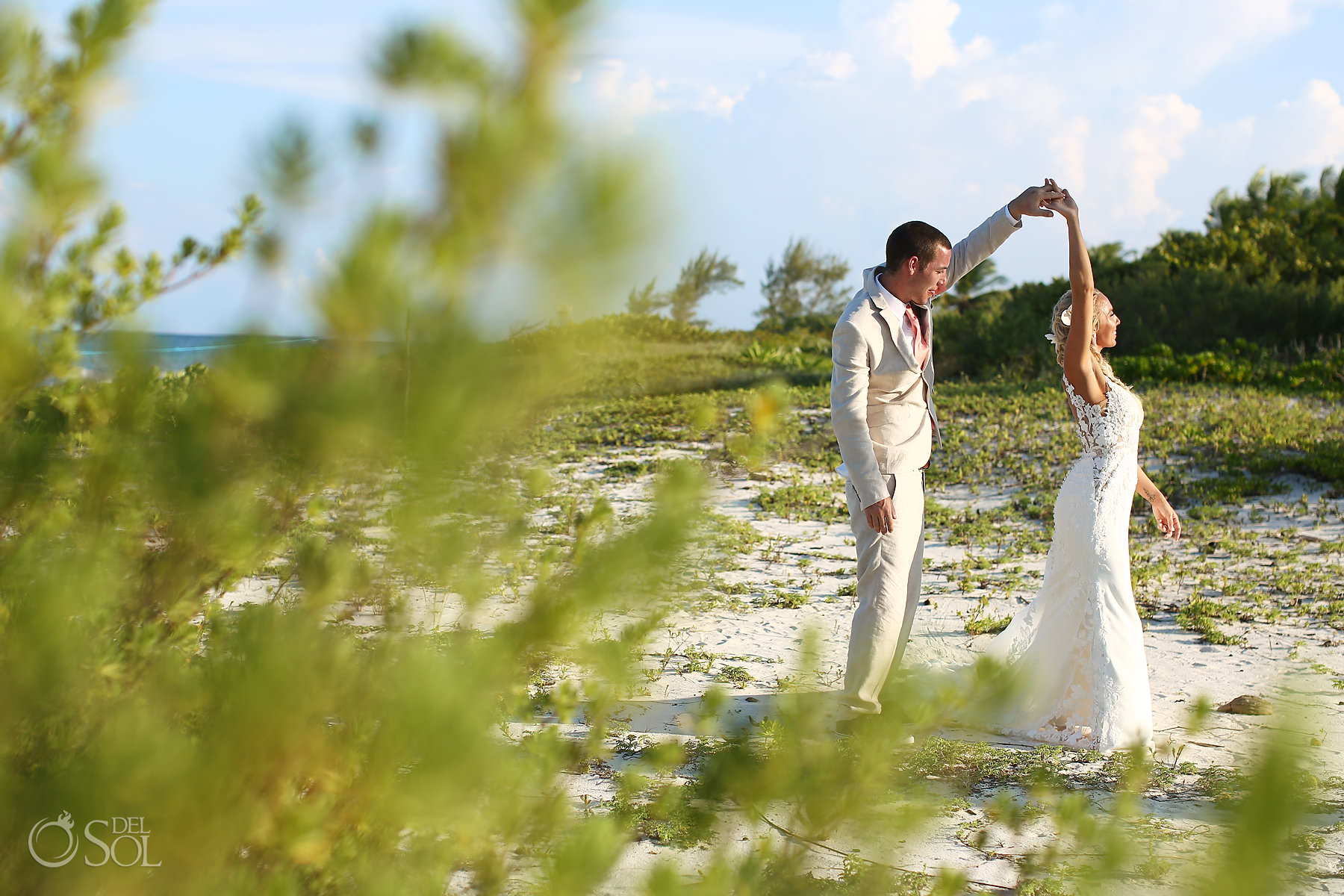 Del Sol: How was your experience with Valeria and the del Sol team?
"There really is no words to explain how happy we were with Valeria and the Del Sol Team with our photos! Sean hates pictures and especially posed ones and he even commented how much he loved the ladies and how comfortable they made him feel! They captured the best moments of our wedding from start to finish. They went the extra mile to make sure we were happy and nothing was missed."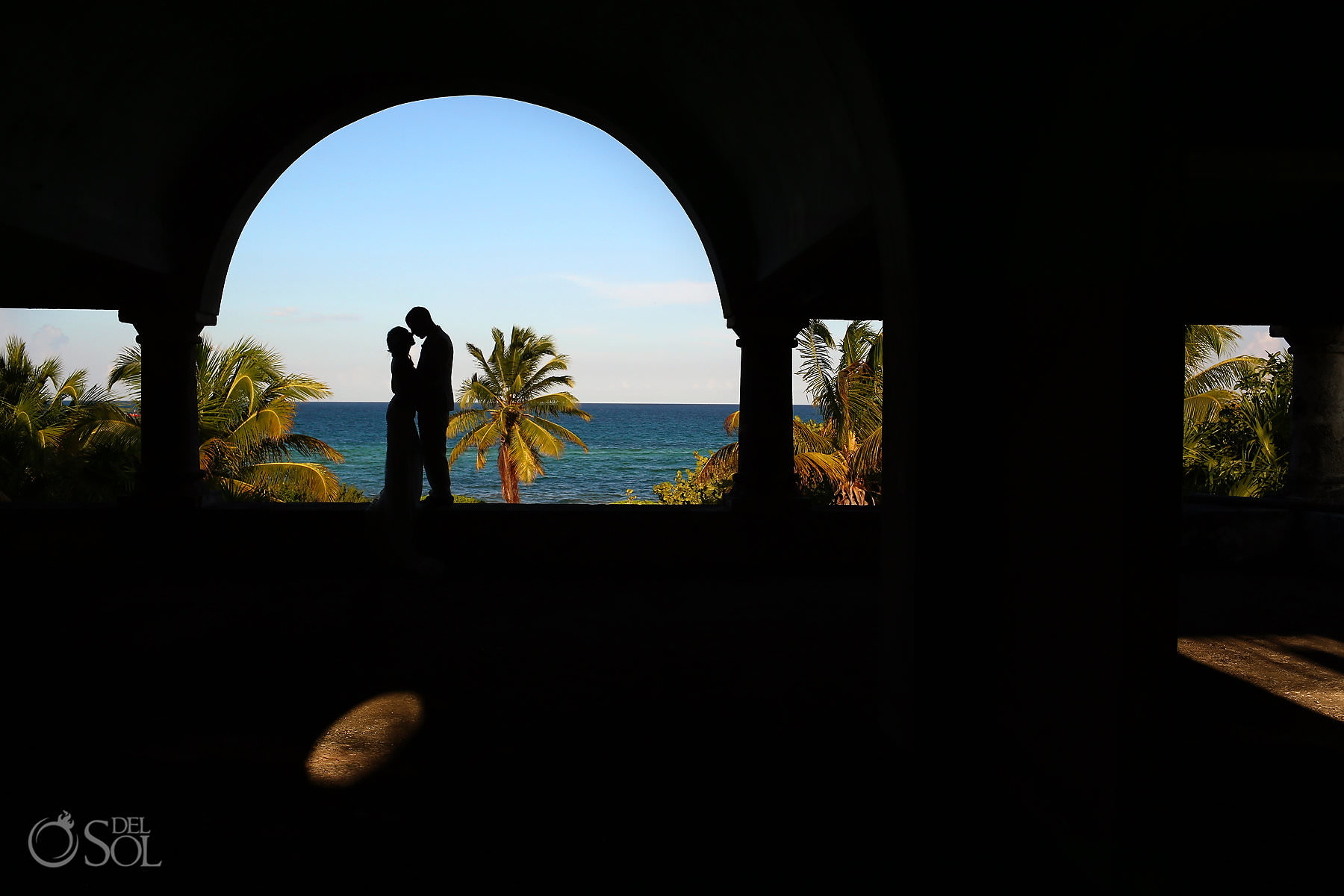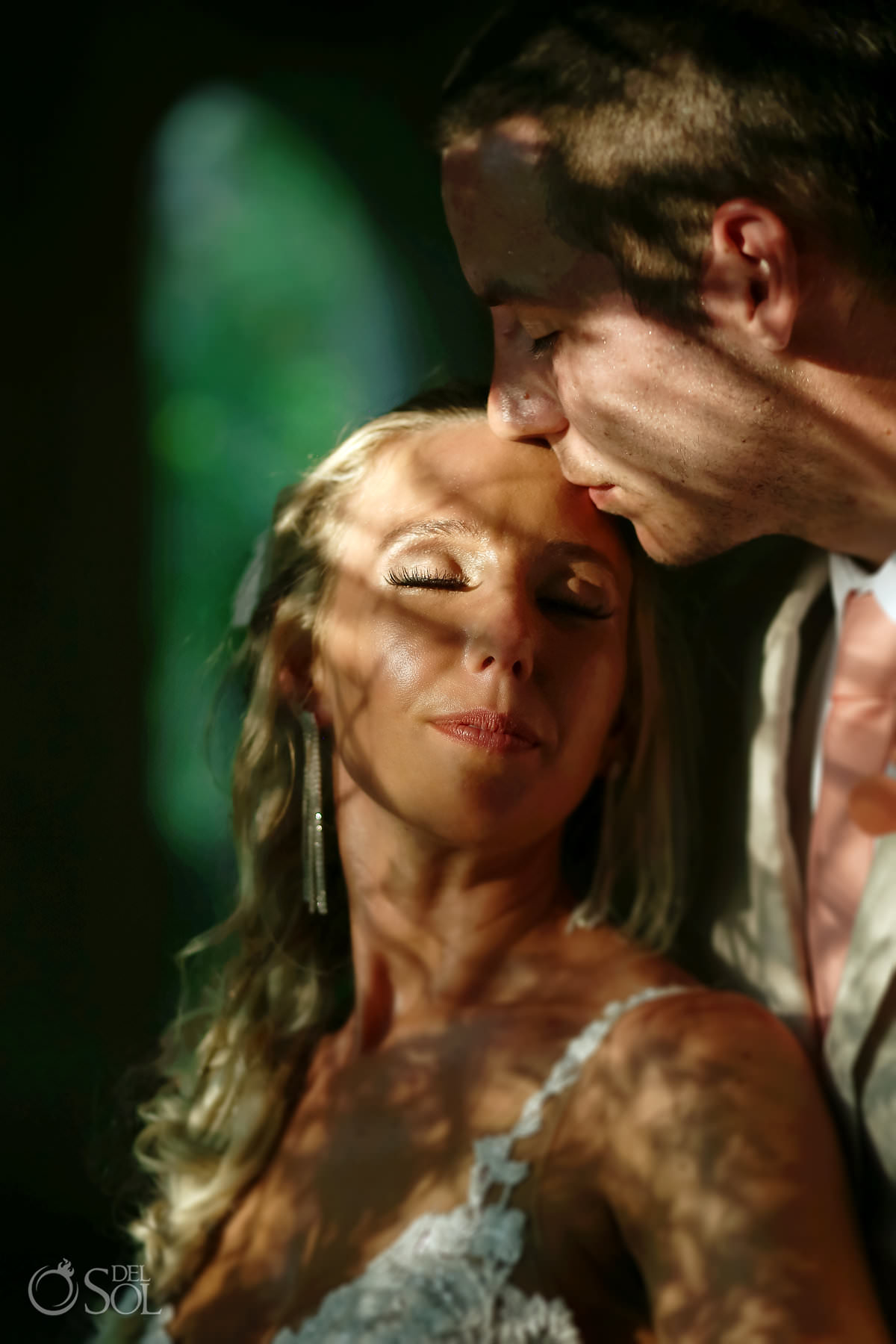 Also big shout out to them for taking the trek down the beach from the resort to get pictures in the abandon mansion – these were pictures we wanted to capture and they not only made it happen but they took absolutely stunning pictures in there! They even pulled us away a few times to capture perfect moments including the beautiful full moon we had on our wedding night!""
"I would recommend Del Sol team to absolutely everyone looking for fun and inspirational photographers – I didn't want to worry about the best lighting or moments throughout the night so they did it all" – Stephy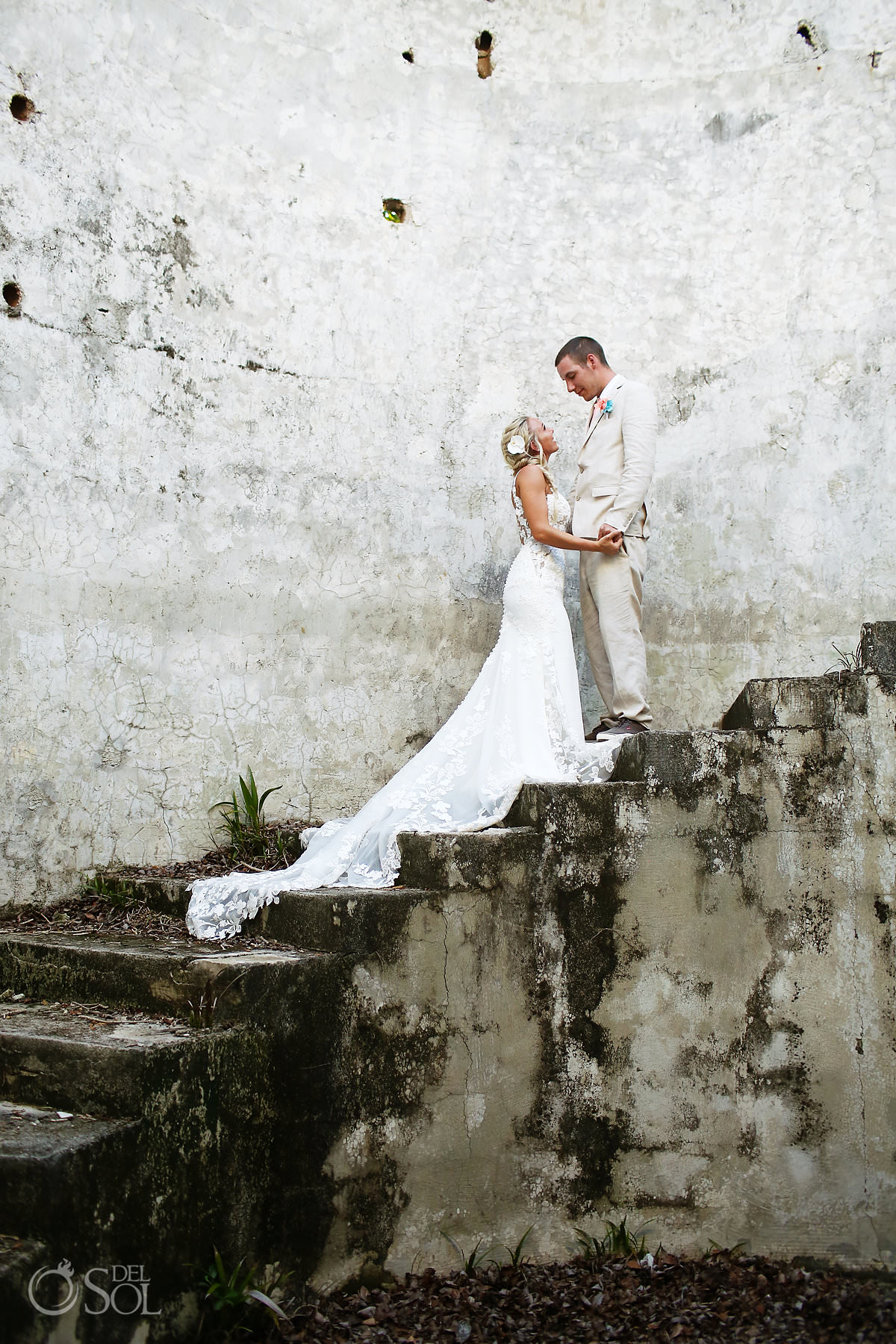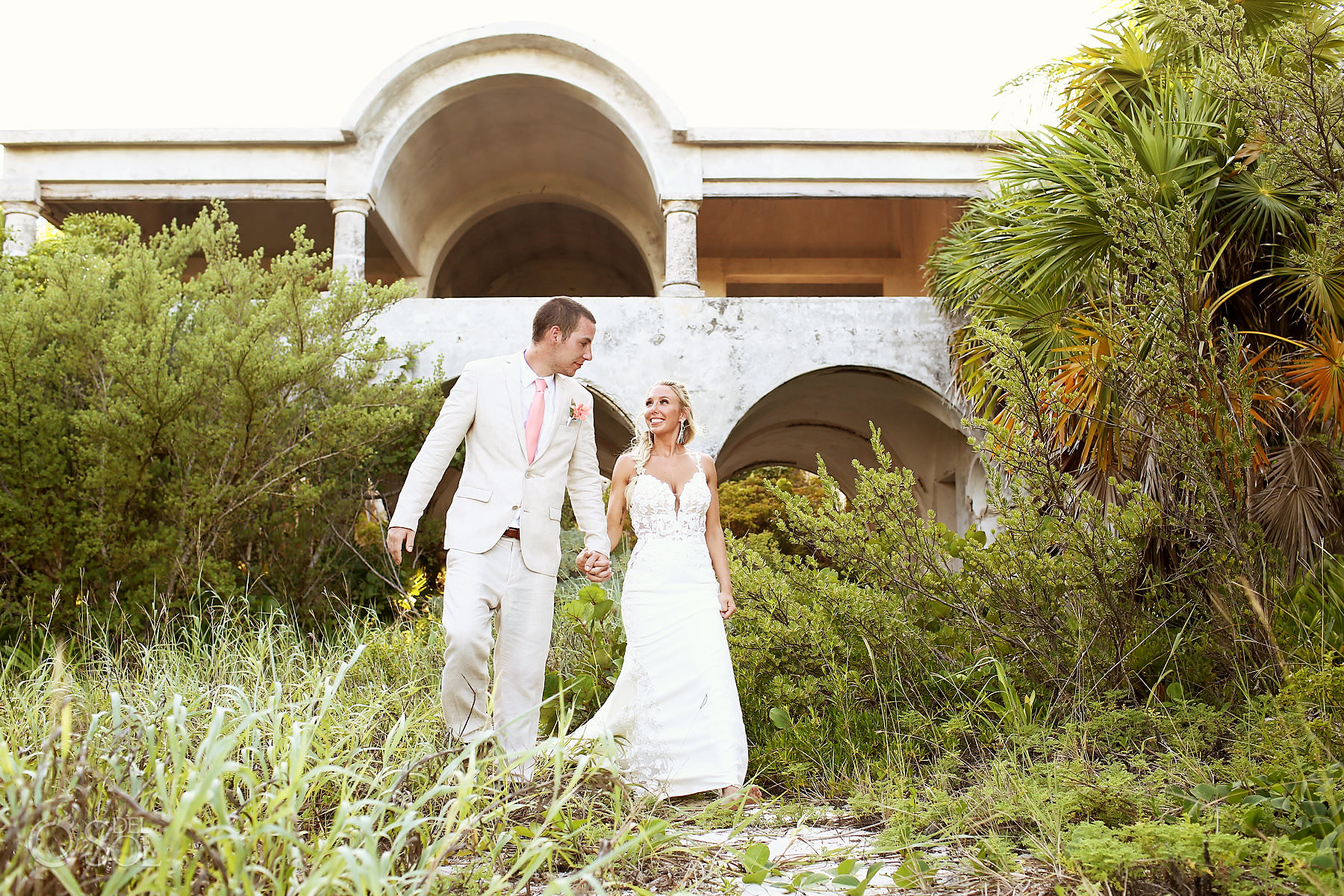 Del Sol: Why did you choose a Secrets Maroma wedding?
"We chose a Secrets Maroma wedding because of amazing recommendations from our travel agent and friends who have visited – plus I fell in love with the beach ceremony area! Everything was perfect from the moment we walked in and were greeted by tons of smiling faces! Arley was our wedding planner and she was amazing working with my every need and want. As I mentioned I'm a very simple person and didn't want to go over the top with décor as I felt the atmosphere of being in a beautiful place was enough. She made suggestions and decisions to help make the day perfection! The resort itself and the staff were awesome and we can't wait to go back. Every staff member went out of their way to make sure we were having fun and had everything we needed or wanted! Thank you to everyone at Secrets Maroma for making our week unforgettable."
"I'd recommend Arley over and over again as a wedding planner – from start to finish she went above and beyond! Huge shout out to Arley for making our dream wedding come together!" – Stephy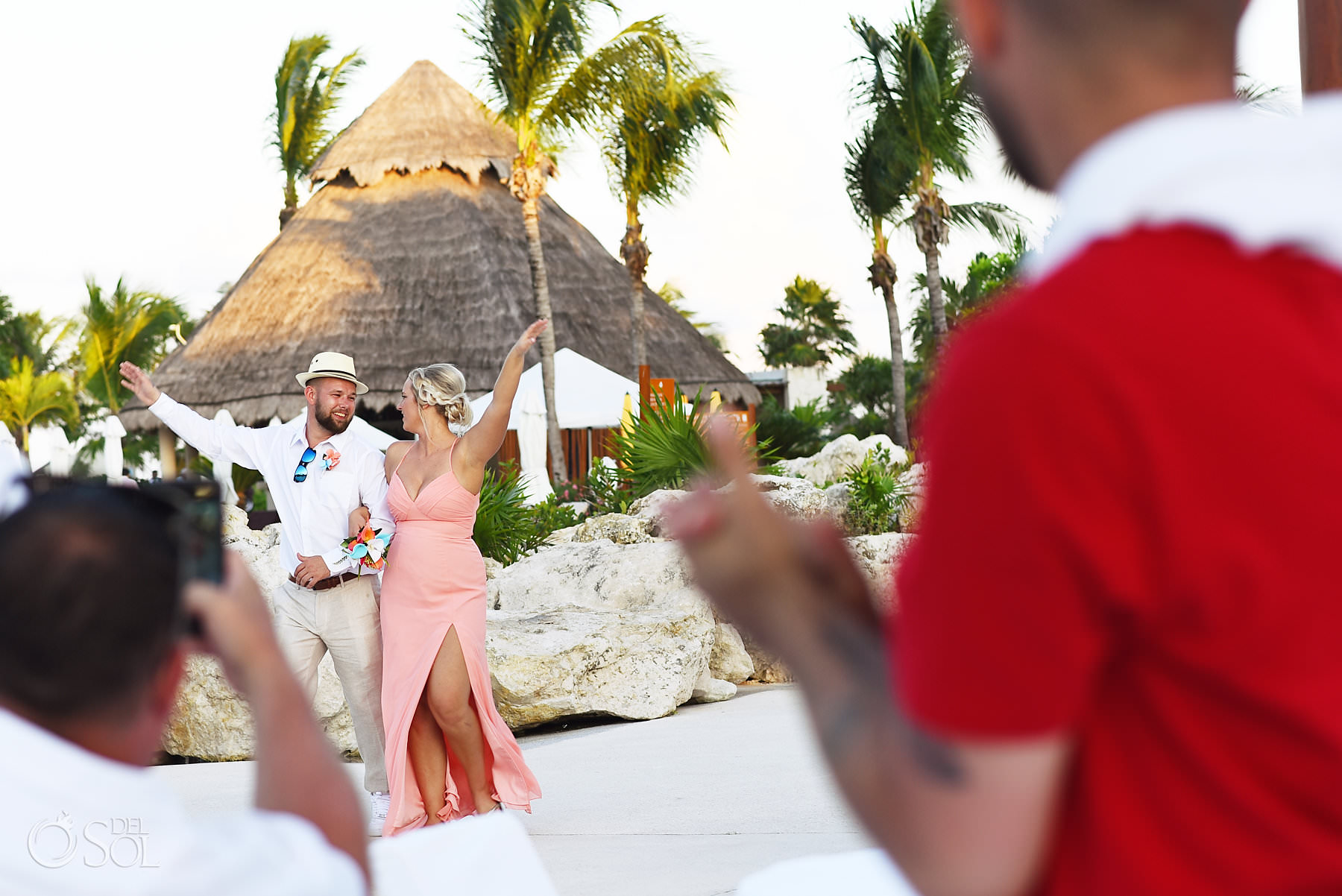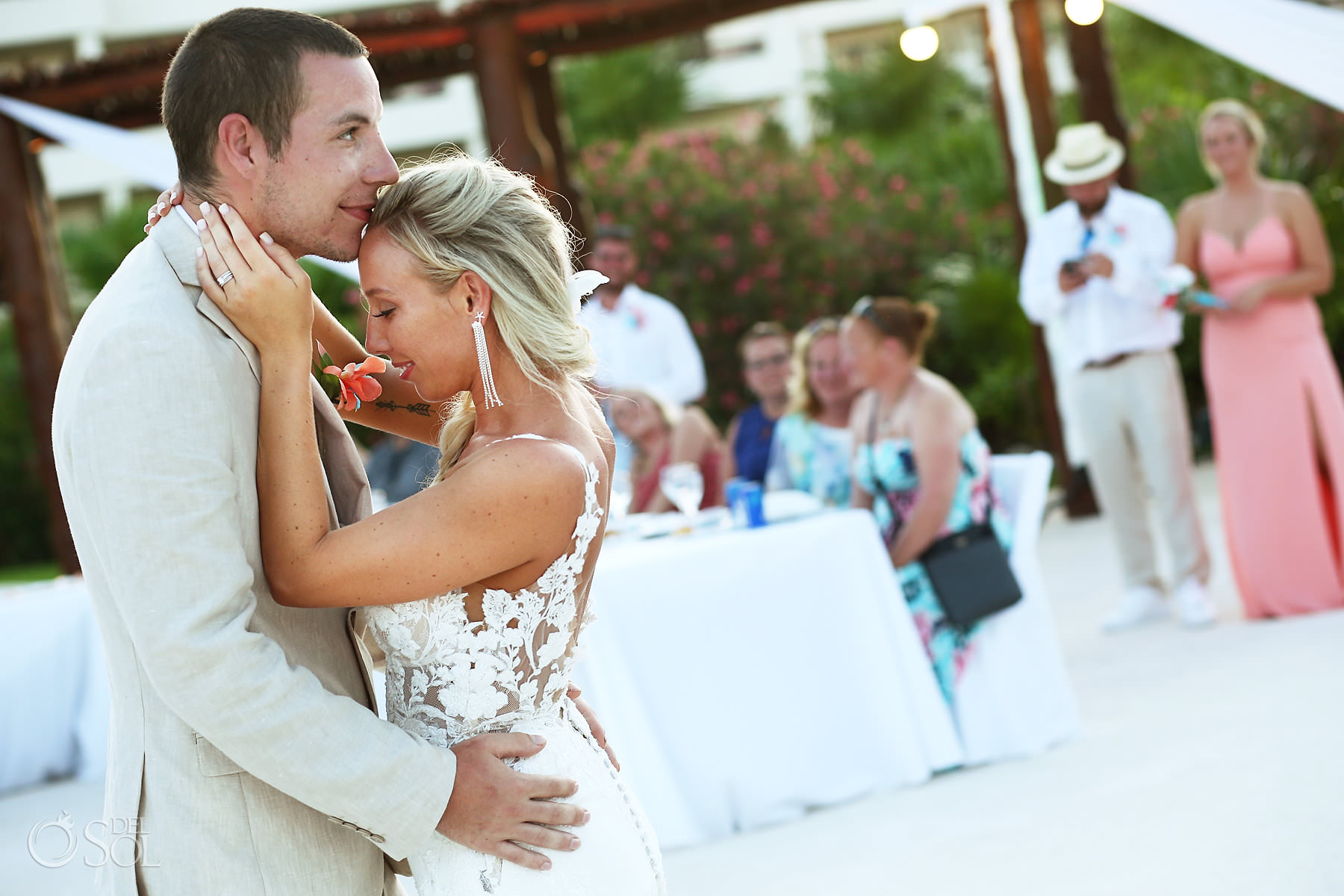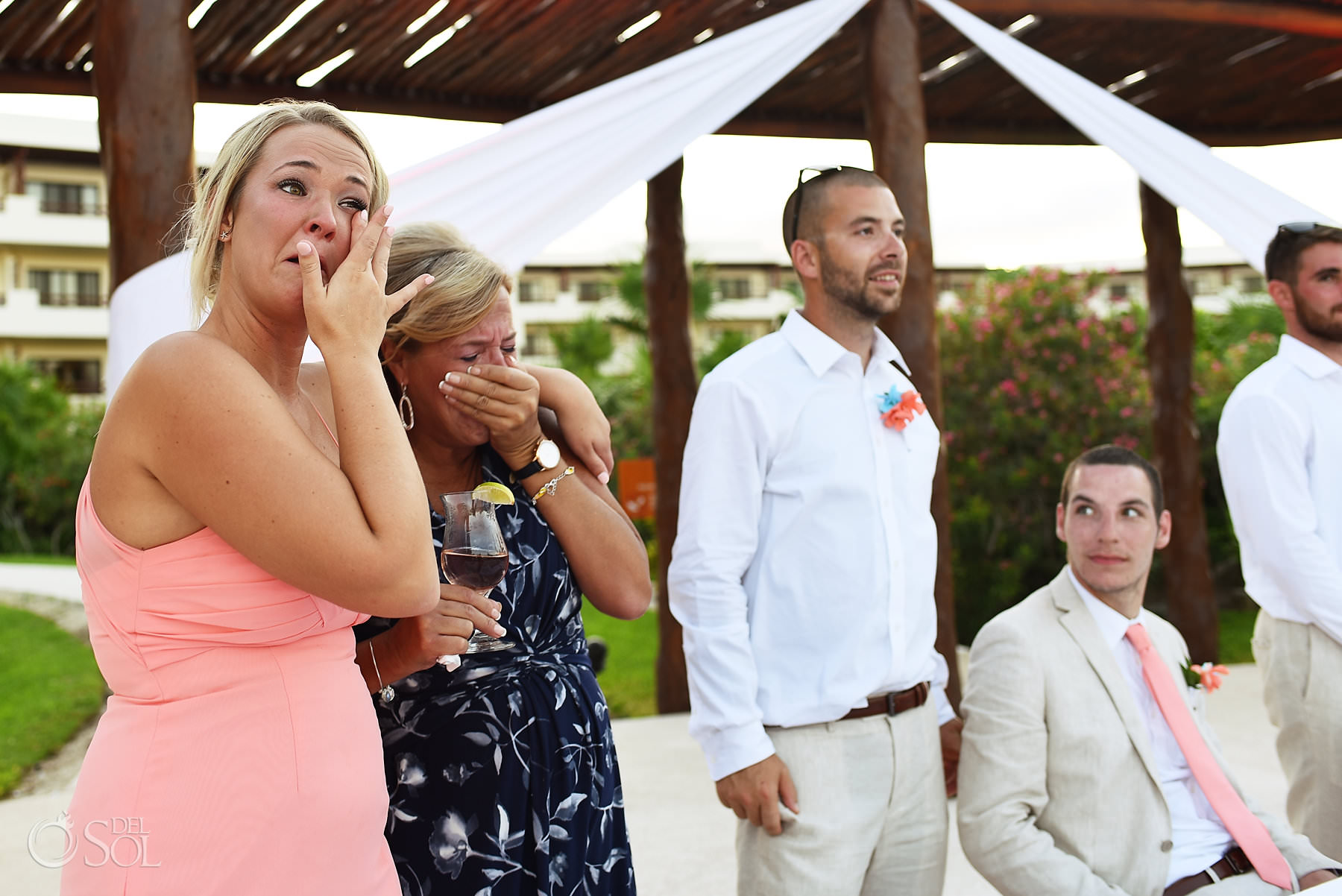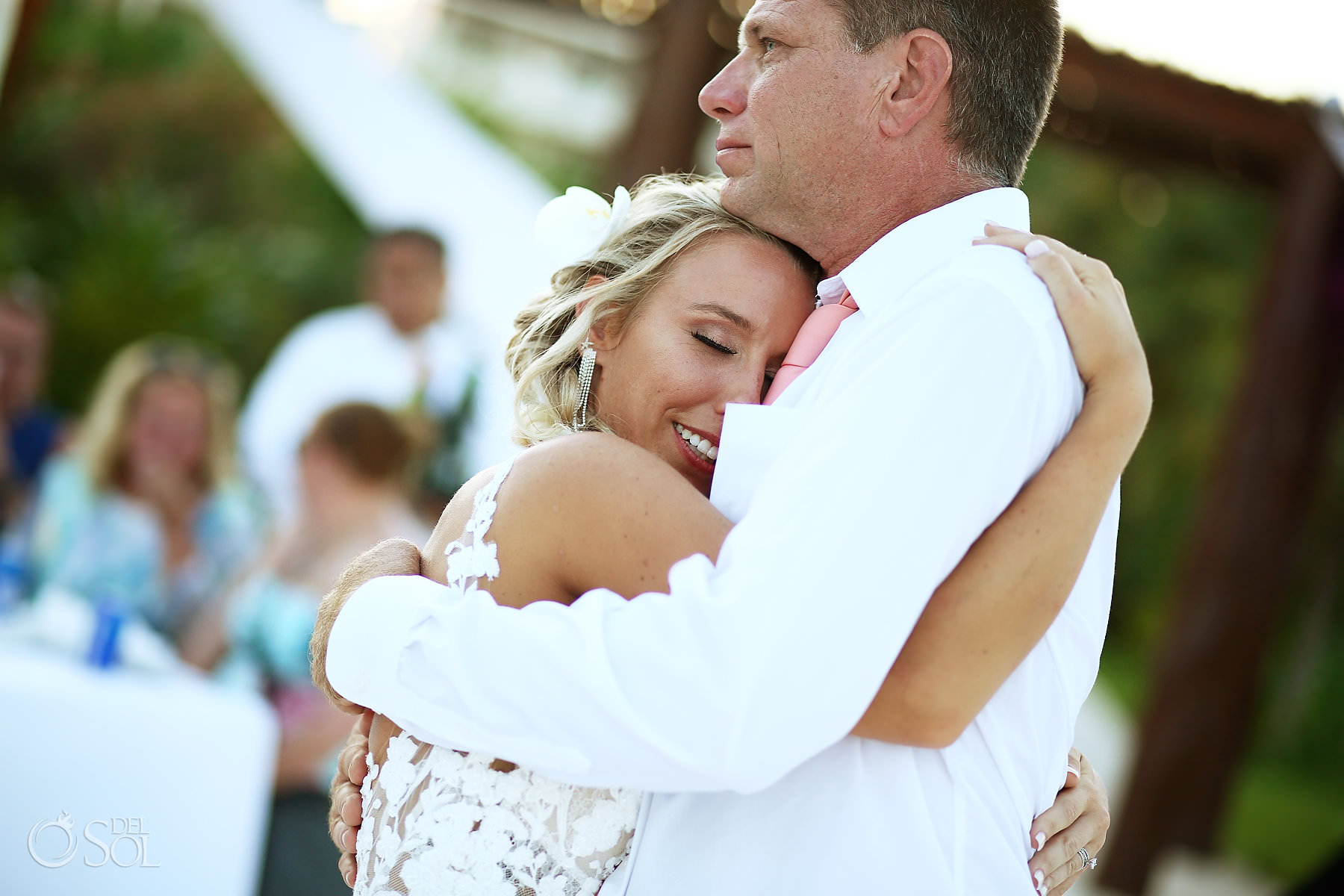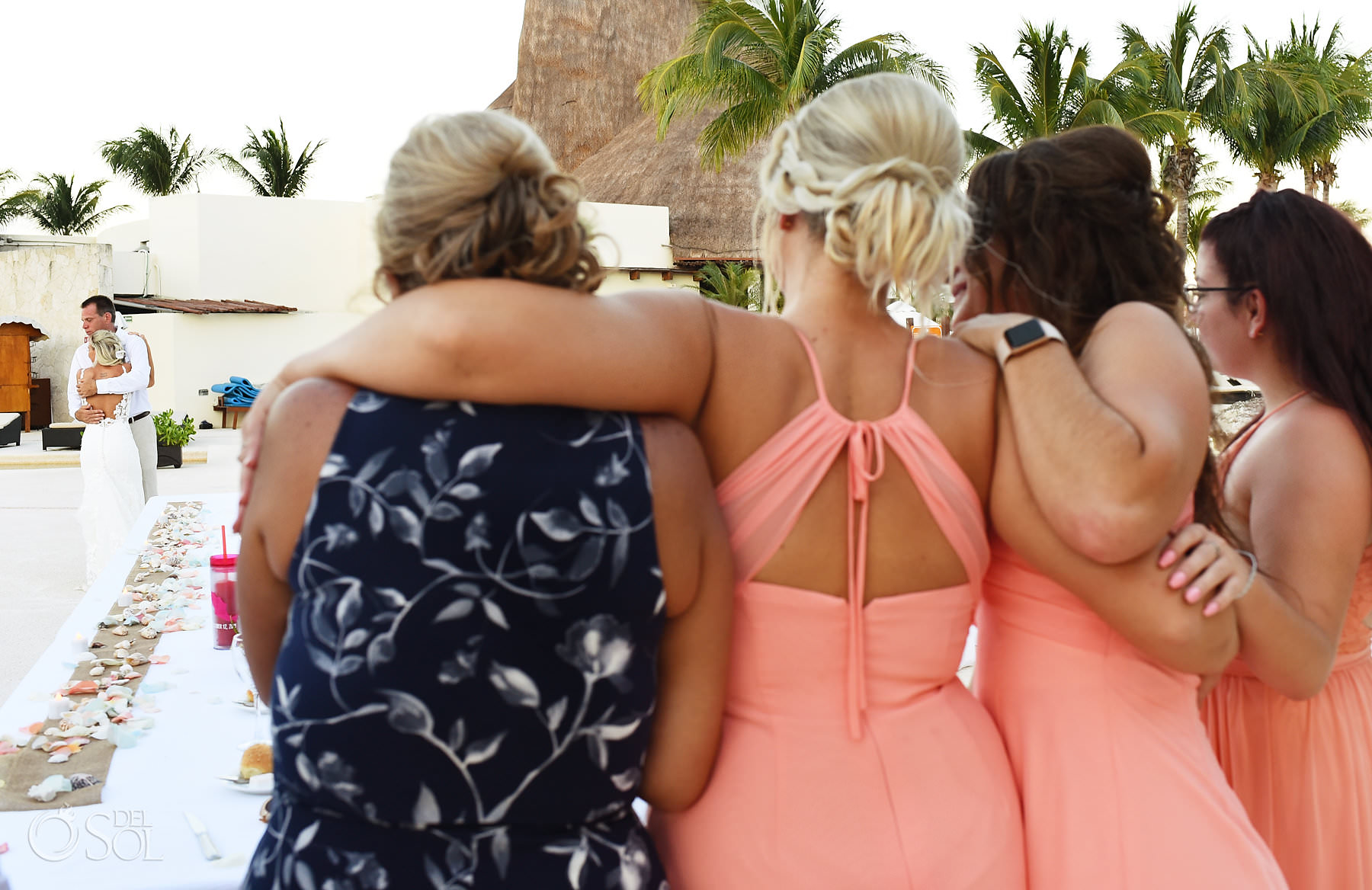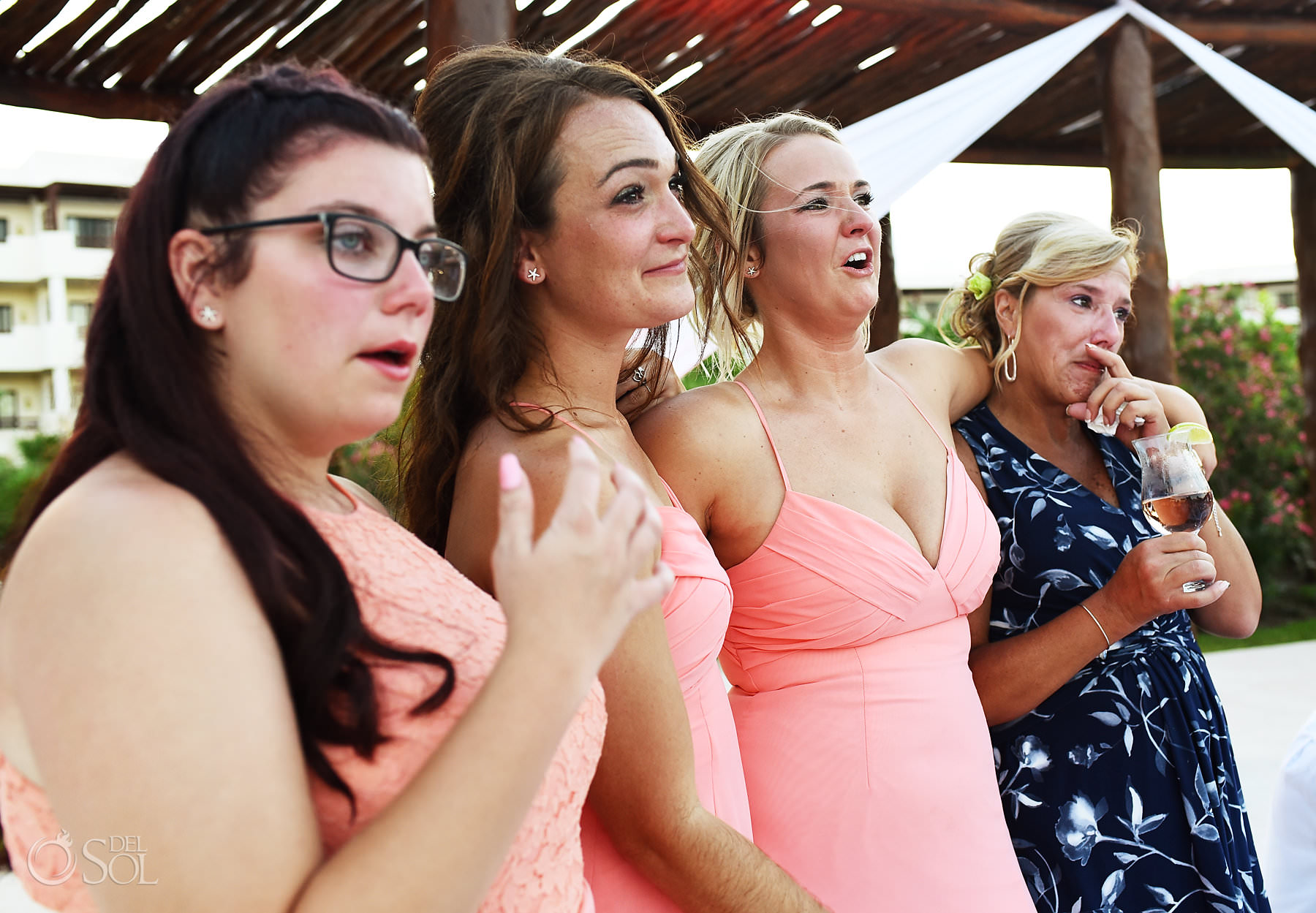 Del S0l: We believe that the experiences we have in our lifetime make us the people we are…
"Sean and I love to travel – we have been to Mexico a few times and also to the Dominican Republic. Traveling, exploring and seeing different places and experiencing different cultures has let us grow together and see the beauty in the little things! Our destination wedding has grown our love for not only travel as a couple but with close family and friends! Now that we have all traveled together we can't wait to start planning anniversary trips with the whole family! It's a way for us to get away, connect with one another and create new and exciting memories!"