Dreams Tulum Hin-Jew Wedding – Part 1
Eera + Joe
""It felt like the beginning of a fairy tale… Being able to photograph Eera and Joe: so handsome, so full of beauty, love and energy is the most amazing gift to me." – Sol Tamargo"
Day 2 of Eera and Joe's multicultural wedding celebraion kicked off with their Hindu Wedding Ceremony, followed later the same day by their Jewish wedding ceremony on the beach at Dreams Tulum. Their wedding reception was the following day and of course, their Sangeet and Mehndi Party started the proceedings!
Del Sol: It's amazing to see so many cultures coming together in Eera and Joe's Hin-Jew wedding!
Sol: "I consider my self a citizen of the planet, I LOVE cultural differences. To photograph the union of people who put love before politics or religion is a joy to my heart. It is the true manifestation of LOVE.
"As an artist, seeing so much color, details and non stop action, puts fire in my spirit."- Sol Tamargo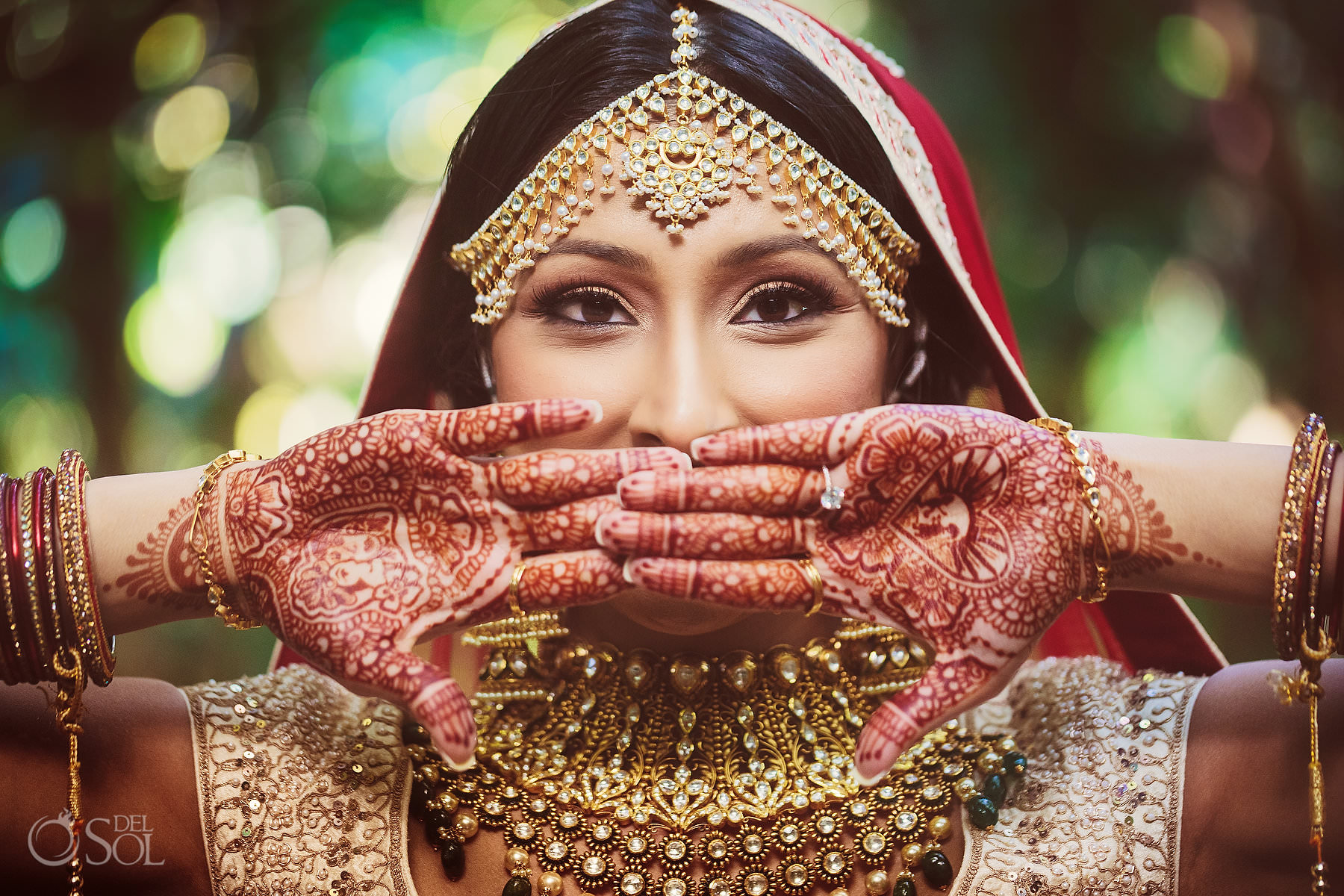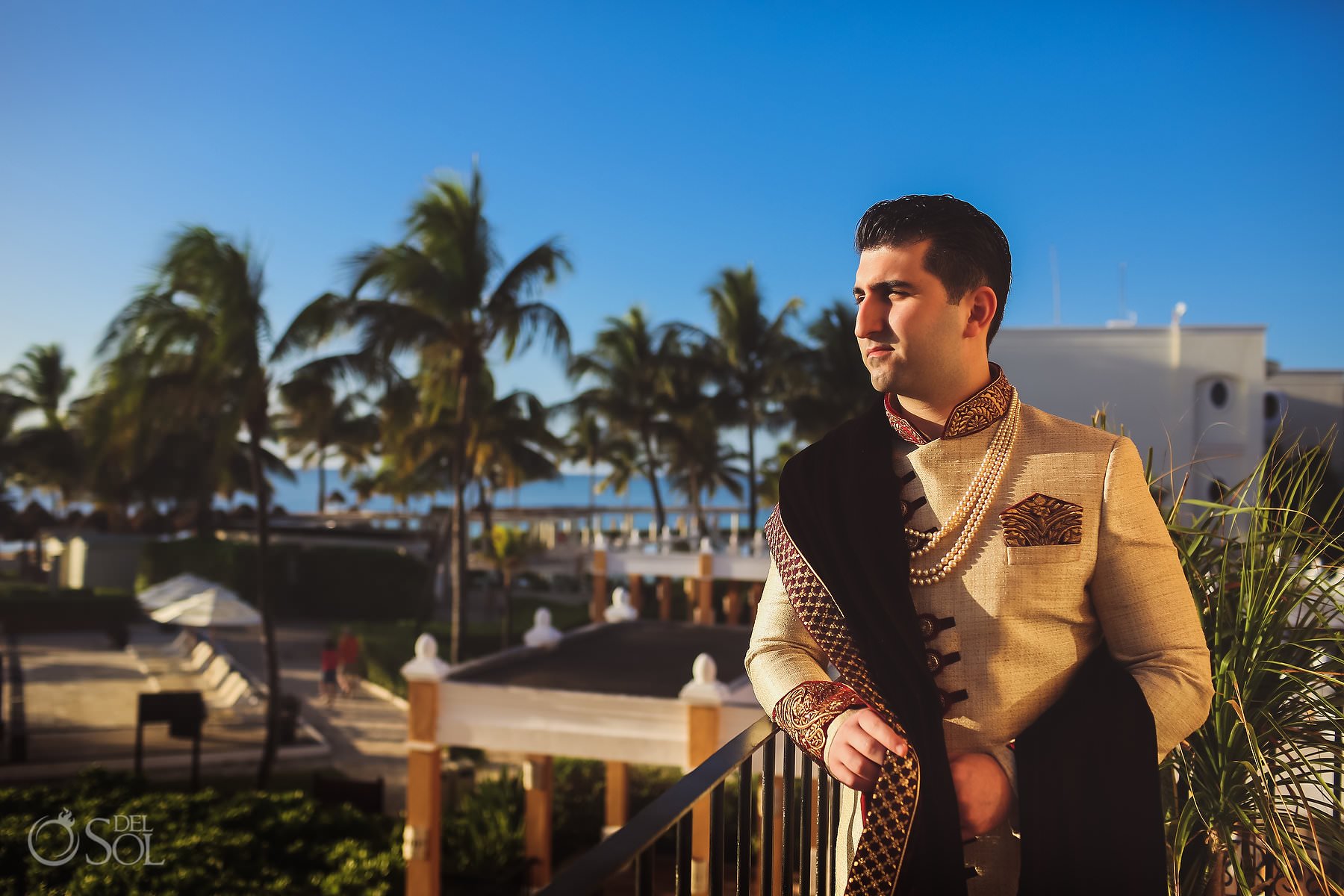 Del Sol: In your your portraits of Eera she really looks like a goddess. Her red veil flying, the flare, the golden decoration…
"Eera, the bride, I felt her. I saw her elegant delicacy, her poise combined with a loving heart. That is the true definition of a Goddess, feminine energy at its best" – Sol Tamargo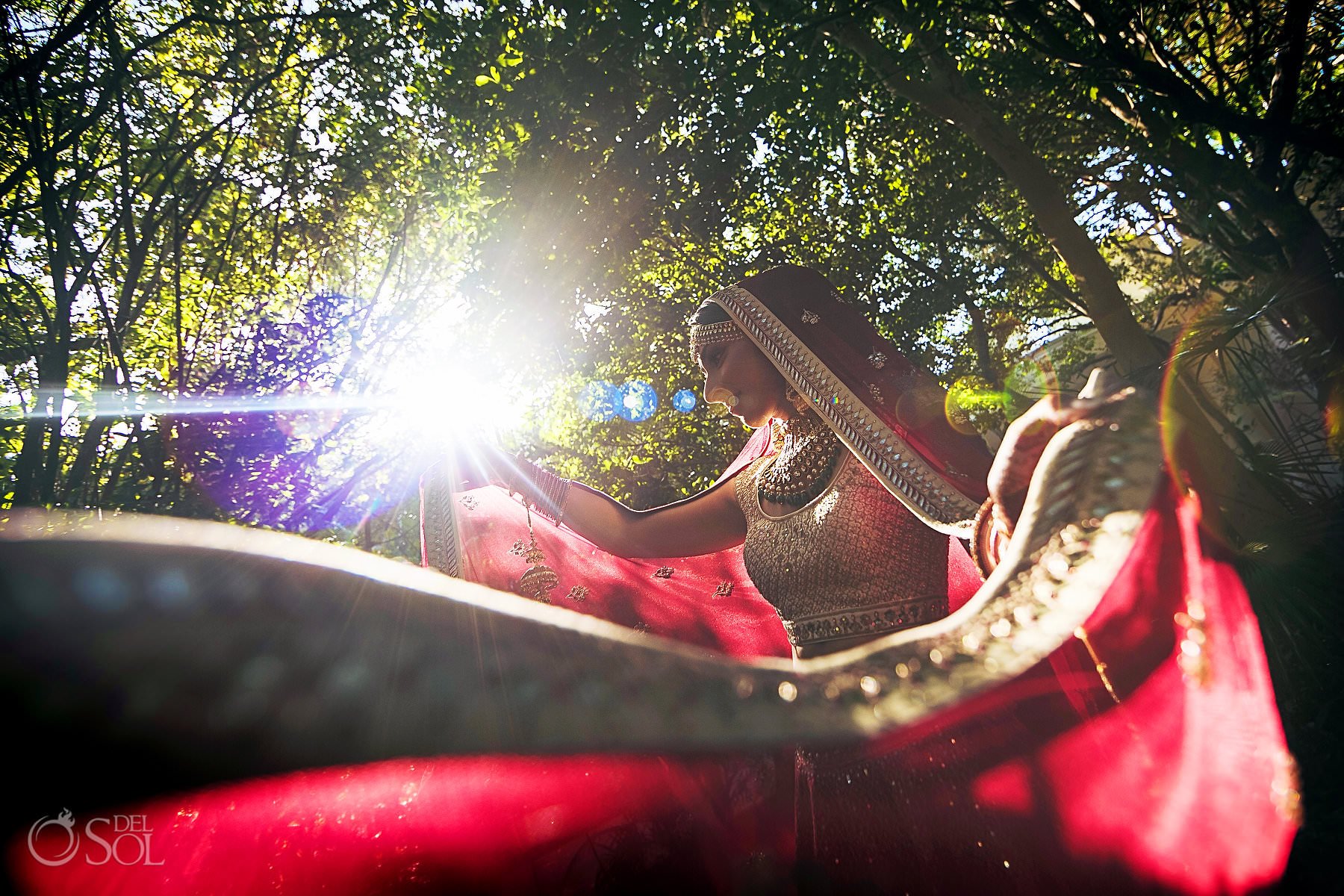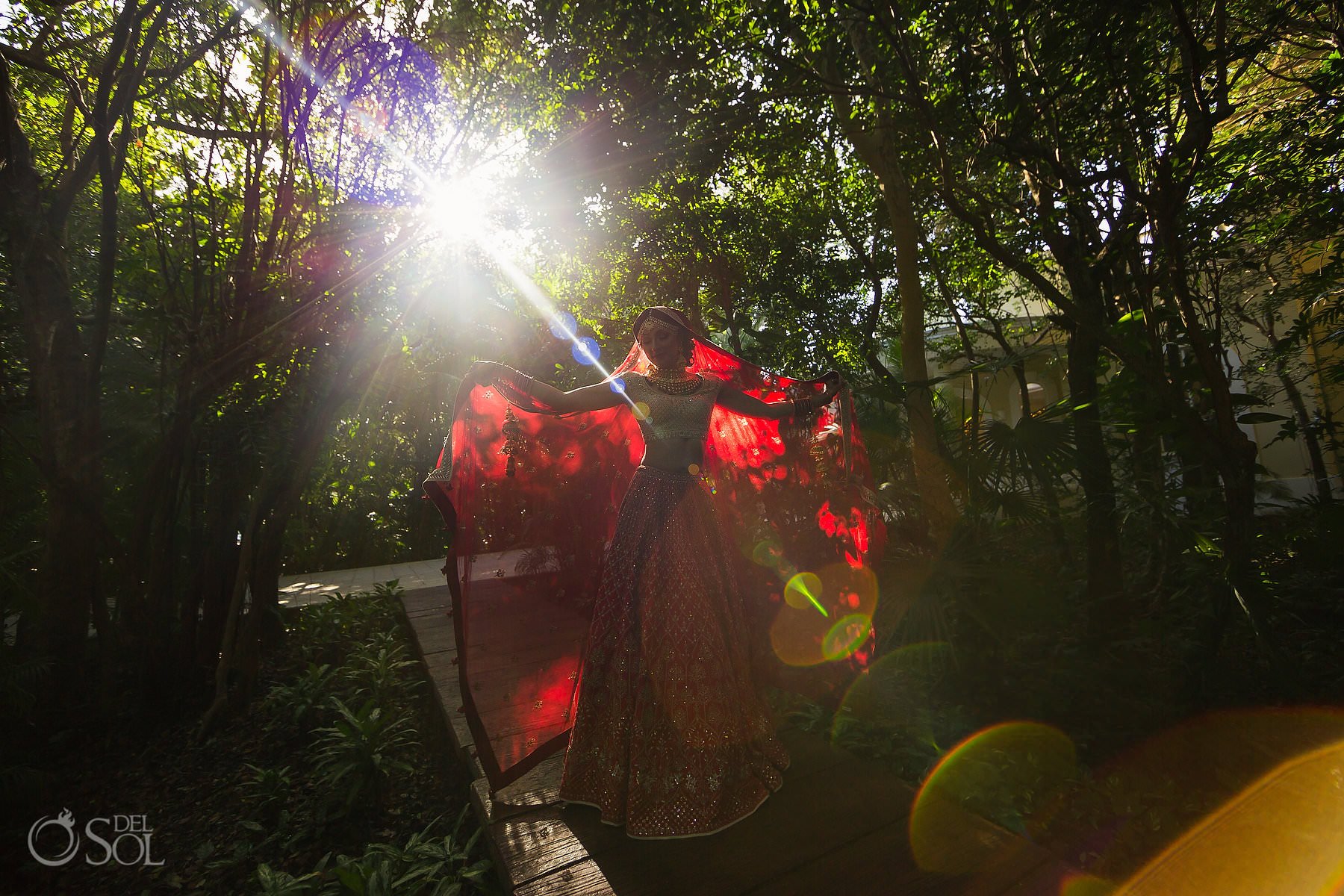 "Women have a special light in their spirit and to me is the most beautiful thing in the world."- Sol Tamargo
"She had a dress, accessories and makeup for each ceremony and each day. She put a lot of attention in everything. I had to make sure she will get the images of her glorious soul and the things that she planned with so much love. Being a women, and a women in the Hindu culture means a goddess to me. I just feel it that way and with all my heart I LOVE photographing goddesses. They are what make this world prettier and a loving place to be."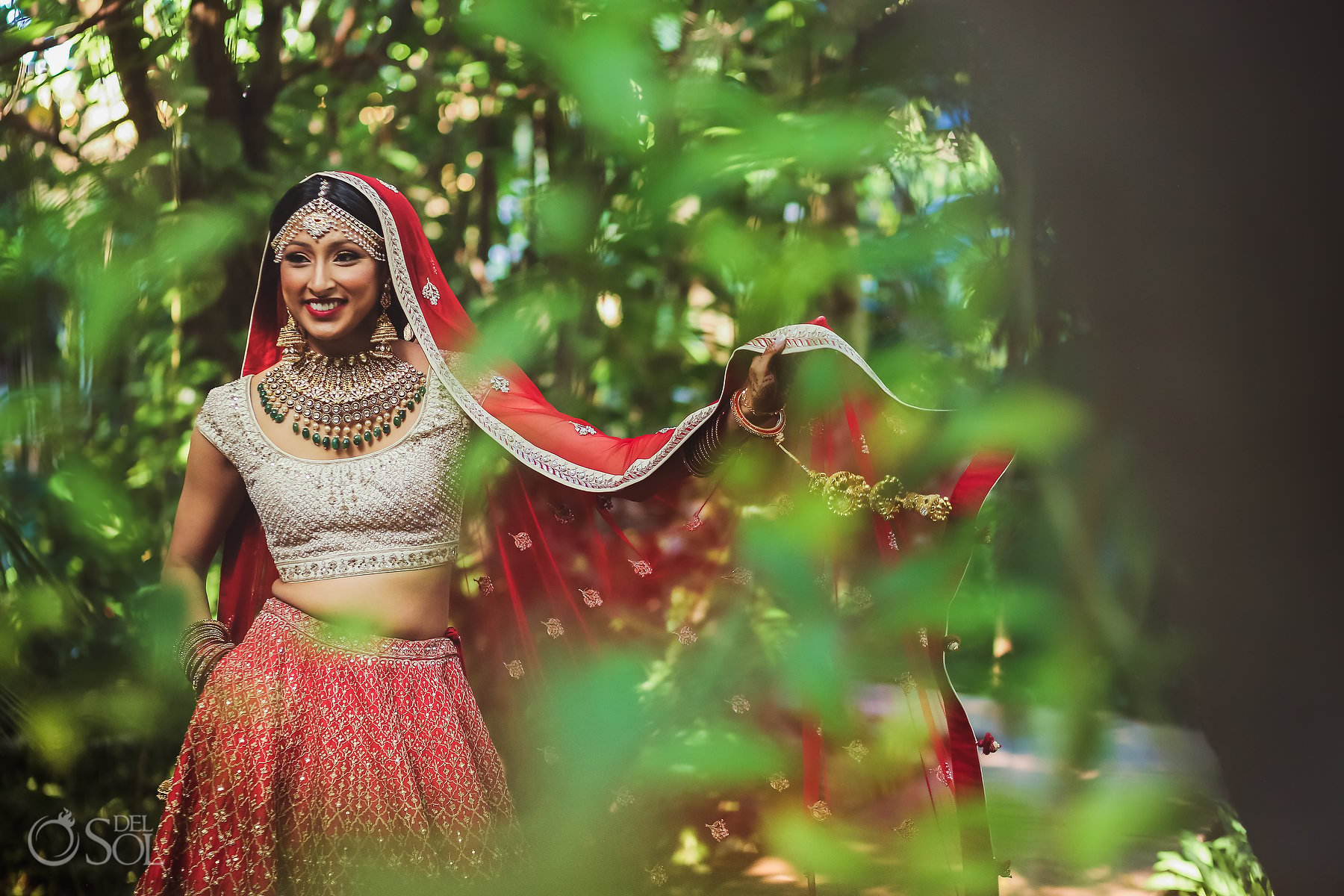 We have to talk about the HORSE! It's not often that we get a heroic groom riding a white horse in weddings but we are totally up for more of that!
The Baarat was a REALLY fun moment of this Mexico South Asian Wedding. We love that Joe get him moment in the spotlight as the groom. We're so used to seeing the bride get the dramatic entrance and it's really wonderful that the groom has him moment too!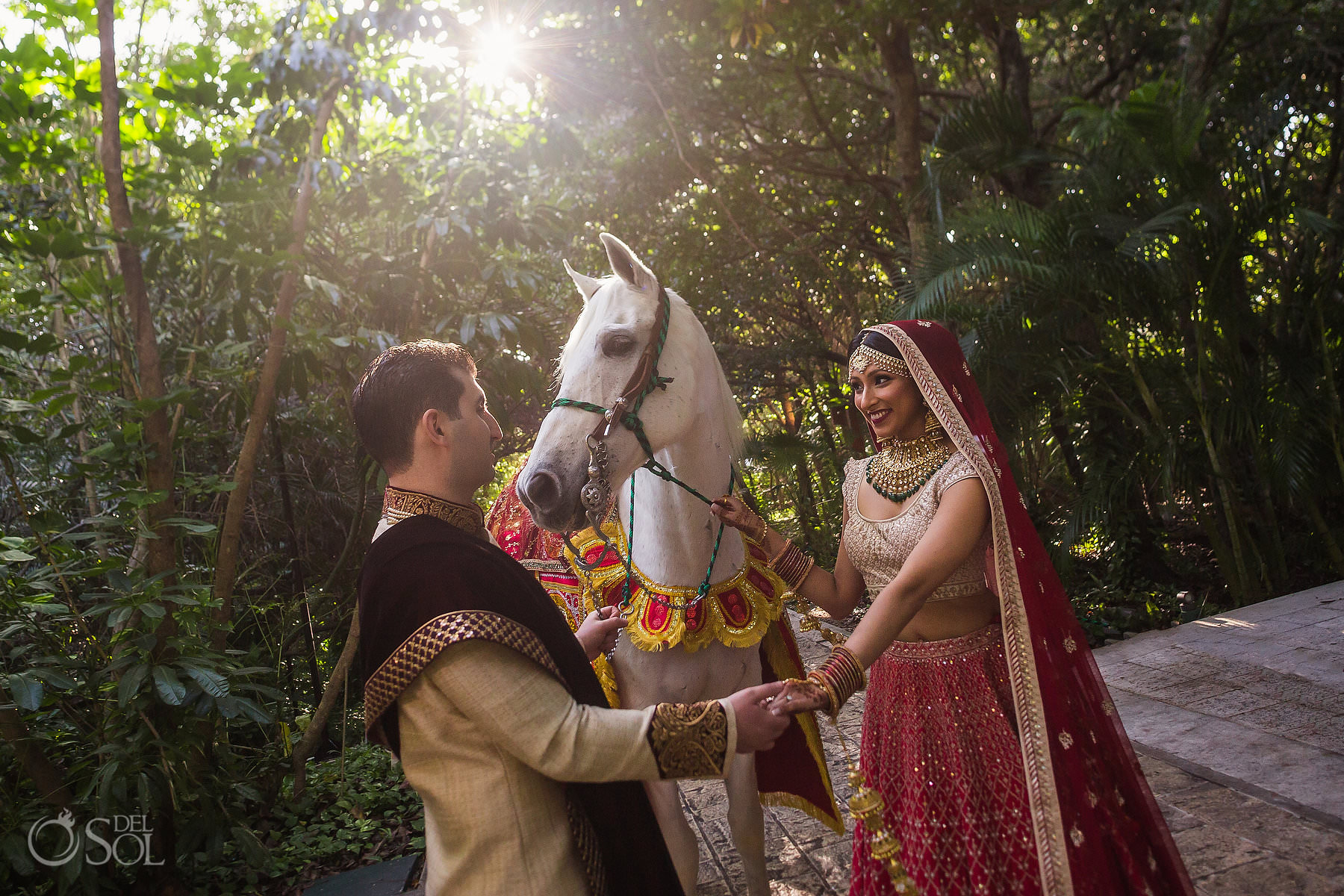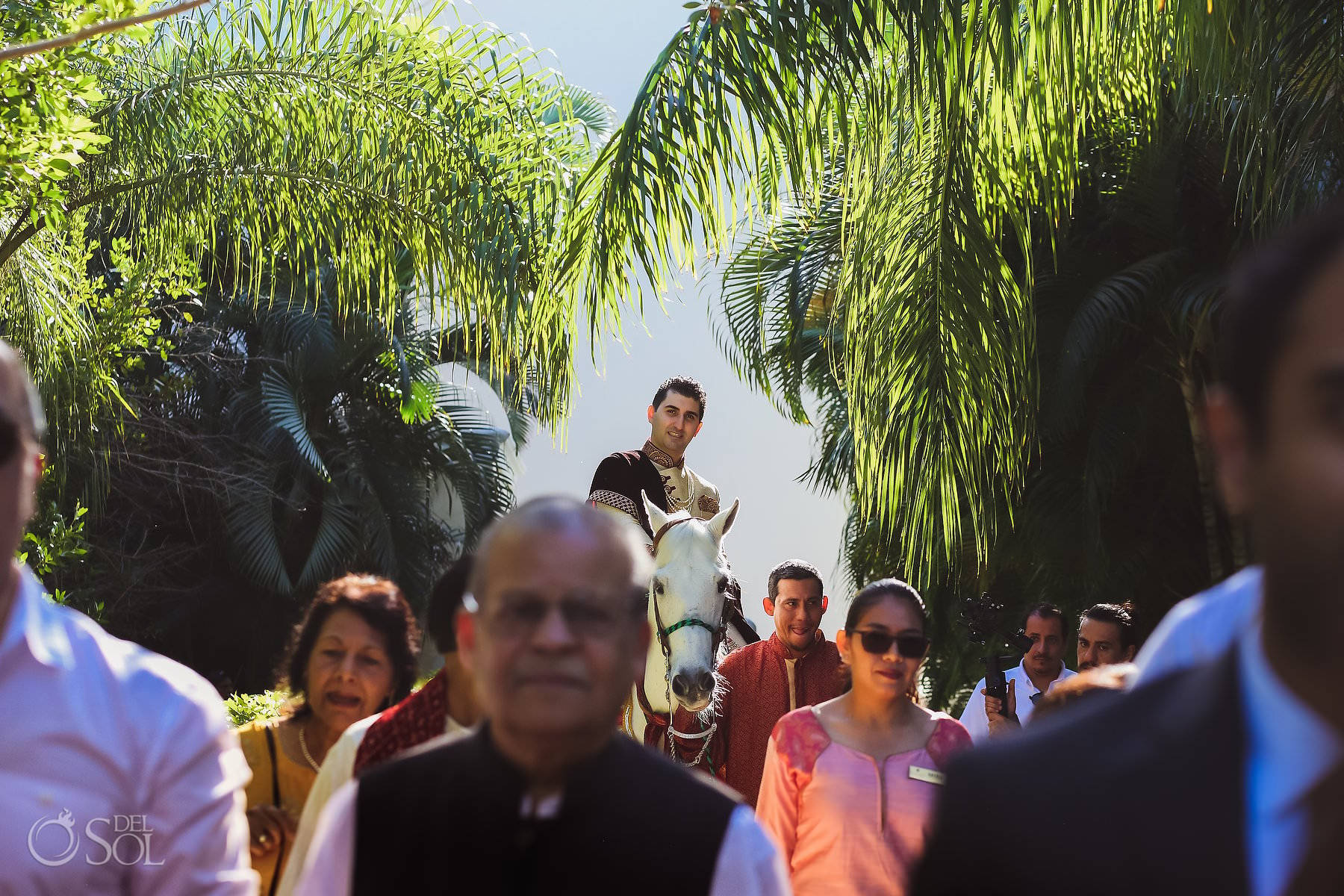 "Indian weddings really look feel and sound like a fairytale. The groom on the horse is magnificent!!!" – Sol Tamargo
The fantastical image of the groom riding on a white hose is combined with energetic, spontaneous and FUN dancing – and music – and all the wedding guests starting the wedding proceedings.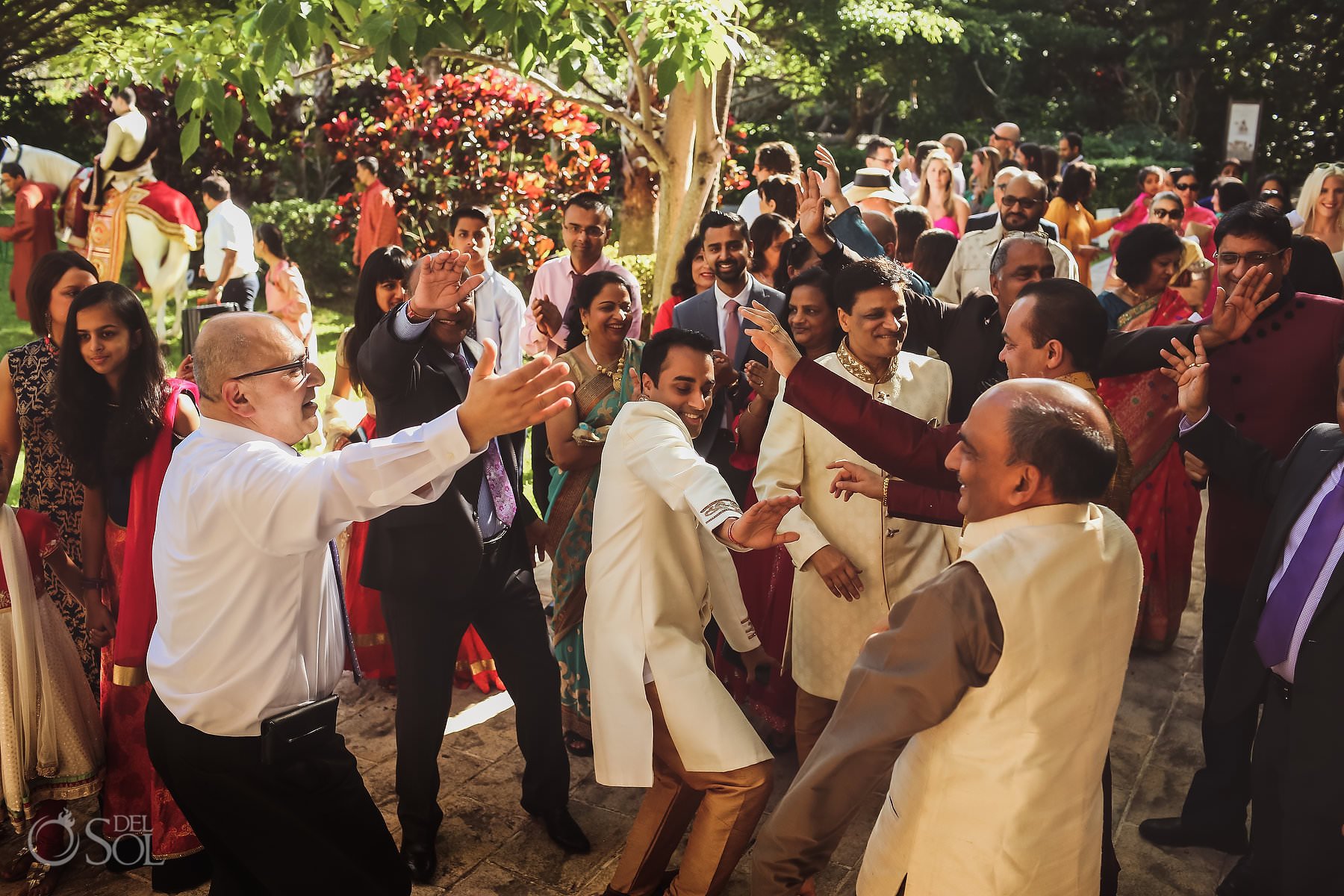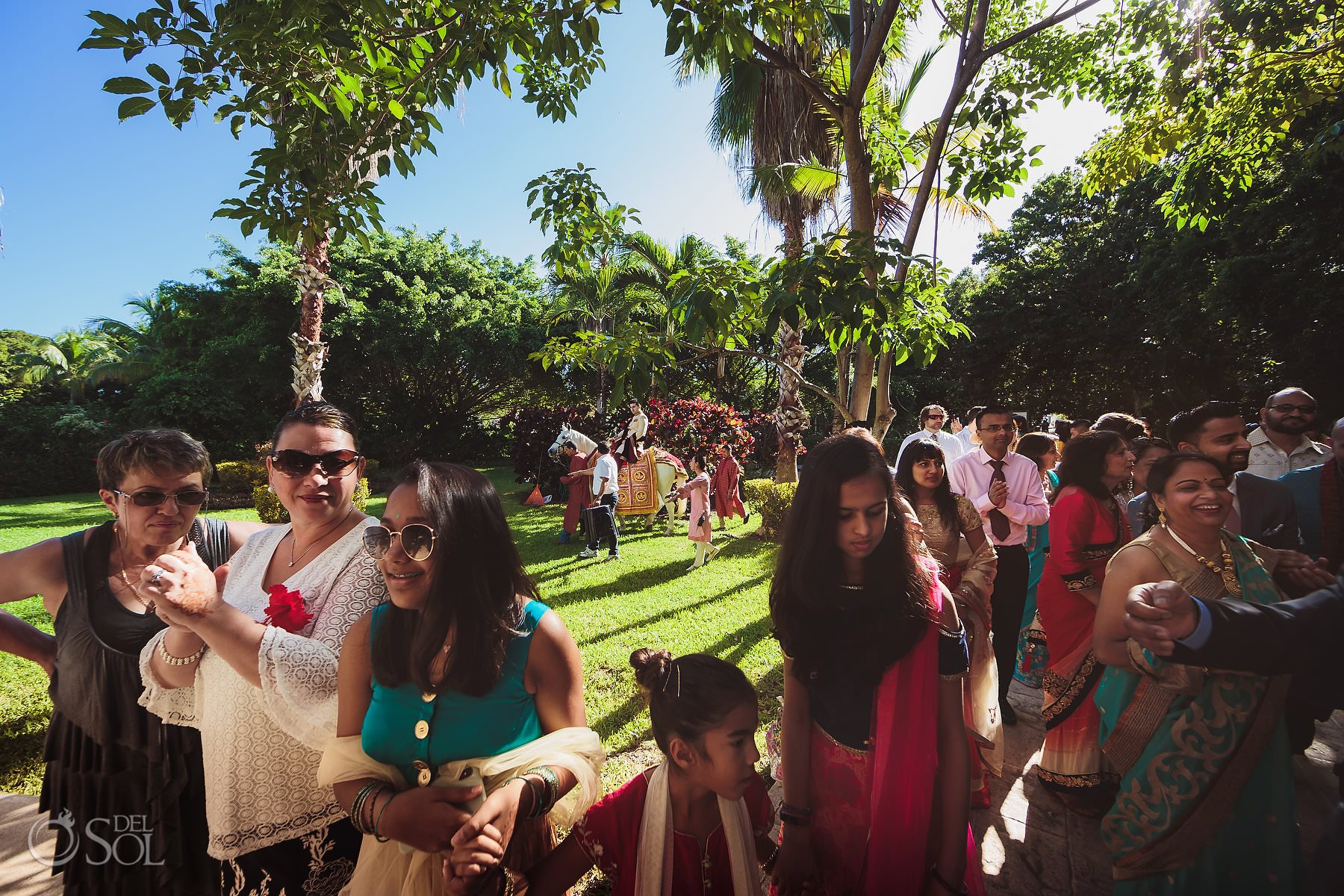 Del Sol: The wedding set-up for the Mexico South Asian Wedding ceremony in the Dream Garden of Dreams Tulum was GORGEOUS!
"I loved the ROSES!!!! Lots and lots of red glamorous roses… the smell was in the air. Perfect match for a Goddess wedding day."
"They say God laughs in flowers."- Sol Tamargo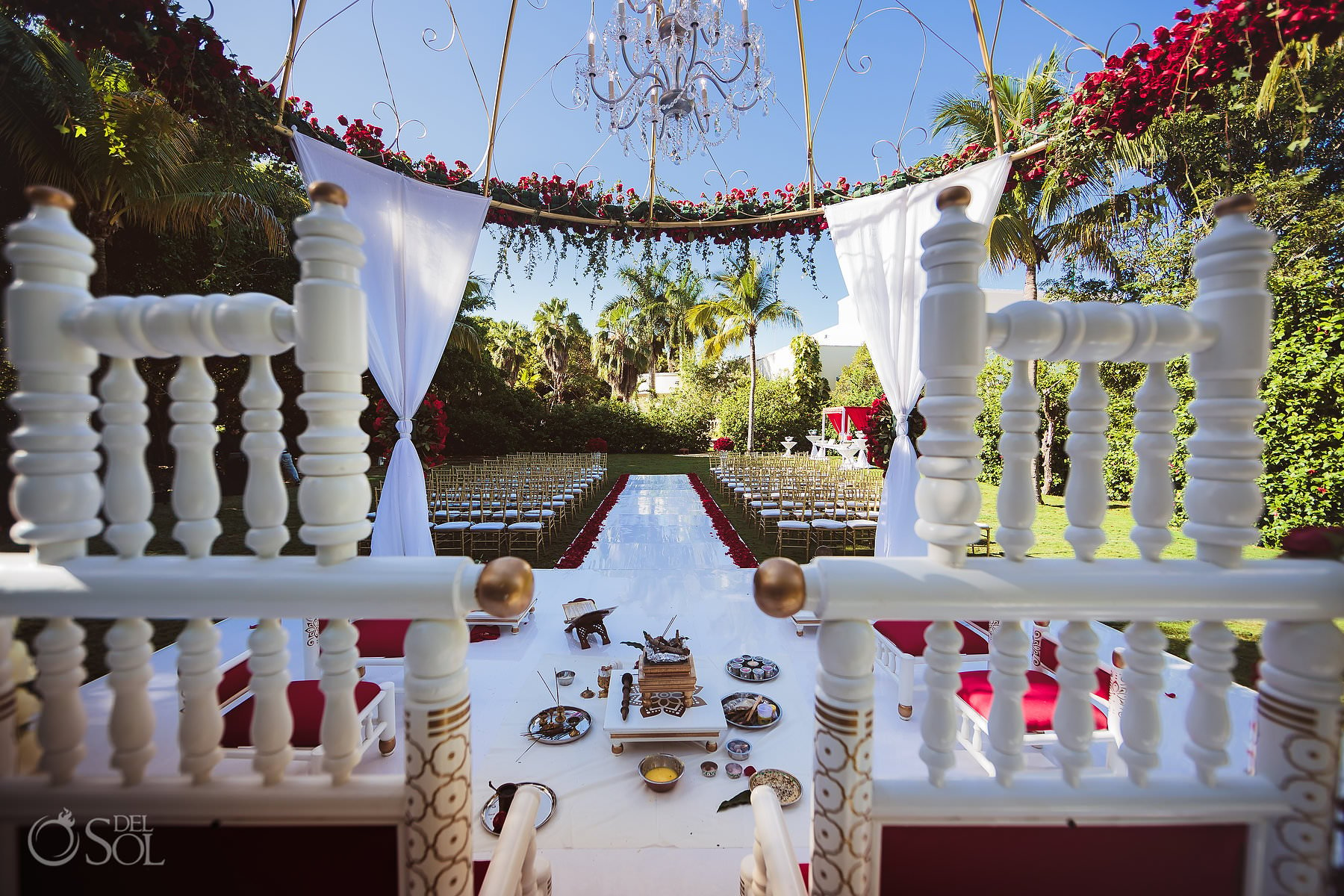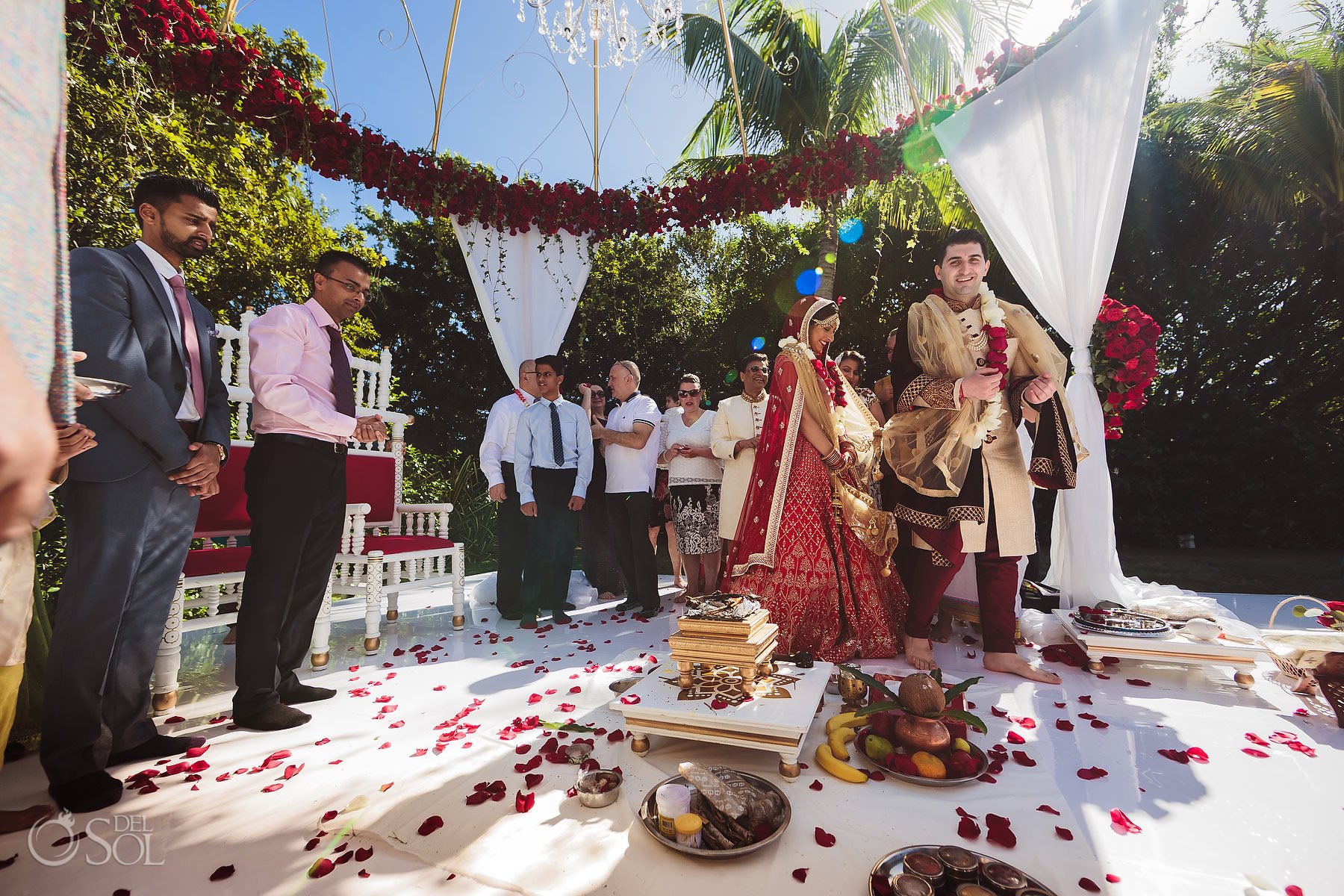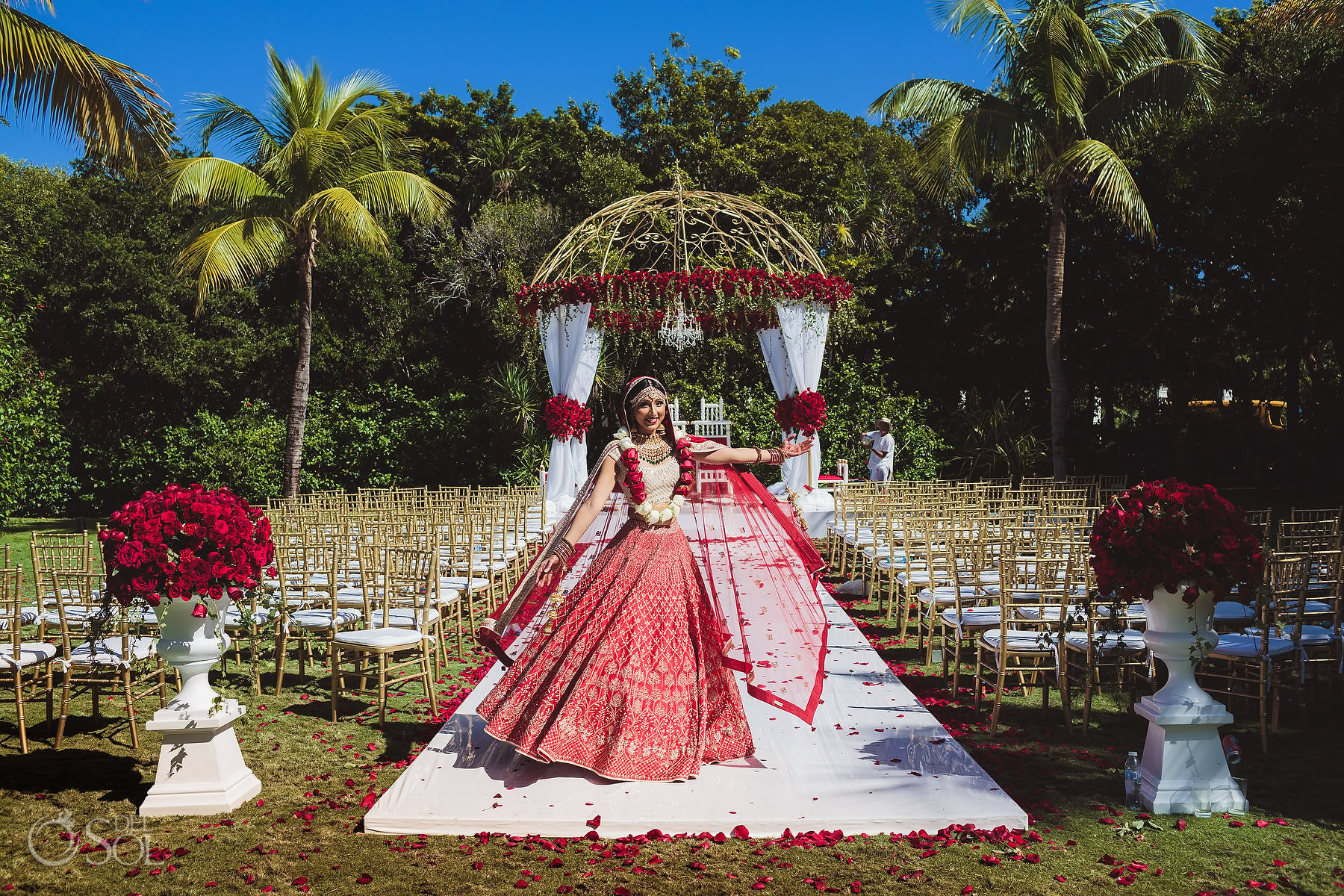 Del Sol: Photographically and symbolically there are so many AMAZING elements to an Indian wedding. Are there any elements that could be inspire other couples for their wedding?
Sol Tamargo: "Nowadays couples plan their own ceremonies following their hearts and symbols that are meaningful for them. I vote for that!"
"Anyone can take any tradition as inspiration and make it theirs by adapting it to their own love story." – Sol Tamargo
"For example, during the reception at Indian weddings, families work together to create a choreographed dance … That is amazing!!!!! That is a great idea to unite families in preparation for the big day."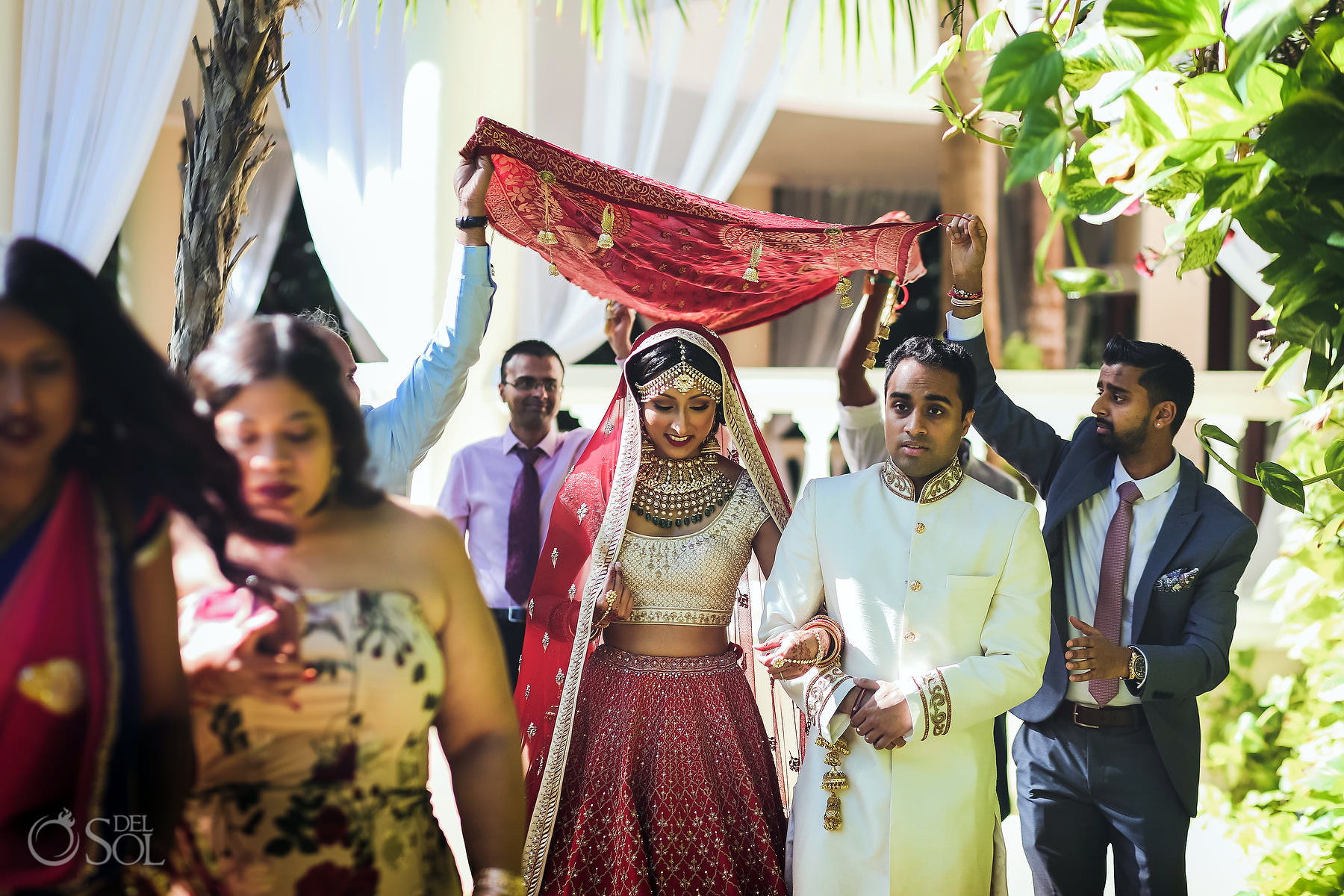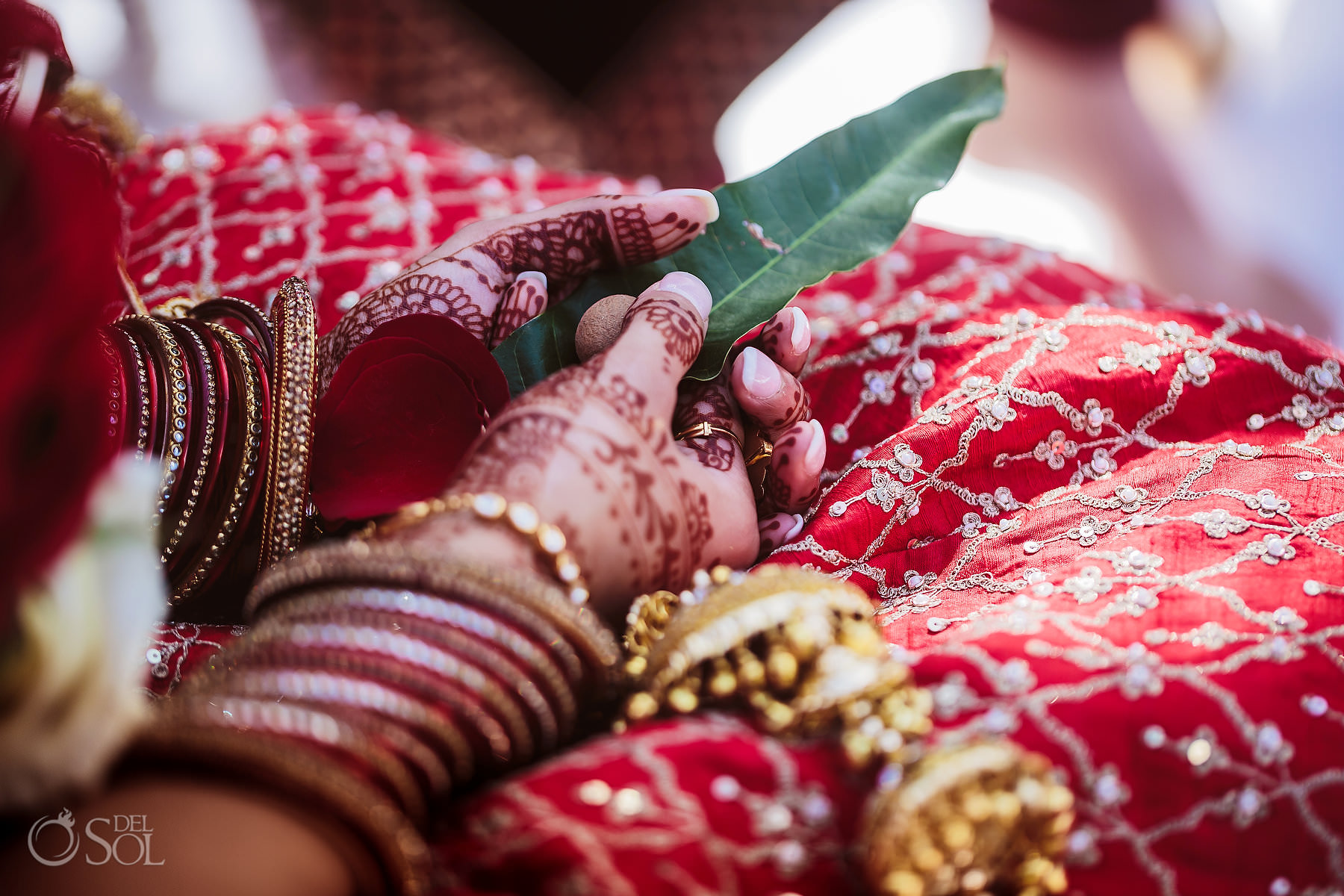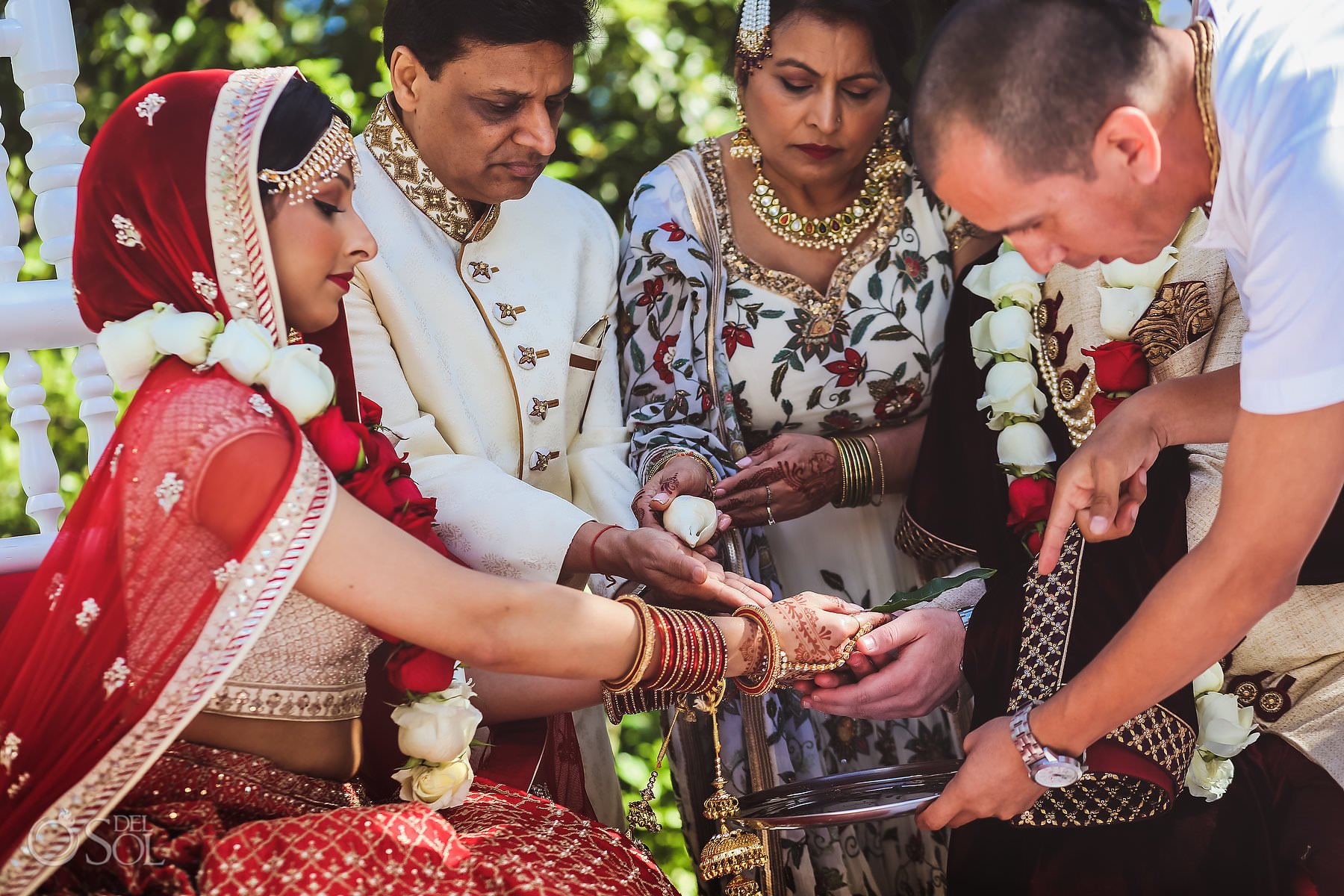 Sol Tamargo: "My favorite part about Hindu wedding ceremonies is the family connection. There are lots of moments when one of the parents is presenting an offering as part of the ritual and the other parent holds the arm. It's an energy chain."
"The family members connect with intention and it is physically seen in how they move and what they do. I adore that bond."- Sol Tamargo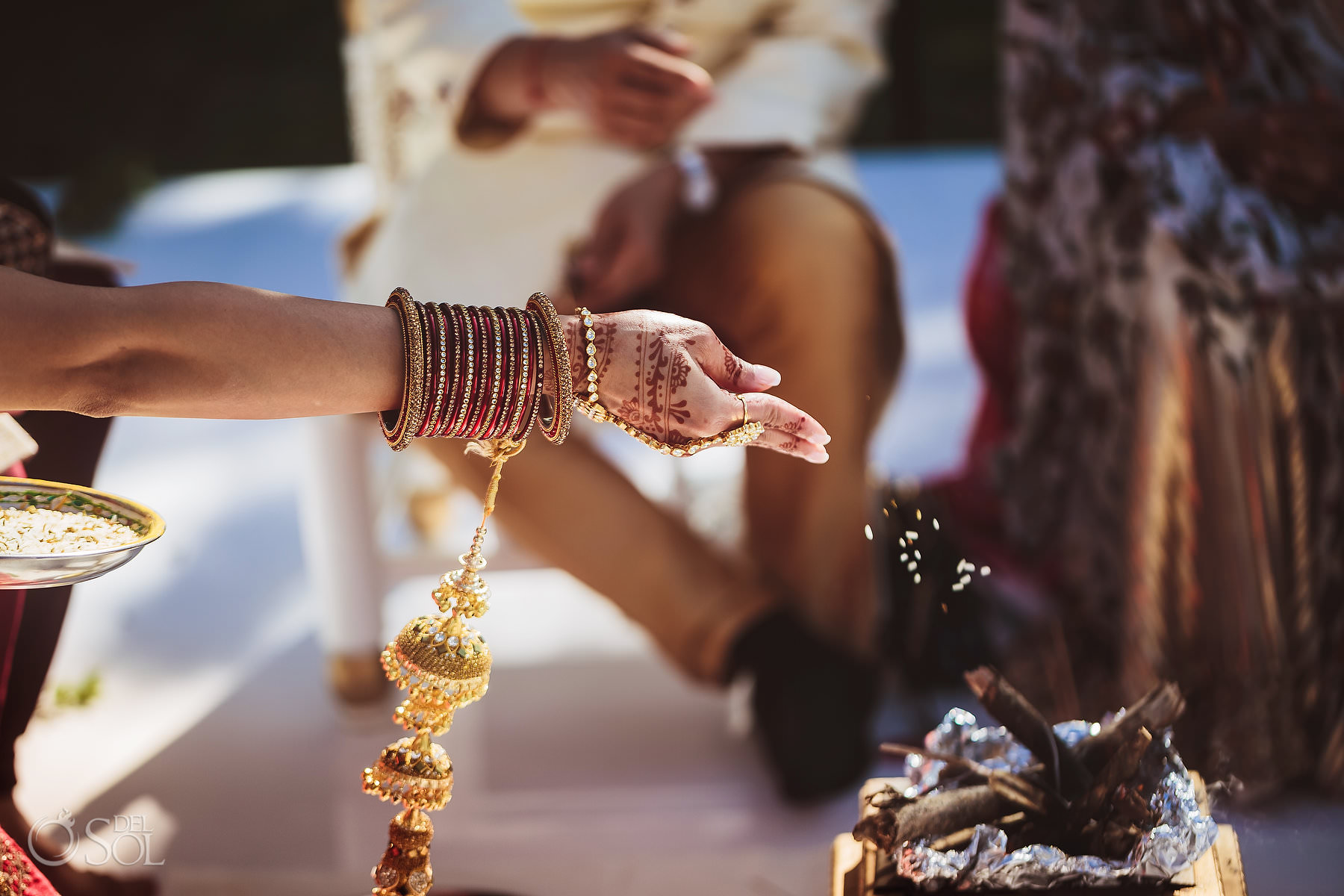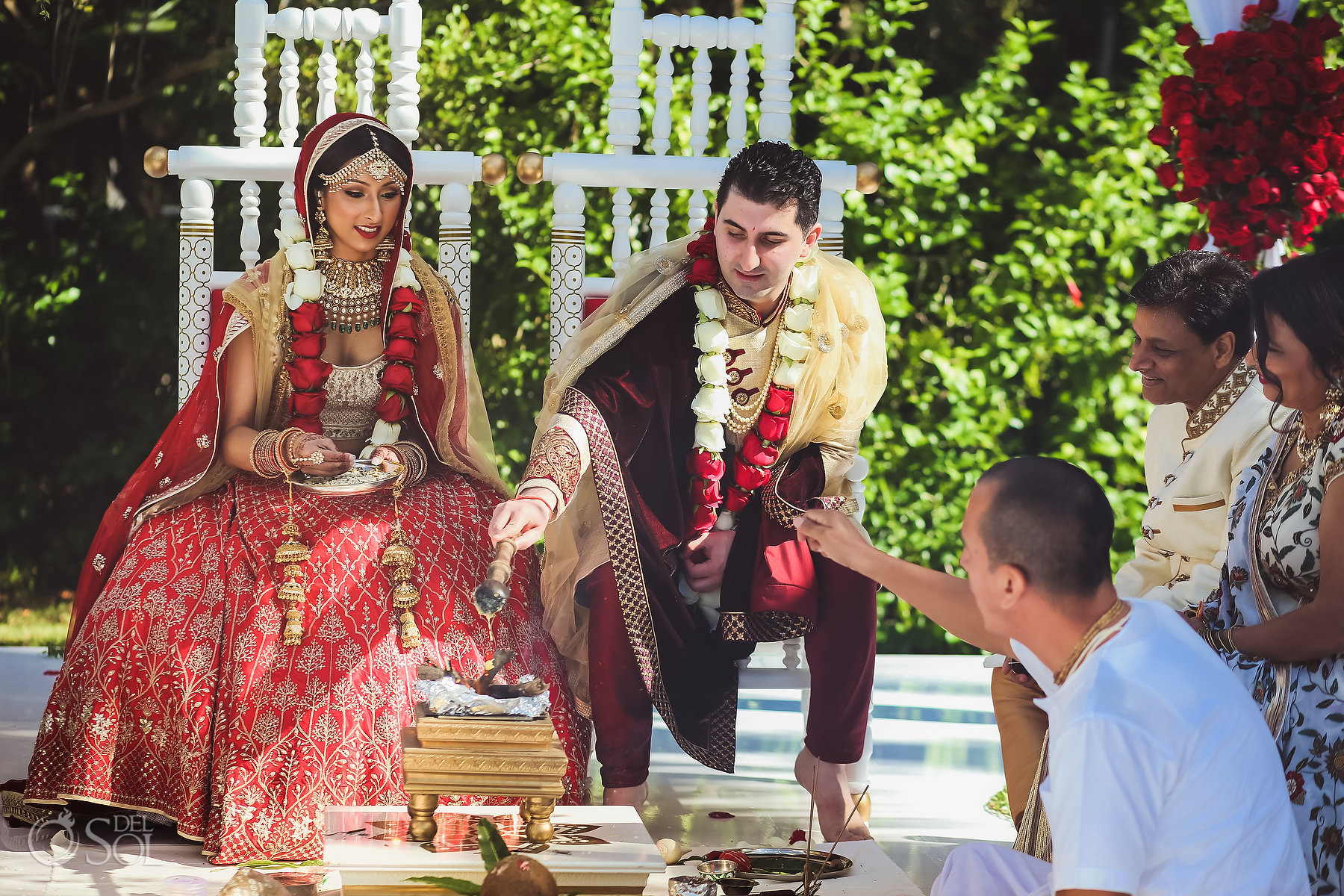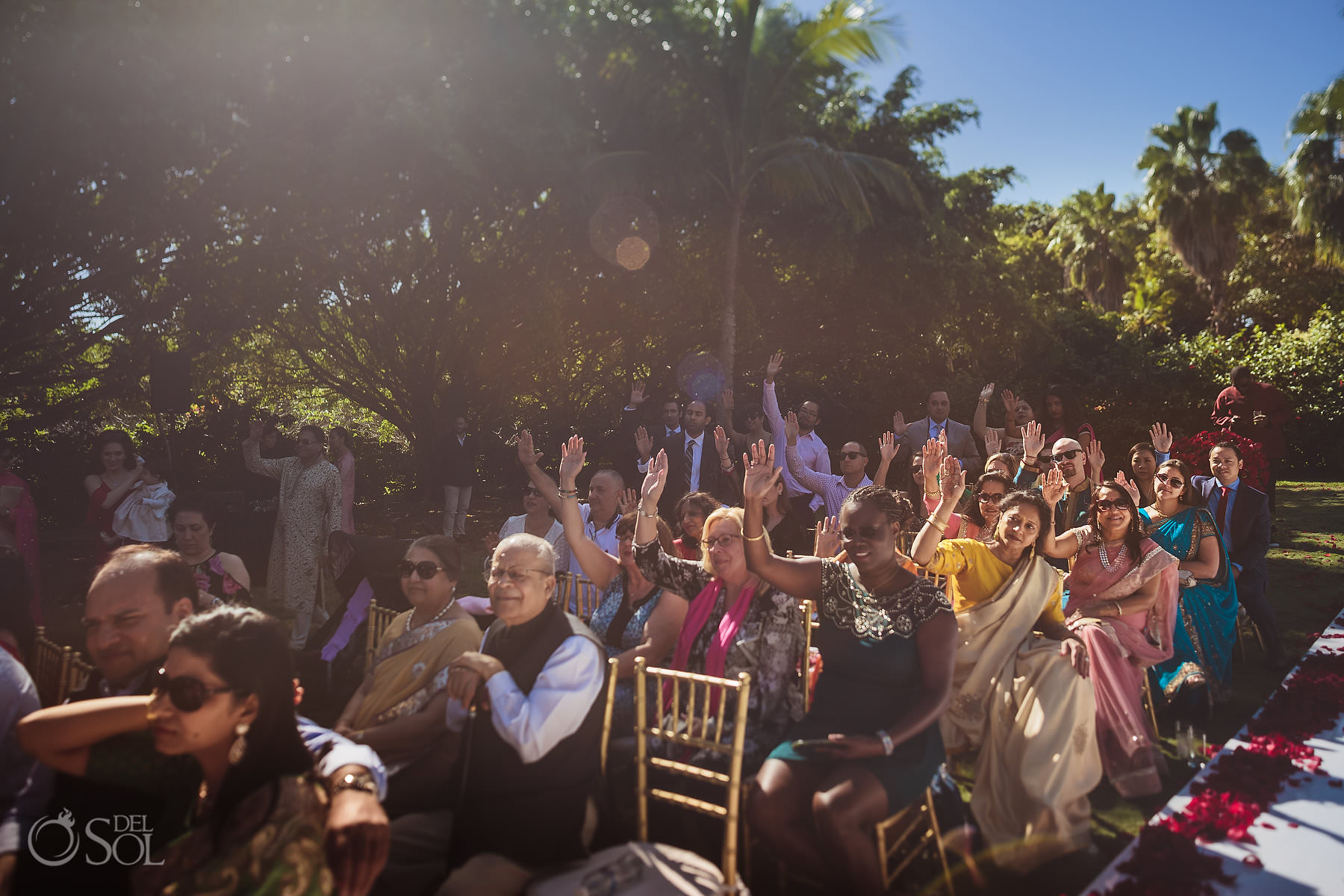 Del Sol: What was the most amazing moment of the Mexico South Asian Wedding day for you and why?
"The most amazing moment for me is seeing the bride in her gown, seeing her glowing soul and getting those amazing portraits: of her, and with her handsome groom."
"I felt like the beginning of a fairy tale. Being able to photograph them: so handsome, so full of beauty, love and energy is the most amazing gift to me." – Sol Tamargo
"Second to portraits is the ceremony, The rituals, the colors… the energy…"
Del Sol: Why Do you think Dreams Tulum was a great venue for a multi cultural and Mexico South Asian Wedding?
"Dreams Tulum is a fabulous venue for weddings. They have so many different locations: from the amazing beach, the Sunset Terrace roof top with a view, magical hidden gardens and salons." – Sol Tamargo
"Anyone can plan a dream wedding there. The wedding planners are all super amazing. Loving, caring and smart on making everything go smooth and beautiful."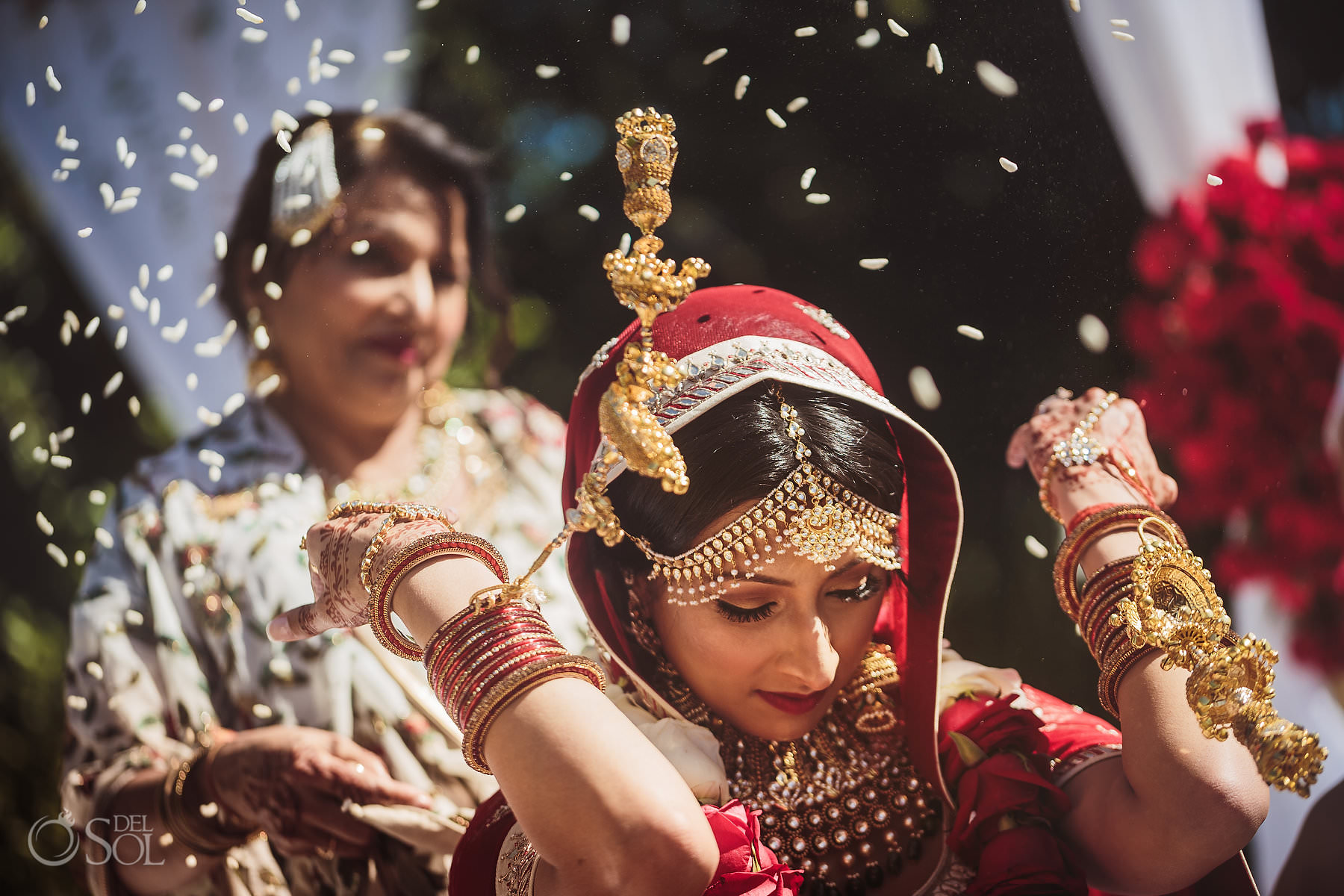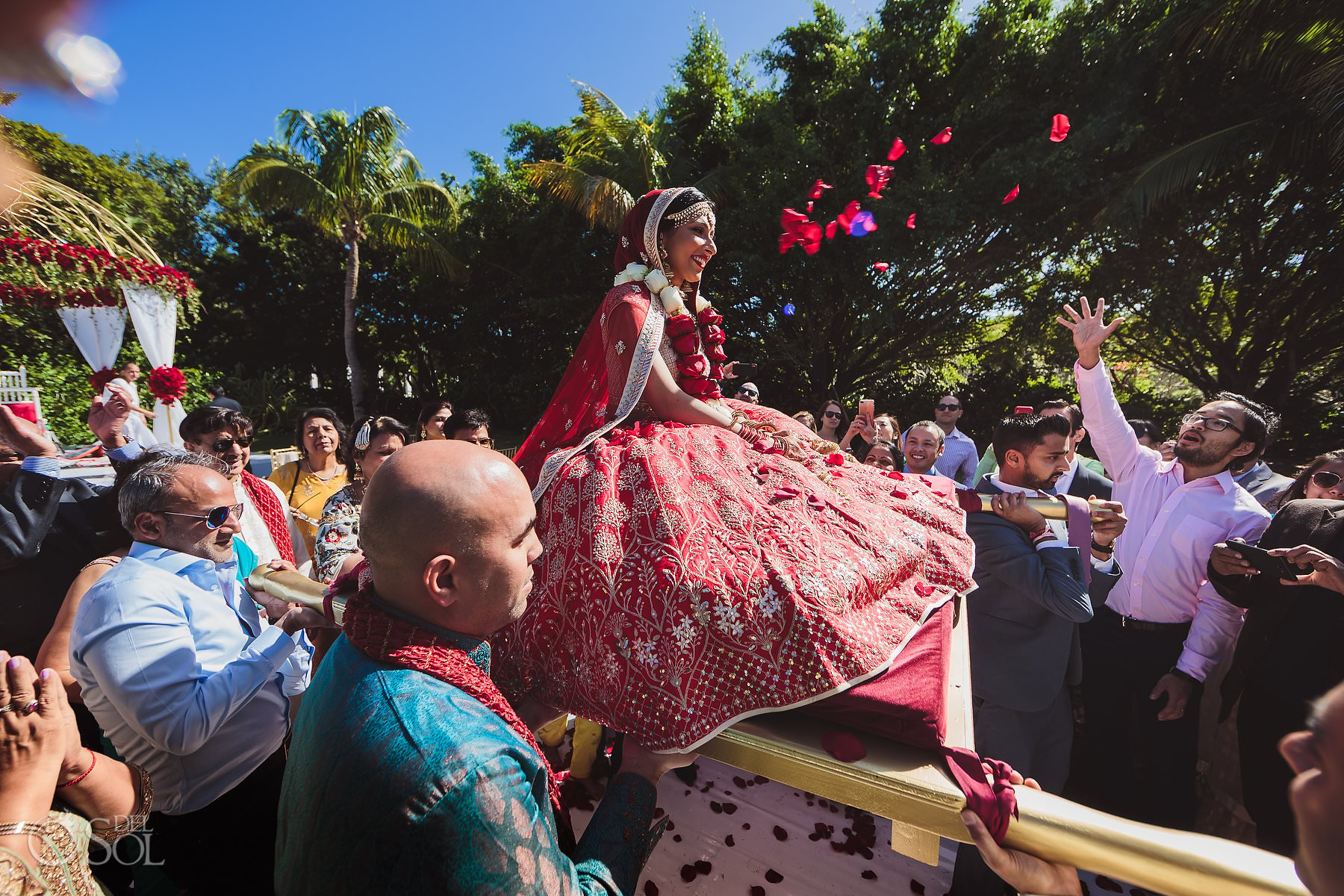 Del Sol: Any final words?
Sol Tamargo: "God, please make me Indian on my next life!! Thank you Eera for the gorgeous jewelry gifts! Mansi, my past Indian bride also gifted me with bling blings… so happy!!"
---
Stay tuned for the part 2 of Eera and Joe's Hin-Jew Wedding and be sure to see their beautiful Sangeet celebration!
---