Playa del Carmen Weddings
This is our blog about Playa del Carmen Weddings. The locals call it "Playa" and the town is set in the heart of the Riviera Maya. It's a major hub: 40minutes away from Cancun Airport, 45 minutes to Tulum and the starting point for all tours to colonial cities like Valladolid and Merida. Playa is all about options, flexibility and the ability to easily customize your wedding day.
---
Why choose a Playa del Carmen Wedding
Playa del Carmen has it all: all-inclusive resorts, private villas, condo-hotels, beach clubs and religious ceremony venues.  There's an option for all budgets and styles and you can mix any of the above as you like! Take inspiration from Michelle + Temo: they stayed in an all-inclusive, were married in the chapel on the 5th avenue and had their reception at a beach club!
*Check out Cori and Dax's EPIC playa del carmen wedding in a cenote.  They planned everything and all the guests stayed in Playa del Carmen downtown and wedding reception at Indigo Beach Club at the Oceanfront El Taj Hotel.
Trying to keep all your guests happy and entertained can be tough. But guests to Playa del Carmen weddings have loads of options. Playa downtown is easy and fun to explore: full of shops, restaurants, bars, and Clubs. 5th avenue is a must visit for souvenir shopping and photo ops like the mermaid arch to the beach, the Portal Maya. don't miss the 'voladores de Papantla' in the Parque Fundadores beside the "Nuestra Señora del Carmen" chapel. There is even the option to visit the Xaman Ha Mayan ruins inside the gated community of Playacar.
5th Ave in Playa del Carmen is WORLD FAMOUS.  Stretching more than 2 miles, this pedestrian-only street is full of shops, culture, and Mariachis every single day and a must see if you are visiting the area.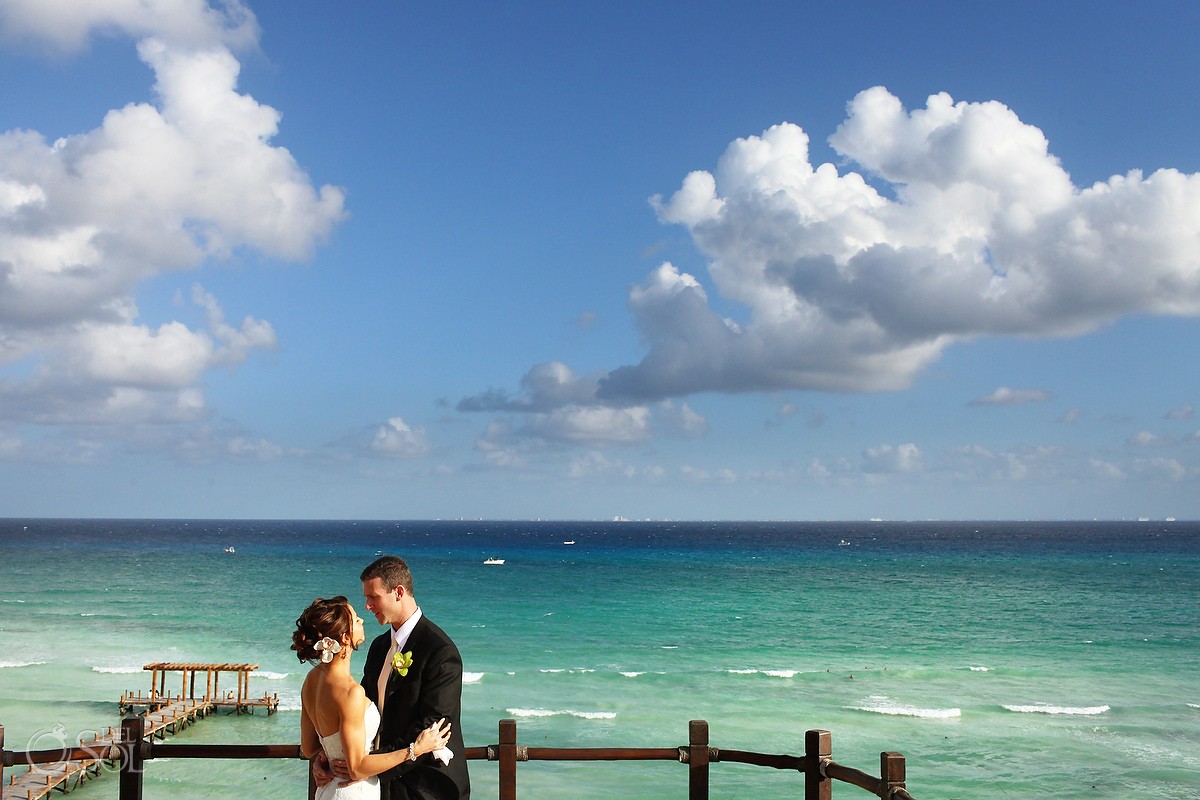 You can read more about our top 10 churches and chapels for Playa del Carmen Weddings here.
More feature on the El Taj Condo Hotels here.
---
About the Del Sol Photography team…  Sol Tamargo is pretty much a super star and is the only event / wedding photographer on the cover of a National Geographic Magazine .  Del Sol is the ONLY Mexican photography company named as one of the Top 10 wedding photographers in the world according to American Photo Magazine.   Matt and Sol were also named "Wedding Trailblazers" by Huffington Post for their innovations with a new category of underwater photography with brides and grooms.   You can read about the studio co-founders here:   Matt and Sol
---
We also offer a full service travel agency and can help you with venue suggestions paired with TONS of photographs and real stories that include testimonials and tips. www.delsoltravels.com


Our Archive of Playa Del Carmen Weddings