Epic Cenote Wedding Ceremony – Cori and Dax
While Mexican beaches remain unparalleled for their white sands and turquoise waters, we often venture off the playa during our visits. Cenote weddings and cenotes have become one of our favorite private spots to explore. We love these hidden gems with their secret subterranean caves and mineral-rich waters where the Mayans would communicate with their Gods. We're able to get lost in the jungle and immerse ourselves with the locals in these magical grottos; experiencing the wild flora and fauna not often seen in the resort areas.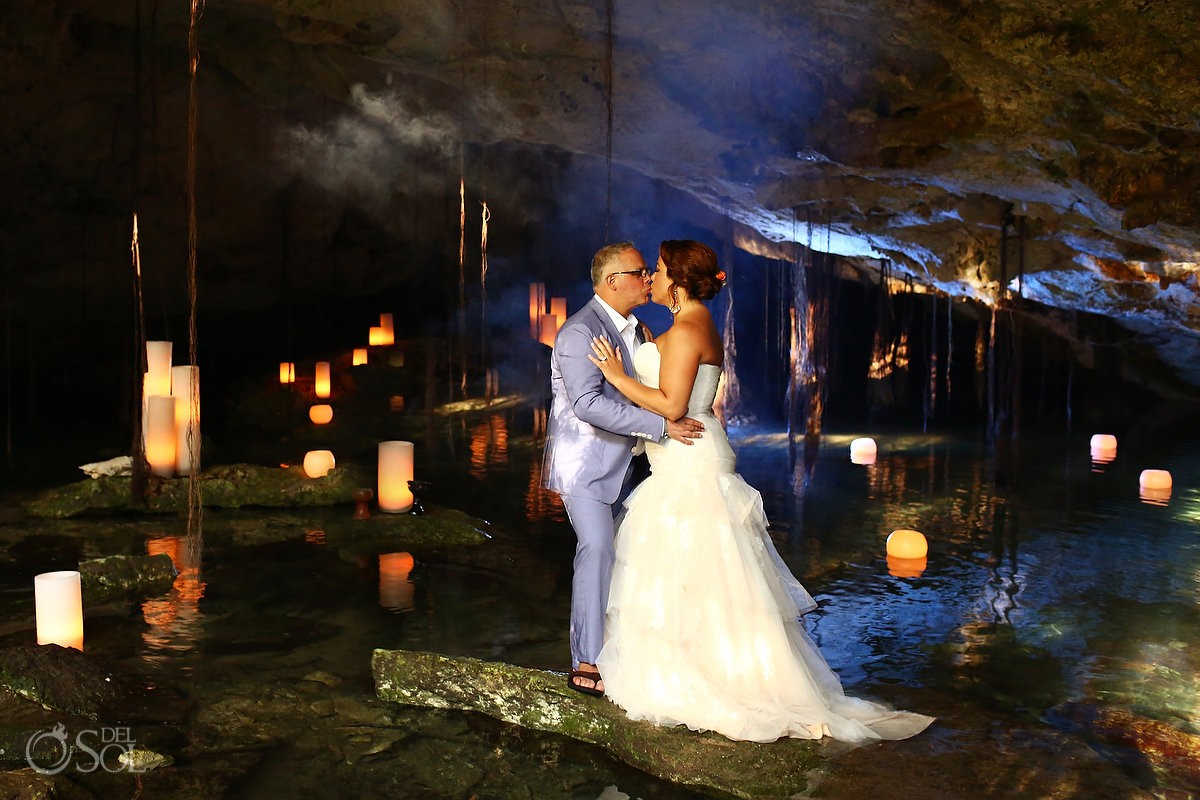 When we were planning our wedding we knew we wanted to escape the beach and take our guests – many of whom had never visited Mexico – deep into the jungle to plunge right into this sacred space. Cenotes are pure magic and the lush grounds and azure water at the cenote provided a mystical kind of backdrop for our wedding – allowing us to be married in nature's own church.
From the mariachi band-led stroll through the jungle to the Mayan purification ceremony to the dusk light piercing the streams of copal swirling around the cave, the significance, the seriousness, and the sacredness of the space could be felt by all.
When Dax and I chose to get married, we knew we were becoming much more than a couple, we were creating a family. This role of a step-parent, picking up a life that was begun many years before you, and without you, can be a challenging one. I wanted Dax's two sons to understand that I was making a commitment to them, as well as to their father. Though I may not have always been there, I would be always be there now. Before saying my vows to Dax (handwritten over oceanfront margaritas in a Sugar Skull "Decomposition" notebook, by the way;)) I said the following to the boys,
"Boys, thank you for sharing Dad with me, loving me and allowing me to love you with all of my heart. I may have not been there when you took your first steps or lost your first tooth, but I promise that now, I will support every step you take and never miss another first – tooth or otherwise.
I love you as though you were my own and I am devoted to making your life full of happiness and adventure, nurturing your creativity, encouraging your independence, and making sure you always know what a gift you are to this world. I vow to show you a happy, healthy partnership in my relationship with dad. And above all else, I vow to protect you, care for you and love you forever."
In keeping with the family theme, I expressed to Dax that he, too, was becoming mine in my vows, "You are my favorite person and I choose you to be my partner in this life. I vow to take you as my husband, you are my family, my heart is yours."
Gabriela de La rosa from Promisses Spiritual Ceremonies performed a beautiful ceremony, complete with the four of us combining four small bottles of sand to create one large, integrated bottle, symbolizing our family becoming whole…becoming one.
As I descended the steps into the cave and took in the soft glow of candlelight accompanied by the captivating acoustics of the mariachi band and soft lull of the laughter of family and friends, my breath was taken away.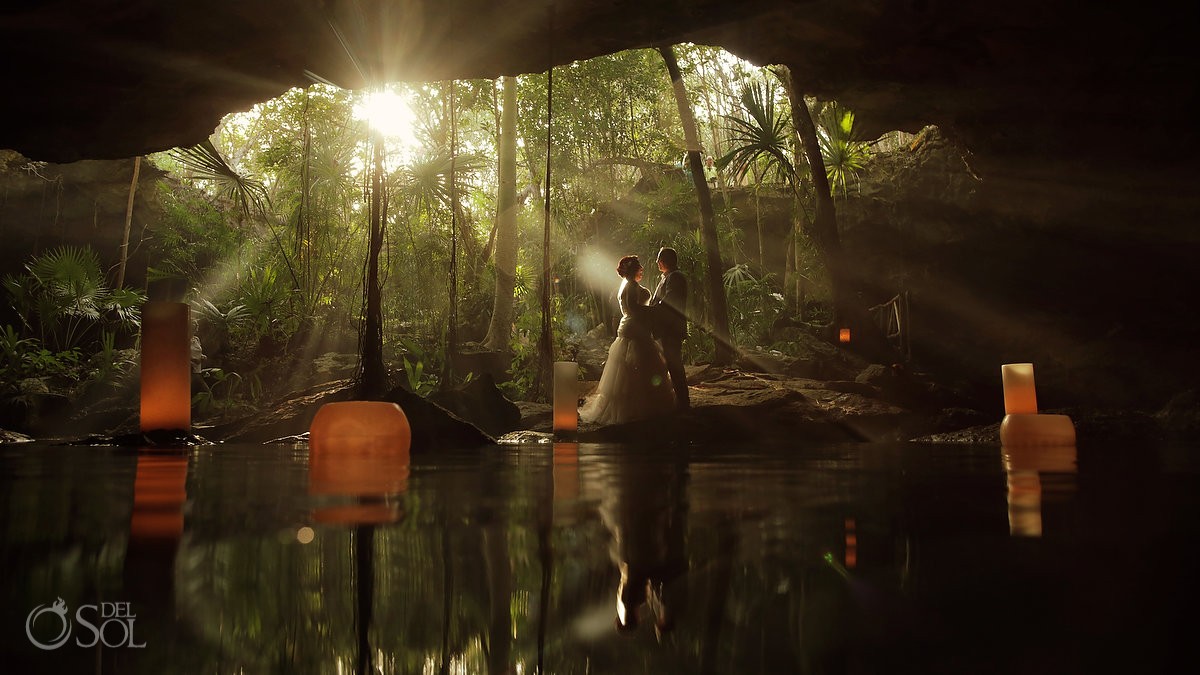 Marcus' candle installation in the cenote turned the serene and smoky cavern into a truly magical venue for our wedding. Among the stalactites and stalagmites carved by the underground river were nestled, and floating, candles of varying sized and shapes. This produced such drama – turning nature's own cathedral into a romantic and warmly lit cavern. The installation was such a gift and the lighting transformed an already magical moment into something otherworldly.
I am absolutely, head over heels in love with dogs – all sizes, all shapes, all colors, all kinds… I just want to pet all the dogs.
Whoever said diamonds are a girl's best friend, never witnessed me with my rescue puppy, Stout.
Sadly, after being with me through my engagement and then move in with Dax and his two sons (and experiencing all the good times which only two wild little boys can provide a dog), I was forced to put Stout to sleep to ease his pain from a cancerous growth in his throat. This happened about a month before the wedding, he was 12 years old. I like to think that, almost like a furry guardian angel, he saw me into the next stage in my life, knew I had a family to love me, and determined his work was done; he was safe to leave me on my own. I miss him terribly.
When Joyce took us on a sight visit of the cenote a few days before the wedding, I was overjoyed to see that NINE of the owner's dogs lived at the cenote. As they each ran to greet me and flopped over for belly rubs, I was reminded of my best buddy, Stout. The cenote pooches were playful and frisky, each vying for attention and cuddles.
I told Joyce, "I want these perros everywhere! I want them to walk me down the aisle, I want them to run alongside me through the jungle! I want to pet them all!"

And, in just like every other aspect, Joyce and the lovely people of the venue made my dreams come true! The cenote pups met me in my gown, slobbed all over me for kisses and pets and accompanied our guests – and the mariachi band – through the jungle and to the cenote! It was such a fun and lighthearted touch. And on the most important day of my life, in spirit, it helped me feel the love of my own lost dog, Stout.
The walk down Fifth, and the quiet time Dax and I discovered within that festive atmosphere of well-wishers was a once-in-a-lifetime experience. Somehow every piece of Playa found center stage: the Voladores de Papantla, the mermaid statue, the charming church, the sunset! How are we so lucky that every star on this planet aligned to shine its light over this lovely town in Mexico, and in turn Dax and I, on February 25th? Thank you for your creative genius, for your willingness to help paint this picture, for your playfulness and your partnership. As the night wound down and we basked in the glow of a full, yellow moon, lulled by the sound of the surf and satiated with fine Mexican fare and salty margaritas, we've never in our lives been happier.
It was as though Joyce peered into a tiny door in my mind when she planned the reception. The décor was colorful and light; quintessentially Mexican. She worked with the venue to ensure the food was divine and the service top-notch. We, and our guests, felt welcomed as family and friends. Joyce, her team, and her suggested vendors made our wedding and reception seamless, worry-free, and timelessly beautiful. 
It's quite a leap of faith to communicate your vision with someone via a phone call or two, a handful of emails and a shared Pinterest board and then hope (!) the person on the receiving end translates these ideas through conception to reality…from a mere 2000 miles away. Joyce became that person to us. Calm and self-assured with strong connections to local vendors, she gifted us with a wedding that was part fairytale, part larger-than-life movie-moment; an absolute dream come true.
The cenote was a fantasy; I still can't believe it was real. My head is spinning from the enchantment Marcus, Del Sol, our friends at the cenote and Joyce created in that sacred space. From the lilt of the mariachi band's song, to the brilliantly bright blossoms of my bouquet, to the lights and the candles and the petals and the copal… pure, unadulterated magic. I've never seen anything more special, purer in its perfection, in my entire life.
AMAZING incredible words by the wonderful Cori – Thank you!!
---
IF you love this wedding, we have an entire page about "Cenote Wedding Ceremonies" and Cenote Weddings as well as Cenote Vow Renewals
---
Photographers – Sol Tamargo
Assistant Photographers: Matt and Polly
Video by Matt and Alex
"I couldn't have been happier with our vendors. I recommend each of them with the highest of praise" – Cori
Reception Location: Indigo Beach Club
Wedding Coordinator: Joyce Mnguni – Dream Weddings Riviera Maya
Candle Installation: Candle Boutique
Hair and Makeup: Styling Trio Riviera Maya
Gown Boutique: Mori Lee
Florist: Jardin Floreria
Officiant: Gabriela de La rosa – Promisses Spiritual Ceremonies
Mariachi Band: Party Planet Productions
Transportation: Private Transportation Riviera Maya
---
https://delsolphotography.com/wp-content/uploads/2016/10/Riviera-Maya-Cenote-Wedding_CD_cover.jpg
801
1200
Matt
https://delsolphotography.com/wp-content/uploads/2022/04/delSol-new-logo-340px-copy.png
Matt
2016-10-25 10:06:56
2023-03-28 07:03:11
Epic Cenote Wedding Ceremony – Cori and Dax