Gazebo Wedding Secrets Playa Mujeres – Meldina and Brett
"The day of the ceremony I was in the pool and was having a great morning with my sister and friend. Something made me look at the gazebo and I had finally realized, 'oh my God I'm getting married'. I freaked out a bit, not the runaway kind of bride freak out though!" – Meldina
Do you remember that incredible feeling you had the morning of your wedding? Or how you imagine you'd feel if it was your big day? For Meldina it was rollercoaster but, despite crying a few tissues in half, nerves turned into happiness and excitement.
 … The ceremony was very emotional, something I didn't expect to be at all. I stood there reading my vows and I couldn't stop shaking. I was so nervous, excited, happy and petrified at the same time, but I was never so sure of anything in my life!"
---
For information about planning your travel and room blocks for Secrets Playa Mujeres weddings, contact us!
Del Sol Photography is a preferred vendor at Secrets Playa Mujeres weddings for luxury photo and video services. That means there is no vendor fee to hire us!
---
"After the ceremony was done I realized that things may not always go as planned and be perfect but if the person that is next to your side is willing to cross and conquer those bridges with you that is all that matters. You have a partner for life." – Meldina
Don't forget crying on your wedding day is good luck! According to tradition, it means the bride has cried all her tears and won't have any left to shed during your marriage. If this happens to you, just let it out, don't forget to pack your waterproof mascara, just in case!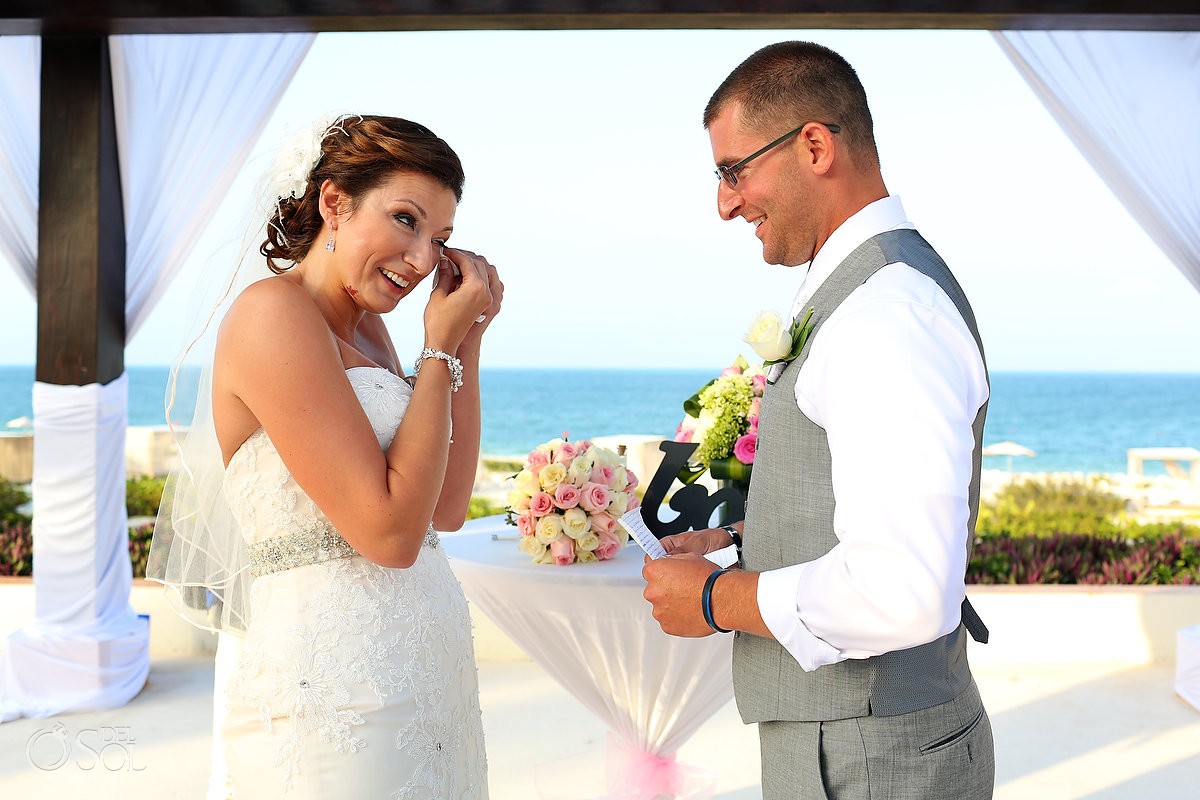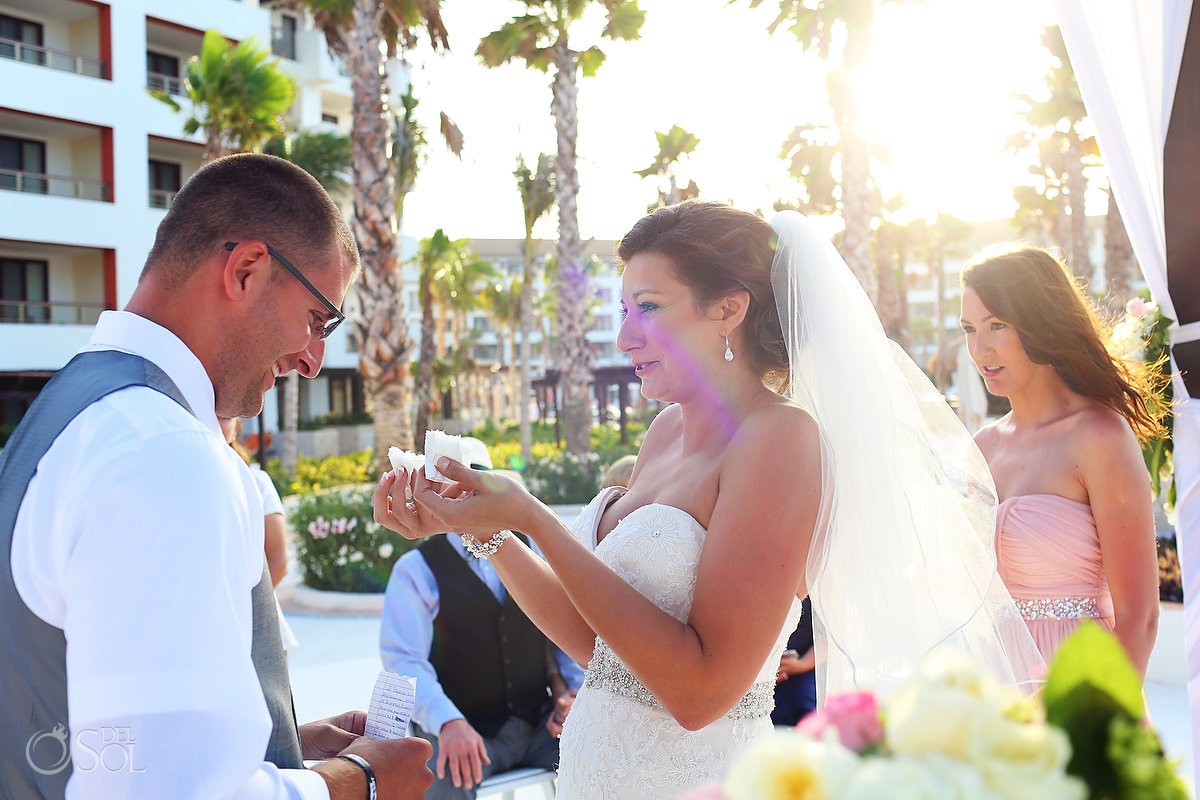 Meldina and Brett lived across the street from each other for years, but that's not where their love story started. Despite the efforts Brett's brothers to get the two together, Melinda was too shy and eventually, she moved and Brett went into the Navy. They didn't meet again until years later at a mutual friend's wedding where they first really connected and knew they were meant to be together.
The wedding was special to me because Meldina and I met at a wedding 2 in a half years ago… I remember meeting her there and imagining what she would look like in a white dress. Our relationship is amazing because I used to live across the street from Meldina, and even though I am younger, I always used to admire her. I consider myself the luckiest guy in the world to have such a wonderful and beautiful wife along with a great step son. – Brett
Gazebo Wedding Secrets Playa Mujeres Testimonial
We were delighted to capture their wedding day and to hear they felt the same way about our team! We were delighted to be a part of Meldina and Brett's story. We're so happy to hear that they had a great time with the del Sol team too!
 I am so blown away by your whole business and team and cannot say enough of good things. Our photographer was an absolute sweetheart, creative genius and like a new best friend I didn't want to loose. She made us laugh and feel so comfortable and relaxed. My whole family was sad to see them go especially me. I had to give them a big hug goodbye and didn't want to let go. Her assistant even helped Brett hem his pants because they were too long."- Meldina
---
Wedding Venue: Secrets Playa Mujeres Infinity Terrace
Gazebo Wedding Secrets Playa Mujeres Reception: Infinity Terrace
---
https://delsolphotography.com/wp-content/uploads/2015/07/Secrets-Playa-Mujeres-Wedding_MB_0091.jpg
800
1200
Polly
https://delsolphotography.com/wp-content/uploads/2022/04/delSol-new-logo-340px-copy.png
Polly
2015-05-08 15:50:50
2019-07-30 10:09:23
Gazebo Wedding Secrets Playa Mujeres – Meldina and Brett