Paradise in Quarantine – Quintana Roo from the air
Aerial Photography – Cancun, Playa del Carmen, Isla Mujeres and Tulum
"I've visited all of the best-known tourist spots in Mexico, surrounded by friends and great people. I've seen these places from the ground many times. Now completely closed, I decided to make a documentary of the current state of epic landmarks without any visitors at all.- Matt Adcock"
Photos and text by Matt Adcock. If you want to share or use these photos, we have some sharing requirements. You can read them here.
Editors note.  There was no photoshop or manipulation other than color toning and cropping.  These beaches are 100% without seaweed and forbidden for all visitors. This Cancun area aerial photography tour is something I've been thinking about for a long time.
The final tourism statistics for 2019 are still yet to be announced, but it is estimated that nearly 44.7 million tourists visited Mexico last year. Today, she sleeps.   Set to reopen the borders for tourism on June 1, Quintana Roo, and the region is taking a big rest.
Cancun Hotel Zone during 2020 quarantine
One of the most difficult things is sitting here, not knowing what is going on out there.  Not being able to see the things that make me happy to see.  I've always loved visiting many of these spots.  I've seen them from the air a few times but for the most part, by land or touring around.  Many many of these hotels or tourist attractions and locations, I've personally visited a lot over the last 15 years.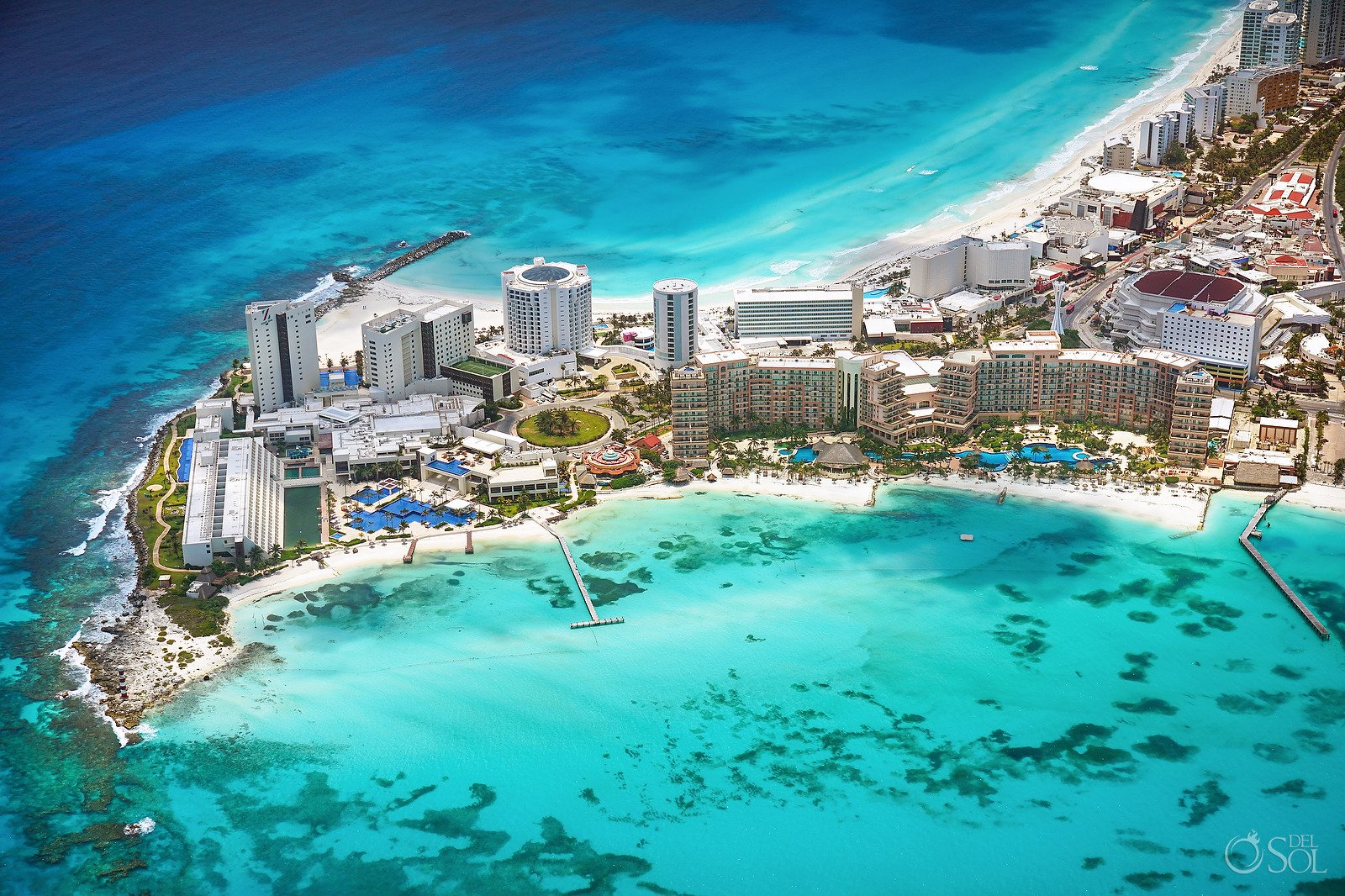 Cancun just celebrated 50 years in April 2020.  A massive land investment plan to bring tourists from all over the world.  Easy to see in these photos why. The color of the ocean is just mind-blowing.  You almost want to eat it like candy.
I wanted to take an opportunity to go on a tour.  I will likely never in my life be able to see the landscape we have populated without tourists or people frequenting the sites.  This for me is a once in a lifetime opportunity to see something so impressive.  Towns and cities and world heritage sites without visitors.  Oddly, when I took off, I felt like I was on a reconnaissance mission.  The results left me speechless.
Now, Cancun has no tourists.  The airport sits vacant. This eery photo of no airplanes, the lower-left corner features the rental car parking lot. Each car is fit like a perfect complete Tetras board.  This place has been a BOOM town and now for the first time in its life, it rests.  Places and animals that are enjoying this rest from tourists as the turtles swim freely in the Akumal Bay to find their seagrass to munch on, and in peace.
Aerial photography of Akumal Bay – Riviera Maya Mexico
The Riviera Maya has many amazing small cities like Akumal and Puerto Aventuras.  The entire coastline is highly recommended and hosts some of the most beautiful ocean views and eco-tourism activities that are world-class amazing.
The Akumal bay beach is one of the most famous spots in the Riviera Maya.  This popular hotel of "Secrets Akumal" can be seen closely without any visitors on the beach.  Akumal usually has tourists walking the beaches with swimmers in the water and tours visiting the turtles.
Aerial photography of Xel Ha Park – Riviera Maya Mexico
According to Experiences Xcaret,  Xel-Há opened in 1995 and has received approximately 650,000 visitors a year since then.  This beautiful lagoon is actually a freshwater aquifer. They are also called "Caletas" and also knows as cenotes.  The lagoons have cave entrances where hundreds of thousands of gallons per minute of freshwater is filtered out of the aquifer system.  They are always filled with tropical fish and sealife, feeding off of the bits that are being distributed into the ocean.
Aerial photography of Yal Ku Lagoon Akumal- Riviera Maya Mexico
Cenotes and these caletas are also one of the reasons the world's 2nd largest barrier reef exists, the Mesoamerican Reef or the Great Maya Reef.  The reef is a marine region that stretches over 1,000 kilometres (620 mi) from Isla Contoy at the tip of the Yucatán Peninsula down to Belize, Guatemala and the Bay Islands of Honduras.  This cenote is located in Akumal, called the Yal Ku Lagoon and is an amazing place to snorkel and see tons of reef fish and occasionally massive schools of sardines resting in the sanctuary preserve.
Aerial photography of Xcaret Park – Riviera Maya Mexico
Xcaret Park in Mexico was visited by nearly 2 million people in recent years, which makes it the third-most visited amusement park in Latin America and the second most visited amusement park in Mexico.  In April 2020 until the end of May 2020, the park will remain closed.
Aerial photos of Tulum Ruins archeological site – Riviera Maya Mexico
I've visited all of these places, sometimes the number of tourists is overwhelming. They seem so peaceful, so clean.  The detail of the bottom structure is pronounced.
Tourist areas like the Tulum Ruins are the third most-visited archaeological site in Mexico, after Teotihuacan and Chichen Itza, receiving over 2.2 million visitors in 2017.  Today, all archaeological sites in Mexico are closed to visitors due to the 2020 quarantine.
Aerial Photos – Coba Archeological Site
45 minutes from the Tulum ruins, heading west are the magnificent archaeological grounds of the Coba ruins.  There are many pyramids and sites to visit when touring the grounds. Perhaps the most famous and always crowded with hundreds of climbers is the pyramid of Nohuch Mul.
Isla Mujeres
Aerial photos during quarantine of Playa Del Carmen