Xcaret Destination Wedding
Andrea + Todd
"Our Hotel Xcaret destination wedding has added to our legacy by continuing our theme as a couple: be different, stay positive, change the narrative." – Todd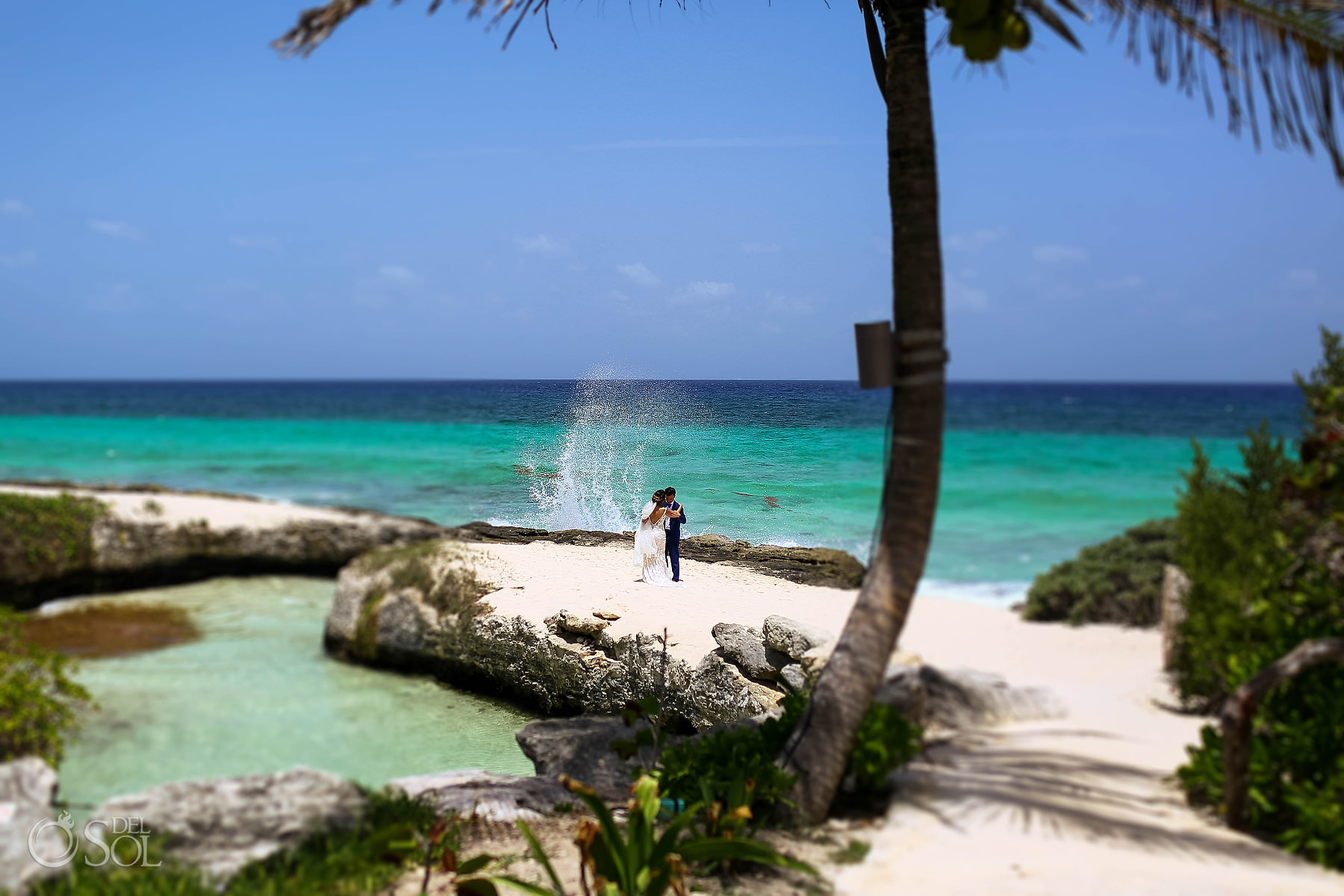 Todd and Andrea came to Hotel Xcaret Mexico a few months ago and celebrated an amazing experience in one of the most beautiful paradises in the Riviera Maya where they did a Save The Date portrait session with our amazing co-founder Sol Tamargo.
Along with Xcaret Park, the Hotel Xcaret Mexico wedding locations coupled with the main park's features make for a very vistually epic destination wedding experience.
Del Sol: It's amazing LOVE brought you here to do a  Destination wedding! Why did you Travel for Love?
Andrea: "Traveling has been a part of who we are as individuals and as a couple since we met. Todd travels a lot for work and I've always wanted to see the whole world. We aren't super traditional people and we both have had great experiences at friends' destination weddings in the past. Having a destination wedding is something we both had in our heads from before we even met each other and we were on the same page and decided to have a Hotel Xcaret Destination wedding."
"Why not keep that open mind and heart and set our forever and travel for love?" -Todd
Todd: "From birth, travel has been apart of who I am. Born in Bogota, Colombia, at 3 months, I "traveled" for life with my adopted family…fast forward, I have traveled a significant amount for work and with Andrea because we enjoy experiencing life…"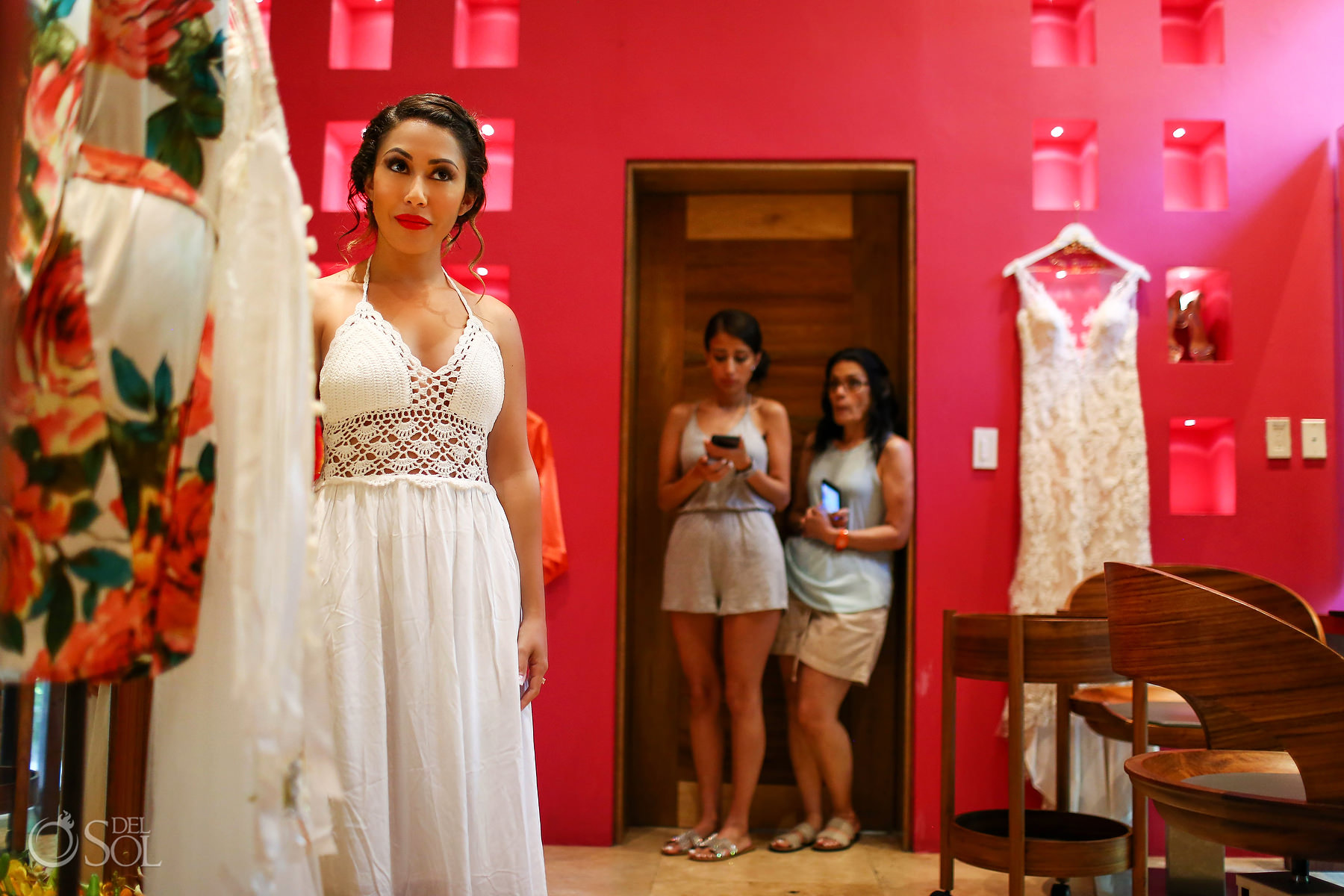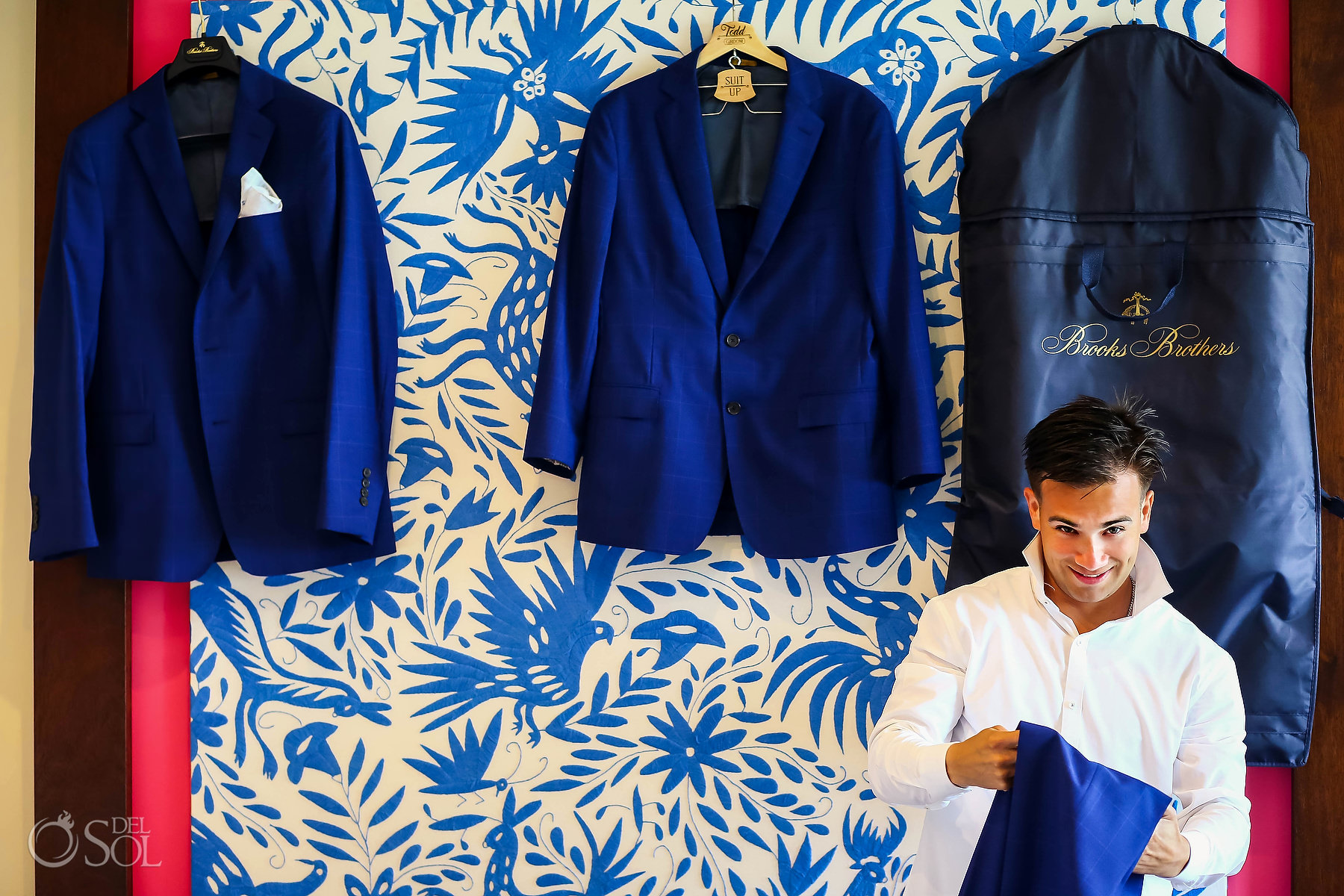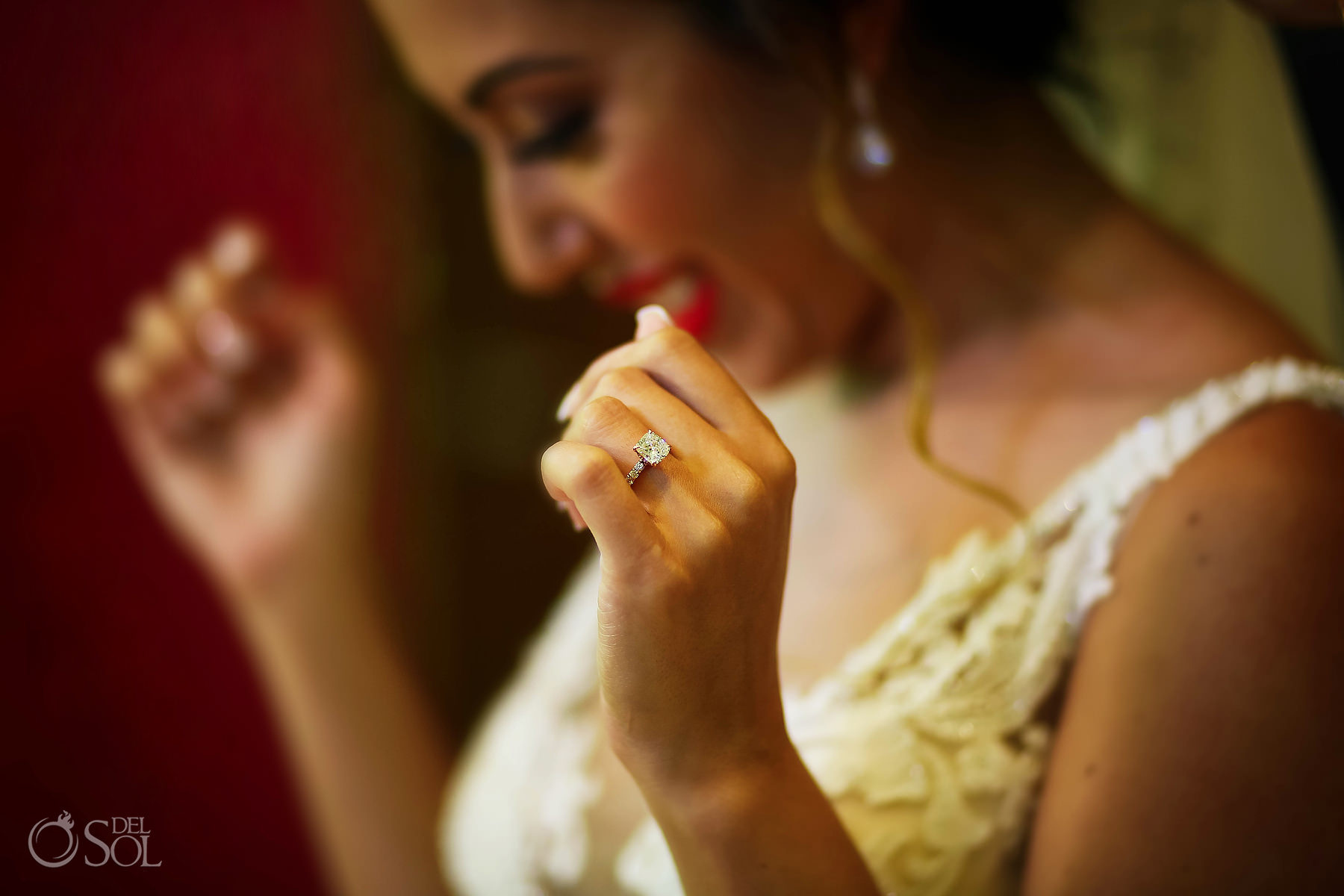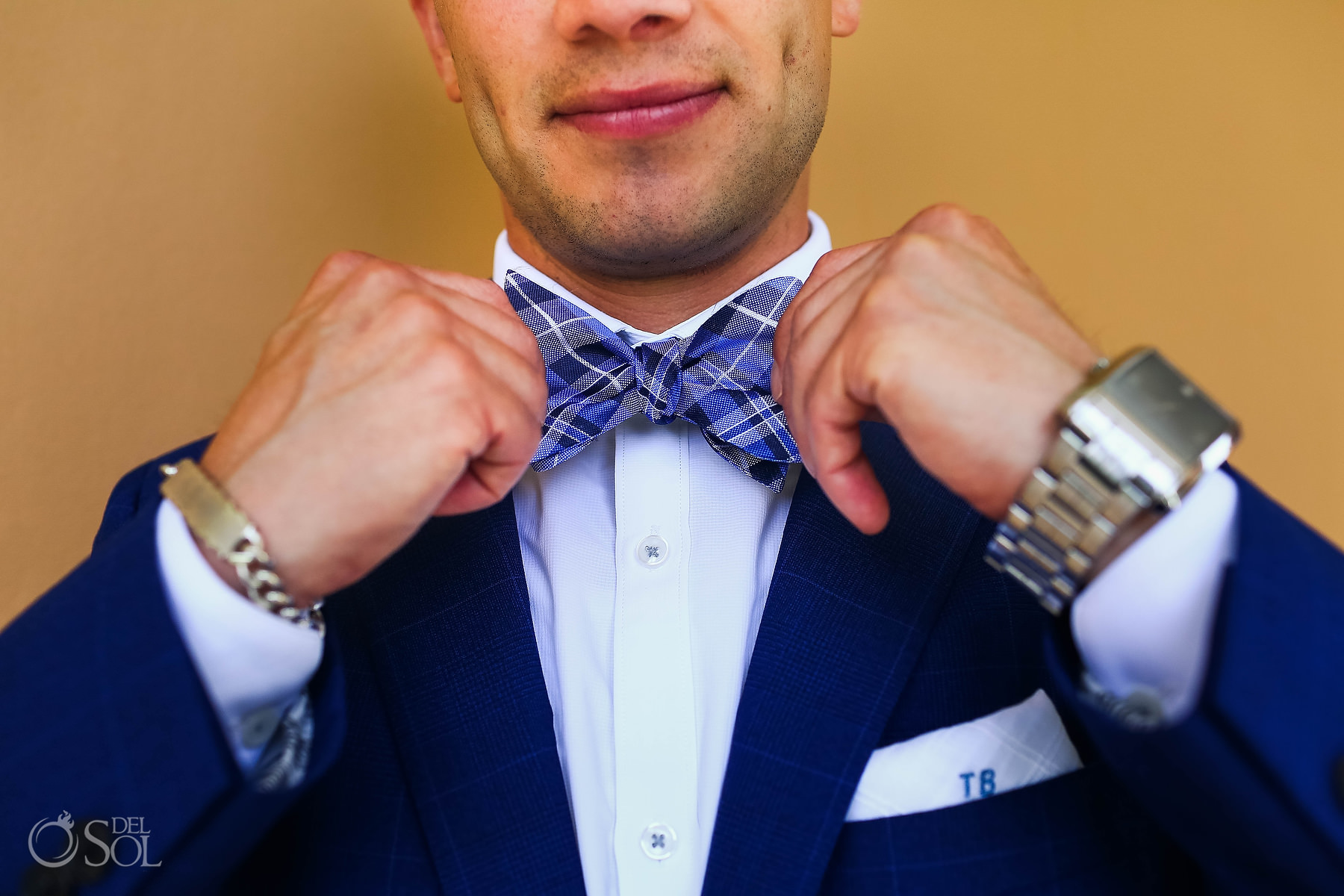 Del Sol: You guys chose to do a first look before your wedding ceremony!
Andrea: "Actually I wanted nothing to do with the first look for a long time. I wanted the first time Todd saw me when I was walking down the aisle. Logistically, it just didn't make sense for what we wanted- after the ceremony we wanted to be able to spend cocktail hour with our guests and we also wanted longer than an hour to do photos so after talking to the Del Sol team they reassured me that my fear of it being an "awkward moment" wasn't accurate and, done the right way, it could be very special. And it was!
"the First look wound up being one of my favorite moments and it was so nice to have it captured on film." –  Andrea
Todd: "We wanted to avoid as many "wedding usuals" as possible with our wedding, the first look being one. I am actually truly happy Del Sol recommended it & was truly ecstatic with the location and the subsequent photos. That private moment was really cool. I knew she would look flawless in her dress but to see the perfection of every ounce of her made me happy for her, knowing how much time and effort she put into the day. Also I was so happy to put on the watch she got me, I absolutely loved it and was pleasantly surprised at such a thoughtful, awesome gift."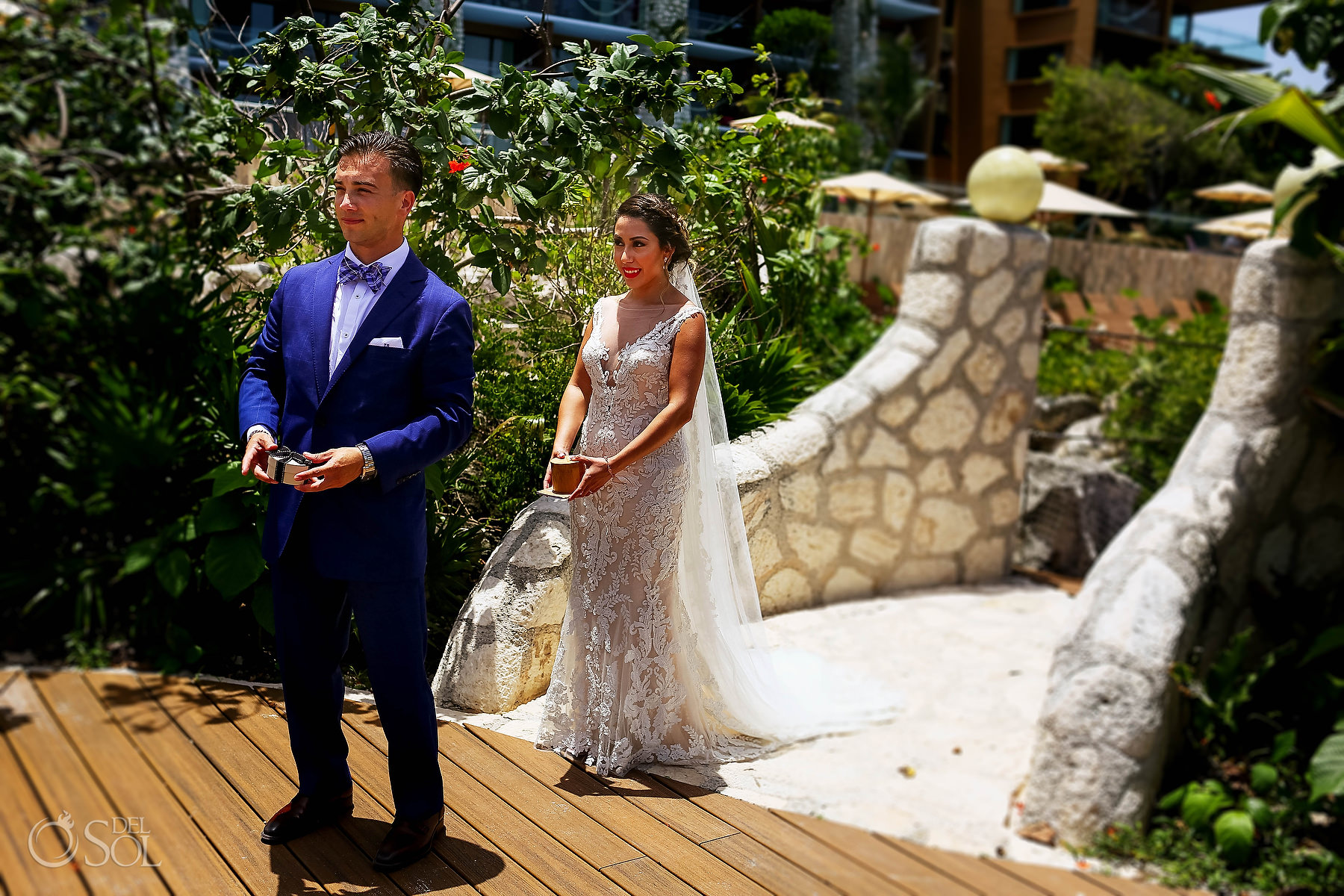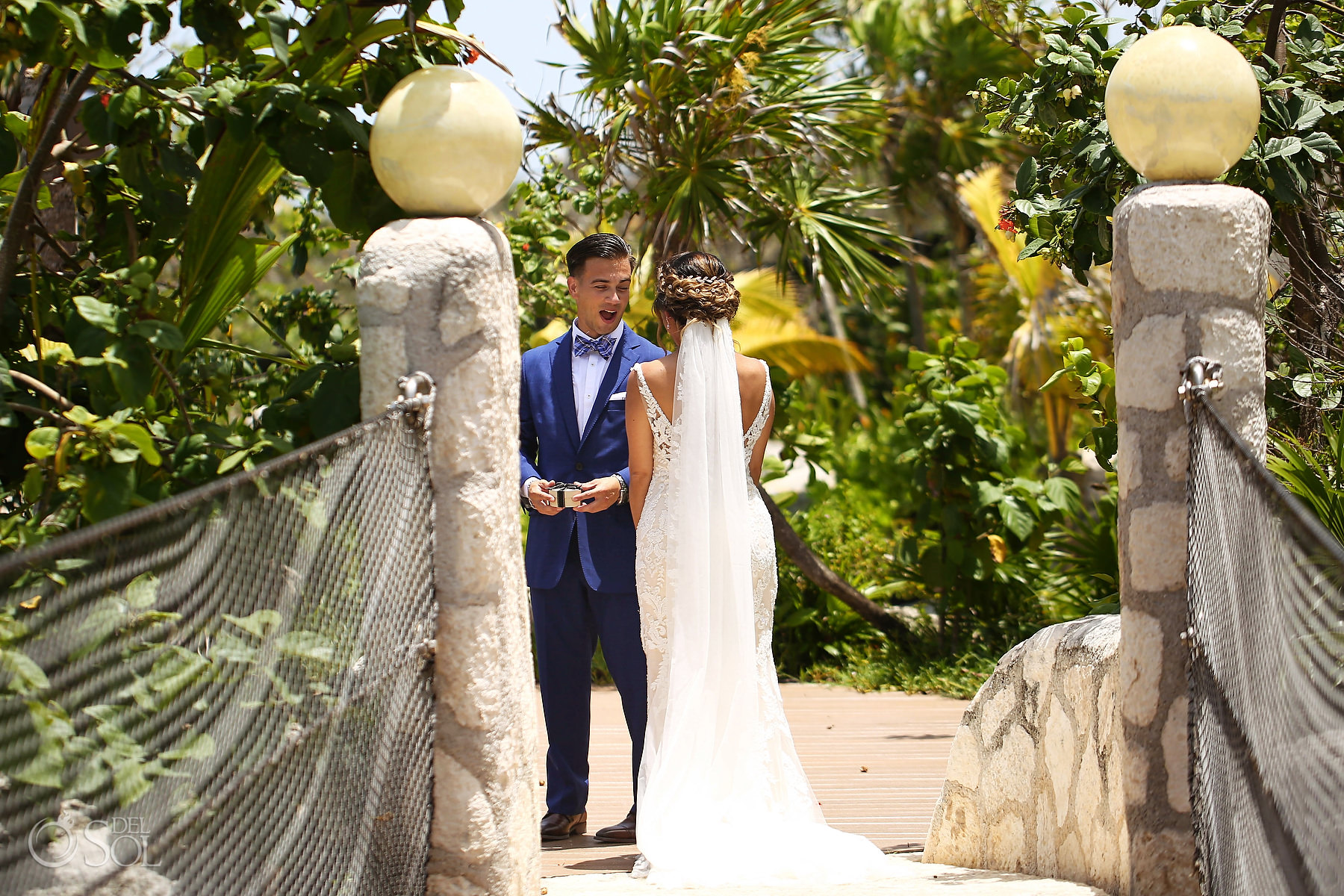 Del Sol: You did your first look in the "Caleta" of Hotel Xcaret Mexico – It was fun to see you in the same spot you had been taking your engagement photos with Sol a few months prior!
Andrea: "It was definitely nice that we had worked with Sol before, we were already aware of her style and way of doing things which made the process very easy and relaxing. The location reminded me of something from The Bachelor when they give out the final rose! It was a beautiful spot surrounded by nature and it allowed for some spectacular photos."
"Andrea and I felt a special connection with Sol and who she is, represents and what her and her team are capable of." – Todd
Todd: "One of the selling points of Hotel Xcaret is the 360 views and then the Caleta in particular, photographs and videos so well, with little to no bad backdrops for a photo opportunity. The colors, sights and sounds is all serenity, which made for a perfect moment. Having been in that area before, it did feel like familiar territory but more importantly, having spent an amazing few hours a couple months prior."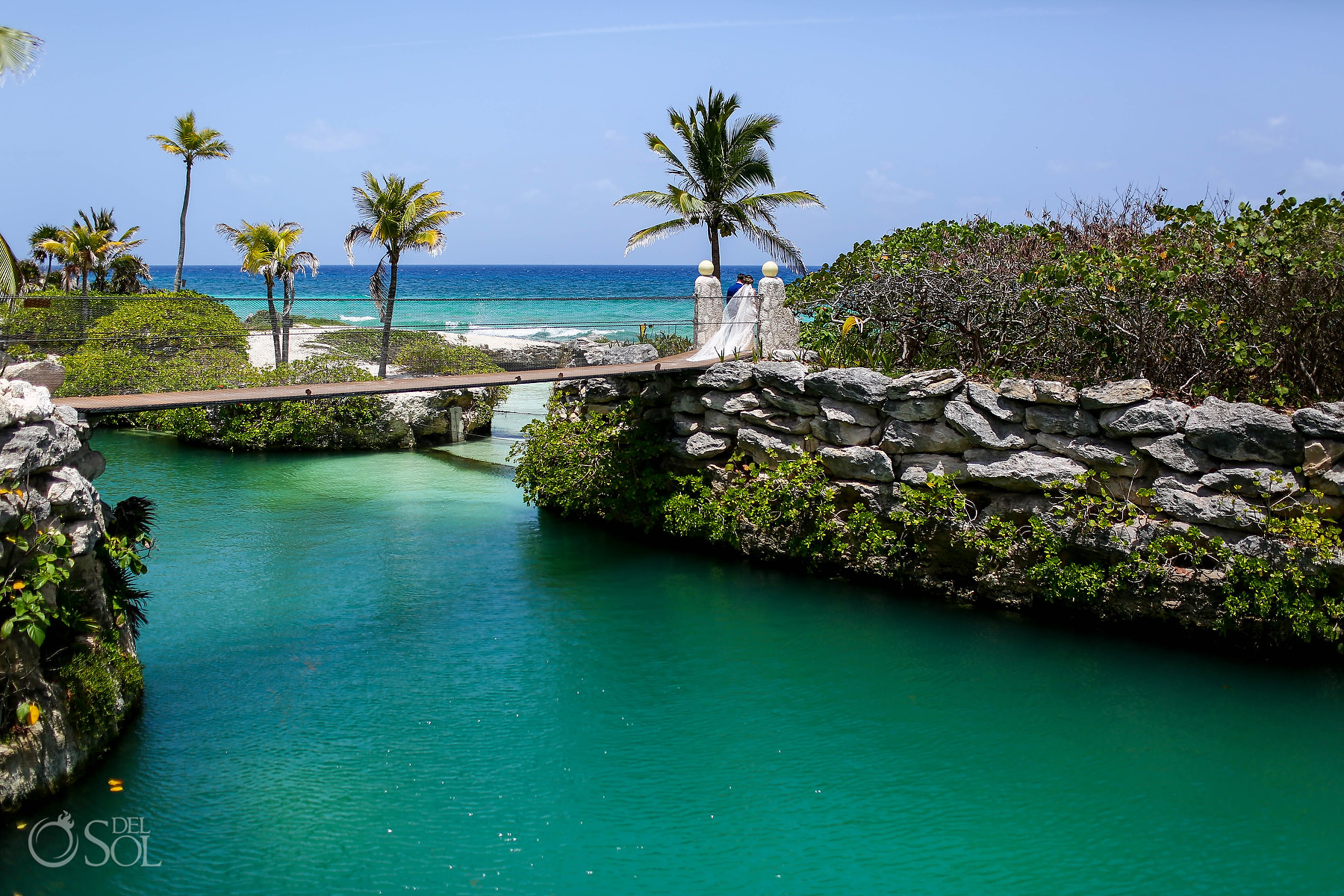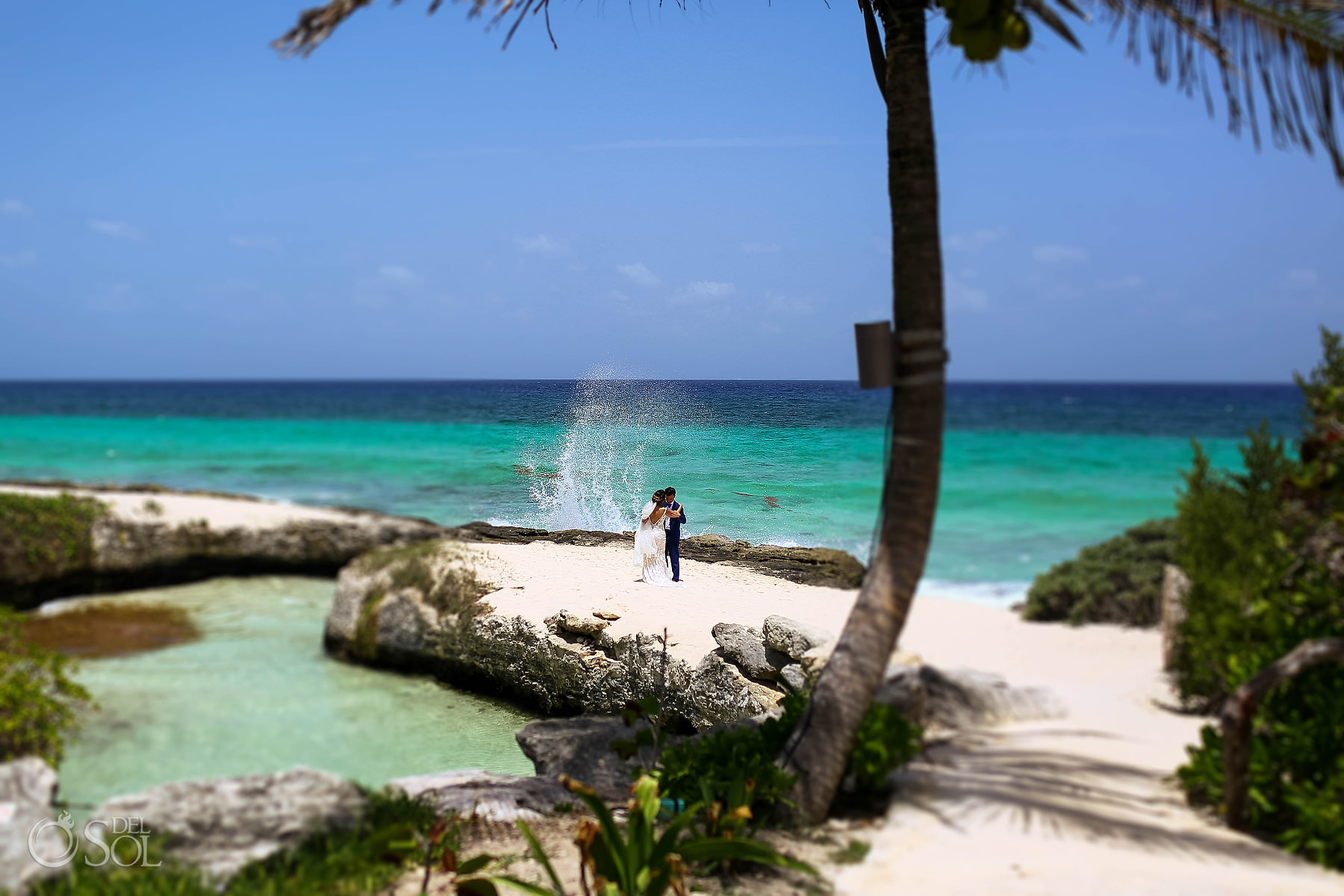 Del Sol: You then had a portrait session around the amazing Xcaret Park.
Andrea: "We loved all the locations we shot at! Especially the very random ones that Sol seemed to choose as we went, based on lighting – I'm sure they turned out amazing! The site I was most excited about prior to shooting was the big cross with the circular walls of candles, I cannot wait to see how those look!"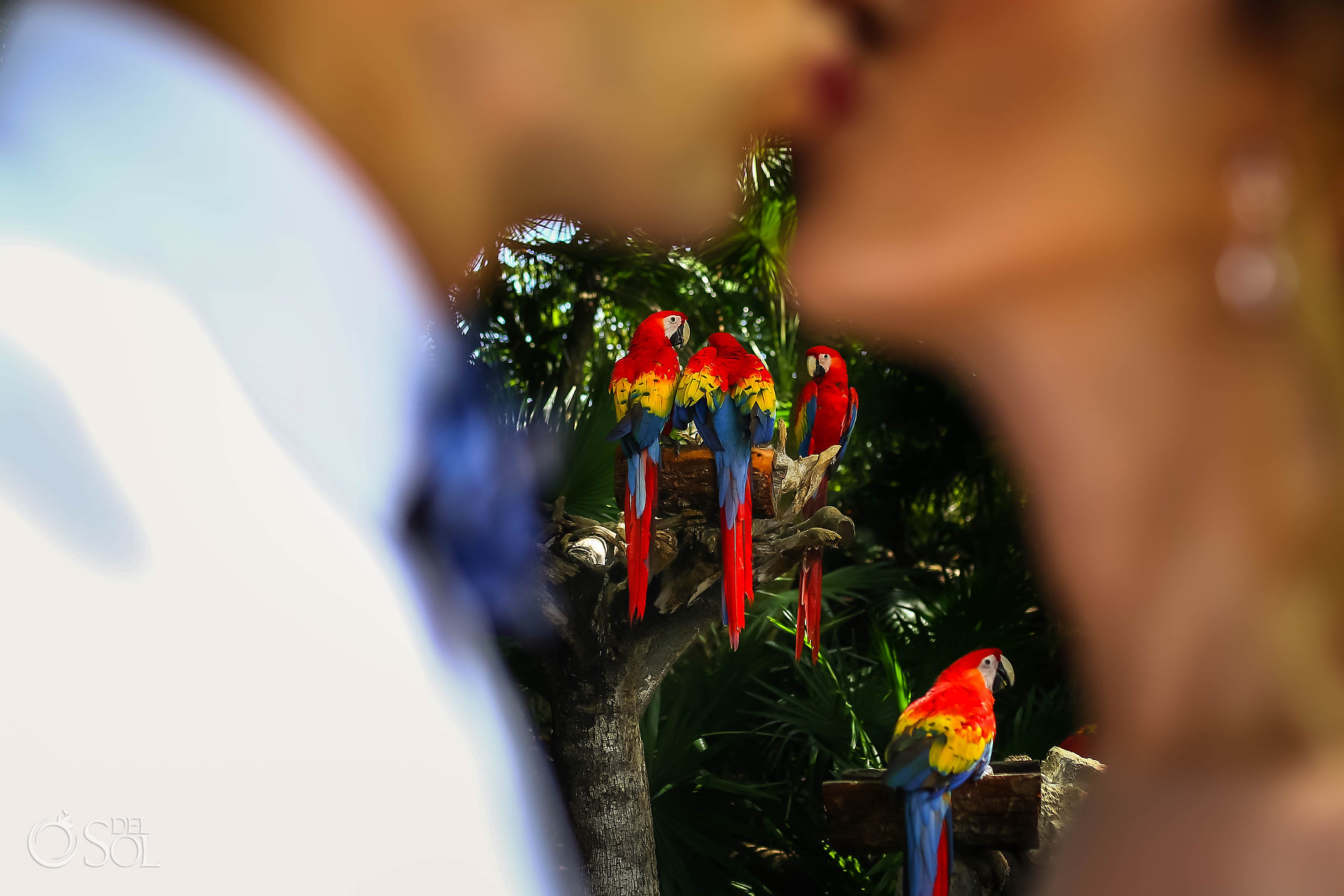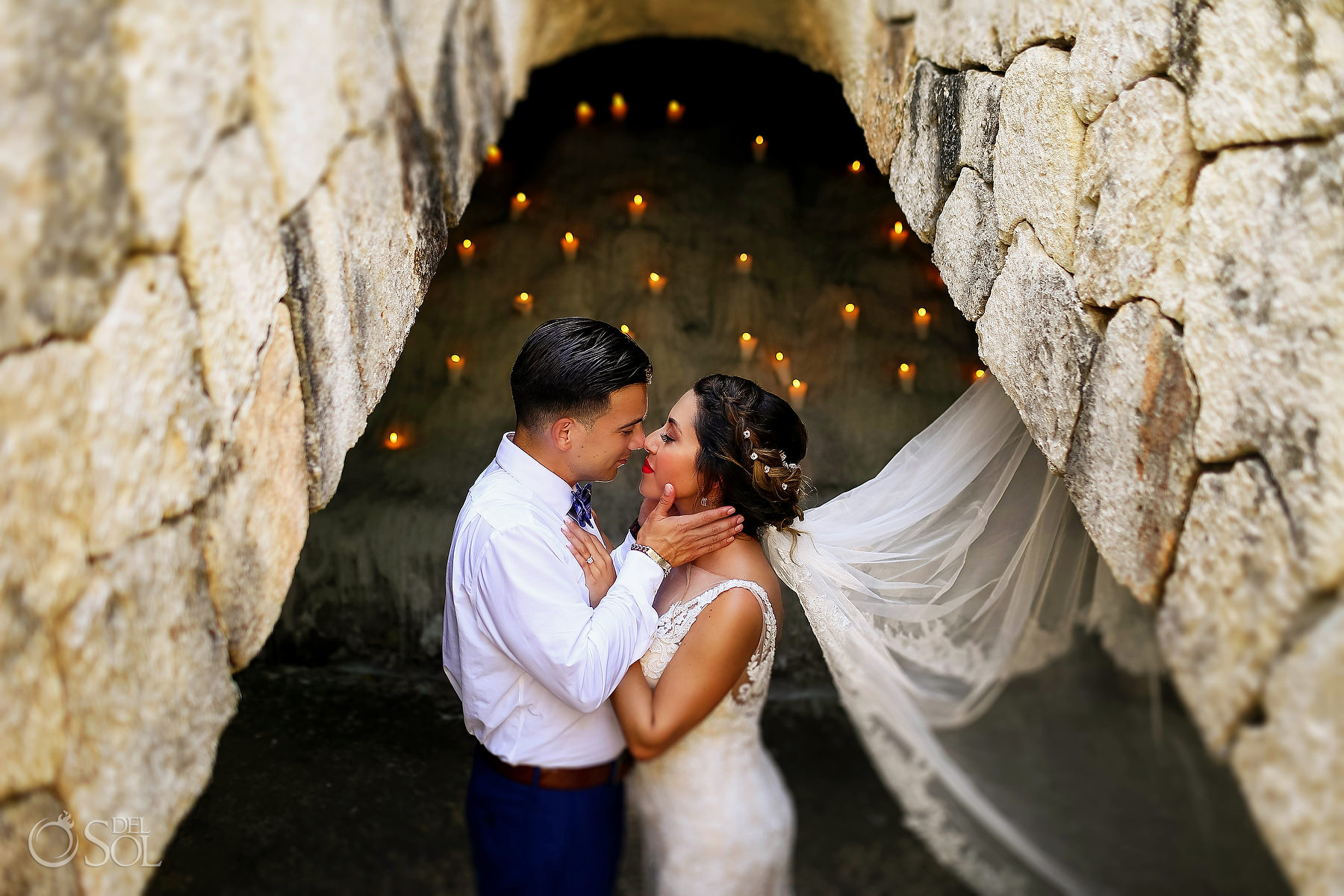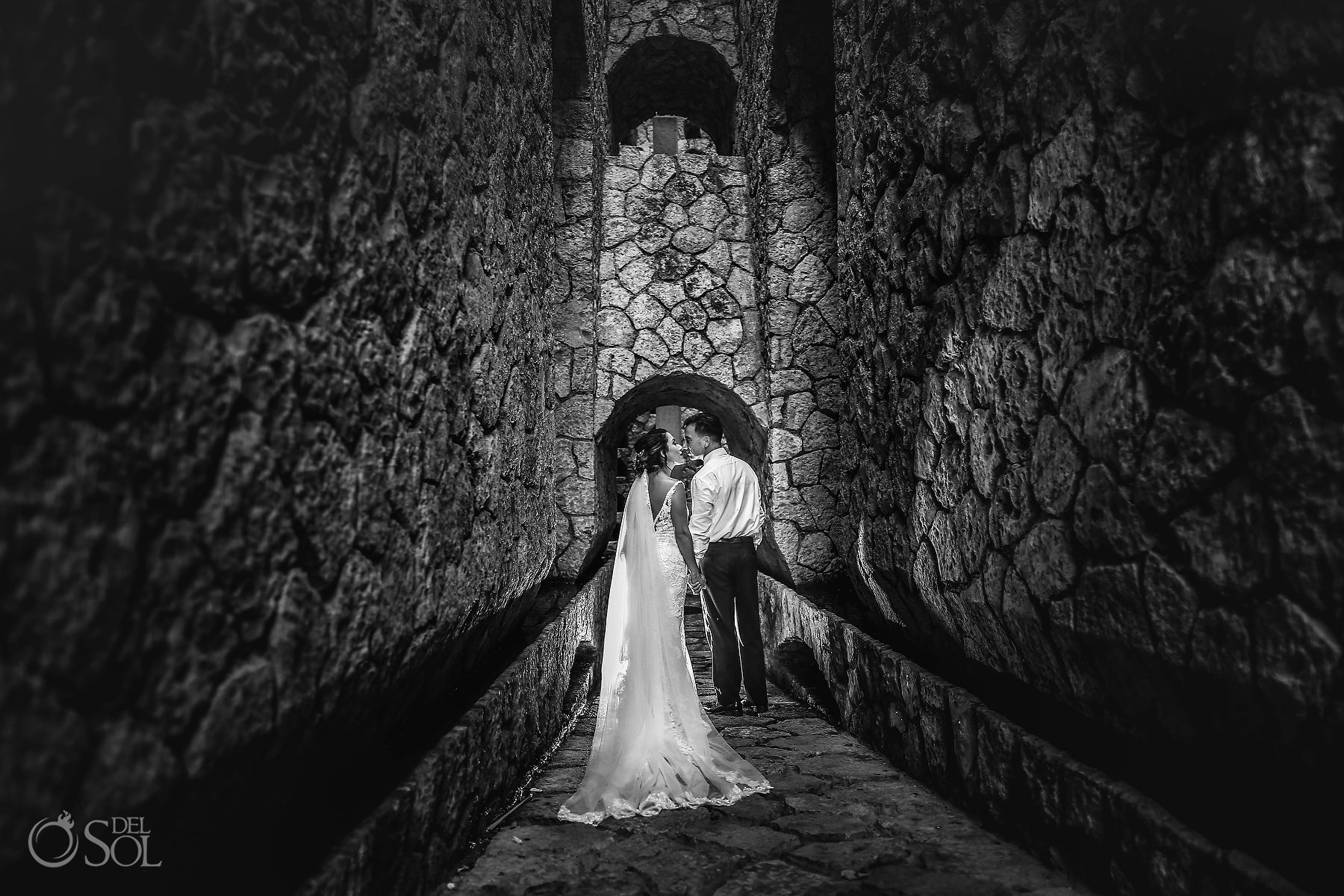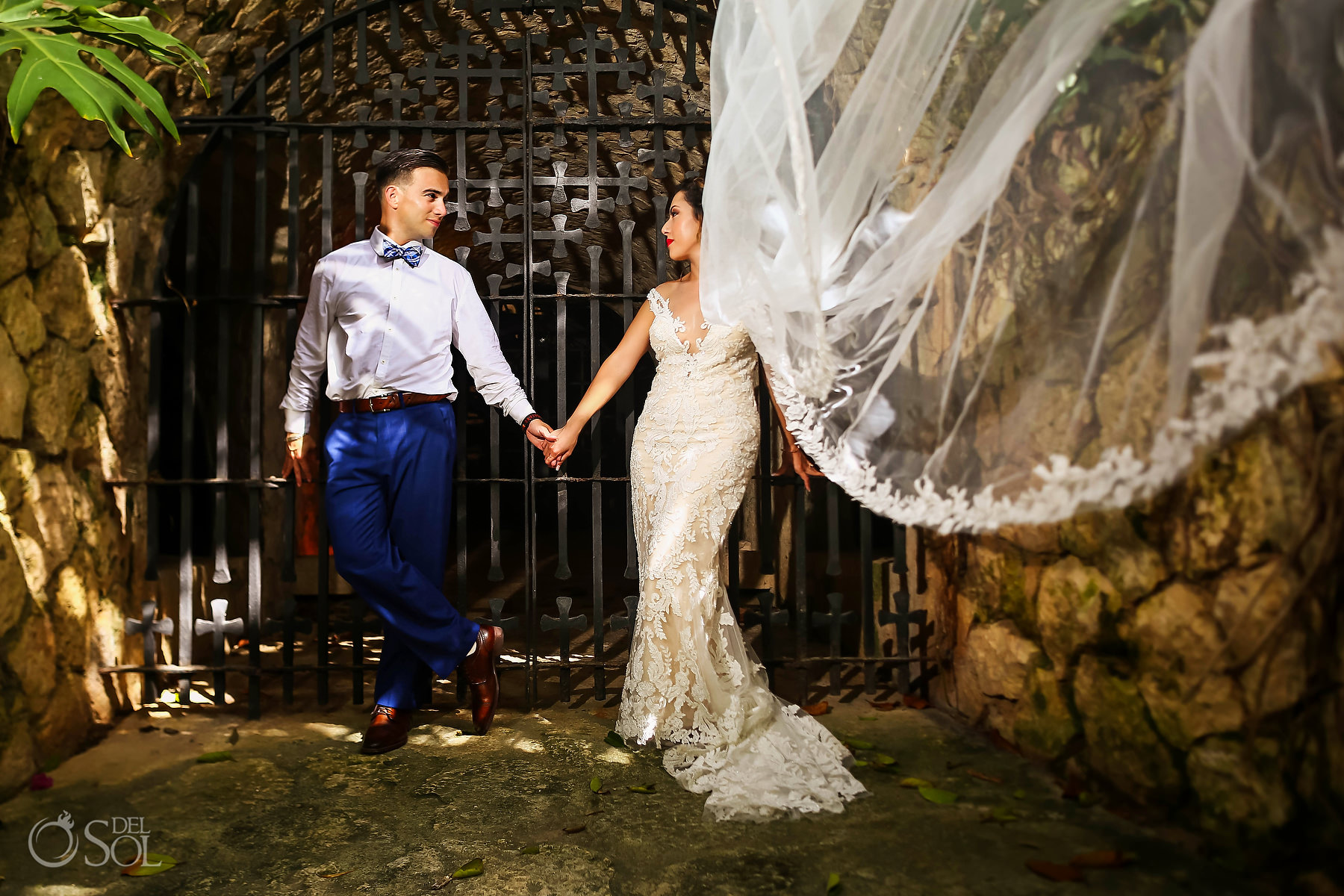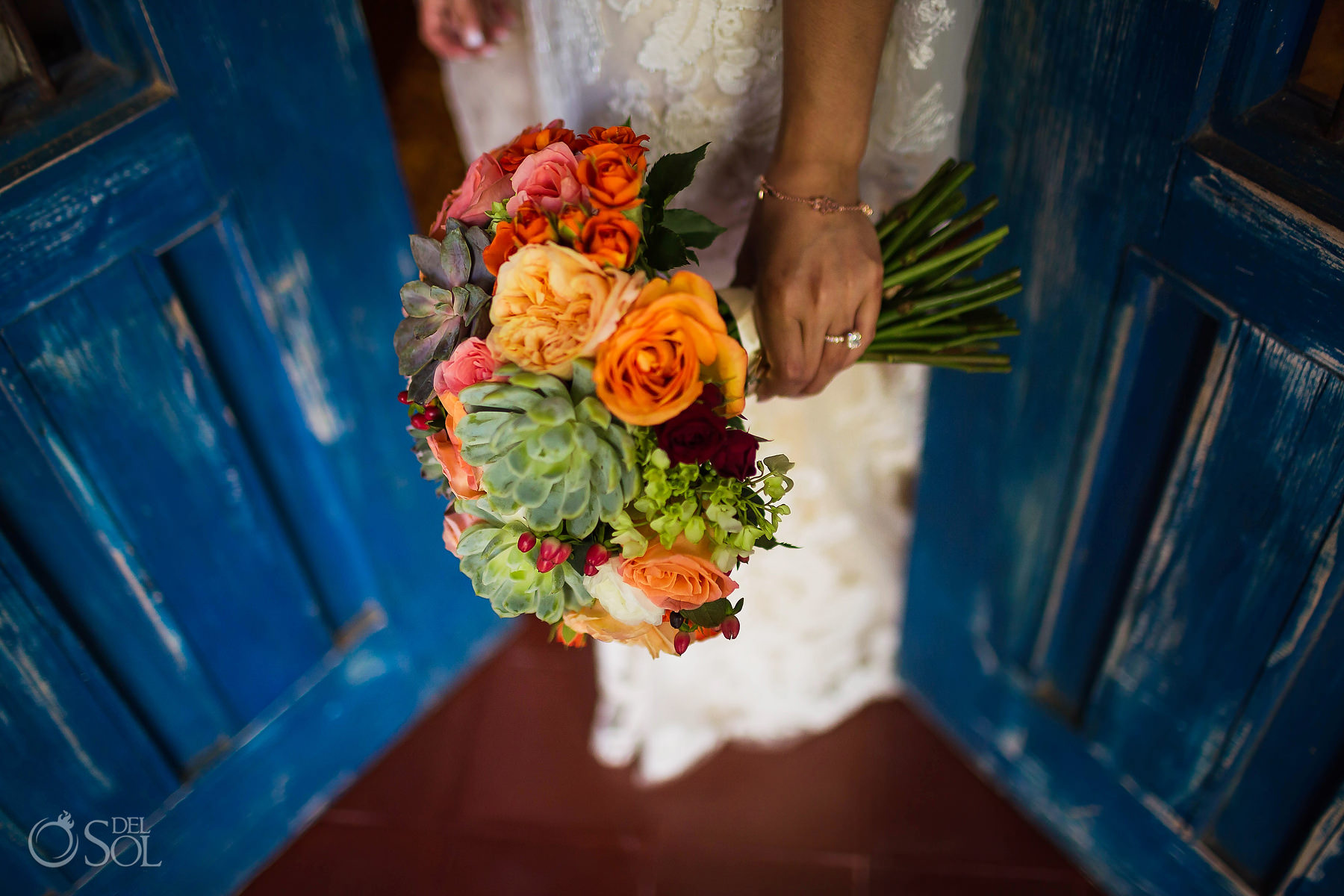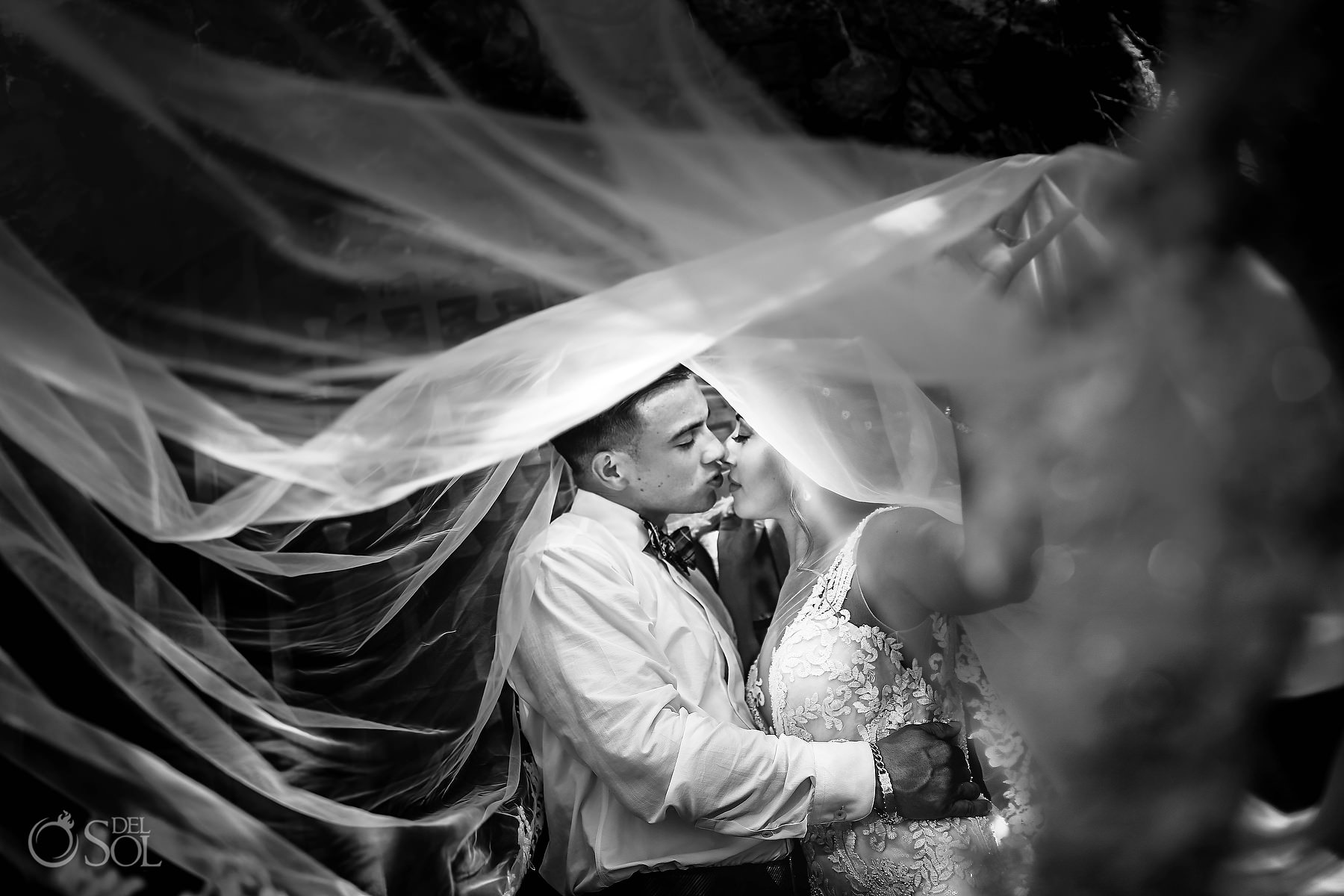 Del Sol: The bride's entrance in the Guadalupe chapel had to be one of the most epic entrances ever!
Andrea: "It was slightly overwhelming for me, I'm not usually one to be the center of attention and have all eyes on me. However at the same time it was amazing to see and hear my vision come together, with the song I chose and the candles and flowers, and of course to see my groom waiting for me which helped to ground and calm me."
"Seeing Andrea with her Father way at the entrance to the Chapel of Guadalupe solidified for me the reason why we chose it. – Todd
Todd: "The energy from her, the music, the family and friends there was a feeling unlike any other. Was a good feeling to hear her music selection play out as well."

Del Sol: Most often when we think about destination weddings in the Mexican Caribbean we think about the beach. You guys though chose to get married in an underground chapel of Guadalupe!
Andrea: "Todd and I visited Xcaret Park in January 2018 among other venues to choose a Hotel Xcaret Destination wedding ceremony and reception location.
"When we walked into the Chapel of Guadalupe I felt so overcome with emotion, the chapel had such amazing and palpable energy flowing through it and I knew immediately that we had to get married there." -Andrea
Todd: "While religious faith is not at the forefront of our lives, it did make me personally feel good about going with a Catholic ceremony, minus the usual wedding-related readings –  I know that made my Father happy having grown up in a Catholic Christian home, so that was good. We are, however, big on vibes, energy, and spirits and the feeling we both got when we saw the Chapel for the first time literally blew us away. Andrea and I wanted to be different and this was it."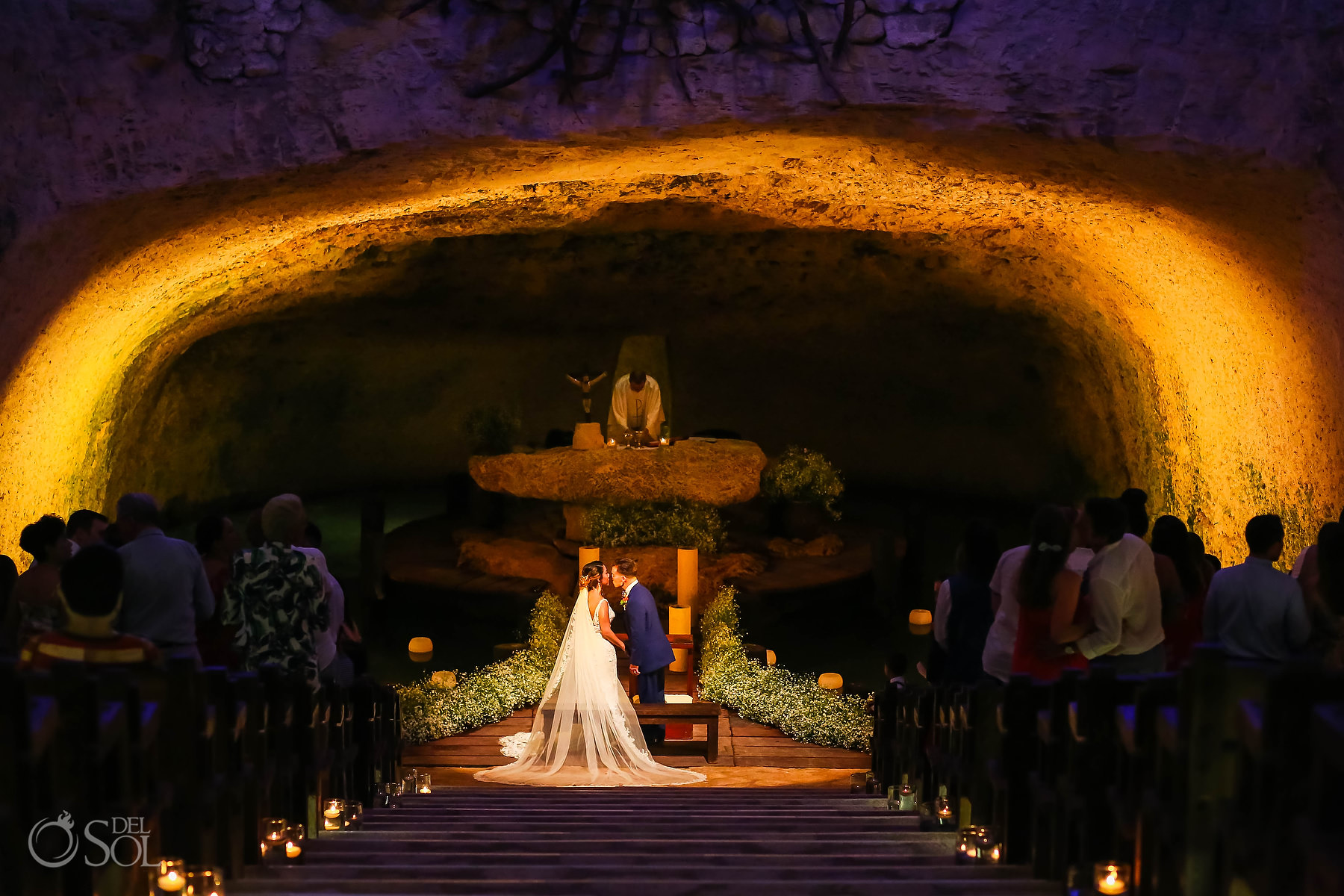 Del Sol: The Chapel of Guadalupe is one of the most atmospheric and evocative Catholic wedding ceremony venues we've ever seen.
Andrea: "It felt great! Everyone thought the location was beautiful.
"We still get people today who see pictures and ask us where the heck we got married because the setting is so unique." – Andrea
Todd: "Amazing feelings and truly happy for Andrea and her vision and the uniqueness of the setting matches who we are as a couple so perfectly. Family and friends were in awe at the Chapel and it's grandeur and beauty."

Del Sol: After your Hotel Xcaret destination wedding ceremony you made the walk with your guests to La Isla through the Caracol with pre-hispanic dancers leading the way.
Andrea: "This was one of the biggest highlights of the night! It was so special and unique to the environment around us, we loved incorporating that part of the Mexican culture into our Hotel Xcaret destination wedding."
"The walk through the caracol with the pre-hispanic dancers was EXACTLY how I pictured it, the crew at Xcaret Park along with my wonderful coordinator Lora executed my vision so perfectly and I couldn't be happier with how it turned out." – Andrea

Todd: "So fricken cool and was definitely one of the highlights of the entire day, wow. I was actually overwhelmed by the number of dancers and how many were taking part in this ritual and how amazing it came out in photos and videos. Again, the theme here was different and do the farthest thing from original and utilize the beauty of the walkway to amplify the positive vibes, feeling, energies, etc."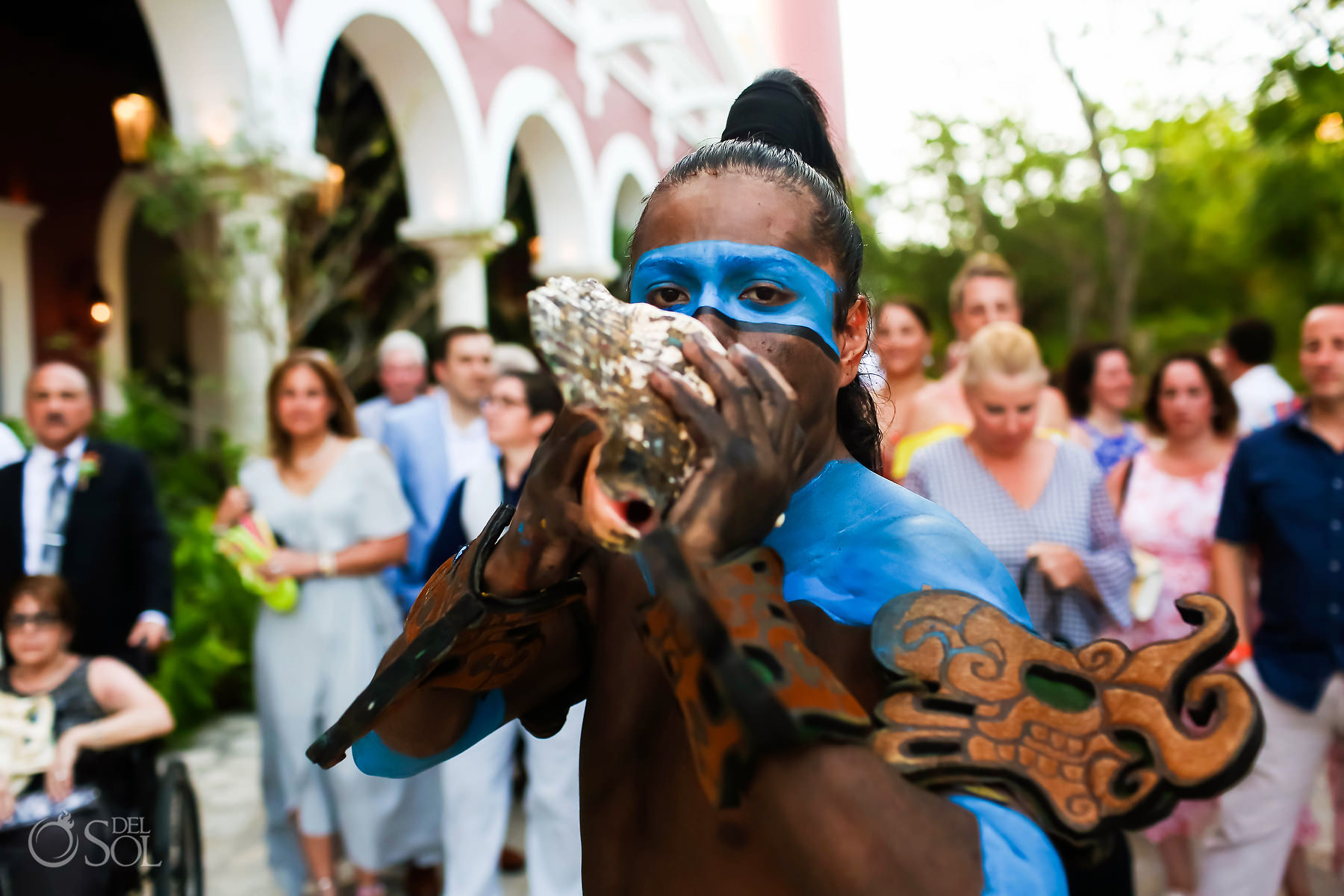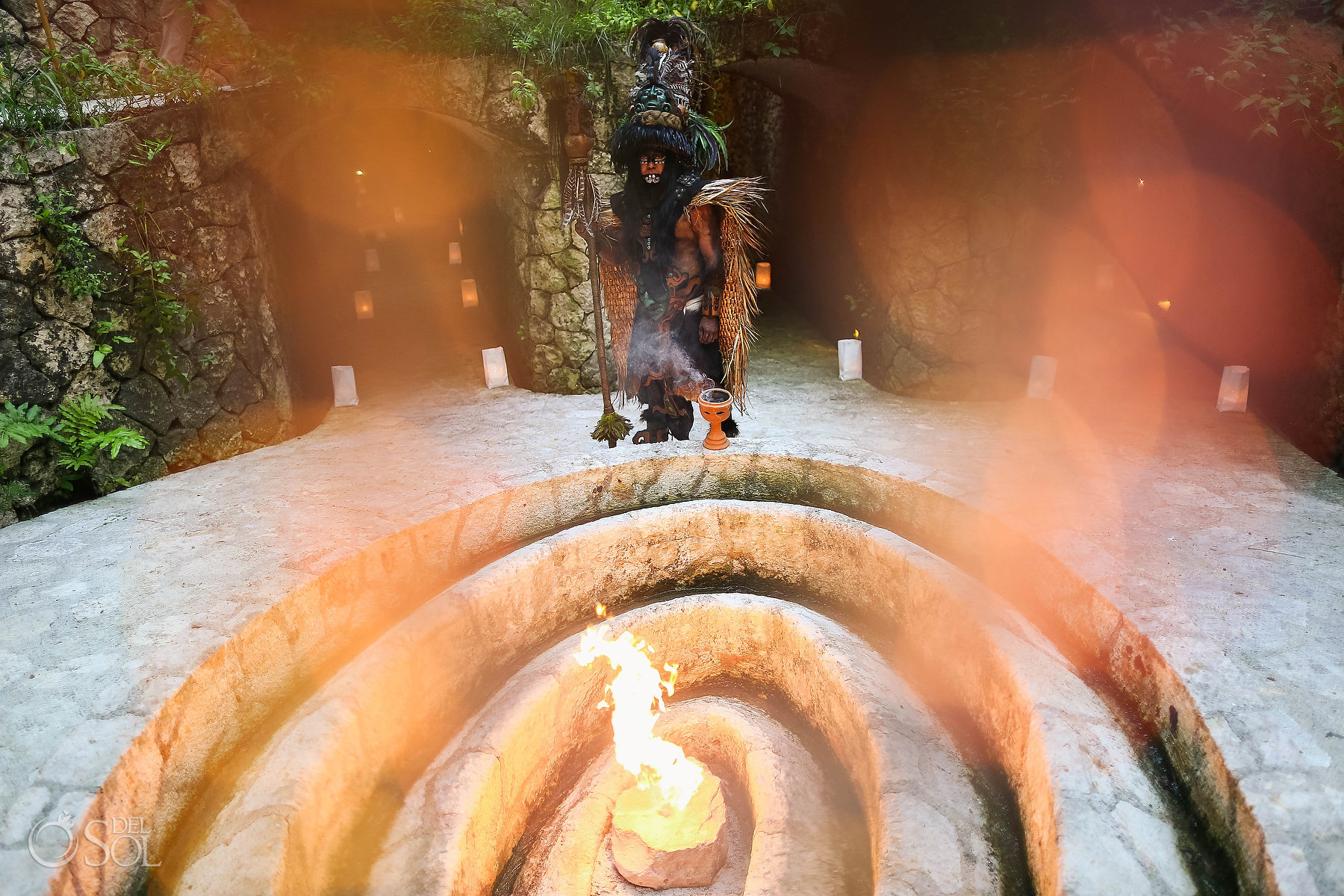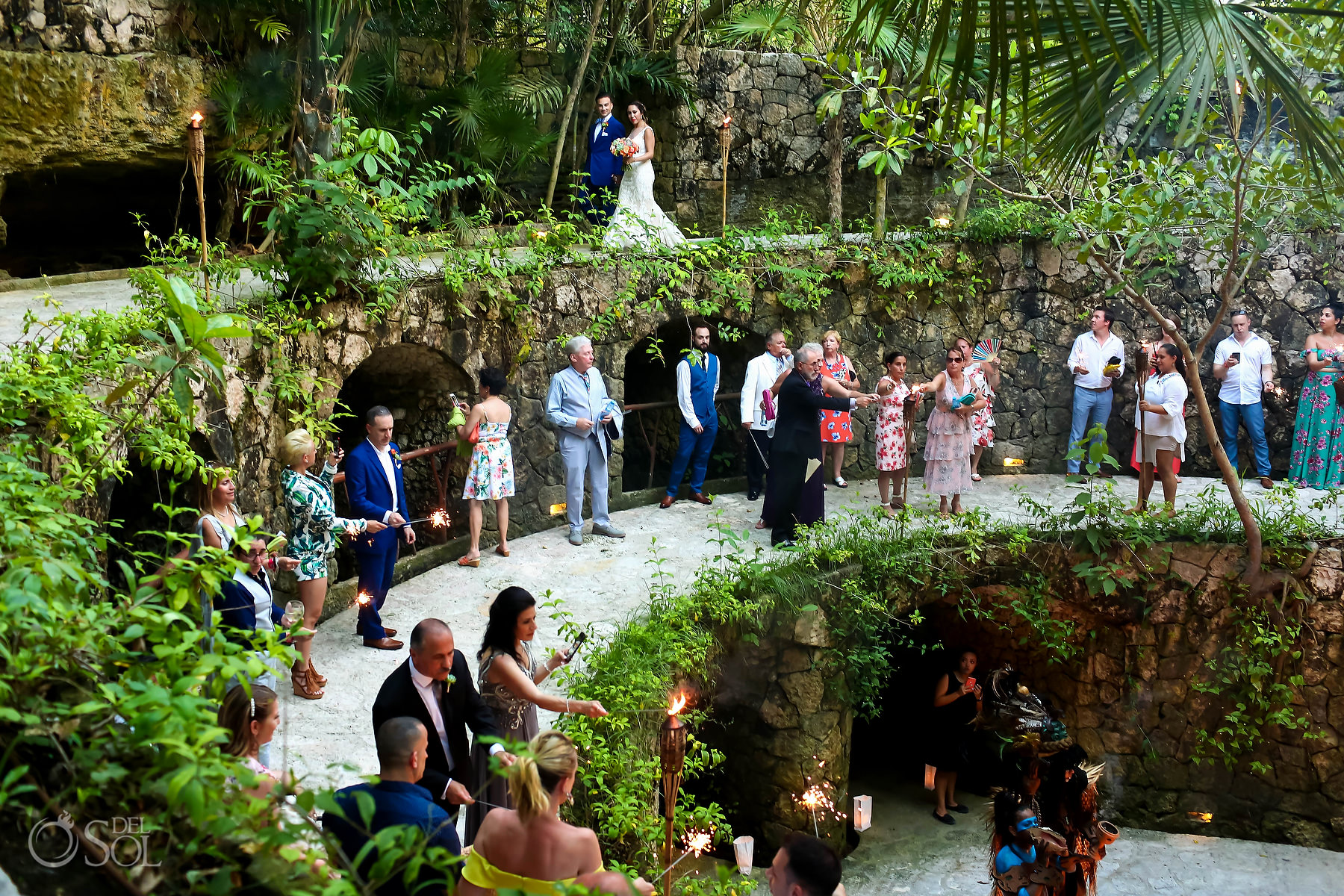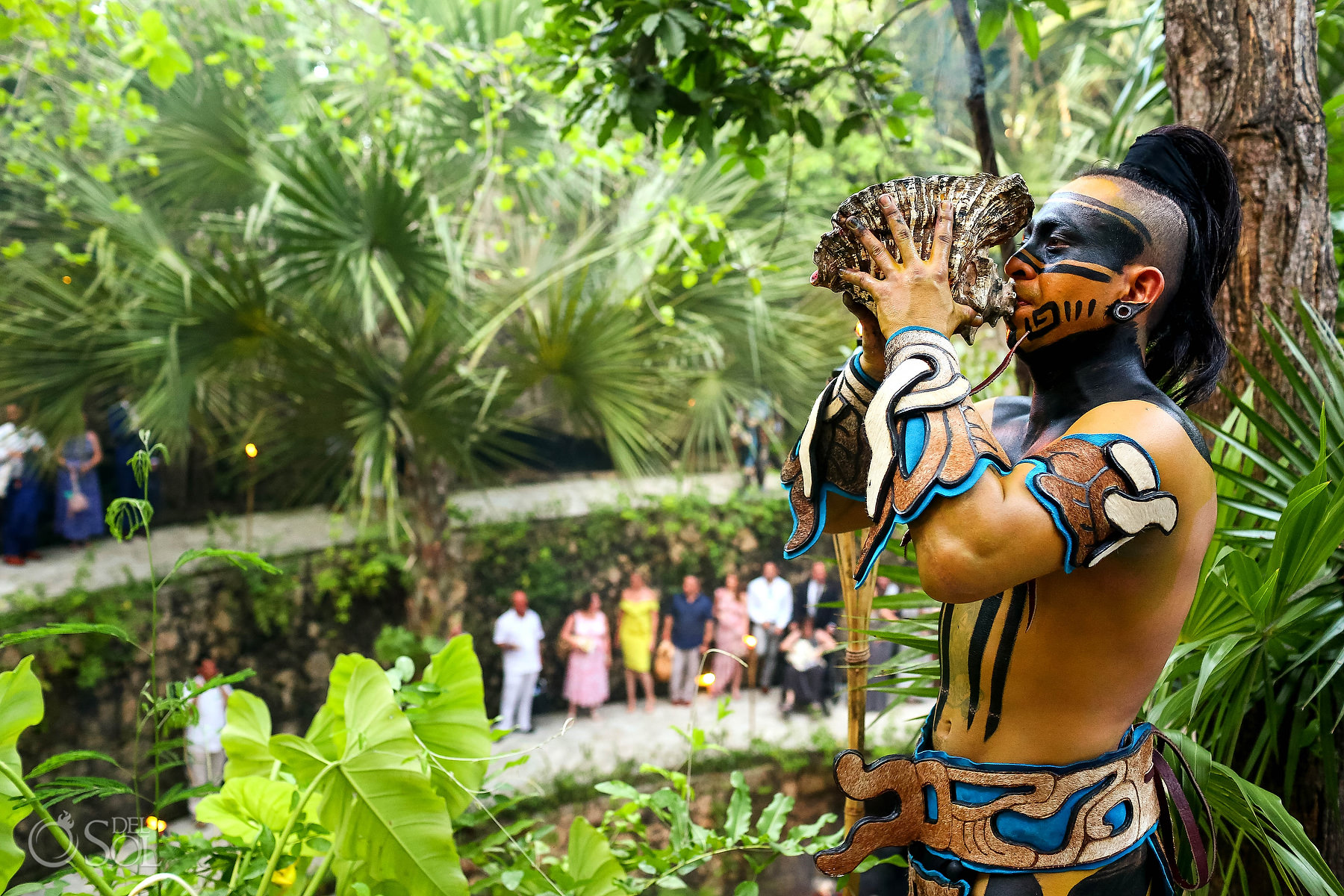 Del Sol:  Talk to us about your Surprise superhero music entrance to your reception at La Isla?
Andrea: "That was a fun surprise from me to Todd. We are HUGE Marvel fans, have seen all the movies dozens of times, and it's just a part of our relationship that we love. Thought it would be fitting for us and for who we are as a couple to enter to the Avengers theme song and start the night off right! I was excited to see Todd's reaction and he did not disappoint."
Todd: "Holy s@#$%. Andrea has surprised me many times in our relationship but that…wow…one of the coolest things to ever happen in my LIFE. HUGE Marvel fan and once I realized the song, you can tell how awesomely surprised and happy I was to hear that song."
"I felt like Captain America, on top of the world with my girl, about to conquer Thanos." – Todd
 
Del Sol: Your first dance was really important for you
Andrea: "That was so fun! We decided actually a really long time before the Hotel Xcaret destination wedding that we wanted to choreograph our first dance but then we never followed up on the idea until about 3 months before. So for 3 months, we worked really hard with a fabulous dance choreographer who gave us an amazing dance and even continuously added more and bigger moves as per my crazy requests throughout the process"
Todd: "Nerve-wracking. It was important because it was a continuation of Andrea's vision and our goal of being unique. It was important because we put our heart and soul in practicing with our teacher and really wanted to hit the choreography – which we did. The song lyrics were very us and we wanted to nail it for us."

Del Sol: La Isla is an incredible location and we loved the decor, especially the big LOVE sign!
Andrea: "The first thing that caught my eye in La Isla was actually the big tree! I loved how random it was to have a tree on a platform in the middle of the reception space and I immediately had ideas for how to incorporate it into our vision. The high ceilings and how natural the environment was, with the stone floor and walls of the cave and could easily picture the beautiful string lights and candles looking romantic and dreamy."
Todd: "It's a cave…that's different than pretty much everything. Again…unique…us…different…not the norm. I agree with Andrea that the tree was so unique and provided even more scale to an already large space…truly loved the back wall and how it gets lit…well thought out and well-executed. The LOVE sign was perfect for photos and truly gave the room that pop"
"The best response to photos we posted on social media was, "Hey, bro, did you get married in a cave?" Who does that?" – Todd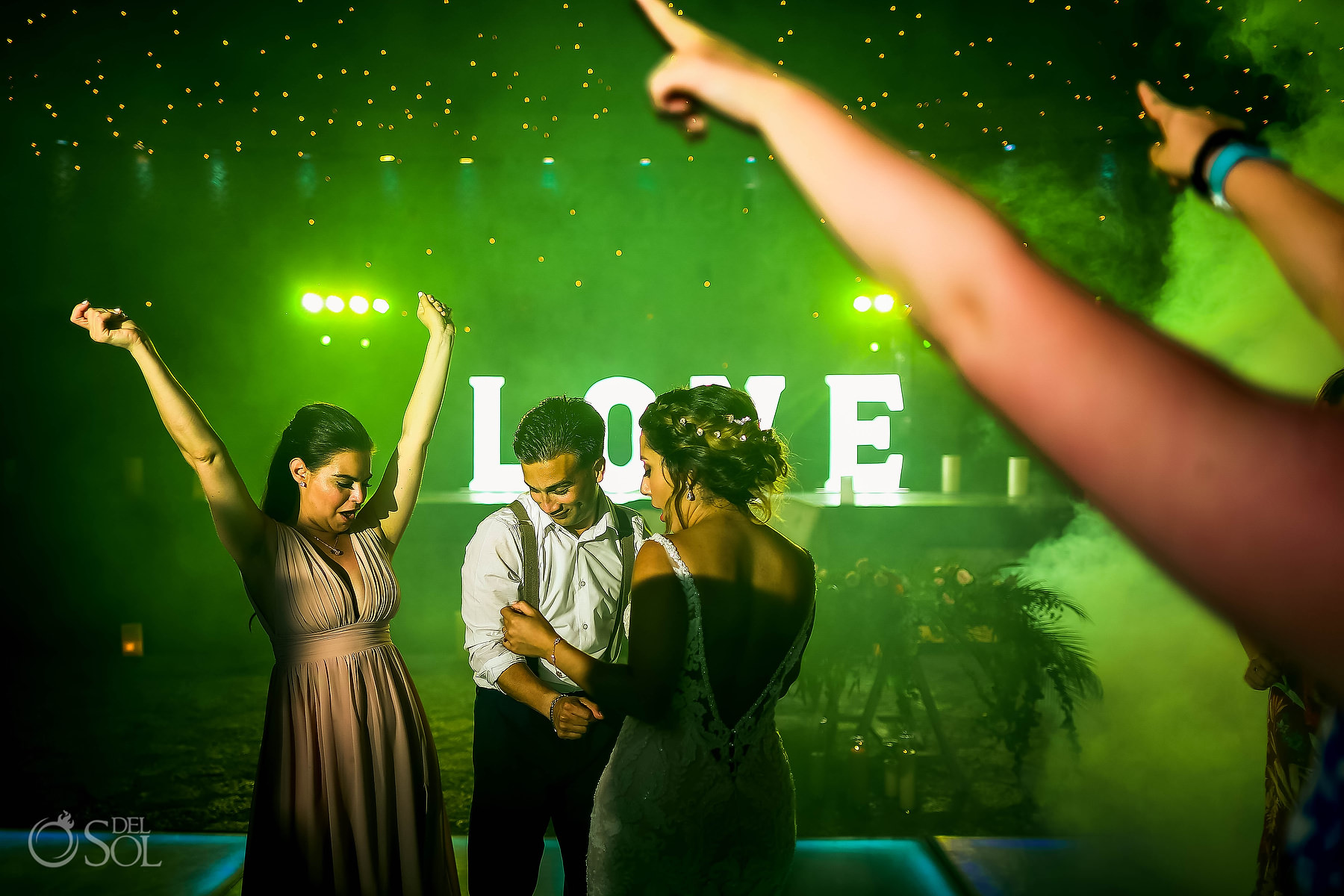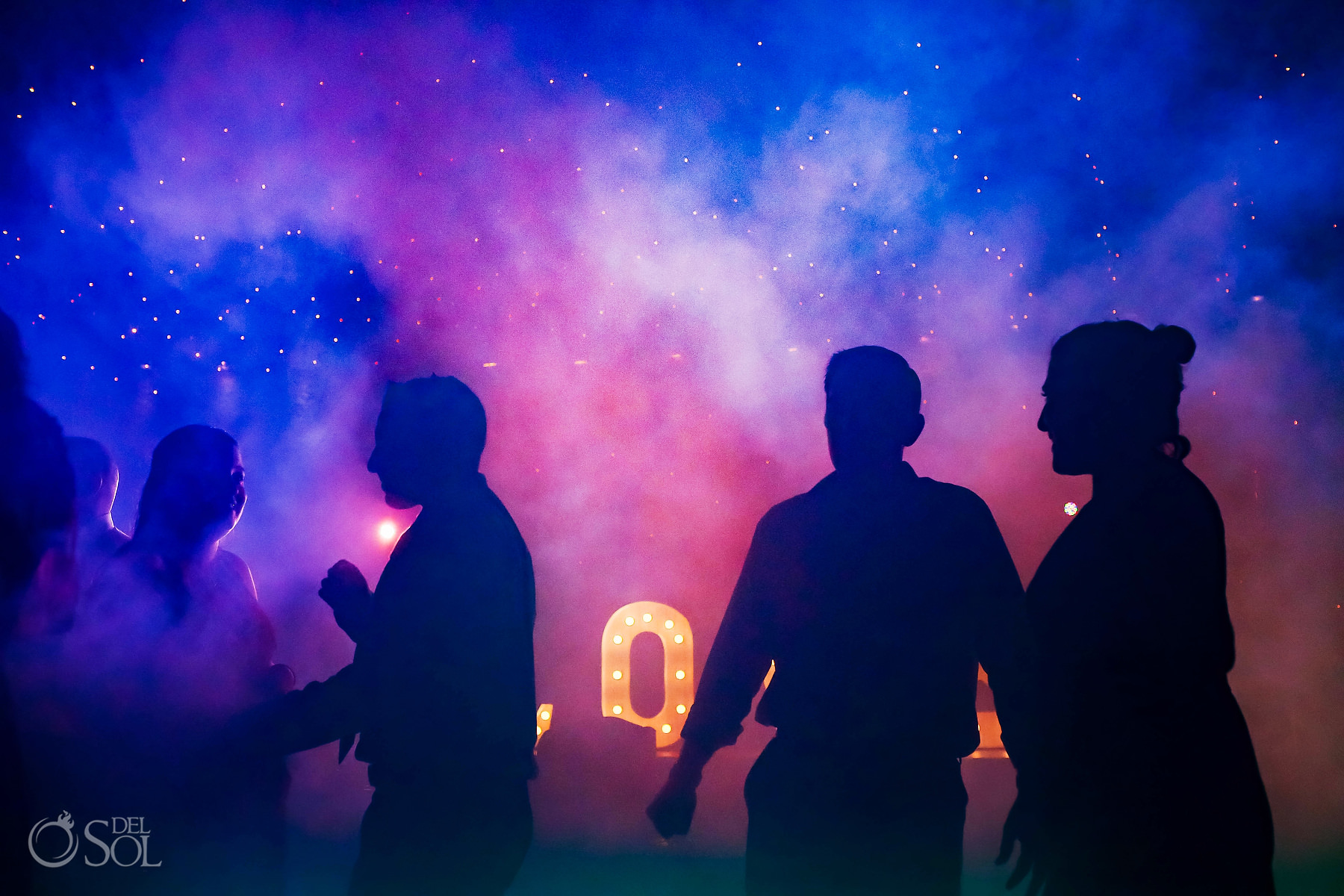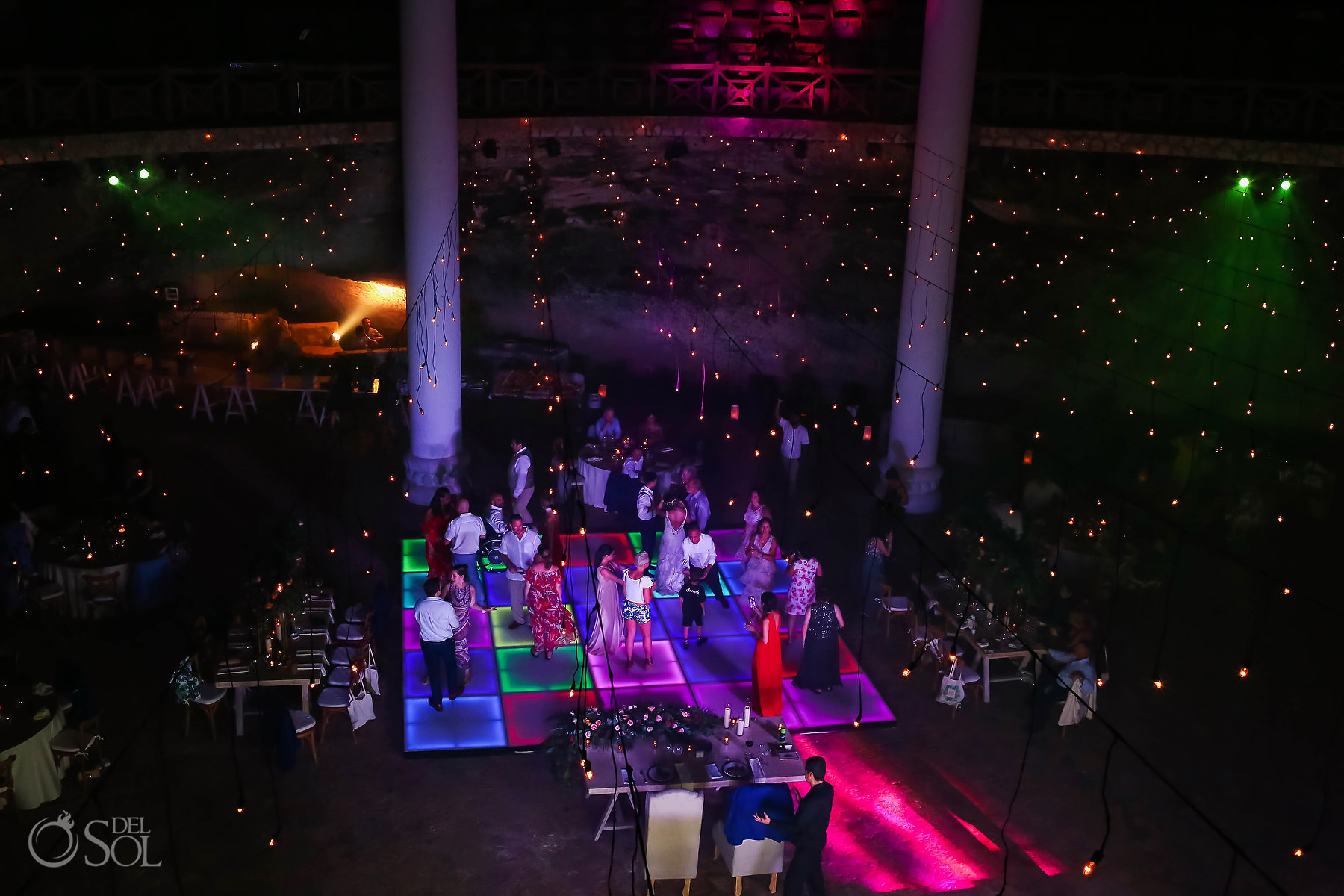 Del Sol: How was your experience with Sol and the del Sol team at your Hotel Xcaret destination wedding?
Andrea: "Sol is amazing. Inside and out, as a photographer and as a human being, I knew from reading her bio and looking through her portfolios and following her on social media that she just has an amazing heart. She's so connected with nature, she loves what she does, and she has a vision and soul that just resonated with me from day one."
"Flawless. Sol has the purist, most angelic, beautiful, creative soul of a photographer I have ever met and is truly a visionary and master at her craft." – Todd
Todd: "Sol thinks outside the box and went out of her way to get to know us from day one that it made our first shoot and Hotel Xcaret destination wedding day go without feeling anything but thrilled to follow her direction. Her team was fantastic to also spend a couple of days with her; very patient, courteous, professional and also talented. One of the best compliments you can pay a production team is that I never knew they were around. Never in the way but I knew they were capturing the big moments and the candid ones that complete the documenting of the day."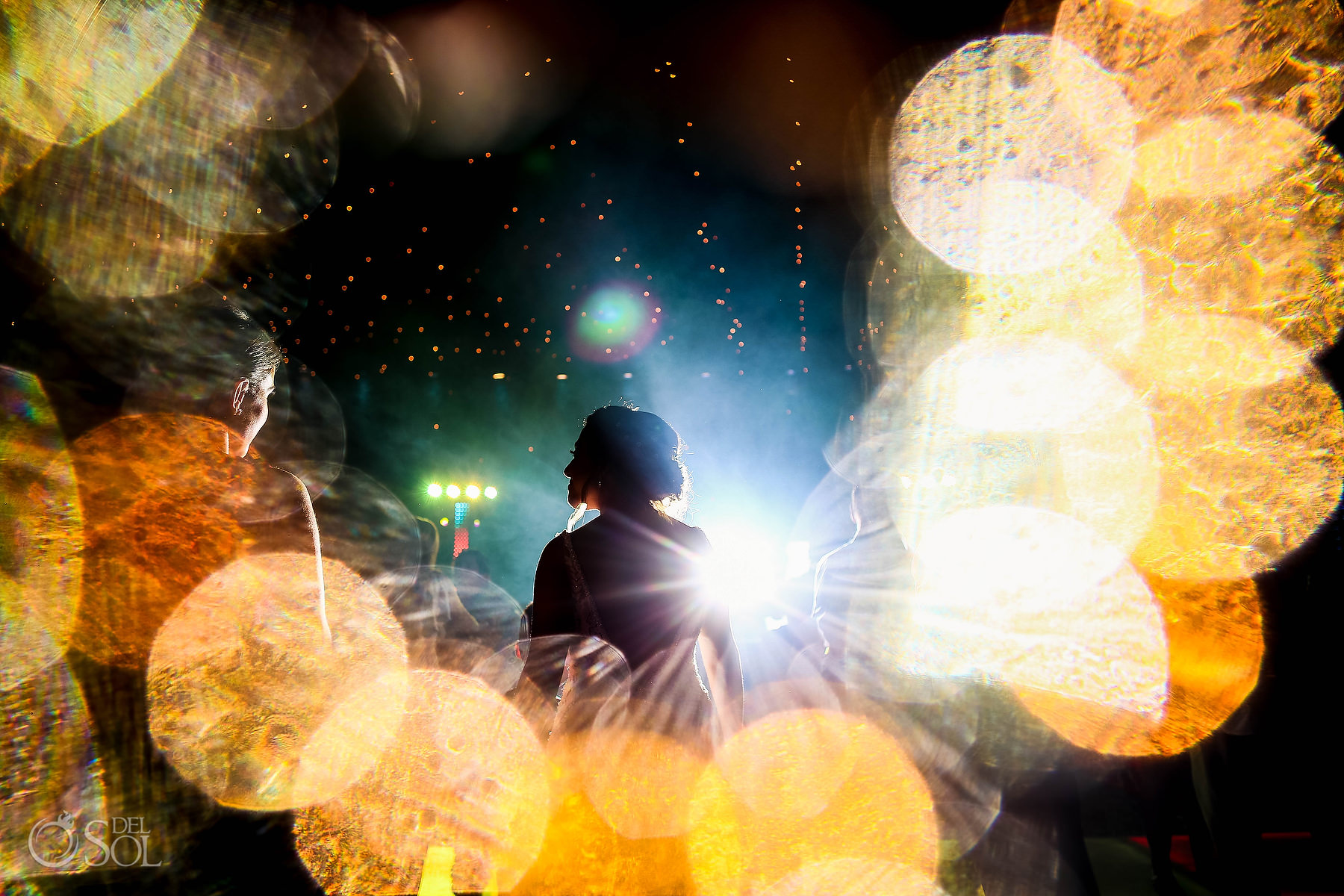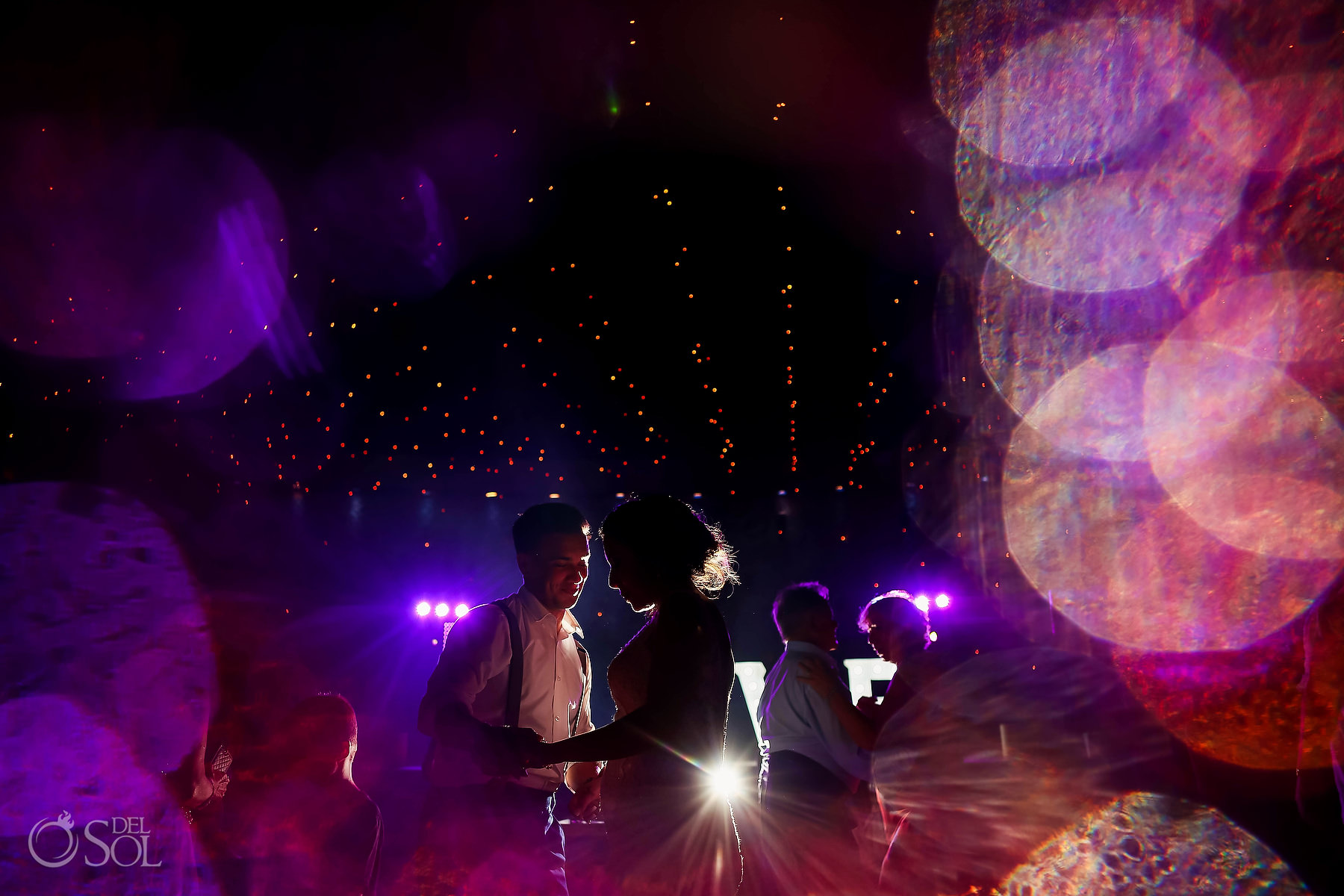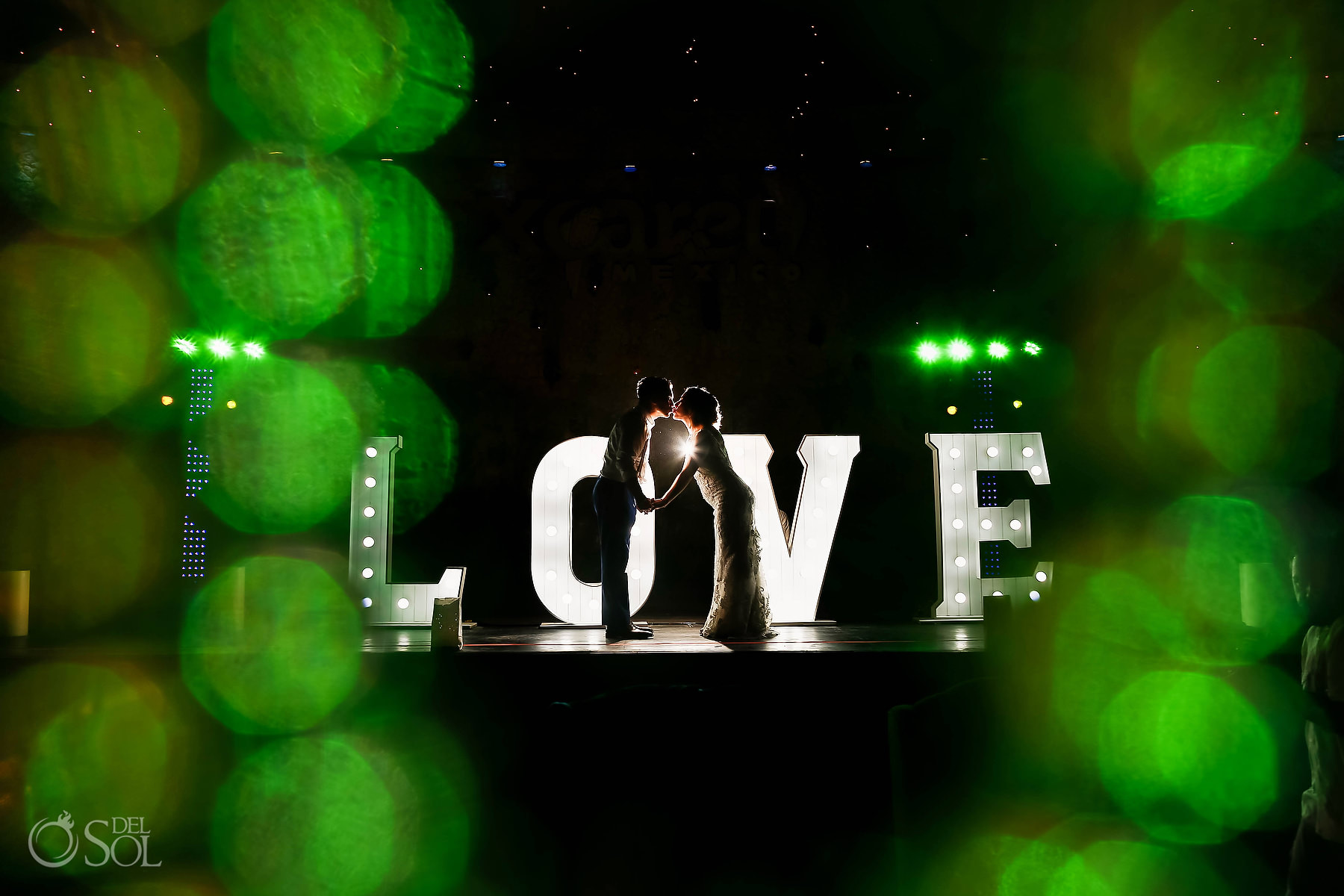 Del Sol: Why did you choose Hotel Xcaret Mexico and Xcaret Park for your wedding?
Andrea: "When we visited in January 2018 we immediately fell in love with both the resort and then the park. Hotel Xcaret Mexico was just so completely different from any resort we've ever seen. Todd and I loved their ecological message and how it wasn't just a beach resort, there were rivers and trees, and everything was so natural yet so beautiful. Also, we loved that everything in the rooms was handmade by locals and the food was amazing!
At the Xcaret Park, we loved the vibe and energy of the Guadalupe chapel, the spiral, the hacienda, and La Isla restaurant. Fabiola from Xcaret Park was great! She always responded promptly to emails, had great suggestions, and helped execute my requests. We couldn't have gotten through the process without our coordinators from home, Lora and Sonya. They really stepped in and helped so much between conveying my vision to Aline at Corazon Luxury Weddings who did an amazing job to rectify any issues that arose, to putting together my welcome bags, to even sewing my dress when it ripped on the dance floor!"
Todd: "Uniquely, I can add that the servers at Xcaret Park who took care of Andrea and I were especially helpful, attentive and truly made sure we were taken care of. They even brought drinks and shots to us and our guests directly on the dance floor, sometimes without us even having to ask, which we've never ever seen at any wedding before!"
 
Del Sol: We believe that the experiences we have in our lifetime make us the people we are…
Andrea: "The travel experience that exemplifies is the most: when we were in Venice, Italy we signed up for this 3 islands tour. We were scheduled to see the islands of Murano, Burano, and Torcello. Todd and I immediately had a bad vibe about the tour when we got on the boat and we felt like we really missed out Murano. When we got to Burano we absolutely loved the vibe of the island! Todd and I decided then to ditch our tour and to stay on the island and make our own day out of it, even though we had no idea how to get back to the main island. We knew we'd figure it out together. Then we spent the day exploring, eating, drinking wine, shopping, and generally having a great time. That's where we coined our catchphrase as a couple that we use all the time in so many situations, "change the narrative."
" 'Change the narrative.' Meaning, if we don't like something, change it. Take action. Don't sit in unhappiness, do something about it!" – Andrea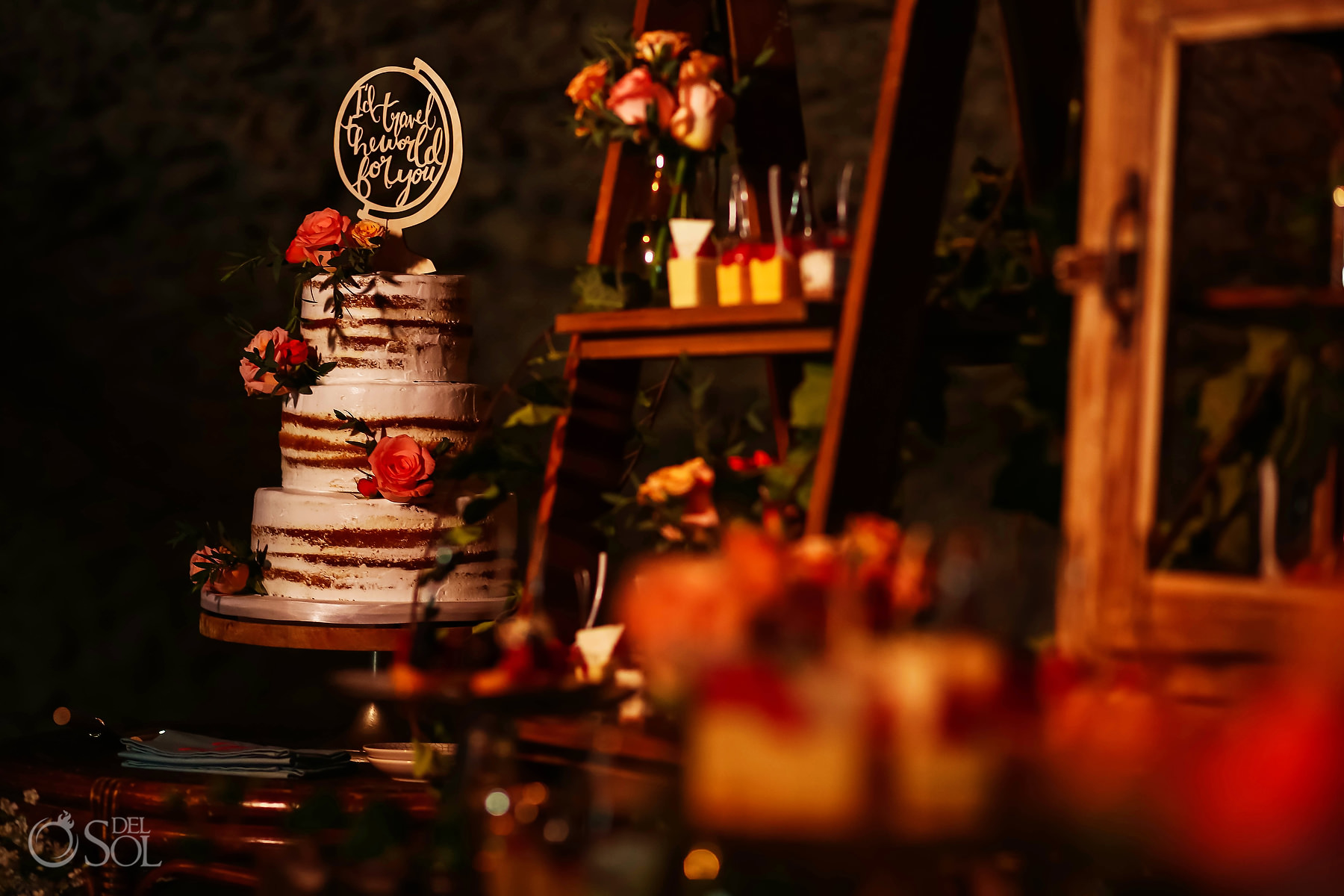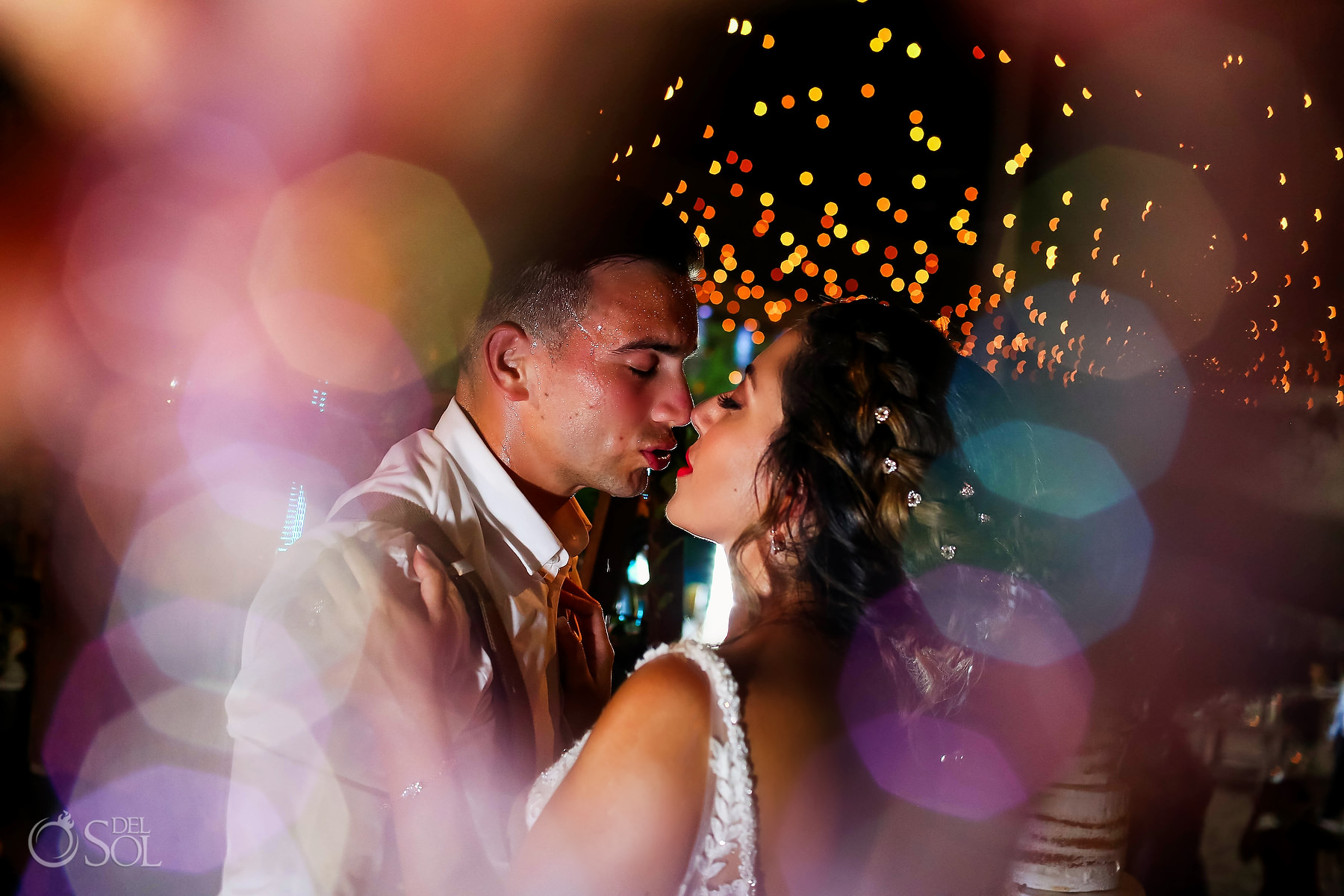 Todd: "We wanted it to be different and the moment we saw Hotel Xcaret and the Chapel of Guadalupe and La Isla, they each matched our vibes and represented who we are as a couple. As a group, we saw the very best out of everyone through some very hot conditions! From the moment guests arrived at the end of a hot and sweaty night, their devotion to celebrating with us and being there for all the big and small moments was awesome to experience and to feel that love from every single one of them. We continued our mantra of exploring, experiencing and constantly making new memories, all the while learning a new culture and soaking in the sights and sounds along the way."
"Our Hotel Xcaret destination wedding has added to our legacy by continuing our theme as a couple: be different, stay positive, change the narrative." – Todd