Hurricane Wedding Experience – Vanessa and Tony
I have been to hundreds weddings and they almost follow the same story… bride gets ready, bride walks down aisle, ceremony, first kiss etc..
I remember showing up at the ferry pier the day before the wedding, with the locals telling us, you can't go to the island!  The government is going to mandate evacuations and there are no more ferries to the island.  We chartered our own private boat to chase this love story to get to spend one night, in anticipation what was going to happen. This hurricane wedding was a mind blowing adventure! – Matt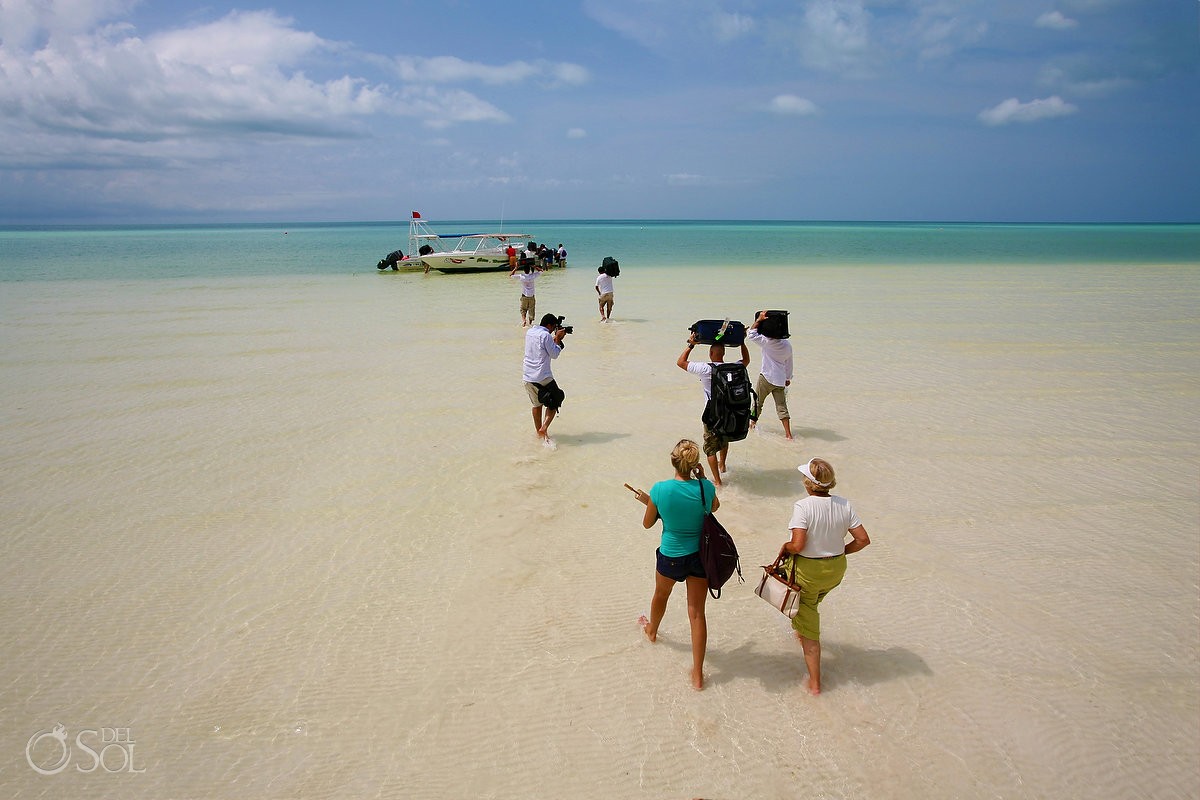 Although there is tons of beauty in that, I have been waiting a lifetime to find a wedding where all I needed to do was document the story and where there were no standards or predictable storylines. I am so thankful that I found this one, or did it find me? I don't know. I am so lucky to have these clients and this wonderful memory of the most unpredictable wedding story EVER!
Setting: Isla Holbox (pronounced holbosh) Mexico:  Highlight:  Wedding Evacuated.
This place is pretty remote. There are no cars on the island just golf carts for transportation. It's a 30-40 minute ferry to the island from this TINY little city, Chiquila, which is about 3 hrs from Cancun. Bumble nowhere!
I felt like this story has urgency due to the implications that hurricanes have on our clients and that the fact is we just experienced what some brides would call, "THEIR WORST NIGHTMARE"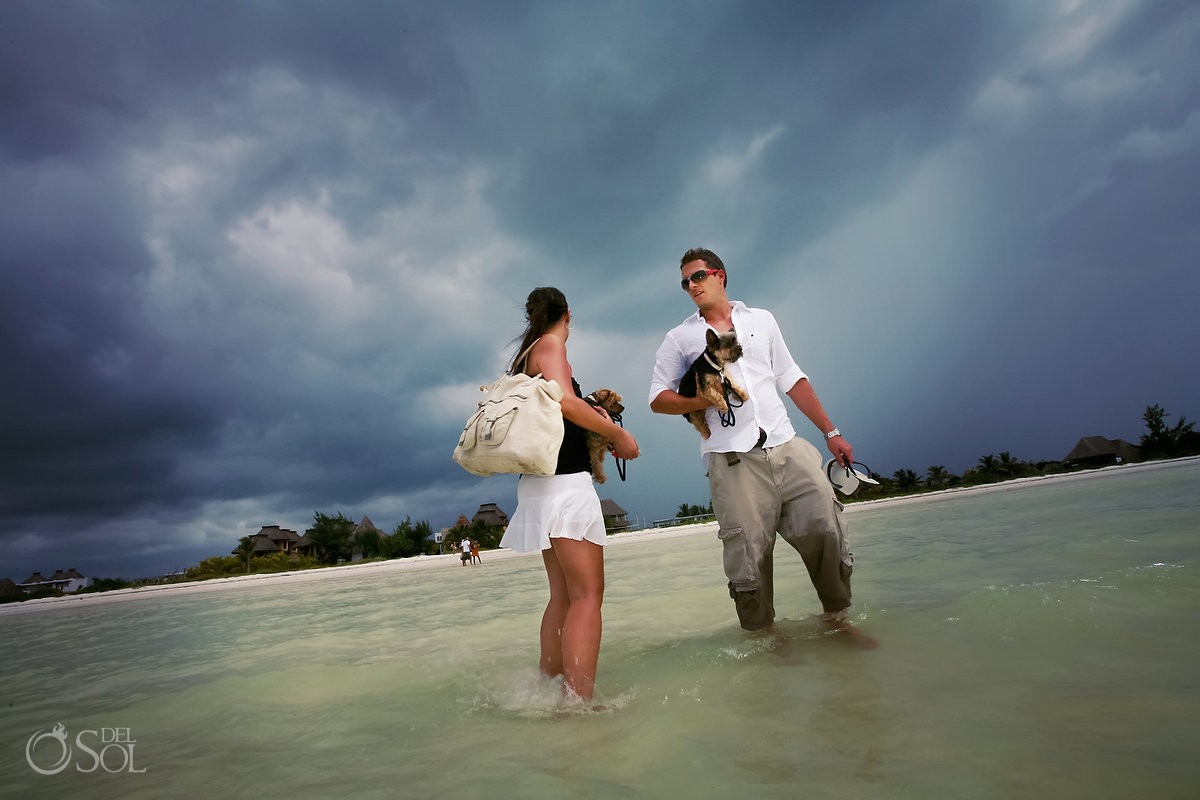 Actually, this group was the complete opposite of that. Vanessa has to be the coolest bride I've ever met… Under the circumstances, she played it out like a champion of champions. This girl wins the all time award for brides that go with the flow and do not get stressed out. I'm serious here, not 1 ounce of stress from this girl, all happiness and smiles.
She did after all name her wedding after the James Bond theme "Mission Mexico 007."
She wasn't kidding around about the mission, wow!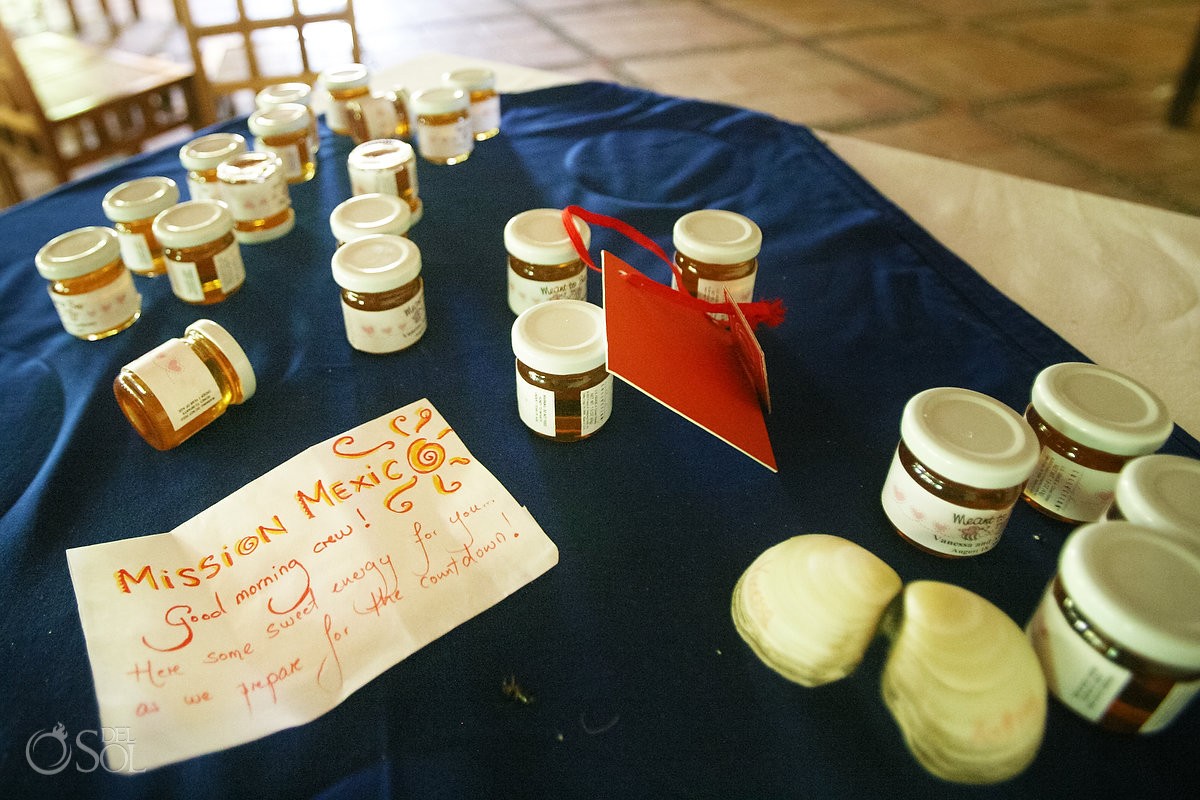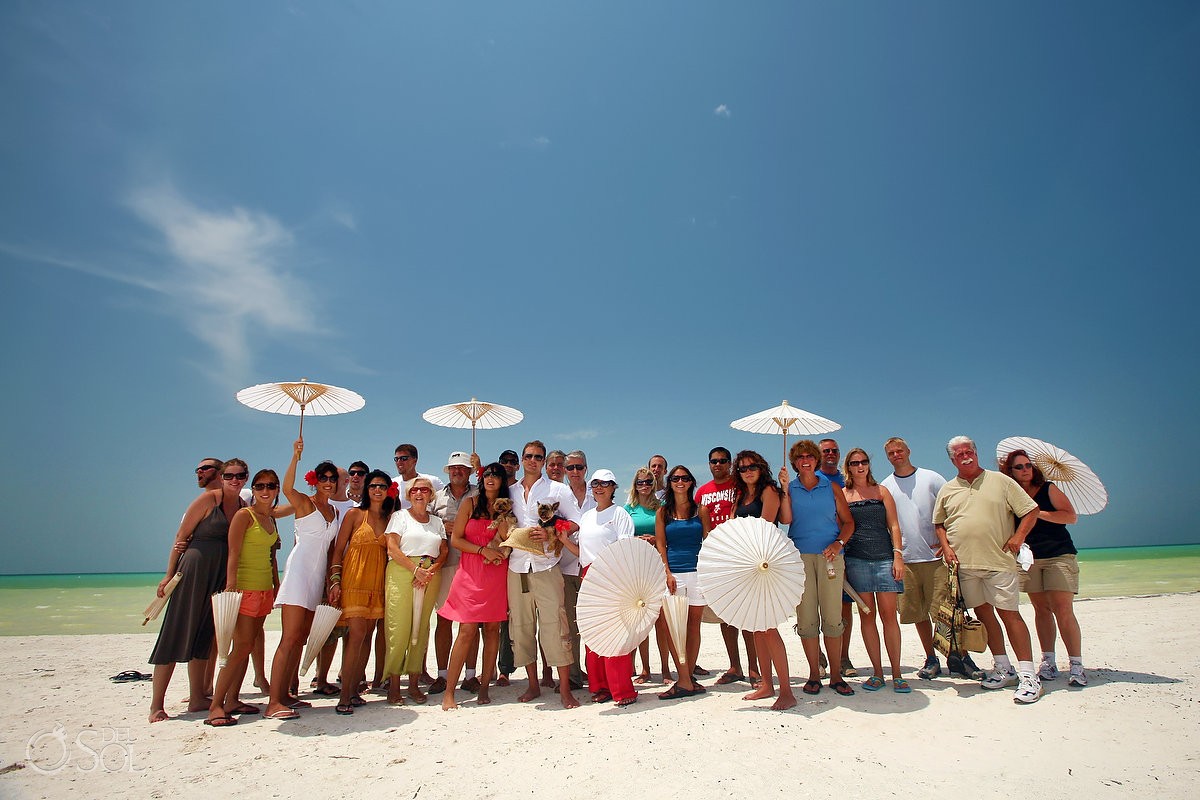 The Government-mandated evacuation officially the morning of the wedding.
So what is left to do???  Huddle around a computer with practically dialup internet speed, search for somewhere to go… SCORE, find a small town, find a hotel, find a dinner reception room waiting for the plan to take place and throw an impromptu ceremony.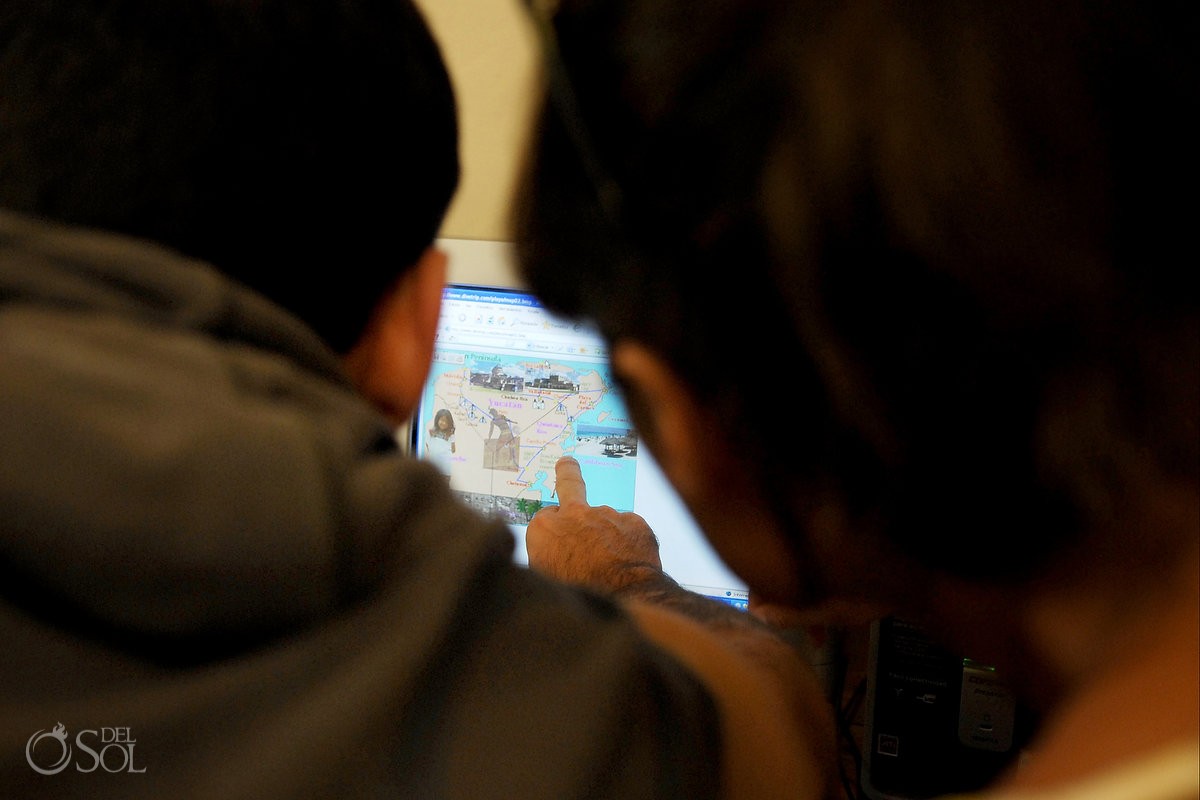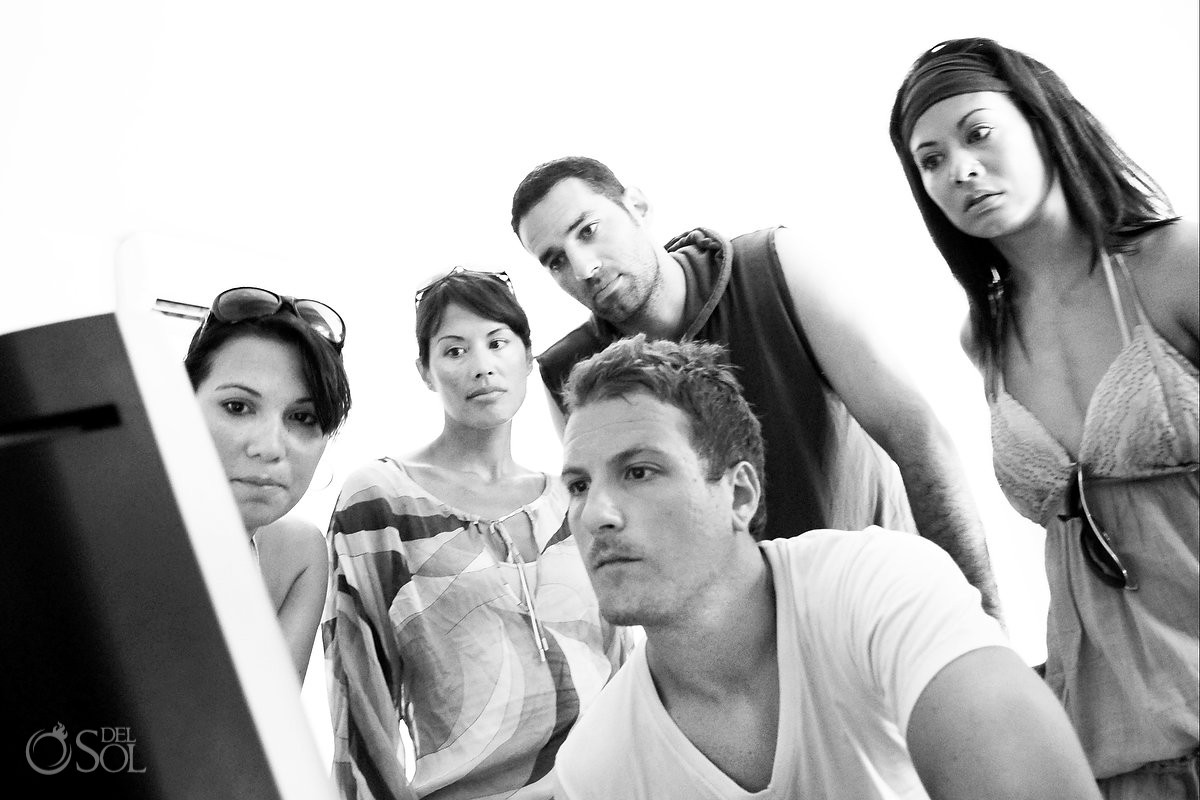 This is really going to be mission mexico. When it was all said and done, the group has arranged for a private ferry off the island…amazing. The edge of the storm greeted us with rain and everyone got wet.  There were hundreds if not thousands of locals escaping this island. Everyone carried their luggage and belongings over their head into the ocean to get in a boat.  Then the transportation to a small town, Valladolid in central Yucatán. There everyone will all have a room and a makeshift ceremony and dinner. crazy huh?…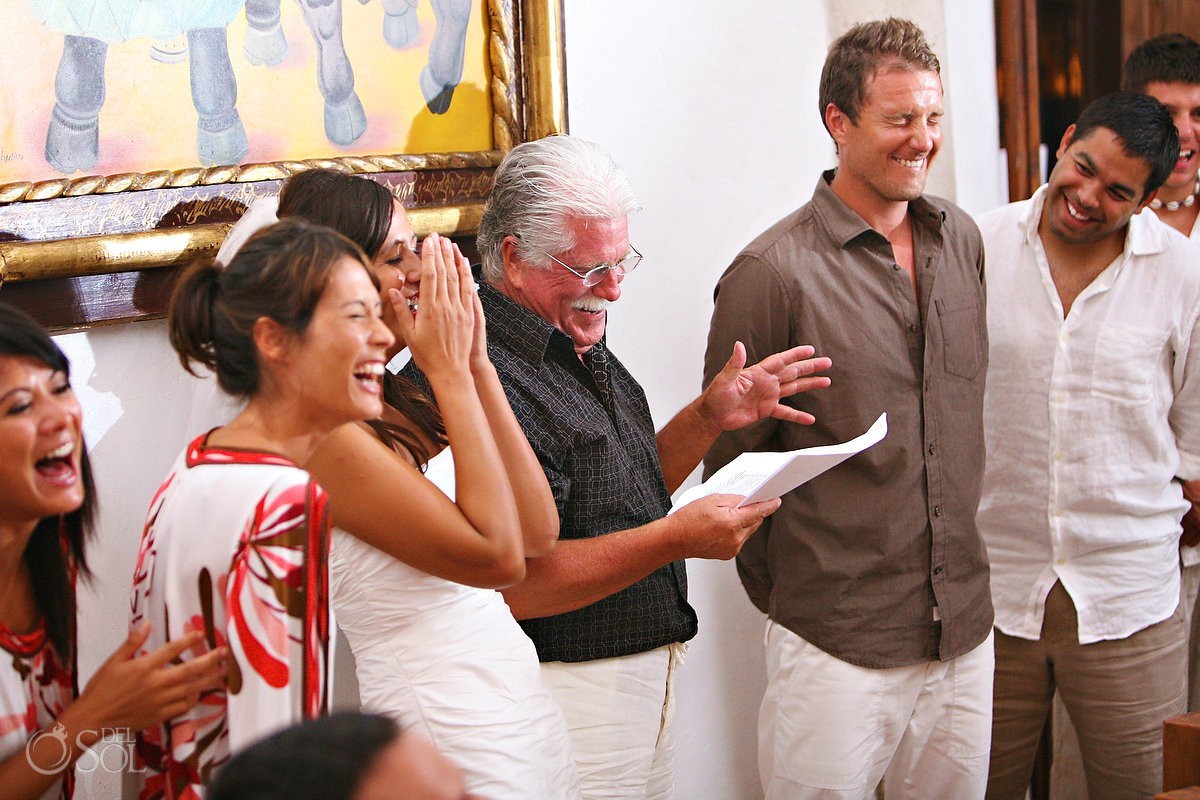 We made suggestions as to the local town to escape to, the hotel we evacuated from booked another property and we were off.  To Valladolid, in the Yucatan, inland. From the ballroom of the Meson de Marques, we were all in disbelief after a boat rescue, poring hardcore rain as the storm approached, making it and it turned into a make it happen now surprise wedding.
I'll never forget the words from the pastor as he read them out loud in this small dining room located hours away from any beach.   "As we stand here in paradise, located on some of the most crystal sandy beaches….we celebrate the marriage of Anthony and Vanessa"….. everyone busted out laughing as this was a stark contrast to the truth to where we actually were to that of what was planned.   We grow stronger in the face of adversity.
If you are a bride planning a destination wedding in a tropical location during hurricane season, just know that Del Sol Photography is based in this region. This is one of many weather stories and not our first hurricane wedding.  Sometimes things happen that are unexpected, and in all cases, our team will be there for you.  We will make plans to reschedule, change the plan completely, and we will always try document the travel for love adventure.
Hurricane Wedding Photographer:  Matt Adcock
Amazing Mentor and 2nd photographer "Sergio Photographer"
We actually have a lot of fun with weather. It is a serious theme, we understand.  Why stress about what you can't change.  So we go with it. We think rain on the wedding day is awesome.  We also have an entire gallery related to weather and rain.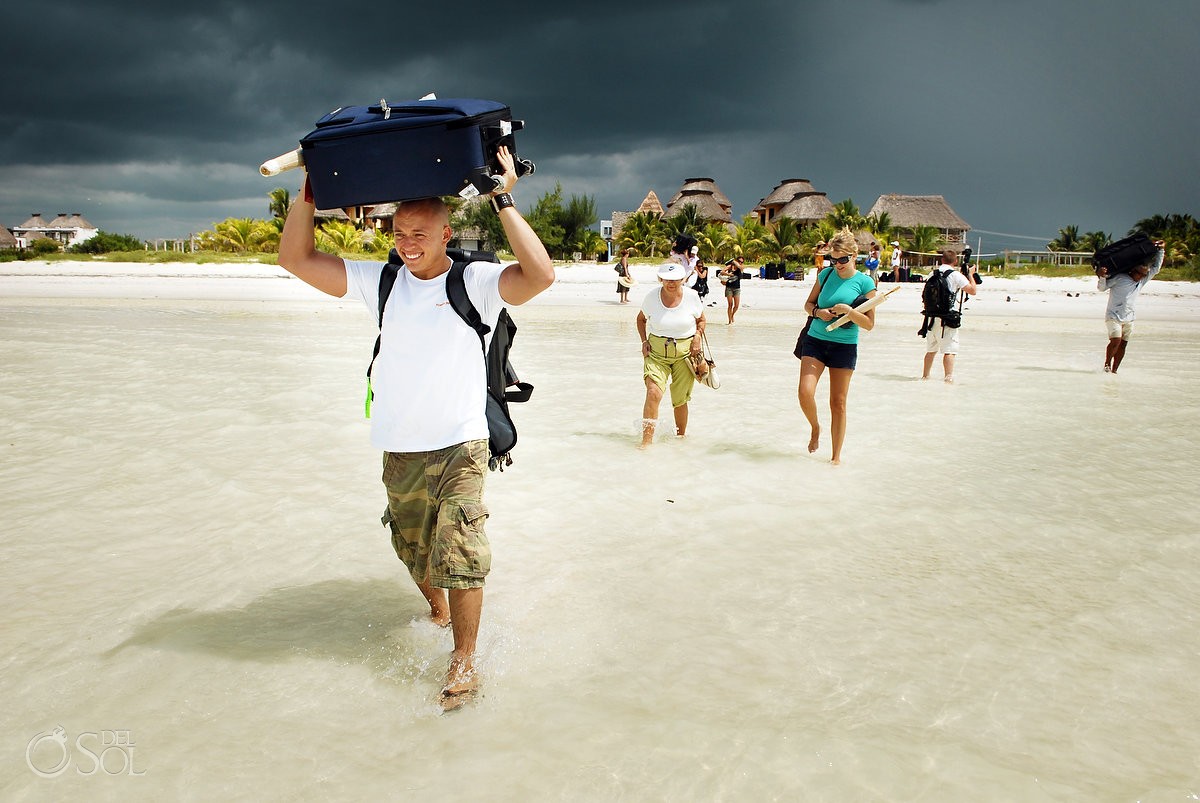 https://delsolphotography.com/wp-content/uploads/2016/08/hurricane-dean-wedding_TV_0029.jpg
800
1200
Polly
https://delsolphotography.com/wp-content/uploads/2022/04/delSol-new-logo-340px-copy.png
Polly
2016-07-29 15:37:39
2023-03-27 14:42:11
Hurricane Wedding Experience – Vanessa and Tony