Cenote Weddings
---
Why choose a cenote wedding ceremony?
If you are looking for something unique – if you love nature and amazing natural surroundings you should look into cenote weddings.
---
Cenote Wedding Planning
Types of Cenote Ceremony
Cenote Wedding Receptions
Where to stay
Cenote Wedding Packages and Pricing
Cenote Wedding Testemonials
Archive – Cenote Weddings
---
The cenotes themselves are caverns and freshwater sinkholes in the jungle of the Riviera Maya. They are especially important for the Mayan culture. They have been used since the ancient Mayans as their only water source, as well as for ceremonial purposes. The Mayans believe that the cenotes are the entry to Xibalbá – the Mayan underworld.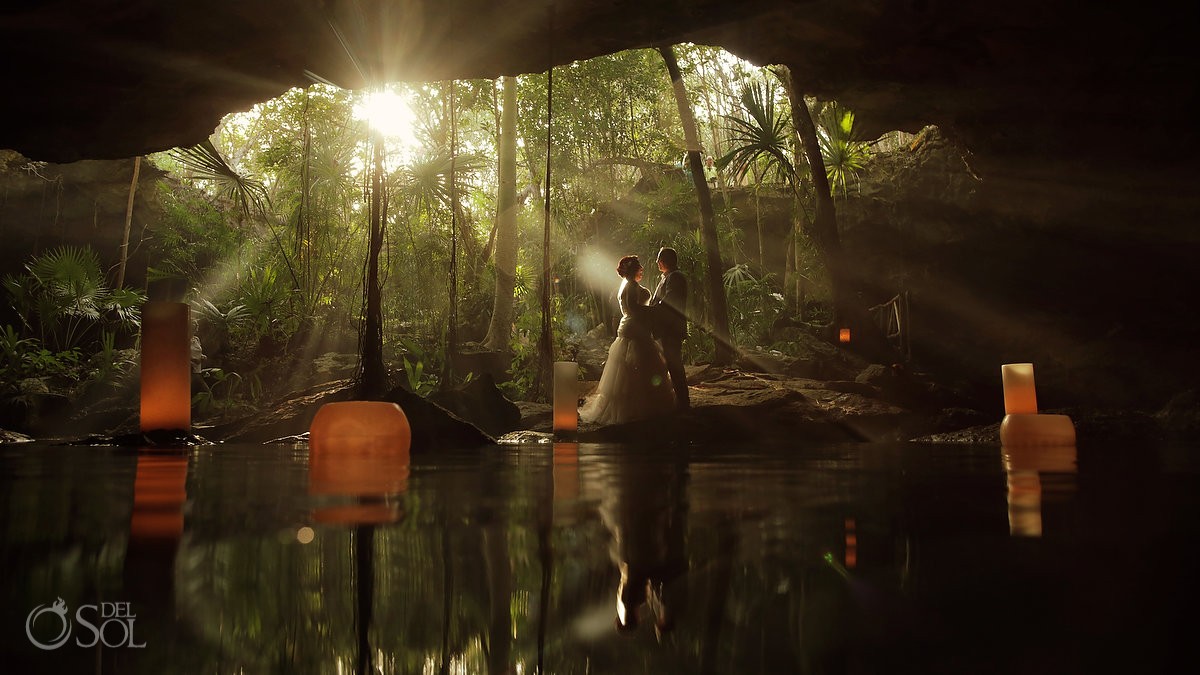 The cenotes are spiritual places, even if you are not a particularly spiritual person you cannot help feeling in awe of the natural beauty that surrounds you. They are a fitting location to perform an ancient tradition – the wedding ceremony.
The cenotes also offer one of the most private wedding venues in the Riviera Maya. Because of the nature of the caverns you can often have an area just for you. If you are planning to elope to the Riveiera Maya the cenotes offer an amazing private elopement location.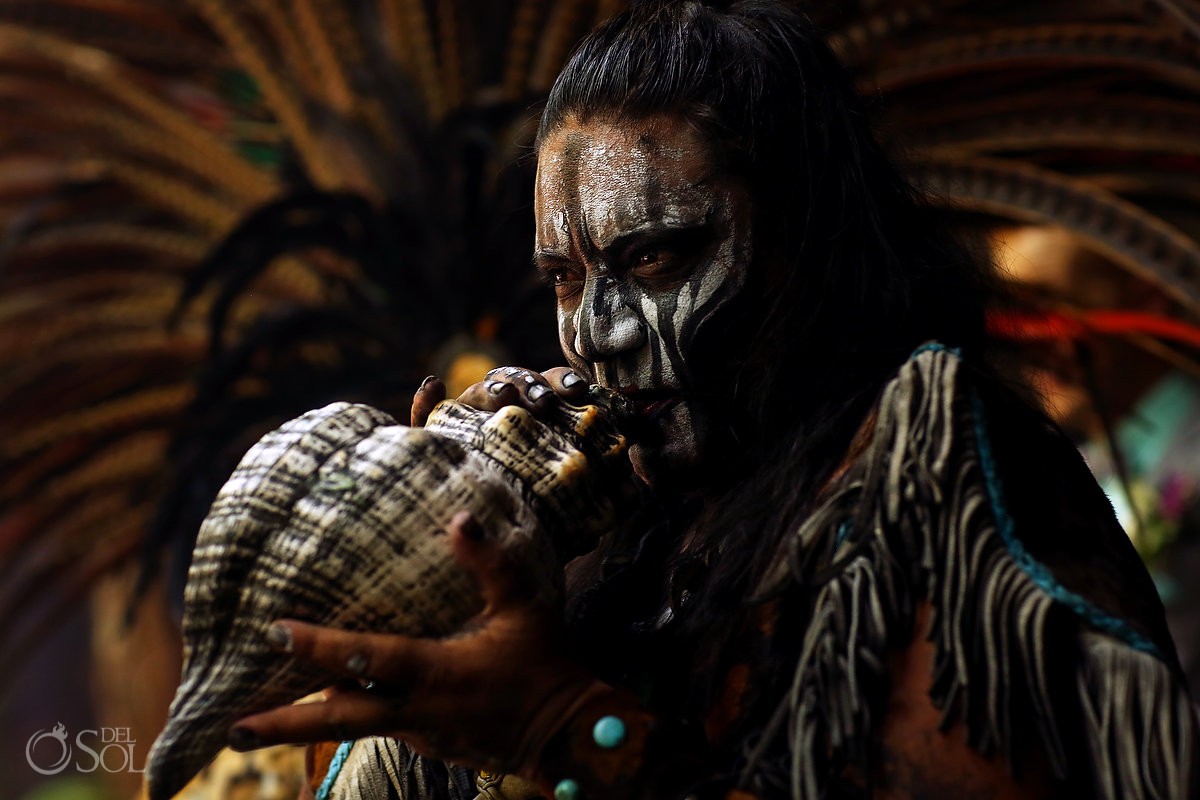 ---
Cenote Wedding Planning
Del Sol Photography are experience and event designers. We're delighted to work with you on all aspects of your cenote wedding planning. From transport to flowers to musicians to candle, we love to be able to design a unique wedding experience for you. If you have a very complex day in mid we can recommend you a wedding planner specialized in cenote wedding planning.
We can even help you book your travel – our certified travel agents Del Sol Travels can help!
Contact us to find out about planning cenote weddings.
---
Cenote Ceremony Types
Mayan Cenote Wedding Ceremonies
Destination weddings give you the chance to be as traditional, or not, as you choose. Whether you choose a spiritual, symbolic or Mayan wedding we will provide you with an officiant that speaks English or a translator.
Mayan weddings are popular of because of the significance of the cenotes to the Mayan culture. Visually they are beautiful. We work with may different amazing shamans and vendors who all provide their own take on how a Mayan ceremony should look. If you are inspired by brightly colored feather headdresses body paint or musicians who look like warriors we know who to work with.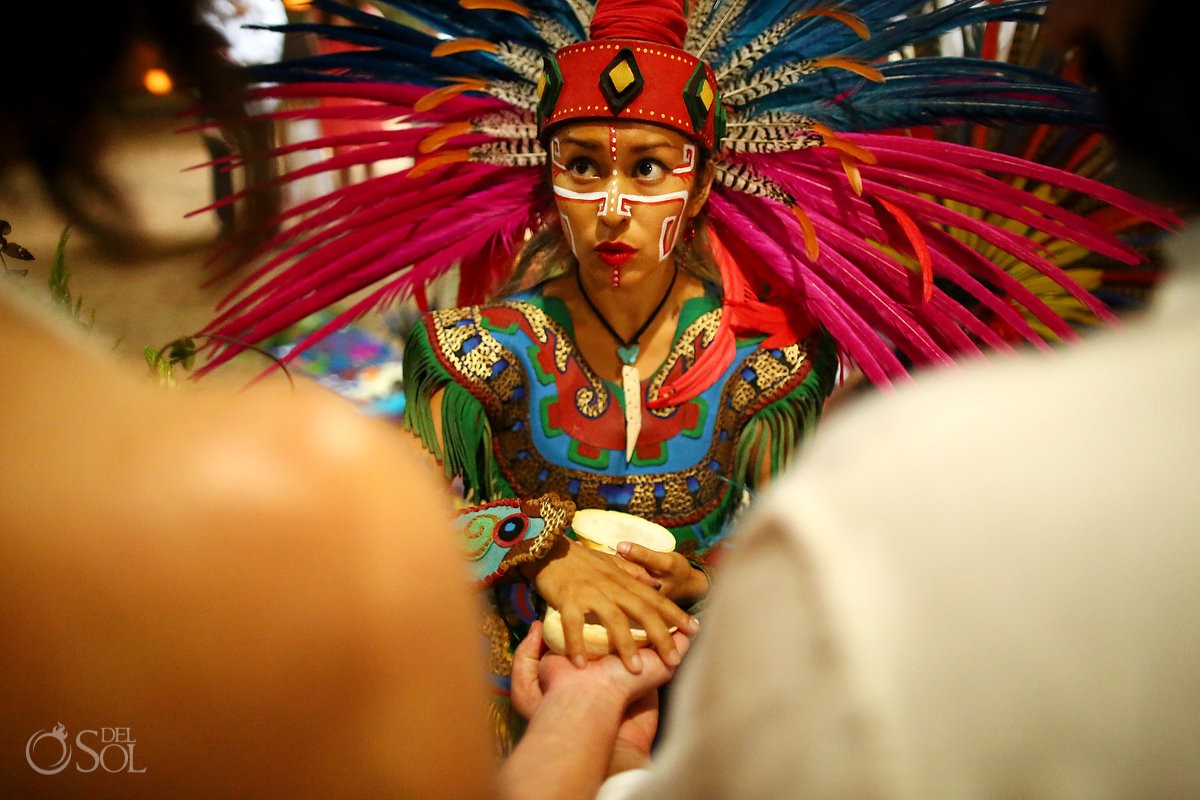 If you are looking for a Mayan ceremony but are looking for a spiritual experience without the visual show, we work with shamans who offer a different approach. Often dressed all in white, your shaman officiant will guide you through all the elements of a traditional Mayan ceremony.

Custom Cenote Wedding Ceremonies
We are also delighted to work with dear friends of ours who are shamans in their own right. We work with several people who speak excellent english and who will create a custom cenote wedding ceremony based on you and your partner.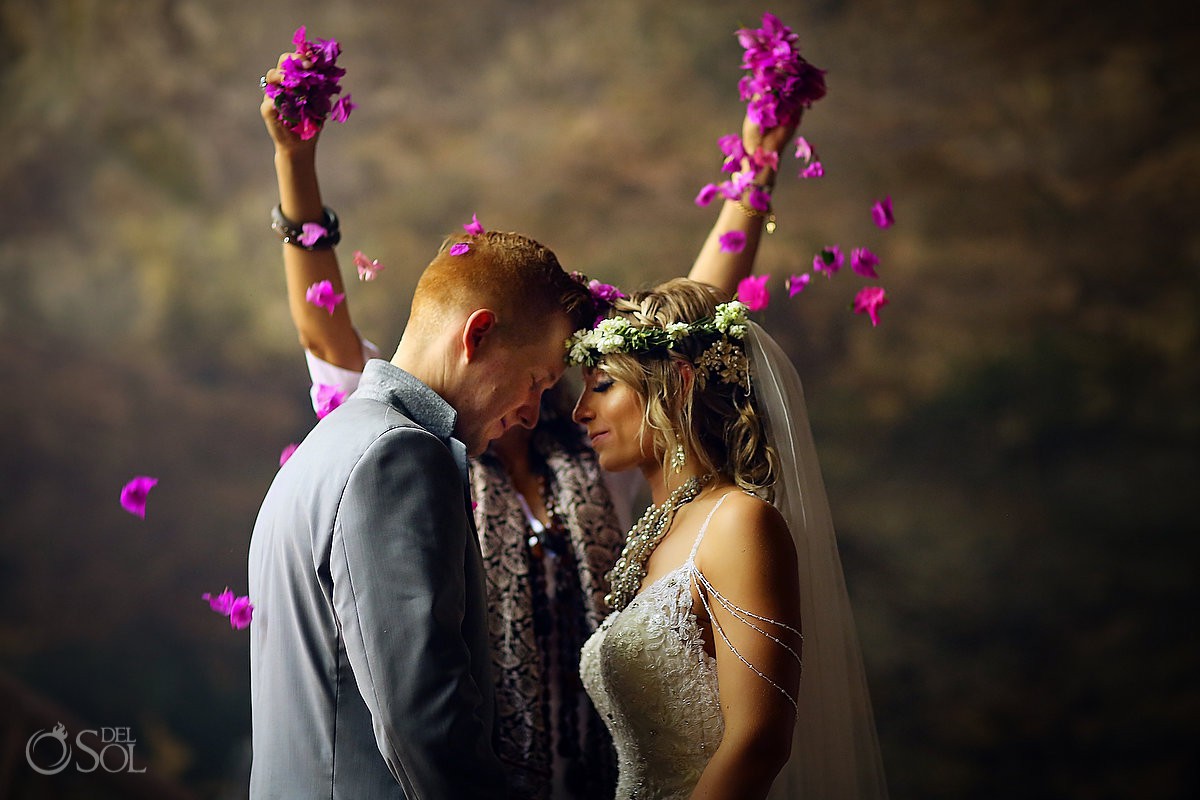 Symbolic Cenote Wedding Ceremonies
If you'd like to read your vows and have a sand ceremony and readings, standing at an altar in a cenote, of course that's great too! Cori and Dax read vows not only to each other but to Dax's 2 sons. The whole family also participated in a sand unity ceremony
---
Cenote Wedding Receptions
Cenote weddings are extremely adaptable. They are perfect if you want a beautiful ceremony but are not interested in having a reception. Cenote elopements are a great example of when that might be the case.
If you are staying in an all inclusive resort, the on-site team will be able to provide you with great options for a wedding reception when you get back from your cenote wedding ceremony. If you are not staying in an all-inclusive resort, or you would like a different option you could have your reception in a restaurant in Playa del Carmen, Puerto Aventuras, Akumal or Tulum. We even had a cenote wedding that was followed by a reception in the cenote restaraunt the Alux!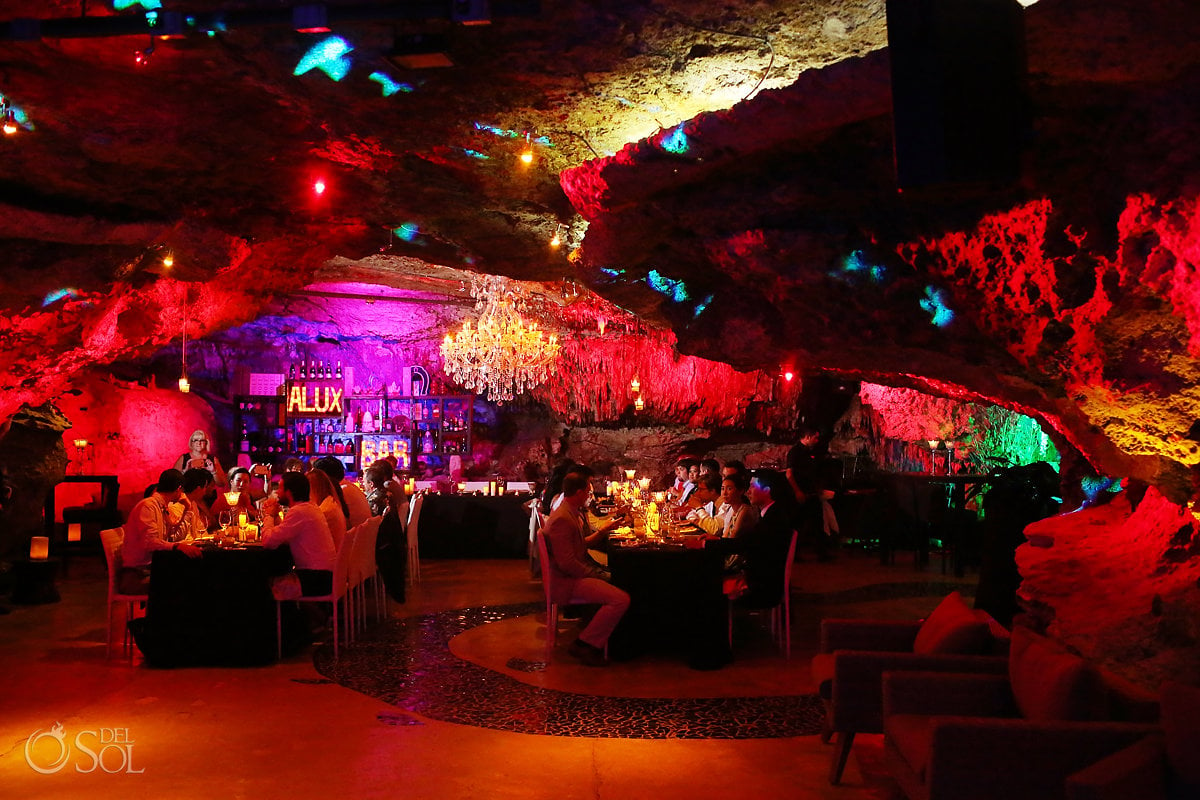 Another cenote wedding reception venue could be a beach club in Playa del Carmen. We loved that Cori and Dax selected Indigo Beach club for their wedding reception venue. They also took a walk down Playa del Carmen's 5th Avenue. A great opportunity for portraits at the Parque Fundadores with the Portal Maya and the voladores de Papantla and the chapel of Nuestra Señora del Carmen.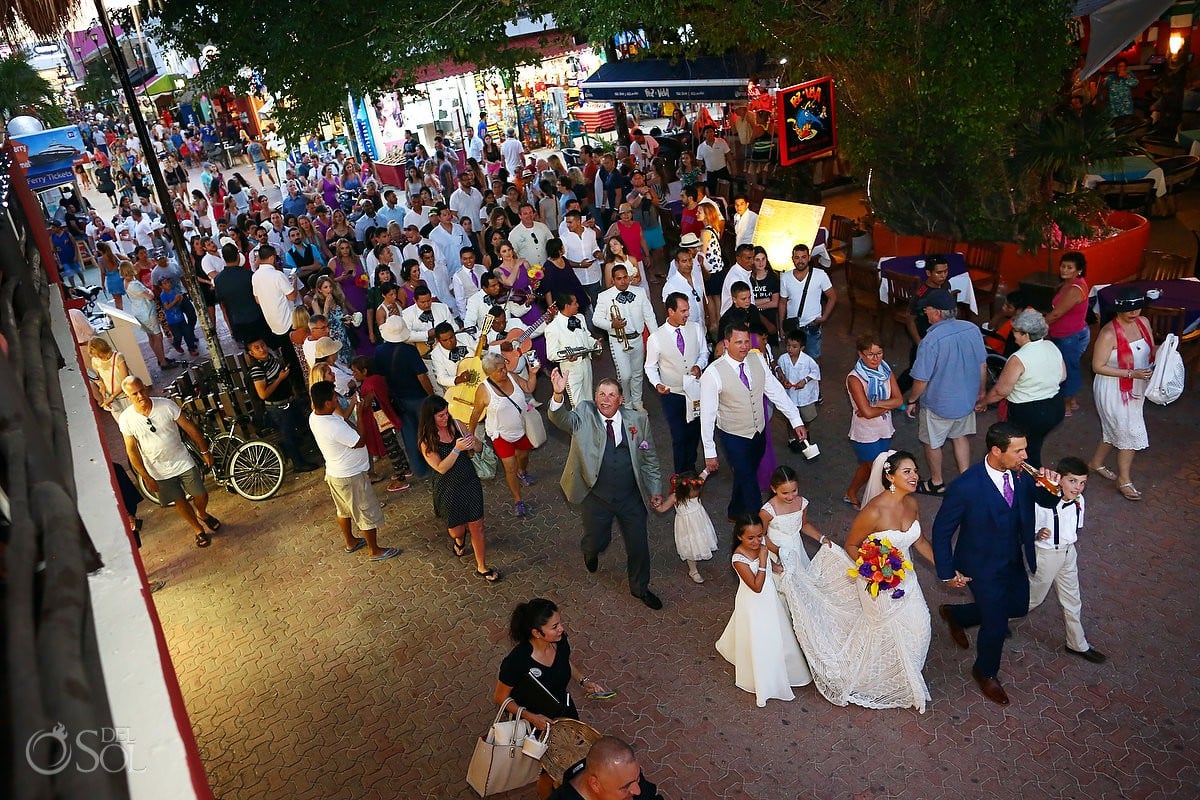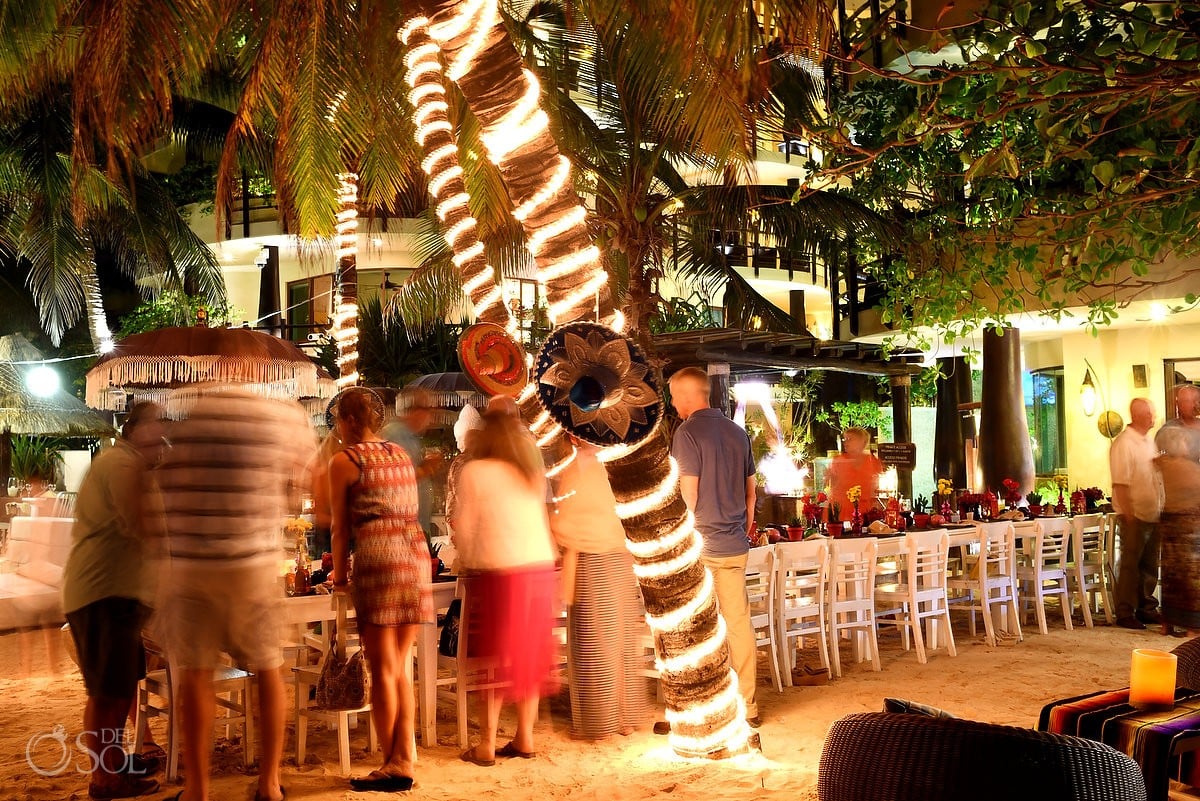 Above: A bride and groom walking down Playa Del Carmen 5th Avenue on the way to their wedding reception. Below: Indigo Beach club
---
Where to stay
There are SO MANY options to choose from in the Riviera Maya. If you are planning a cenote wedding with us most of our favorite cenotes are between Playa del Carmen and Tulum. Depending on you and your guests needs there are a whole host of family friendly and adults only all-inclusive resorts as well as boutique and luxury options as well as private villas.
Contact our certified travel agents Del Sol Travels for recommendations!
---
Cenote Wedding Packages and Pricing
All of our cenote weddings end up being custom packages. There are quite simply so many variables and options. From location entry fees, to transport and decoration to the kind of ceremony that's right for you we're happy to create a special package for you.
One thing important to consider is that by working with us you could very well simplify your planning by having us take care of logistics, photography and even accommodation if you work with our Del Sol Travels team. We can offer you a complete, seamless service!
Contact us to find out about packages and pricing for cenote weddings.