Why Rain on your Wedding Day is Awesome
Rain on your wedding day – every wedding day plan begins without it but we believe the weddings that do find the rain get blessed. Rain is the giver of rainbows, epic sunsets with skies and clouds turning ridiculous colors of oranges and reds. Rain has been the backdrop to many of our favorite pictures and award-winning images.
Contact us to plan your travel! Our sister company Del Sol Travels is a full-service travel agency that specializes in planning Destination Weddings, honeymoons and special events. Their services are complimentary, and their expertise is not limited to weddings.
Del Sol Photography is known for epic rain photographs, so much so that we even had a bride who told us she wished for rain on her wedding day! She got her wish, and we took some of our favorite rain pictures. You can see Holly and Matthew's amazing rainy wedding at el Taj here.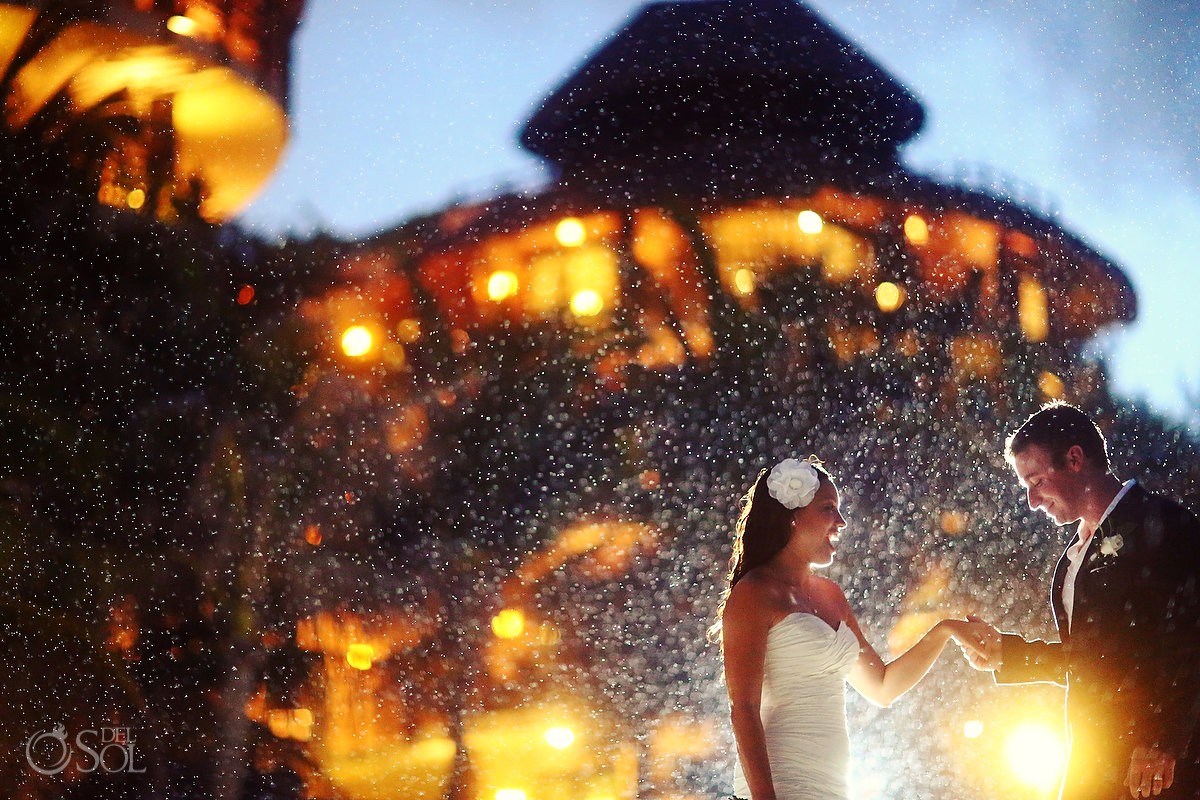 Mexico does have a rainy season which brings advantages like missing both high season prices and crowds. We cannot predict if the season will be rainy or not, some years see only a few showers while others include wet weeks. We had a couple plan their wedding day for the weather almanac's driest day of the year… it rained! What's for sure is that there can always be a backup plan: don't be afraid to ask hotels and vendors how they deal with rainy weather and check the Del Sol Seasonal Guide.
What happens when it is going to rain and you have an oncoming crazy storm or potentially a hurricane. The awesome adventure.

I love how you guys stated, "We love to shoot in the rain." This statement represents how confident the photographers are. Nothing, not even rain, gets in the middle of the dedication and excellence of work. –

Alex + Rick
Living in the tropics we are prepared for inclement weather. Anything is possible but we embrace unpredictability and use the weather to make unique photographs.  Quick decisions and or changes in plan become part of the adventure and create life long memorable experiences for everyone involved. Also,  tropical downpours often only last for a few minutes….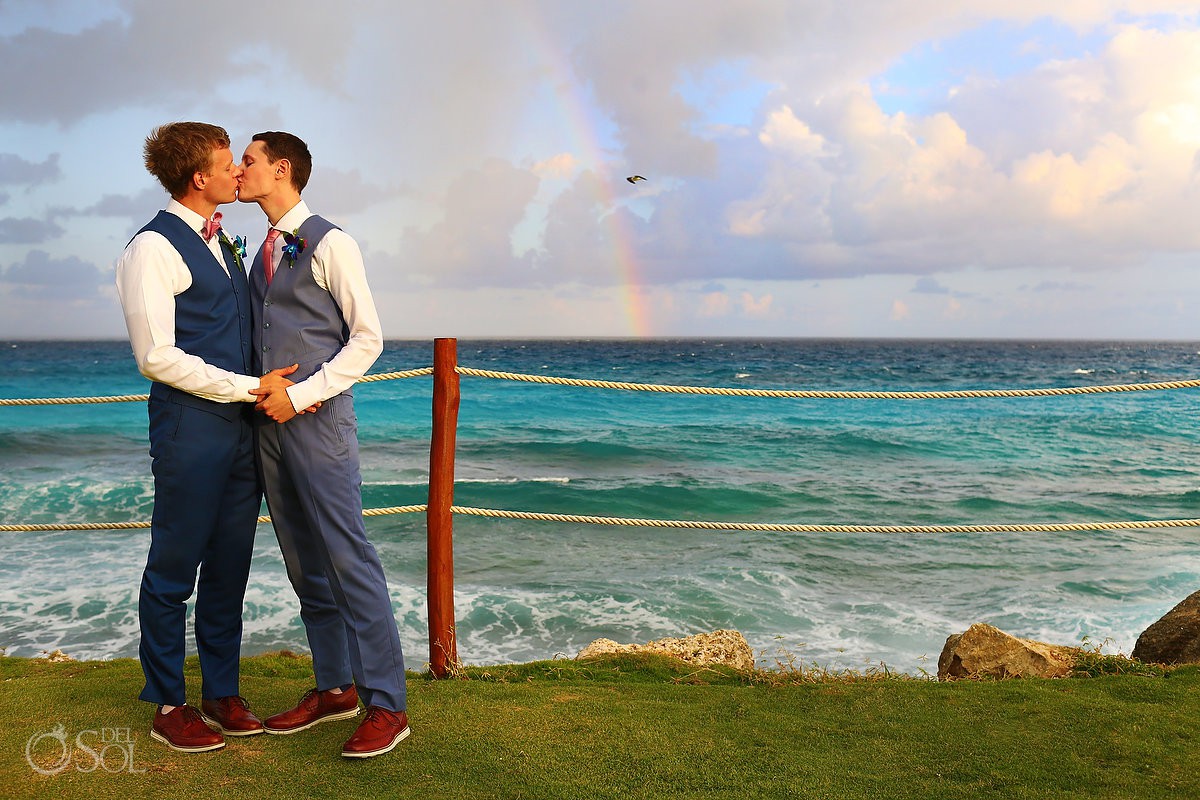 "Del Sol Photography literally turned our rainy day wedding into a rainbow and captured the fiery sunset in images that still leave me speechless.  Laura + Andres – Now Jade Wedding
*The following testimonial was sent to us before Stephanie and Matt's wedding day* As the cards fell it RAINED on them and she wasn't kidding about diamonds…
"I have also seen some of your albums where it was raining and you made the absolute best of it… it almost looked as though diamonds were falling from the sky! I like the confidence in knowing that even rain can't stop you guys from doing awesome work." –  Stephanie + Matt
In the end, adventures in the rain have always led to FUN, outgoing and in someway childish, uninhibited enjoyment with our clients.  Letting go of things you can not control and embracing the elements will make for a stronger love story on your wedding day!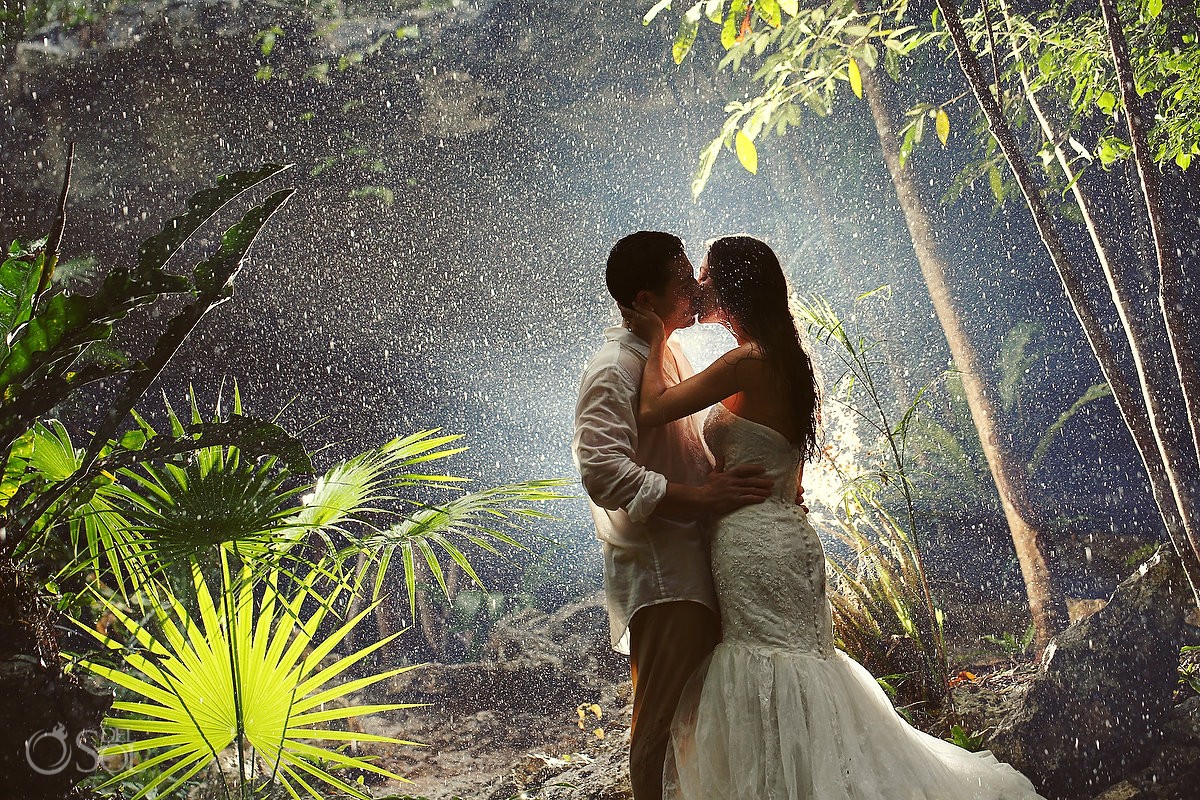 We must mention Elisa, who is also the author of the most hilariously charming "what happens if it rains" emails ever!  She told us "it's going to rain…. on your wedding day" is the ultimate doomsday phrase to a bride.
"The word "RAIN" is a forbidden word for a bride… I was getting ready for work one morning when Corey dropped the bomb on me: "It's going to RAIN on our wedding day."  He casually said the forbidden word "RAIN" as if he were saying "GOOD MORNING."  My panic ultimately led to the conclusion that I was going to send Corey to the lumber yard because he is going to build his future wife an ark to save the wedding day.  THANK GOD the team at Del Sol calmed my "BRIDE BRAIN" and sent me pictures of what they can do to turn a rainy wedding day blunder into something fabulous.

"The moment we heard the raindrops we rushed outside with umbrellas in hand, hoping to capture some fabulous wedding rain photos. The rain shower was short lived and we didn't get the chance to shoot during the midst of the storm.  Ironically, the word "RAIN" had turned into something I desired to happen on our wedding day thanks to the artistic team at Del Sol!" – Elisa 
Check out more of Del Sol Photography's favorite rainy weddings and trash the dress sessions:
Michelle and Bryan had their Paradisus wedding moved inside
Christina and Anthony had all their guests dancing in the rain for their destination wedding at Hotel Esencia
Suzi and Rick had dark clouds rolling in, bringing a rainbow with them at Iberostar Cancun
Lori and Tyler moved their wedding inside at Now Jade
Nadège and Ian had their reception rained inside at Dreams Tulum
Rain is also awesome in a trash the dress or portrait session:
Marissa and John had an EPIC rainy trash the dress session
Danielle and Casey had fun in the rain with their daughters on Isla Mujeres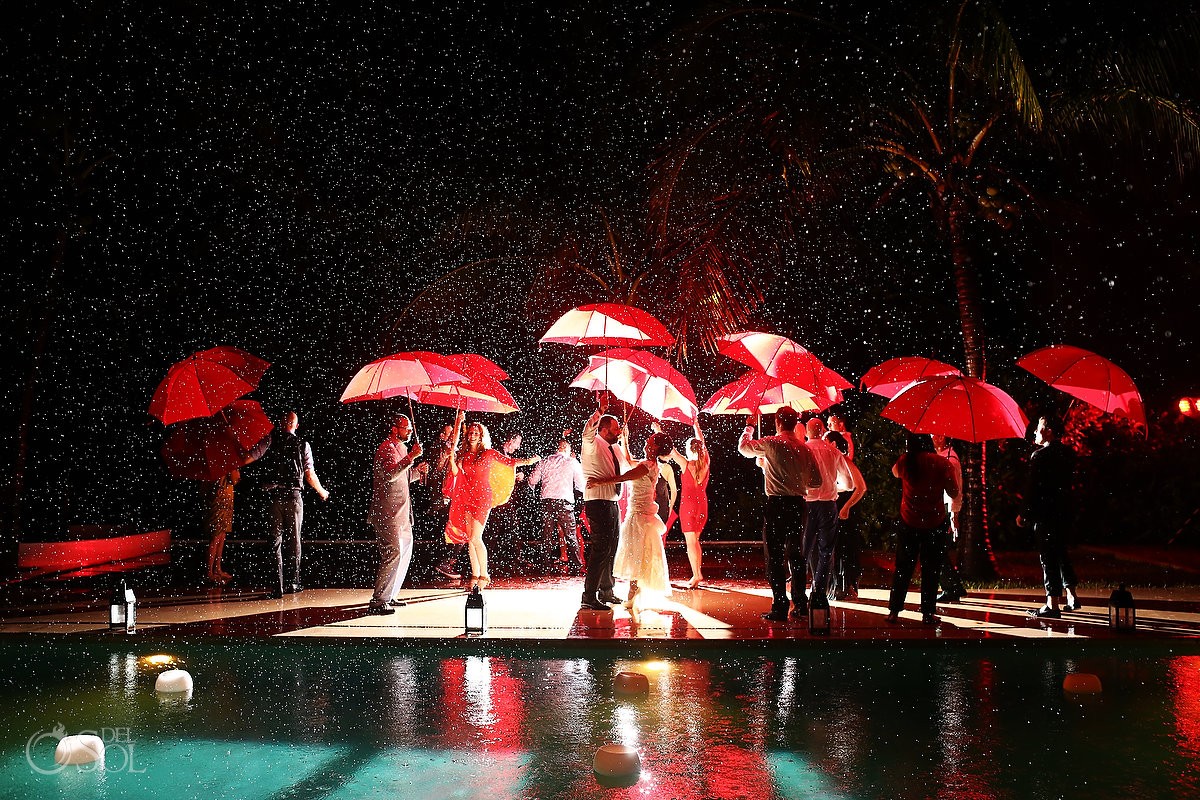 Be sure to visit more of our collections and roundups of the best of the best here:
Here are 26 of our Favorite Father – Daughter Moments
Here is our advice for finding the TOP luxury hotel in Cancun or the Riviera Maya for your destination wedding.
If you are really feeling risky…. Adam and Eve Trash the dress sessions – BEST OF (definitely #NSFW)
And read in the Huffington Post: These Couples Braved Danger For Their Wedding Photos, And It Sure Paid Off   *the title sounds sensationalized a bit…however there are fun shots and many shots  featured there with other exotic situations… in the end, "Exotic and fun is desired" taking a risk for a photo sometimes is a lot of excitement… just taken with caution and measure :)  **Find more of del Sol Photography featured in the Huffington Post here.
---
https://delsolphotography.com/wp-content/uploads/2016/11/Best-Rain-Wedding-Pictures_cover.jpg
800
1200
Polly
https://delsolphotography.com/wp-content/uploads/2022/04/delSol-new-logo-340px-copy.png
Polly
2016-11-26 12:04:09
2022-05-19 13:33:25
Why Rain on your Wedding Day is Awesome