Akiin Tulum Wedding on the Day of the Dead
Alexis + Drew
"I've always loved the idea of Day of the Dead. Honoring and remembering our loved ones who have passed as a celebration rather than a sad event."
Every wedding is emotional, but Alexis and Drew's Akiin Tulum wedding had us tearing up more than most. They chose the Day of the Dead or Día de Muertos specifically to pay tribute to their loved ones. What started as something personal soon spread to include their whole group. A beautiful celebration of life on the Day of the Dead.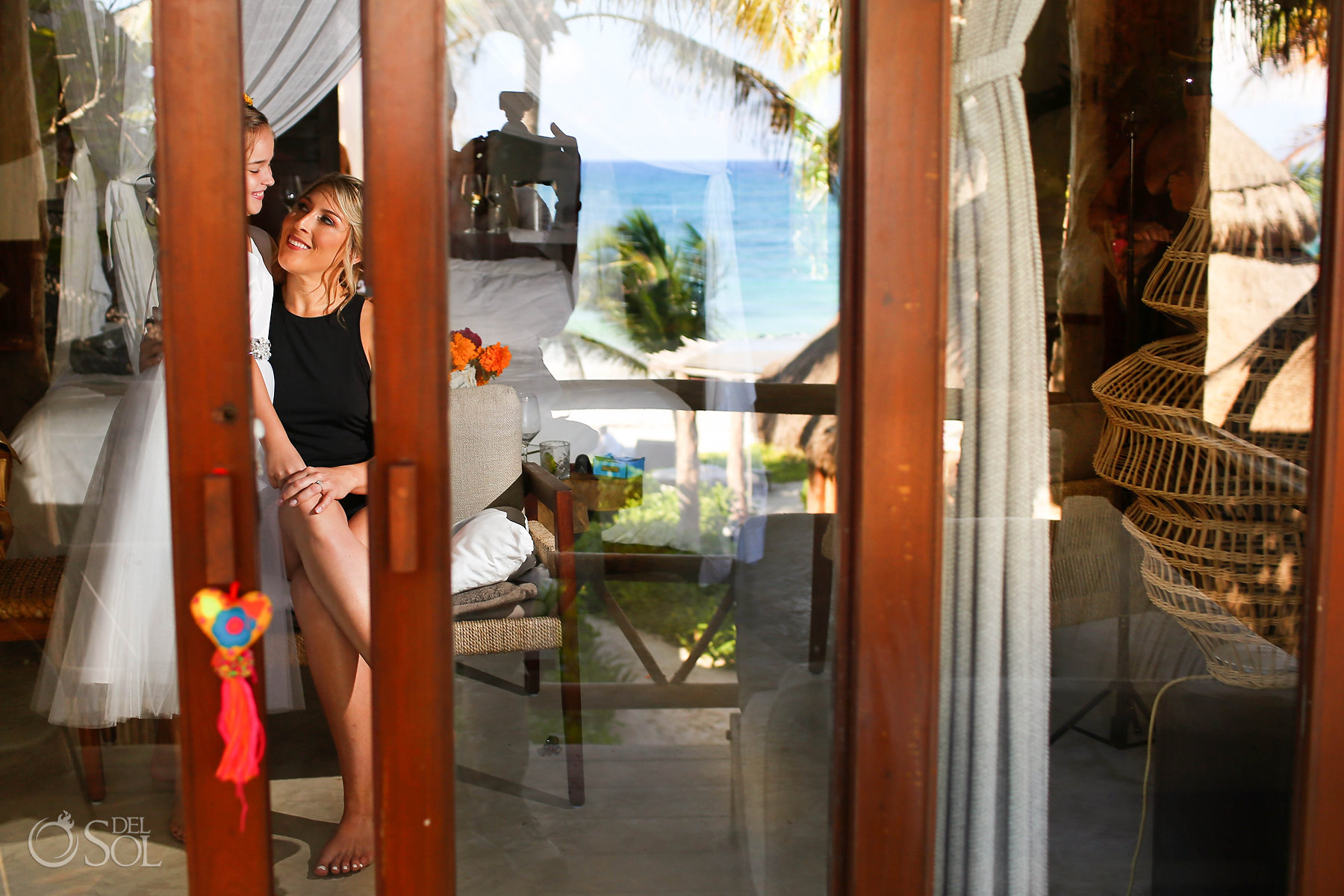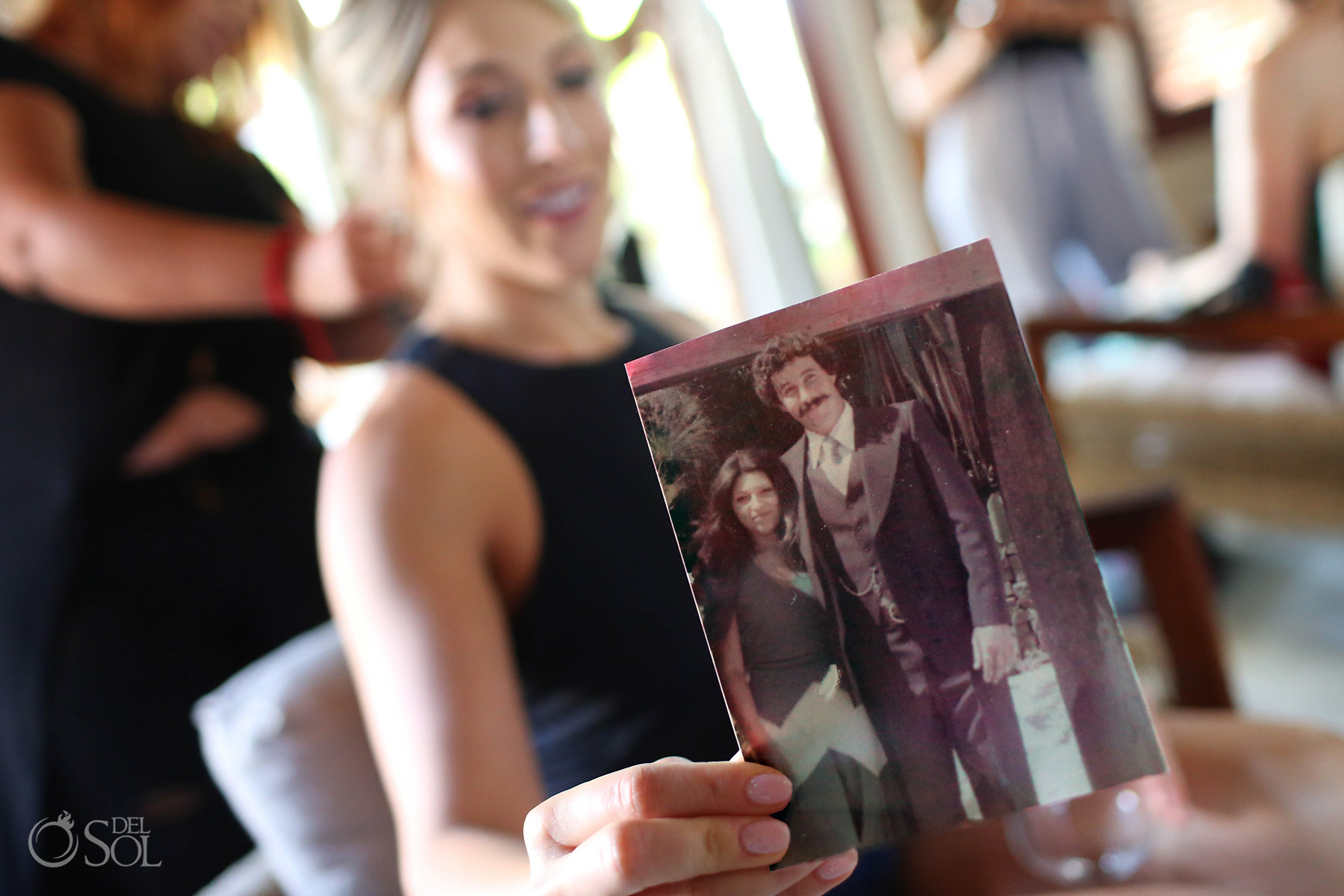 Del Sol: Why did you choose the Day of the Dead to get married?
"I lost both of my parents within 6 months of each other. I'd been with my mother the first time we traveled to the Yucatan to visit my cousin Shawn who'd moved there in 2007. When she passed in 2011, my sister and I decided we would have her cremated. We spread her remains in Tulum, a place whose beauty she revered. We made an event of it the following year, inviting friends and family to the Tulum ruins to be there as we set her free from the cliffs overlooking the ocean."
"Years later, we found a note my mother had written expressing her wishes for her ashes to be scattered in a beautiful place, so that my sister and I would have a place to travel to go visit her."
When Drew and I got engaged, there was no question about where we would get married, and Day of the Dead just happened to fall on a weekend!"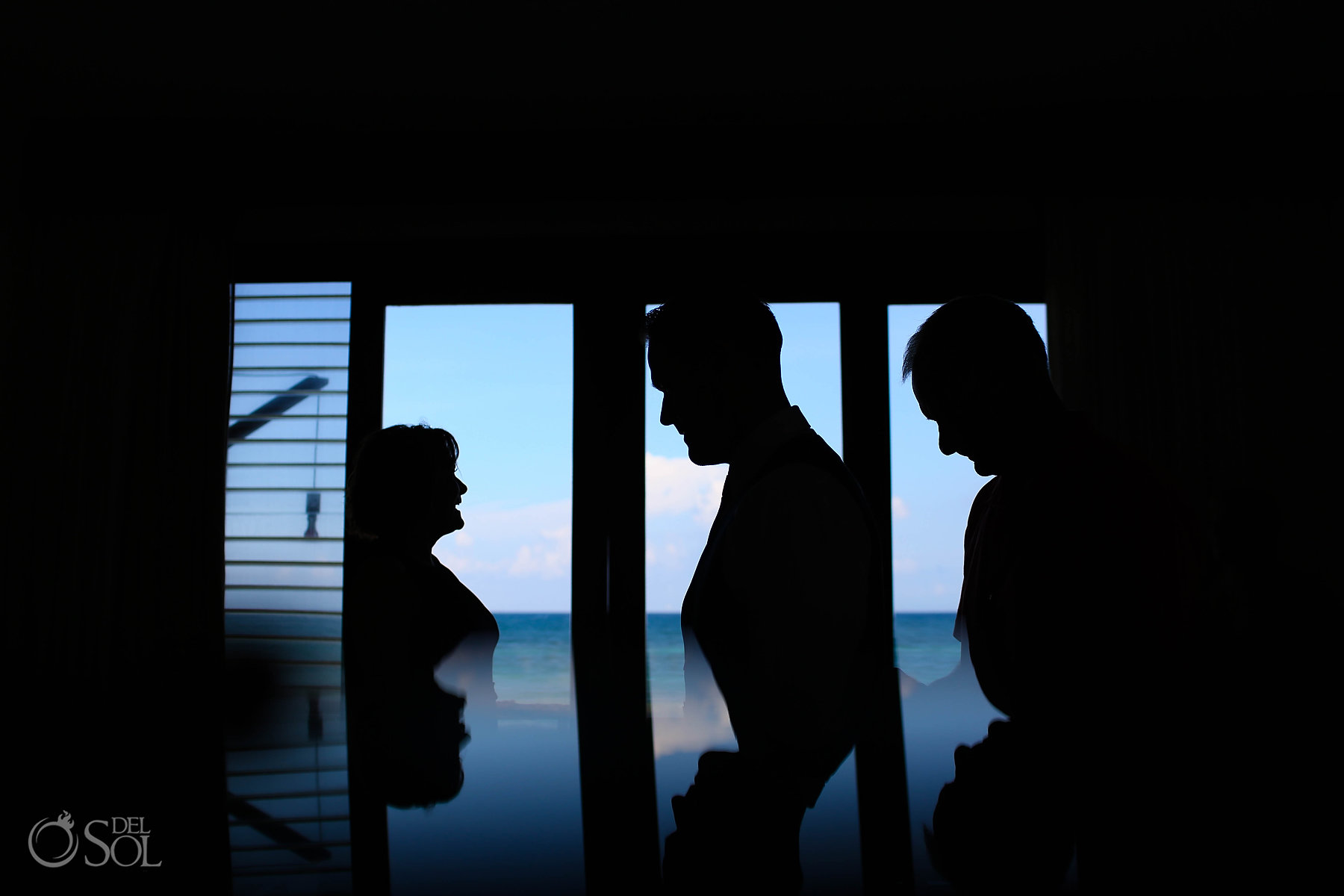 Del Sol: What was the most amazing moment of your day?
"The whole day is still so much of a blur. However, I was touched to have my two uncles walk me "down the aisle.""
"Being literally surrounded by family and friends while we said our vows was pretty great. The mariachis on the sand after the ceremony was an amazing touch and something my Mexican grandmother would have loved."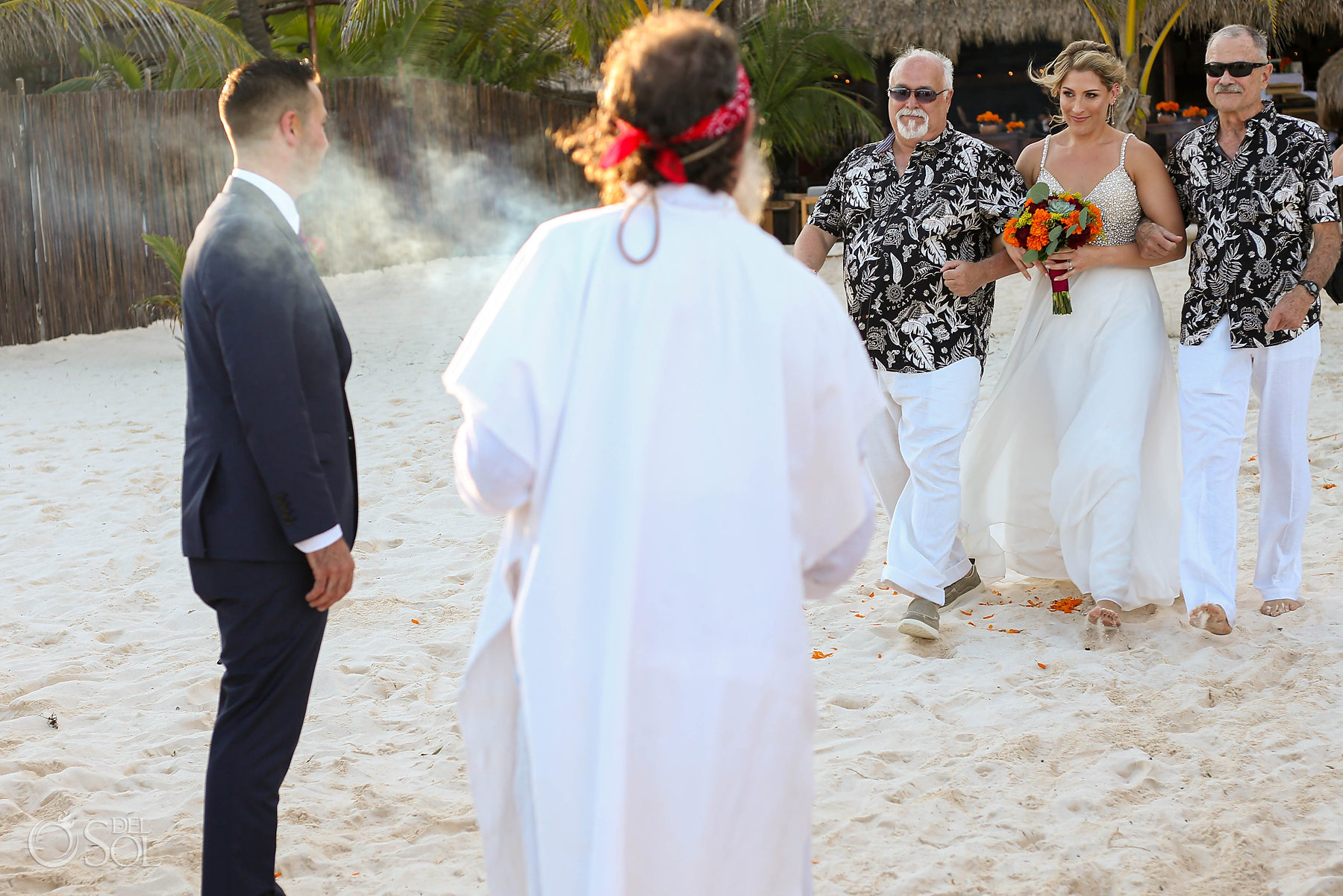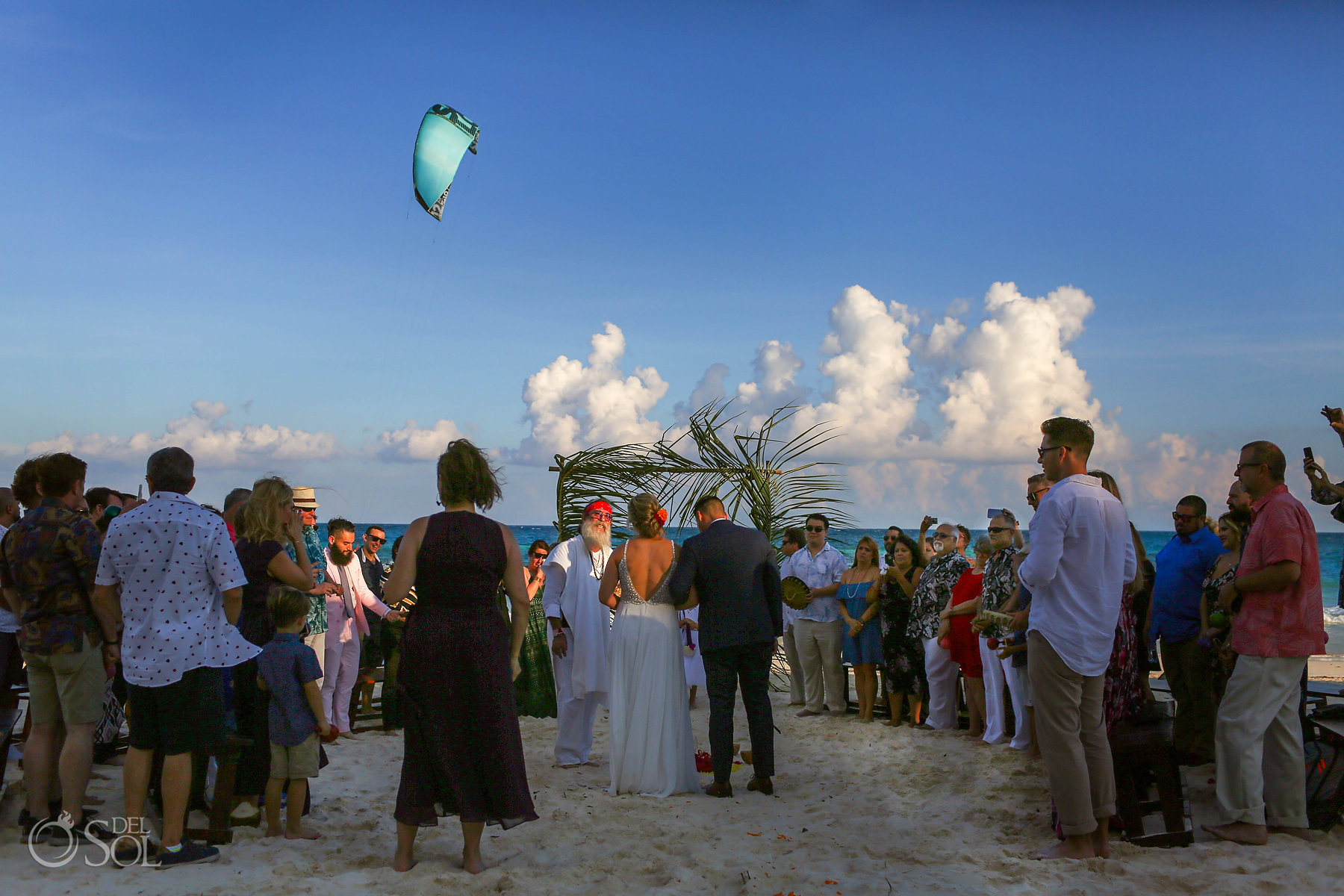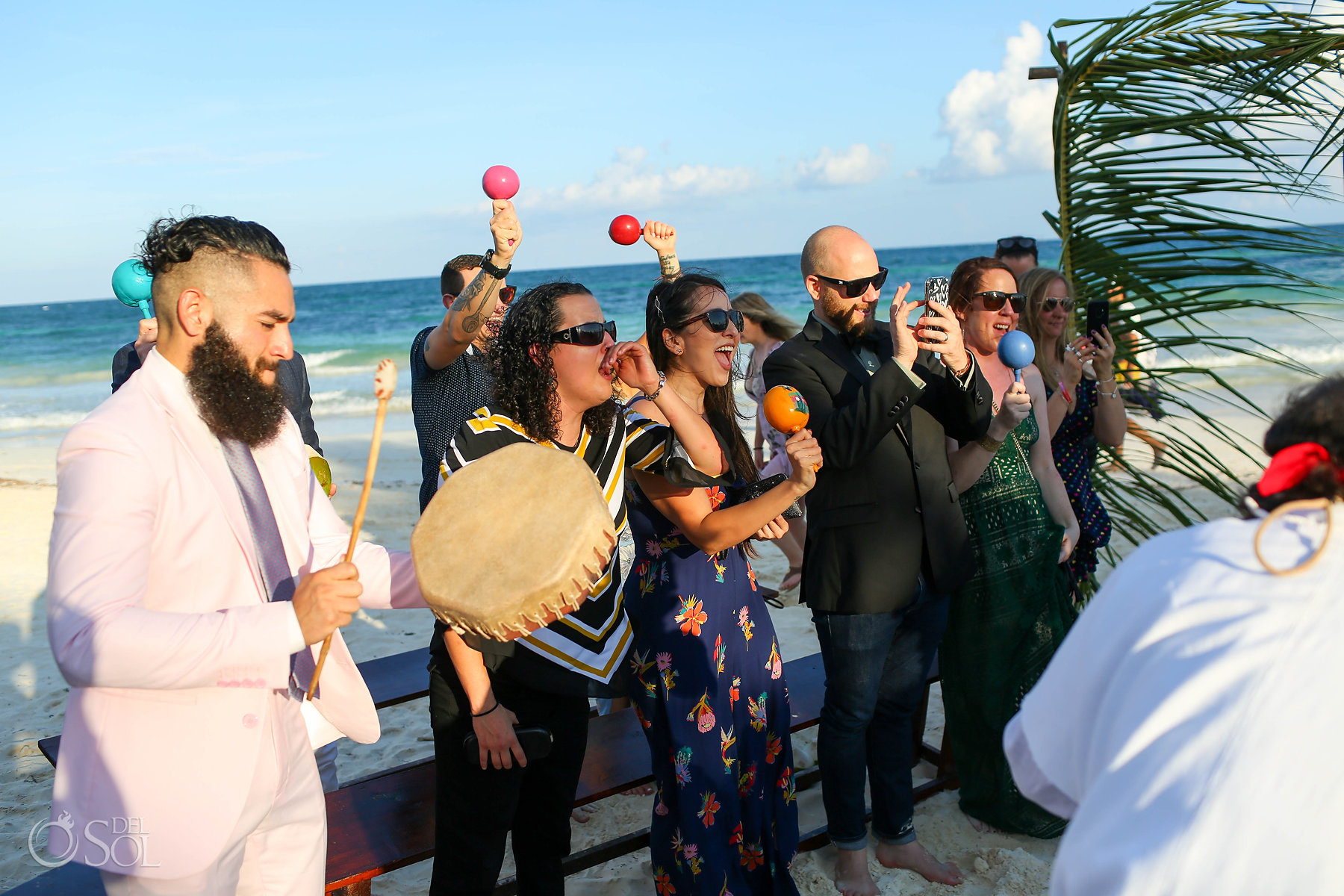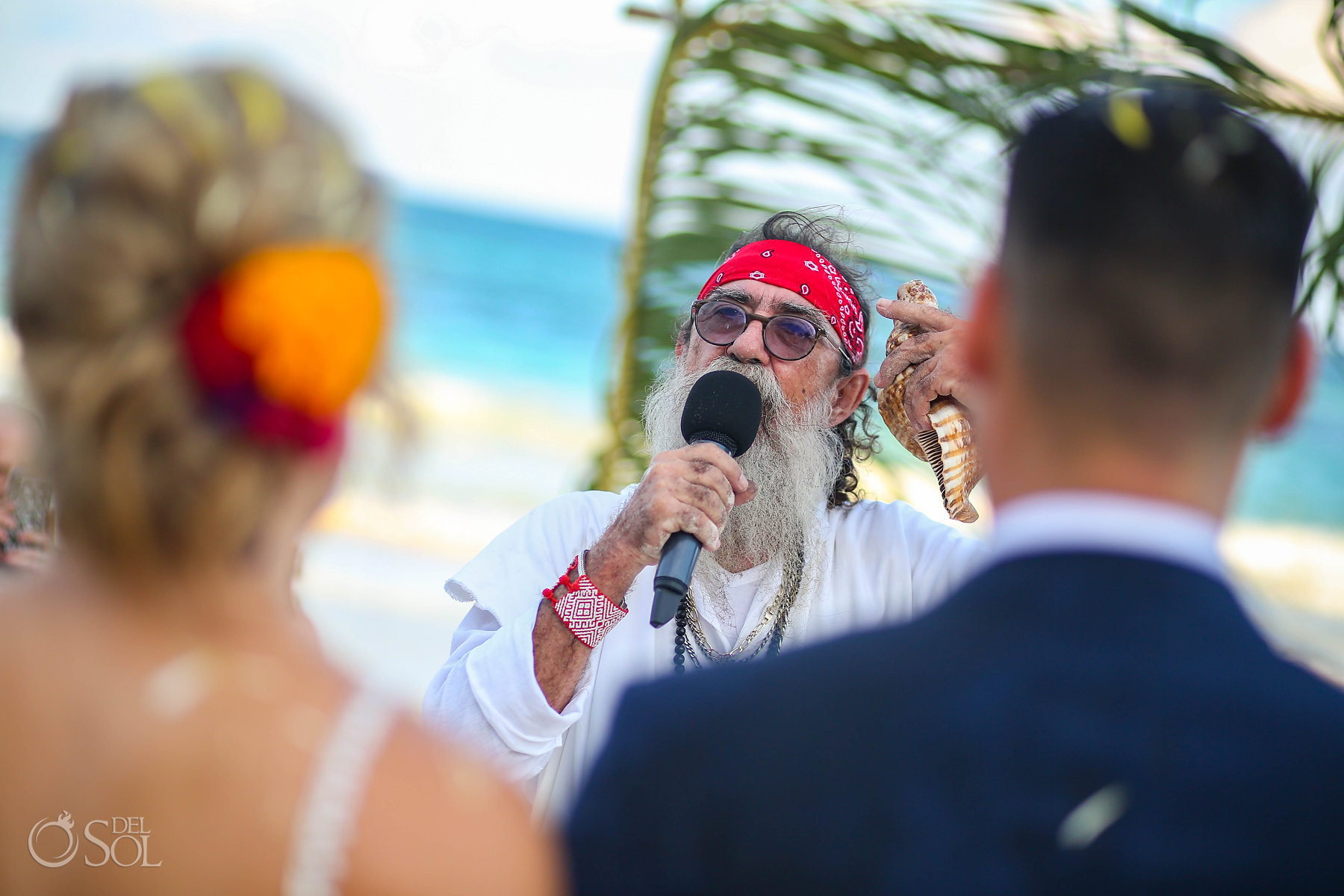 Del Sol: You chose a "Cosmic" ceremony for you Akiin Tulum Wedding. Can you talk about the magic of a Mayan Wedding Ceremony?
"We chose to have a Mayan Wedding Ceremony because it is unique to the Yucatan. Also because we were able to involve our family and friends in the ceremony."
"Instead of standing in front of everyone like in a traditional ceremony, we were surrounded by our guests in a circle."
"Our ceremony was performed by a shaman who provided our guests with maracas and drums and flower petals. Everybody was able to be involved in some way."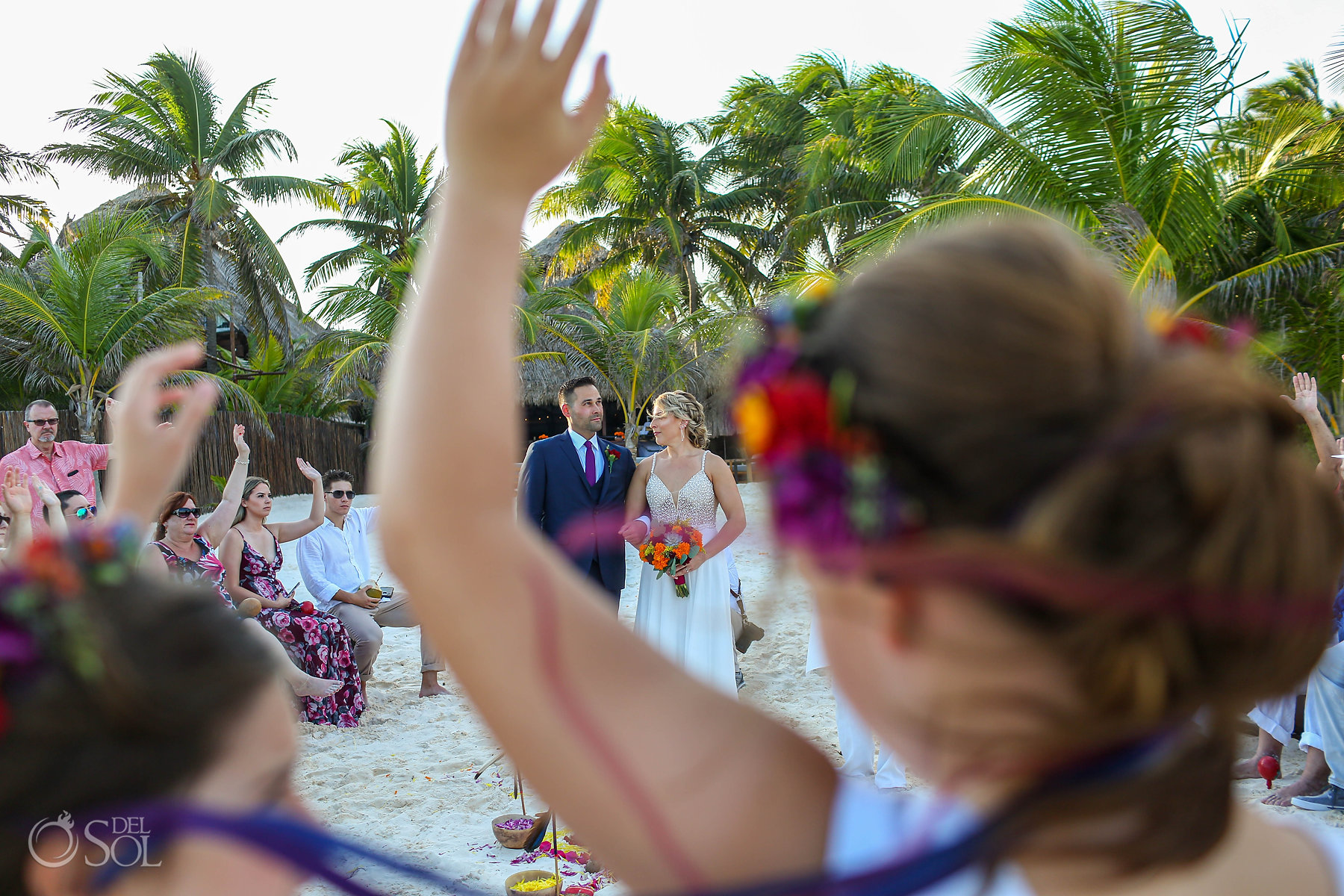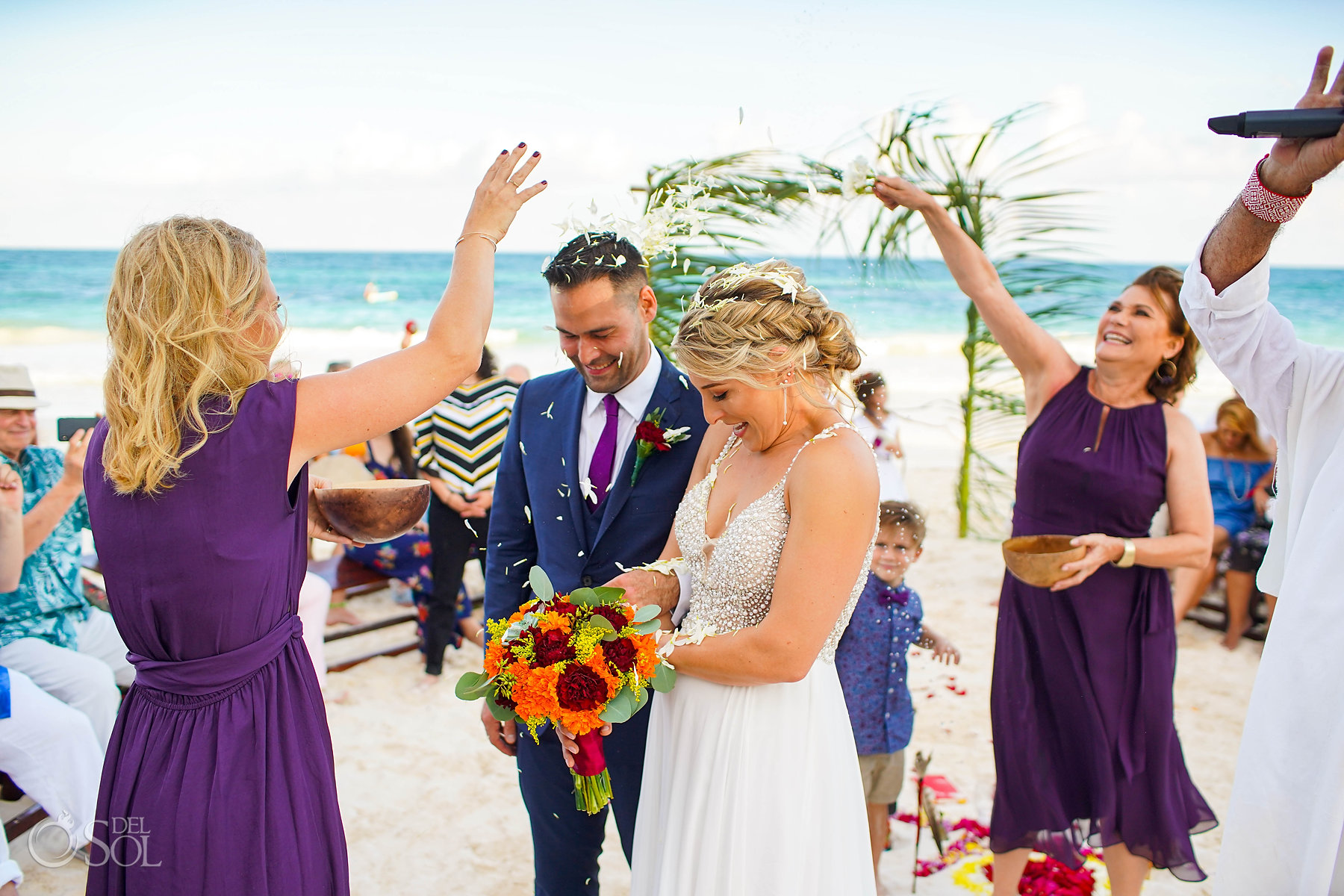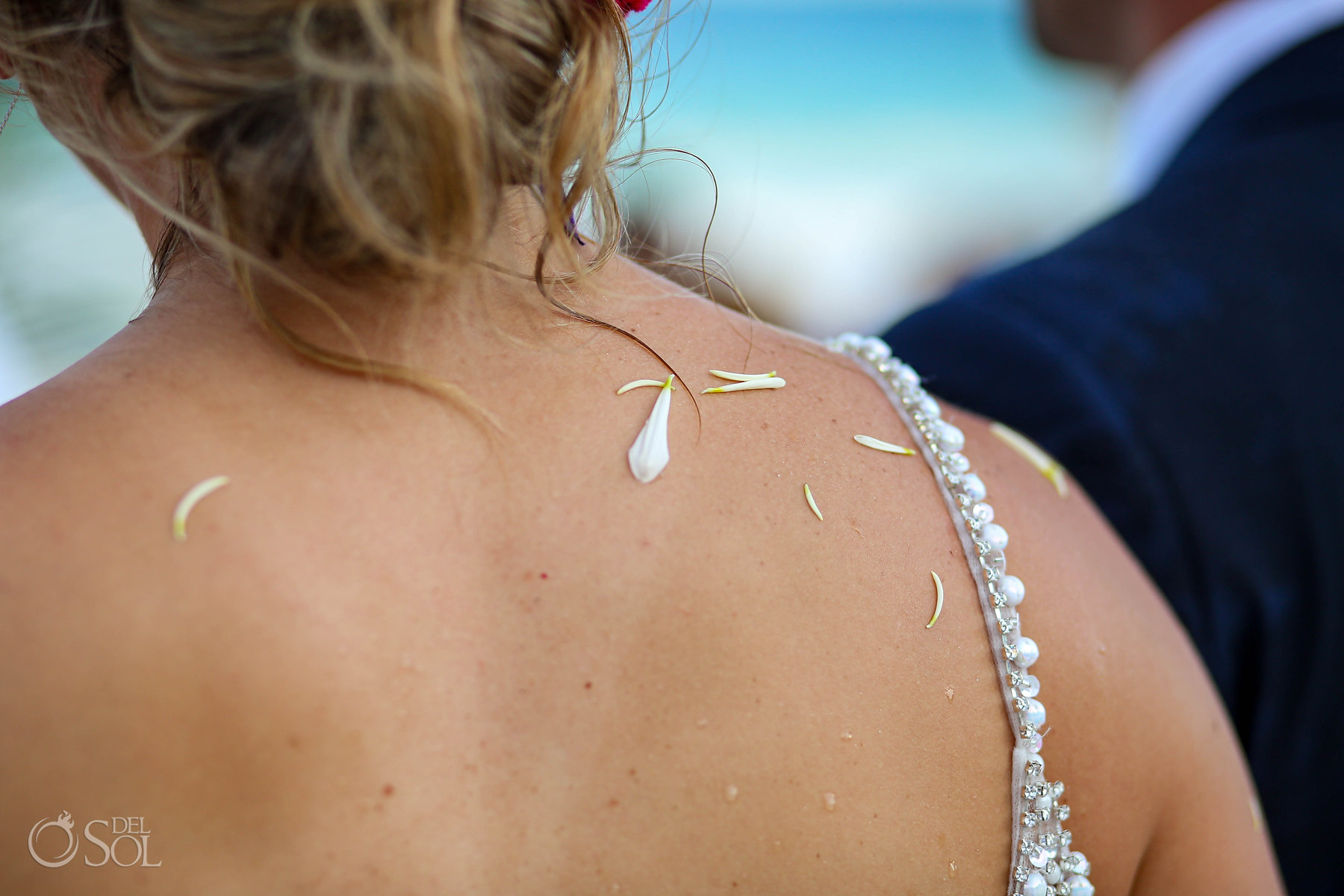 Del Sol: We believe that the experiences we have in our lifetime make us the people we are… and travel is a huge part of that.
"Travel has always been a huge part of my life. When Drew and I started our journey together, we really bonded over our mutual desire to see the world."
"We started with small road trips, then little weekend getaways. Of course we visited Playa del Carmen and Tulum several times. We've now visited Australia, South Africa, The Dominican Republic, Ireland, and Tanzania. The list keeps growing!"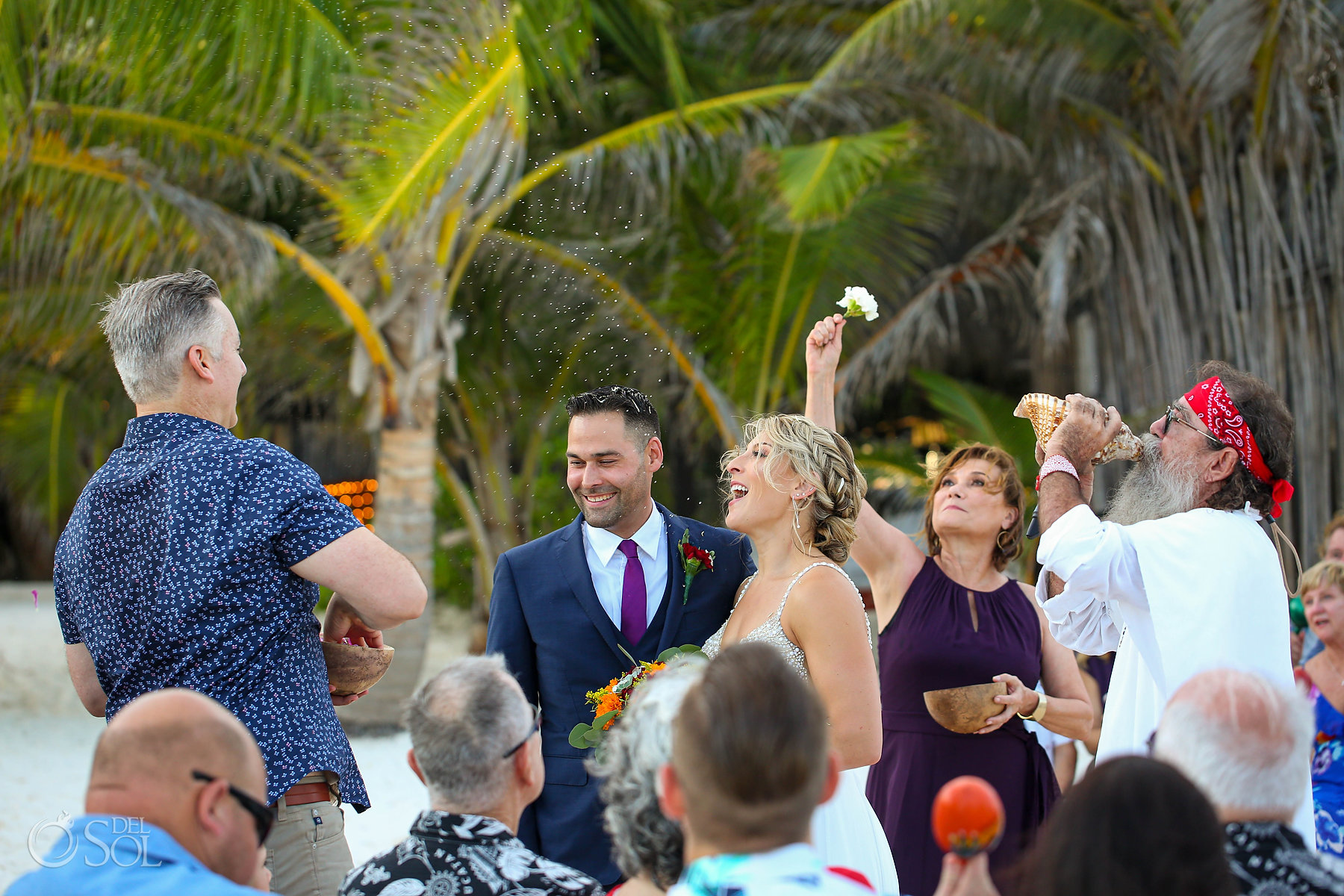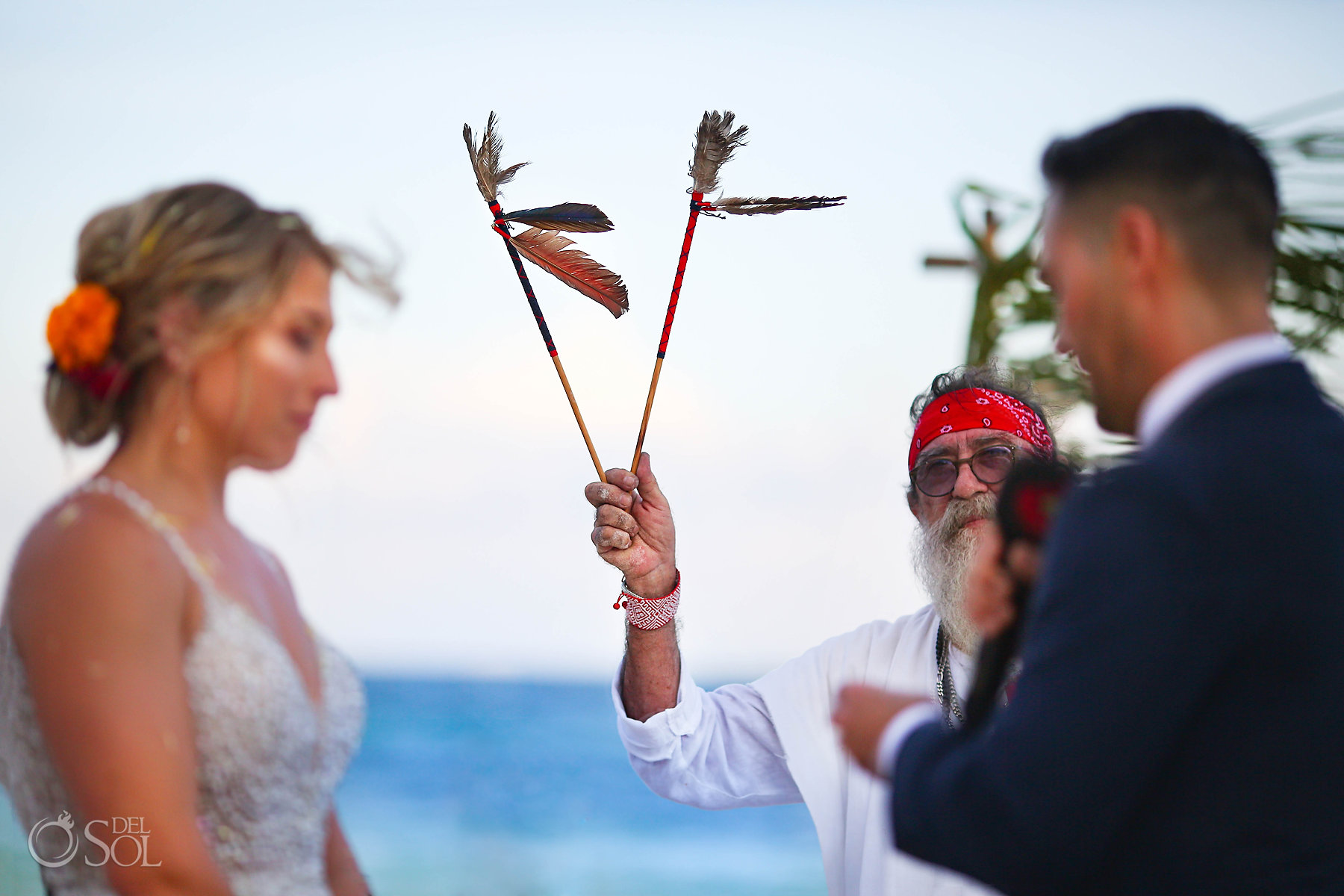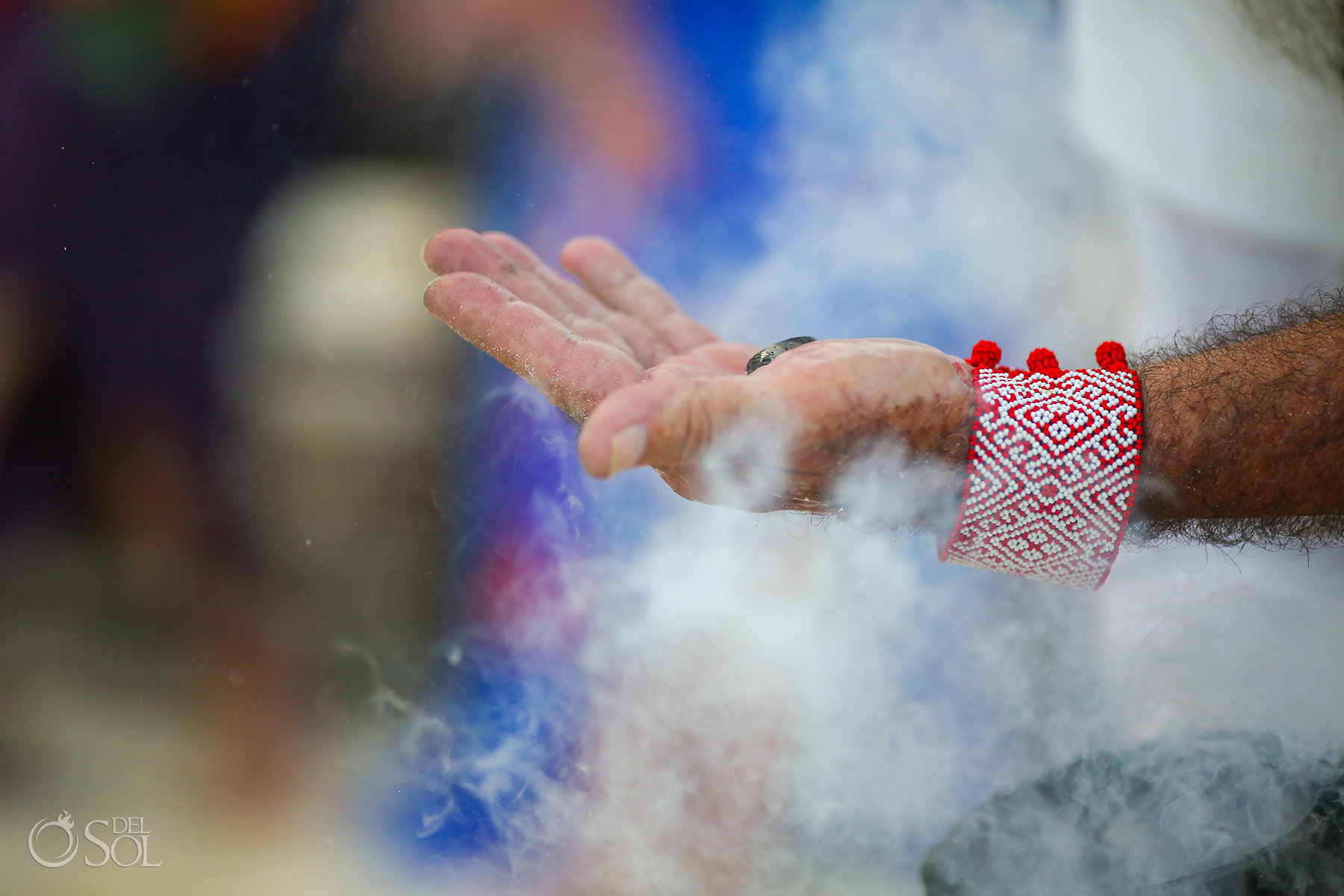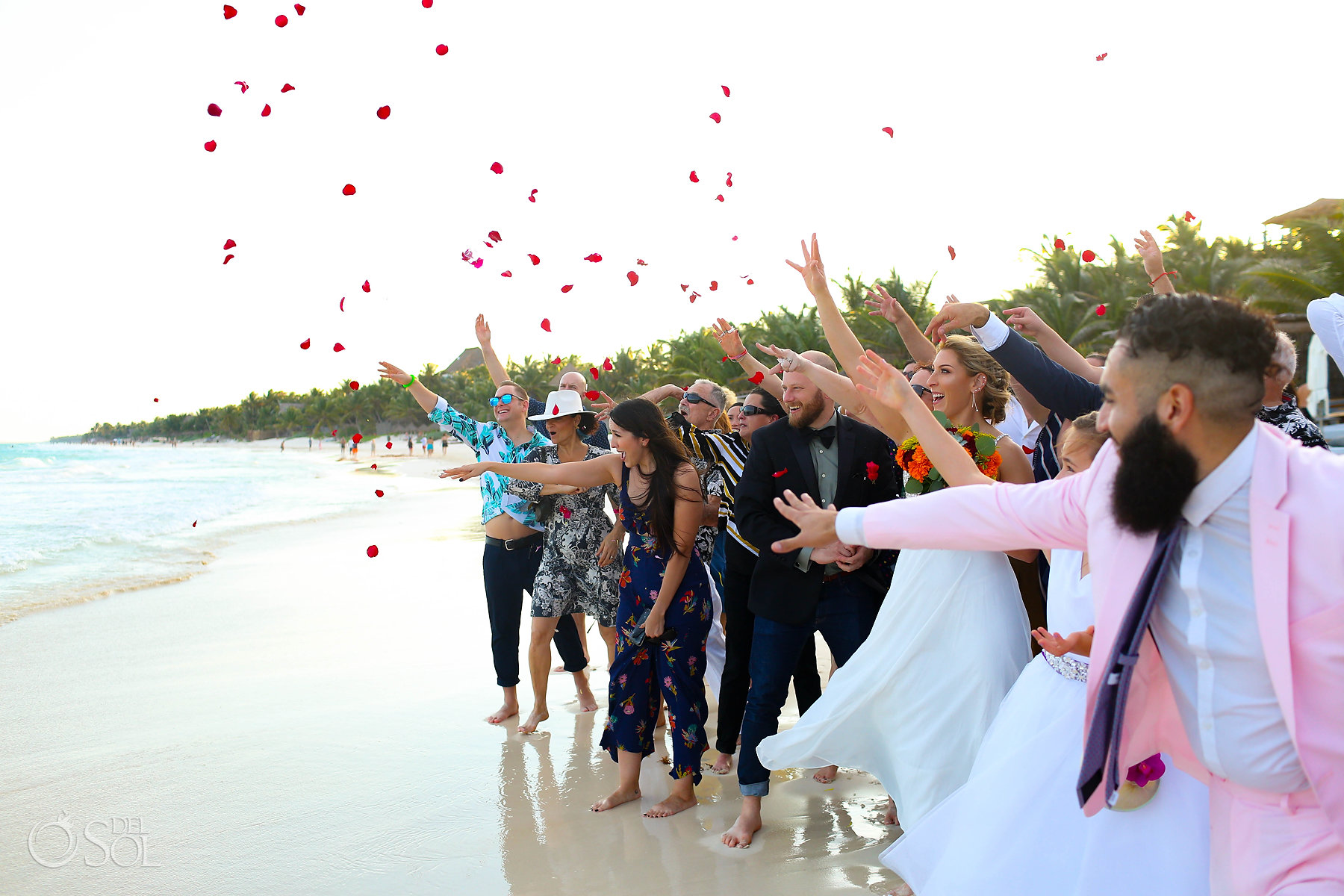 "We have a mutual desire to experience other cultures, climates, and landscapes, despite the stress and uncertainty that comes with it. We enjoy getting out of our comfort zone and we learn a little bit about ourselves and each other with every experience."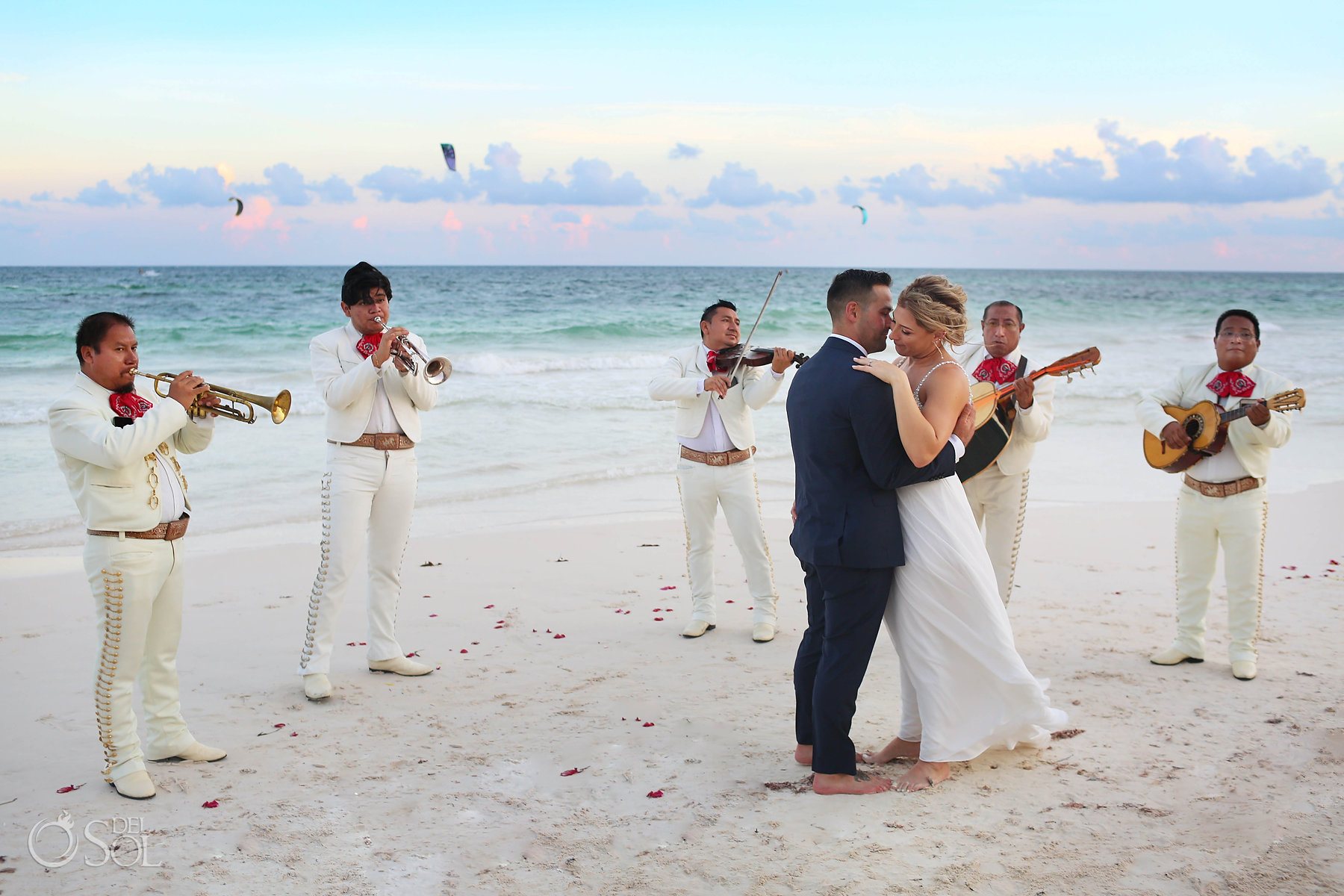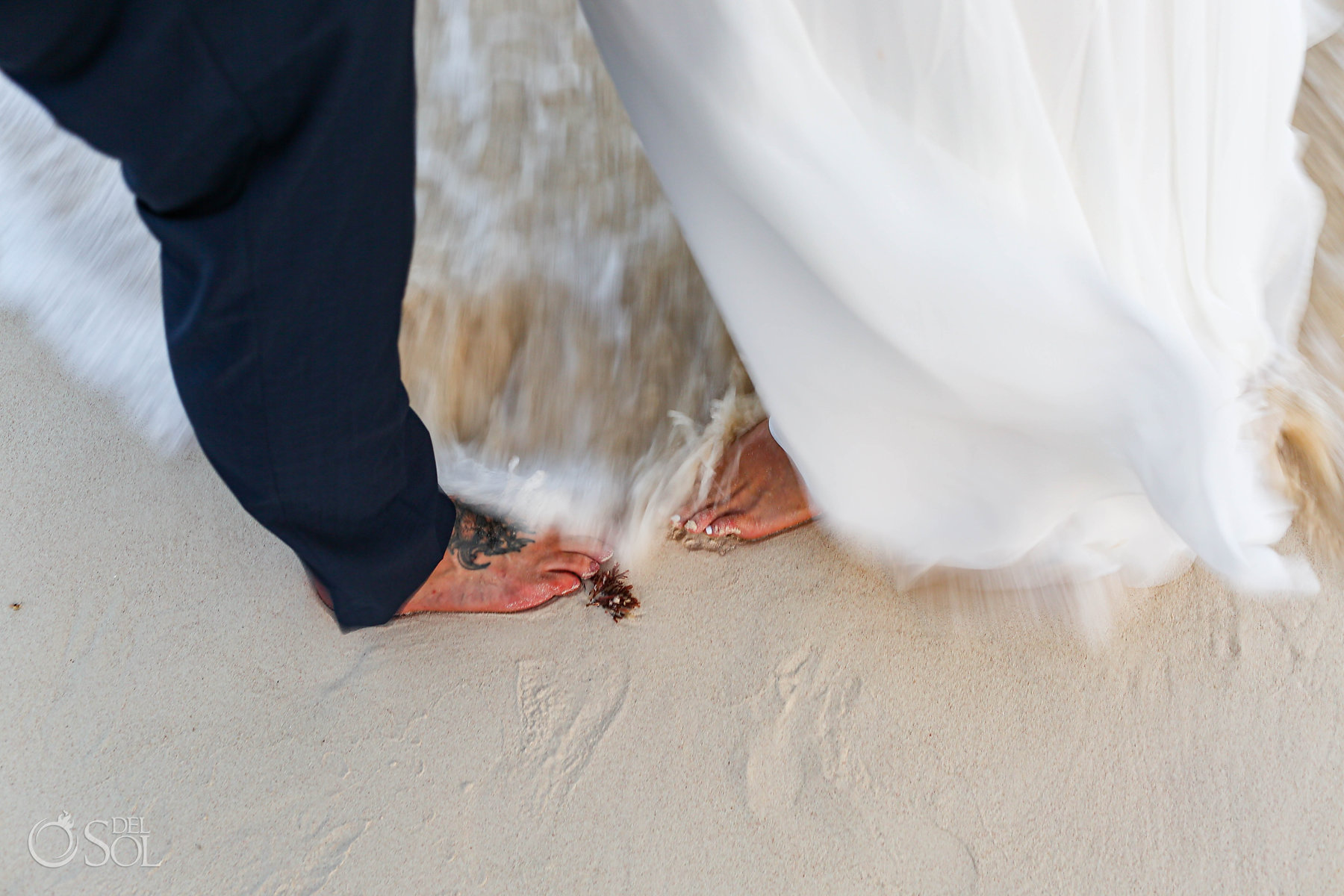 "Having an Akiin Tulum wedding was a pretty easy decision to make and one we do not regret. We wanted to share the beauty and significance of Tulum with our guests, and have a really epic party… and we succeeded!"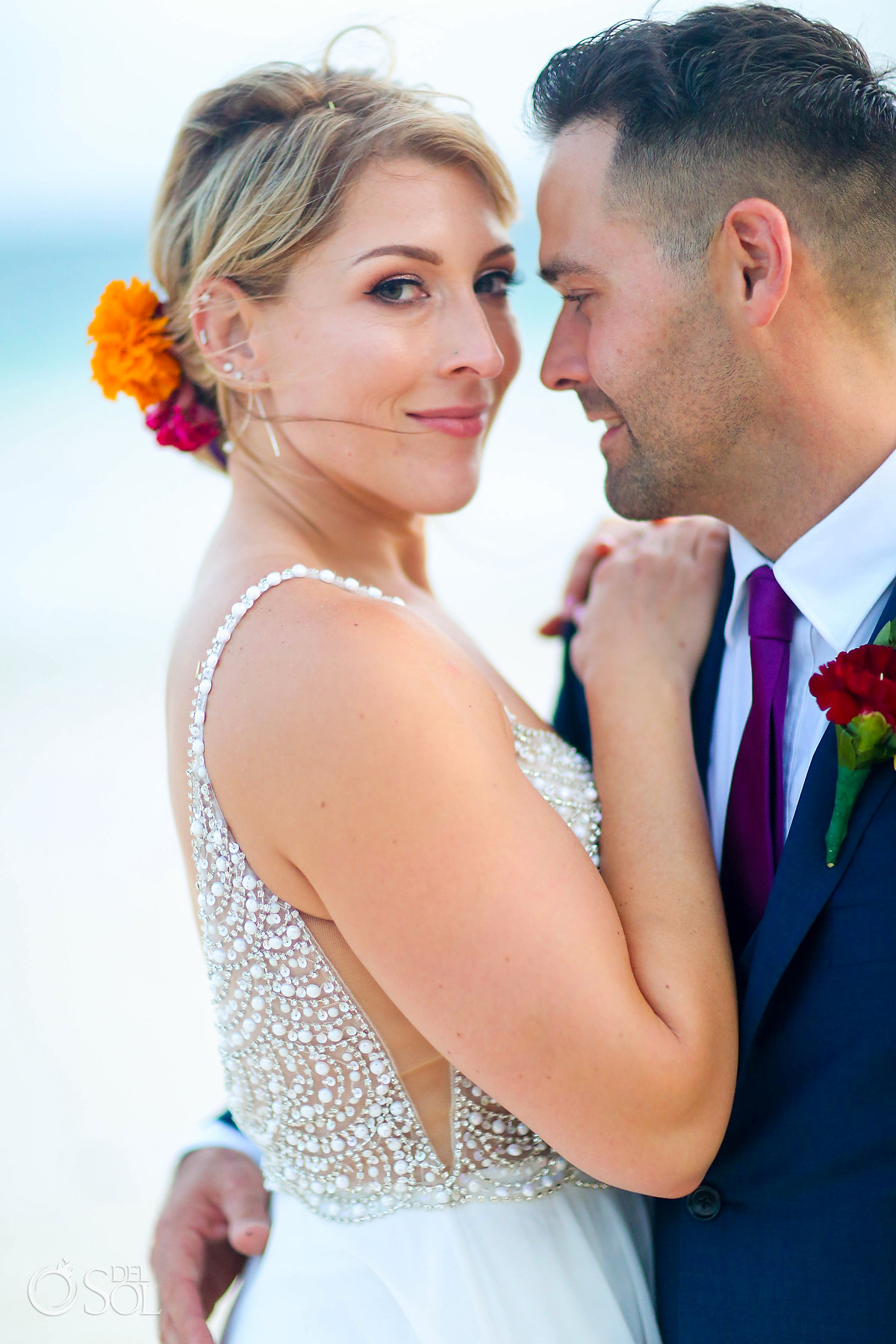 Del Sol: Your Day of the Dead altar was one of the most magical we've ever seen at a wedding.
"Originally we were just going to represent my parents on the altar. Then Drew's grandmother passed away a couple of months before the wedding and we wanted to have her there as well. A family friend who was with my mother and I on our first trip to Mexico, and who I traveled with several times after, passed away suddenly prior to the wedding. Around that same time my friend Gary, who I had met through my cousin and from my many travels to Mexico had also just died."
"We started thinking it would be a nice touch to honor them as well. The idea blossomed to include some of our guests' family members on our altar as well, but we tried to keep it a surprise as much as we could. "
"Not everybody knew the significance of Day of the Dead. Being able to share that with them was pretty special."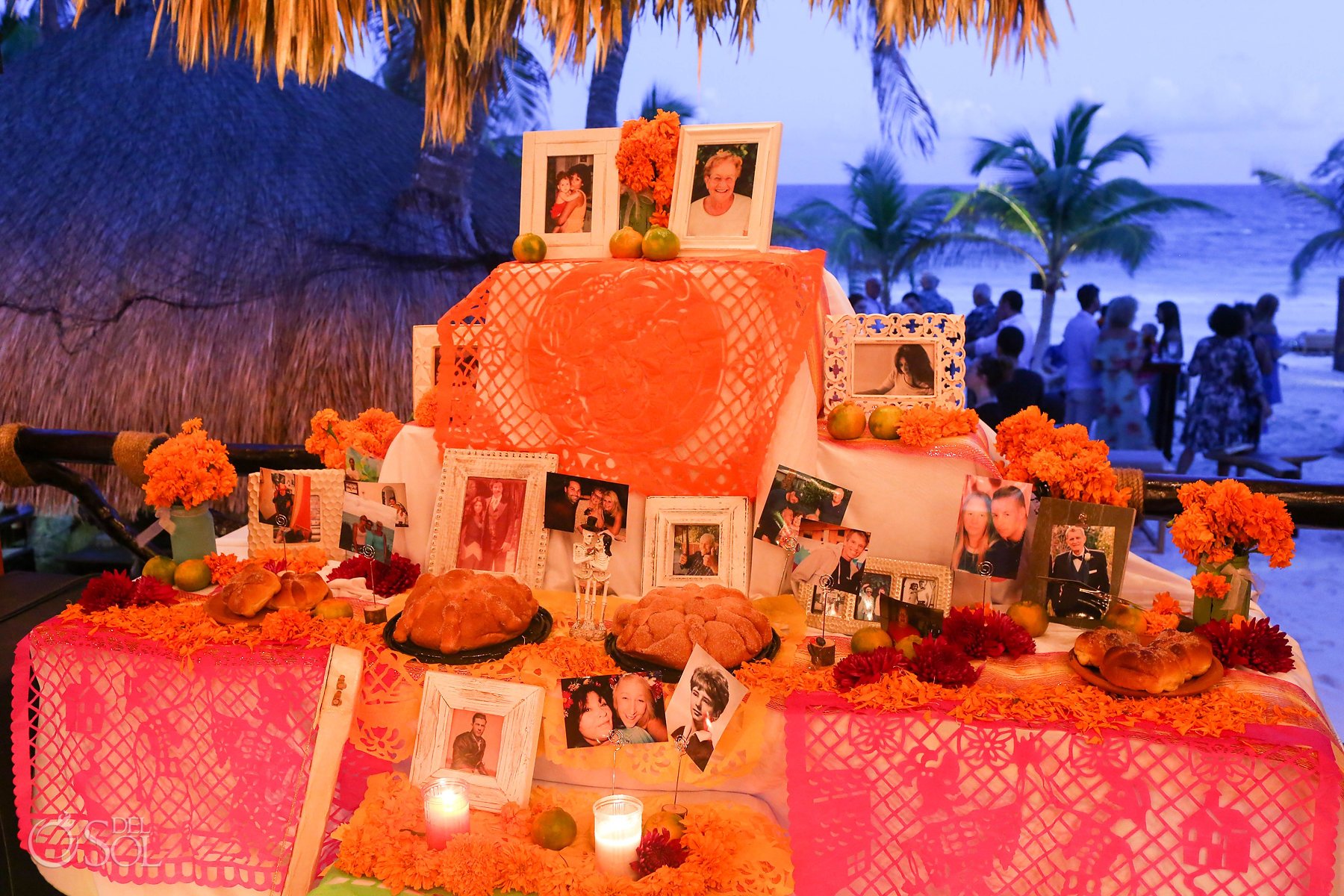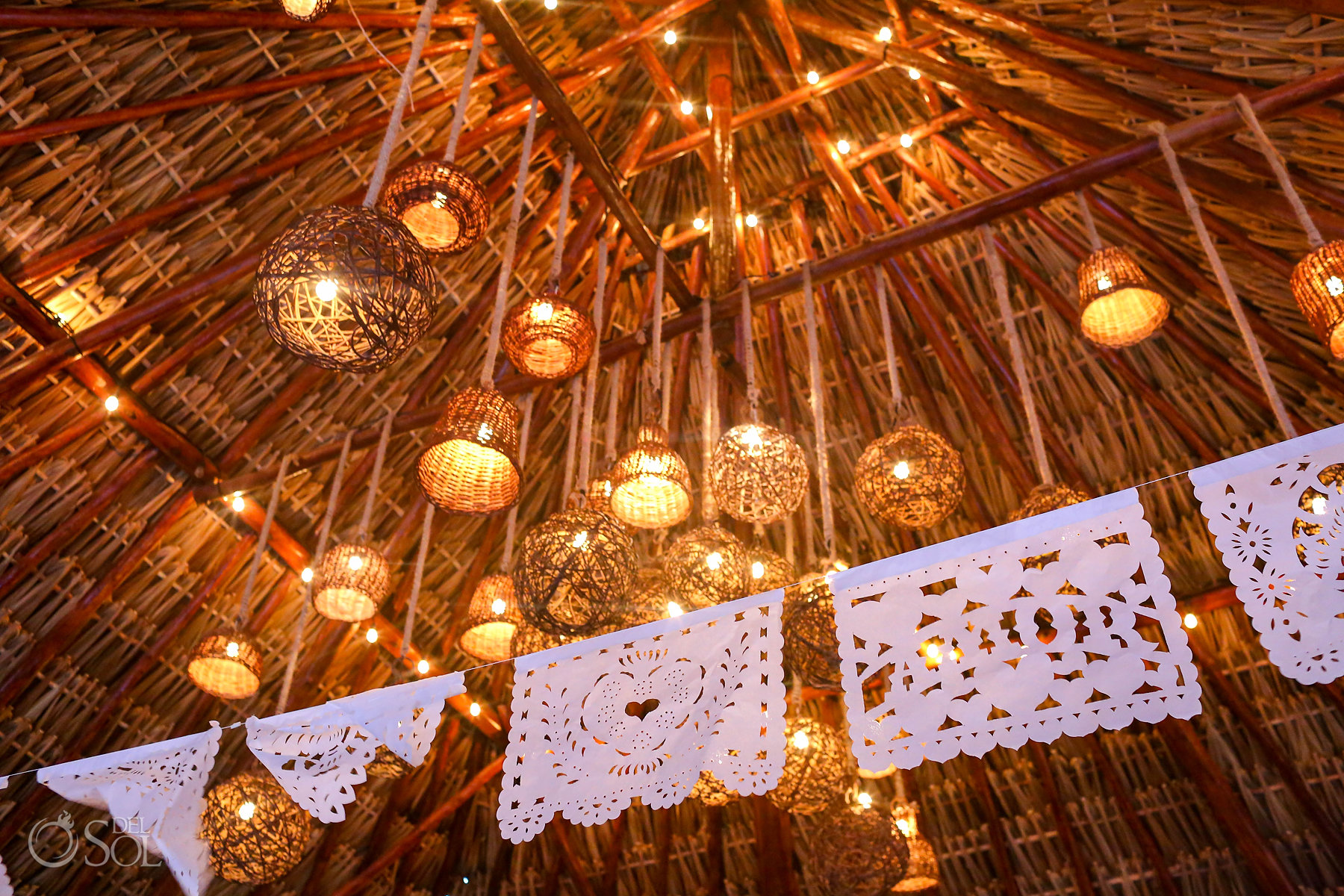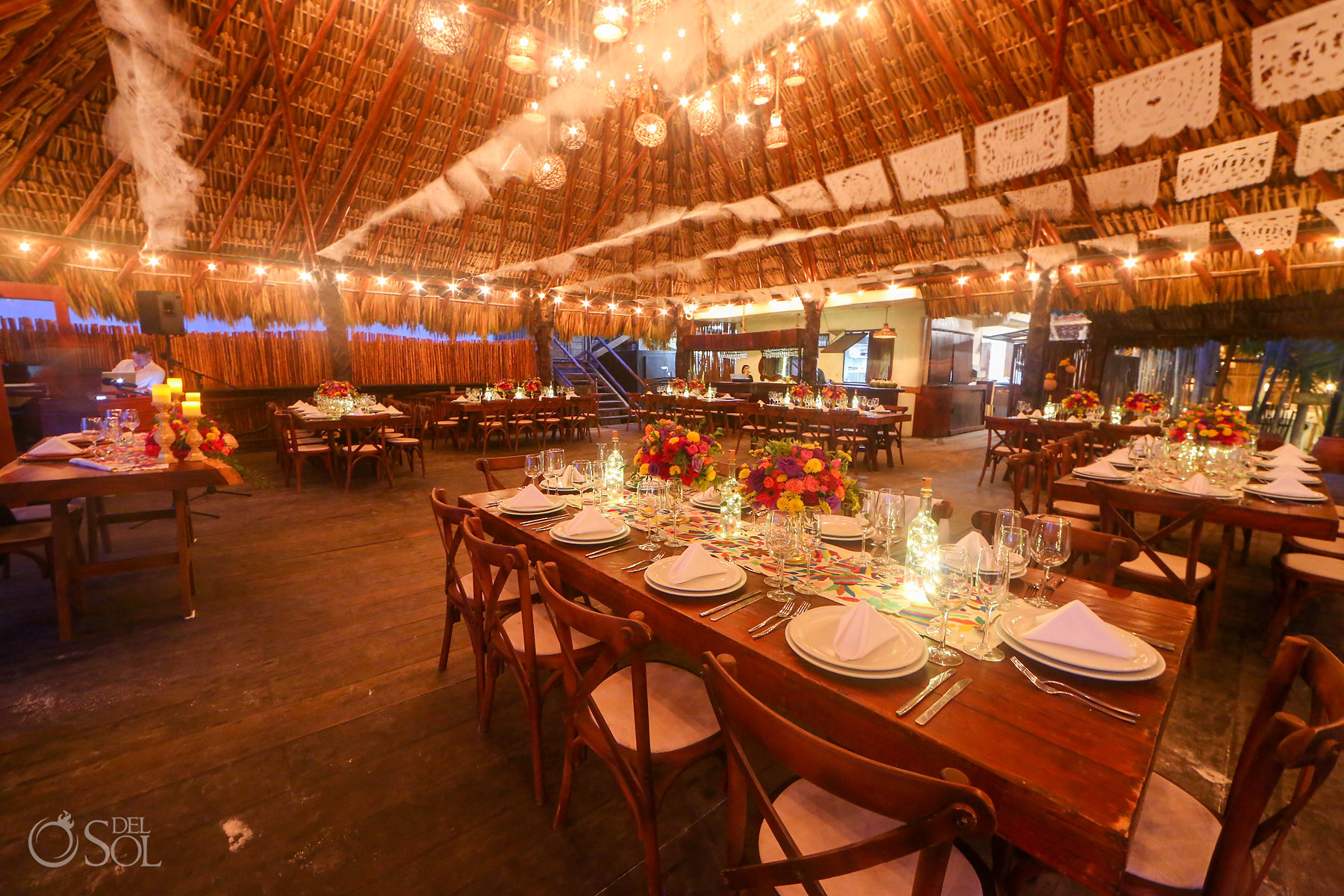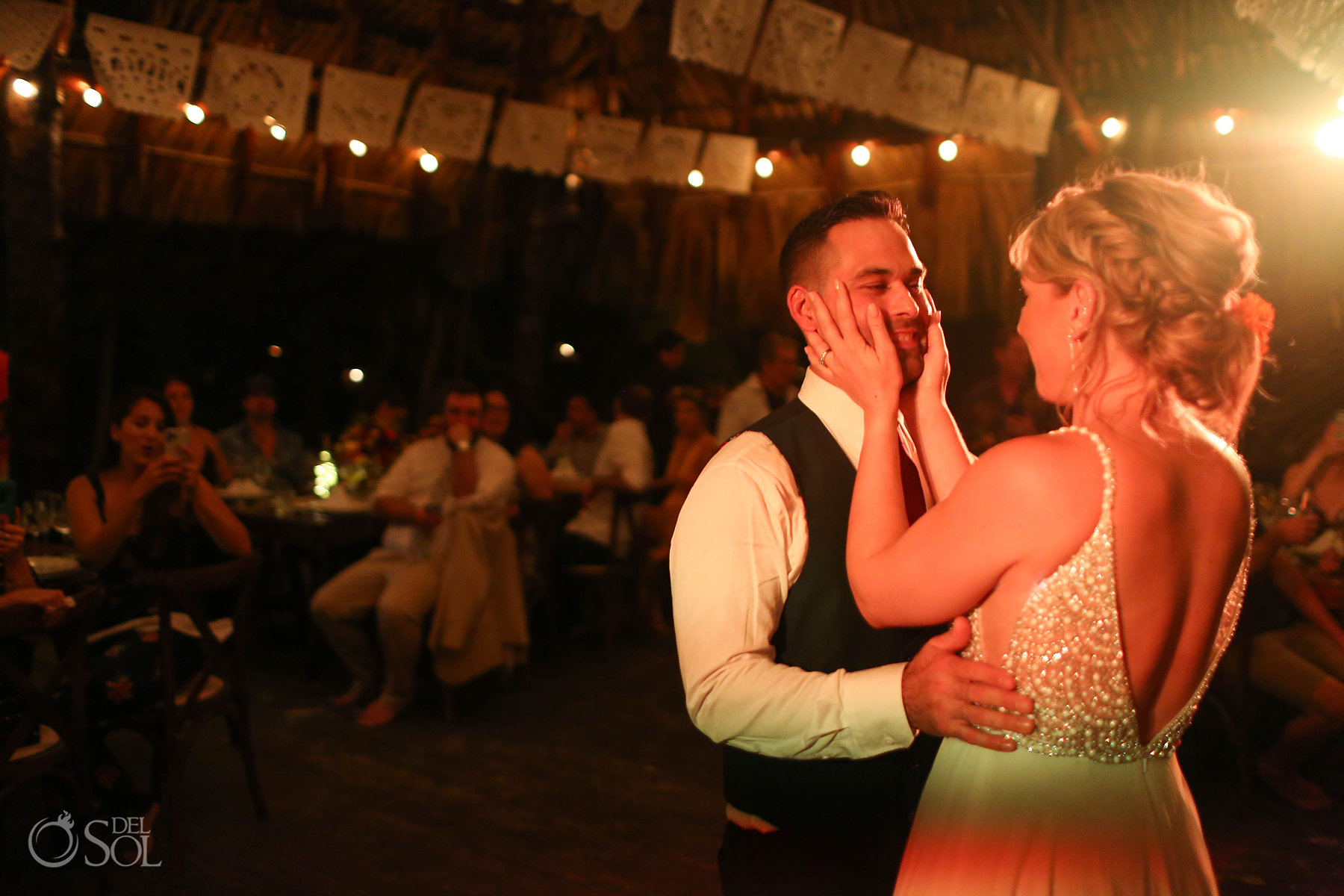 Del Sol: Did someone write or say something special?
"In all of the excitement, planning, and stress surrounding the wedding, I had completely forgotten to ask people for speeches!"
"The speeches by my uncle Mick, Drew's mother Judy, Drew's family friend Henry, and Drew's cousin Ryan were all so heartfelt and unexpected. The most touching moment for me though was having Jorge since "Remember Me" from Coco with my uncle Mick on guitar. The lyrics and the sentiment of the movie was the magic we had hoped to bring to our wedding."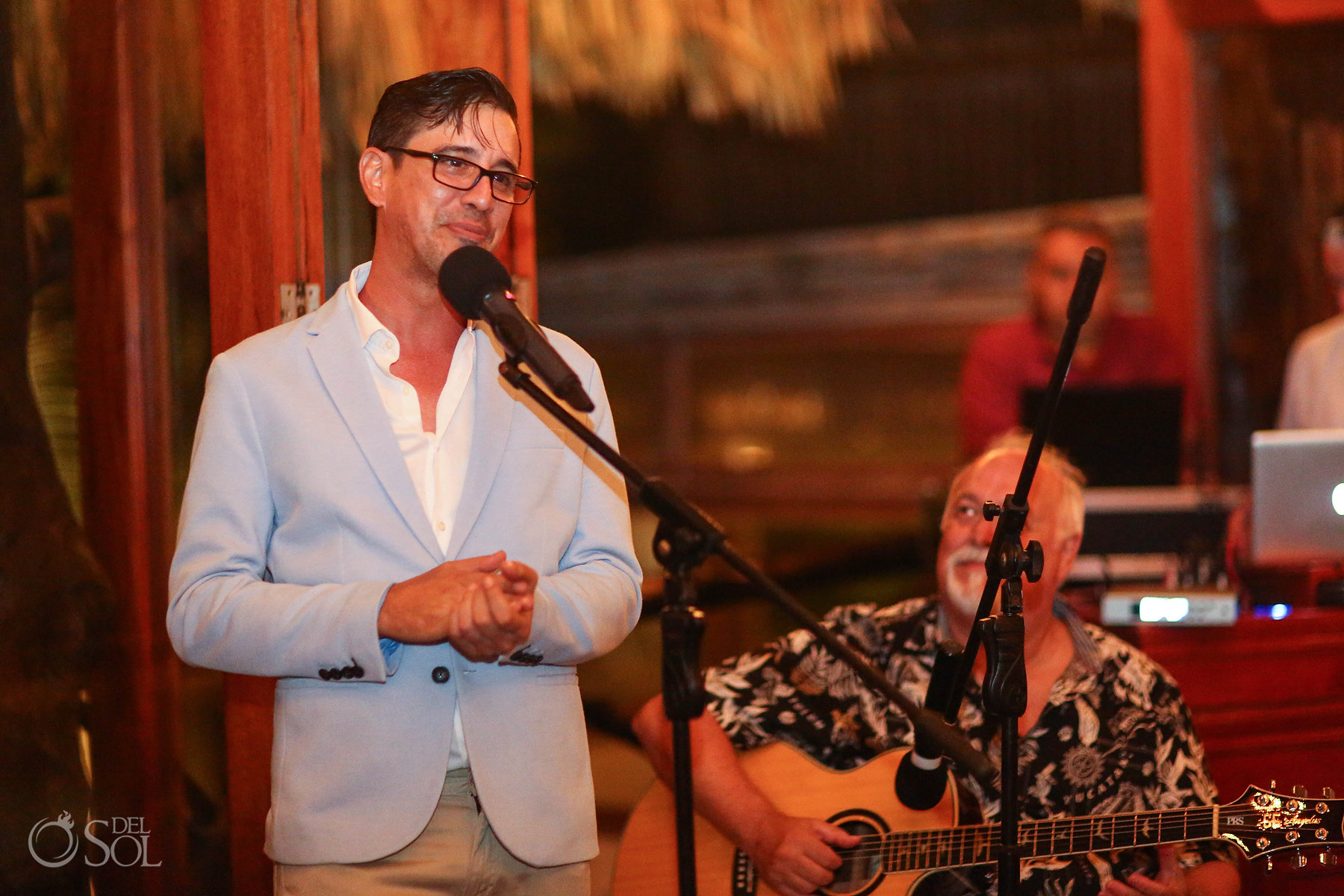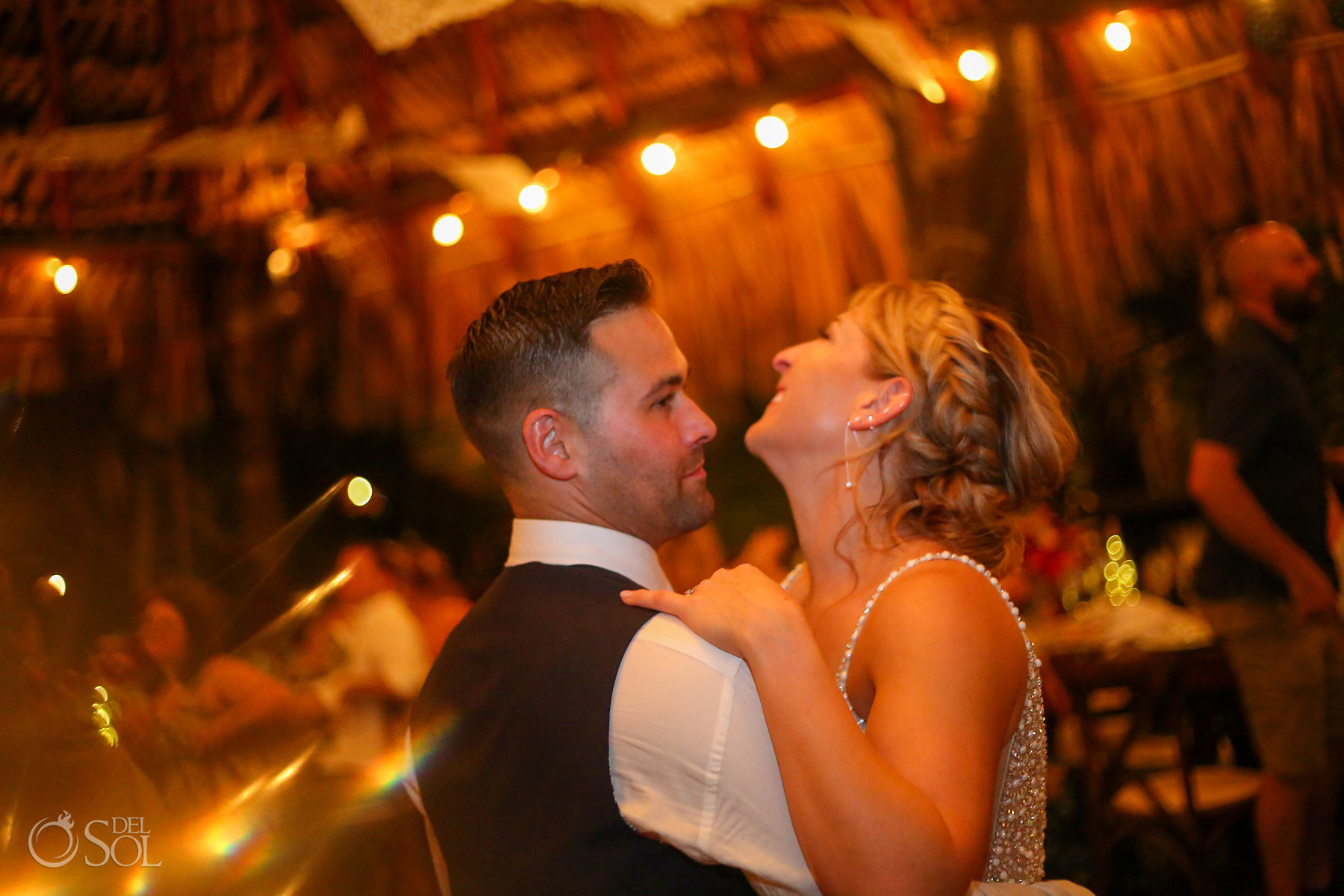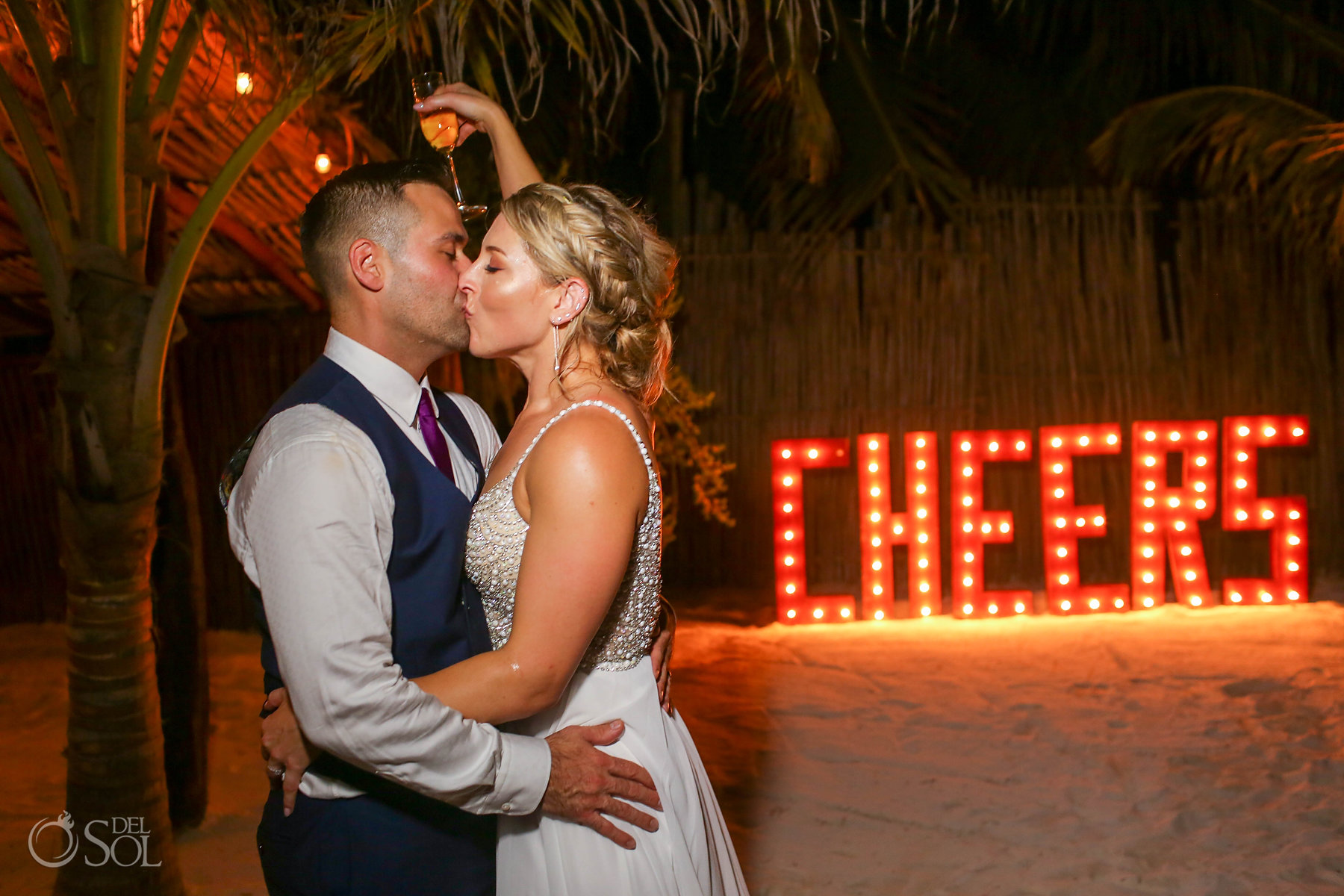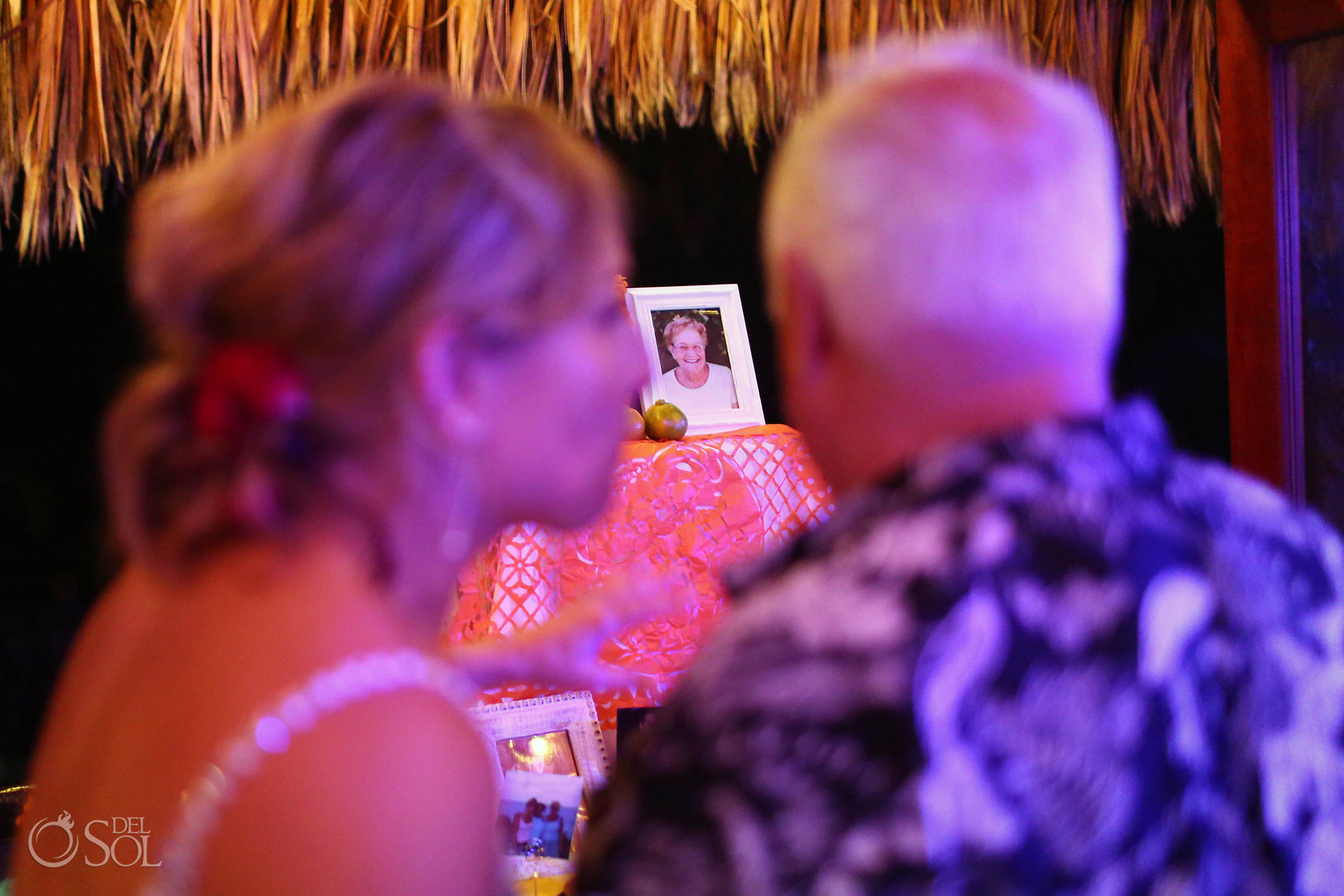 Del Sol: How was your experience with Matt and the del Sol team?
"Matt and Polly were so amazing at really focusing on the special "in between" moments that don't normally get captured. The candid photos are so more special than the staged photos you see at a lot of events. And they were fun to hang out with!"
"The whole service team at Ak'iin was fantastic… so attentive and accommodating. And Joyce at Dream Weddings did a wonderful job bringing our vision to life."