Secrets Playa Mujeres Gay Wedding
Megan + Jojo
"We wanted to spend meaningful, quality time with the people who love and support our love."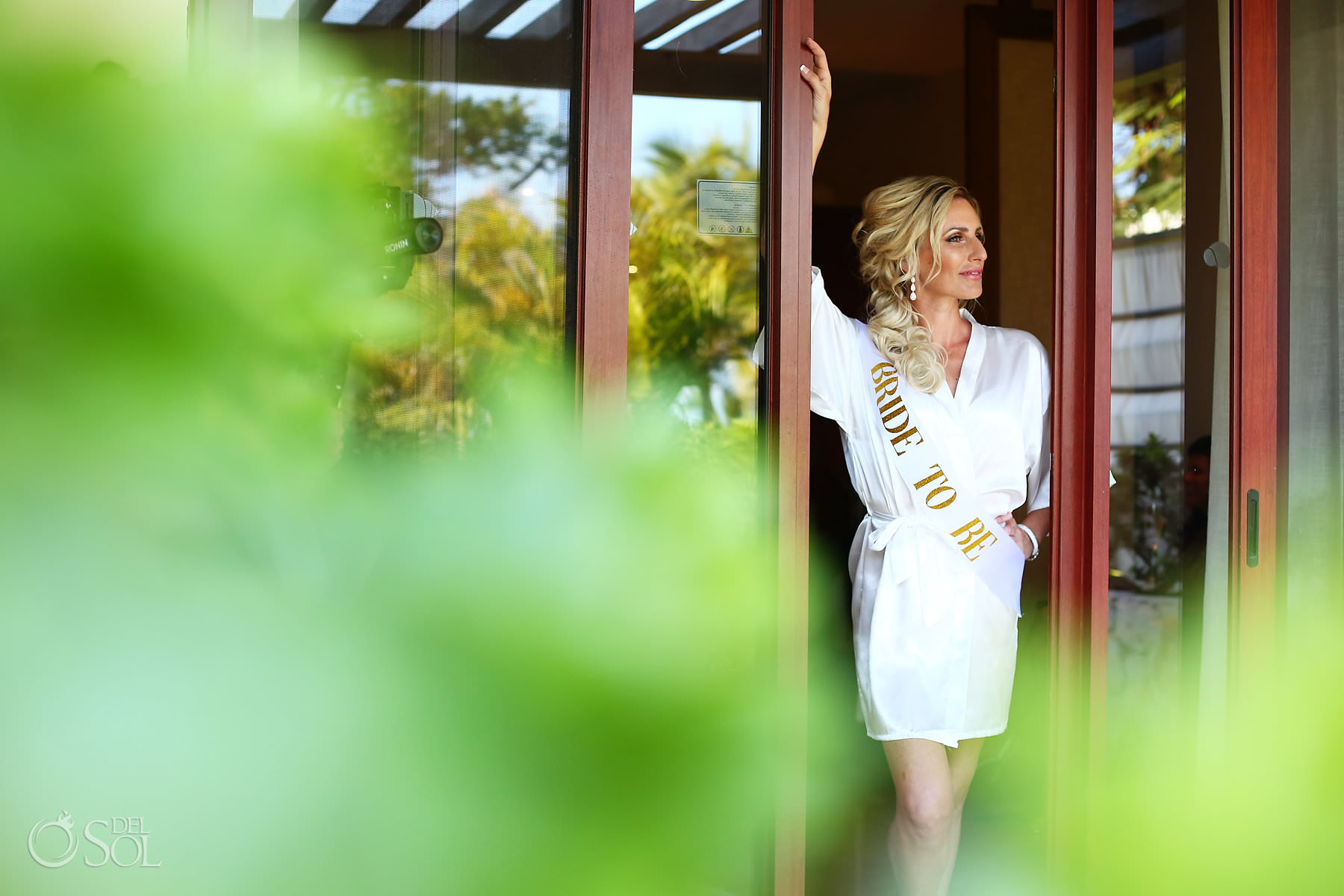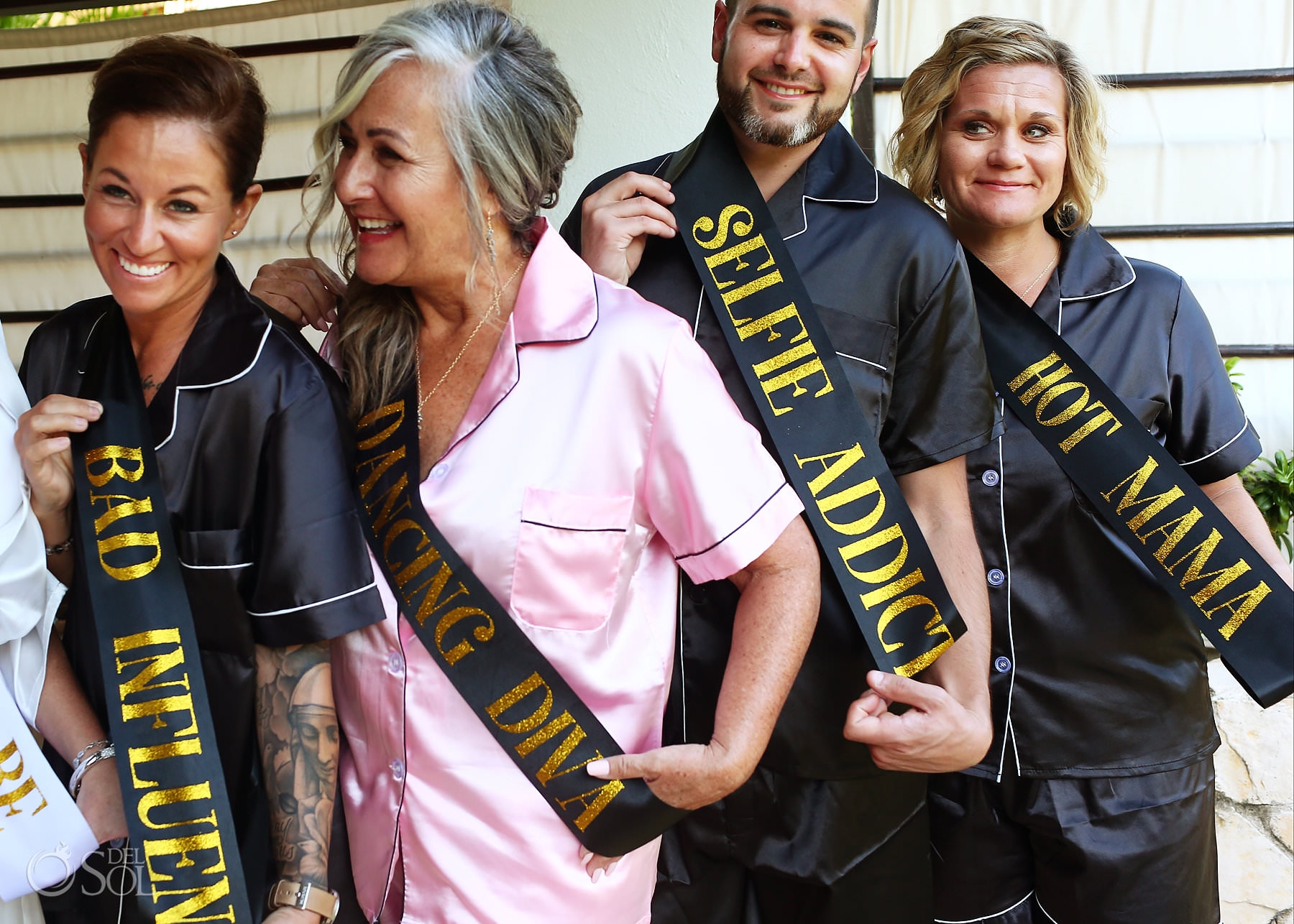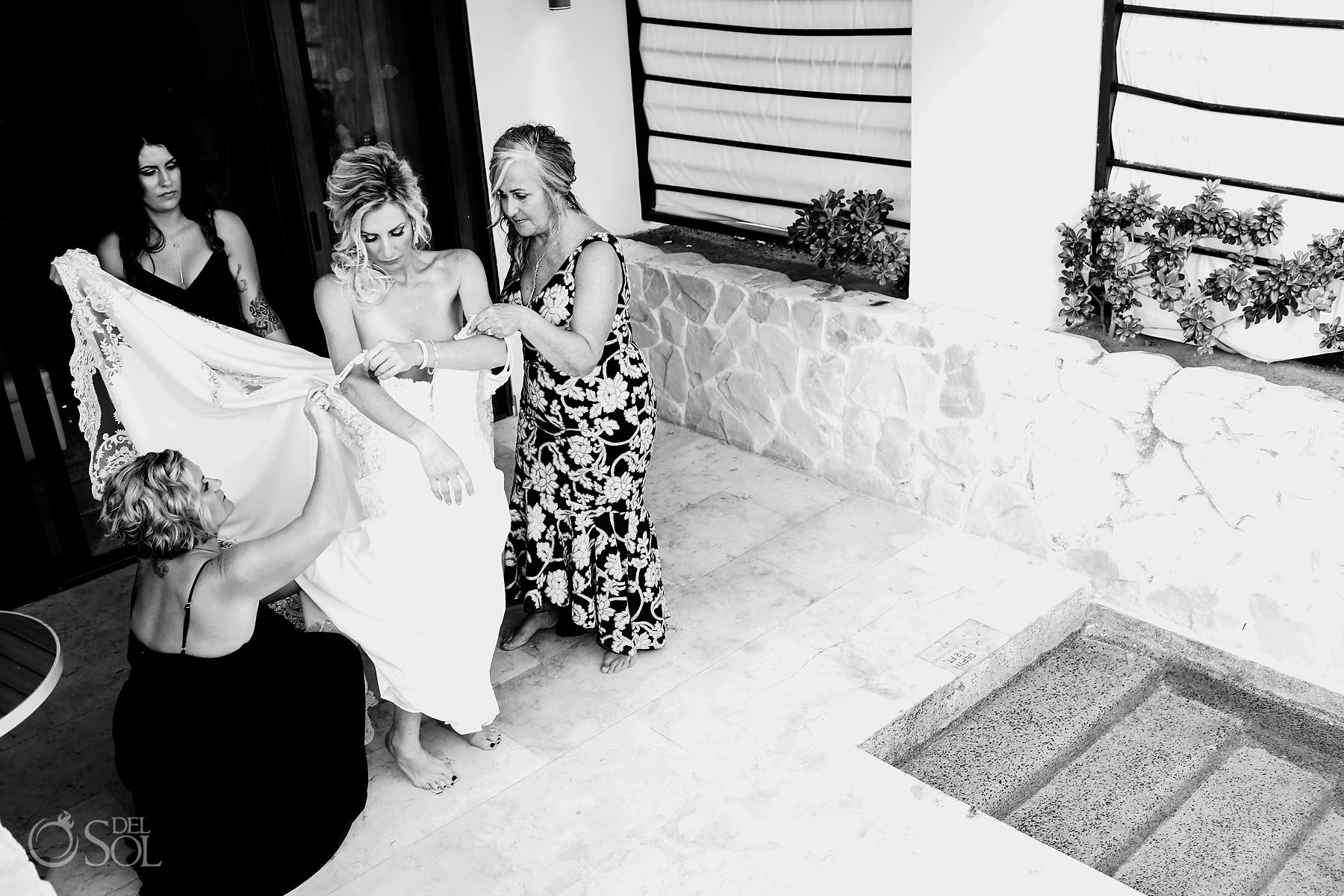 Del Sol: You ladies rocked some LEWKS!
M: Everyone in our wedding party has a BIG personality in their own way and I wanted each of them to have some recognition for their fun side and individuality. So I got the matching PJ's and sashes for something fun to wear while we were getting ready."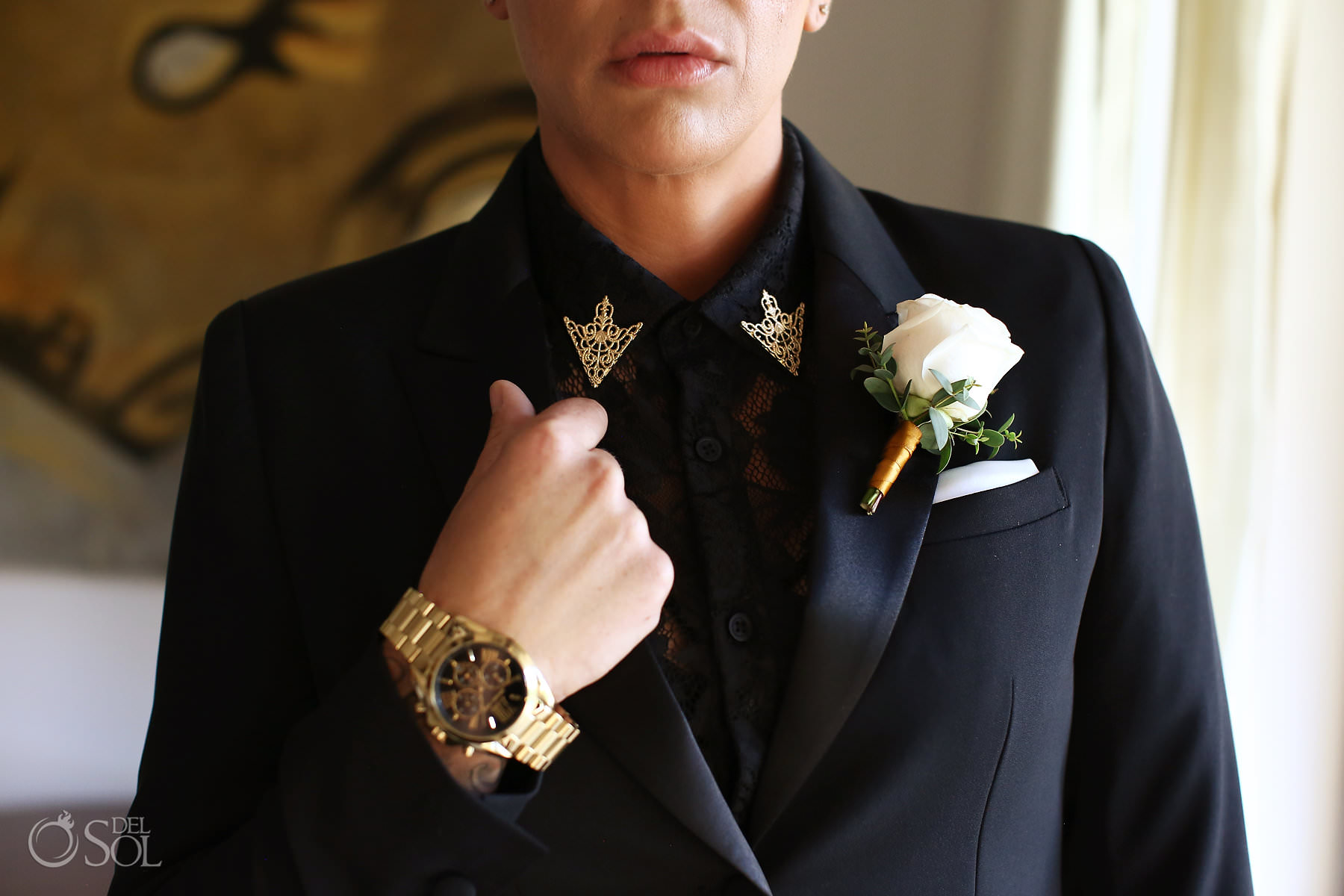 J: "So with planning our outfits we kept them a secret from one another. Gave us another fun surprise for the day of. We had requested our guest to wear formal black tie wear. With our wedding party obviously looking stunning in their sexy black dresses and tuxedos. We both feel weddings should be formal attire bring out your best! So with me being a woman I wanted to find something that allow me to be sexy, while still formal but not all buttoned up in a tuxedo."
"I wanted to do a lace shirt cause let's face it lace is sexy AF. And everyone should wear it more often." – Jojo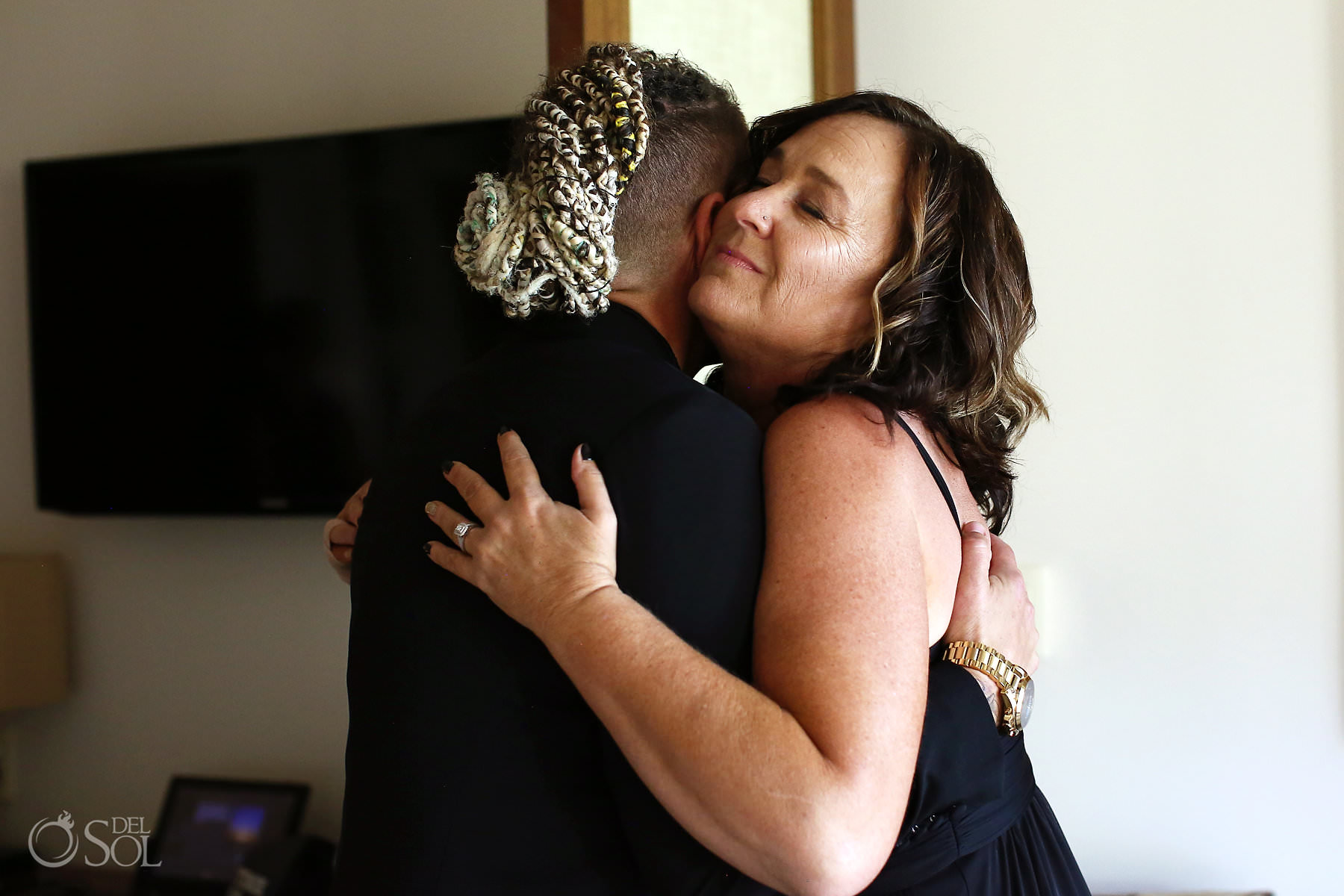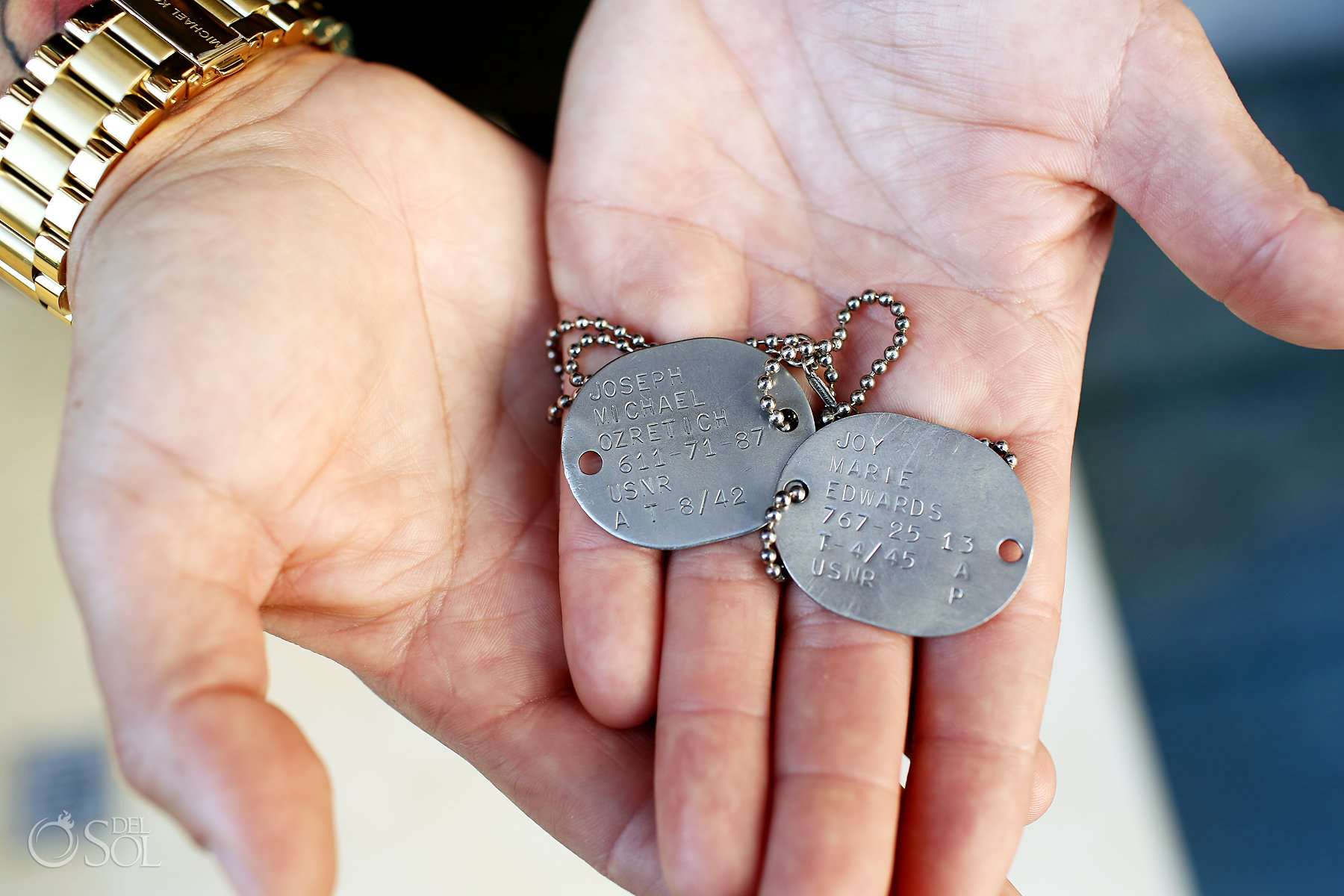 "With the tuxedo jacket and pants I stayed on the traditional formal look of it. I'm obsessed with gold so instead of wearing a tie or bow tie I chose to do gold pins on my collar to give it some flare. After meeting us you will know we aren't that traditional so I rocked all black cause it's my favorite color but besides that I think it is elegant, stylish, classy, and timeless."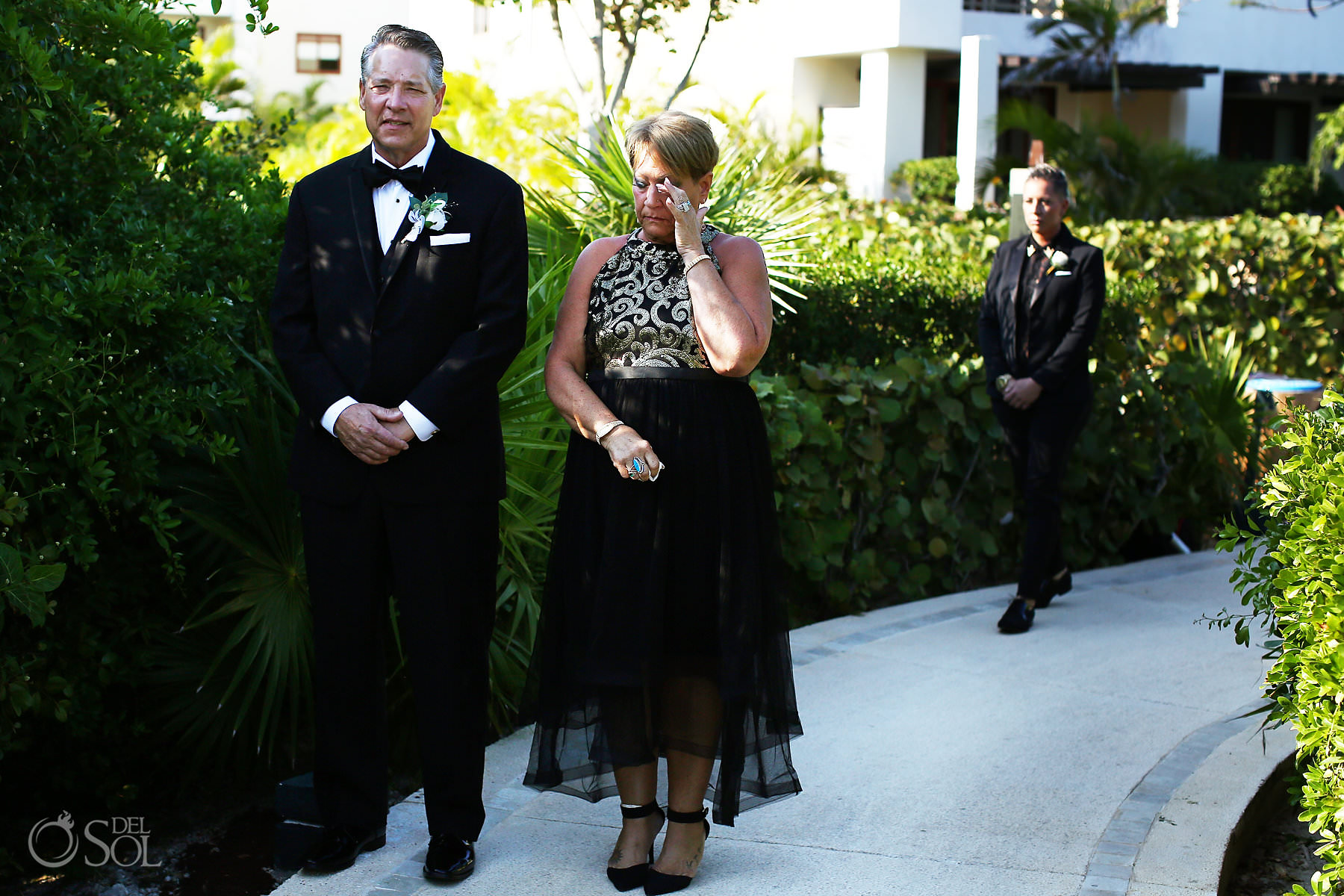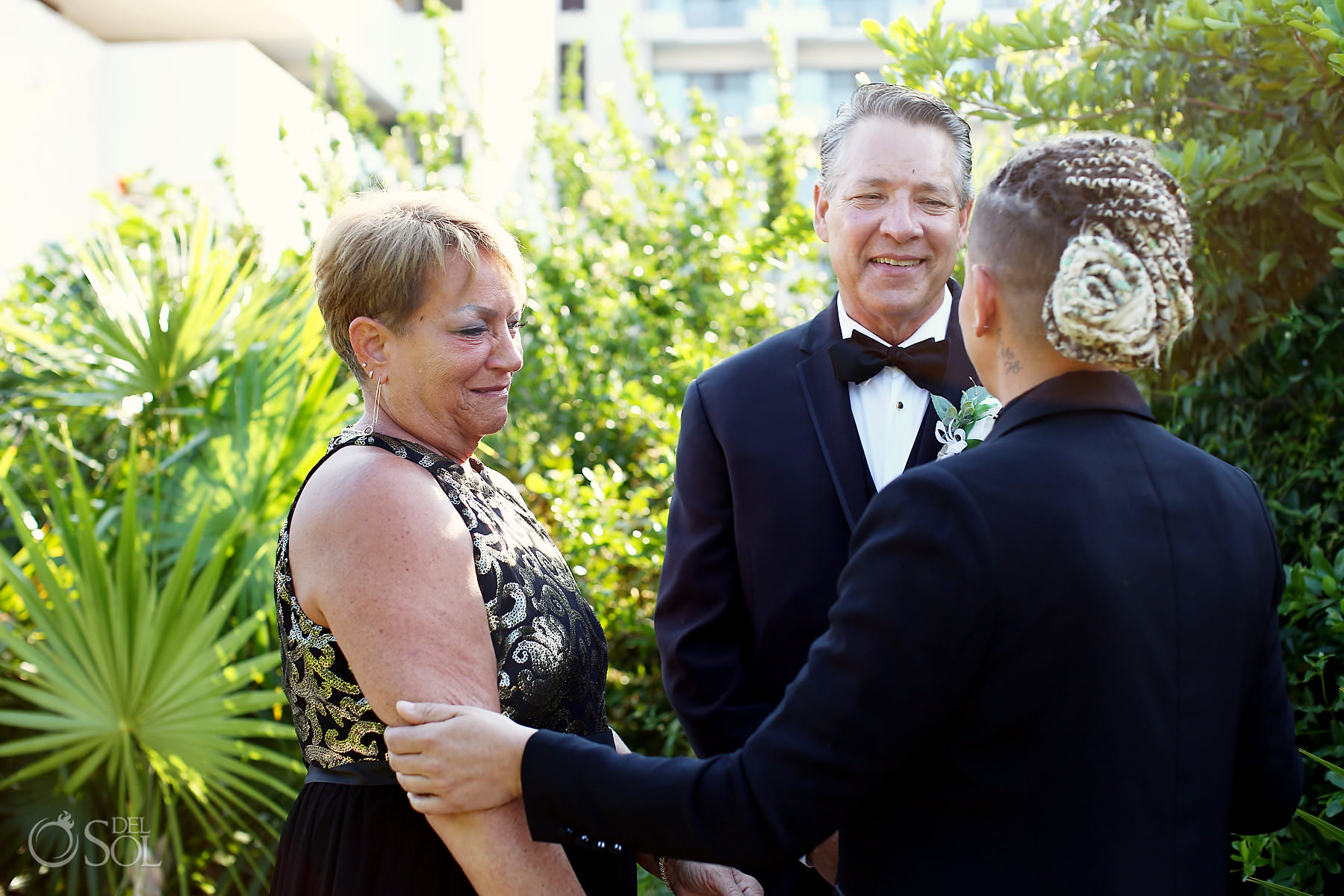 Del Sol: Jojo – the first look with your parents was important for you – talk to us about that.
J: "Ya so I wanted to do a first look with my parents together, these two incredible people created me and gave me a purpose on earth. Me have my first look with them probably was more meaningful for me than them."
"When I greeted them and saw them and hugged them, that was me giving them my hug and love allowing them to know I am solid. I am in the best place of my life, my heart is happy and full. And they can rest their mind their baby girl is all good."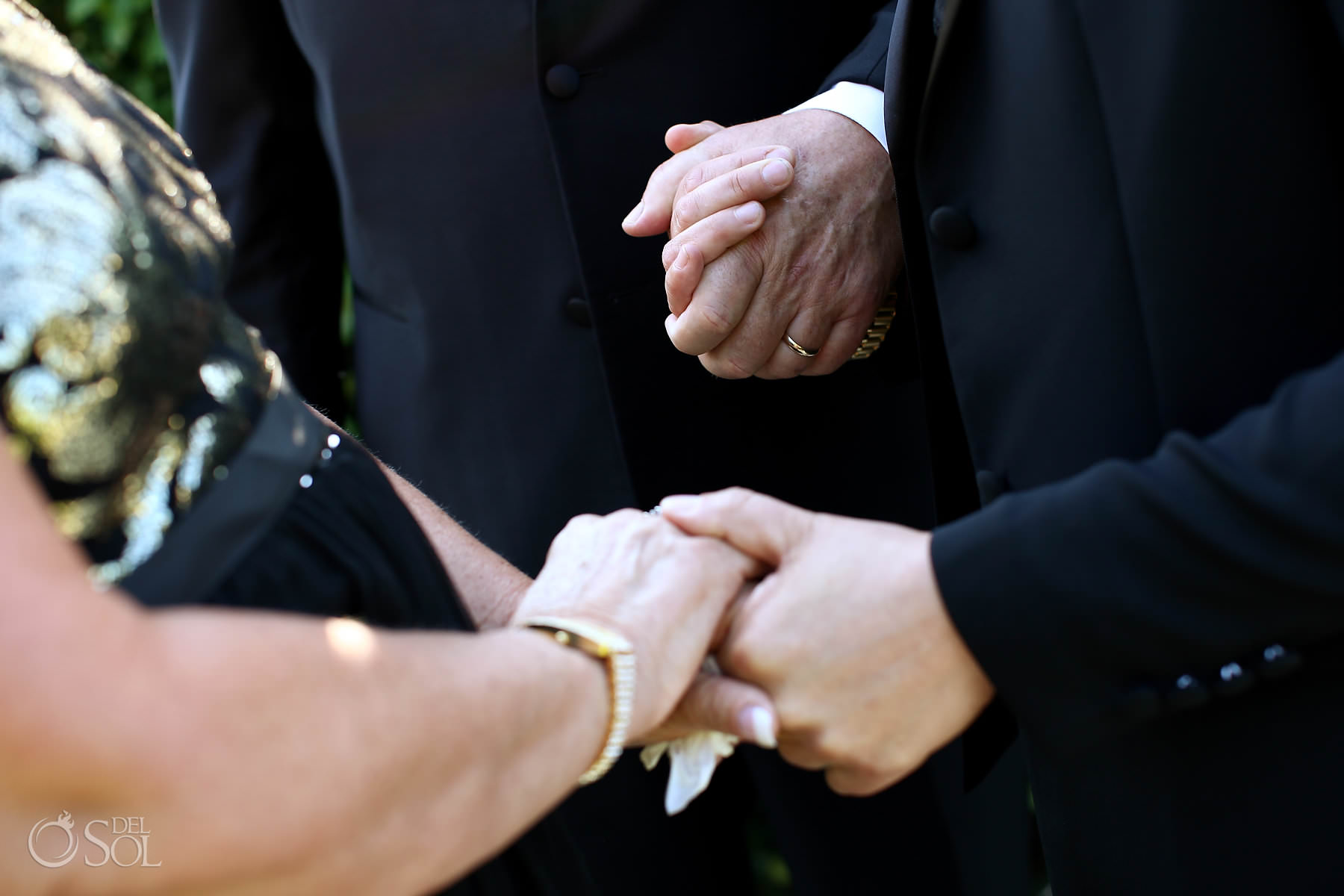 Del Sol: Jojo, we loved your gift and card to Megan.
J: awww I love giving gifts :) I thought a lot about what I wanted to give her. I knew it was earrings but she had received a beautiful pair of earrings from Grant & Pam and she never took them out cause they are so meaningful to her. So I was scared maybe she would wear them. Lol. But I did it."
"I wanted her to know and feel sexy with the earrings not only on the day of but anytime she wore them, I wanted her to know that when I saw those diamonds sparkle I would forever remember our day."
"I knew she would be shining so bright on Dec 7 that our cowboy in the sky would have front row seats to watch over and guide her through."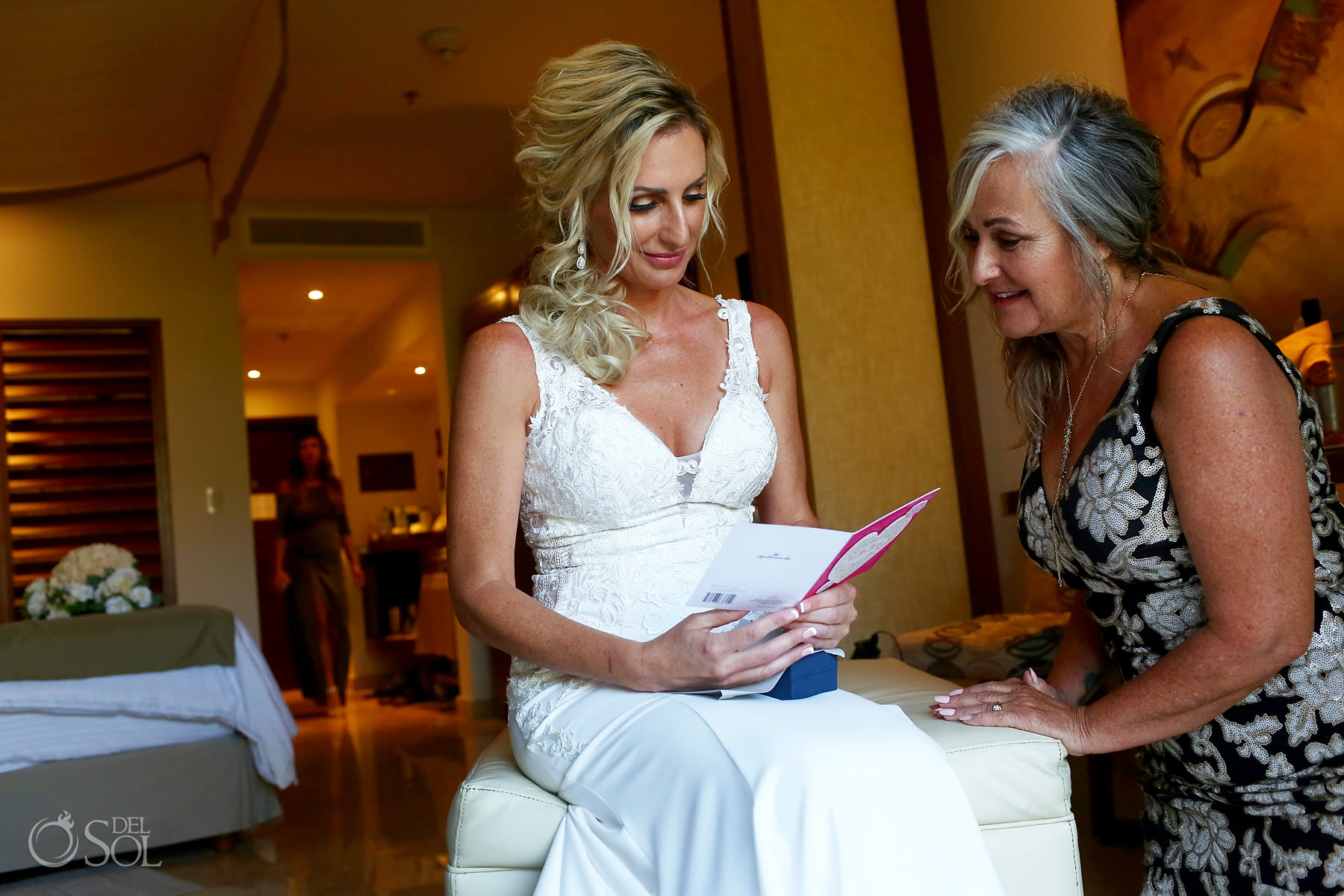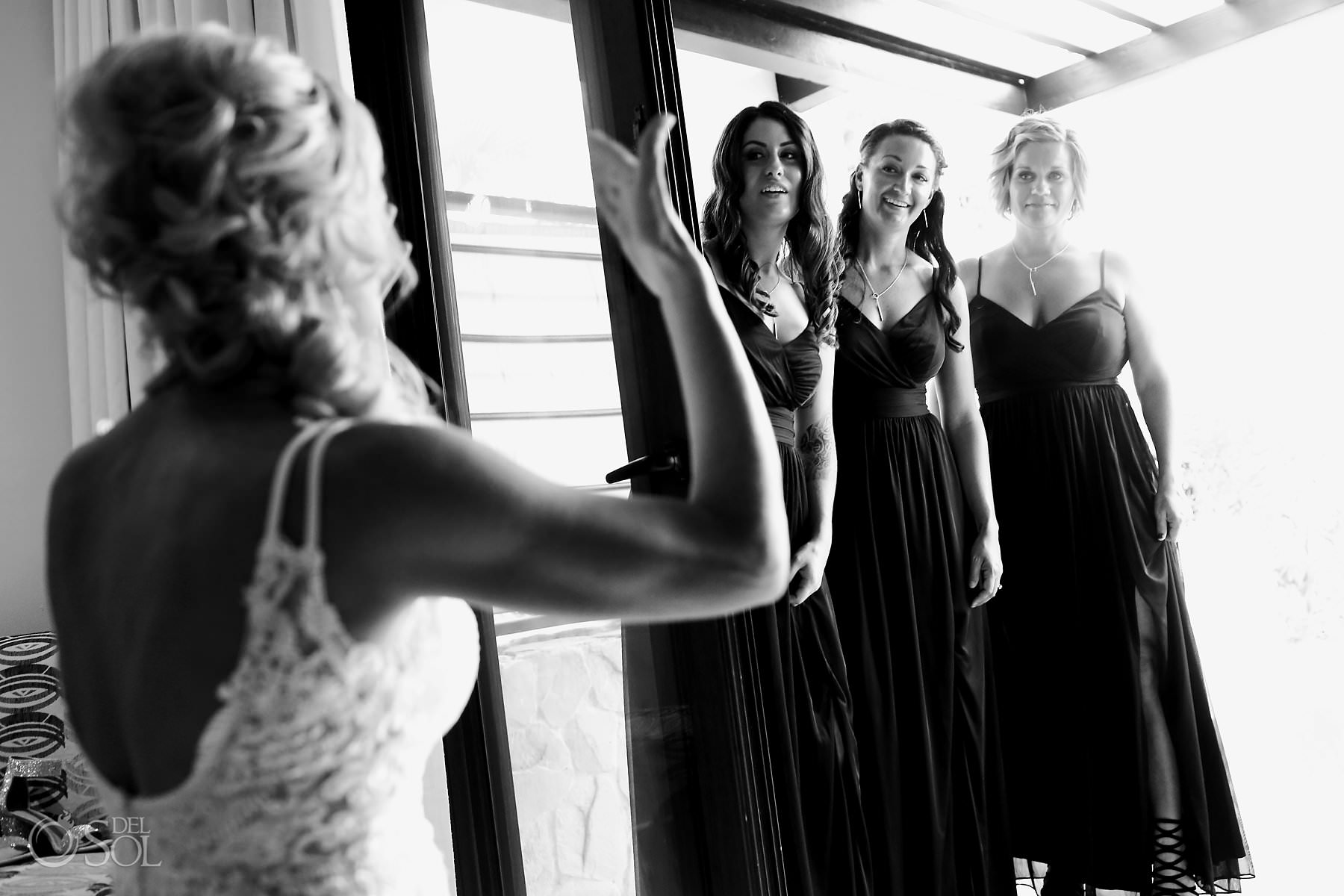 Del Sol: It's amazing love brought you here! Why did you Travel for Love?
M: We are travelers by nature. After we hosted our engagement party last December – with 100+ guests – we found ourselves reflecting in the following days about the limited about of time we were able to spend with each person. We had already selected the Phoenix Art Museum in Phoenix as our venue and realized that we wanted something more. So we started researching locations for a destination and with the help of our travel agent, we landed on Secrets Playa Mujeres."
"We wanted to spend meaningful, quality time with the people who love and support our love." – Megan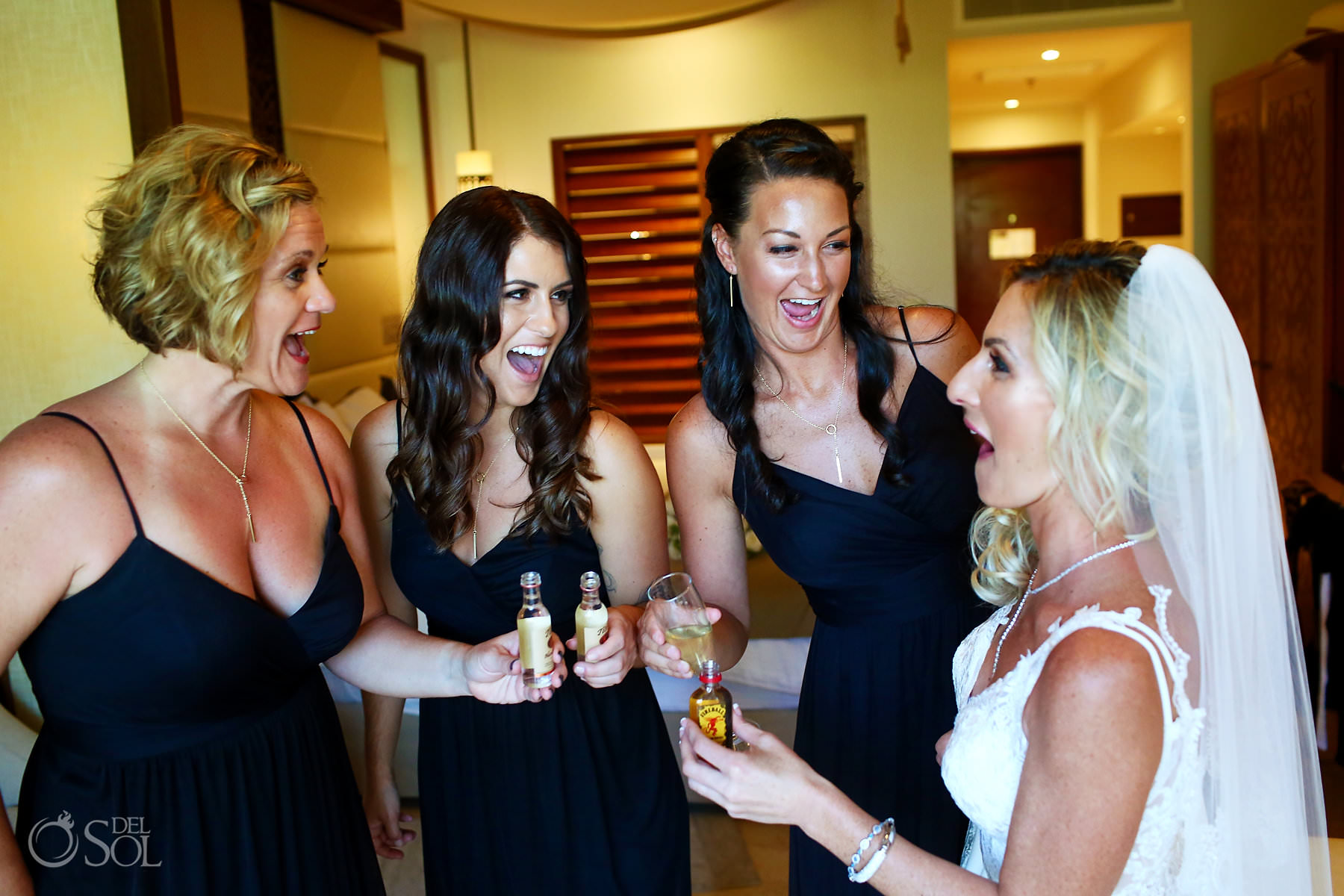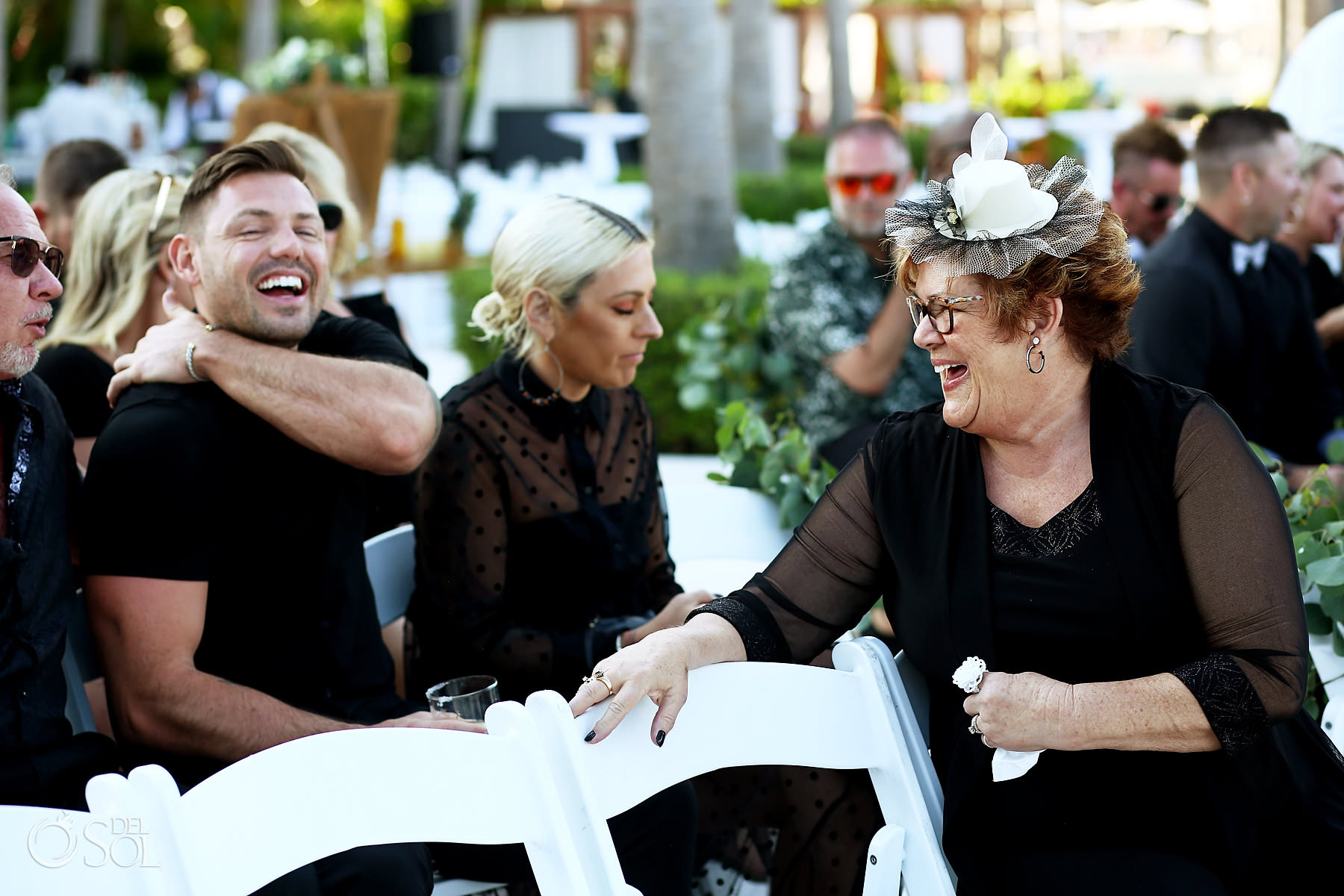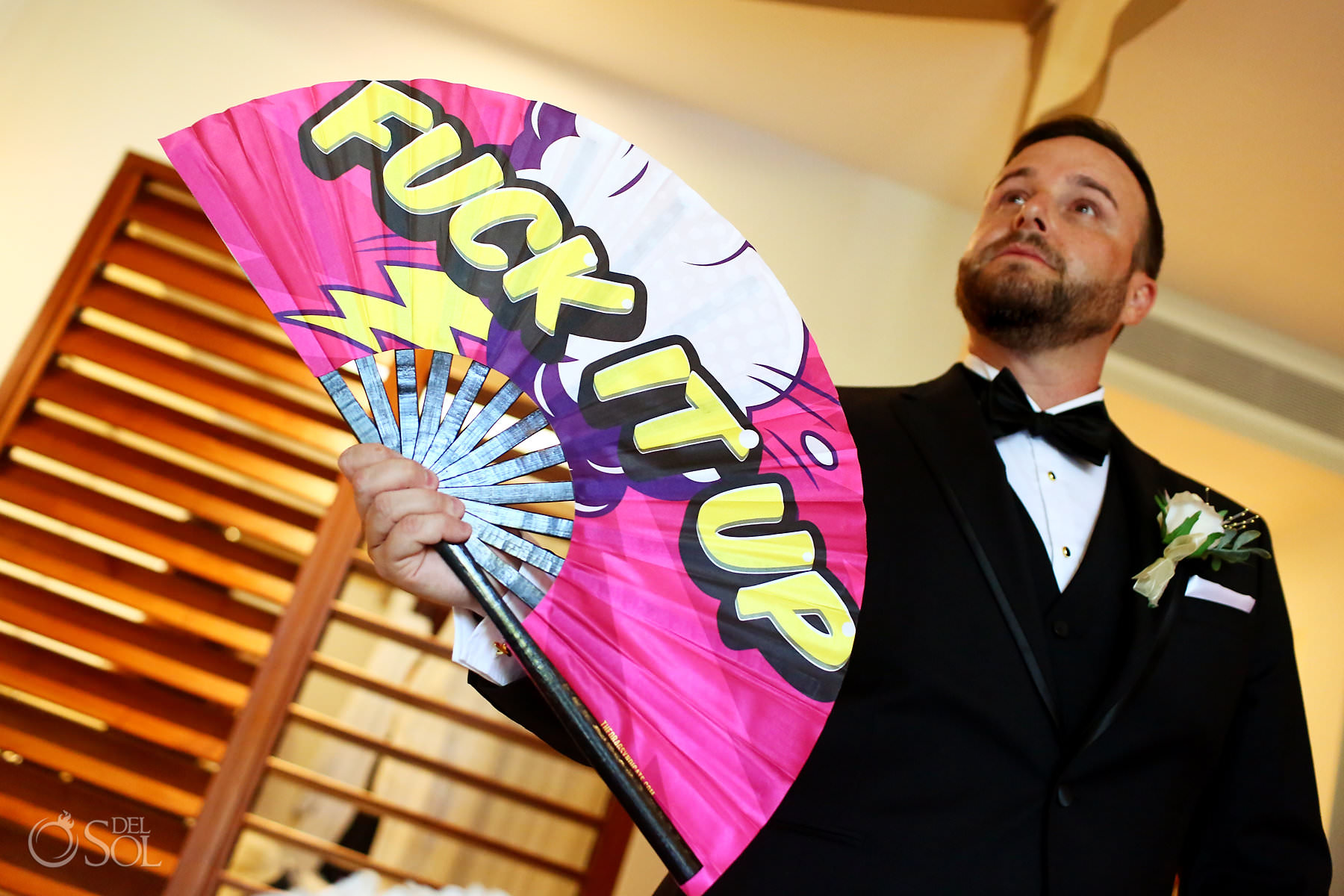 J: We ALWAYS use Legacy Travel for trips and so we went to the drawing board with them. We picked Secrets Playa Mujers beacause we love the Secrets brand and what they offer. Secrets Playa Mujeres have something for everyone. Relaxing, nightlife, beautiful beaches. We felt like it would be perfect fit for our tribe.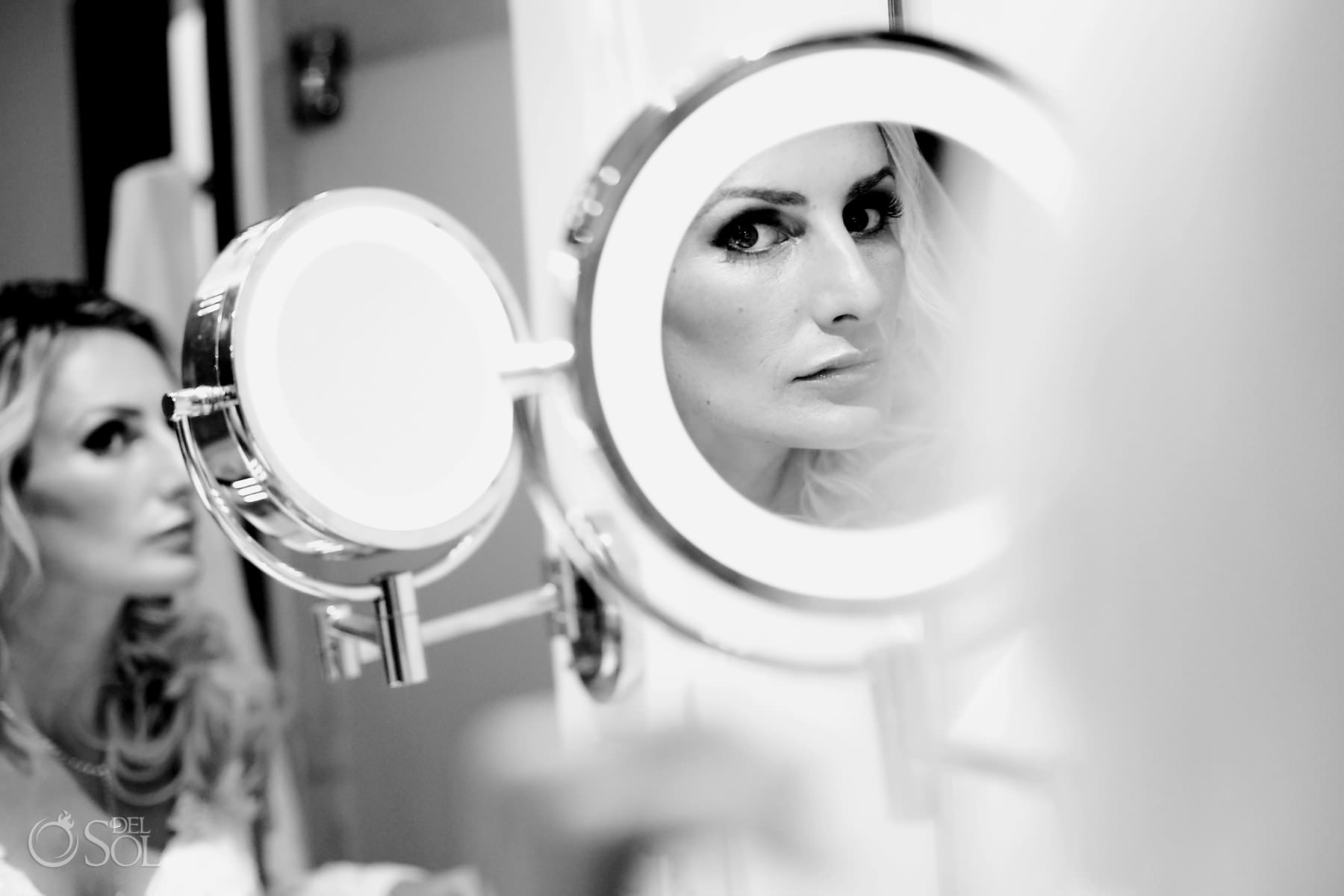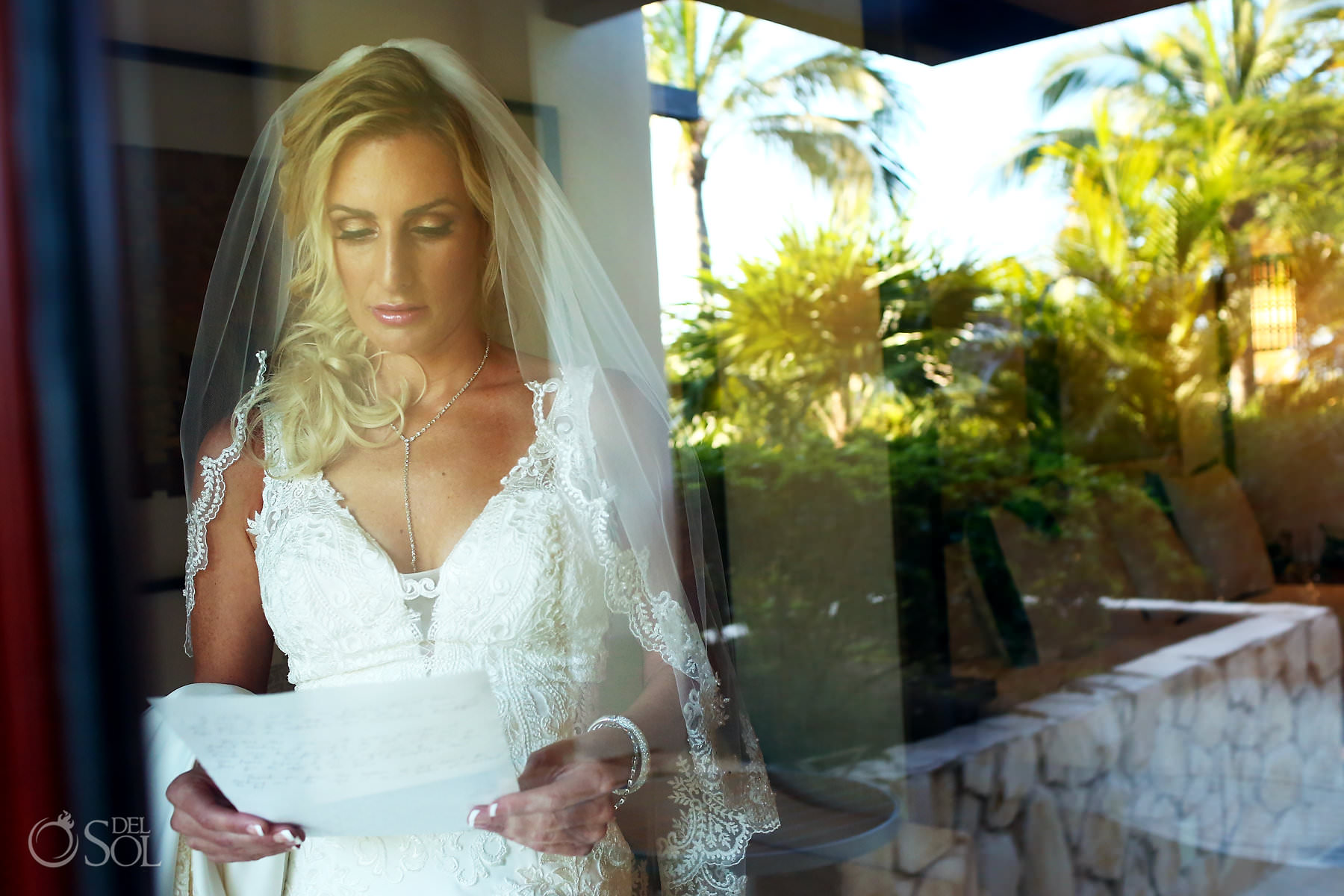 "Having a destination wedding at Sedcrets Playa Mujeres we could indulge more with people, and have lifetime experiences together." – Jojo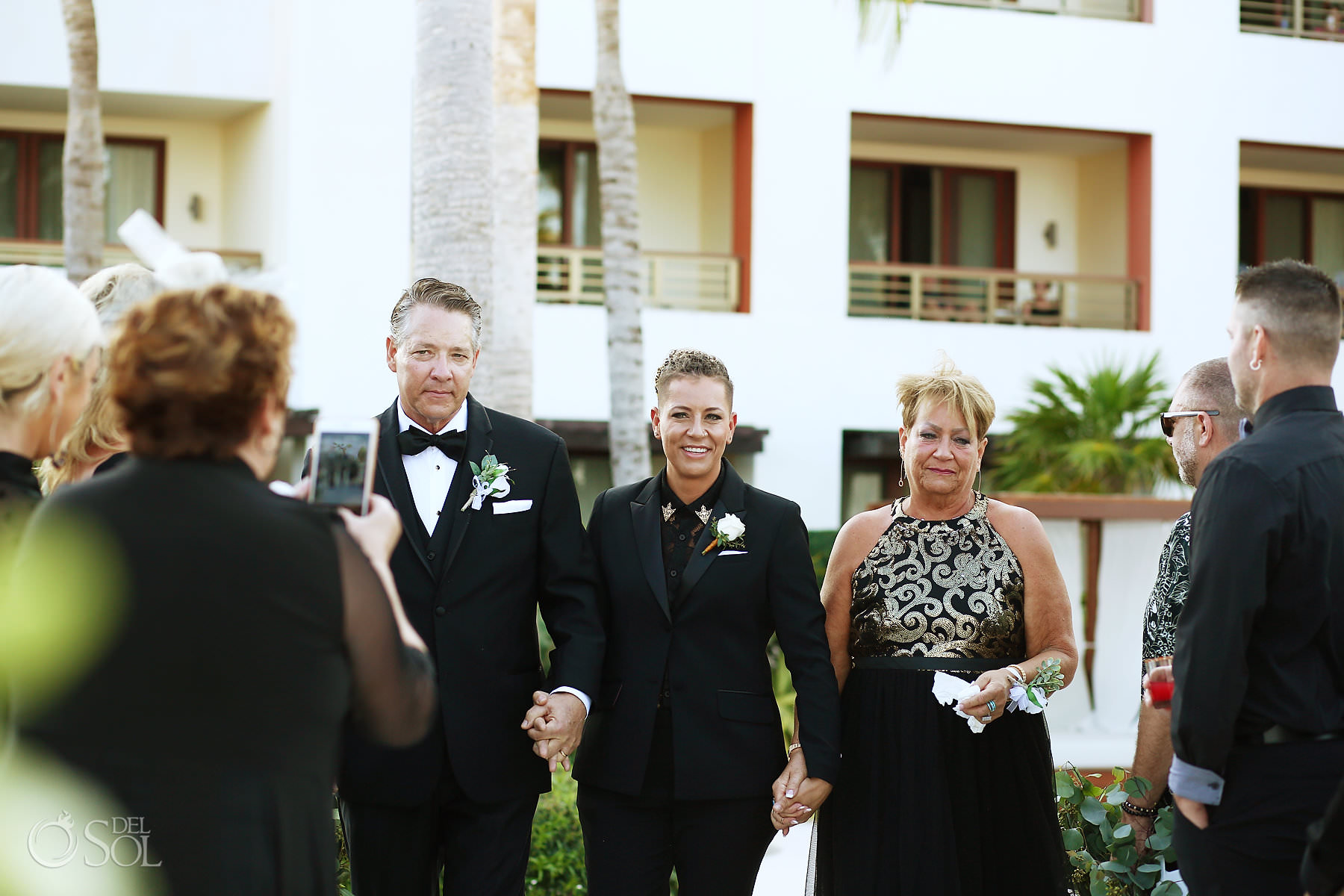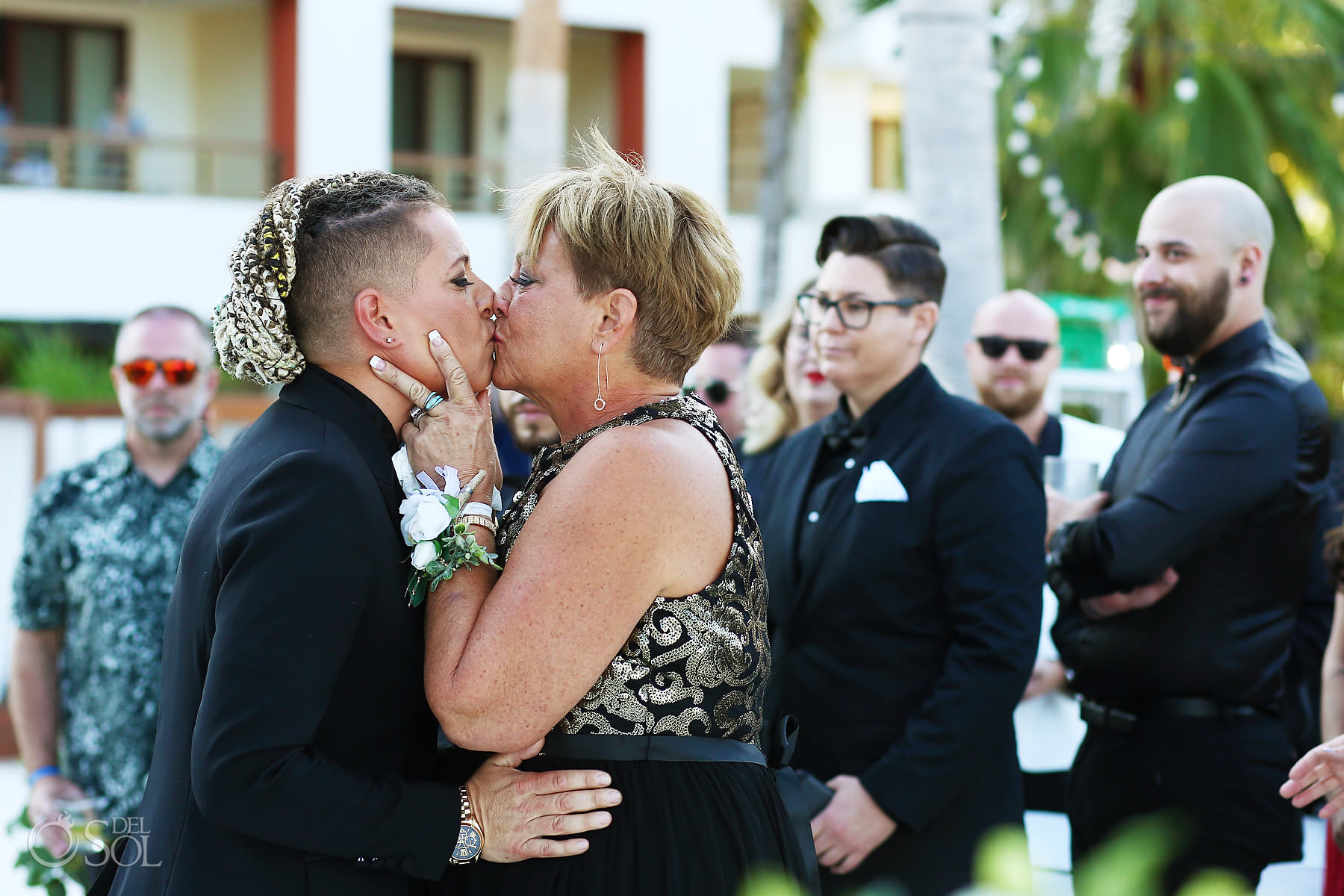 Del Sol: You ladies expressions seeing eachother for the first time was also adorable! It you can – please tell us the emotions you were going through in that moment.
M: Oh my!!! My heart was exploding with excitement as I heard "At Last" begin playing – and I am NOT one who enjoys having everyone's attention focused on me."
"As I came up the stairs, all I could think about was locking eyes with Jojo – to ease my nerves and find my safe place – then everyone stood up and I couldn't see her immediately, and panicked! I felt like I was running down the aisle until I saw her ❤" – Megan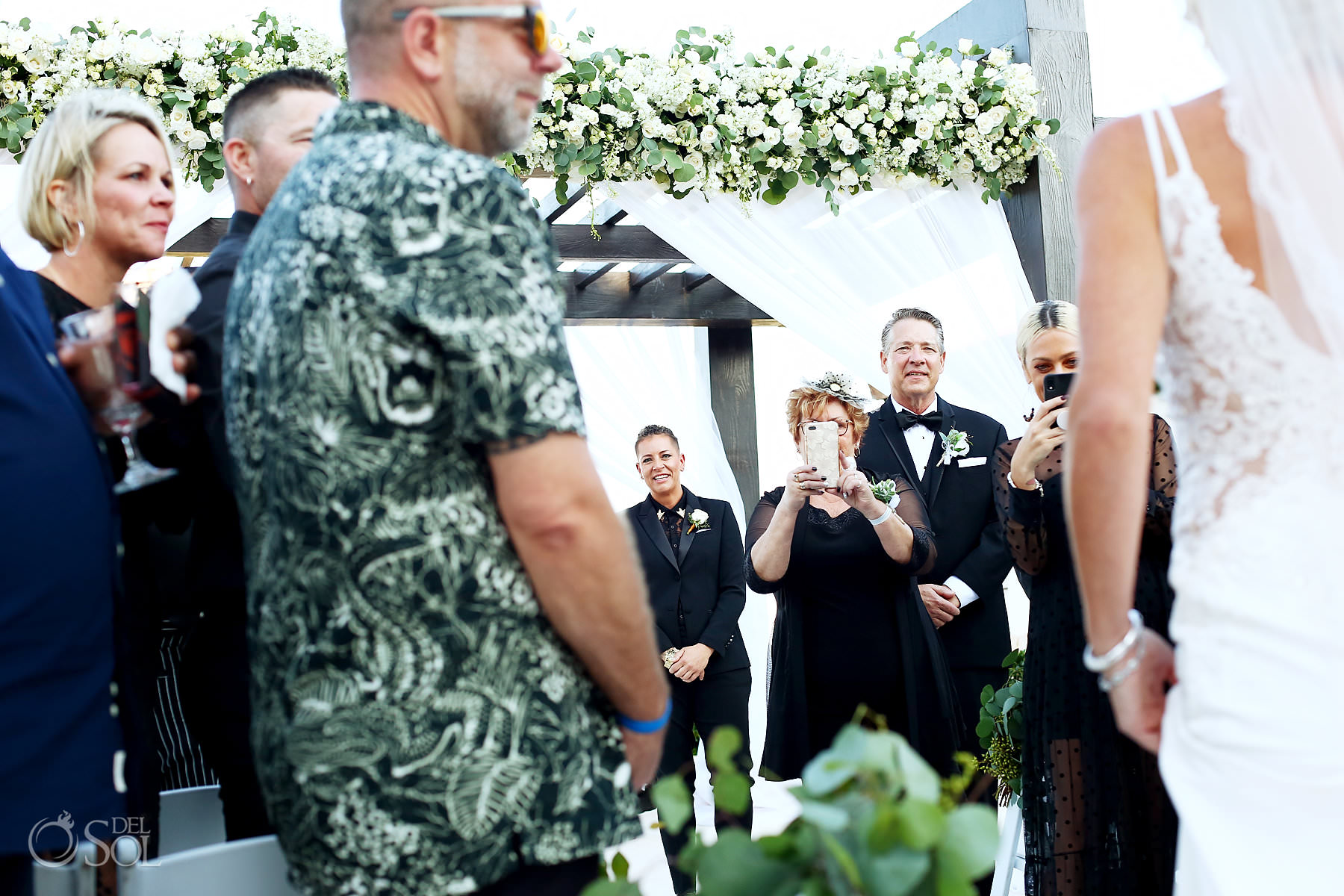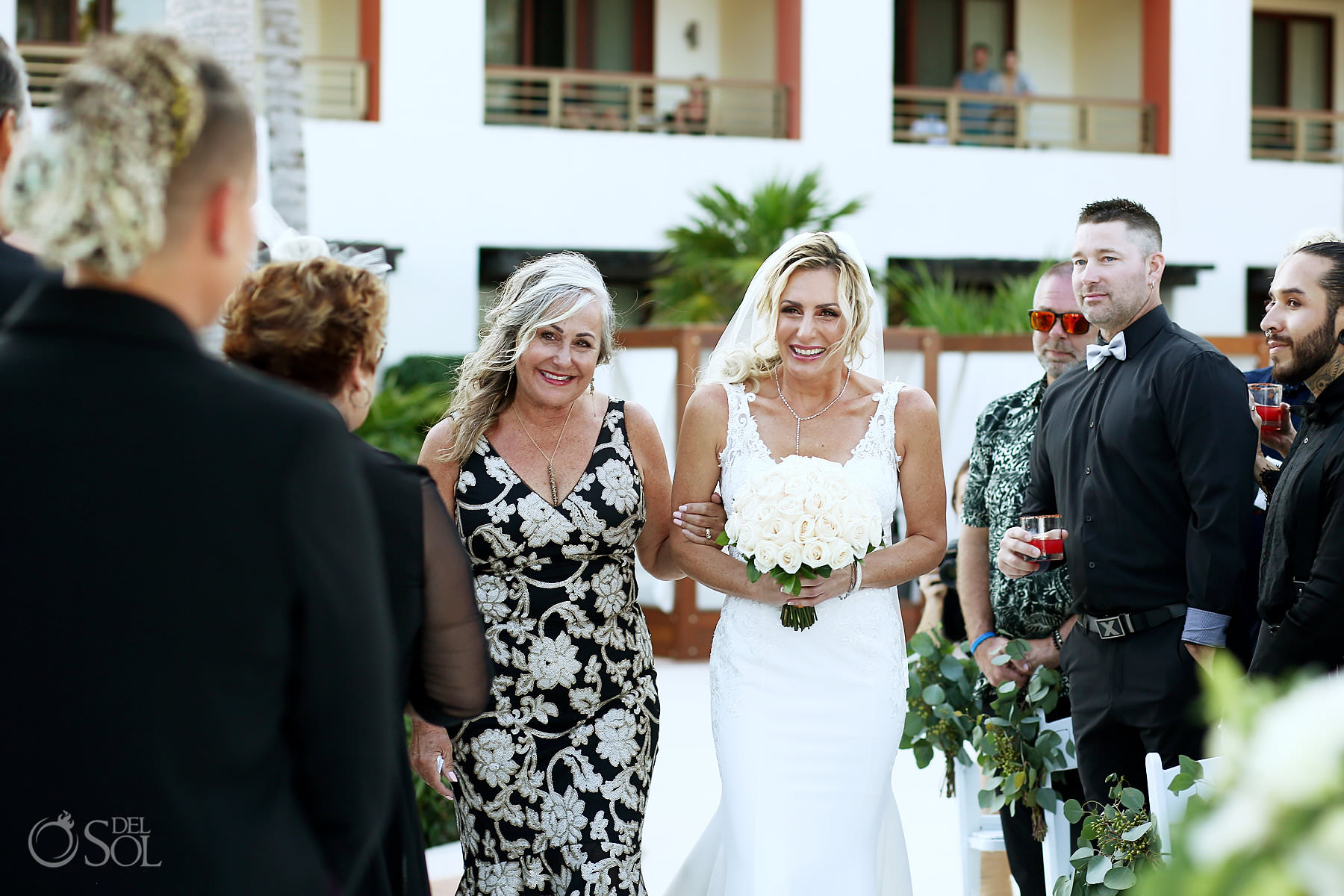 "She looks flawless every single day, so I knew she would be absolutely stunning, but she outdid herself. I know everyone probably says this, but she truly took my breath away. During the ceremony, I could not stop telling her how gorgeous she looked! #flawless"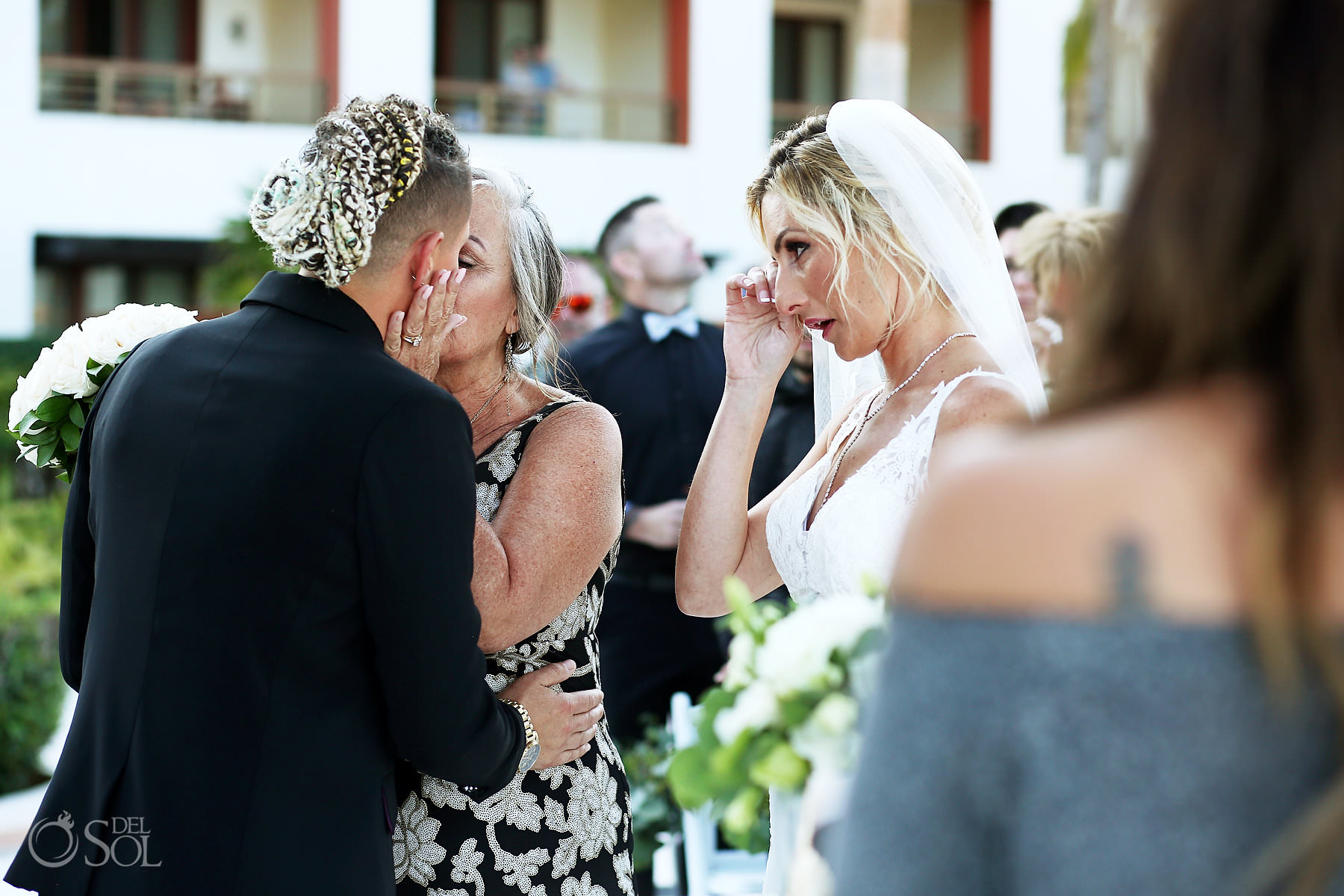 J: "Oh gosh I was absolutely in AWWWWW when I saw Megan for the first time. And I knew I would be she takes my breath away everyday when I walk in the house. But she knocked the wind out of me when I saw her in her gorgeous lacy wedding dress. I think you fantasize about how things are going to look and be while planning a wedding. That's where I think a lot of the excitement and anticipation, nerves into play the day of."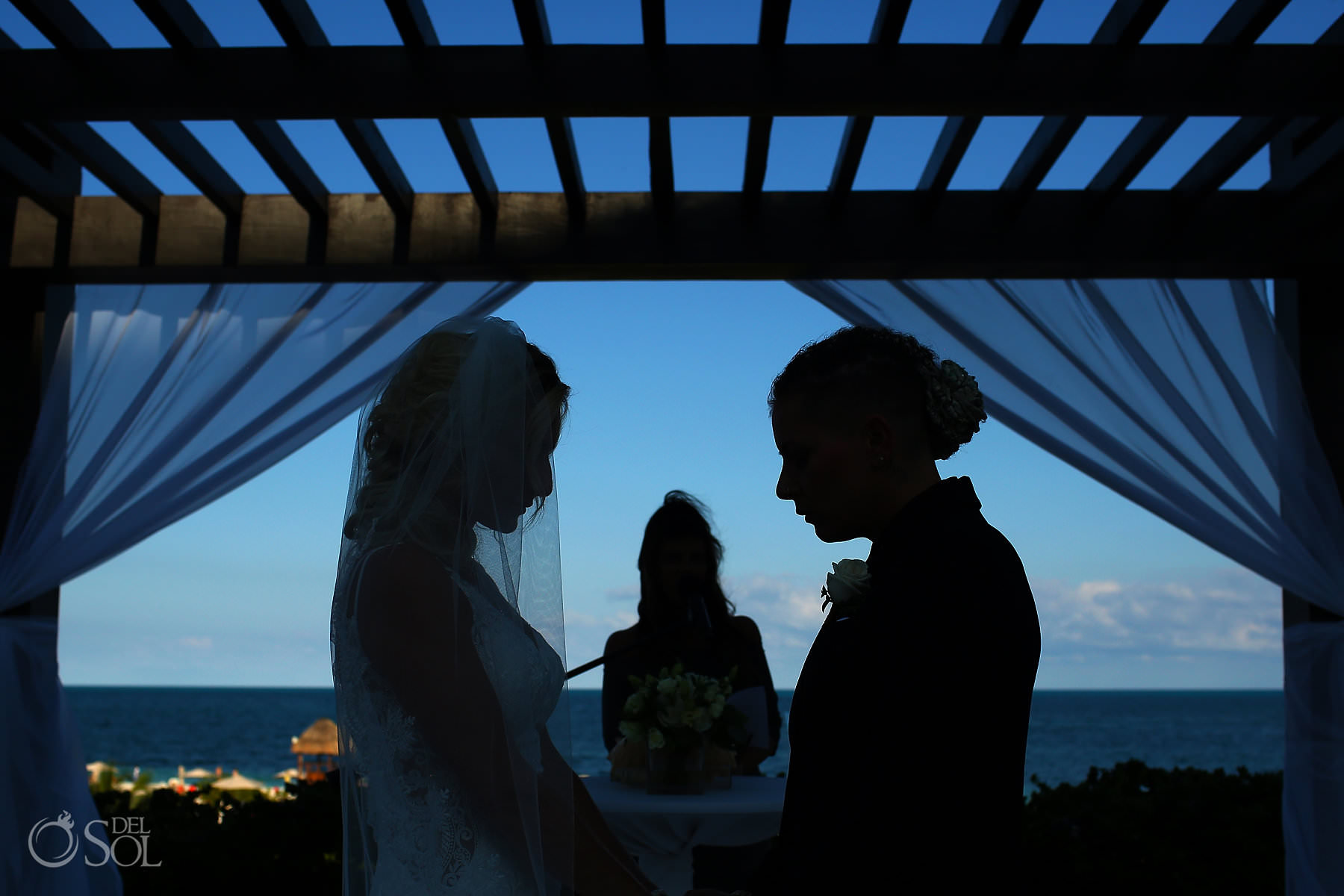 "All the days leading up to our wedding I daydreamed about how she would look. Nothing could compare to actually seeing her for the first time simply enchanting." – Jojo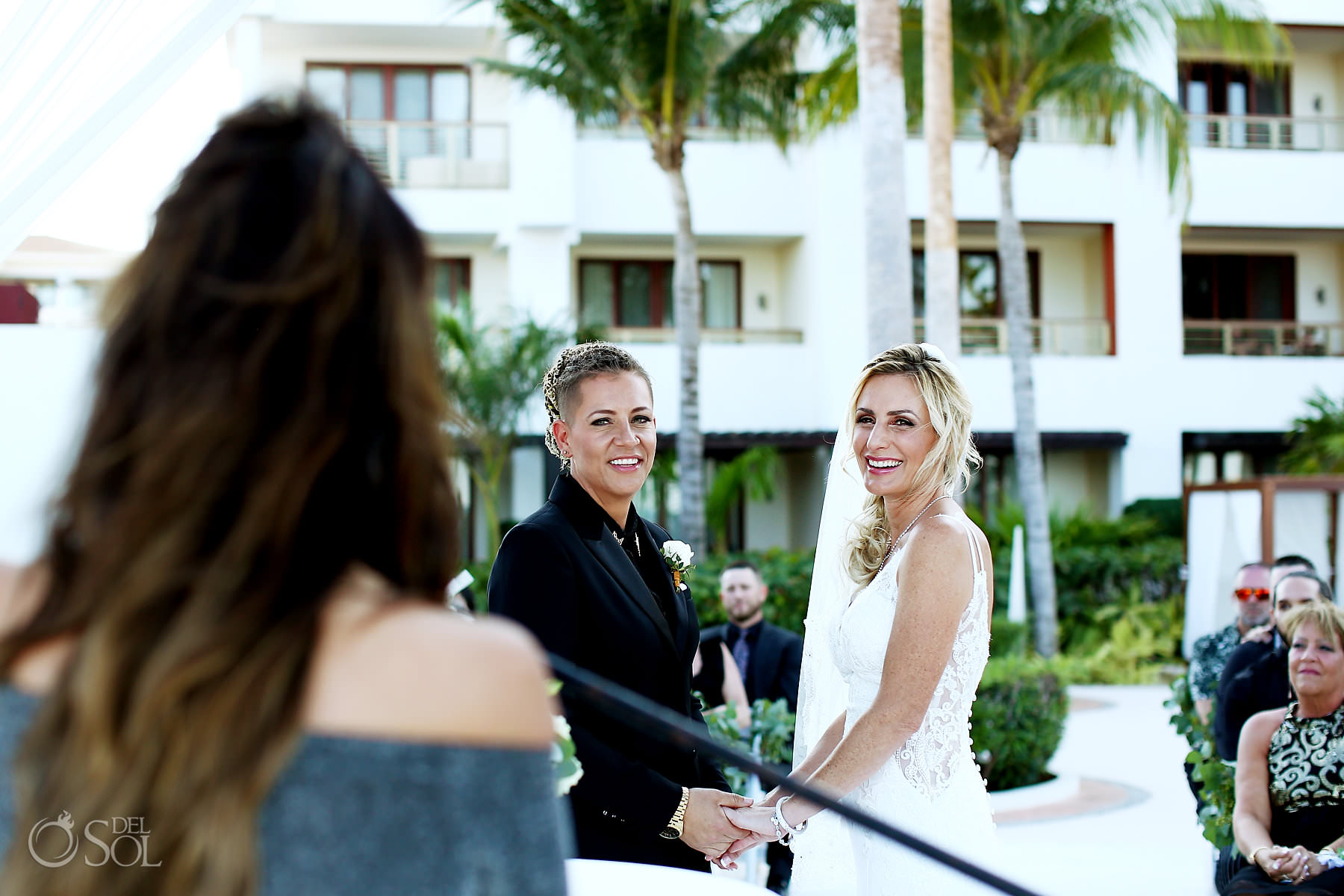 Del Sol: Was there a part of each others' vows that touched you?
"Wow – our vows were such a powerful moment. I wish I could relive it every day! I had tunnel vision and was so focused on Jojo. As she began reading her vows, I could not stop the tears." – Megan
M: "Jojo always makes a point to tell me how much she loves me and all the reasons why. But hearing her vows of commitment to our life, love and our future, was incredibly beautiful. I loved the part where she made a joke about me singing and dancing to Lady Gaga on our road trips 😊"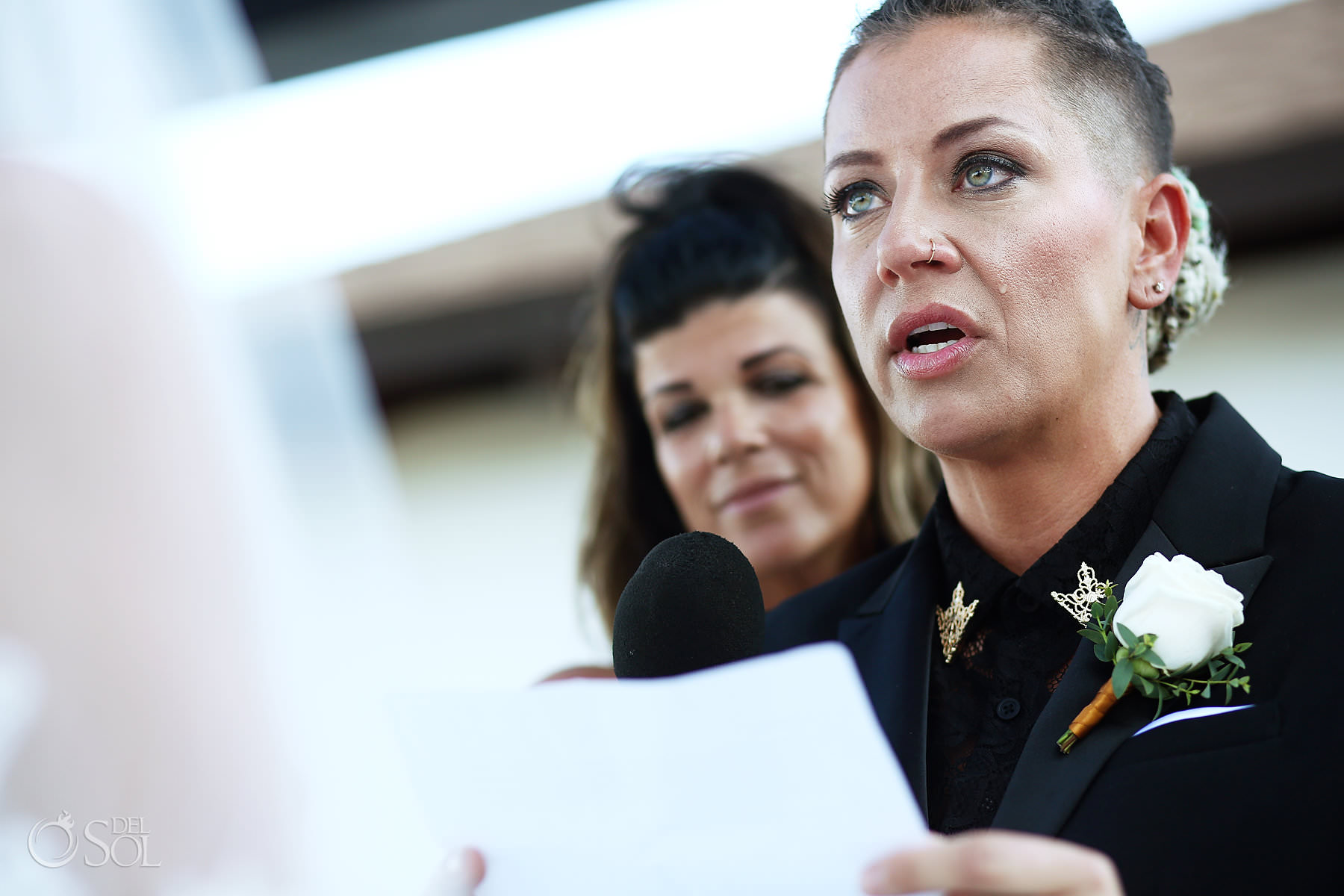 "The vows – it's crazy how you can stand there and get lost into each other's eyes." – Jojo
"I remembered holding Megan's hands and thinking they were so soft and how they fit so perfectly in mine. Then I realized I needed to start saying my vows. My point is all the emotions and feelings are intensified at that moment. Back to your question…. I loved hearing our journey through Meg's vows and how we have grown into one. The promises she has made to forever cherish and love me so tender. The joys she has expressing how she is going to be my wife makes me proud to see her glow to stand by my side with me in this dance together!"

Del Sol: We don't think I have EVER seen so many happy tears in a wedding ceremony – Jojo's mom cried her eyelashes off!! Did you have any idea?! Both of you had tears in your eyes as well.
M: "Personally, I had tunnel vision during the ceremony and really didn't notice anyone except Jojo until we returned from the photo session on the beach."
"I have never experienced such an intense wave of pure happiness and the tears of joy were impossible to hold back." – Megan

"They kept flowing as I listened the Noelle speak of our love, her references to Jojo's grandmother and my Step-father, both have passed but were our greatest influencers – especially in lessons of unconditional love. Then hearing Jojo's vows, her verbal commitment to me and our future, was so beautifully powerful – I could not even pretend to hold back my emotions."

Del Sol: Where did the kissing game idea come from?! And who was the best kissing couple?!?!
M: "This was Jojo's idea. I had never heard of it, but she was insistent – and it could not have been better! Everyone has said how much fun it was!"

J: "That kissing game was incredible. So we wanted to do something fun and allow some interaction people guest during dinner. Sometimes dinner can be boring and everyone is ready to party and kick off their shoes. So we created a list of couples (minus the weekend fling we had no part in that kiss request) that we look up to have #couplegoals."

For the winner there were some good ones. I loved Mac and Kim's they are so classy and chic as a couple and I think their demonstration of a kissed showed just that. My dad and step mom Lynn that's totally them she is ridiculously funny and her sitting on my dad is just what I would have expected. "
"I think if I had to chose a winner I would say Jennifer & Eddie brown I loved how he picked her up and she trusted him so much she wrapped her legs around his legs. There was a story I saw when they kissed. *awww jojo sighs*"
Del Sol: So Megan – your brother very nearly stole the show from you (#bestspeechever) talk to us a bit about him and indeed all the family love that was surrounding the 2 of you!!
M: "HAHA!! My brother is quite a character! His personality is larger than life – as you could see during his speech, which was SO Tyler! He is literally the funniest human-being I have ever met! I have admired him and followed in his footsteps for my entire life. He inspires me every day."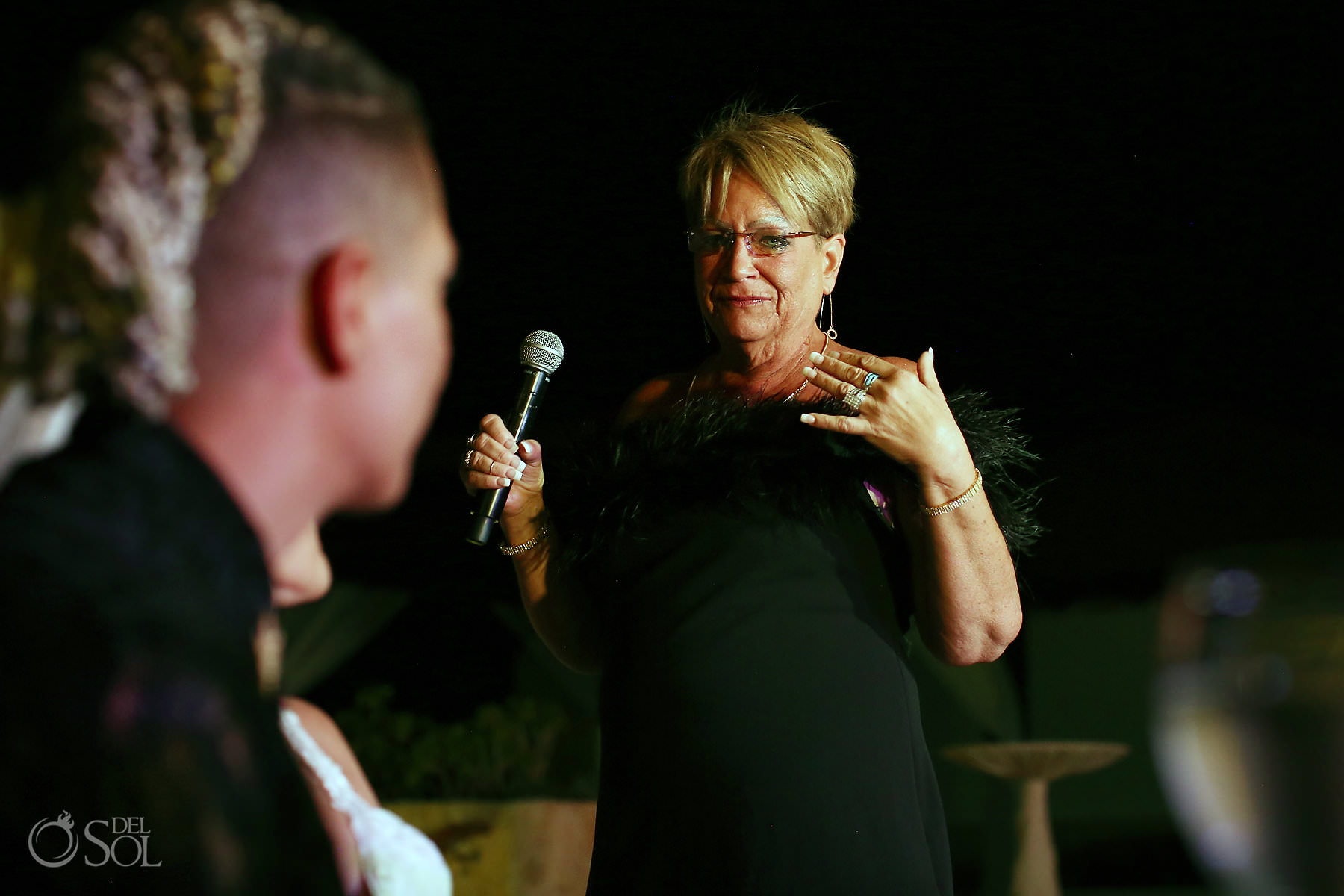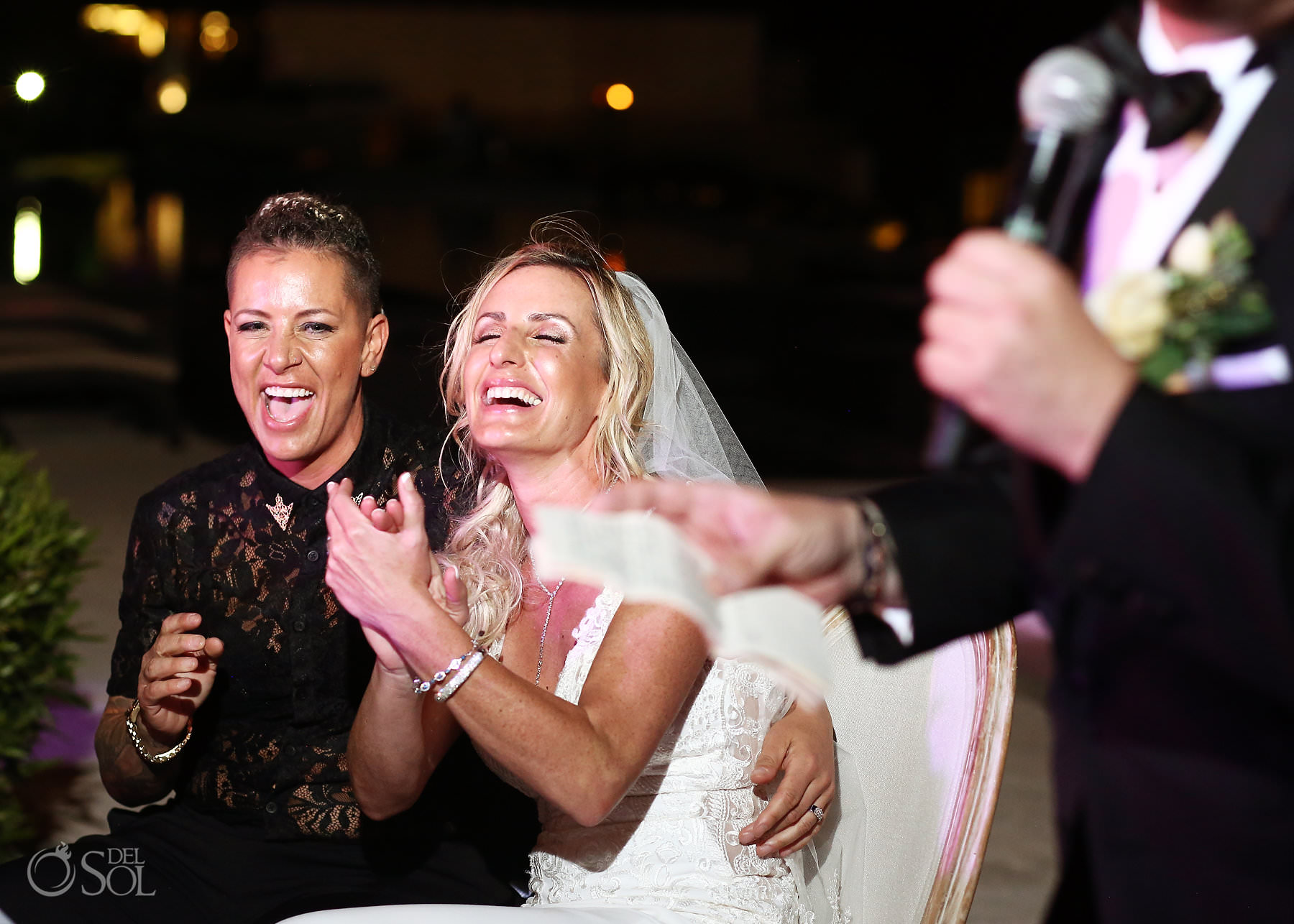 "As for the love of our friends and family – We knew we had a great group, as the RSVP's started rolling in, and we were excited for all of our different friend groups + family to meet each other. We had no idea they would all come together and love one another in the way that we do."
"By the 2nd day of the trip, you would have assumed that everyone had been best friends for their entire life, but in reality, most of them were meeting for the first time! Aside from the wedding, it was the most amazing thing to experience and witness!" – Megan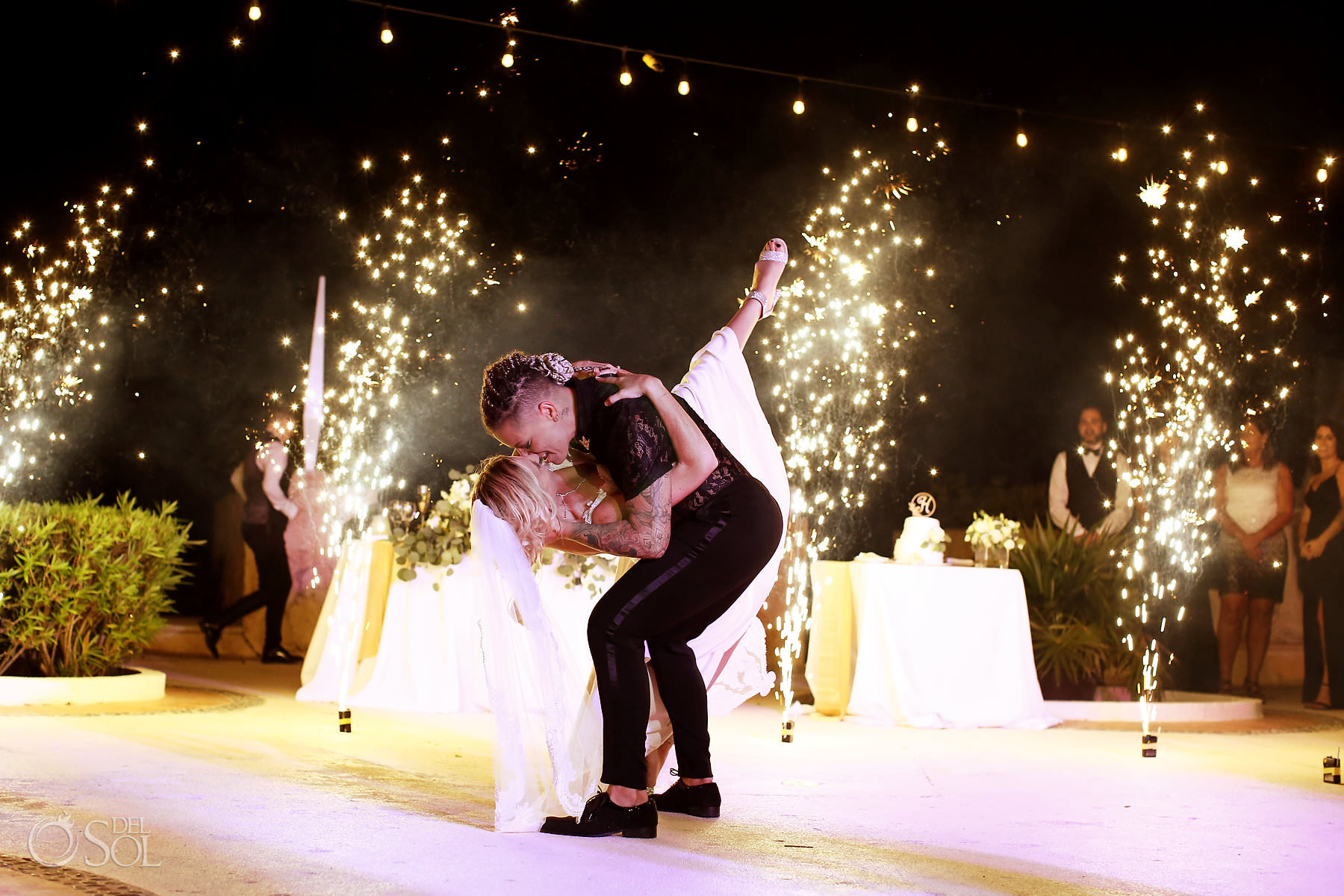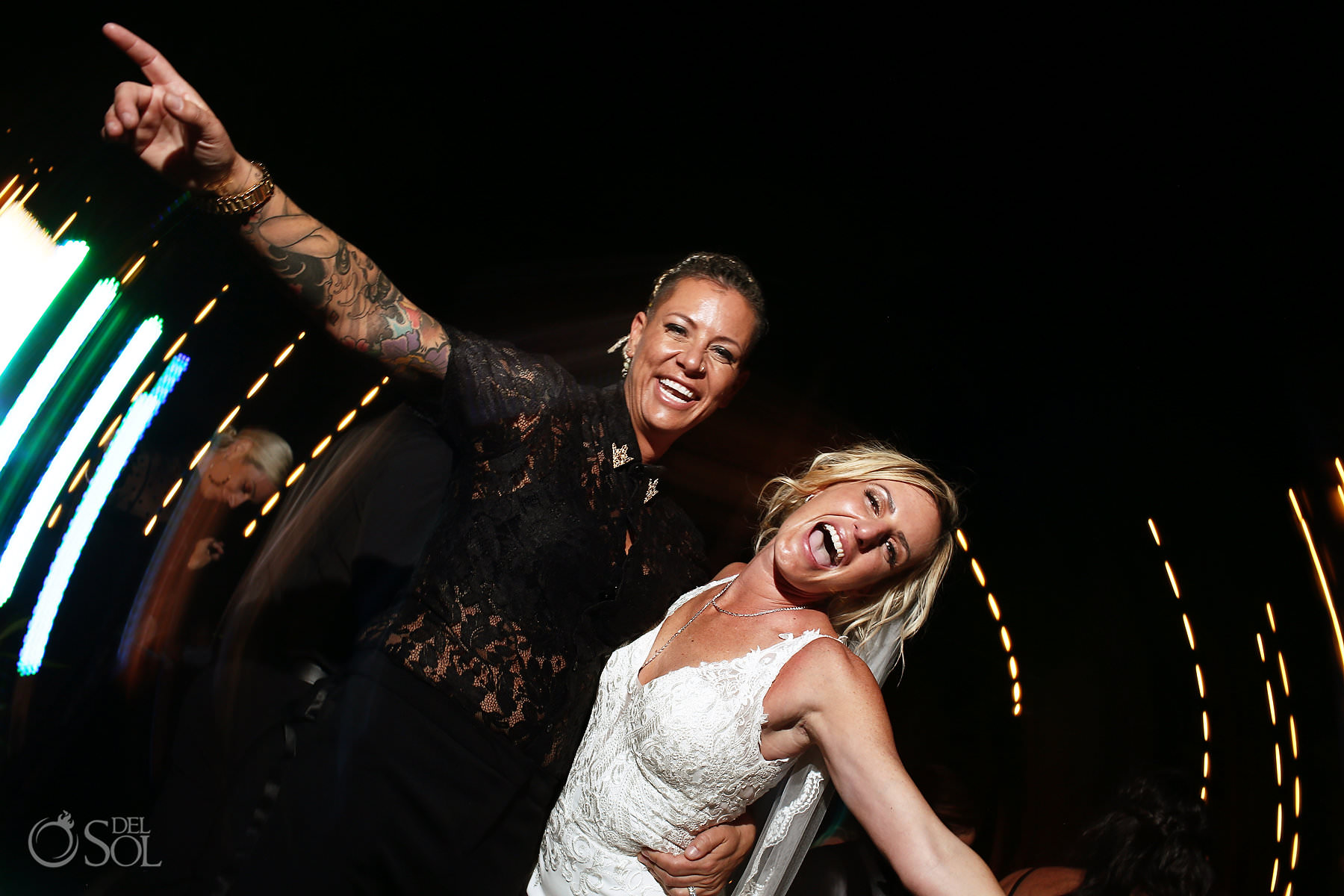 Del Sol: Why did you choose Secrets Playa Mujeres?
J: "Eddie our bartender the night of the wedding was our absolute favorite! But we chose SPM cause of the options they offered to everyone. The beaches was absolutely powder sand and the pools had great entertainment and the nightlife."
"This is a rowdy group so they need to be entertained. Secrets Playa Mujeres has exactly what we needed." – Jojo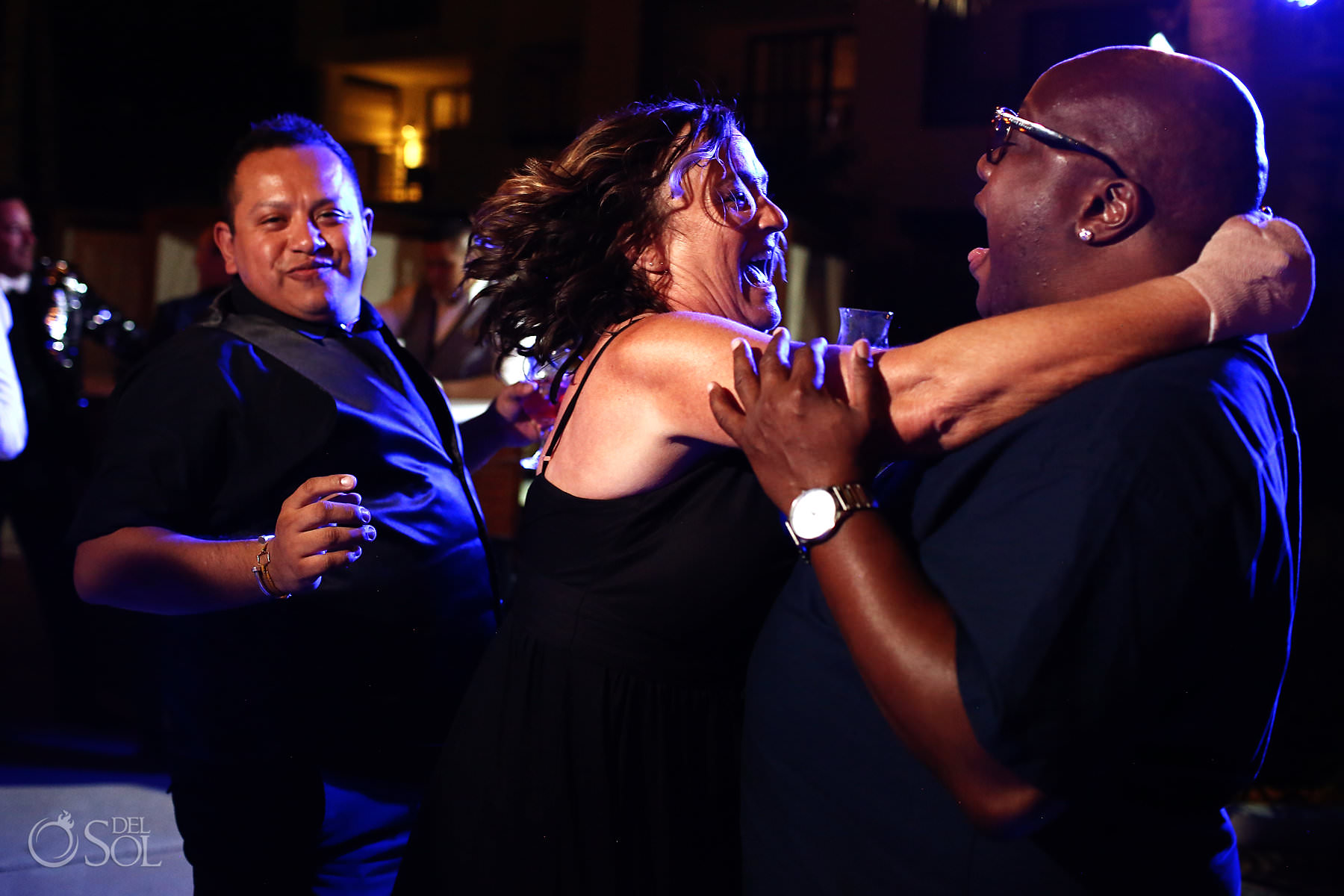 Del Sol: How was your experience with the del Sol team?
"The entire experience with Del Sol was fantastic! From planning to the day-of execution, everything was so easy. It could not have been better!" – Megan
J: "Extraordinary absolutely perfect. The service was supreme I would recommend and use Del Sol anytime I was in that area."