Casa del Rector Guanajuato
Get to know Guanajuato
Photos and Text by Matt Adcock
When you dream about Mexico, what do you imagine?  How about visions of old buildings, colorful painted facades and colonial architecture with buildings built when the Spanish occupied Mexico?  Let's add 500 year old churches and church bells ringing in the distance?  Oh, how about city markets full of people and a full on hustle with a ton of small business and movement taking place?   If we getting somewhere, let me tell you about Casa Del Rector Guanajuato.
I really love colonial cities in Mexico. I live in Playa del Carmen Mexico, a relative new city and far far away from what "Real Mexico" means to me. Traveling and discovering the beautiful Mexican towns across the country has always been a highlight for my travels.  Mexico is and always will be on the top of my list of countries to know in Latin America.   Guanajuato Mexico is called a "Pueblo Magico" Magical town and one on the route of frequently visited for its richness in history and cultural attraction.
Casa Del Rector Guanajuato is a new hotel project with less than 2 years open and a beautiful hotel boutique concept.  After almost 6 years in the making, this is one of the newest boutique hotels in Guanajuato.  The hotel is really a unique home from the 19th century with an incredibly rich history.  The home is recently renovated and converted into one of the most beautiful spaces eyes can witness.
One of the things that stood out is the courtyard has as 5 story GLASS elevator up to a balcony with one of the most amazing pools I've ever seen.  The patio is also next to this Presidential suite overlooking downtown. Let's face it, Guanajuato is known for its cityscapes. The views from Casa del Rector are epic. Oh, Every hour and half hour the churches and chapel bells ring to note the time of day.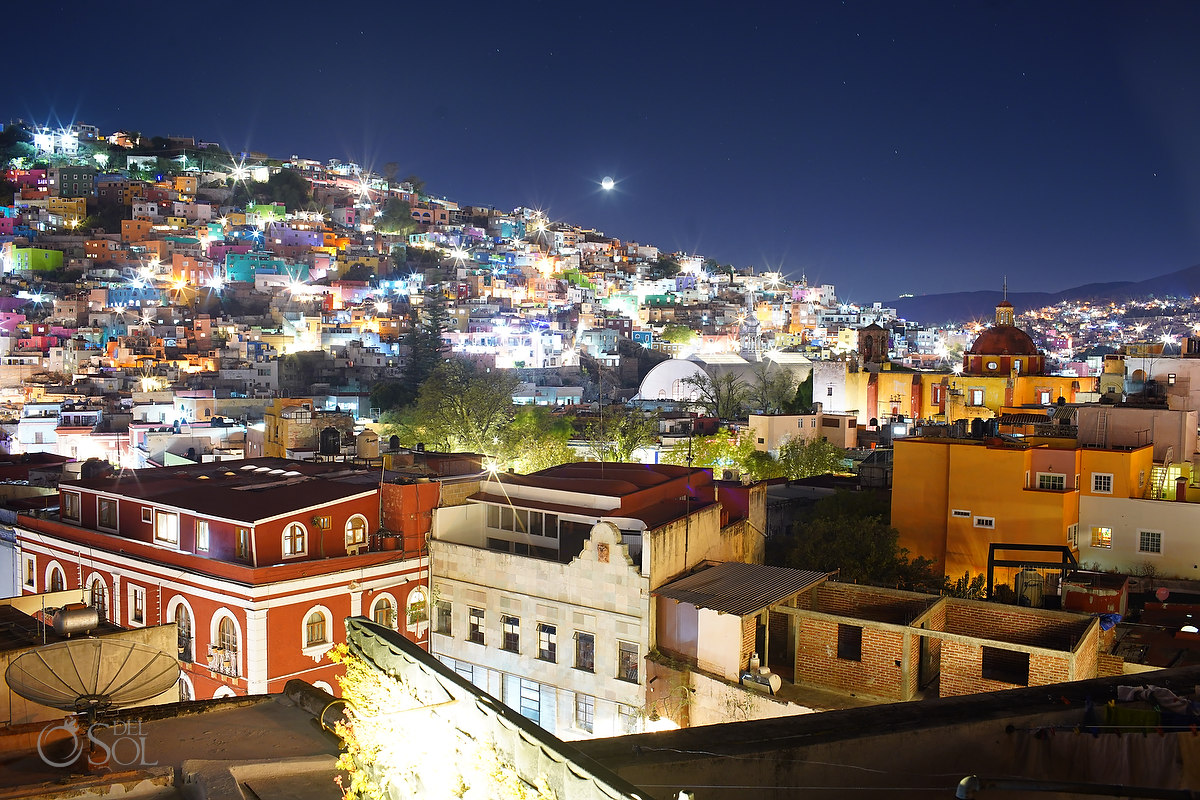 Morning and nite views in this hotel are all amazing.  The scene setters of Colonial Mexico in this city are some of my most favorite I've seen throughout all my travels in Mexico.  Casa del Rector Guanajuato is a very exciting concept embracing the old and antiquity in a modern luxurious boutique hotel.
Every view, every courtyard has an artist's hand.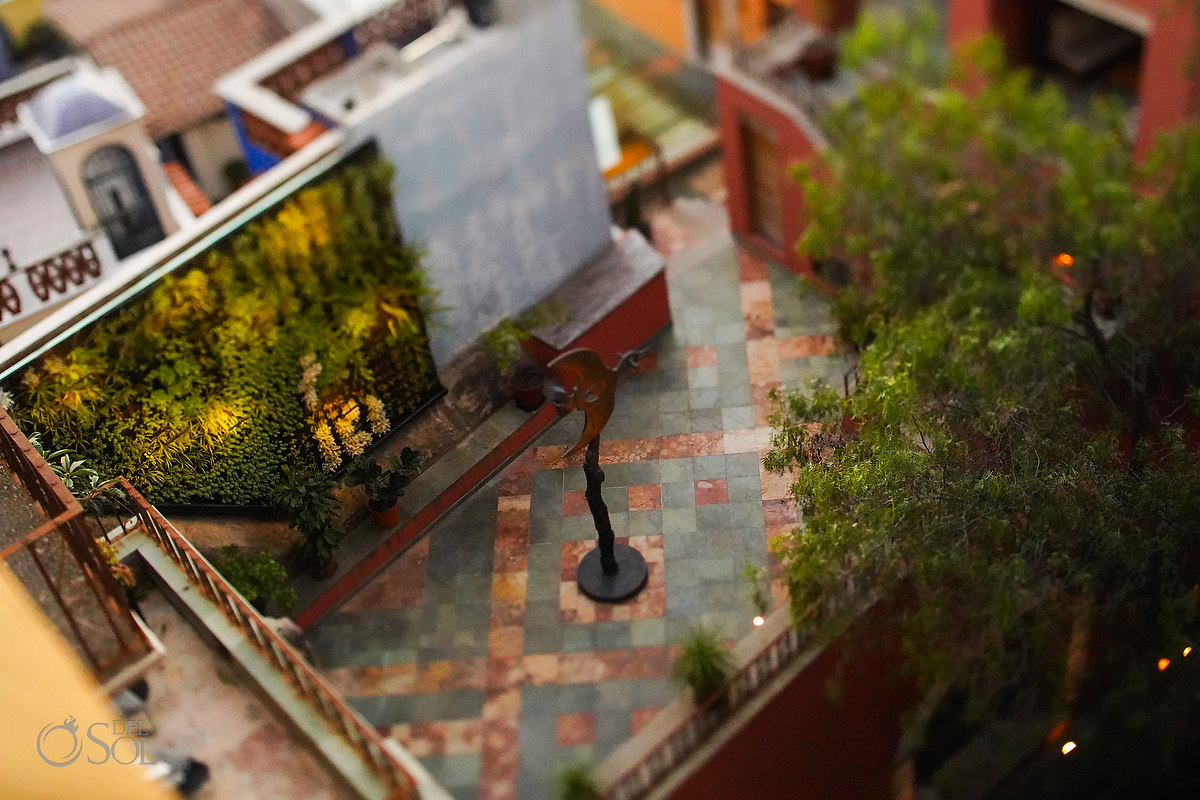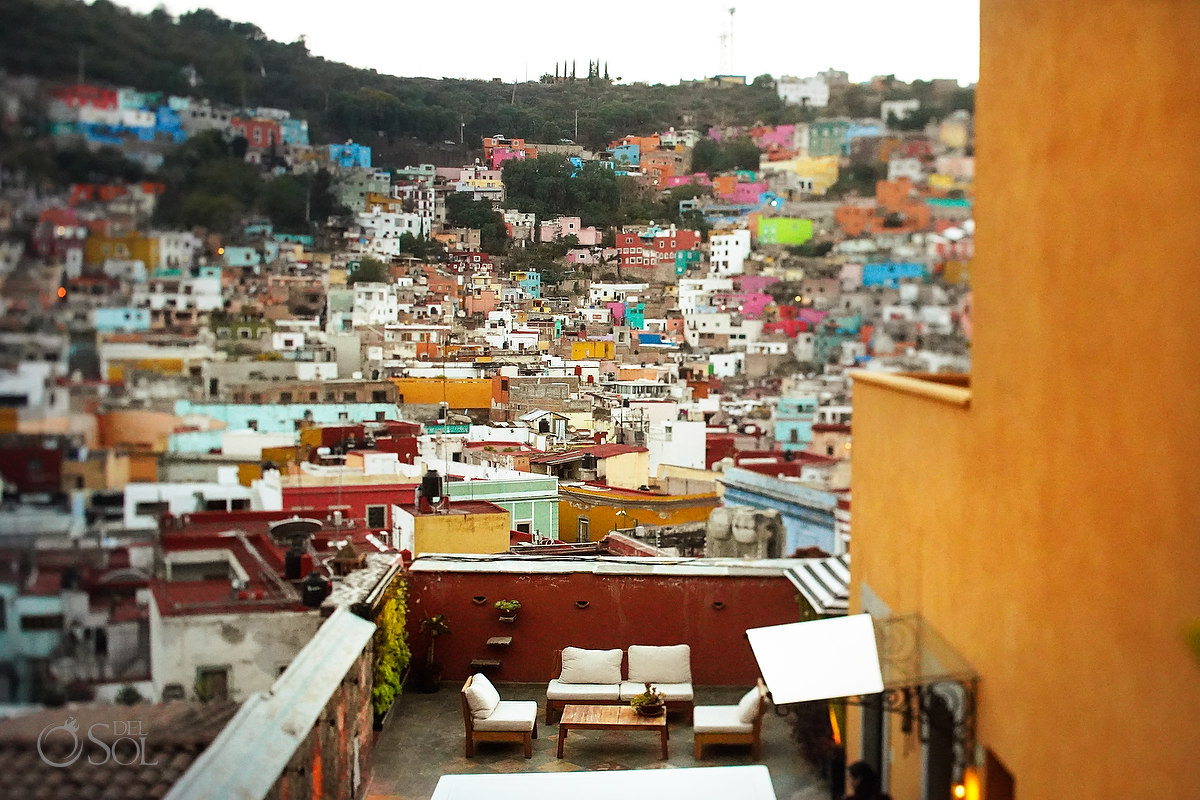 Colonel Joaquín Obregón González, the first official governor of Guanajuato formerly  lived on the property In addition, it was the home for nearly 50 years of Armando Olivares Carillo, founder and first rector of the University of Guanajuato, hence the name Casa del Rector.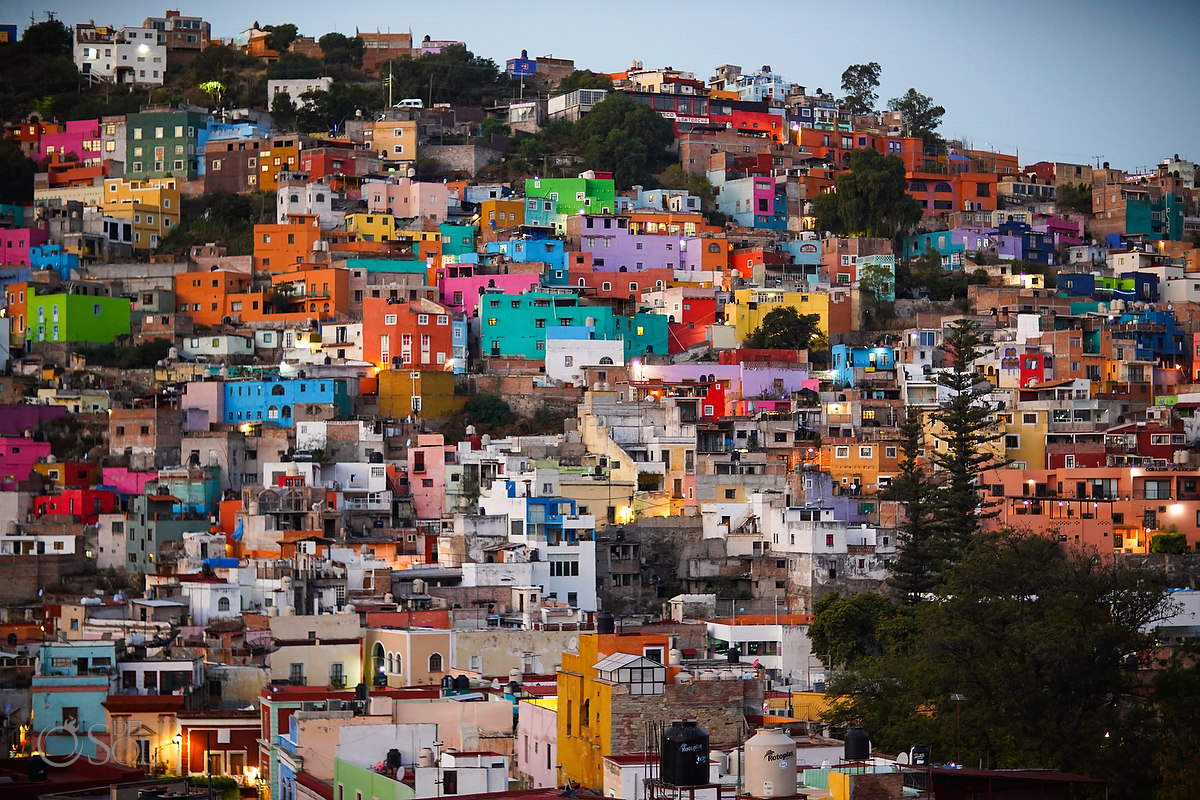 The rooms are all wonderful.  A curious fact worth noting that some spaces of the hotel are named after the rectors of said house of studies; such is the case of the Marcelino Mangas patio, first rector of the then Colegio de la Purísima Concepción (antecedent of the University of Guanajuato). In Cafe 33-inside the hotel-there is a plaque in honor of Don Eugenio Trueba Olivales and one of the salons is named Armando Olivares Carillo.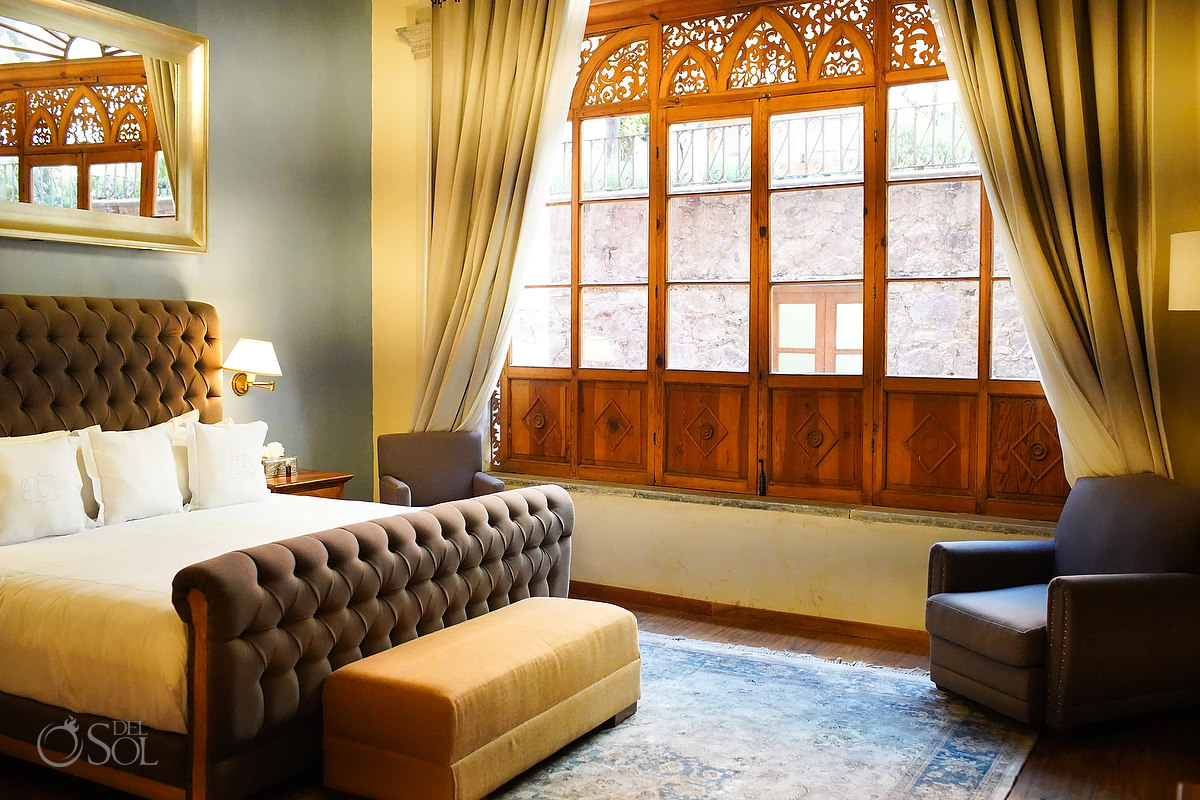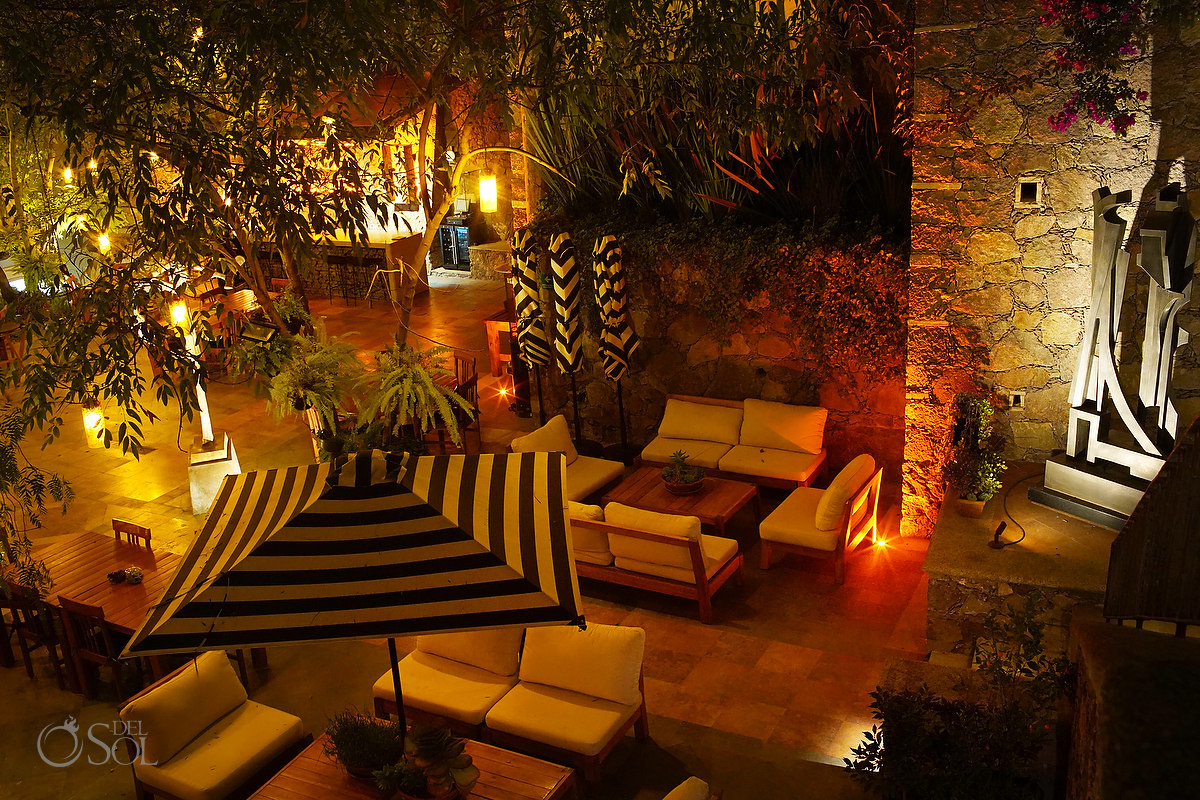 Casa Del Rector Guanajuato is full of art from some of Mexico's most famous sculptors.  Featured below are some of the prominent installations that distinguish the properties corridors and walls.  Many of them are much greater than life size, in fact several installations such as "los Vigilantes from Capelo, stands almost 10 feet tall.
These are some of the other notable sculpture installations in Casa Rector:
Leda, Luna Luna, La Niña Langosta y el Niño Insecto,
de Sergio Hernández
Caballo, de José Luis Cuevas
El Ángel, de Alejandro Mancera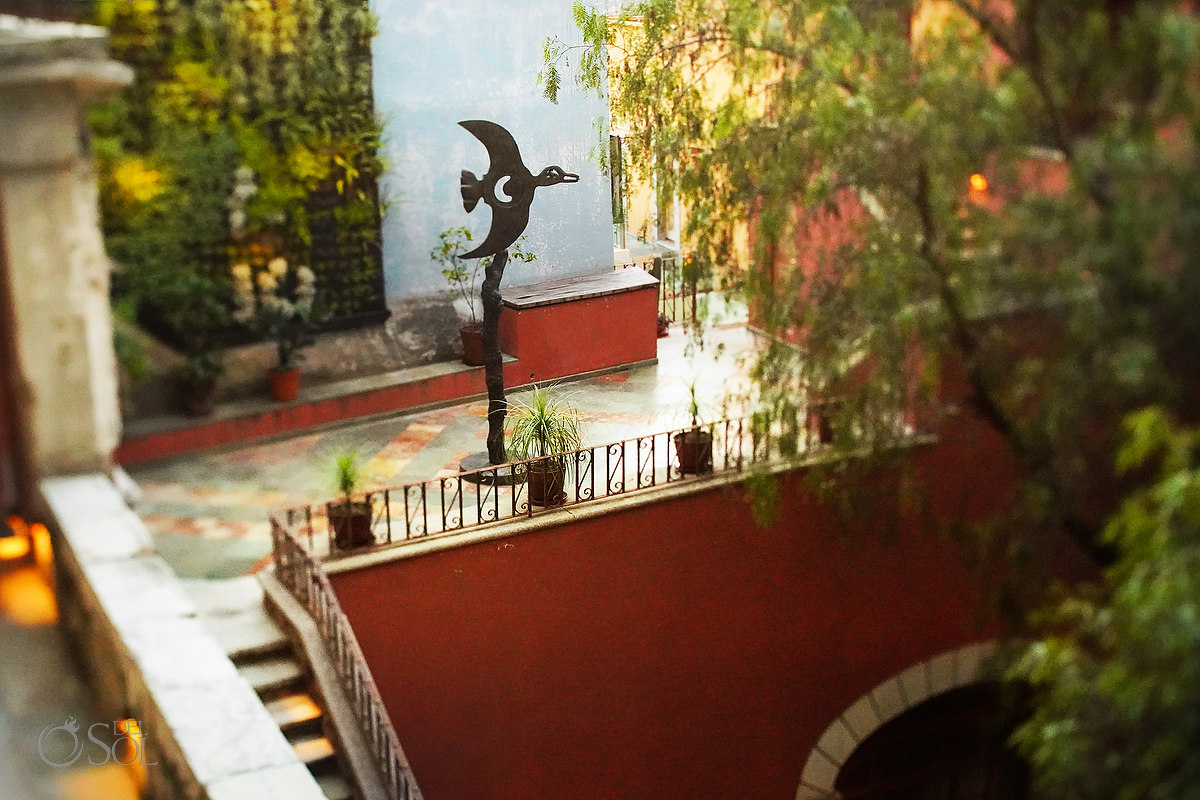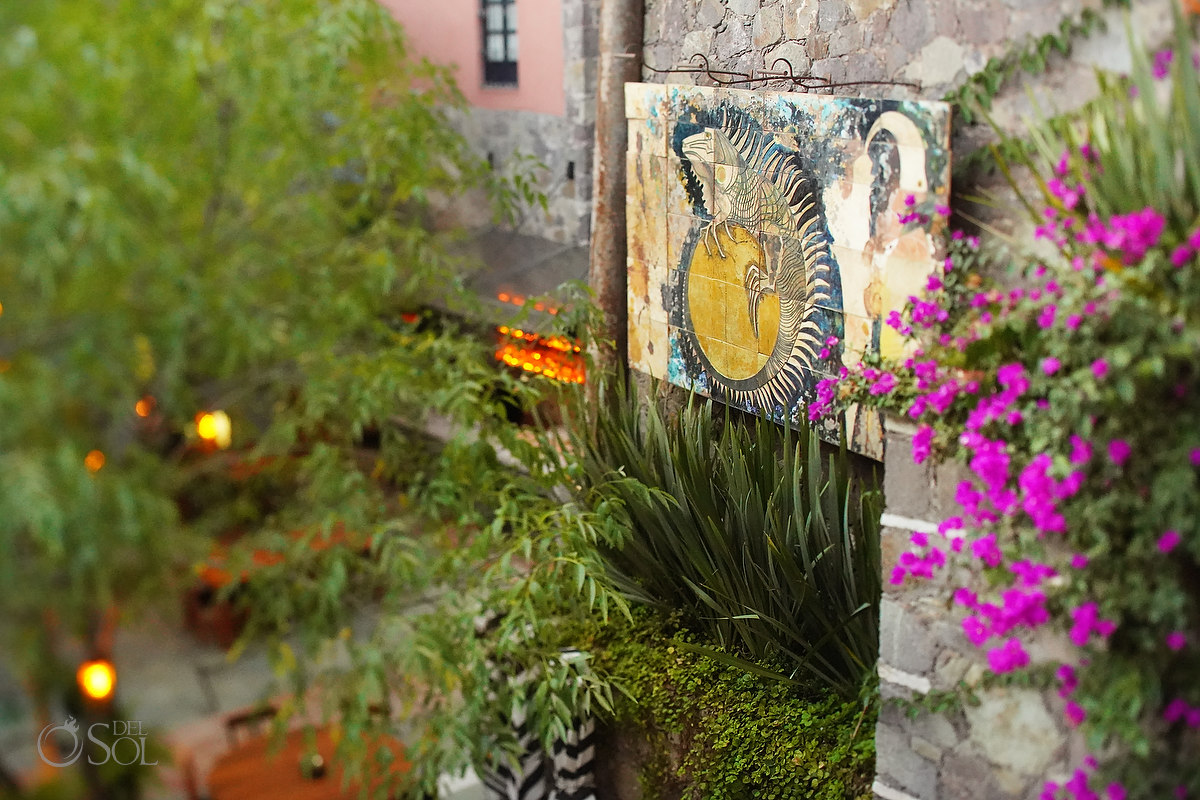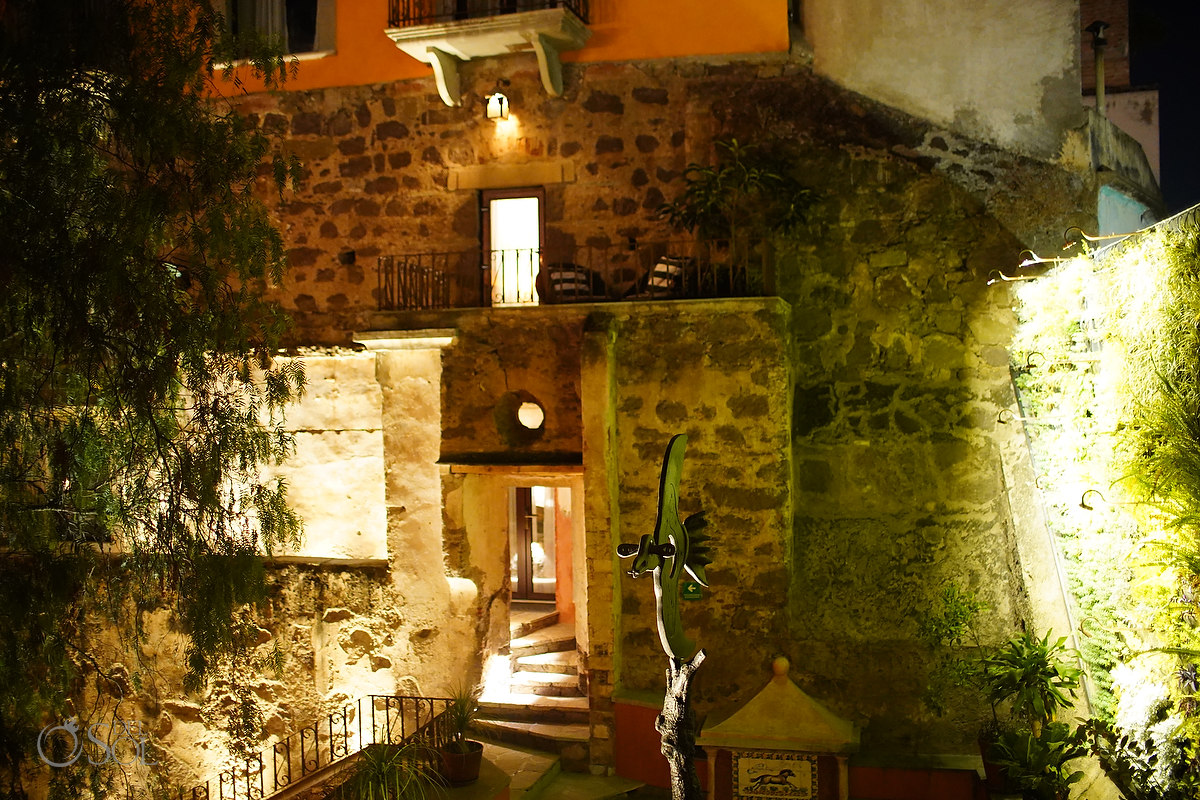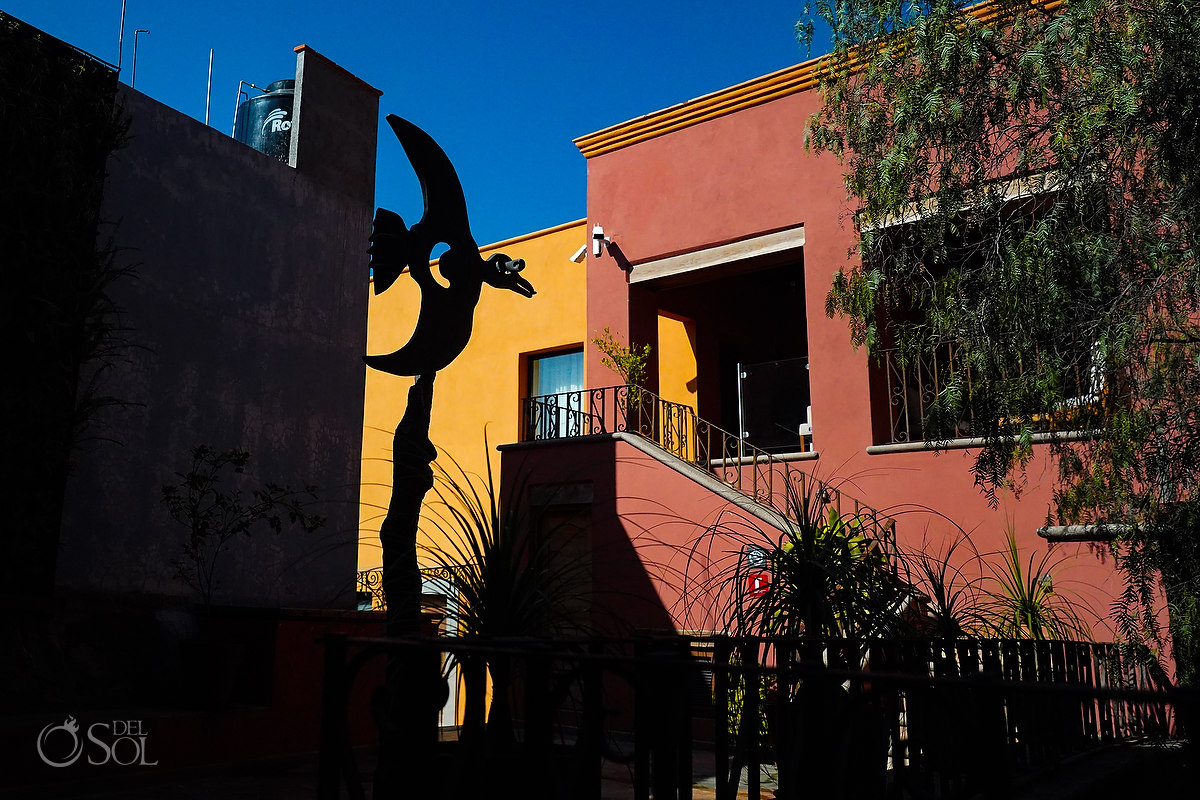 THIS INFINITY pool at Casa Del Rector Guanajuato is going to be world / instagram famous if it isnt already.  It is heated for your comfort and treated with Salt vs Chlorine.  This has to be one of the most epic infinity pool's I've ever seen.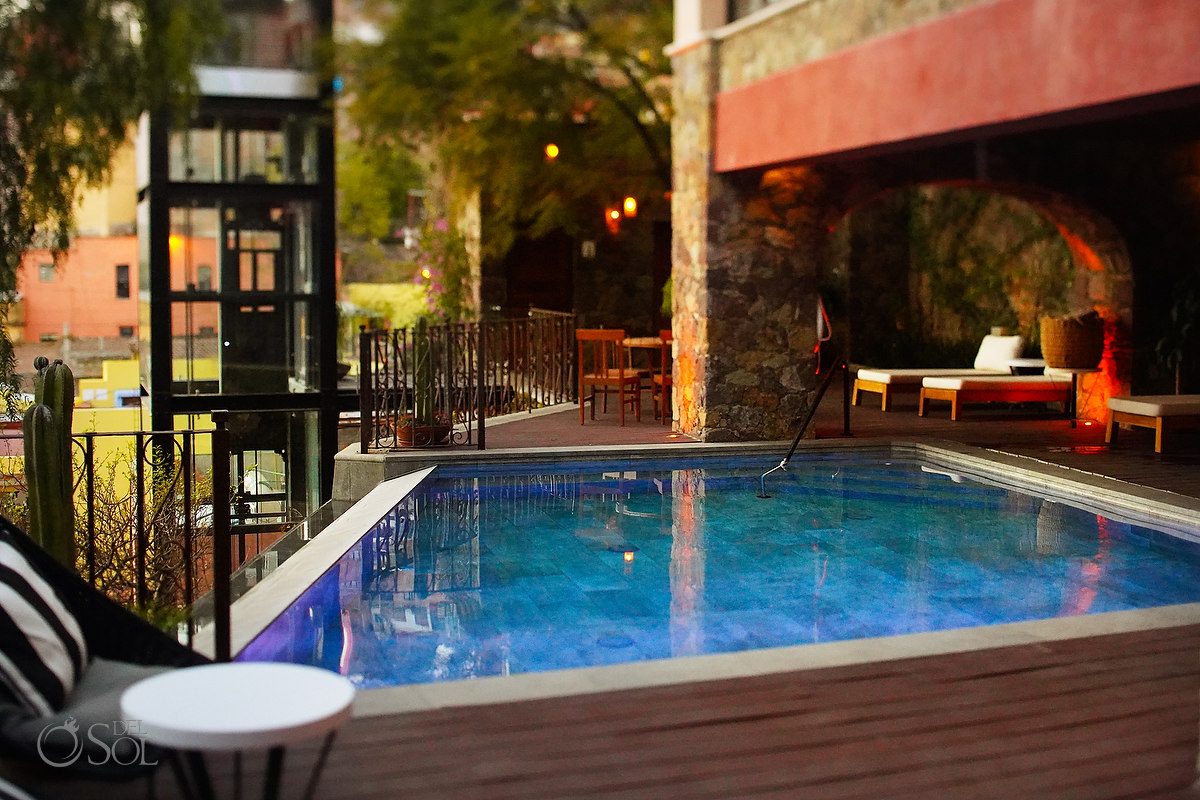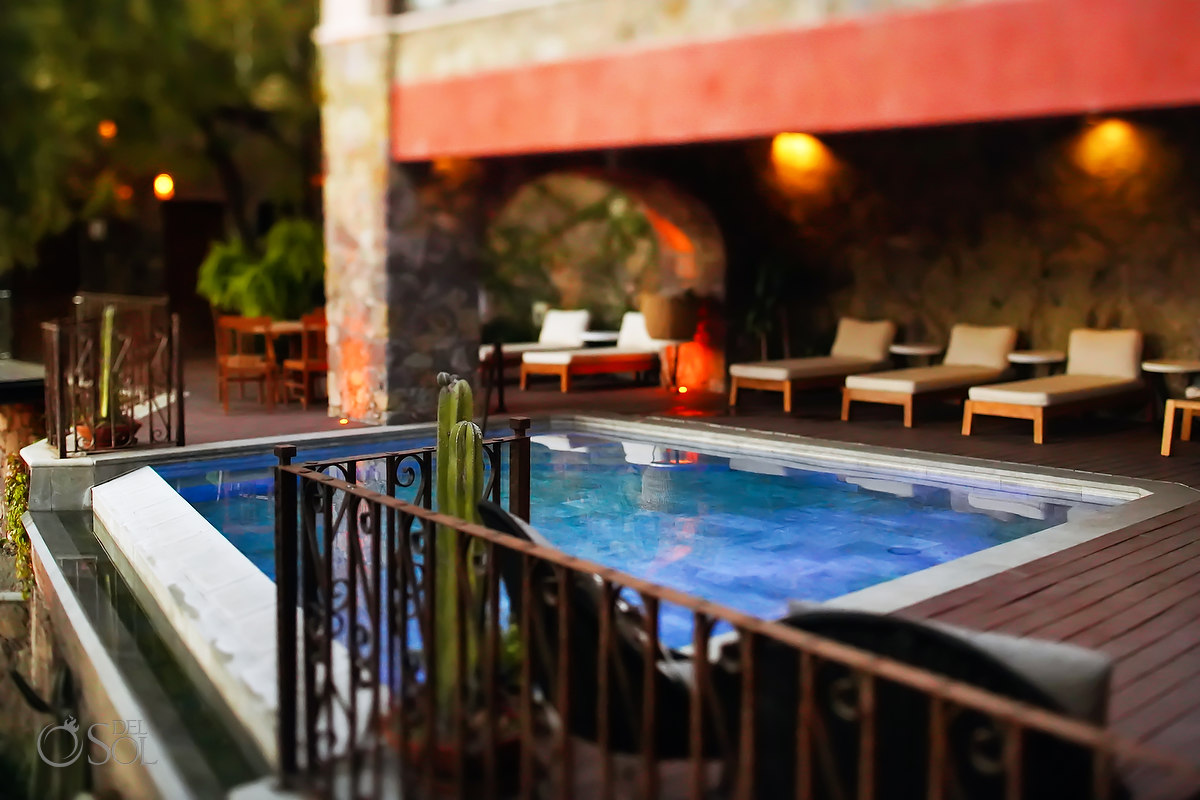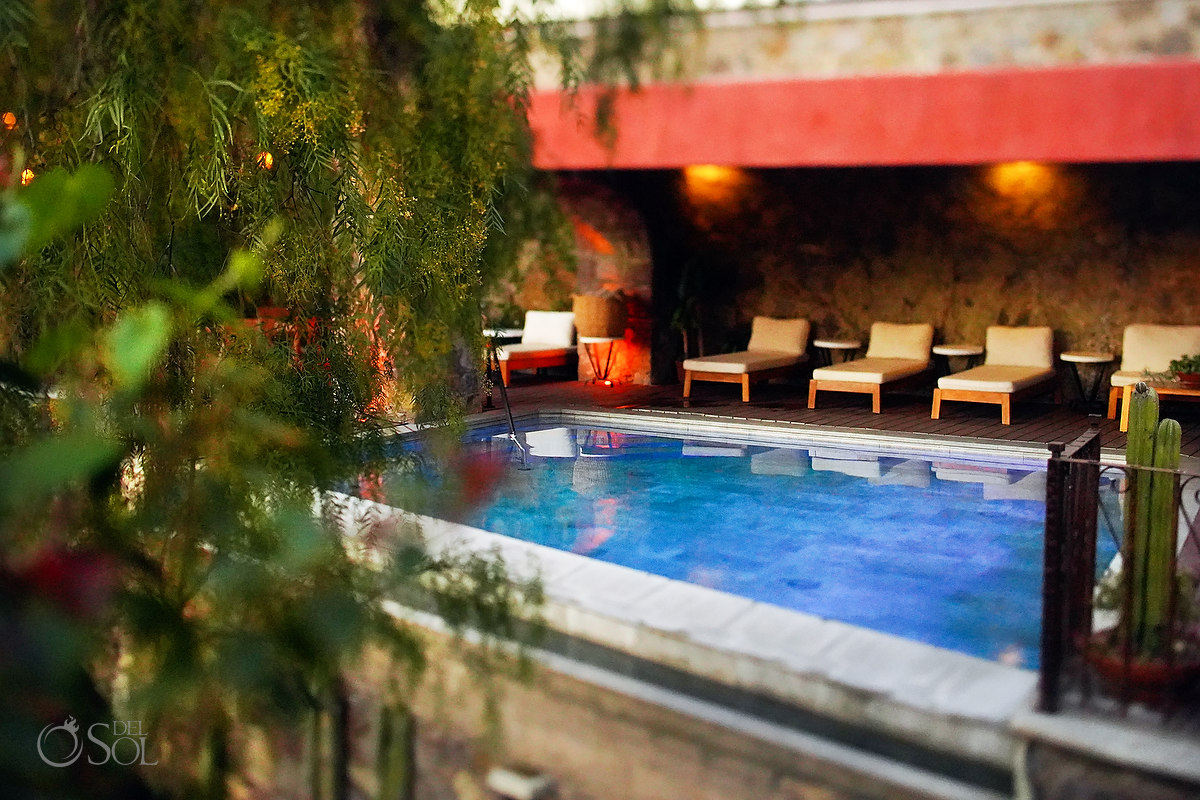 From a drone view, you see that the hotel is compact yet has 1400 Sq meters with a massive courtyard.  The walls of the courtyard have remnants of older constructions, arches and details that were once of reminder of another century.   The hotel sits on the famous downtown (33 Positos Street) a historic location in Guanajuato known for embracing art and fine dining where gastronomy and art come together.
Check out the Casa Del Rector Guanajuato website link here.
---
We also offer a full service travel agency and can help you with venue suggestions paired with TONS of photographs and real stories that include and tips secrets to traveling in Mexico. www.delsoltravels.com
---
---
Photos and Text by Matt Adcock
Matt is a commercial photographer and a traveler.  He is fluent in Spanish and loves to eat yummie street food!  Matt is one of the Top 10 wedding photographers in the world according to American Photo Magazine.   Matt was named a "Wedding Trailblazer" by Huffington Post for his innovations with a new category of underwater photography.  You can read about the studio co-founder here: Read more about Matt
---
You might like this venue photography
---