Dreams Riviera Cancun rooftop terrace wedding
Bryan + Gabrielle
"The second we saw the Dreams Riviera Cancun Rooftop Terrace, we knew that was where we wanted to get married. Then we saw the deck on the beach below, that was it for us!"
Matt: Gabrielle and Bryan, Talk to us about your wedding day! How was your experience?
"The entire day really stands out. I woke up and did yoga with one of my girlfriends, which made me feel so relaxed. Then Bryan and I joined her and her husband for breakfast, also amazing."
"I remember once I was by myself and starting to get ready for the day I felt so nervous all of a sudden. I feel like it was all because I knew I was getting to marry my best friend, the love of my life."
"Being apart to get ready, you're unable to ask if you both feel the same way. There had been so much build-up to get to this point. Was it really here? So much excitement, while also wanting to remember every second of it."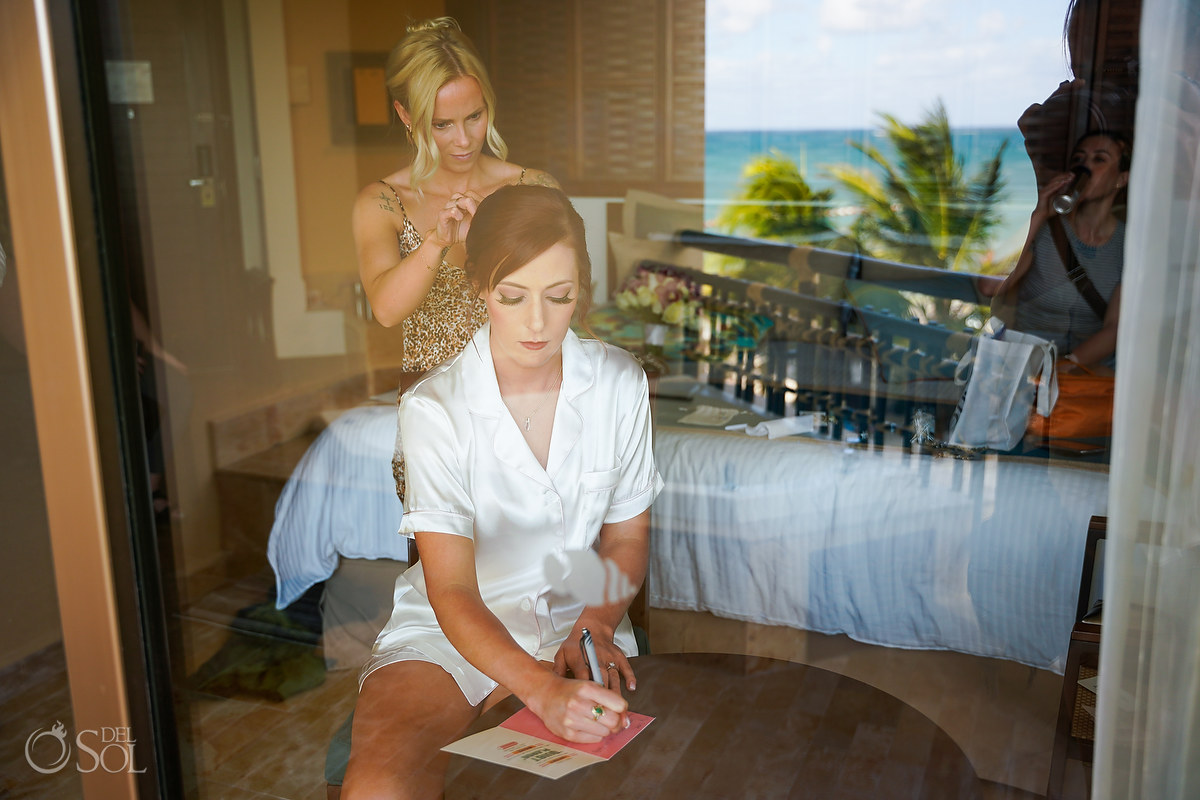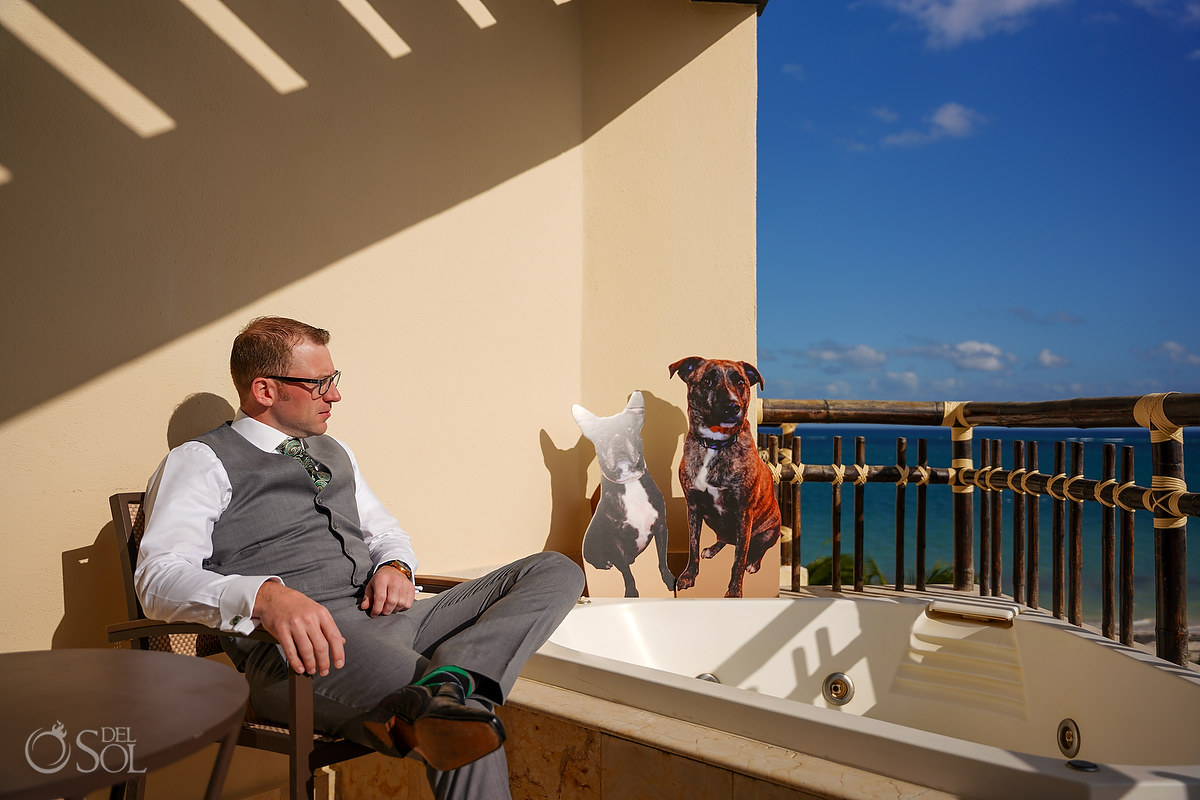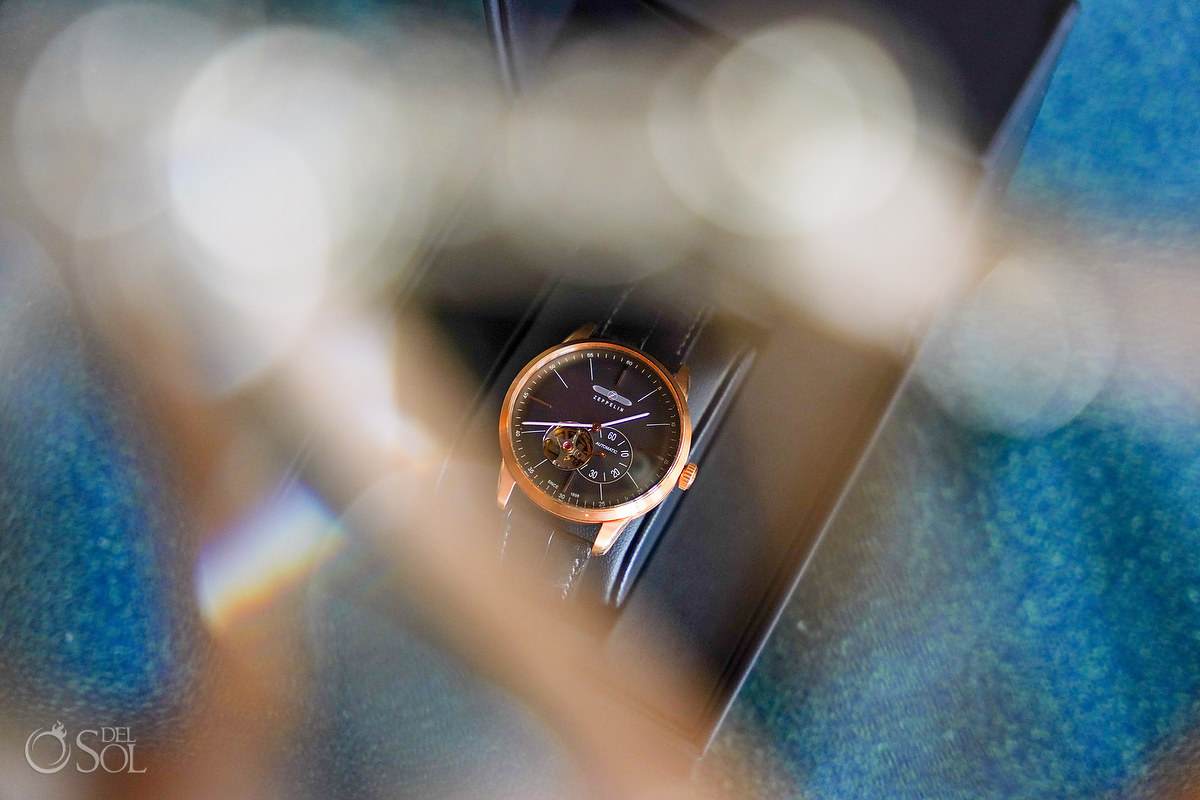 Matt: It was wonderful to be a part of your pre- ceremony getting ready experience :)
"Getting ready was great. Matt, I am still so glad you were there with us and especially with me through this day. It meant and still means so much to have a friend who has gotten to know both of us so well right there with us."
"With everyone who was there the entire day felt so full of love! It was really the best feeling." – Gabrielle
"It happened very fast, it felt like that day was taking forever, then once I got ready, it was done before I knew it. I remember being worried about the weather, the day was cloudy and super windy. I just pictured spending our night stopping everything from blowing away. As the event got closer the clouds parted and the wind stopped, we could not have asked for better weather."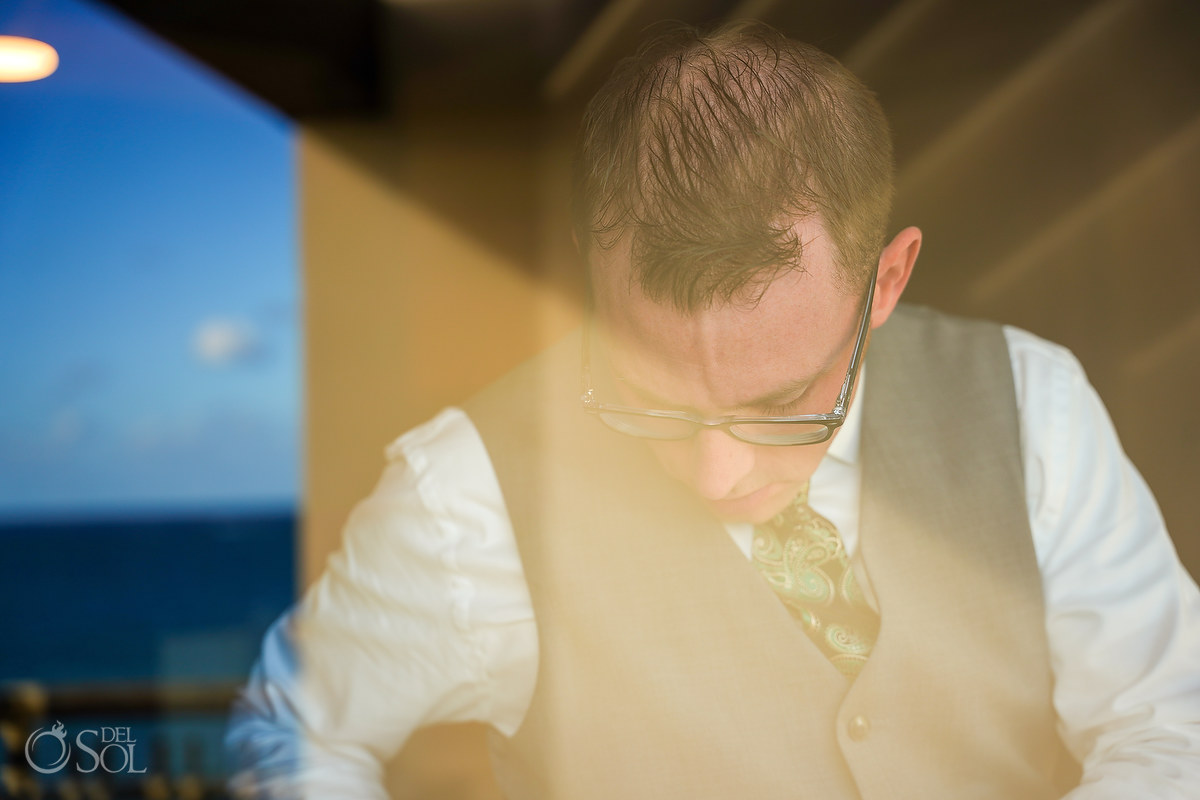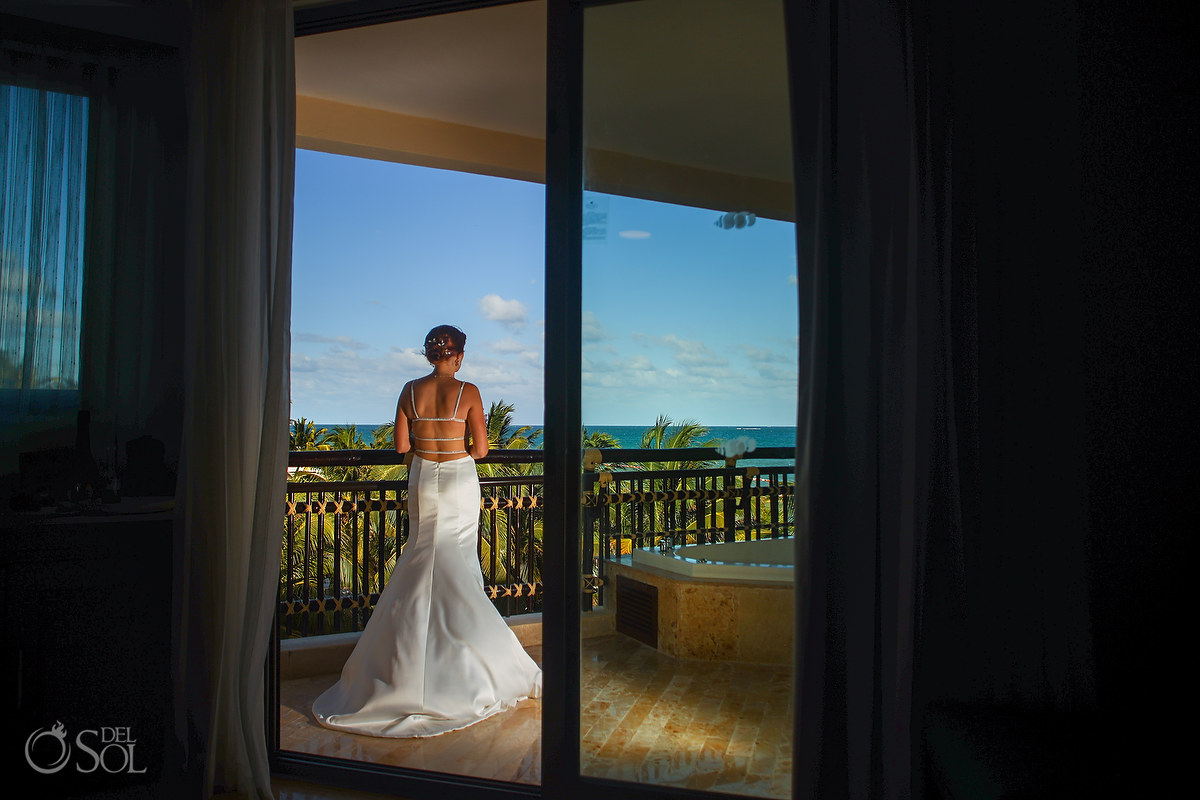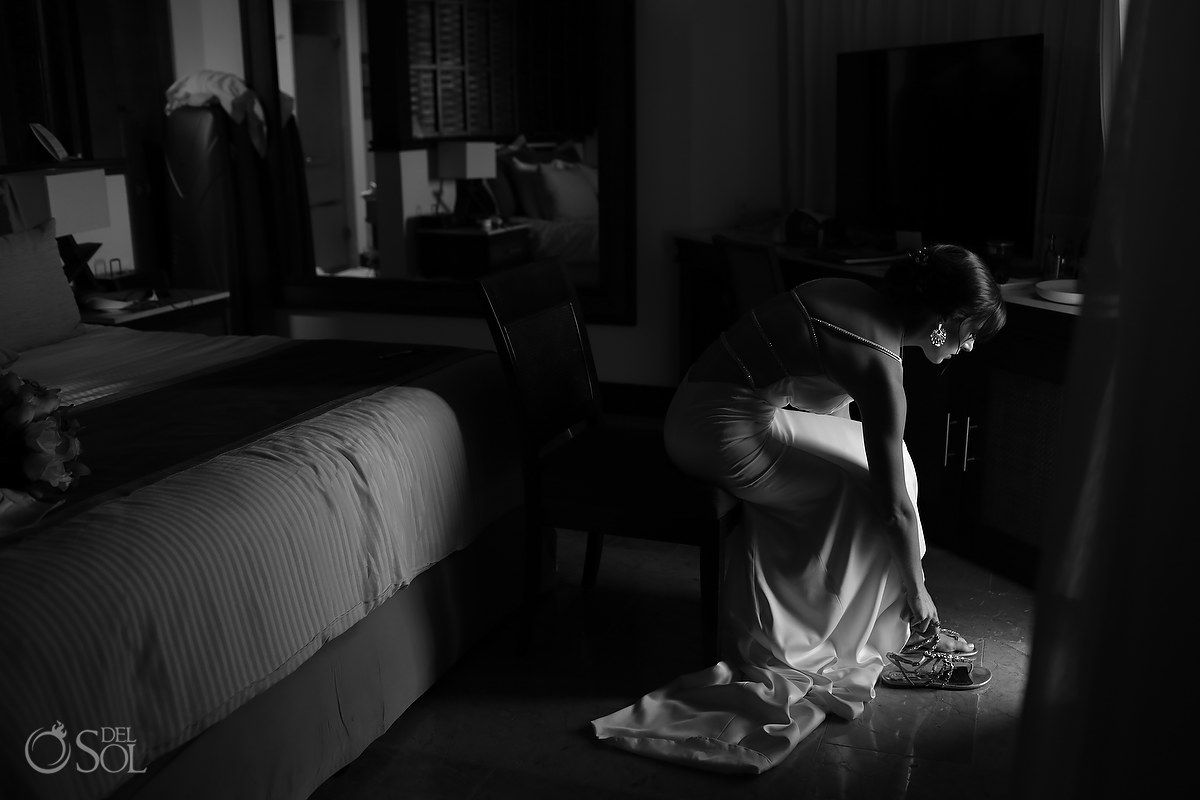 Del Sol: Why did you choose a Dream Riviera Cancun rooftop terrace wedding?
Gabrielle: "When we decided to have a destination wedding, very early on we decided we wanted to go to the Cancun area. We knew we wanted to go with an AMResorts property. Our first trip down to look at venues we decided to stay at Secrets Playa Mujeres and Secrets Capri. We had one minor coming to the wedding, knowing this we wanted to look at family-friendly properties. We viewed Dreams Playa Mujeres (sister property to Secrets Playa Mujeres), Zoetry Mayan Riviera, and Dreams Riviera Cancun. Upon arriving at Dreams Riviera Cancun we fell in love with this property."
"The second we made it to the top of the Oceana Rooftop we knew this is where we wanted to get married. Then we saw the deck on the beach below, that was it for us."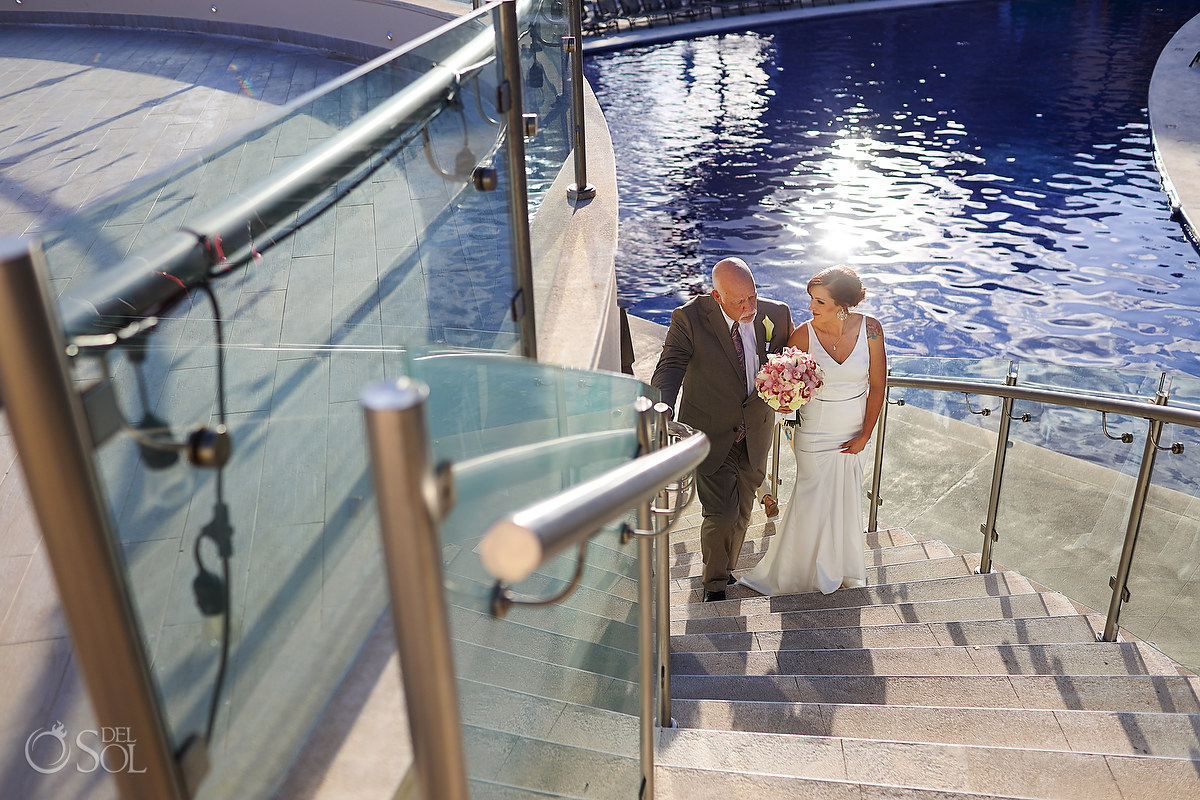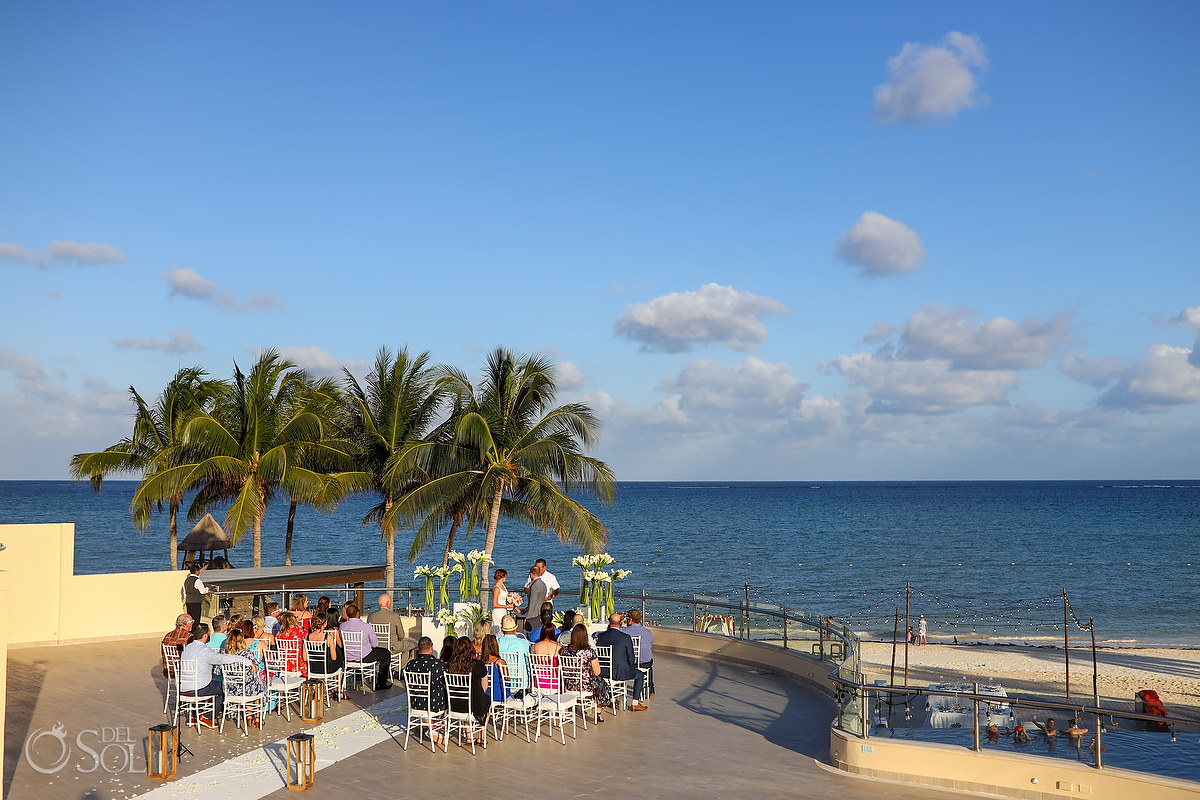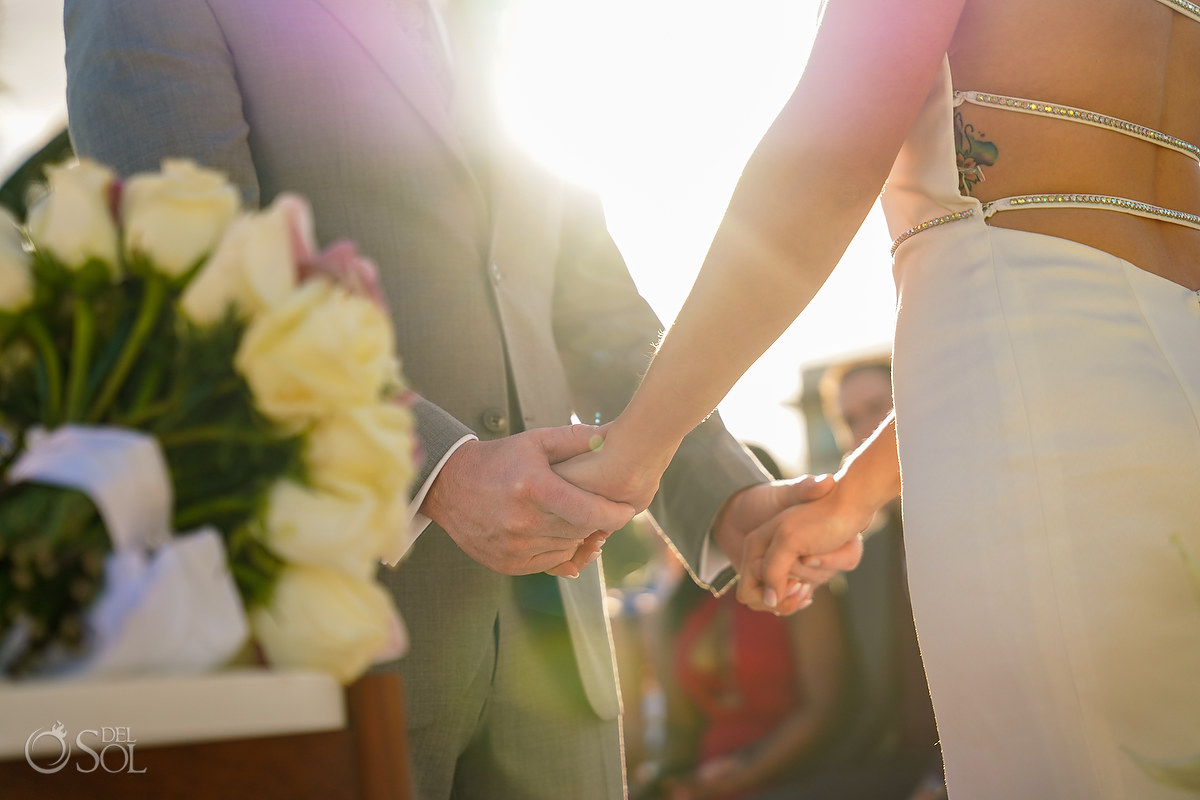 Del Sol: We love the Dreams Riviera Cancun Ocean Rooftop wedding venue. It's a new-ish location and it's one of our faves! What did you like in particular?
"We really loved how private the rooftop terrace at Dreams Riviera Cancun was. It's extremely unique because it allowed for any style of wedding. We wanted ours to be formal, so we could have the beach setting without being on the beach. The way the terrace was cantilevered over the beach made it seem like we were right on the ocean. Natural features of the beach, palm trees, and ocean are abundant even though you are quite a ways up in the air."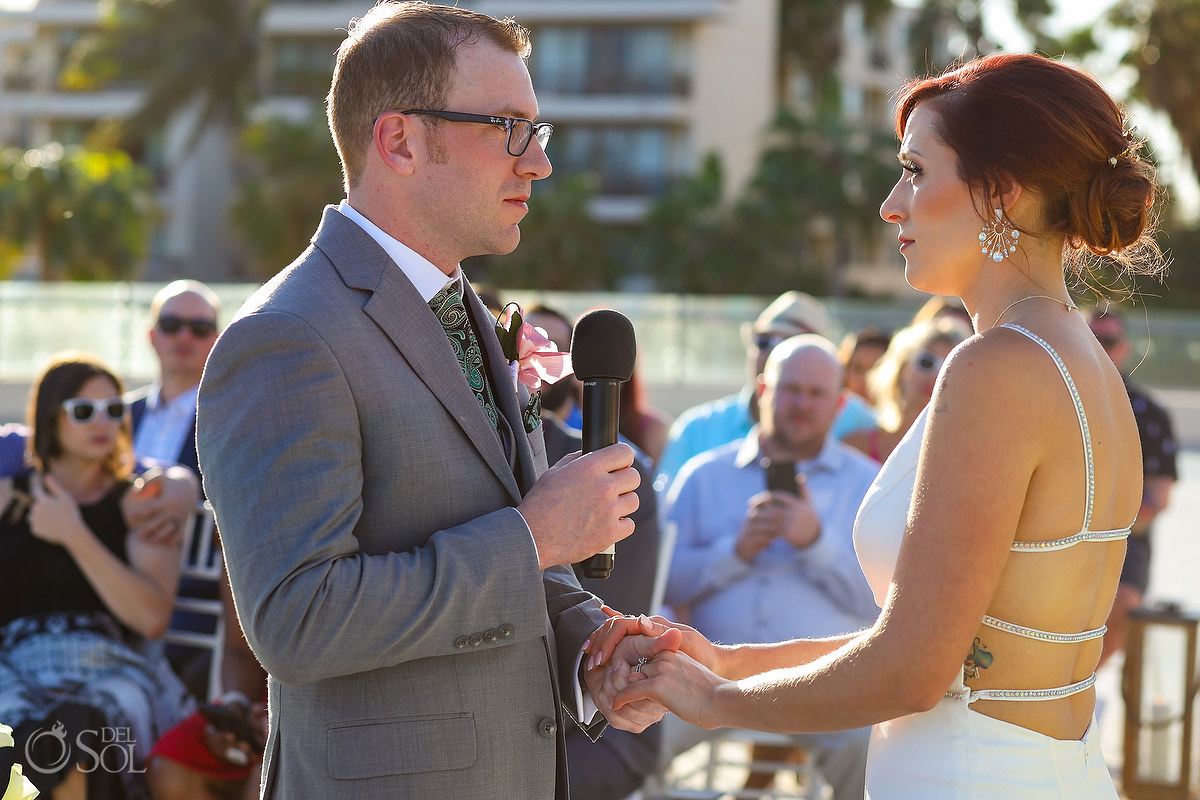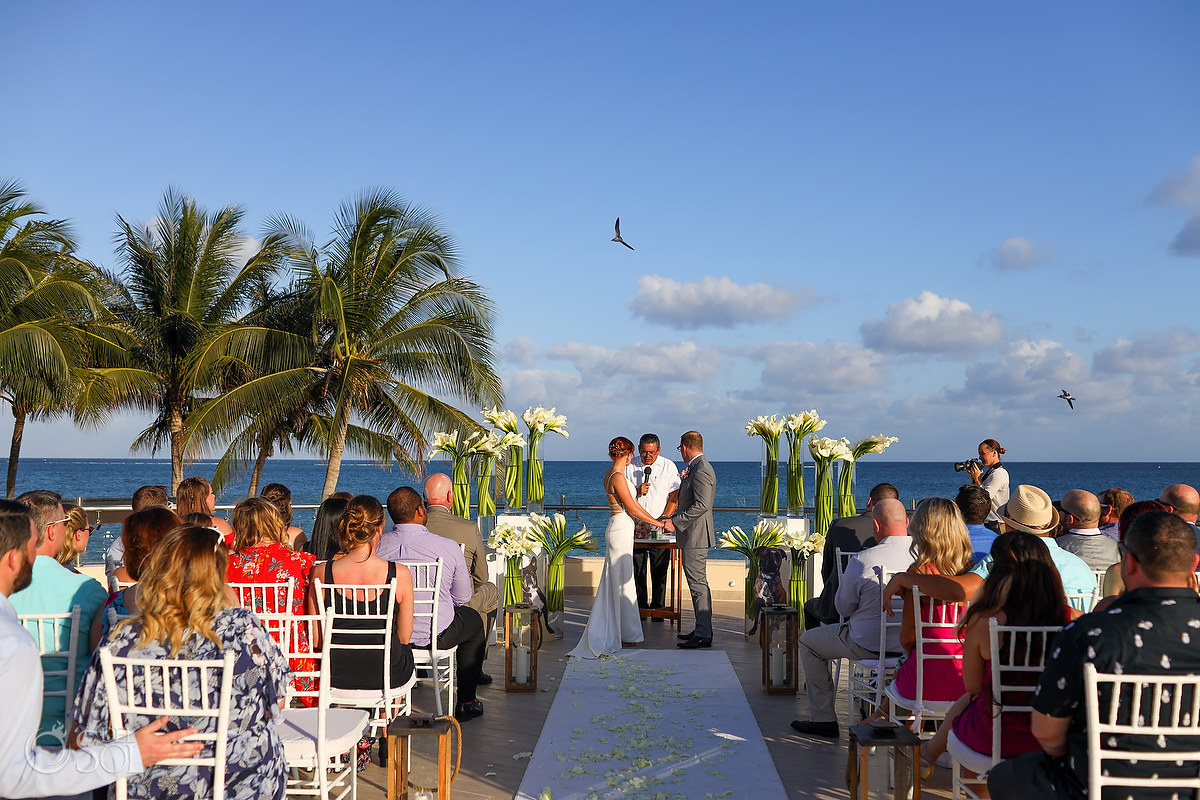 "The view of the Oceana Rooftop Terrace is second to none, and the time of day with perfect weather made our wedding pretty amazing."
"One of the biggest fears we had when we were planning a wedding at a busy resort would be privacy. We did not want random people in swimsuits walking by or staring. The Dreams Riviera Cancun Rooftop terrace wedding venue allowed us to be completely by ourselves and without distractions. It truly made us forget about the rest of the resort and let us take it all in."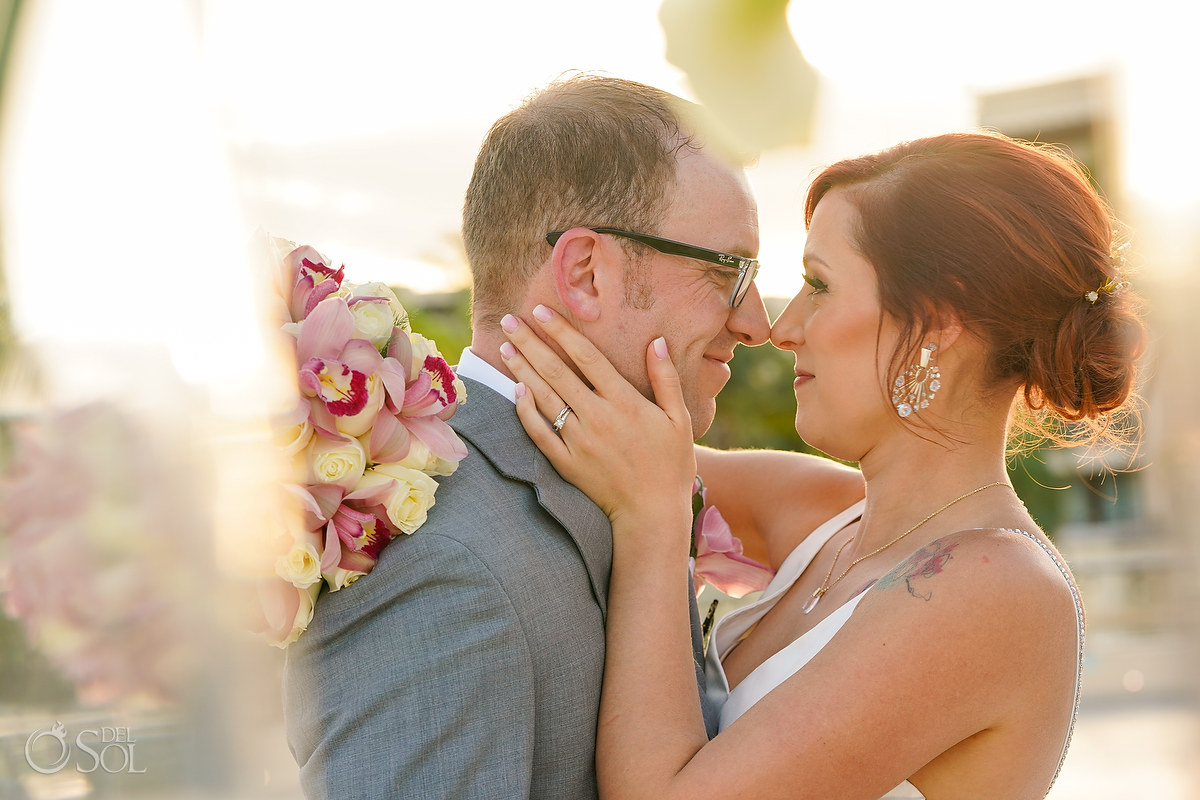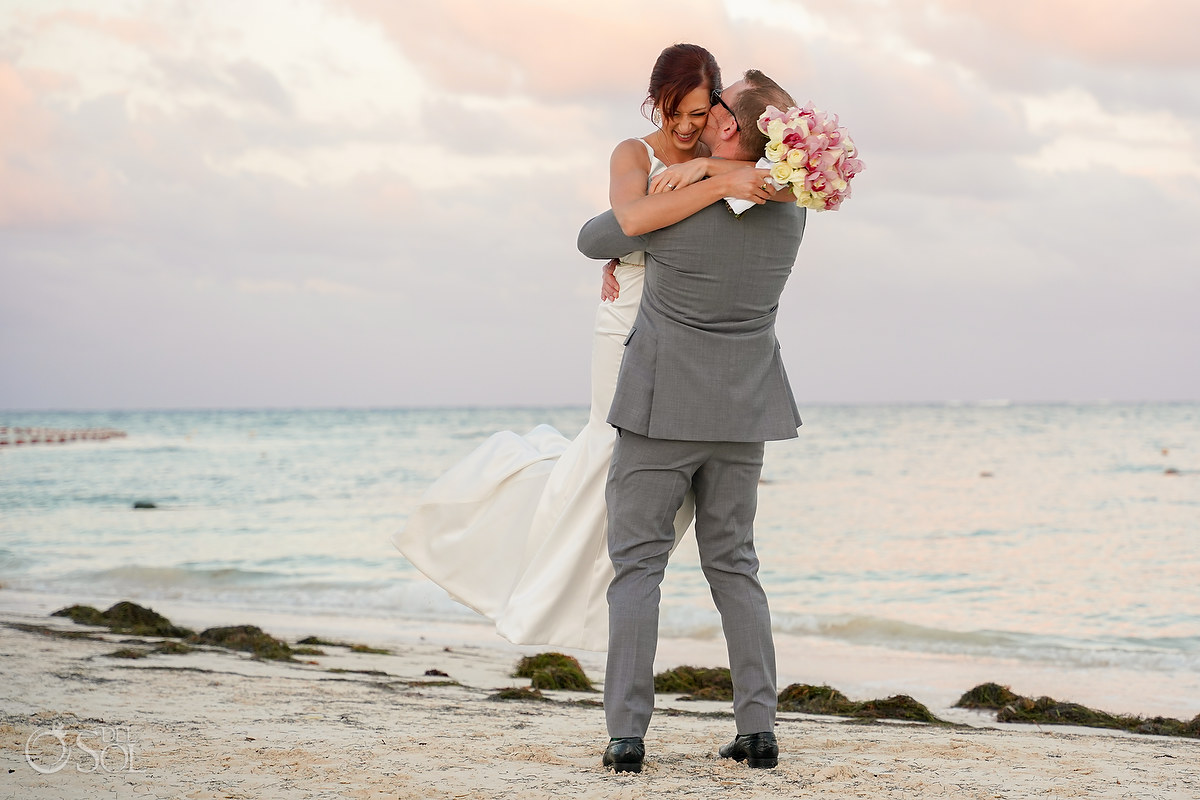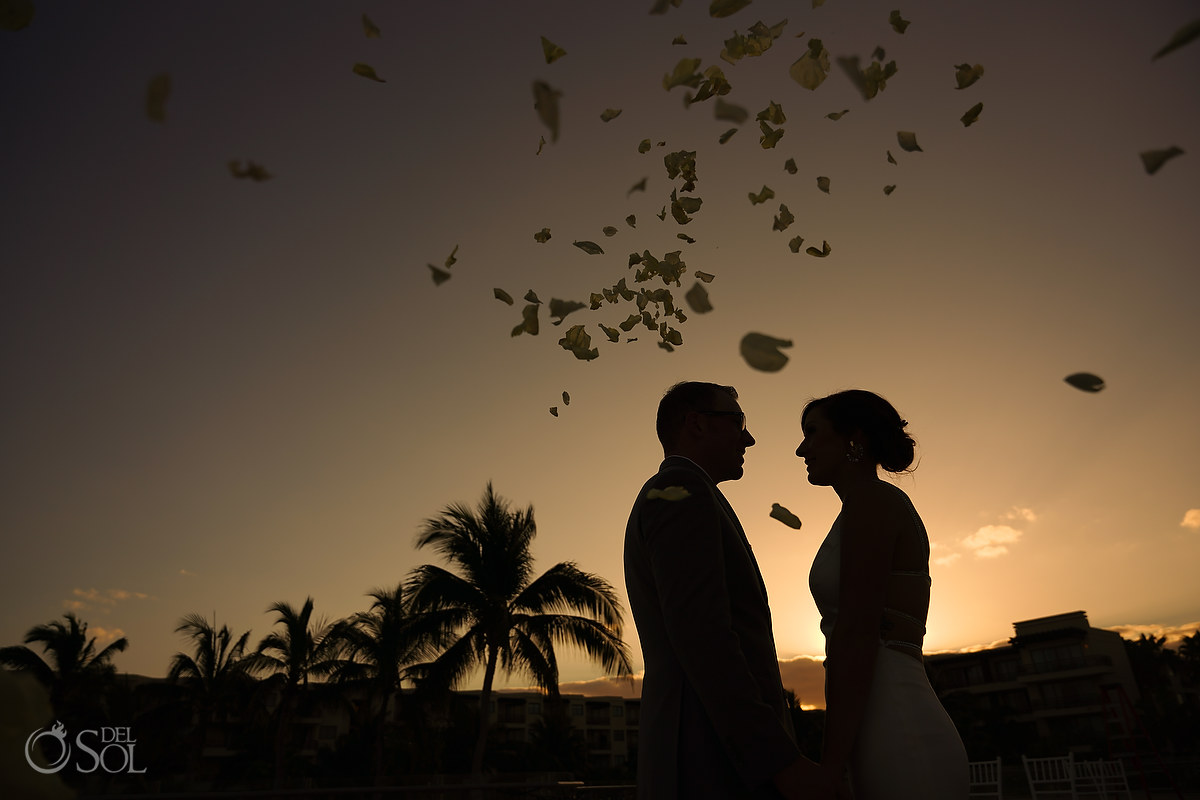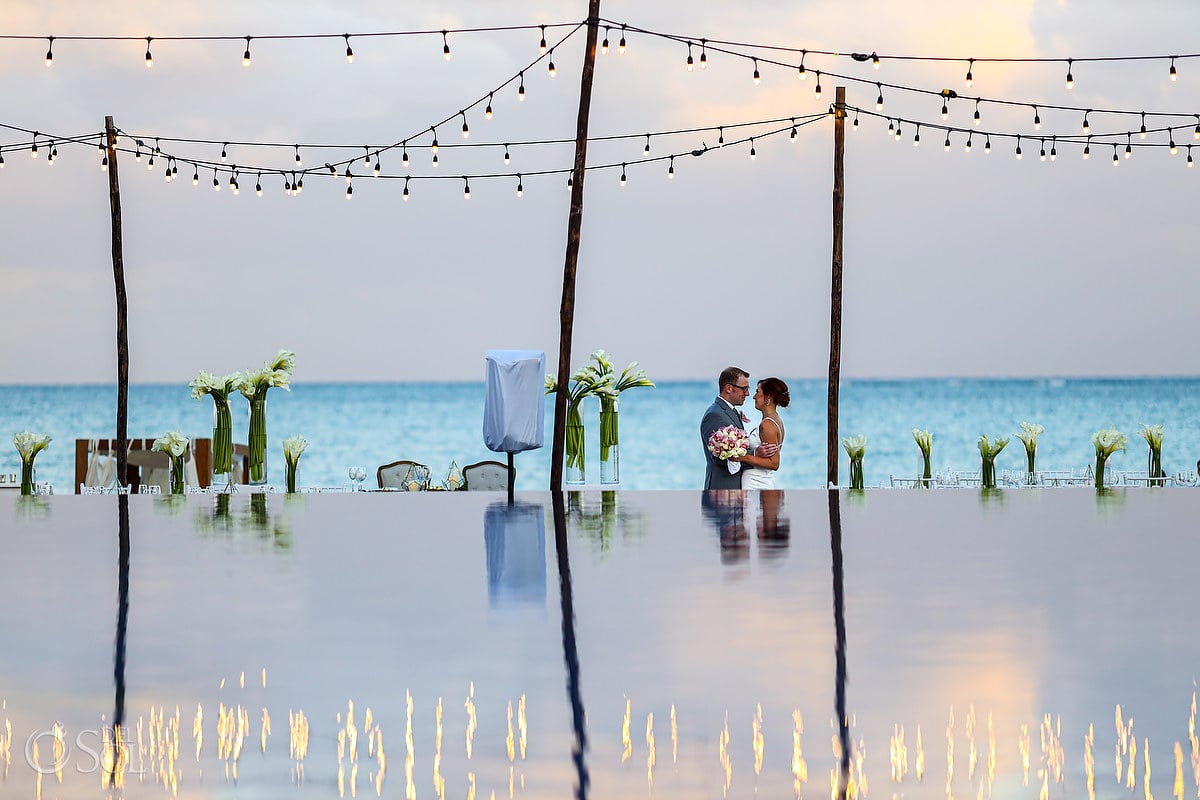 Del Sol: Your beach deck reception was beautiful and a lot of fun!
"With so much work and build-up for the wedding there was a bit of relief when it was done. I think we were just ready to party with our friends and family!!" – Bryan
Bryan: "The reception was a blast, dinner was delicious, and drinks were strong! It was extremely important to us the we had our dogs there. Our dogs are our world and it wouldn't have been right without them. We brought the cutouts to the club after the reception and total strangers were even dancing with them."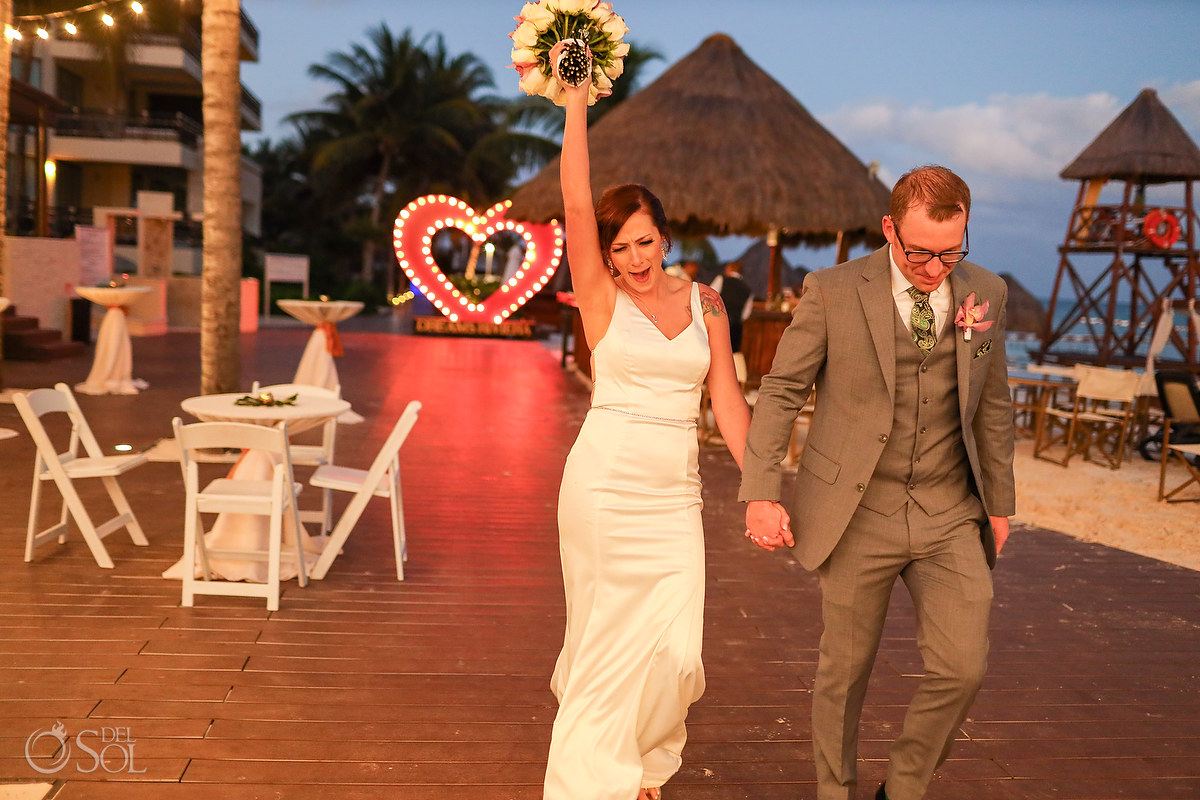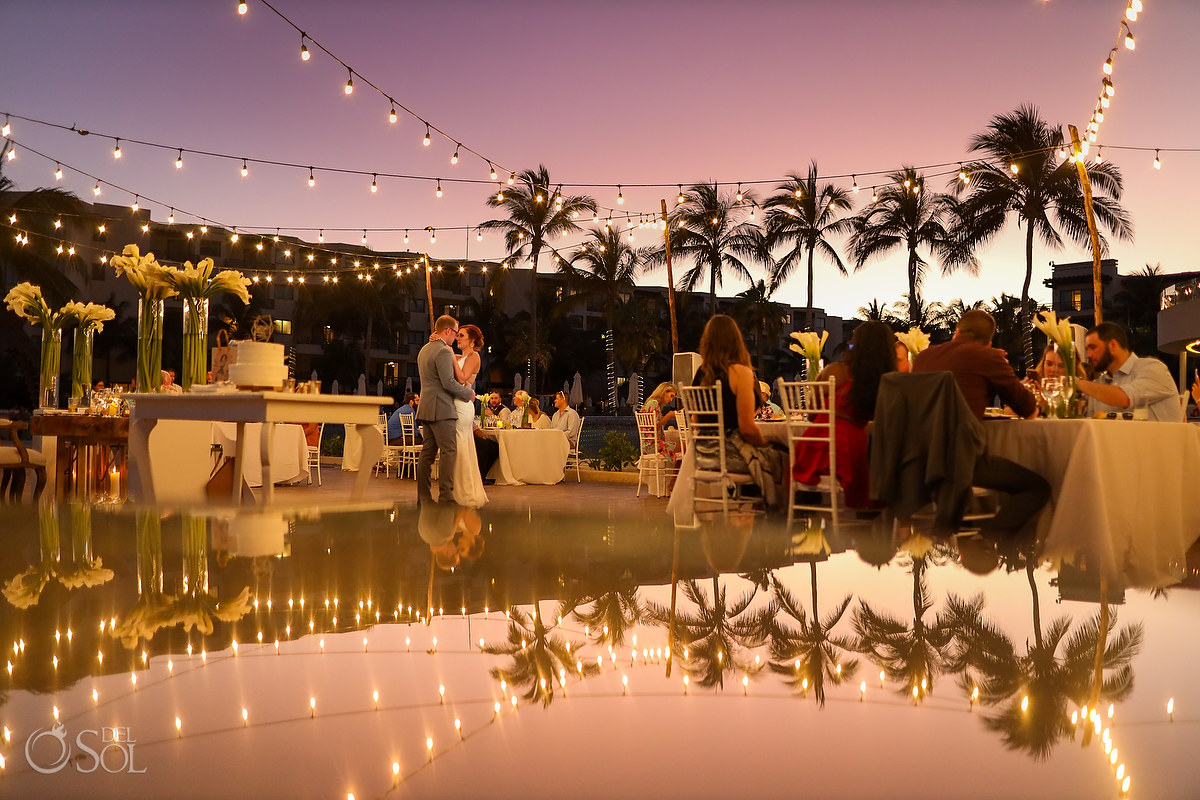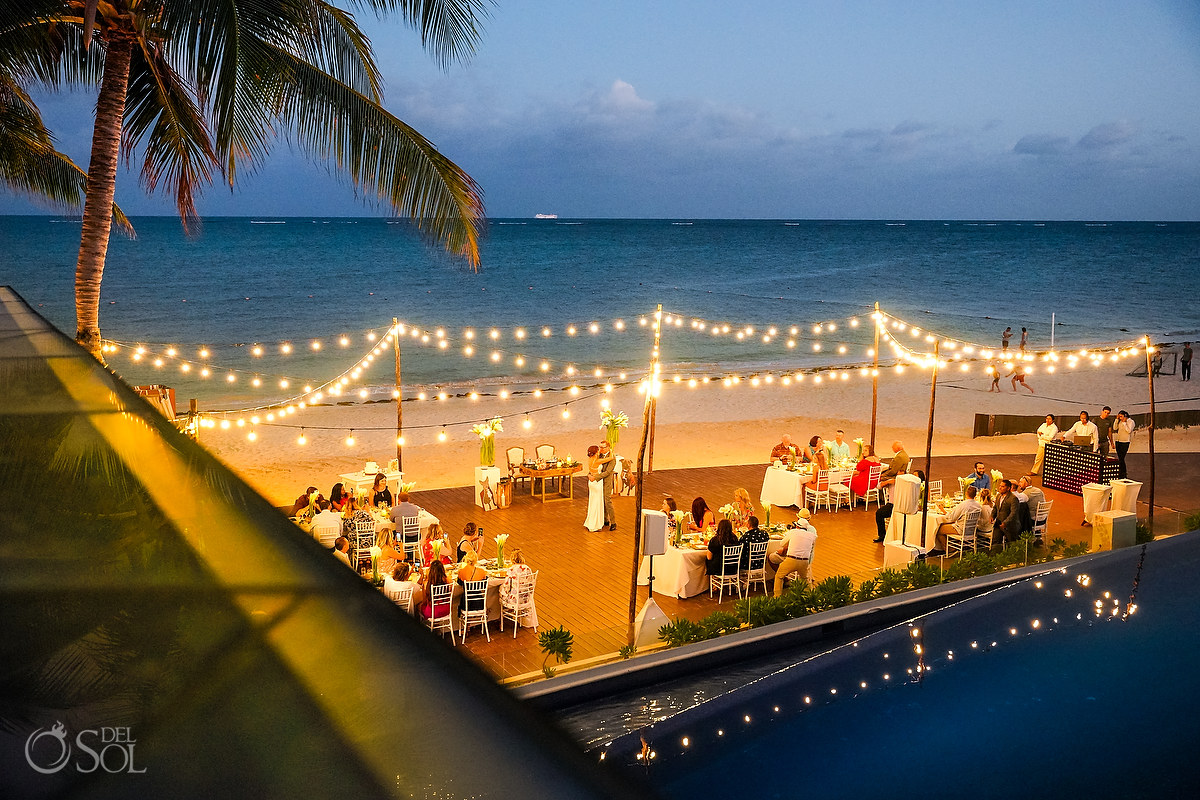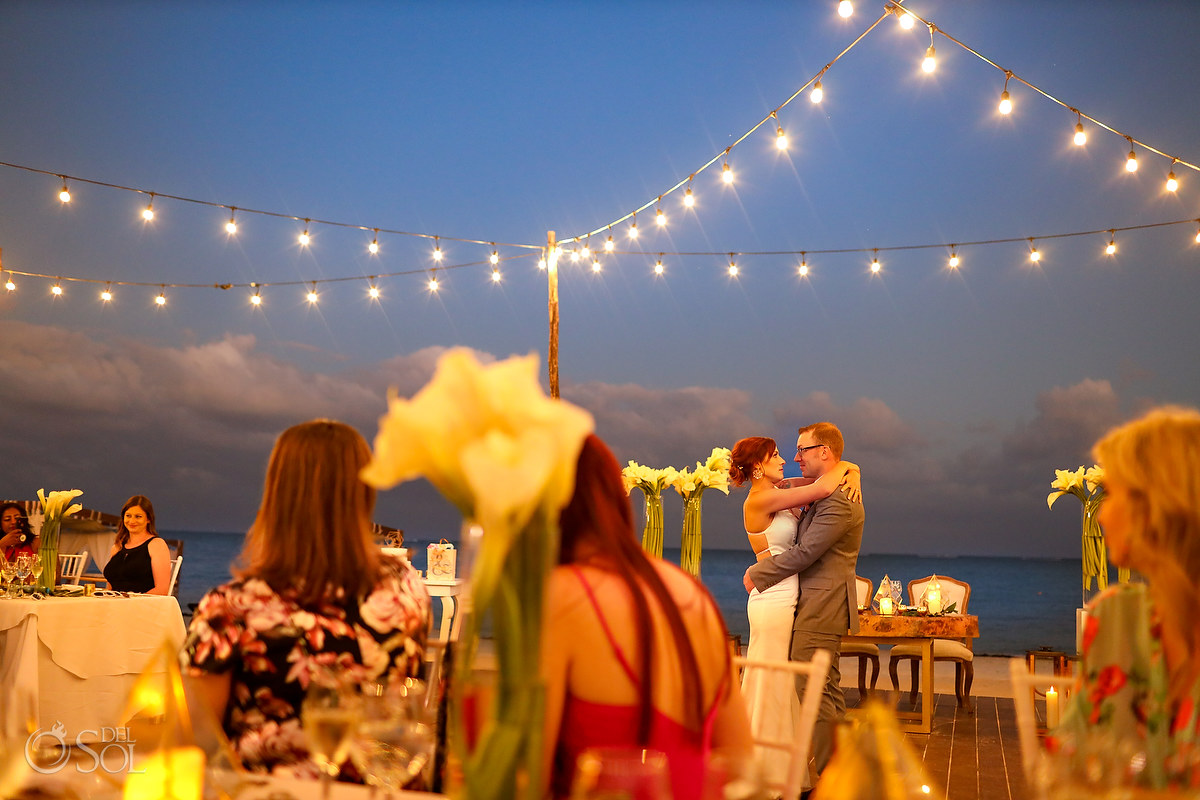 Del Sol: Can you talk about the special green emerald ring and why it is special to you?
Gabrielle: "I grew up one house away from my childhood best friend. Her family really became my own. To this day I call her parents Maja and Faja. Her mother, my Maja was kind of the neighborhood mom. If there was a lost child or pet, it would end up at their house and her mom would take care of them until she found out where they belonged. She was who picked us up from school during the big earthquake that happened in middle school, taught me how to ride a bike, showed all of us what it meant to care about people. Their entire family means so much to me."
"My Maja passed away May 28th, 2015. This was the first time I had felt a loss like this. It did and still does feel like a part of my heart is missing. This ring was hers. Because she was unable to be there with us for our wedding, I wanted to have a part or memory of her there with us."
"I will always hold her in my heart." – Gabrielle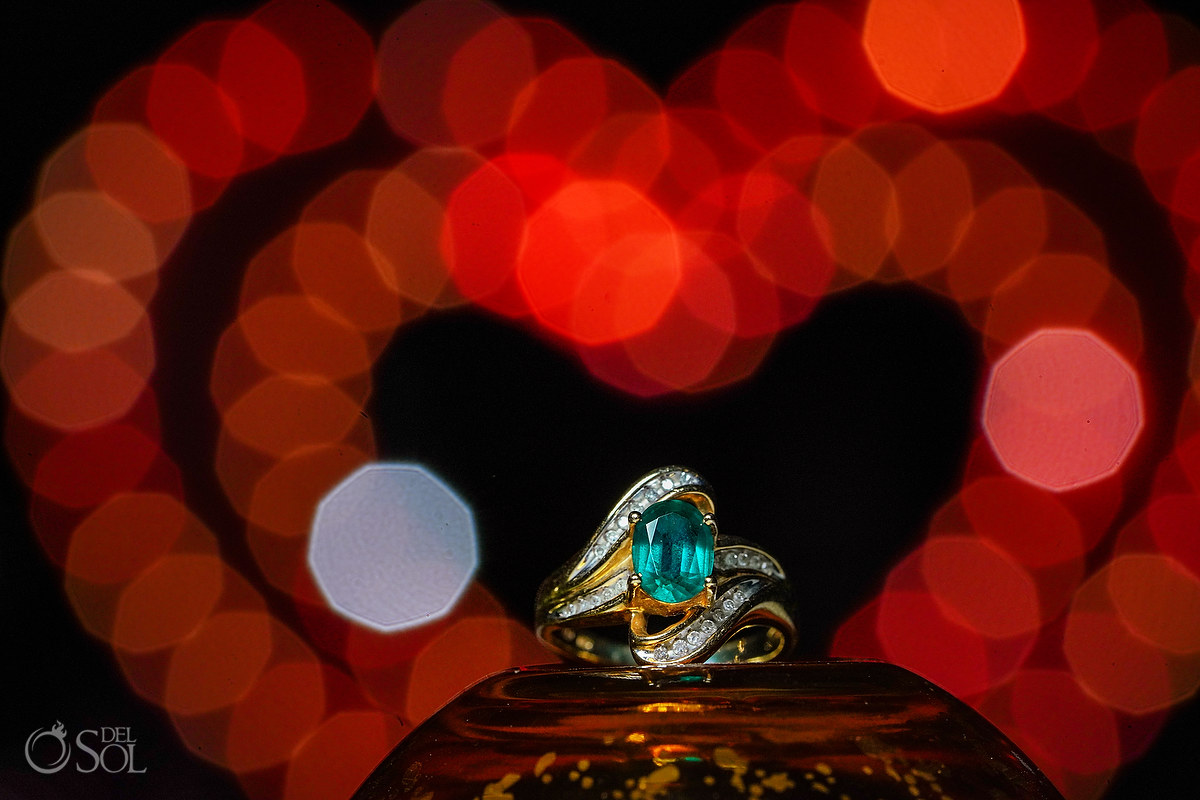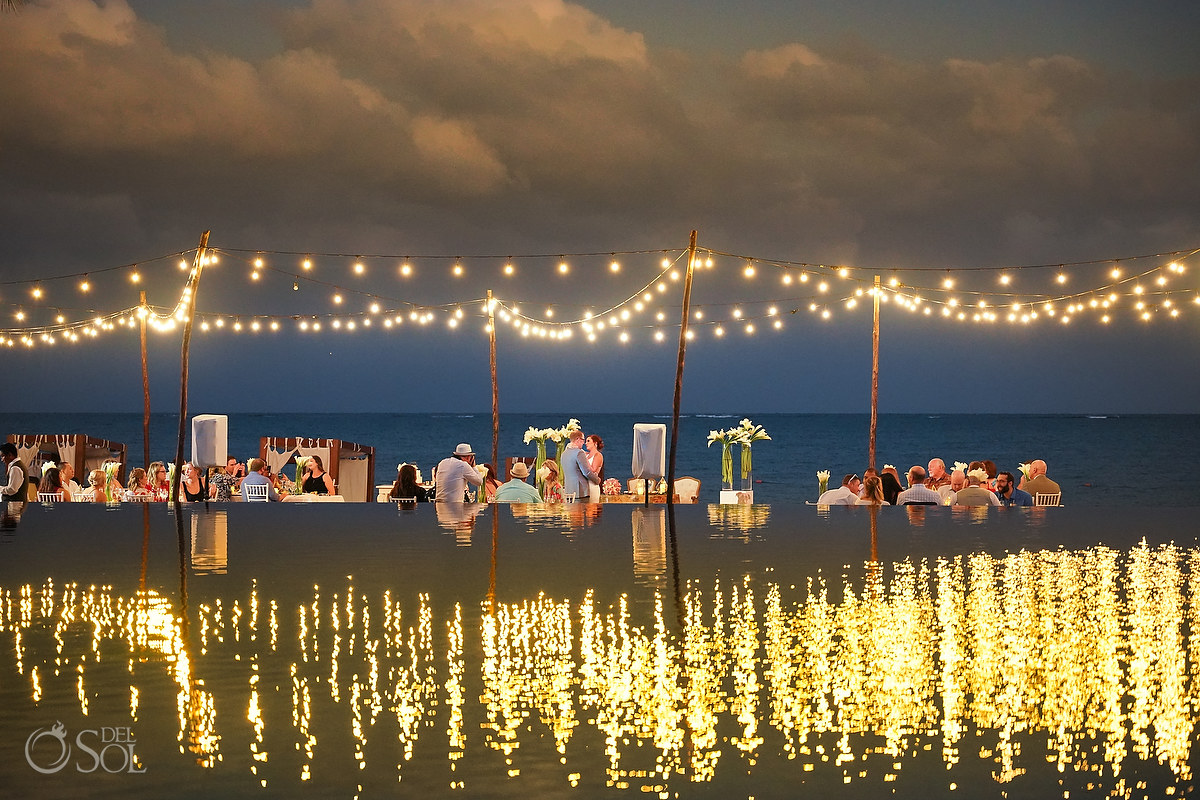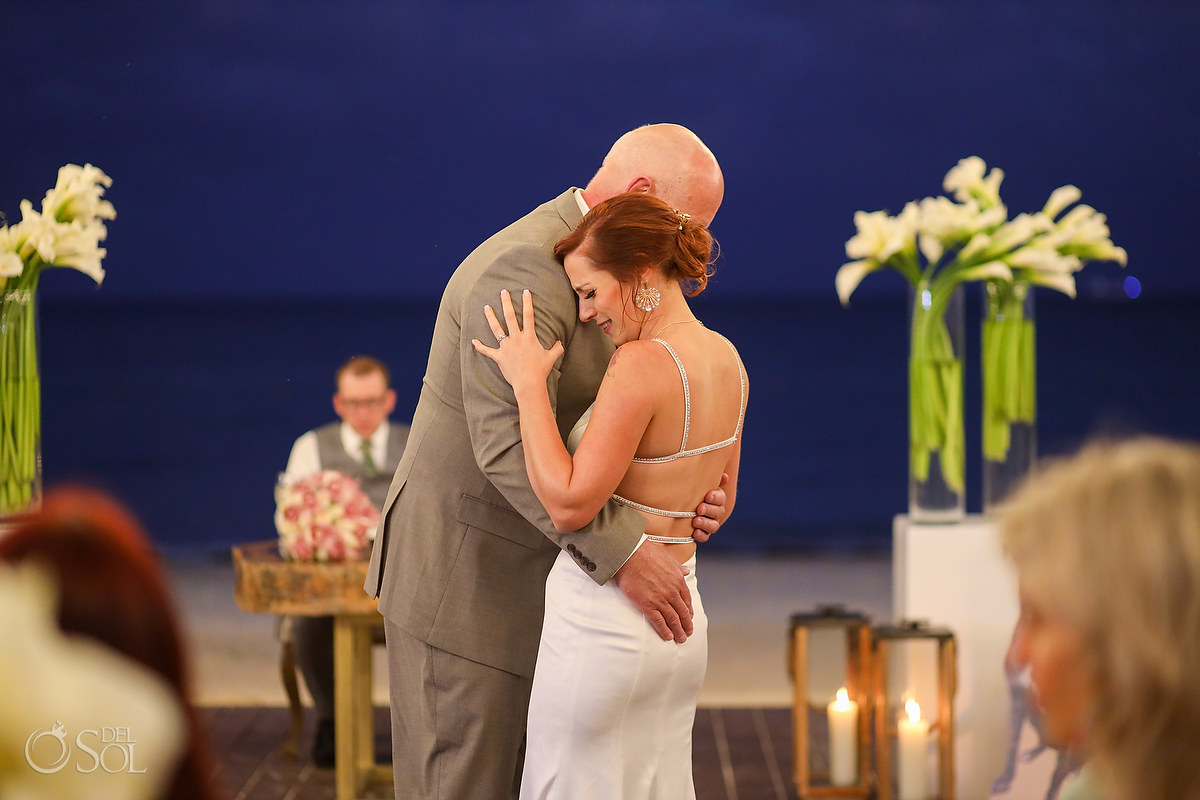 Del Sol: Anything else you'd like to add?
Bryan: "We felt extremely fortunate to be in Mexico with our friends and family, we don't get to see everybody as much as we'd like with everybody living all over the country so it really was great being with everybody."
"The night before the wedding we had a bonfire on the beach, this was the first time everybody got together. The staff at DRC set up the coolest lights and tents for the bonfire, the food that was grilled was also fantastic."
Gabrielle: "Seeing Bryan for the first time after we were ready was perfect! He had our little dog cut outs there with us. He looked so handsome. Everything about the day was absolutely perfect! Fernanda had done so much for us. She did better than anything I had ever imagined. I loved seeing how happy all of our guests were. First time I have seen my dad totally let loose and dance with all of his girls."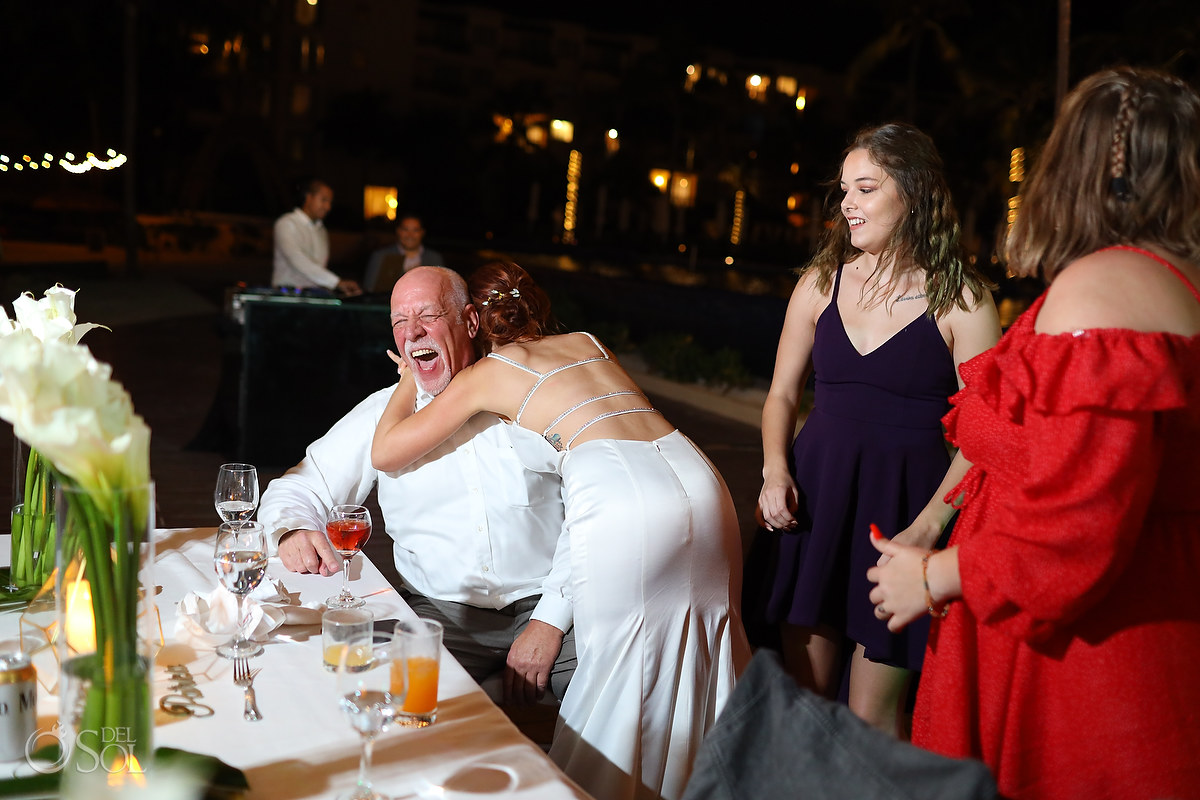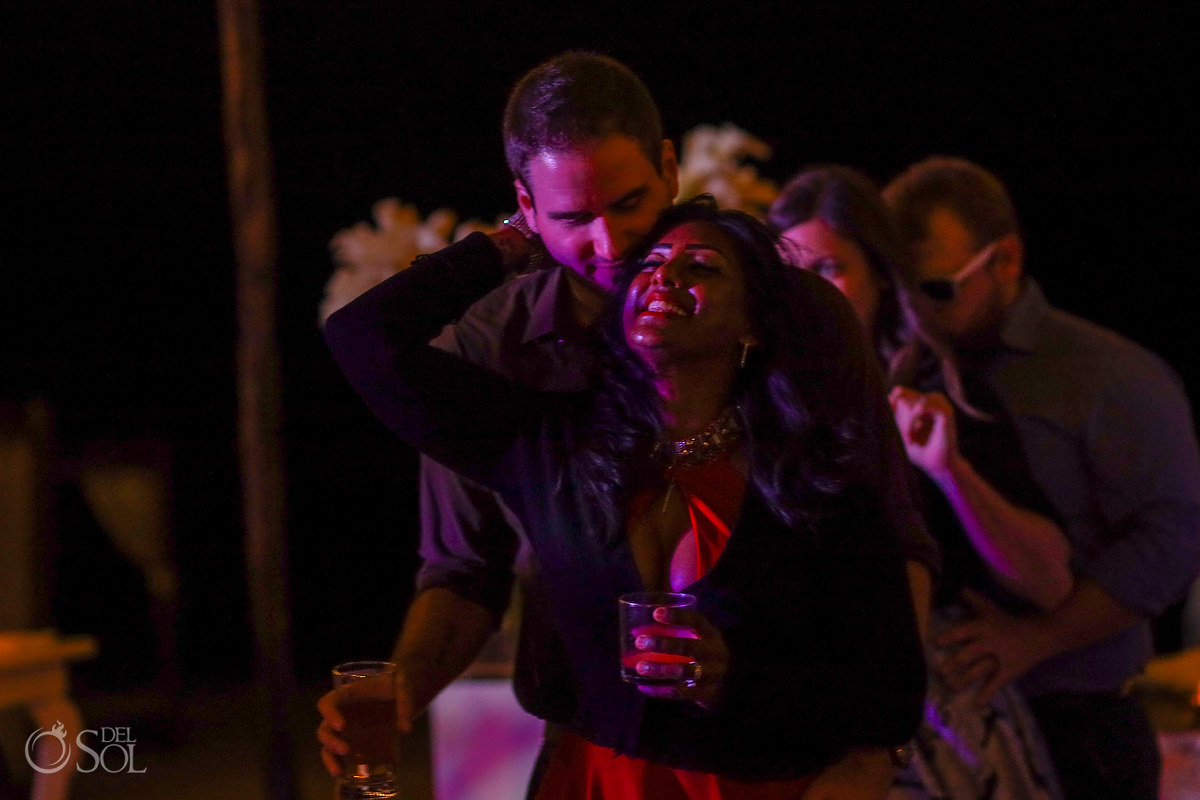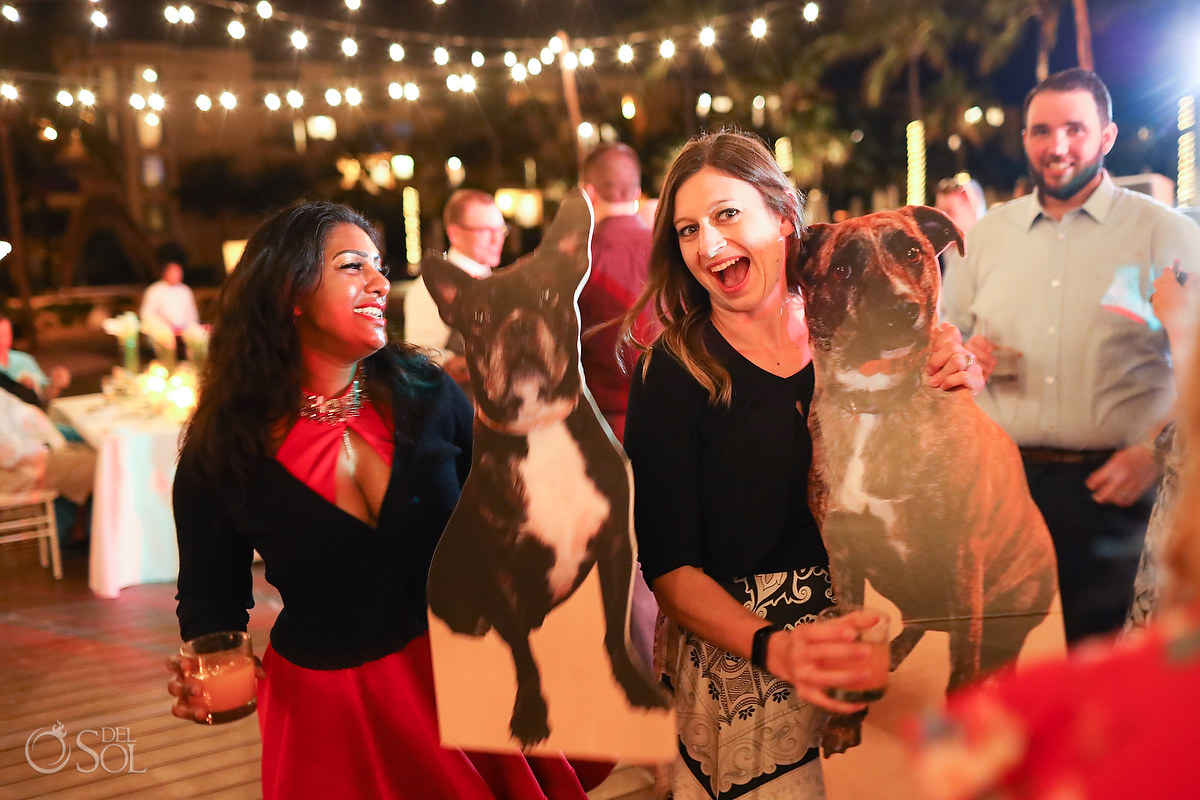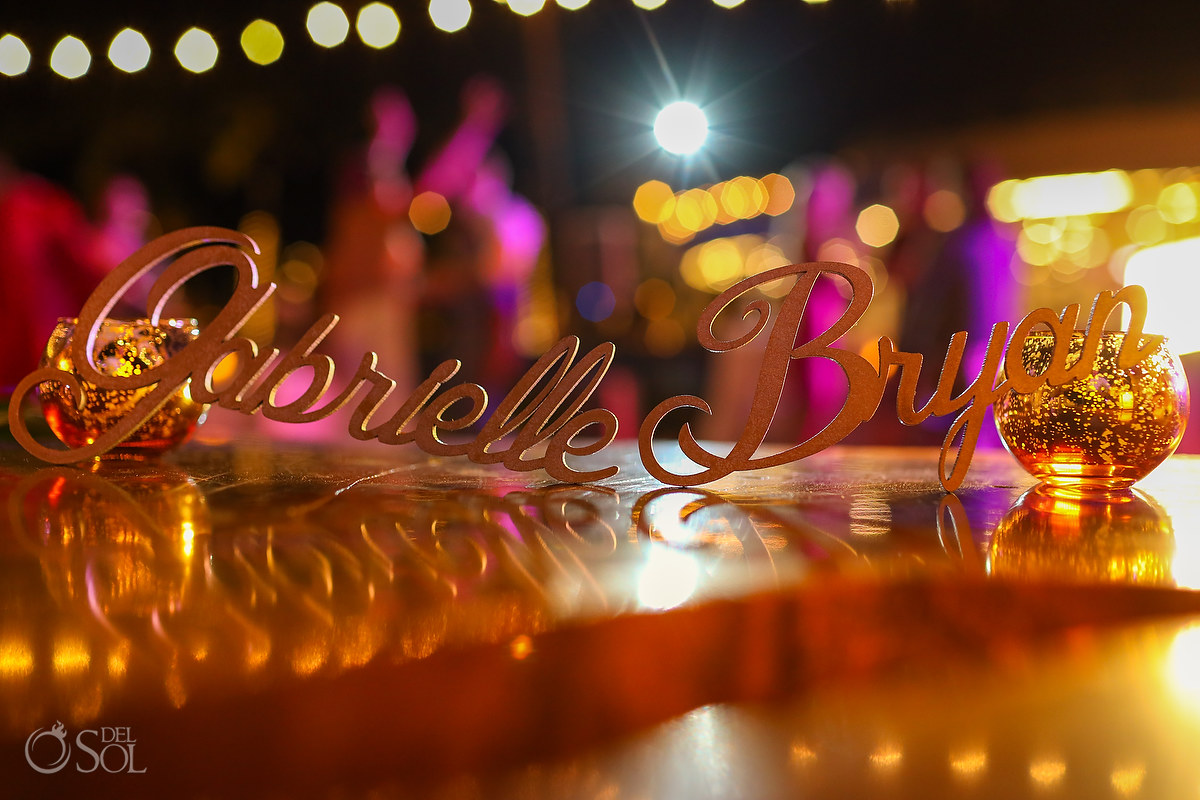 Del Sol: We're so happy to have been part of your day and you became real friends during your planning process. Could you tell us about your experience with Del Sol Photography?
Gabrielle: "Once Bryan and I were engaged and had decided we wanted to get married on the Cancun side of Mexico, I started looking for photographers. I am not into social media. However, the bride Facebook pages really made a huge difference! I started my search here to look. People kept talking about Del Sol Photography and how amazing they were. I went to their site and looked at their pictures, I had already looked at a few others. I fell in love with their style. It was like nothing I had ever seen before. They caught all of the priceless moments along with creating unforgettable memories and art. What they do is true art!"
"I reached out to them to find out what pricing and packages were. When I heard back from them they asked what my preferred way of communication was. This stood out to me. No one else had asked that, they just sent a list of their pricing. So I told them it was by phone. Like I said I'm not into social media and I'm on my work email all day, I never check my personal. I figured they were asking to be polite. Next thing I knew Matt was reaching out to see when we could talk."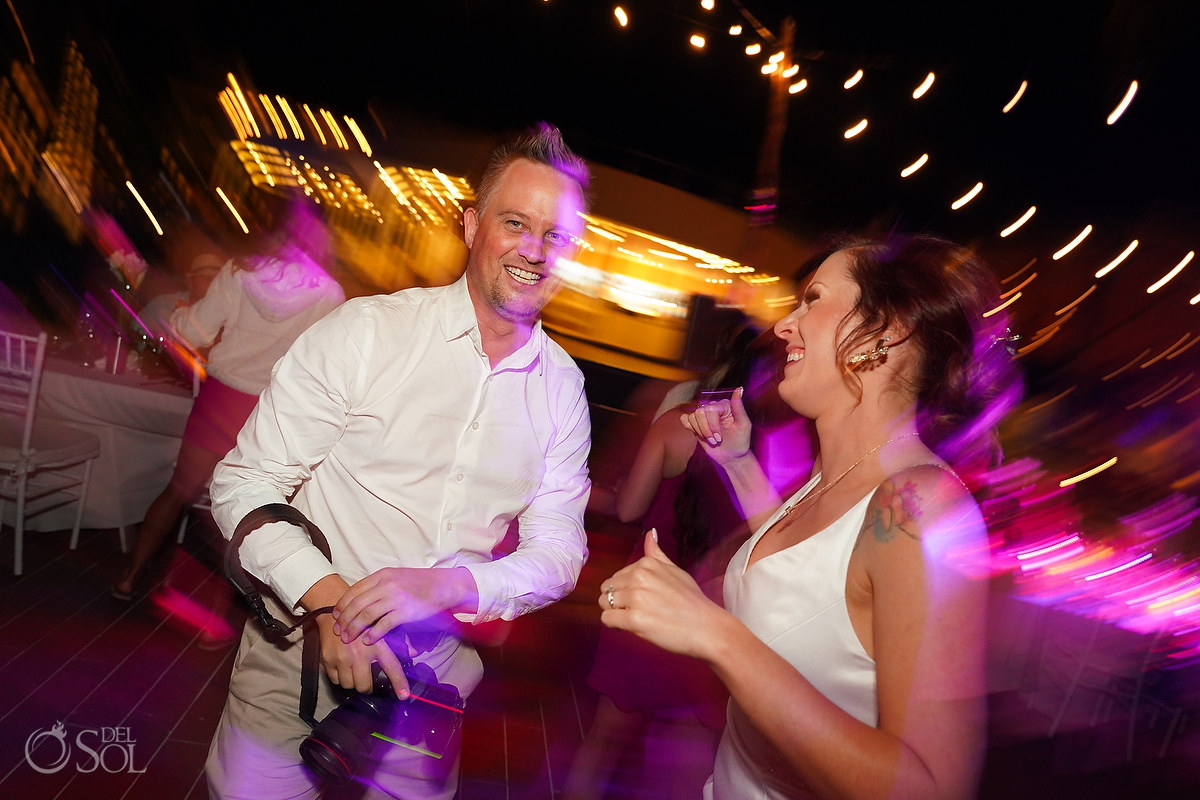 "When Matt called we talked for around an hour and a half, it felt like I was on the phone with an old friend for like 20 mins. He explained how they really like to get to know the people they work with. They build relationships with them. The second I got off the phone with him I told Bryan I was sold and wanted to work with them. We knew we had a trip planned and it came up that we all enjoyed golfing. We have seen Matt almost every time we have traveled to the area since. He is a true friend to us for life now! It was so special to have built this amazing friendship with Matt and have him and Polly there with us for our special day."
"The alone time Bryan and I were able to have with Matt and Polly was wonderful. They really made taking pictures a lot of fun. I am very excited for the ones with the lights on the beach once it was dark. I think that is when I finally relaxed. That moment is etched in my brain."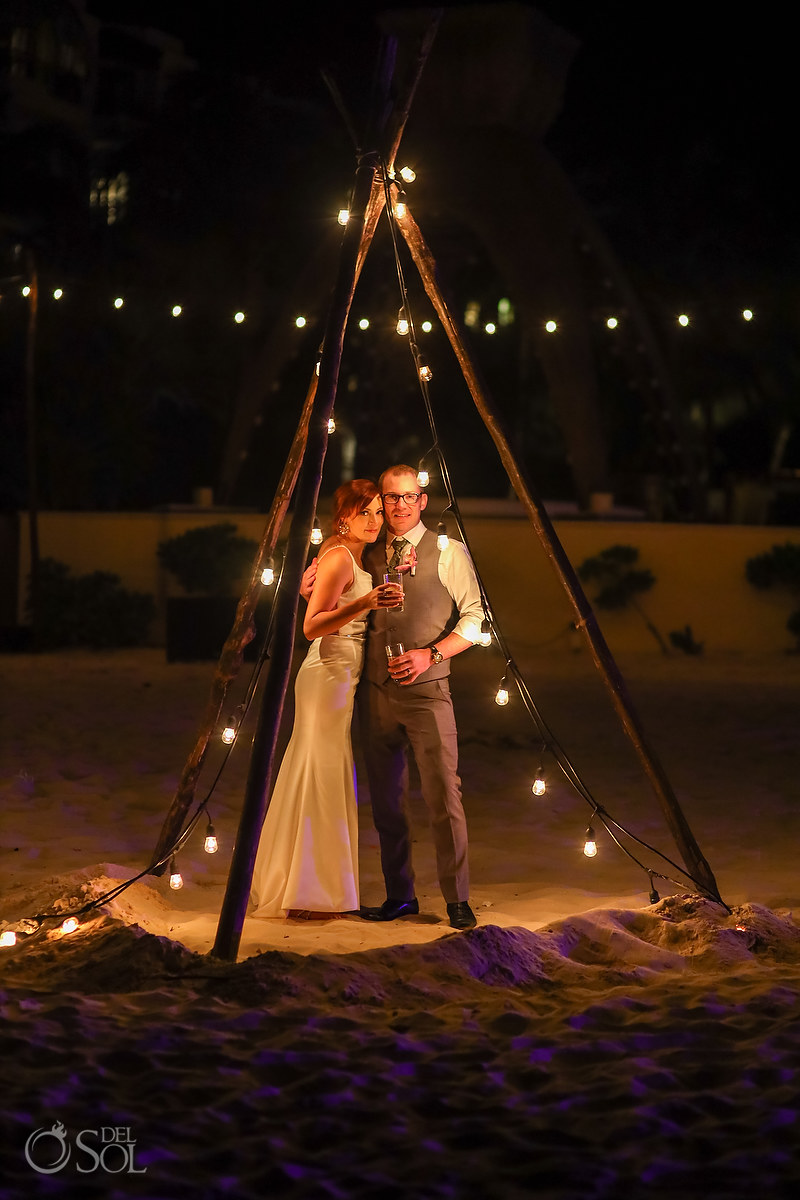 "Del Sol made our day so special. Everything about their process makes them unique and an absolute pleasure to work with. Matt and Polly I really appreciate all of the time you spent with us. The way you guided us through the process from the first email until the time you left after the wedding. You helped us to make incredible memories that we will treasure forever. Thank you for making me feel at ease, comfortable, the joy and love of our perfect day."