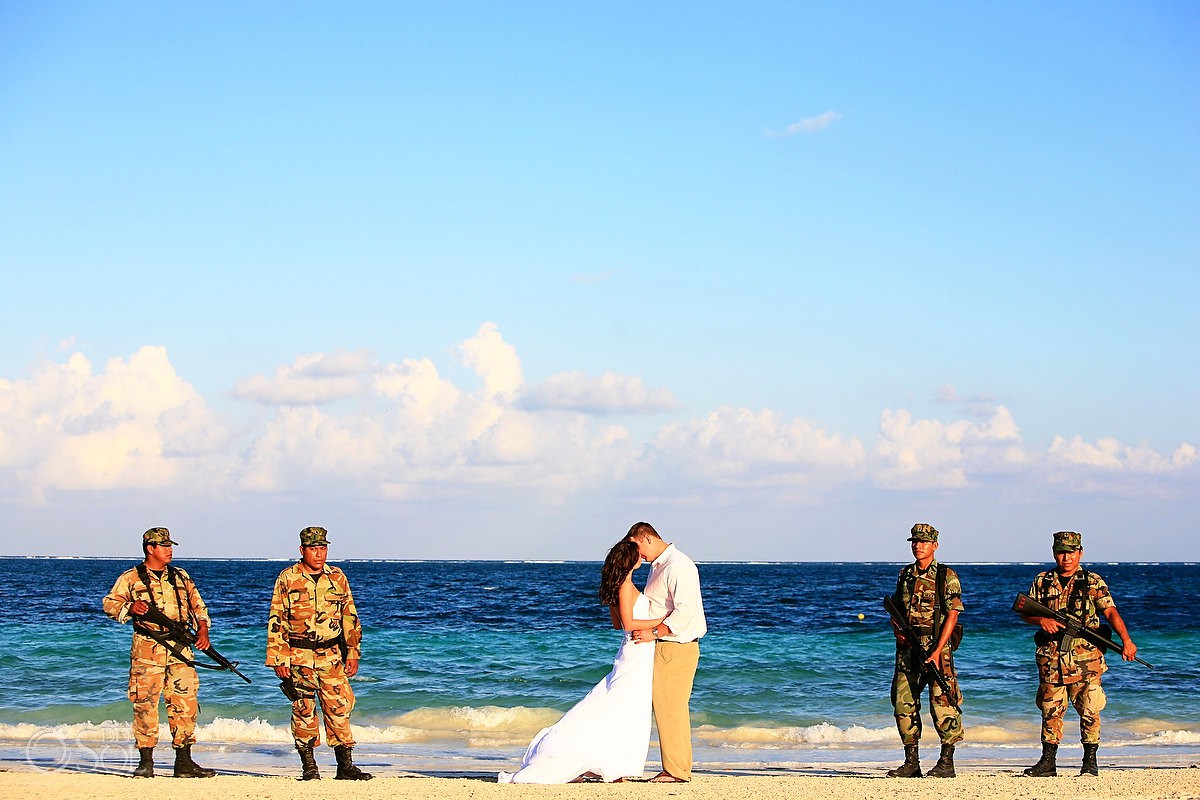 The photos used in this post are a satire on the subject of safety – a combination of being in the right place at the right time and proof that it is safe to get married in Mexico!
Do these photos mean that your wedding will have armed guards or police in the background…NOPE!  But if they are walking by the beach, we will do our best to make a photo with them. We like to call them "Photobombs."
My name is Matt, I'm a Del Sol Photography Co-Founder and I'm originally from Atlanta GA. I've lived in Mexico for a lot of years and have been watching the USA from afar, as an American ex-pat completely settled and living my life in Playa del Carmen, Mexico.
It breaks me when people tell me that they're deciding against coming to Mexico mainly due to violence or concerns about Safety in Mexico. Reasons that are completely disturbing to me, because when I measure the crime or madness happening in their hometowns in the US, nothing compares to where I live. Mexico is actually pretty tranquil. I have a ton of foreign friends who are Expats here, loving life, retiring and having a wonderful life here. People are actually very happy here.
"I am routinely shocked by the events in the USA that I see on TV and news sites. There is so much madness happening north of the border and a war of sensationalism by the US news media! They smear campaign or highlight any violence and end up placing photos of hotel zones for news articles when in reality something occurred far away from that actual photo" – Matt
It's pretty tough to answer the question:  "Is it safe to come to Mexico."  I just ask myself is it safe to go to Las Vegas to see a concert? Is it safe for my niece who attends public schools in Florida to keep going to those schools? Is it safe in Texas? New Zealand Mosques ? NY?  California? Is it safe in your city?   Take 1 minute to think about all this in real seriousness.  There has been increased crime over the years in Mexico.  I think life here is made safer by taking safer decisions.  Sound choices on where you visit, and what times you are out and an in what areas are you risking or not at risk during your travels.  Contact us for more info or advice on the scoop.
Read more: "Yes to Mexico – The real scoop and what the news media isn't telling you"